How to Digitize Your Vinyl Records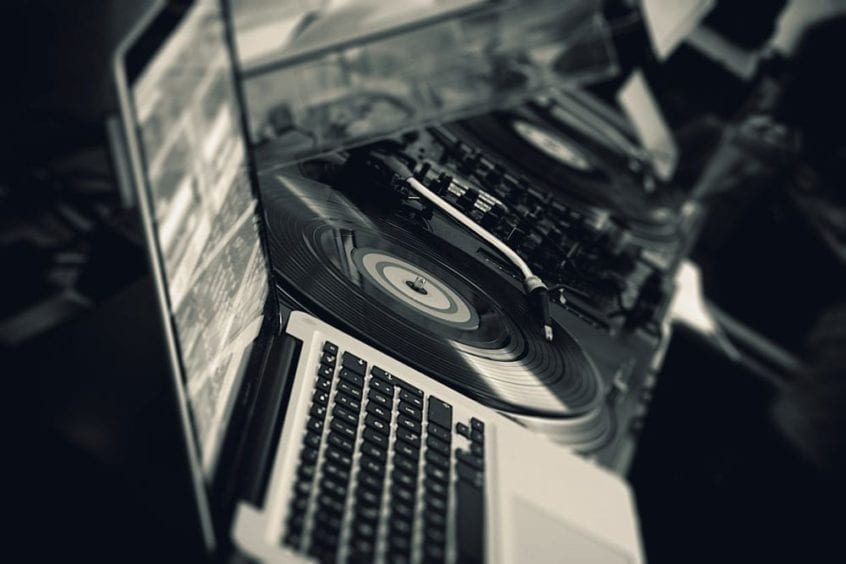 In a world increasingly dominated by the convenience and portability of streaming services, some collectors may question the value of digitizing vinyl records. But the truth is there are still plenty of good reasons to capture the sound of vinyl and turn them into convenient digital files that you can take with you wherever you roam.
For starters, many of the records you own could be unavailable in any other format. With some older recordings, or even more obscure artists, it is quite common that a recording may never have been re-released.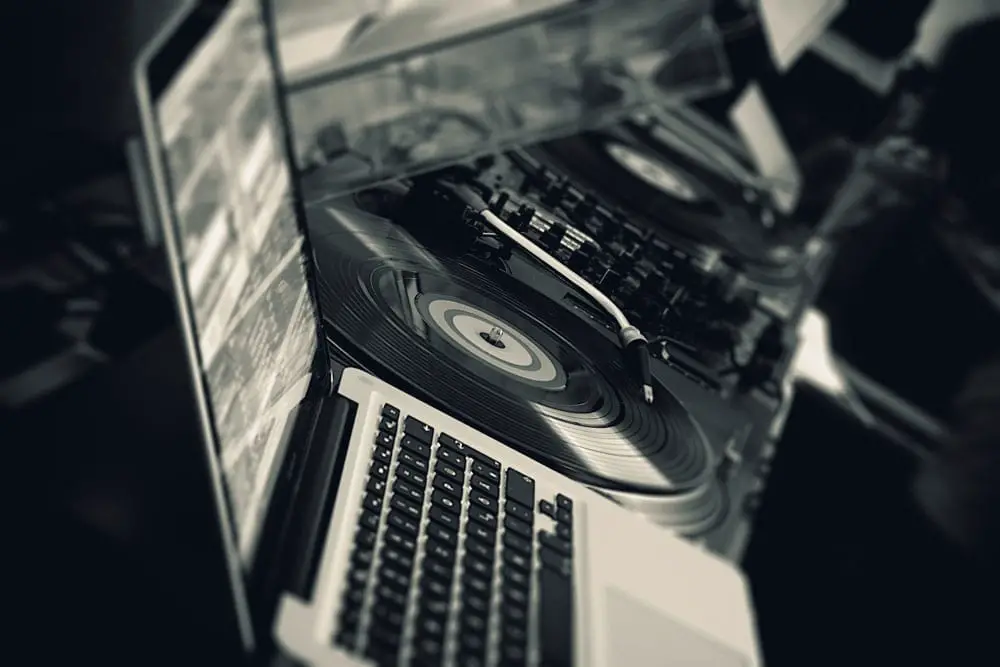 Alternatively, you might just prefer how a record was mastered compared to the digital release; many record labels and engineers master to each format, and in some cases, the vinyl master receives more gentle compression, which can result in a less squashed, dynamic sounding recording.
There are, of course, plenty of further reasons. It could be that you prefer the aesthetic of how vinyl sounds. Or, perhaps, you're not keen on streaming, but would still like the convenience of digital files on the move.
Whatever your reason for creating digital copies of your vinyl records, you'll need a few crucial pieces of kit, and a few instructions to get you started.
Here's what you need:
On the hardware side, you will need a turntable (obviously), a phono stage, and an analog-to-digital converter (ADC). You could, of course, purchase a turntable with a built-in USB output that will essentially combine all three items in one, but buying individual components will often produce better results, and it allows you to upgrade each hardware component at a later date.
When choosing your recording setup, it's worth keeping in mind that the final result will only ever be as good as the weakest component in the signal chain. In other words, the better your kit, the better your records will sound.
For those just getting started, I can happily recommend the Pro-Ject® Debut Carbon as a great affordable turntable that nails the critical performance aspects without the bells and whistles of many turntable designs. As a complimentary phono stage option, the Rega Fono Mini A2D will get you up and running at a relatively low cost; this unit even has built-in ADC with USB output for those looking to streamline the setup process.
If you've been collecting records for some time, the chances are you're already set up with a turntable, in which case you can skip straight to the ADC.
There are two paths you can tread here:

1) Use a phono pre-amp that has a built-in analog-to-digital (ADC) audio interface. (If you're lucky you might already own a phono stage with this built right in.) This option is by far the simplest way to get set up, and there are now numerous options on the market. From the affordable Rega Fono Mini A2D to something a little higher-end like the FURUTECH GT40, there are plenty of options on the market to suit a wide variety of budgets.
2) Purchase a separate ADC unit or digital audio interface.
If you're set on using the phono-stage you already own, this second route may require a little extra effort but will allow you to digitize using your existing kit.
Thanks to an explosion in home recording over the last 20 years, the cost of great sounding USB audio interfaces on the market is now relatively cheap. You can pick up ADCs that are primarily intended for recording musicians for under the $100 mark. Take the PreSonus AudioBox iTwo, for example.

However, before you do, it's worth remembering that consumer Hi-Fi electronics output a different signal level to standard "professional" studio devices. The most common nominal level for professional audio equipment is +4 dBu, whereas most consumer Hi-Fi audio works at a nominal level of −10 dBV. We refer to both as professional line level and consumer line level respectively.
The connectors are also different. As a general rule, consumer outputs are the familiar RCA phono connectors we all know; professional outputs are usually 1/4 inch TRS or XLR connectors.
Don't worry too much if all of that seems like a lot of information. But you might want to consider this when choosing an appropriate audio interface for the best results. An audio interface like the Apogee Duet will accommodate both pro and consumer line level signals by selecting the correct analog level in their Apogee Maestro application.
The Duet is also famed for the quality of its analog-to-digital converters, making this a great option if you already own a great sounding phono preamp and want the ability to capture high-quality digital recordings of your existing setup.
Software and Recording
There are many recording packages available, and some audio interfaces come bundled with their own recording software. Alternatively, there are a couple of options that specialize in vinyl ripping, such as VinylStudio or PureVinyl. The latter will set you back over $300, and unfortunately, in my experience, it caused my computer to crash. Your mileage may vary.
A typical software recommendation is Audacity. It's an open-source, free option that will get you up and running, but in all honesty, I've always found the program quite crude and clunky.
For this demonstration, I'll be showing you how to record vinyl records using Studio One, another free option from Presonus that in my experience works well. It's primarily designed with recording musicians in mind, but that doesn't matter – multitrack recording software is multitrack recording software. Whichever recording package you choose, the process is always somewhat similar.
First of all, you'll need to download the free version of the software from their website.
On first open of the software, you'll be prompted to choose the weight of your install. You won't need any of the additional audio loops and plugins, so you can go ahead and choose the "Minimum Install."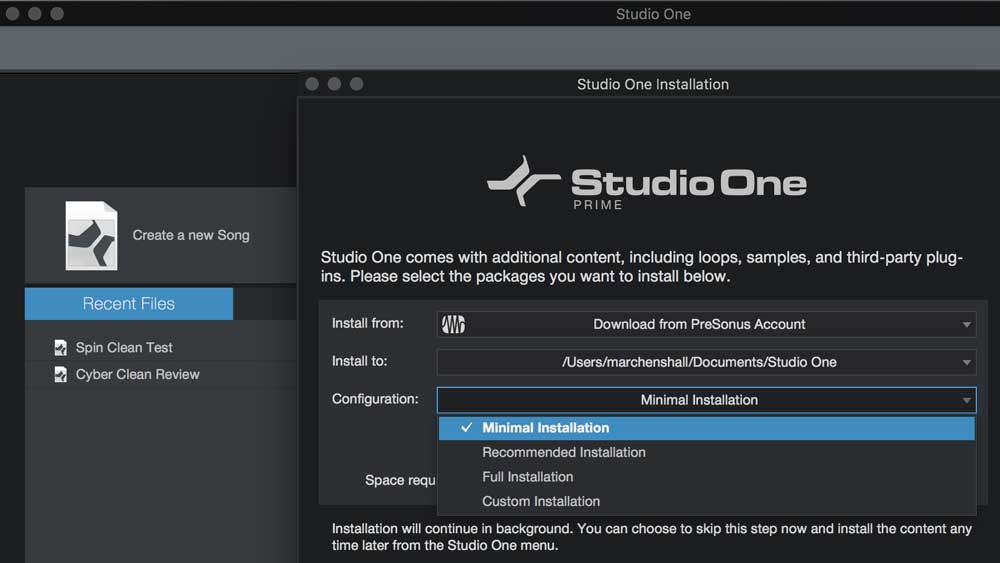 Once the software is open, we'll need to set a few basic audio settings. In the main menu, head to: STUDIO ONE > PREFERENCES
In the audio setup, set the playback and recording device to reflect your hardware. (In other words, you should be able to select your purchased ADC or audio interface from the drop-down menus).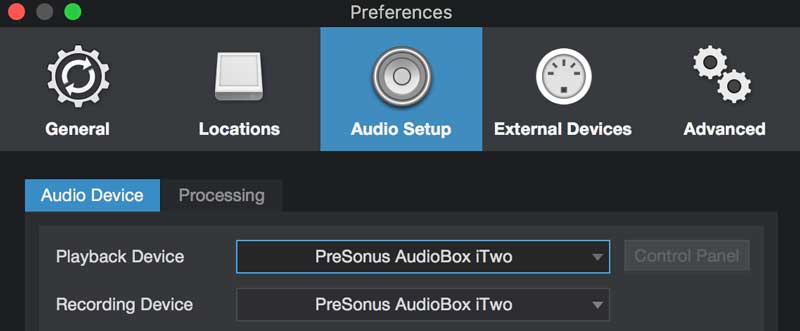 Next, create a new "song." by selecting FILE > NEW SONG (You can view this as basically creating a new recording project). Name your project and choose your sample rate and bit depth (this will determine the resolution of your master audio files). Since file storage is relatively cheap, you can probably afford to choose a studio quality setting of 24bit/96KHz.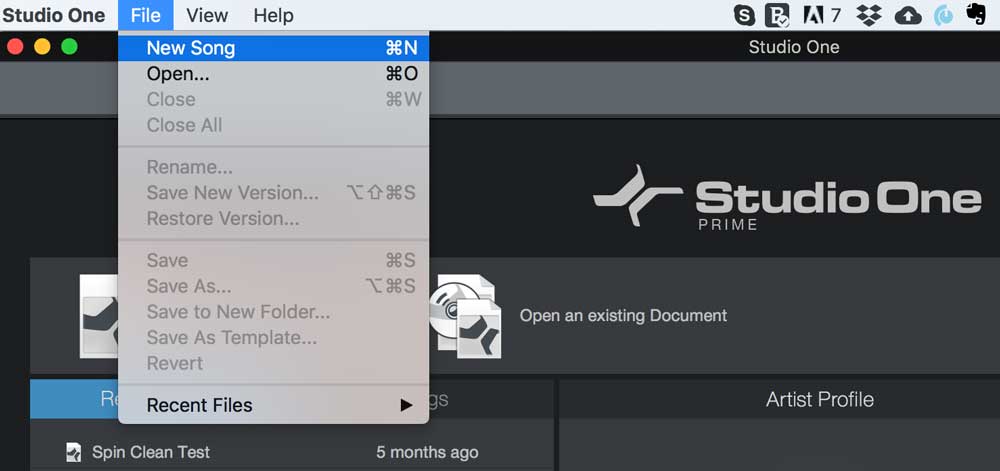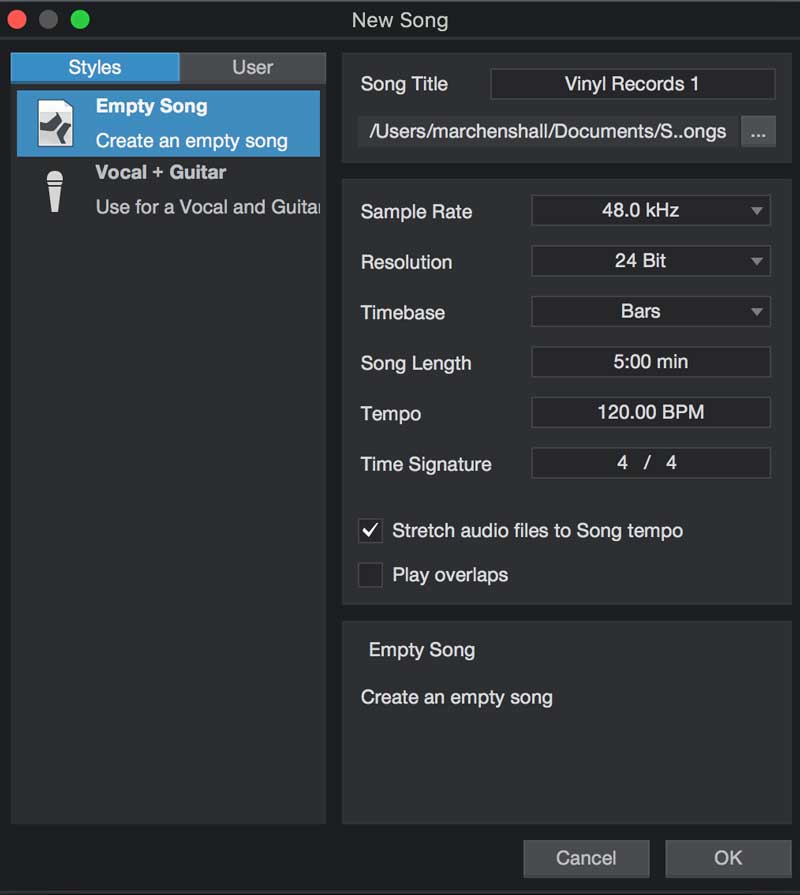 With your first project open, create your first recording track by selecting: TRACK > NEW TRACK. Choose stereo or mono in the options (depending on your source material) and click "OK" to create the track.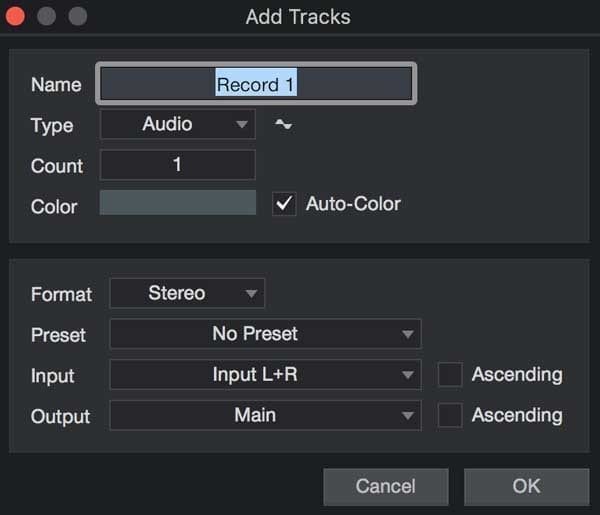 On the track, press the small circular record button to engage recording on your new track. In doing so, you'll notice the level meter start to respond to any audio coming through your ADC hardware. You'll want to monitor the level carefully to ensure the red clipping indicator doesn't light up as showing in the screenshot, as this indicates possible distortion. Bring the recording level down until you get a nice strong signal, without any clipping.

When your levels are set, use the main record, stop and play controls at the bottom of the screen to start recording (much like a traditional tape recorder).

Once your recording is complete, you can export each track as individual files. This process takes some work, but it is essential if you want the convenience of track selection and skipping.
Export each track one at a time by first creating a loop around the desired track, and then navigating to: SONG > EXPORT MIXDOWN. (You can create a loop around the track by clicking and dragging just above the bars indication [pictured below] and adjusting the loop until it fits around the track). You can usually see the silence between songs quite clearly in the waveform. If you can't, try using the time zoom in the bottom right-hand corner to zoom further in or out of the recorded files.

In the export mixdown screen, you can name your file and select from a wide variety of file types depending on what is compatible with your preferred player. For the best quality, choose uncompressed WAV/AIFF files, or lossless formats, such as FLAC. Ensure the export range is selected as "between the loop" and you're all set to create your first file. Repeat this export process for each track, moving the loop accordingly.
Adding Meta Data
After you're finished exporting each track, all that is left to do is add any metadata. In other words, the artist, track and album information that makes your files archivable and easy to find in standard music libraries. Whichever music player you use to do this, be it iTunes or otherwise, it's essential that you add this data to ensure that you know what's playing when you load your files on any portable device or software.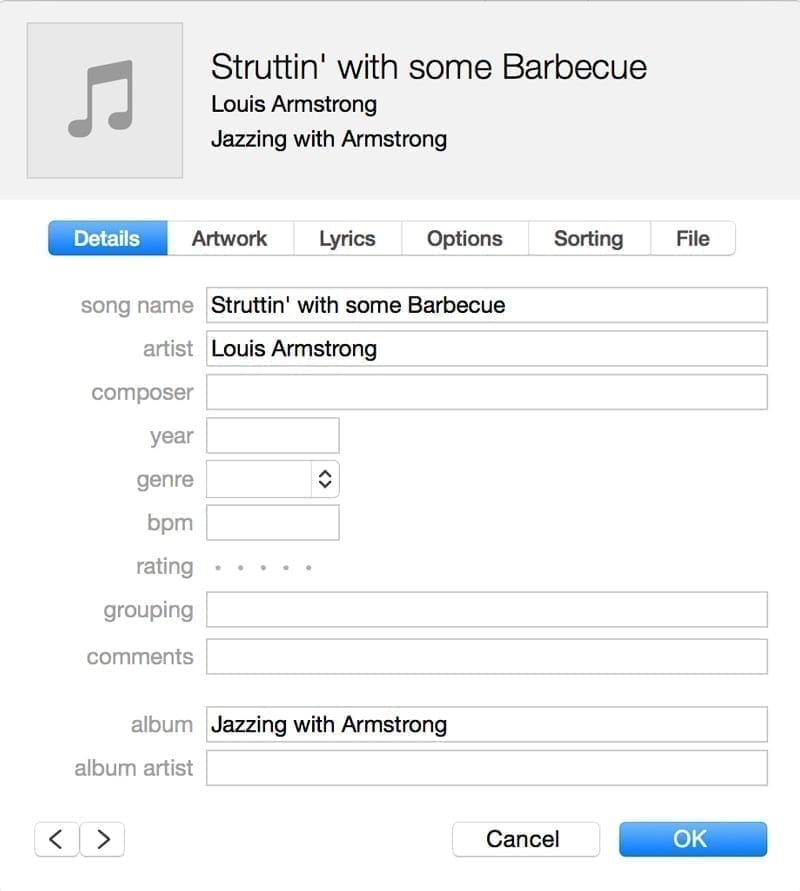 iTunes makes adding meta data relatively simple. All you need to do is open the tracks in iTunes, select the track you wish to edit, and control-click (right-click on a PC), then select "Get Info" to begin editing track details. (Bulk edits that apply to every track – such as album name and artist – can be applied by selecting multiple tracks at once.
And that's it. You're done! You now have a high-quality digital copy of your favorite vinyl to take with you on the move. Congratulations. Now pour yourself a drink, sit back, and enjoy the music. You've earned it!