Vinyl lover gifts guaranteed to make their day!
It's that time of year again; the temperature is dropping, the nights are drawing in, and that nagging question of what to buy friends and family for the big day is becoming more significant with each passing week.
If you're buying for the vinyl record enthusiast, you've come to the right place.
We've got a fantastic range of gift ideas for vinyl lovers and record collectors to suit all budgets. You'll be sure to make their day.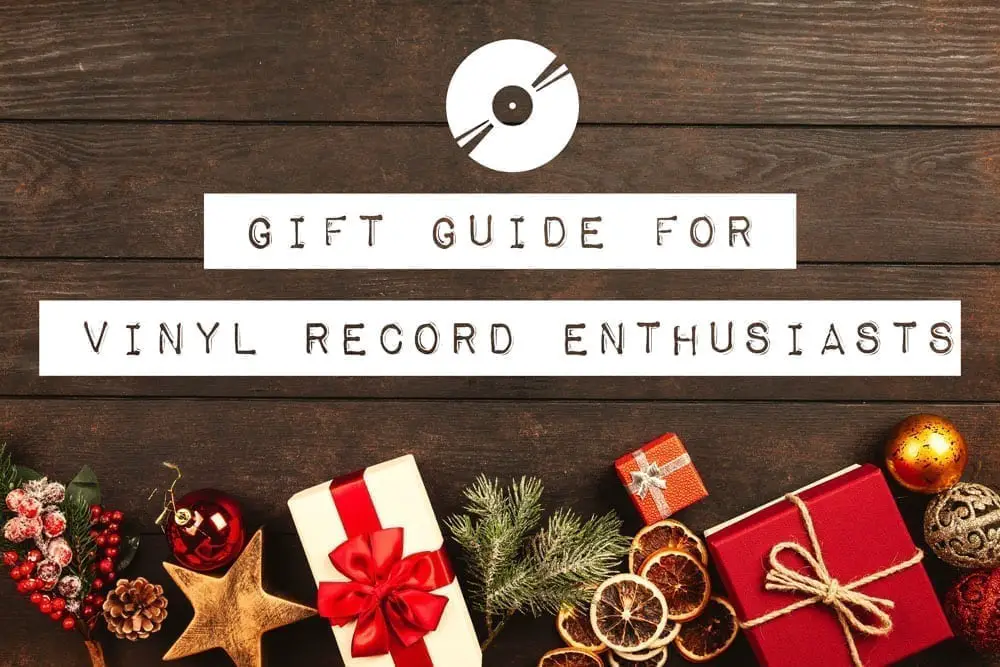 Booze & Vinyl Book
For many, Christmas is a time for making merry. Described as "The ultimate listening party guide", this book helps the drinks-loving vinyl enthusiast shake, stir, and pour their way through some of the best wax ever pressed. Craft drinks and vinyl can often be a match made in heaven. And if vinyl is all about the experience, this guide will give your festive listening experience that twist of something extra special. (Please drink responsibly).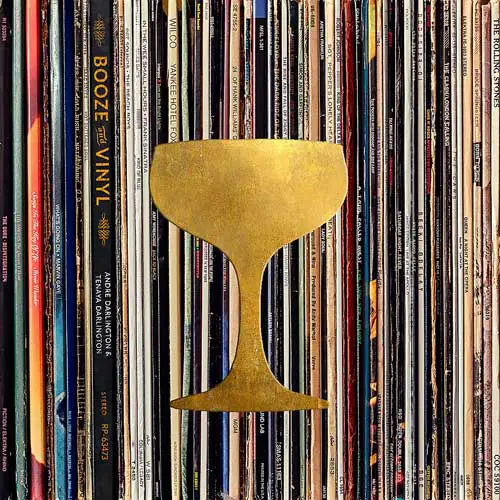 ---
Personalized Vinyl Records Song Lyrics Print
Our favorite songs carry a lot of memories. Add a personal touch to your gift with a customized song lyrics print stylized around a 45 RPM vinyl record.
You can also personalize with meaningful dates, such as a wedding, birthday, or anniversary. Many choose to include the lyrics of their wedding day first dance, for example.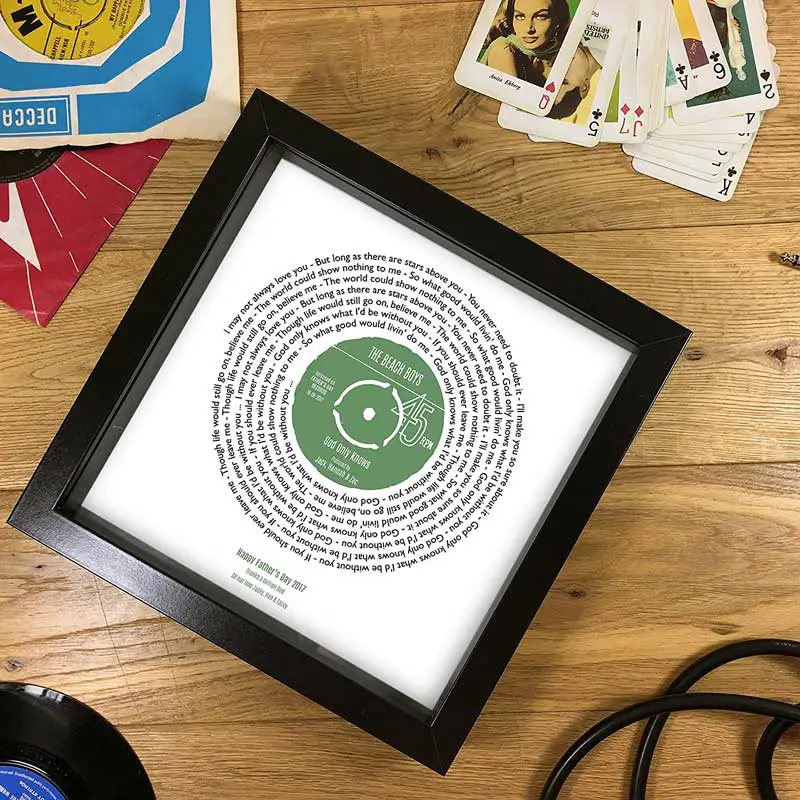 ---
Vinyl Record Bottle Opener
Let them enjoy their favorite festive tipple just that little bit more with this fun vinyl record themed keyring bottle opener. These make great stocking fillers.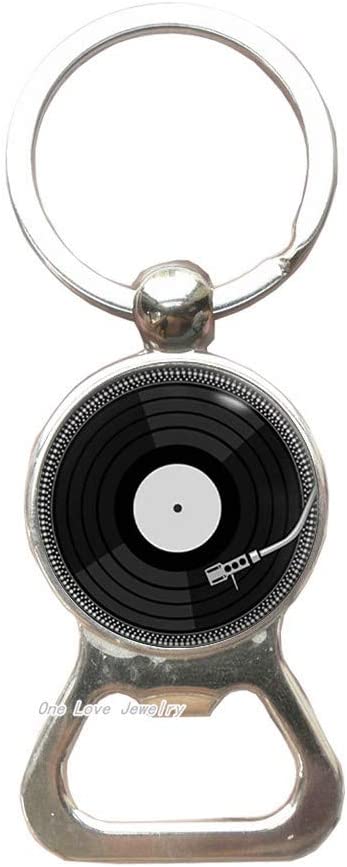 ---
Groovy Vinyl Mug
Who doesn't love a new mug over the cold winter months? This subtle text design has record grooves in the text design for a beautiful homage to the vinyl record. Perfect for hot chocolate with your choice of cozy winter record.

---
A Record Weight
Buying for an audiophile who's detail-orientated? A record weight or clamp will be music to their ears.
They work by clamping the record tighter to your turntable platter, which helps to improve tracking and reduce vibrations. The added mass may also help to reduce wow and flutter.
Additionally, the applied weight can also help to flatten mildly warped records.
(Read out full feature on record weights, here). Or check out our preferred weight, here.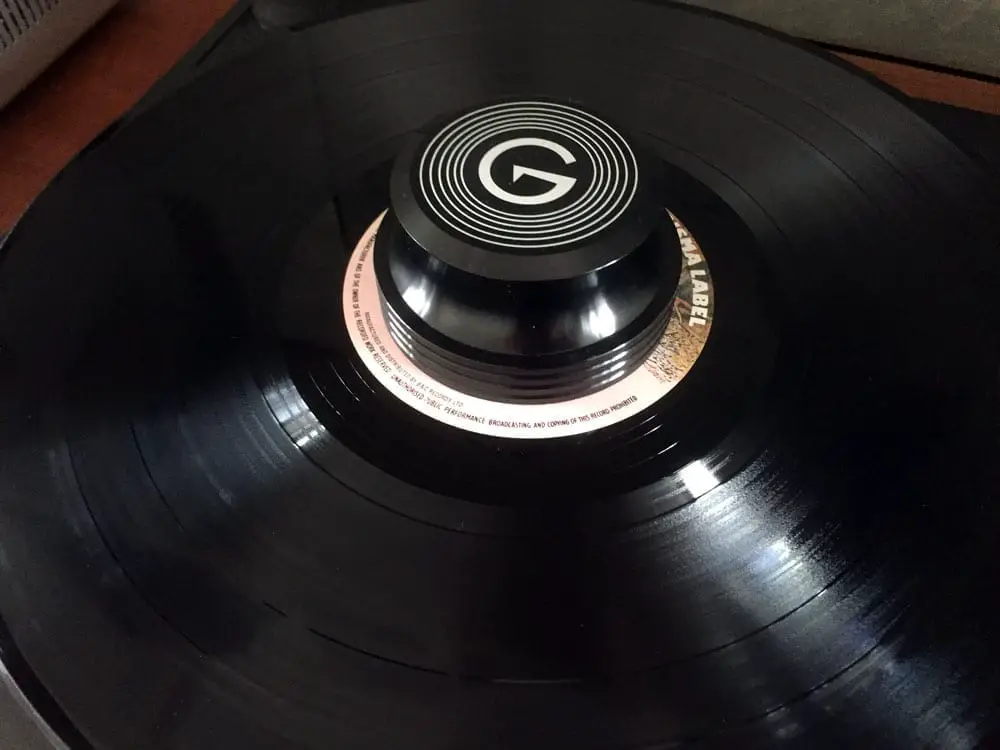 ---
A Better Record Brush
Chances are, the record-lover in your life probably already owns a carbon fiber brush for day-to-day record cleaning.

This new take on the humble record brush from Audio Quest is said to improve the conductivity of static electricity and facilitate better cleaning of micro-dirt particles through the use of smaller fibers and conductive gold contacts.
This allows for a better discharge of static electricity through your body as the ground.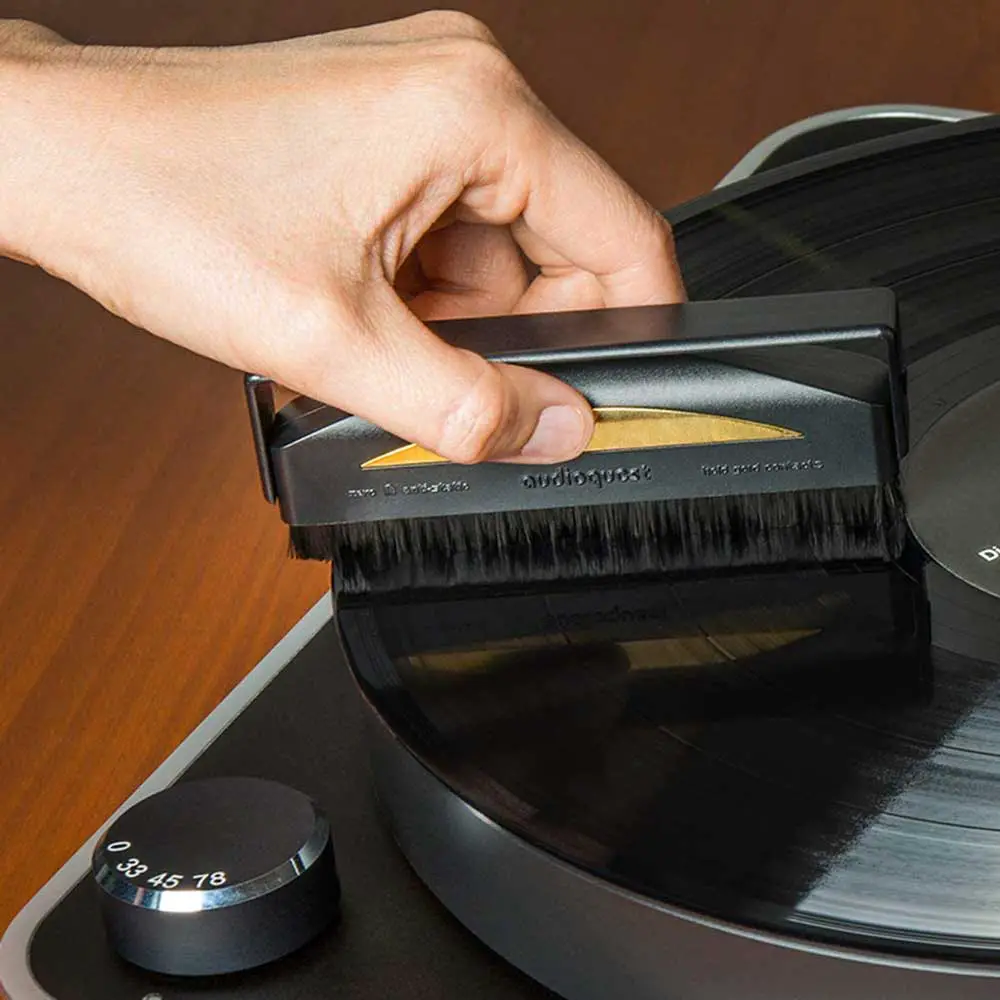 ---
GRADO SR60x Prestige Series Headphones
The Grado prestige series headphones offer superb sound quality in the affordable headphones category. They're some of the best headphones for vinyl records we've heard and also some of the most affordable at just $99 (or £109).
As an open-back design, they deliver a more natural, open, or "airy" sound for vinyl lovers hoping to enjoy the finer details of their music late at night when the volume needs to drop!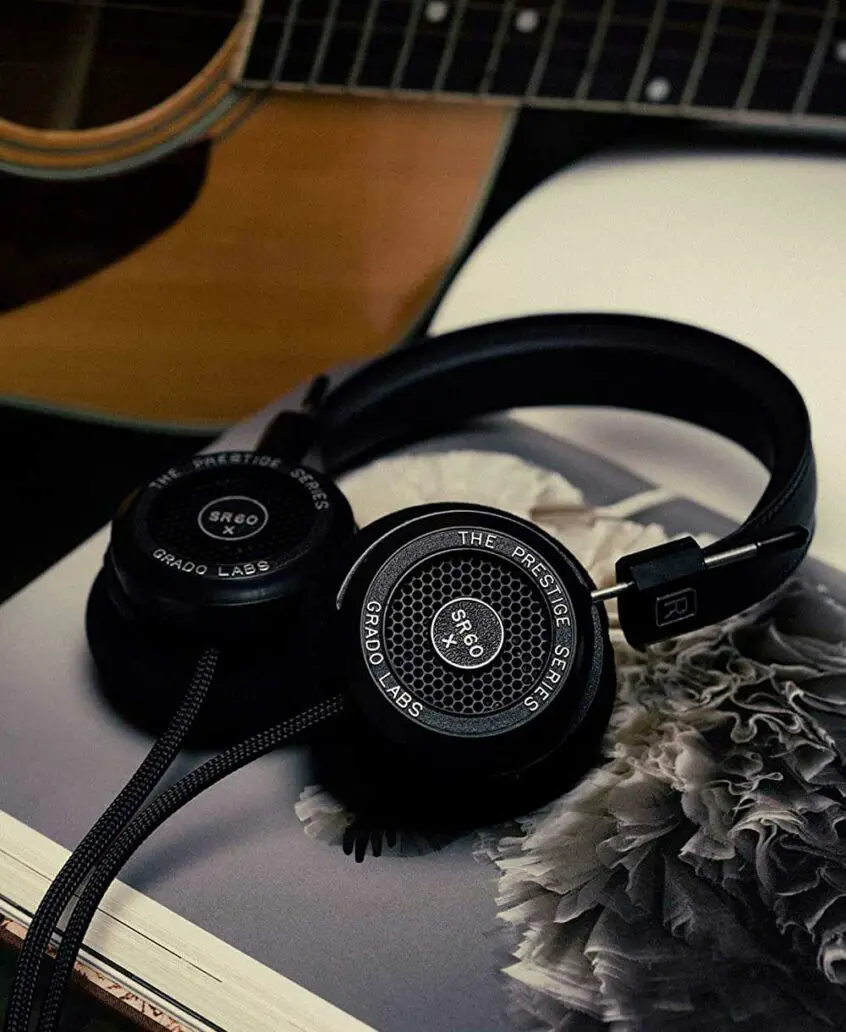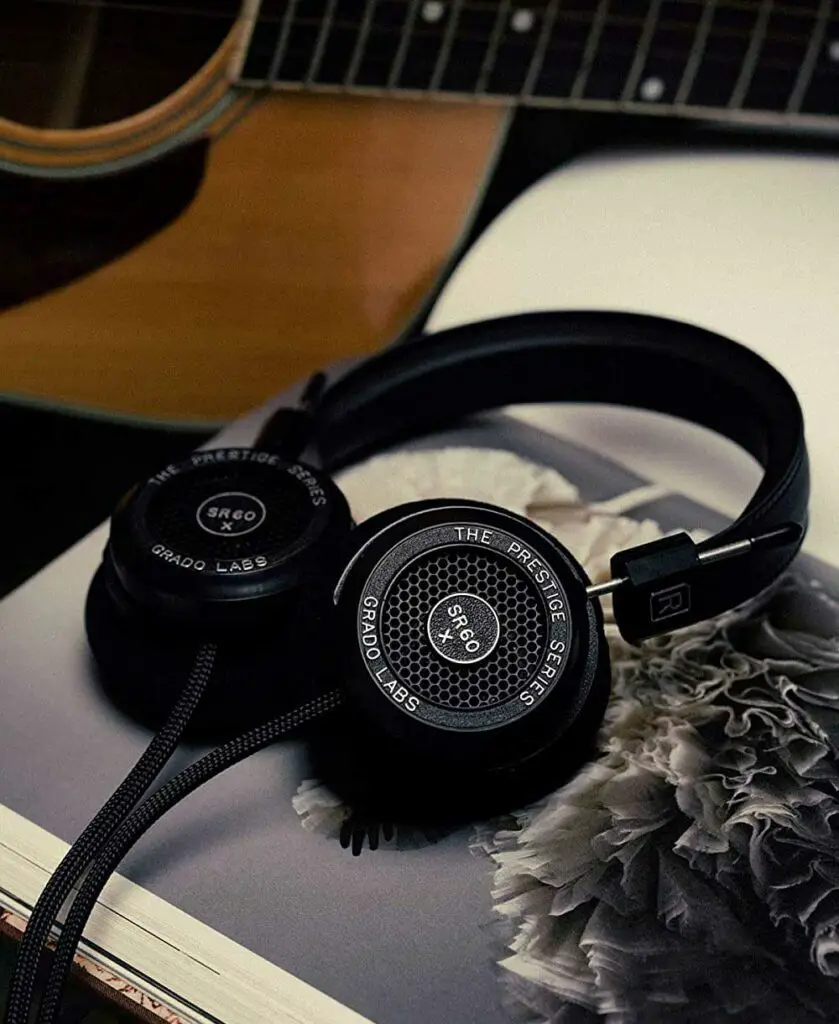 ---
Project Debut Carbon Evo
If you're buying a loved one their first turntable as a gift this year, I highly recommend the Project Debut Carbon Evo.
This down-to-basics turntable strips away all unnecessary bells and whistles in favor of getting the fundamental playing mechanics right first and foremost.

They come pre-fitted with a great quality cartridge; the only additional equipment you need to get up and running is a phono pre-amp (unless your amp/receiver has an input labeled "phono" already – in which case, you're all set).
There are cheaper record players on the market, but for me, the Project turntables mark the price-point at which fashion accessory ends, and serious kit begins. If you don't want to risk buying a turntable that regularly skips, or at worst, damages records, do yourself a favor and invest at this basic level first.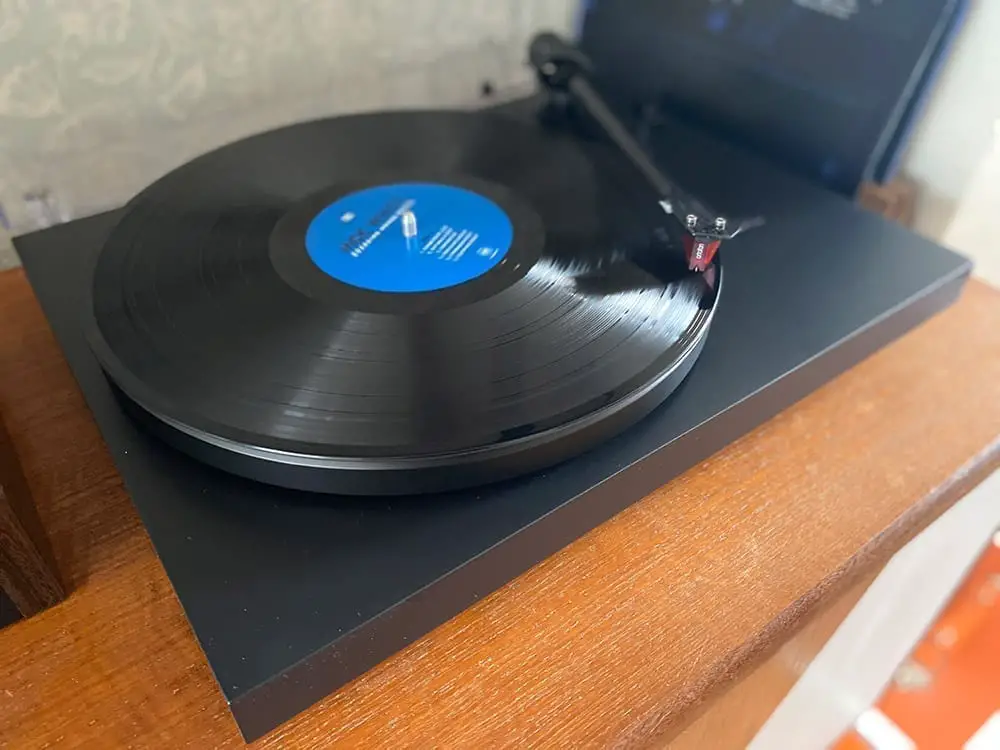 ---
Higher-End Option: Clearaudio Concept
If your turntable budget will stretch a little further, consider this award-winning option from Clearaudio – considered to be one of the best turntables in the $1000 plus bracket according to consumer Hi-Fi mag, What Hi-Fi.
Clearaudio delivers this exceptional-sounding turntable ready to use out-of-the-box with a pre-fitted and aligned cartridge – they even set the cartridge weight and bias.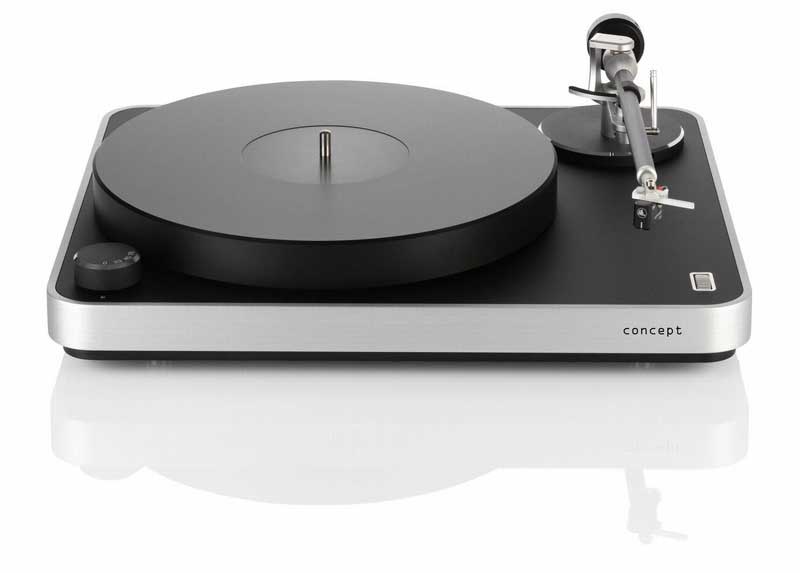 ---
Audio Interface for Record Archiving
There are many ways to create digital copies of vinyl records — the easiest method is with a USB turntable. The problem with this approach is the quality of these devices are often poor unless you shed out for a higher-end model. 
At Sound Matters, we recommend using a dedicated audio interface to enable high-quality connectivity with your computer for superior sounding results.
Focusrite offers a great affordable solution with their Scarlett 2i2 USB. For those with a higher budget, consider the Apogee Duet for great results (mac only). The recording process is relatively simple, but for those who want some guidance, consider forwarding our guide to recording (ripping) vinyl to your computer.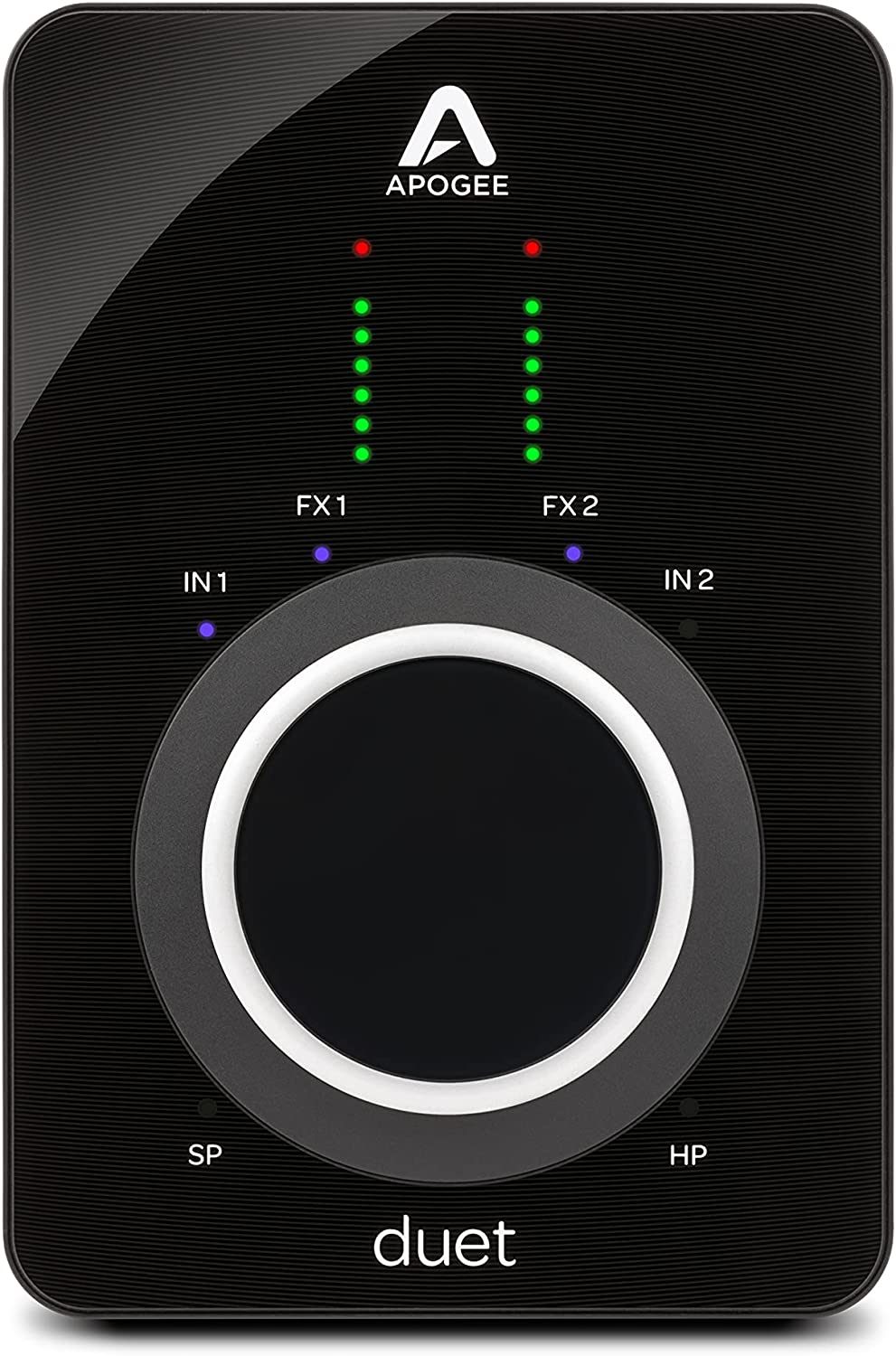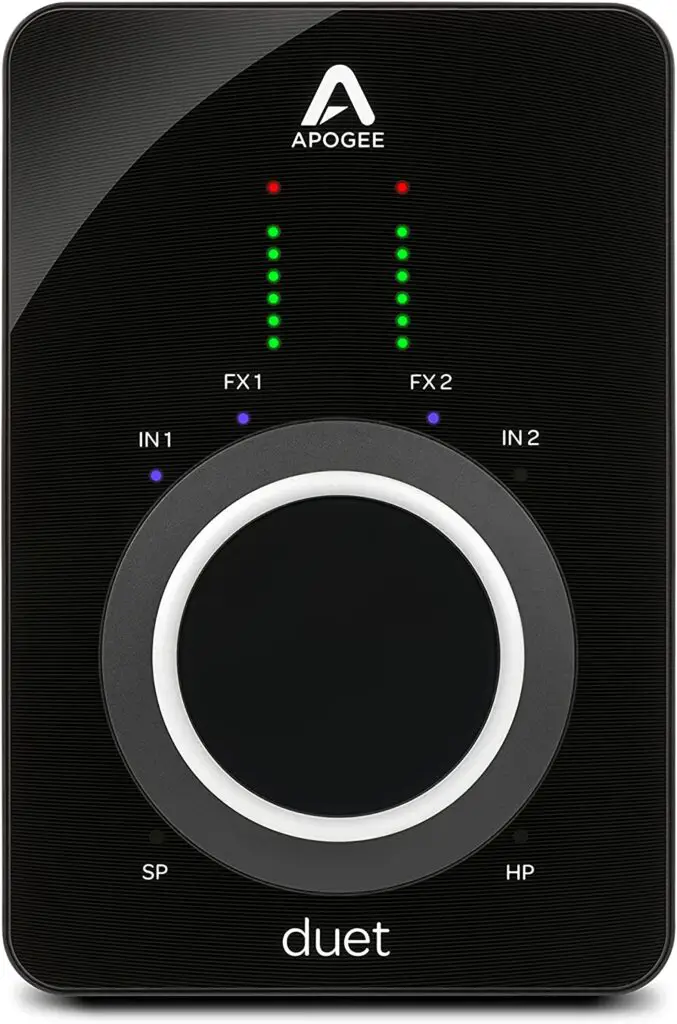 ---
Vinyl Cover Holder
These wooden vinyl cover holder lightboxes add style and function to any listening space. The default text lets visitors know what's playing, but the message can easily be personalized with new slide-in signs. Made from oak, they feel and look high quality.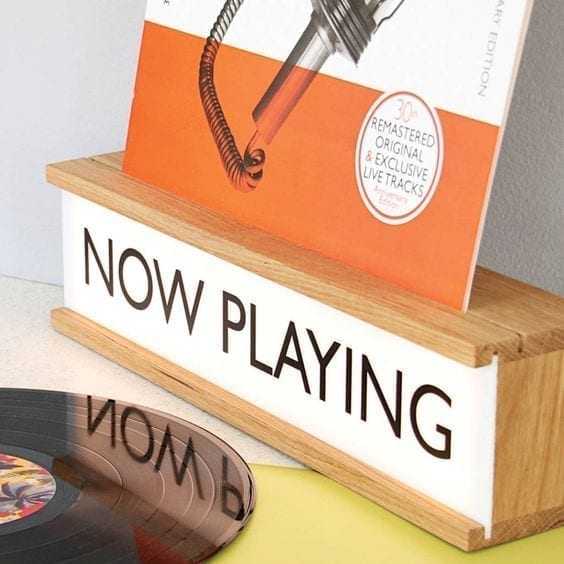 ---
GrooveWasher Record & Stylus Cleaning Kit
Have they just dug out their old record collection only to find a few sound dirty and a little past their best?
Vinyl record grooves are less than a hairline thick, so any dust, dirt, or debris will translate as the pops, clicks and static we're all familiar with.
The GrooveWasher Record Cleaning Kit is a highly effective, well-engineered manual cleaning solution designed to clean your records safely and evaporate quickly, leaving no discernible residue.
As a nice finishing touch, the cleaning pad handle is solid-milled American Black Walnut.
The complete Mondo Kit below also features a stylus cleaning brush and fluid; everything they need for crystal-clear sounding records.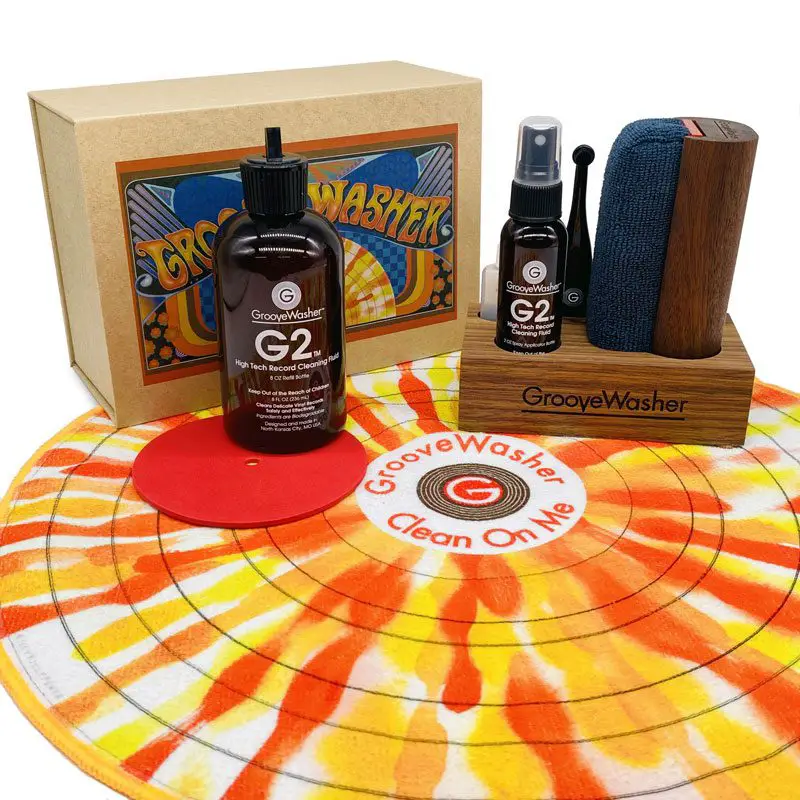 Your loved one will be surprised at how much better their records sound when cleaned – they might even question why they went digital in the first place!
(Sound Matters readers can score 10% off GrooveWasher products when buying directly from their website. Just use the code SOUNDMATTERS10.
For further advice on this topic, Read our guide on how to clean vinyl records.
---
Spin-Clean Record Washer
Need to clean a lot of records at once? If your gift recipient has just dug out their old stack of wax for the first time in years, hand-cleaning each record might not appeal. The Spin-Clean record washer offers an affordable entry into record-cleaning machines that can otherwise prove to be cost-prohibitive.
The device itself is relatively simple. The main unit is essentially a cleaning basin that houses two cleaning brushes. Each time you prep the unit, the bath will wet-clean up to 50 records depending on just how dirty they are.
Check out our full product review, here.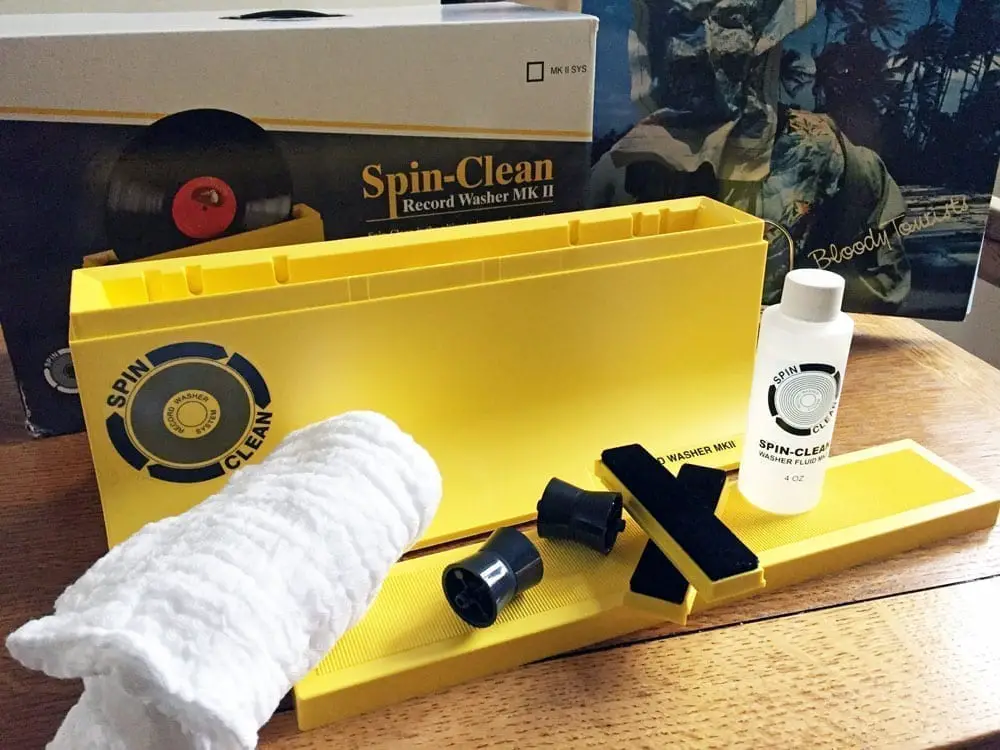 ---
Frameless Record Display
Great cover artwork is one of vinyl's major pull factors. Record collectors love the large format covers and they often display them on walls within their own home.
Wall displays are perhaps the most common way to display vinyl as art, and record frames are widely available on the market. But frames aren't for everyone. Some designs make the records difficult to access should you wish to play one, and on the aesthetic front, some collectors simply want a cleaner, more contemporary look.
The Danish-based company, Twelve Inch manufacture record display systems that require no frames, or any visible support for that matter. The result is a clean, minimalist look indicative of Scandinavian interior design.
Or… get 10% OFF using the code SOUNDMATTERS10 when you shop directly at twelve-inch.com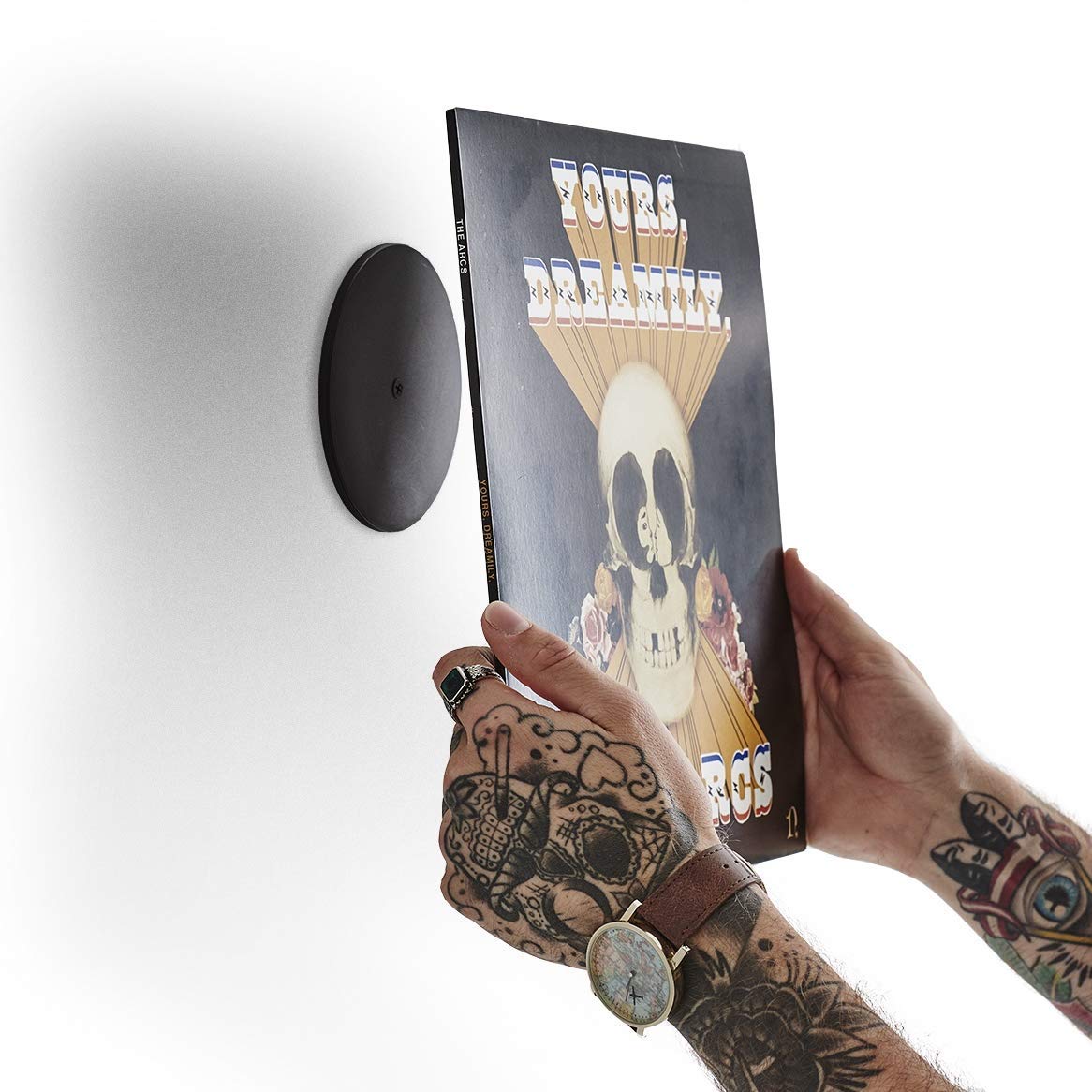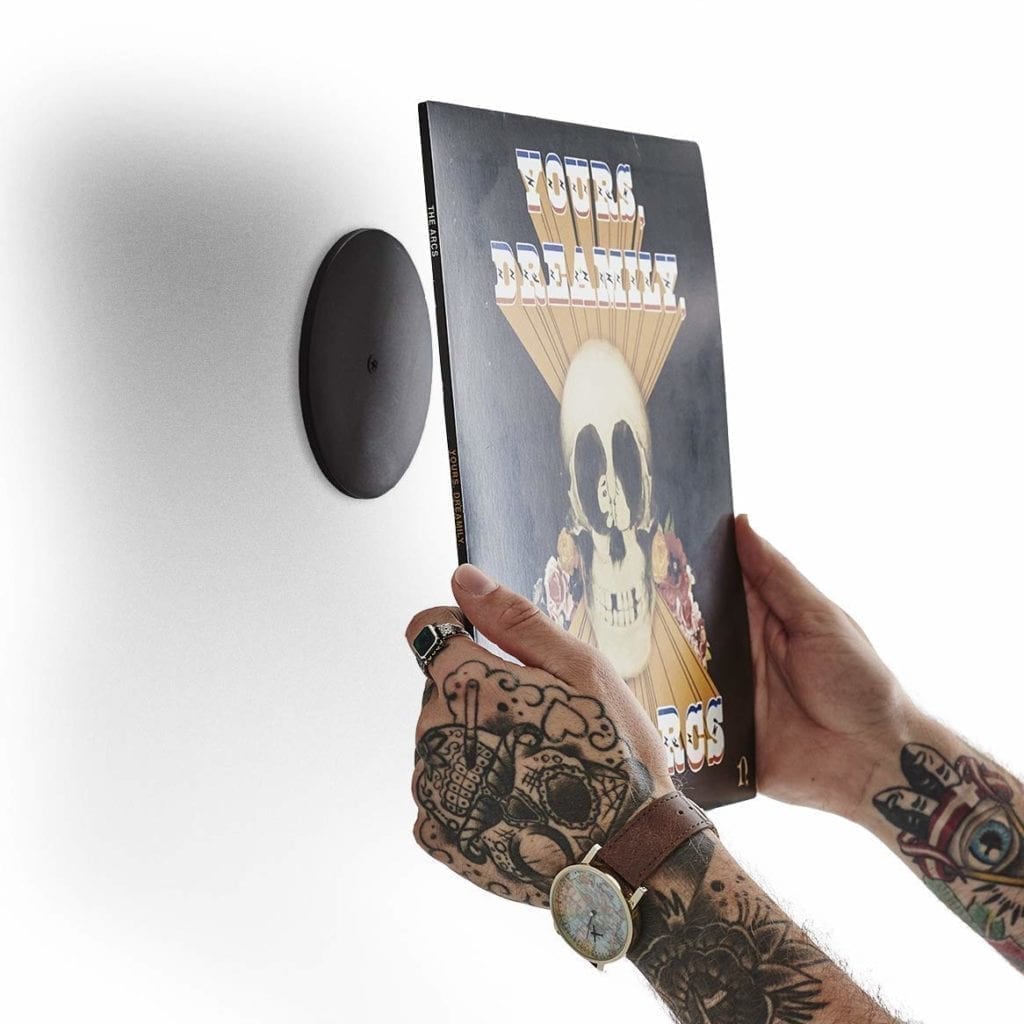 ---
Wooden Headphone Stand
These beautiful layered wood finish headphone stands make the perfect turntable companion. The top layer is a rich walnut finish that adds a contemporary feel to any HiFi setup.
The design is also rather clever, as it does not apply any pressure points that can deform the ear-pad like traditional hooks or pegs. You can leave headphones on these stands for long periods of time without causing excess pressure to any part of the headphone band.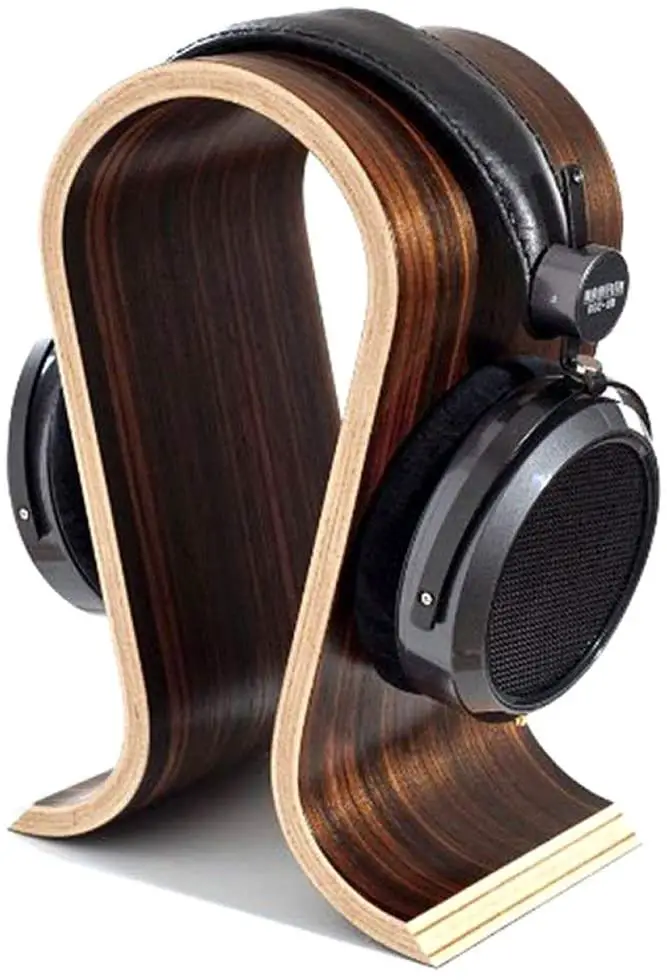 ---
Vinyl Record Box Storage Case
Sadly, it's not always practical to store an entire record collection on your wall. For something a little more secure and sizeable, consider getting them a record flight case. These sturdy storage units are perfect for moving house, transporting records or storing overflow from a larger collection. Check it out here.
For those who prefer a more aesthetically pleasing, living room friendly storage solution, consider a modular unit or container from 33Rackit. Crafted from solid wood, the modular pieces, in particular, offer an attractive alternative to the obligatory IKEA storage shelves.
Crafted quality, however, comes at a higher cost; a modular record storage unit will set you back $400 (CND).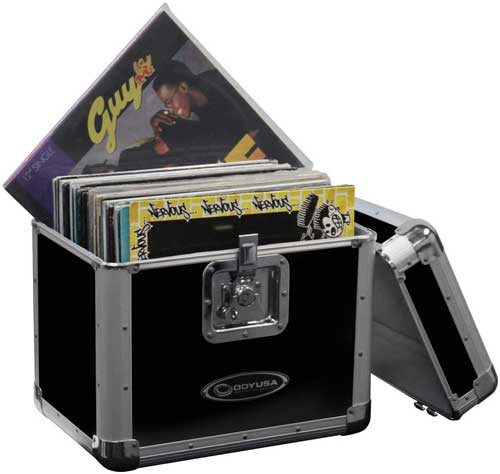 ---
Better Record Sleeves
The humble vinyl record sleeve: a simple, but essential accessory for any record collector.
Most records ship with very basic paper inner sleeves that don't protect the record very well, and can even cause scratches over time.
By upgrading their record sleeves, you'll help them keep their record collection in the best condition possible for many years to come.
The MoFi Original Master Sleeves are the industry standard anti-static poly-lined sleeves. There are many imitators, but MoFi are the original.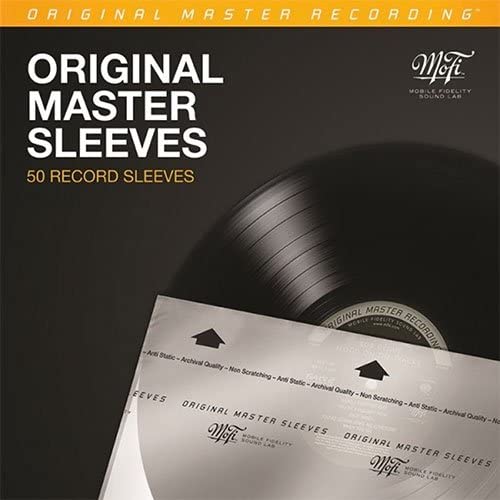 ---
Record Coasters
Many record enthusiasts struggle with the idea of up-cycled vinyl record coasters, myself included. It feels like vinyl sacrilege, but I love the way they look – particularly in basement pads or apartments.
I'm assured by the company owner at GrooveWasher that the vinyl records used to make their coasters are purely old, unplayable records. These coasters are the perfect holiday gift for the vinyl enthusiast in your life.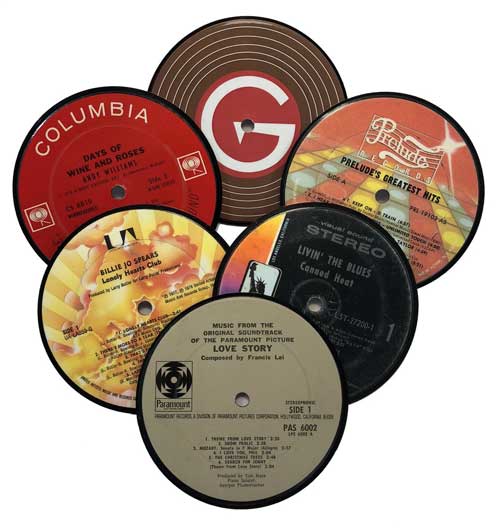 ---
Vinyl Apparel
Records are a way of life for many vinyl enthusiasts. If your loved one is obsessed with music on wax, they can now show it with style by wearing select designs from our growing apparel store.
From everyday t-shirts to cozy hoodies, there's something to suit every style and taste.
Pictured below are two of our best-selling designs celebrating the vinyl revival.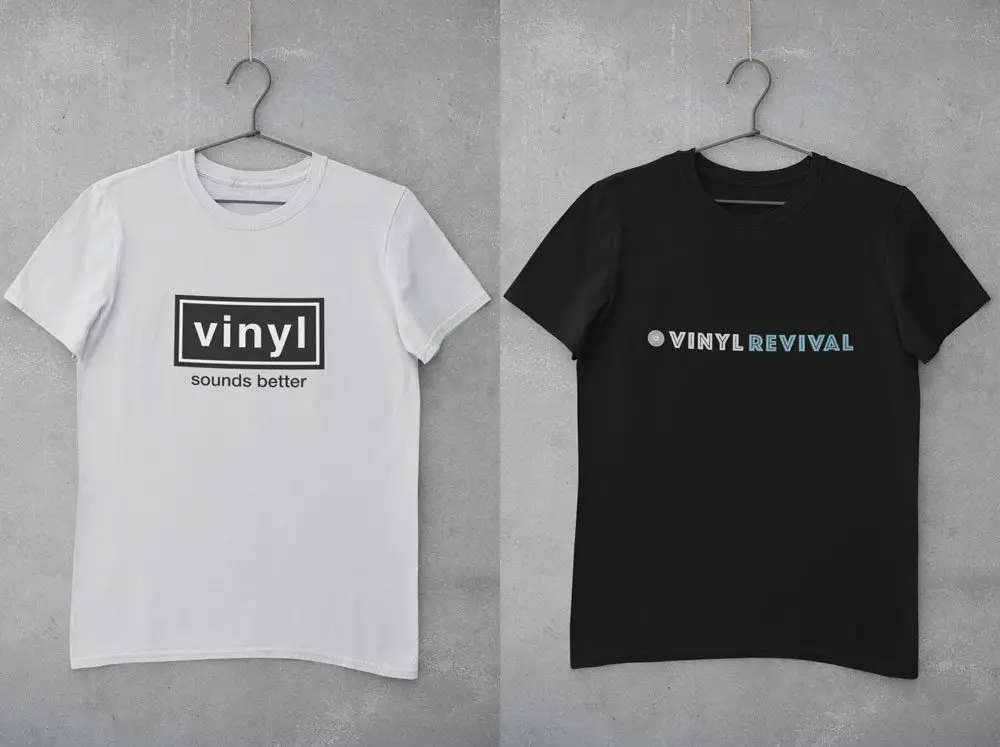 ---
VMP (Vinyl Me, Please) Record Subscription
VMP (otherwise known as Vinyl Me, Please) is the world's premier vinyl record subscription service. This year, we've reviewed multiple months worth of the service and can personally vouch for the variety and quality of records delivered directly to your door, month after month.
It's a great way to help them expand their record collection and discover new music in the process. So if you're looking for a gift that keeps on giving, consider a monthly record subscription. You can choose between three, six, and twelve-month durations depending on your budget.
Check out our full review of VMP, including a video unboxing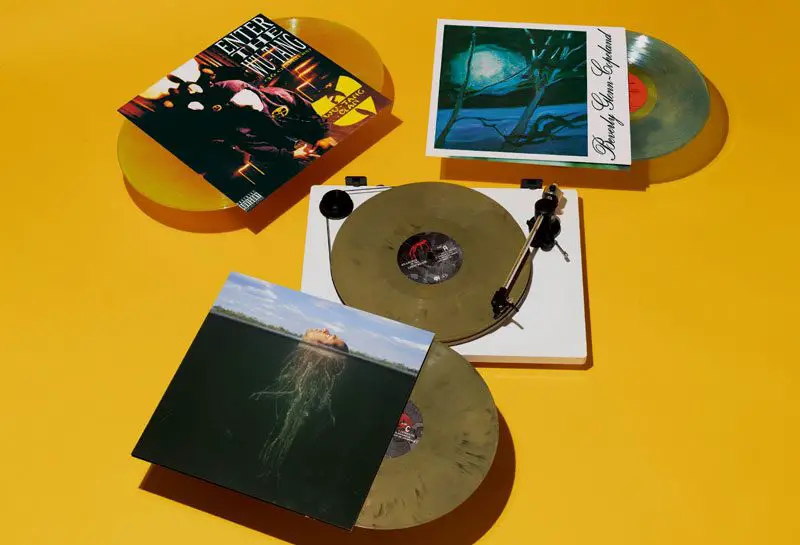 ---
Home is Where the Turntable Spins Poster
Where would our homes be without music? There's nothing quite like the sweet sound of vinyl when you put your feet up after a long day.
This exclusive poster design from our very own store looks beautiful hung in any listening space. Sit down, relax, and keep spinning.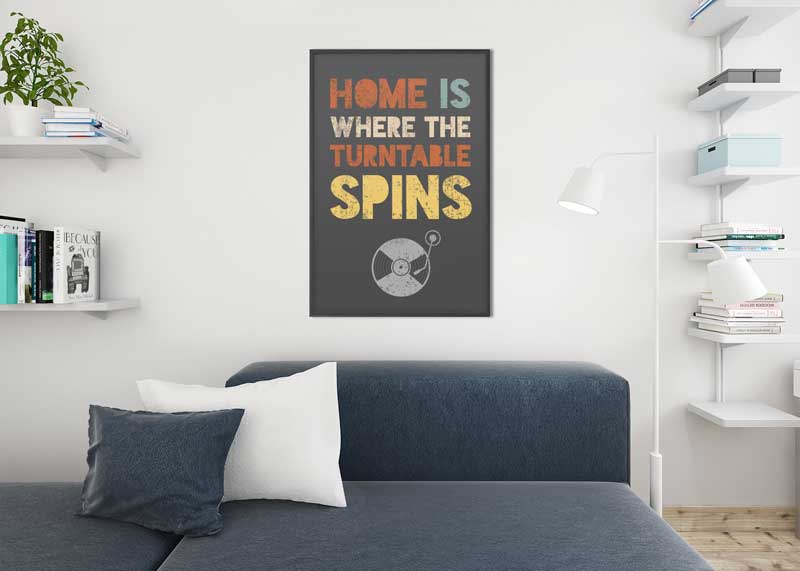 ---
Cartridge Headshell Case
Does your gift recipient own multiple cartridges that just lay around all over the place?
Help them get organized and avoid damaging their investment with a headshell case.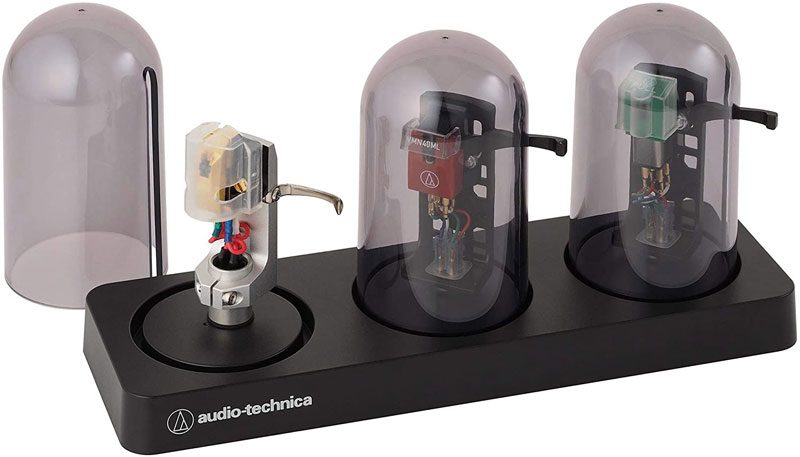 ---
Last But Not Least: Records!
You can own all the accessories going, but it's about the music at the end of the day. Records make some of the most welcome gifts, and it doesn't hurt to throw in the odd festive record in the mix for cozy nights by the turntable.
Turntable lab is a fantastic place to pick up a vinyl record gift card for use on records or HiFi gear.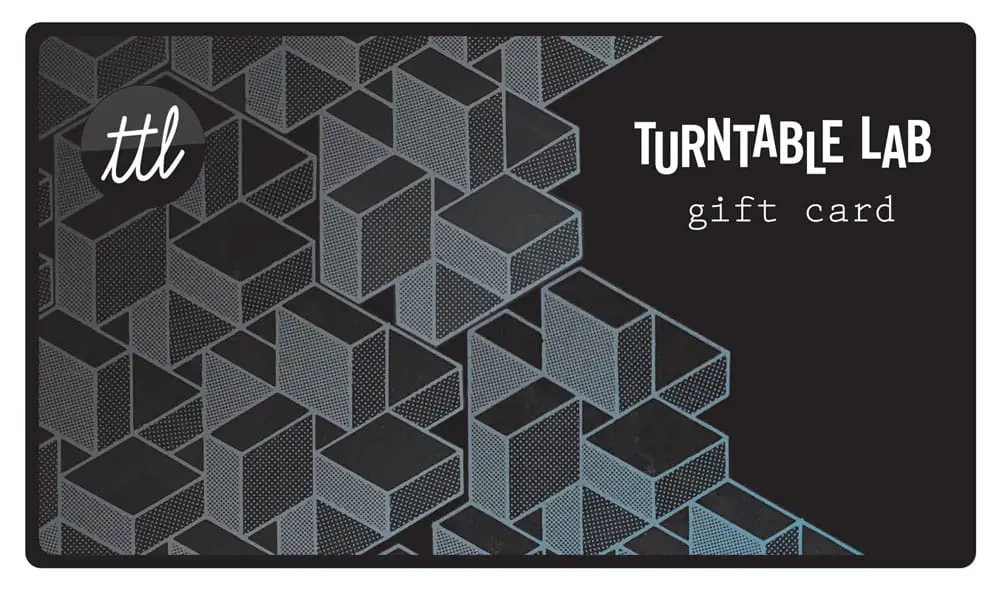 ---