Collecting records is a rewarding hobby. There's nothing quite like the tactile process of selecting a record, gently pulling it from its sleeve, and carefully cueing up the stylus to unleash beautiful music. 
Handle vinyl records correctly, and they will reward you with a lifetime of musical enjoyment. Mishandle them, on the other hand, and you will quickly ruin the listening experience. Or worse, render a record unplayable. 
If you're new to the vinyl hobby, or perhaps rediscovering an old collection, it pays to understand a few golden rules that will ensure your collection remains in tip-top condition.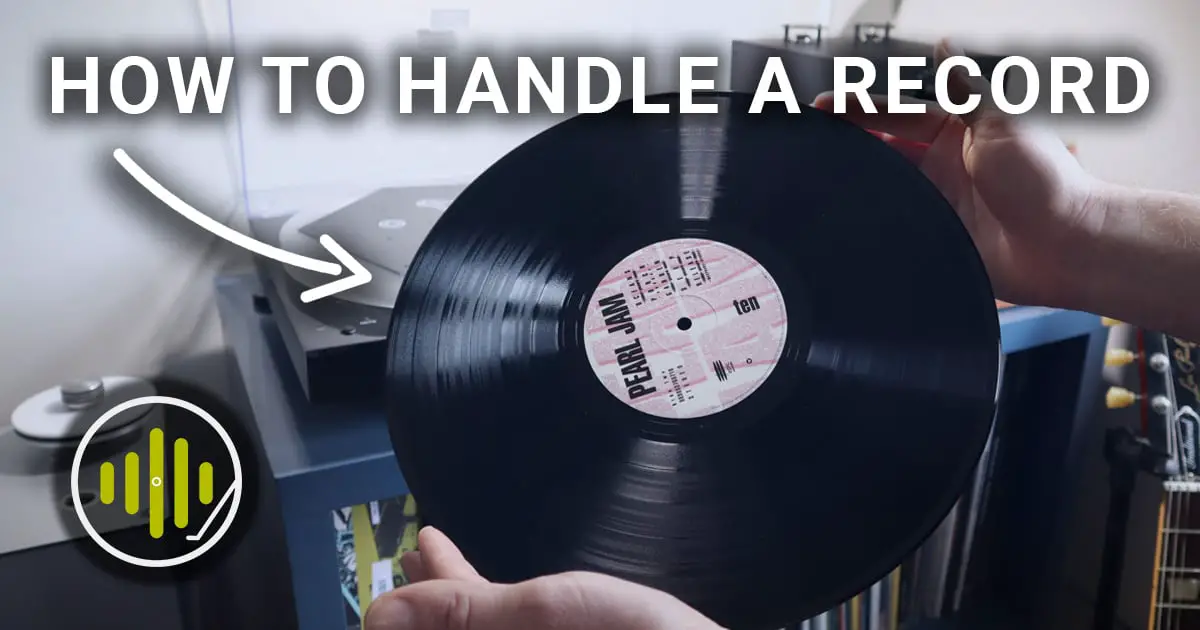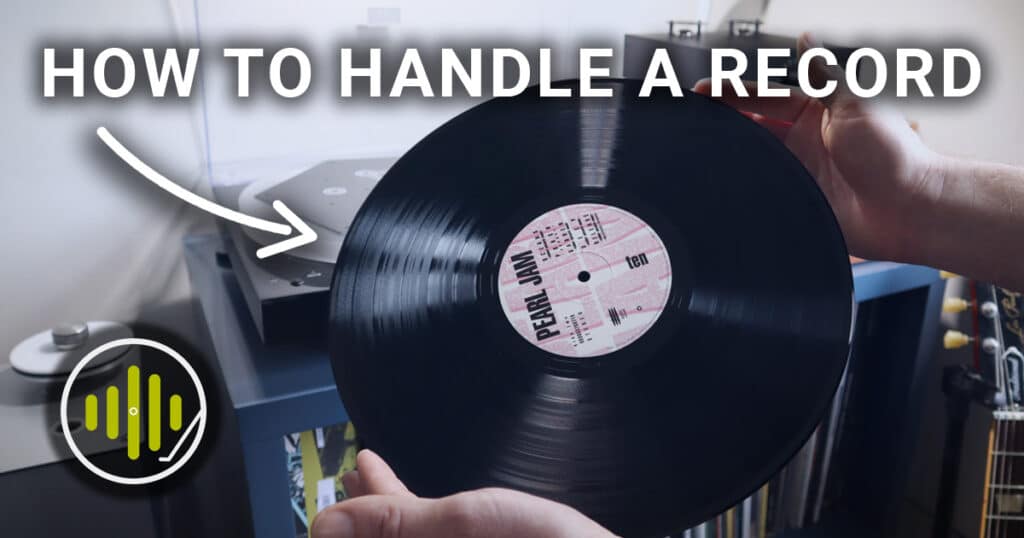 How to Hold a Vinyl Record: The Golden Rule!
Above all else, there is one rule you must follow when handling vinyl records: 
Always avoid touching the record's playing surface. Instead, handle your records by the edges and label. 
This will prevent dirt and finger oils from transferring to the record surface and tainting the grooves containing your favorite music. 
No matter how clean you think your hands are, our hands always contain natural oils that we don't want on the record surface. Over time, these oils (or worse – dirt and dust), will result in surface noise (often referred to as pops and clicks).
If you've been handling your records by the grooves, I recommend cleaning them as soon as you can. Cleaning a record can remove much of the unwanted contaminates, but playing a record dirty could result in permanent damage and increased stylus wear. Check out my full guide to cleaning vinyl records and get started today.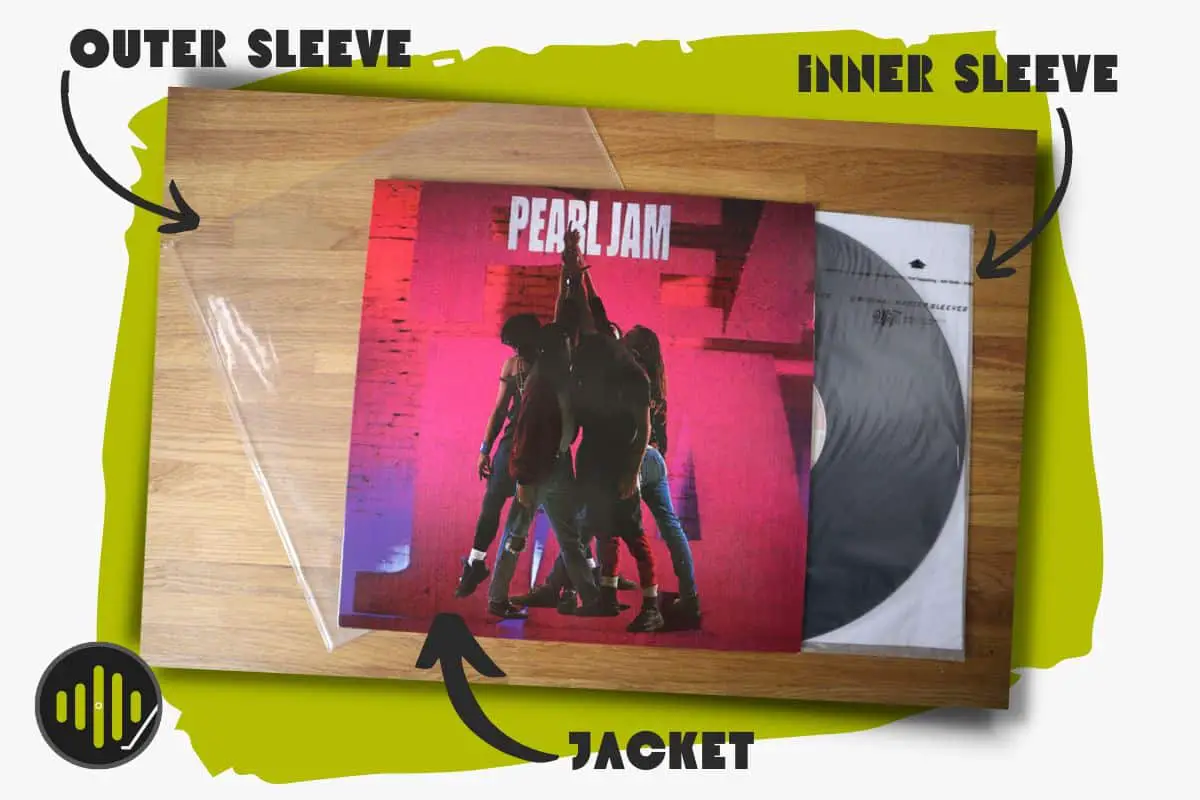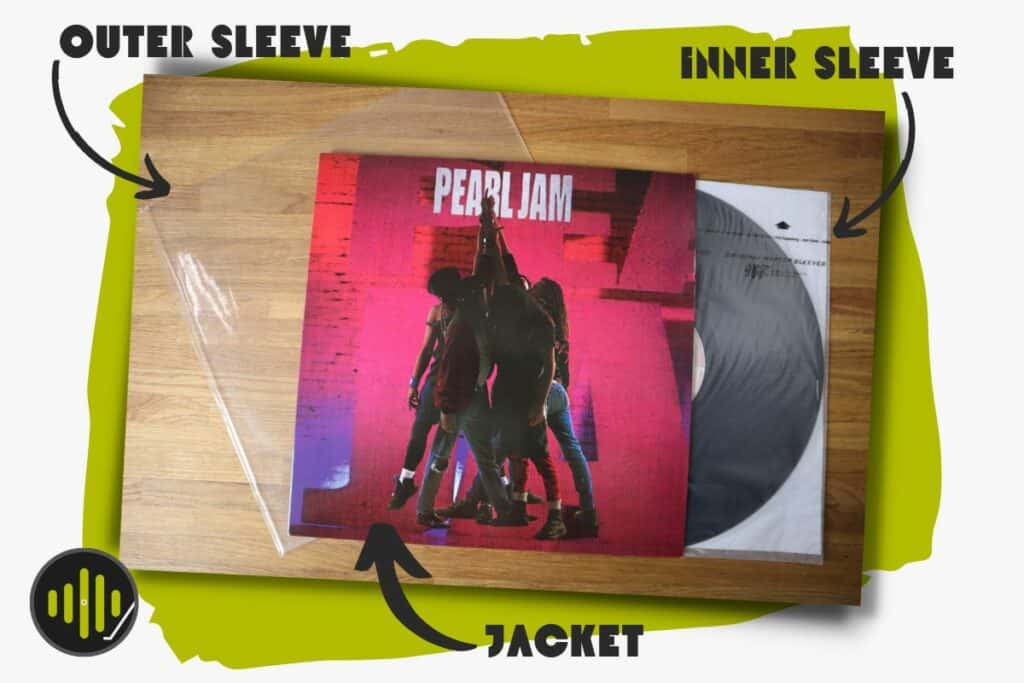 Step by Step: How to Handle a Vinyl Record
With the fundamentals aside, let's take a look at the process from start to finish, step-by-step. After which, you'll know how to handle a vinyl record correctly, from removing the sleeve and spinning the record to returning and storing your LPs safely. 
Step 1: Removing the record from its sleeve
Carefully remove the record (still in its inner sleeve) from the outer record jacket. 
Next, with your thumb on the record edge, gently place your fingers into the inner sleeve (being careful to avoid the playing surface) and place them on the record label. 
When you're confident the record is securely in your hand, begin slowly pulling it out from the inner sleeve.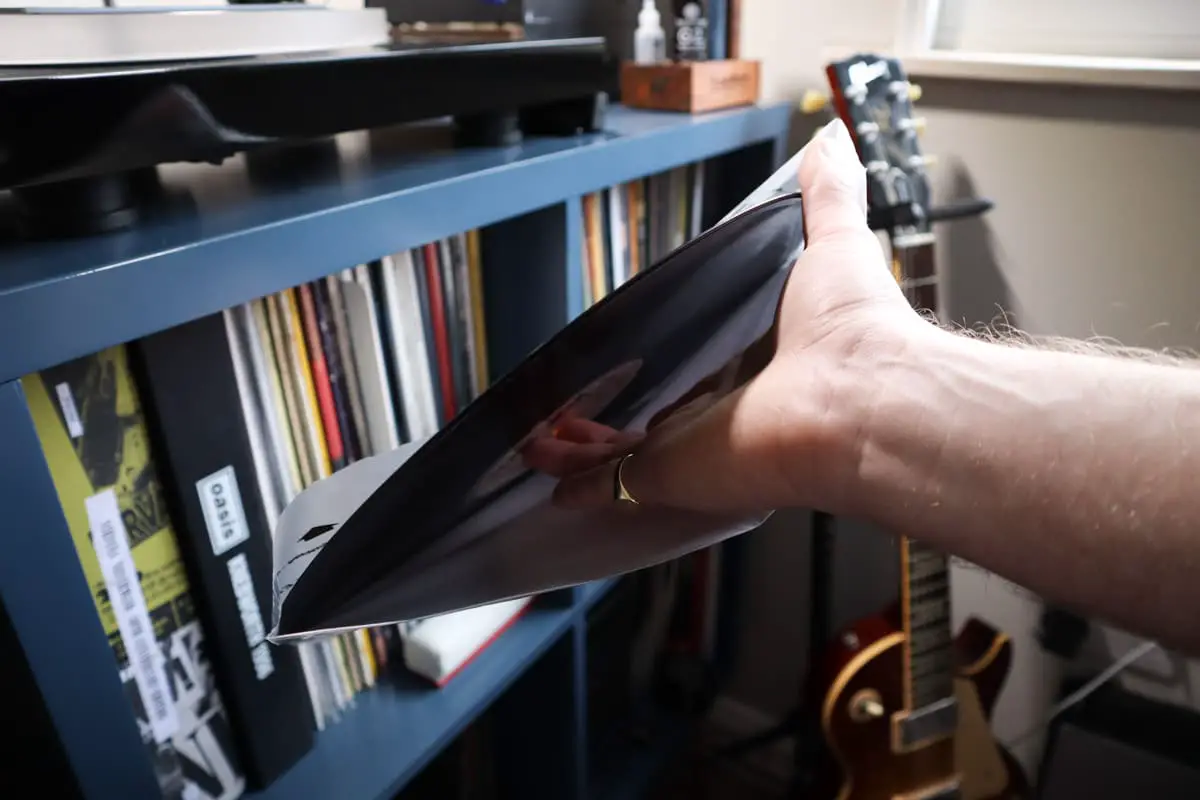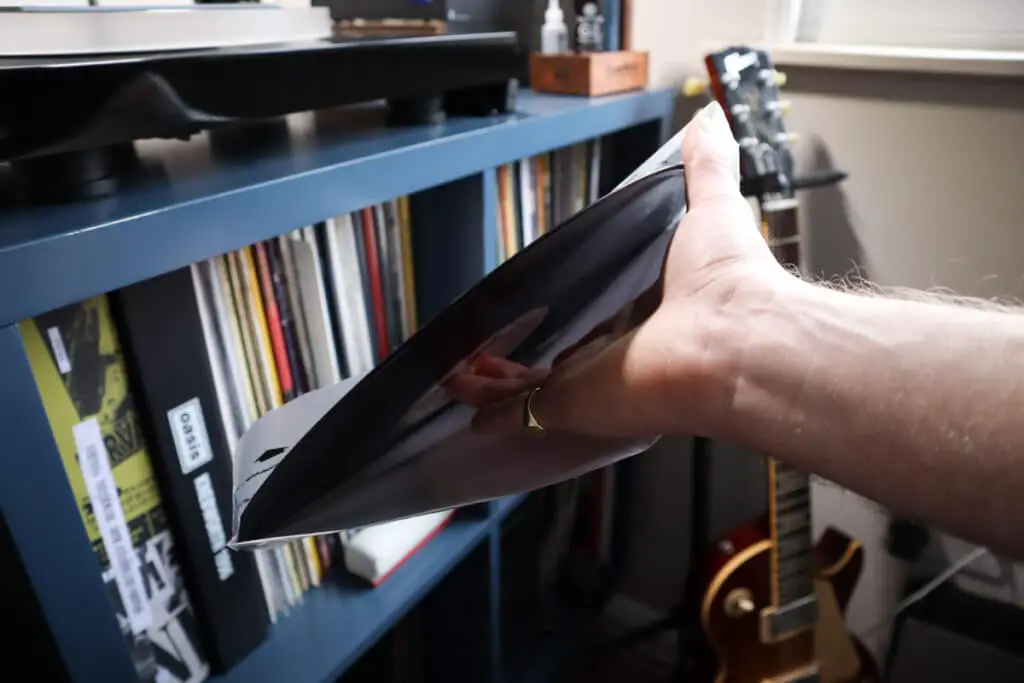 Note: This method of removing a record from the inner sleeve avoids grabbing the record edge between two fingers; it's tempting to handle records in this way as it's easier to avoid touching the playing surface closer to the label. The trouble with this "lazy" method is that we end up getting our greasy fingers on the run-in groove (the very start of your record), adding noise over time.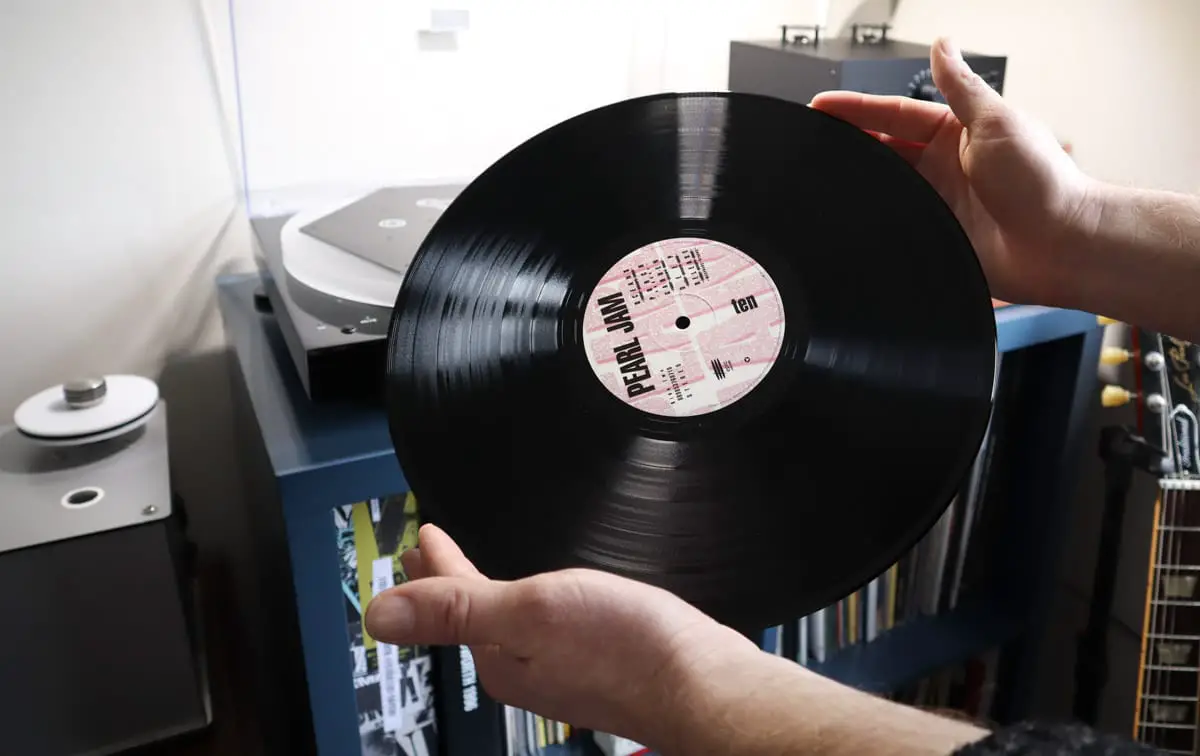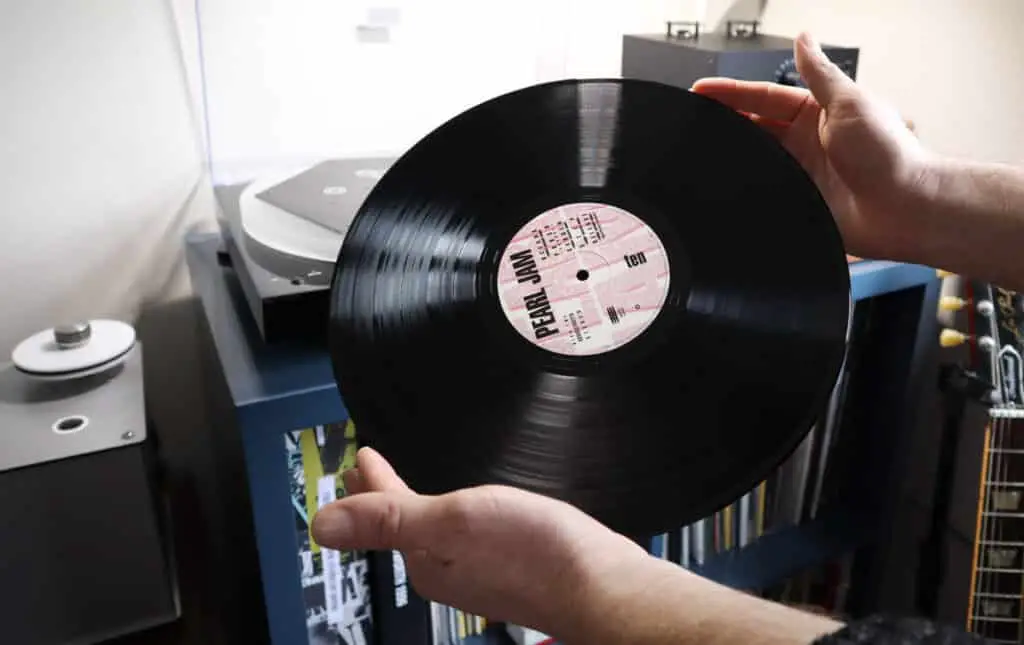 Step 2: Transferring the record to your turntable
Continuing to handle only the outer edge and label of your record, you can use your other hand to place the inner sleeve aside and then use both hands to place your vinyl record on the turntable.
Sometimes, I find records with a tight spindle center hole benefit from a light push on the record label to ensure full contact with the turntable or record player platter.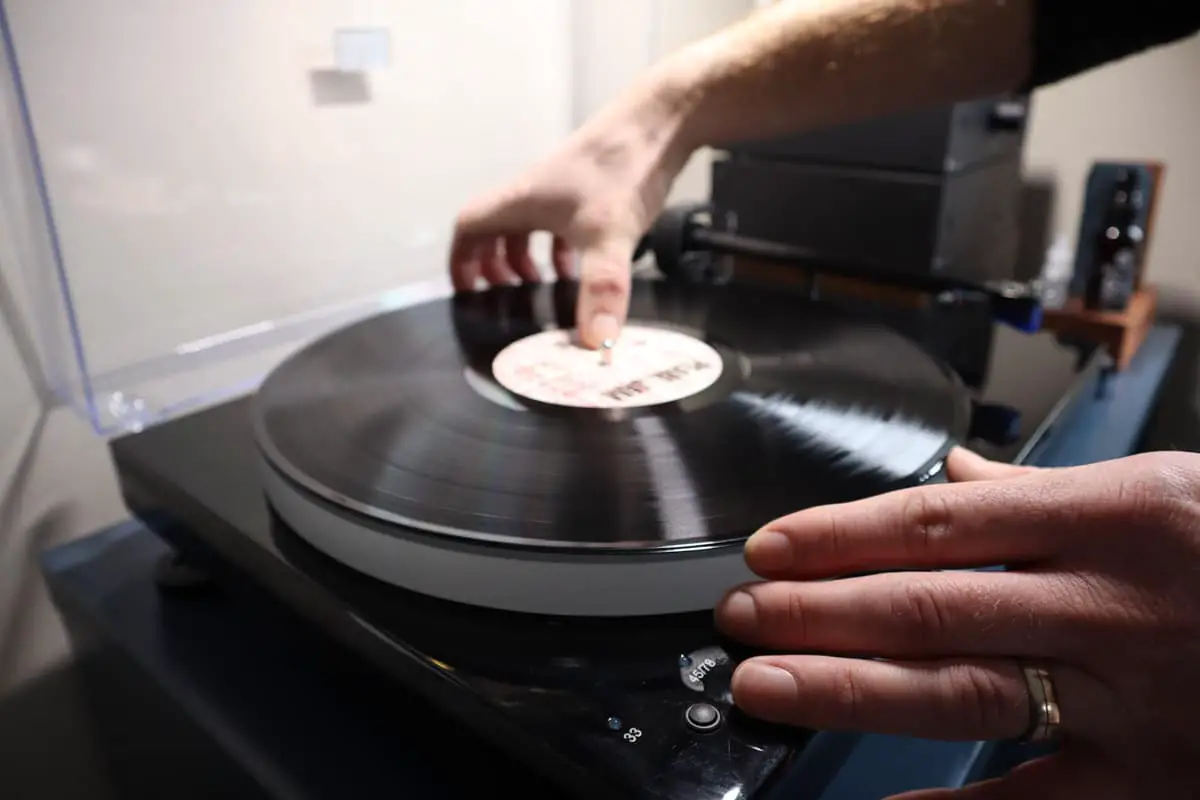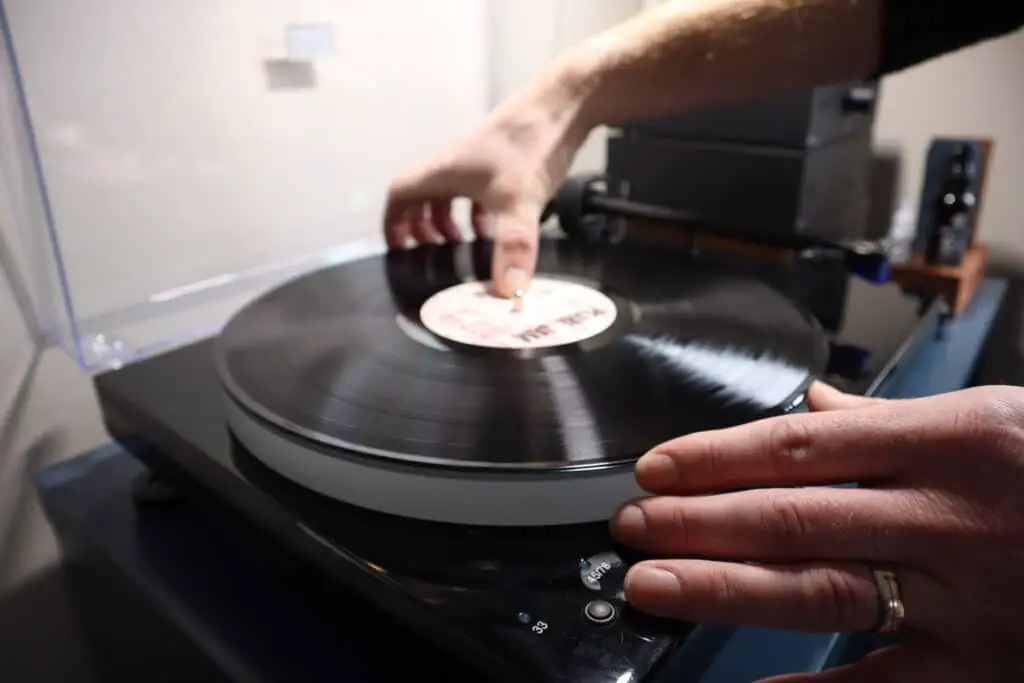 Step 3: Preparing to Play the Record
Since this guide is focused on how to hold a vinyl record and handle it correctly, I will leave the mechanics of how to play a record aside.
Handling records correctly does, however, require a certain amount of care. No matter how careful we are with our records, some surface dust will gather on the playing surface whenever it's out of the sleeve. The key is to ensure we minimize dust build-up!
A carbon fiber record brush is your friend here – I highly recommend this Audio Quest model.
Lightly press the fibers on the record surface as it spins to remove loose surface dust before and after playback on both sides. If you can make this a habit, you will greatly reduce the amount of wet record cleaning you'll need to perform across your collection. 
Using a carbon fiber record brush regularly (in the correct way) will also protect and extend the life of your stylus—so it's good for your records and your gear!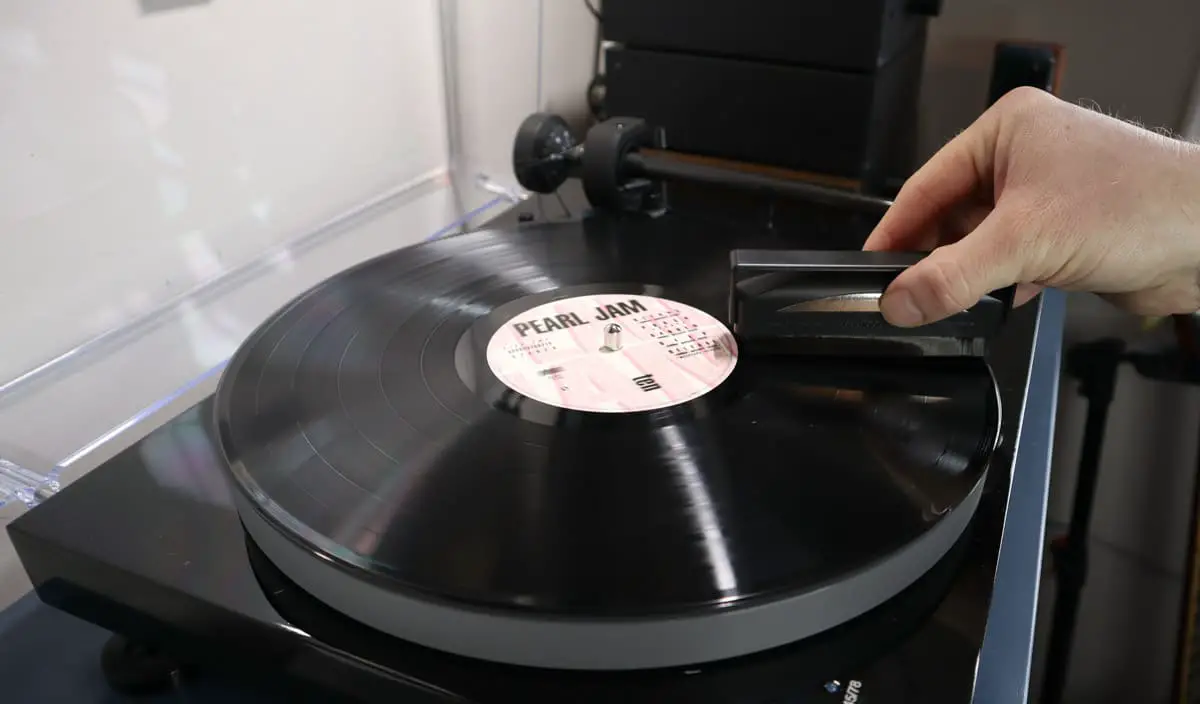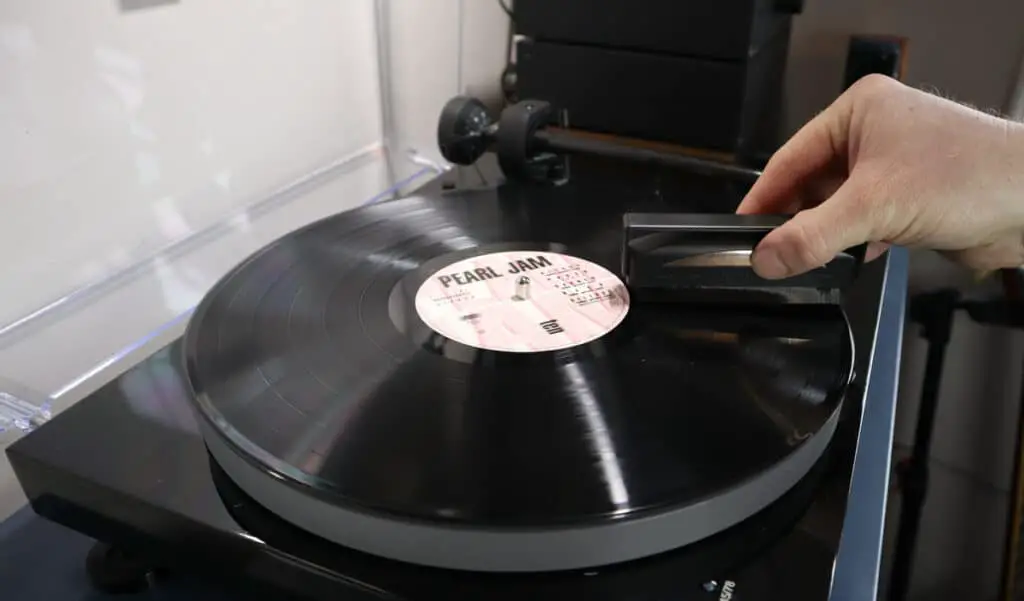 Step 4: Returning the record to its sleeve
Once you're done playing a record, it's best to return it to its sleeve as soon as possible. The more you can minimize exposure to airborne dust, the fewer problems you'll have with pops and clicks further down the line.
The golden rule of how to hold a vinyl record still applies, of course: always by the edges and label, never by the grooves or playing surface!
Placing the record back in a sleeve is essentially the reverse process of pulling it out. Resist the temptation to let it drop into a sleeve, as this may damage the sleeve and potentially scuff your record.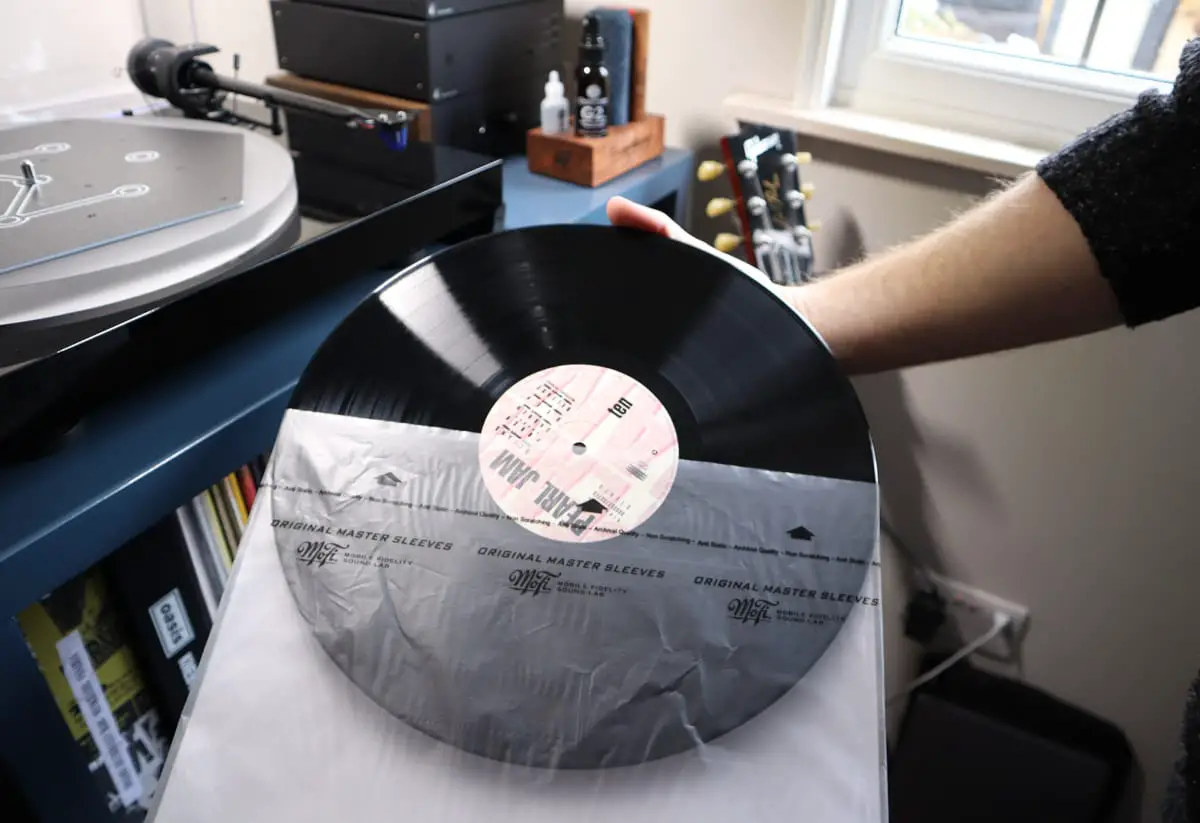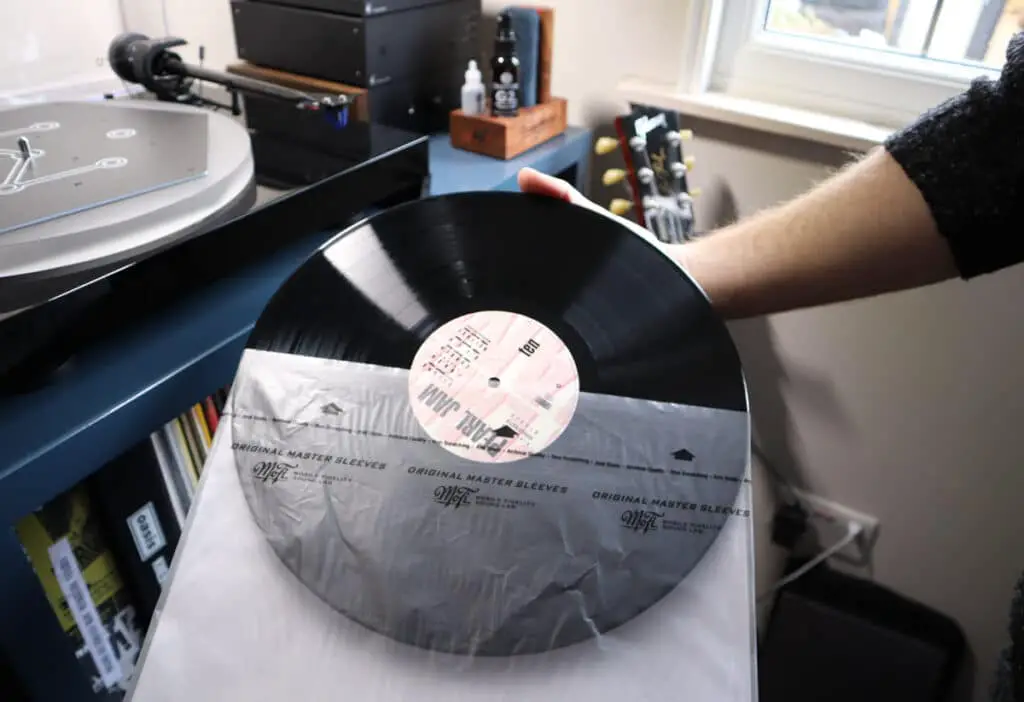 Step 5: Place in the outer jacket and store correctly
Lastly, place the record back into the outer jacket and (preferably) place said jacket in an outer record sleeve.
It's best to insert the inner sleeve facing up so the record can't accidentally slide out.
Good quality outer record sleeves will help protect the artwork and prevent ring-wear or scuffed corners and spins each time you pull the record in and out of storage.
Always store your records vertically in a record storage cabinet. Avoid stacking them in horizontal piles, as this can lead to the warping of your records over time. Read my complete guide to record storage for more advice on this aspect of record collecting.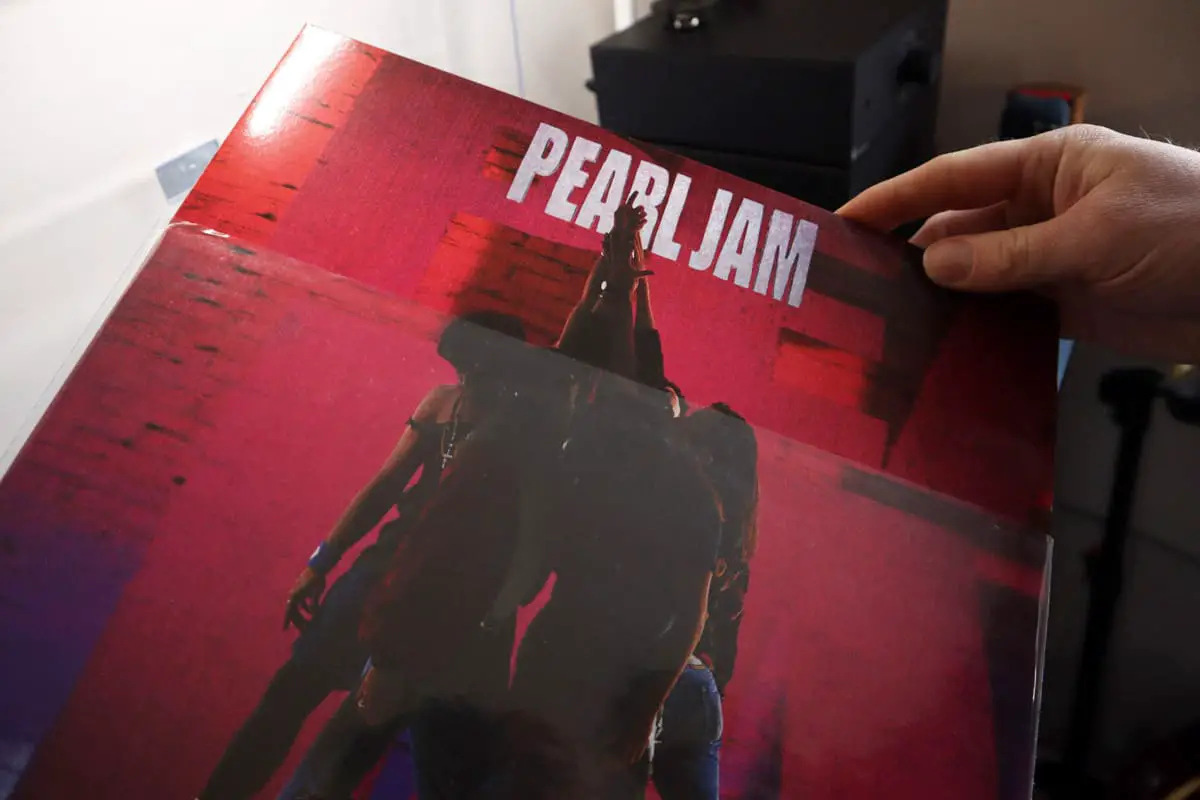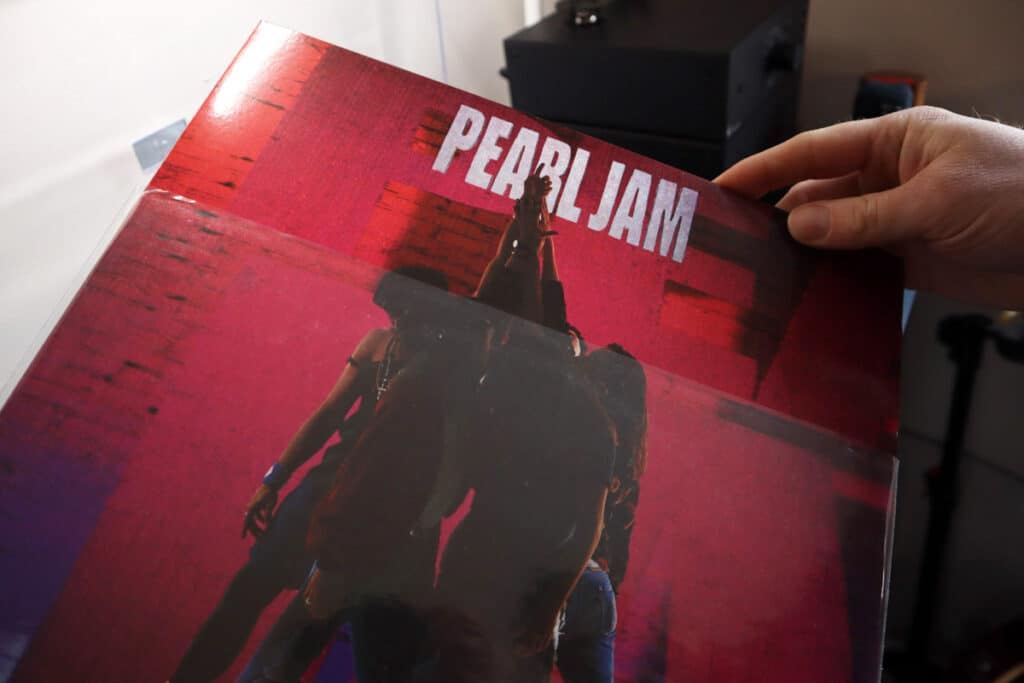 What Record Sleeves Should I Buy?
Inner Sleeves: Sleeves, in general, are important for storing records. I recommend upgrading basic paper inner sleeves for good-quality antistatic sleeves.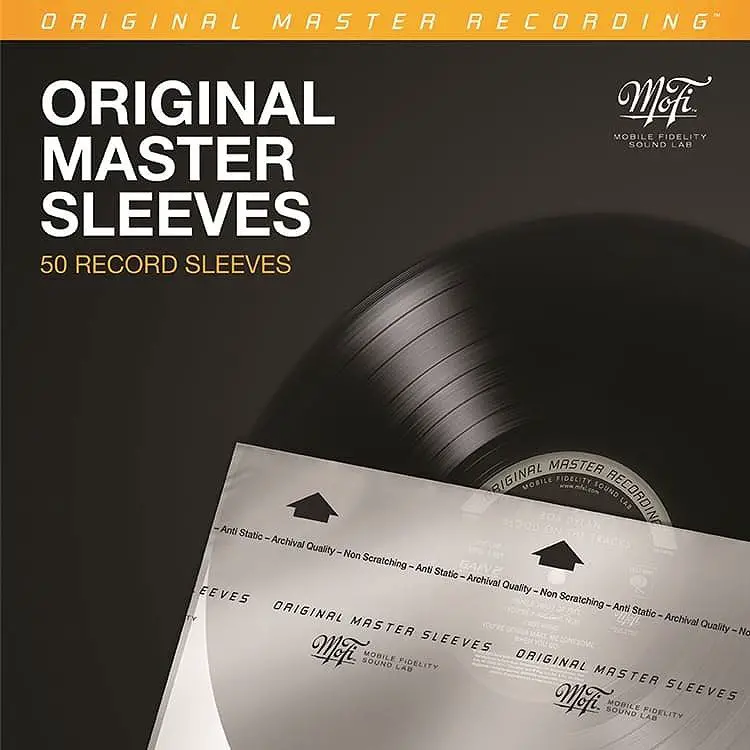 Polyethylene-lined sleeves are what you want for the best record protection and antistatic properties. MoFi sleeves have a longstanding reputation here, but there are also many competitors of similar quality, such as the Invest in Vinyl sleeves, for example. 
Outer Record Sleeves: There are many choices on the market for outer record sleeves. The best for you depends greatly on personal taste and the type of record (i.e. how thick is the record jacket). 
Material-wise, it's best to avoid very thick PVC outer sleeves, as these can contaminate record surfaces over time (more on this in our complete guide to record storage).
The safest material with the best clarity for enjoying the artwork is high-density polypropylene. Try Big Fudge outer sleeves for this as a good starting point.
---
How to Handle Records – The Bottom Line
Follow the step-by-step guide above and your records will remain in top shape for many years to come. 
When all is said and done, it's not rocket science we're talking about here; it's music. And arguably, vinyl as a format is the most engaging and engrossing way to lose yourself in your favorite artists, albums, and songs. 
The process of looking after a record, in many ways, is all part of the charm and appeal. Handle with care, avoid touching the record surface, avoid dust build-up, and pay good attention to correct record storage. That's all there really is to it.