Owning physical copies of your favorite albums is the best way to experience music. They're collectible, tactile, and in many cases, beautiful works of art. Best of all, with the right recording, mastering, and production, they sound fantastic.
Unlike streaming services, of course, records take up space…
As your collection grows, you'll need to pick the best vinyl record storage solutions to suit your unique space and home.
If your living space is relatively large, this could be as simple as up-sizing your storage cabinet. However, if space comes at a premium in your home, you might need to get increasingly creative in finding additional space each time you return from the record store with another stack of wax. 
There are many vinyl record storage options available to suit all record collections great and small. For the longevity of your collection, there are also a number of principles you should follow to store your records safely. For today, though, we focus on vinyl storage containers, cabinets, and display options. Here's our pick of the best:
---
The Ubiquitous Ikea KALLAX
No article on vinyl record storage would be complete without IKEA's very popular KALLAX shelving unit. They're arguably the most common solution among vinyl enthusiasts for housing medium to large collections. The 13″x13″ cubes are perfect for housing 12″ LPs, and the unit comes in a selection of dimensions and finishes at a very attractive price. 
Just be mindful of weight. Records are heavy, so for the best support, ensure your records are sat on the full-width boards of the KALLAX unit and not the shorter dividers. Ikea recommends not exceeding 13kg (28.6 pounds) for each shelf.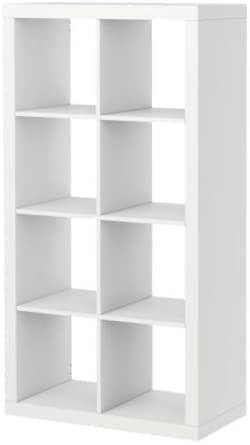 ---
Novogratz Concord Turntable Stand
This mid-century-inspired turntable stand is perfect for a living room vinyl setup. The addition of drawers makes it easy to store all your vinyl record accessories out of sight for a clean, contemporary look. It features a shelf for records underneath, with the addition of handy dividers to break up your collection and prevent excessive leaning.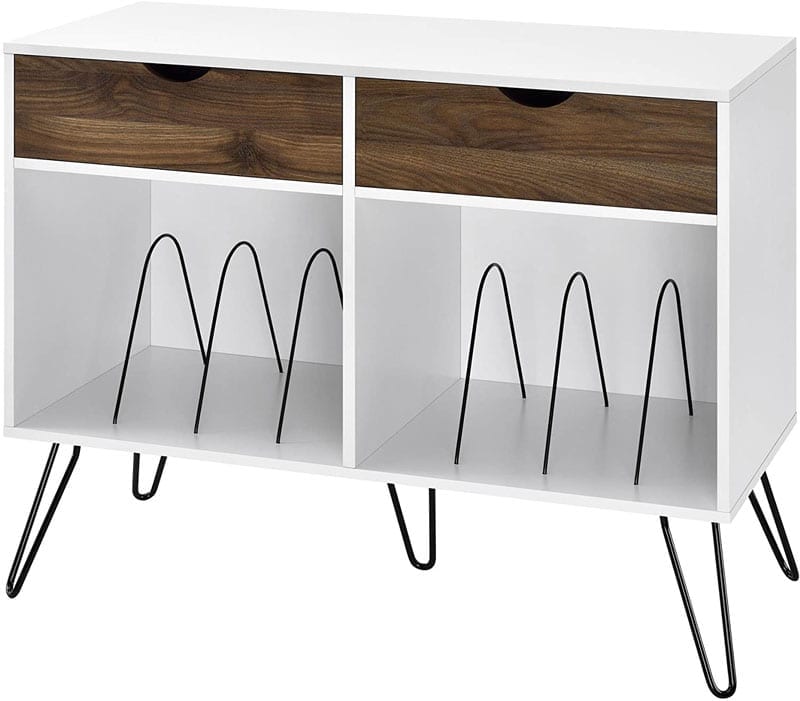 ---
Modway Render Mid-Century Modern Vinyl Record Storage Display Cabinet
There's just something about the mid-century style that really suits record cabinets. Helped, of course, by the fact vinyl was at its peak during the post-war mid-century modern art movement. 

The sliding slatted door and walnut effect looks really sharp and allows for plenty of storage for both records and accessories. Your turntable can sit right on top, making it a great listening station and centerpiece in your home.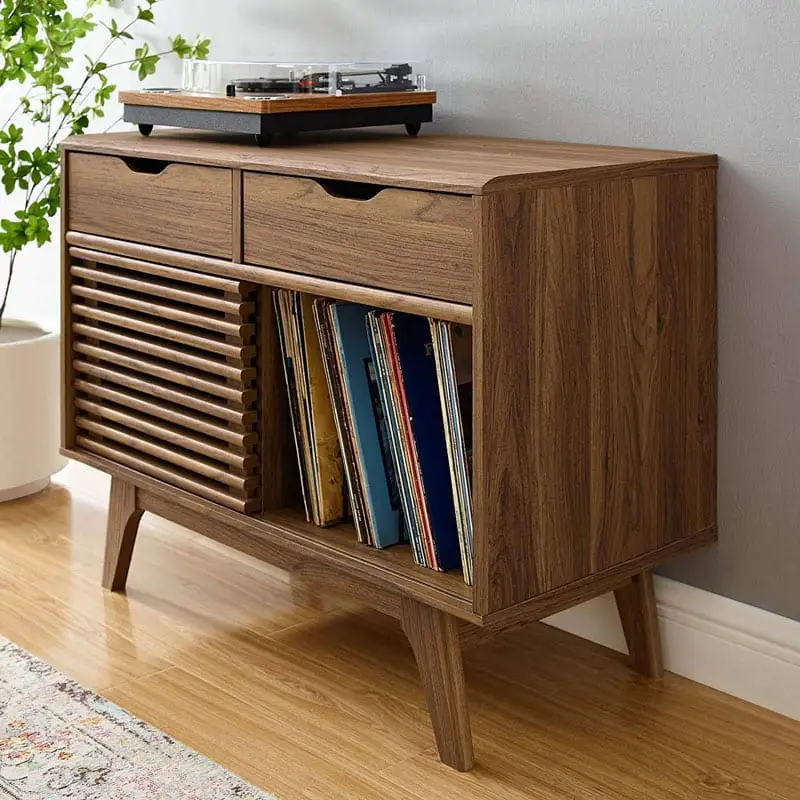 ---
MODERN VINYL Record Holder
Although a good record shelf or cabinet is the best and safest way to store records, there is a place for more artistic options that create a sense of style in your home. 
This matte black record holder can house 160-200 LPs in a way that makes them a focal point in the room.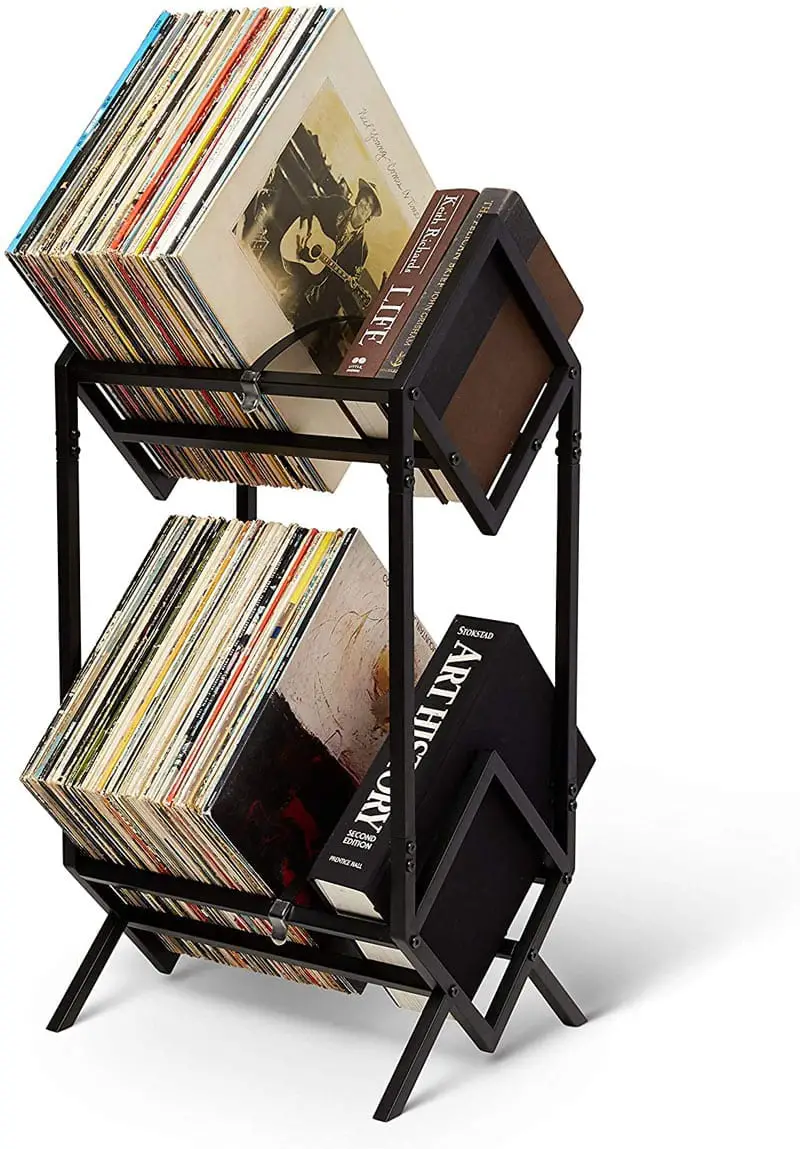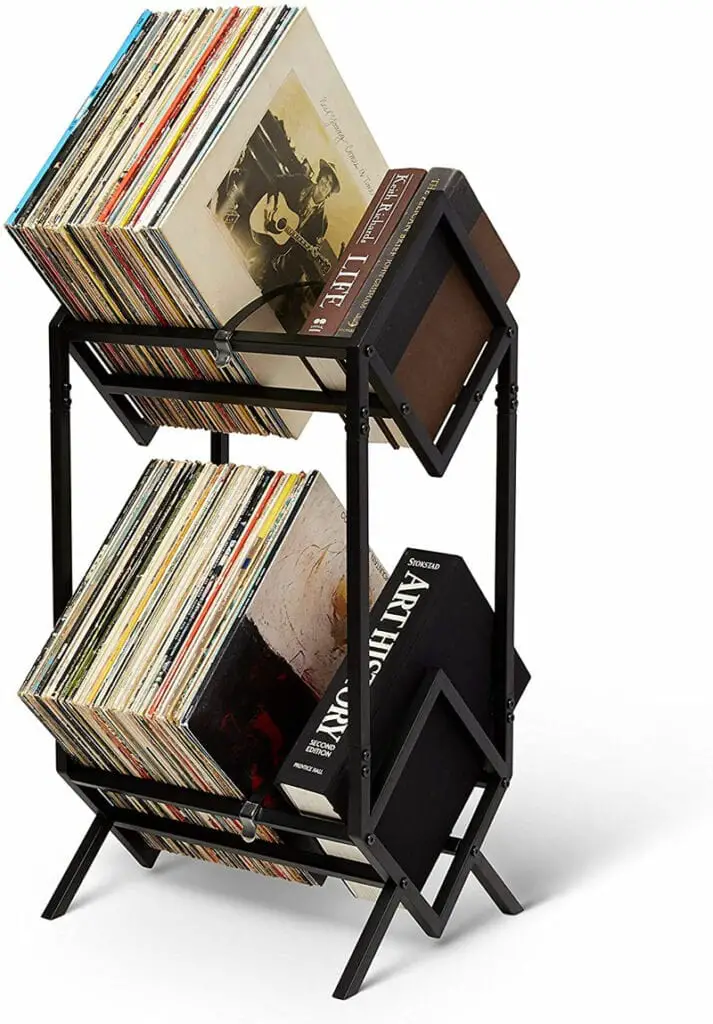 ---
Crosley ST66-PA Manchester Entertainment Stand
Although Crosley is best known for the cheap and cheerful suitcase-style record players famously mocked by audiophiles, they also make some pretty cool retro accessories.
This wooden mid-century style stand has a shelf for records that can house around 20 albums while doubling as a coffee table or record player stand.
For more compact record player stand options, view our complete guide, here.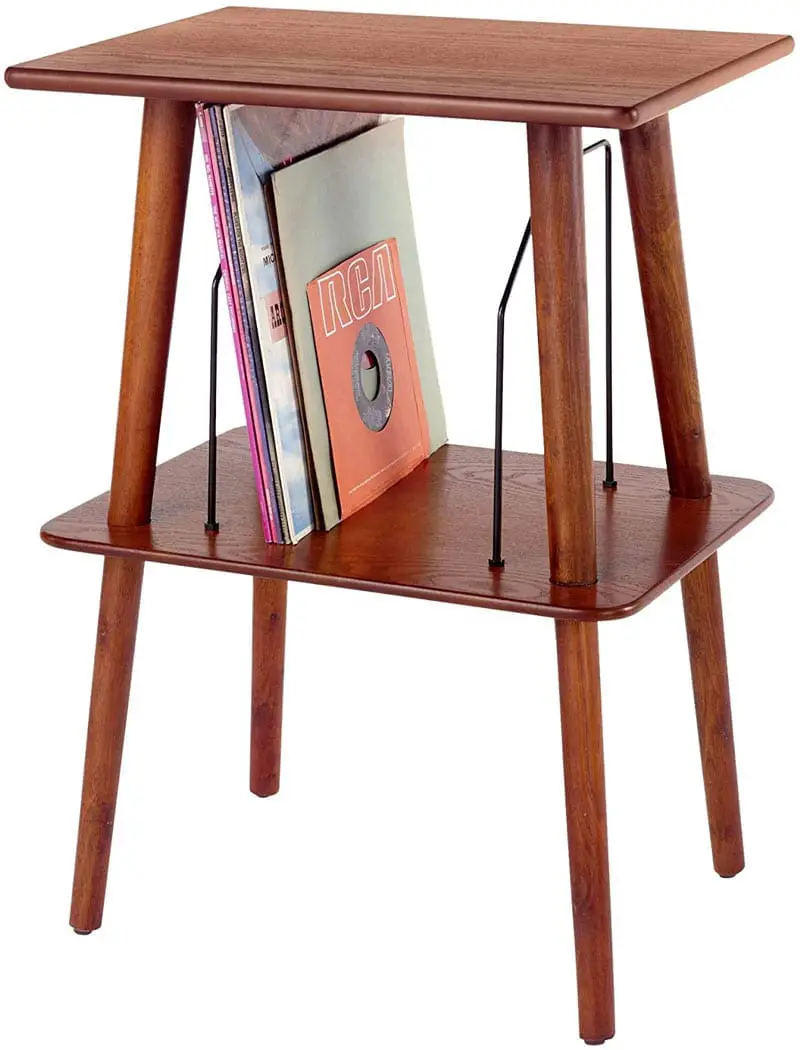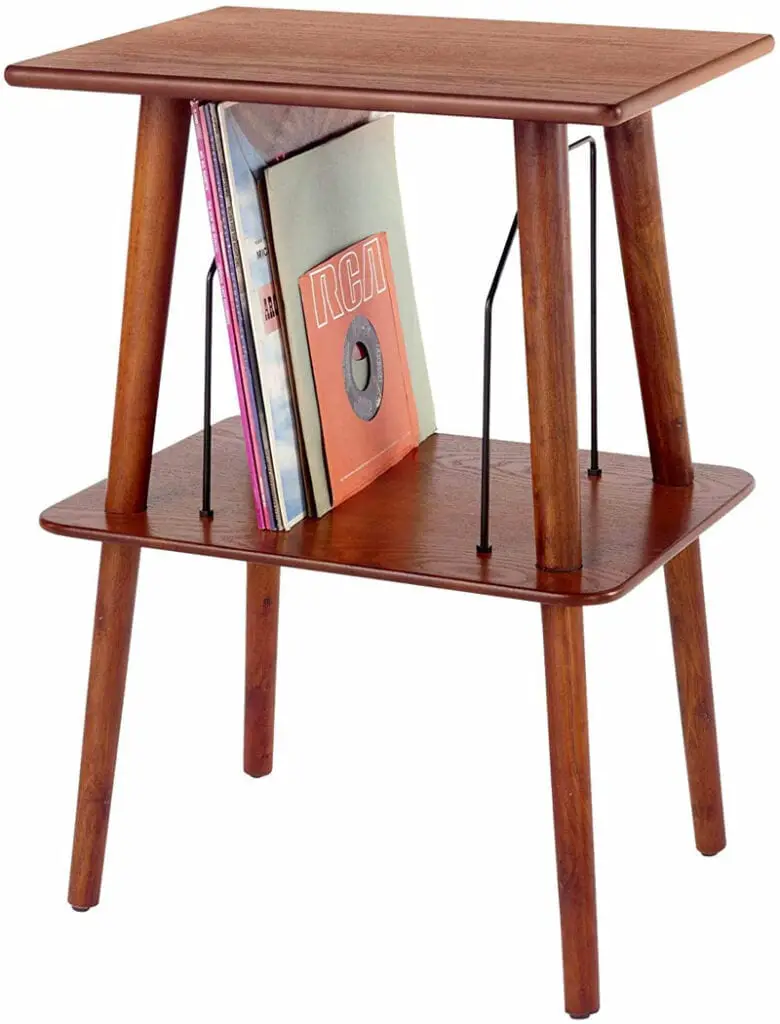 ---
Urban Outfitters Corner Store Vinyl Storage Rack
Urban Outfitters sell vinyl as a lifestyle and undoubtedly contribute to vinyl's resurgence among younger listeners. As a fashion retailer, they focus predominantly on the aesthetic of vinyl and make some really cool storage solutions that celebrate the beauty of vinyl records. One example is this gold metal rack with compartments designed to house 12′ LPs.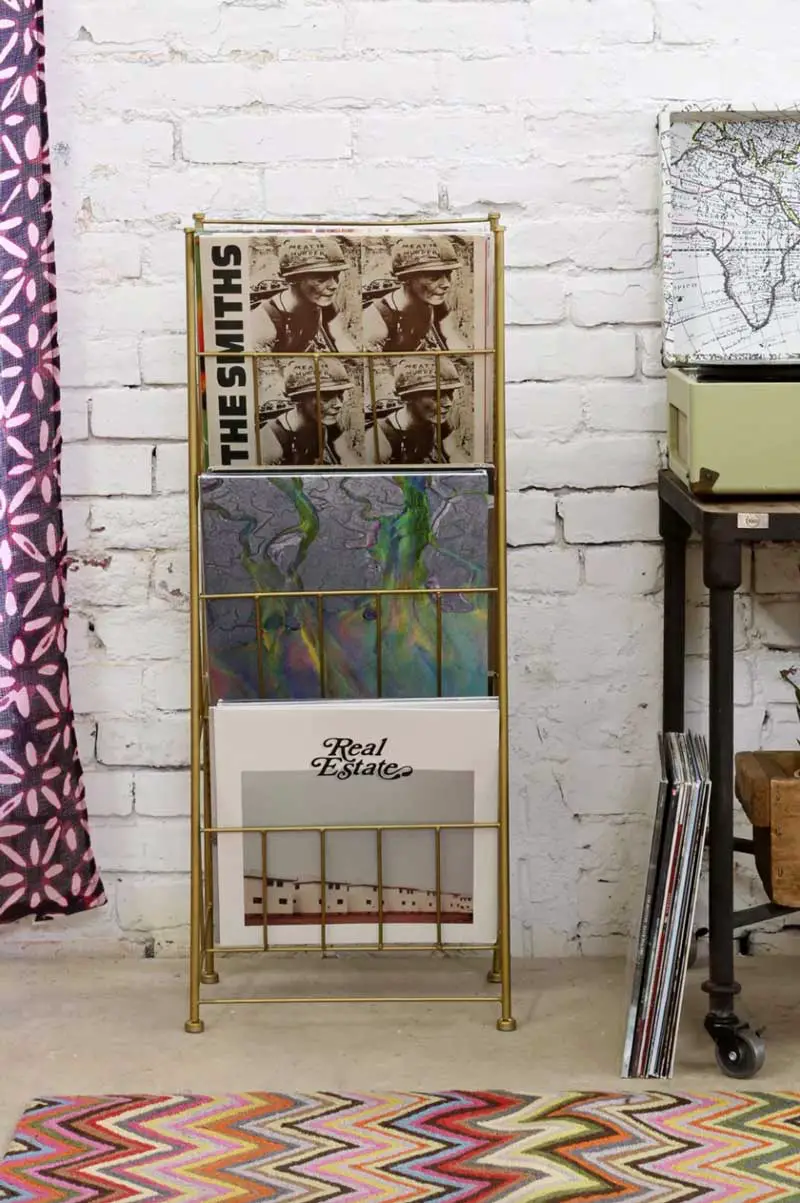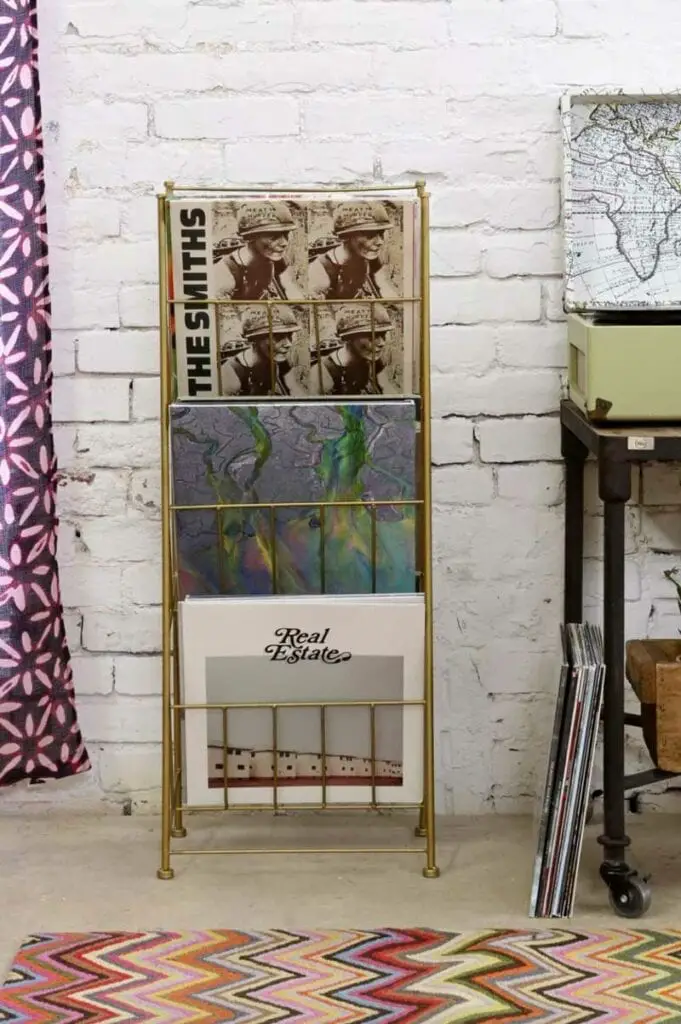 ---
Restored Antique Cabinets
If you're feeling adventurous and would like something truly unique, consider looking at up-cycling an antique cabinet. I took this 1960s teak cabinet, applied some chalk furniture paint for modern style, and installed hairpin legs for a timeless mid-century look.
There are plenty of similar cabinets available on e-bay, or you can check your local antique dealer if you have one.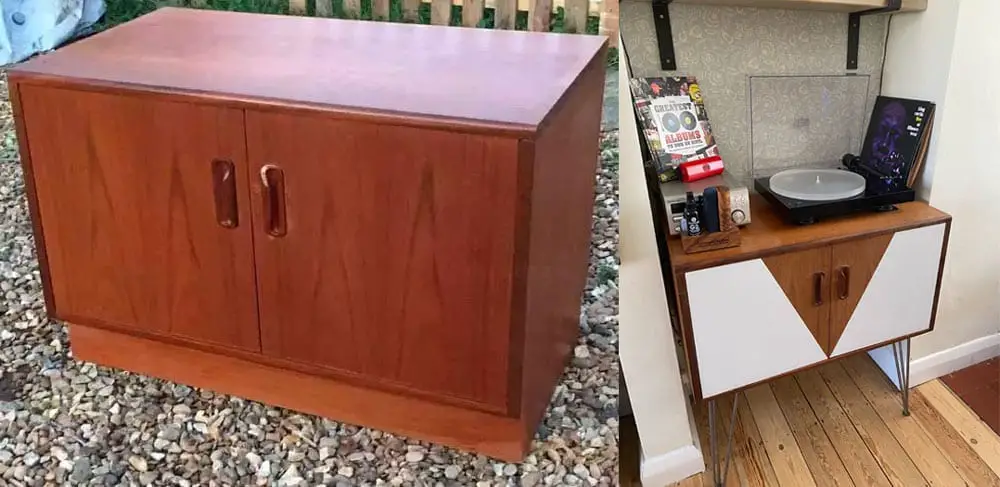 ---
Flight Cases for Storing Records While Moving House
If you need to transport a large record collection, you'll need a suitable container to protect the records in transit. This flight case can hold up to 150 records. It's a worthwhile investment, particularly if you're shipping records abroad in a container or moving long-distance in a removal truck.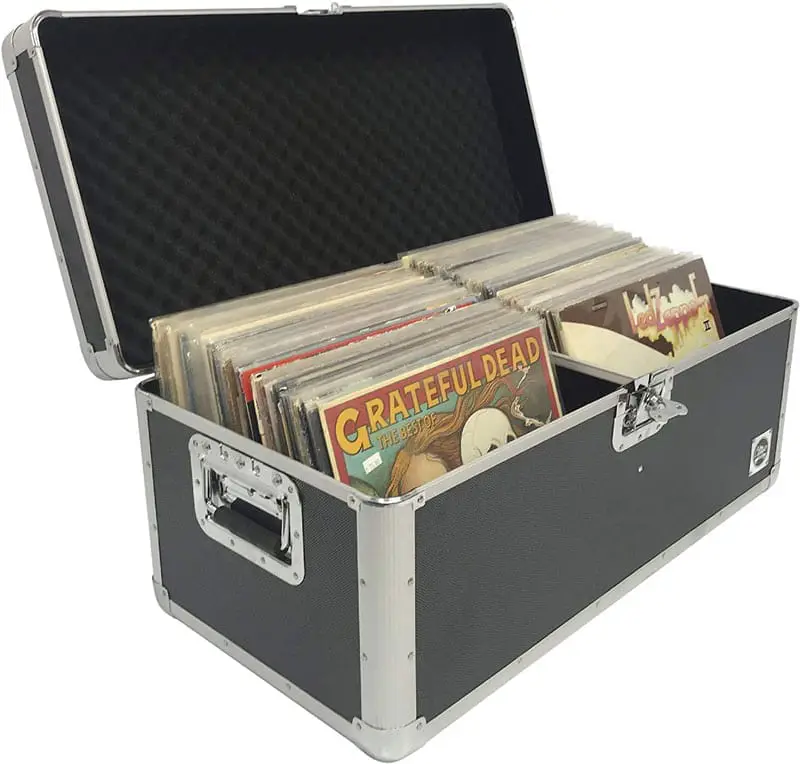 ---
Victrola Wooden Record Crate
Record crates are handy for record overflow. Sometimes, when a collection grows beyond your primary storage, having a few crates around allows you to store any extras safely.
I like these in particular for their wood construction and the retro Victrola brand. Perfect for tucking underneath cabinets or in closets—basically anywhere you can find to stash away black gold.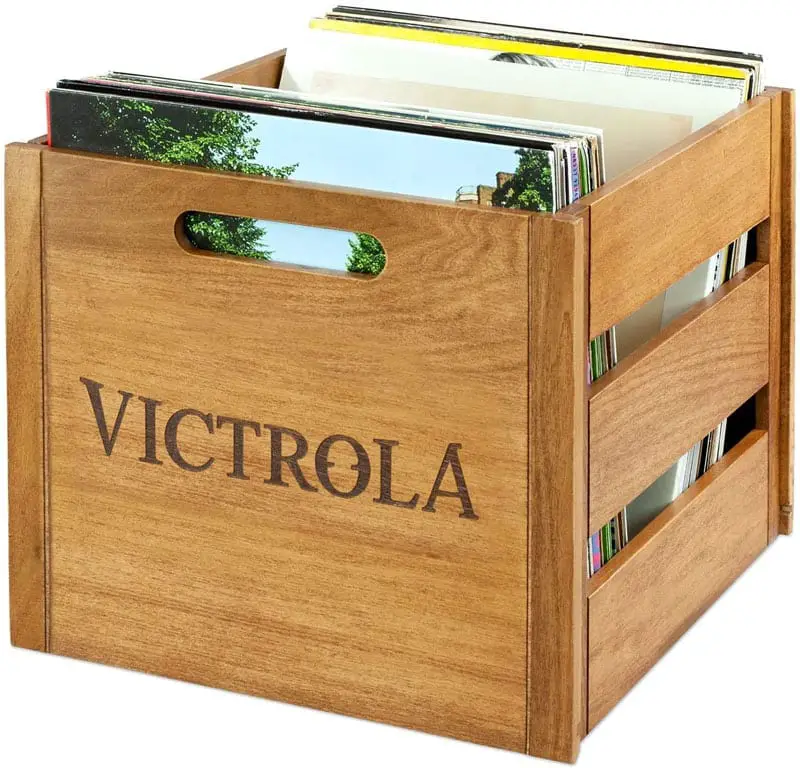 ---
Bespoke Record Storage
To really maximize space in your music room, you could consider having a bespoke record storage unit made. Many hand-made furniture suppliers can make a listening station/record storage unit to your specifications. Take this example below from Fletcher and Mils. The customer specified a message engraved across the solid wood top (I like the sentiment, by the way), plus a wine rack—even better.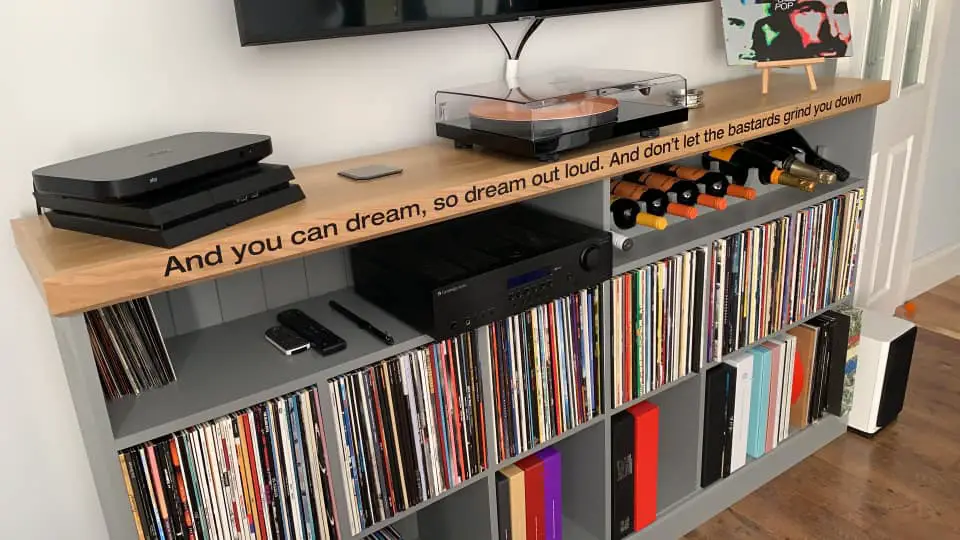 ---
Bonus: Display Your Vinyl Records on the Wall
While this doesn't strictly come under the category of vinyl record storage, it does perfectly complement your listening space by displaying your vinyl as art.
Twelve Inch vinyl display systems use magnets instead of the traditional frames to create a minimalist look while retaining access to your records for playback. With the adaptor model, you can also display the disc itself. Perfect for picture discs. It's a pretty neat way to store and display your vinyl.
Sound Matters readers can enjoy 10% off Twelve Inch products when purchasing from twelve-inch.com. Simply use the code SOUNDMATTERS10 on checkout.