Enthusiasm for music on vinyl shows no sign of stalling. Sales of vinyl records continue to climb year-on-year, with revenues now out-performing CDs in what can only be described as the comeback of the century.
Despite the convenience and abundance of digital streaming, it can never replace the joy of owning a physical piece of music and the full experience associated with playing a record.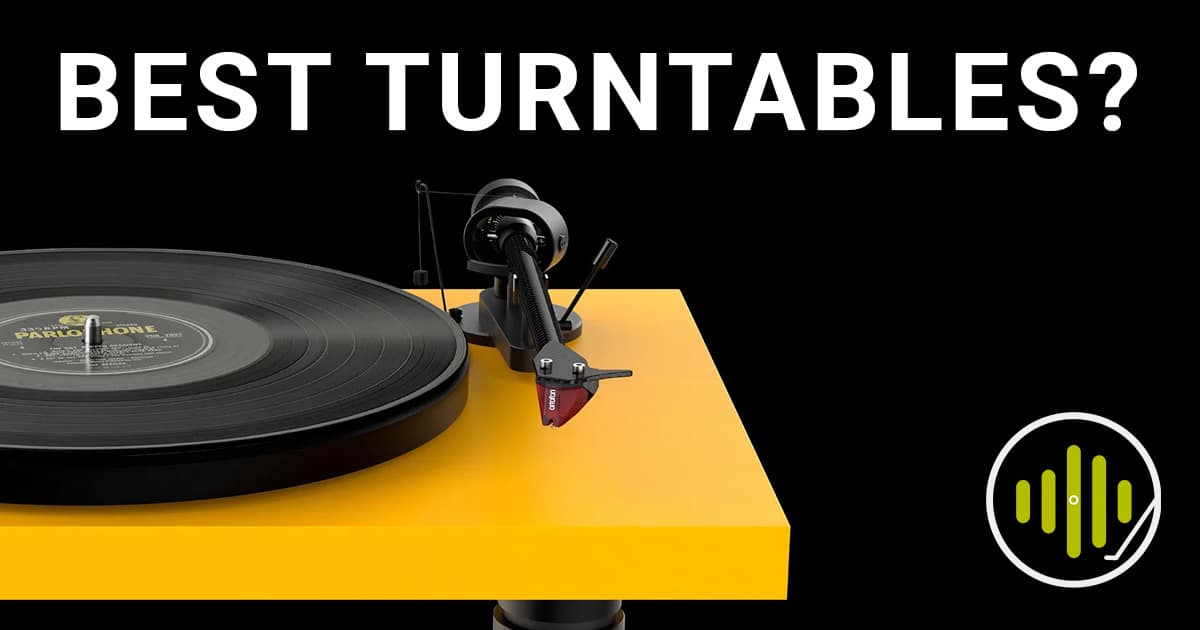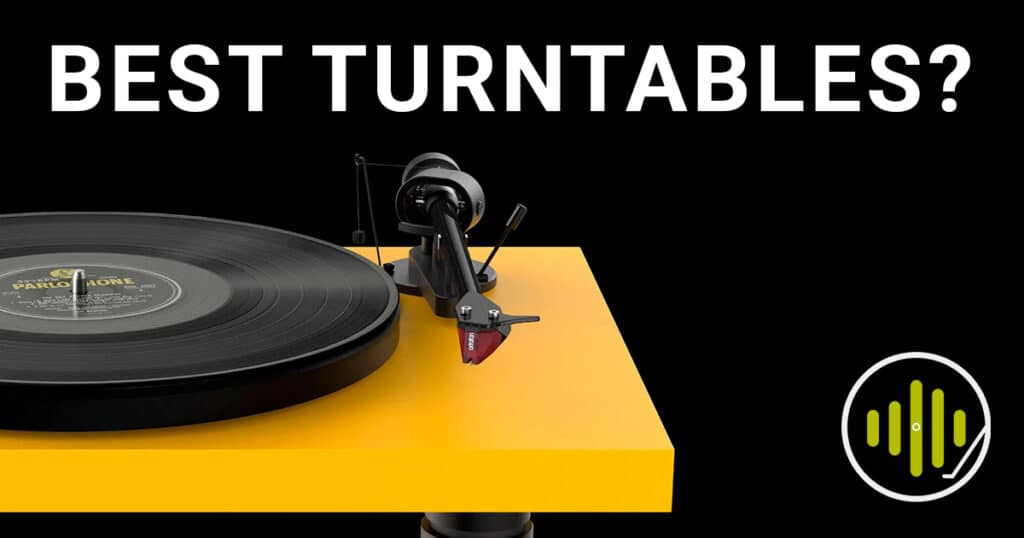 For the best experience, you need a great setup. Buy the wrong record player or turntable, and you could easily be left wondering what all the fuss is about. 
Get the right deck, however, and your records will sing. You might even be left wondering why you went all-digital in the first place.
To help you get off on the right foot, we've compiled our pick of the best turntables and the best record players to suit any budget.
---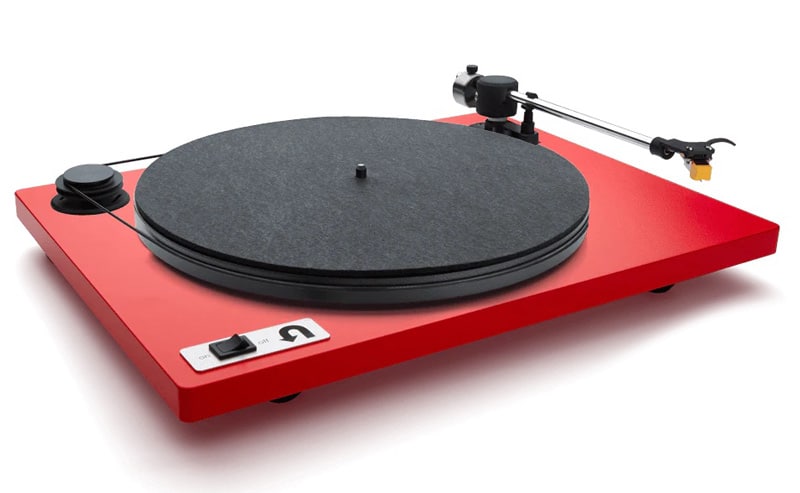 U-Turn Orbit
Price: $199+ | Speeds: 33, 45 | Motor: Belt | Phono Preamp: No | Bluetooth: No | USB: No
U-Turn Audio are proof that getting a great sound from your records doesn't have to break the bank. Their Orbit range of entry-level turntables changed the game and lowered the bar for entry. 
With an Orbit deck, you can get into vinyl for as little as $199, which is impressive considering they're designed and assembled in the US. 
Even better, the Orbit is a modular design. The base model gets the basic tracking right to deliver a no-frills HiFi experience. Upgrading to the Orbit Plus will get you a superior acrylic platter and a nice cartridge upgrade.
I recommend picking up the optional cue lever, which is available as a separate upgrade if you want to avoid potentially scratching up your records.
At present, the U-Turn products are only available in the US and Canada, we hope to see that change in the future.
---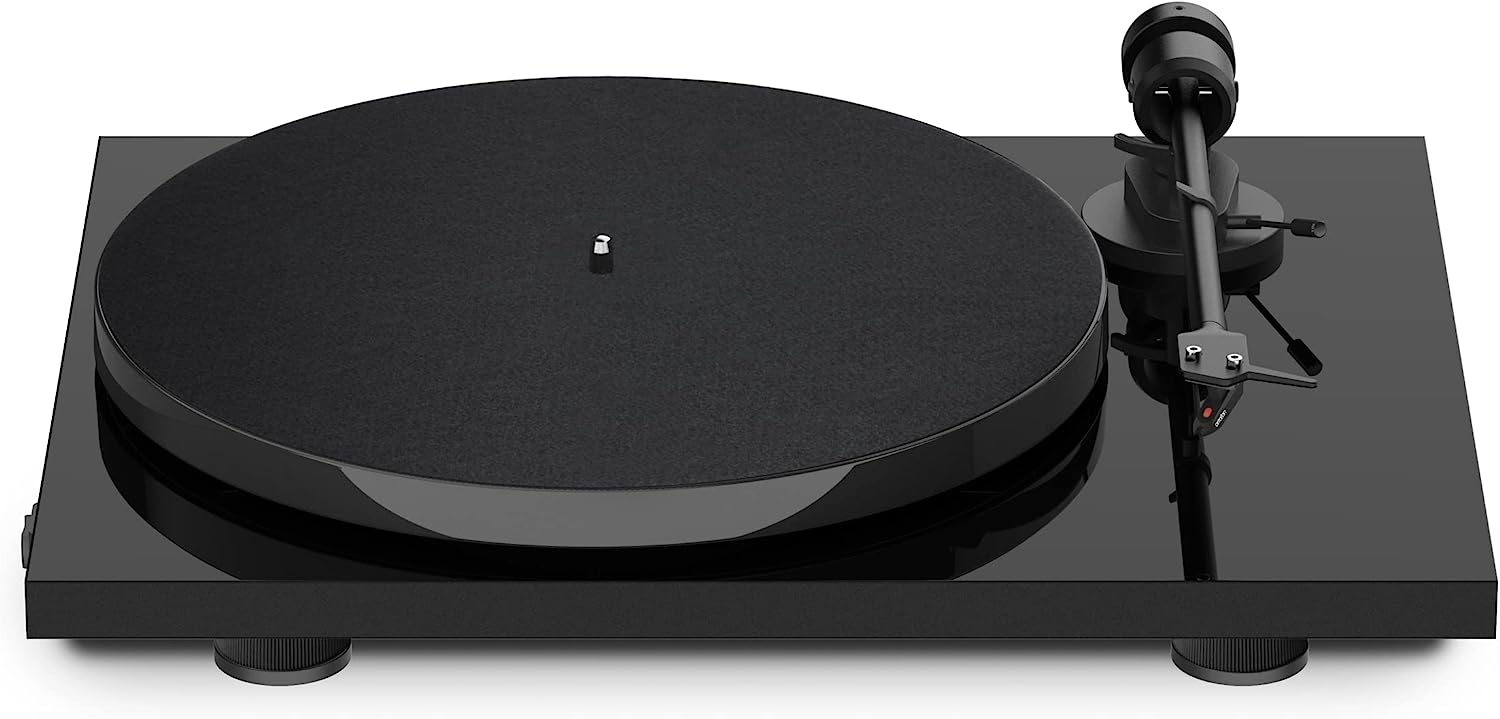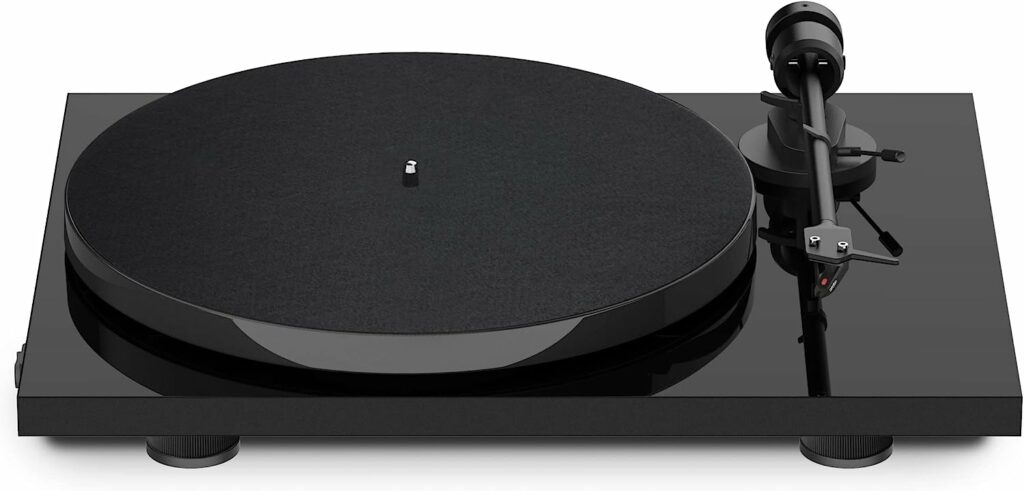 Pro-Ject E1
Price: $349 (£229)+ | Speeds: 33, 45 | Motor: Belt | Phono Preamp: Optional | Bluetooth: Optional | USB: No
With its plug-and-play functionality and easy speed switching via the side-loaded rocker switch, the Pro-Ject E1 is a superb beginner turntable with a ludicrously low price tag.
Pre-installed with a great-sounding Ortofon OM-5E cartridge, you can start spinning records with virtually no initial setup required.
This ease of use comes to the Pro-Ject line of turntables thanks to their stripped-down tonearm design with factory-set tracking force and anti-skating. No need to mess around with balancing a tonearm and setting tracking force; simply install the platter, wire up the included phono cable, and away you go.
Very simple to use, perfect for beginners, and it sounds great too!
View the full Pro-Ject E1 Sound Matters review, here.

---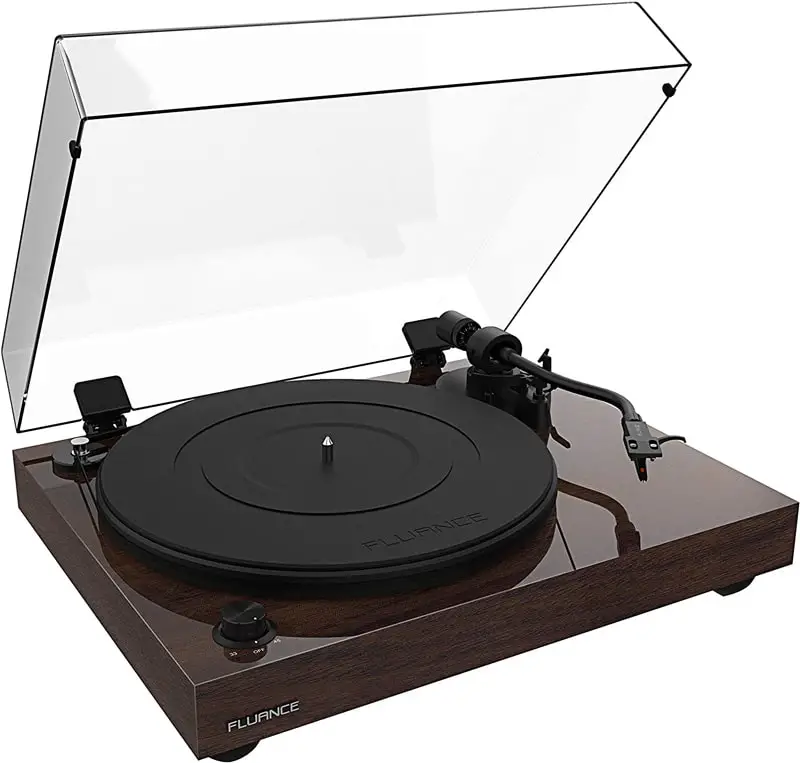 Fluance RT82
Price: $299/£349 | Speeds: 33, 45 | Motor: Belt | Phono Preamp: No | Bluetooth: No | USB: No | Cartridge: Ortofon OM10
The reference range of turntables pack in quite the feature set at impressively low prices. The RT82 comes complete with a speed control motor, an s-shaped tonearm, a pre-fitted Ortofon OM10 cartridge, and a multi-layered MDF platter.
The RT82 certainly looks and performs above our expectations in the sub-$300 price bracket. Impressive. 
---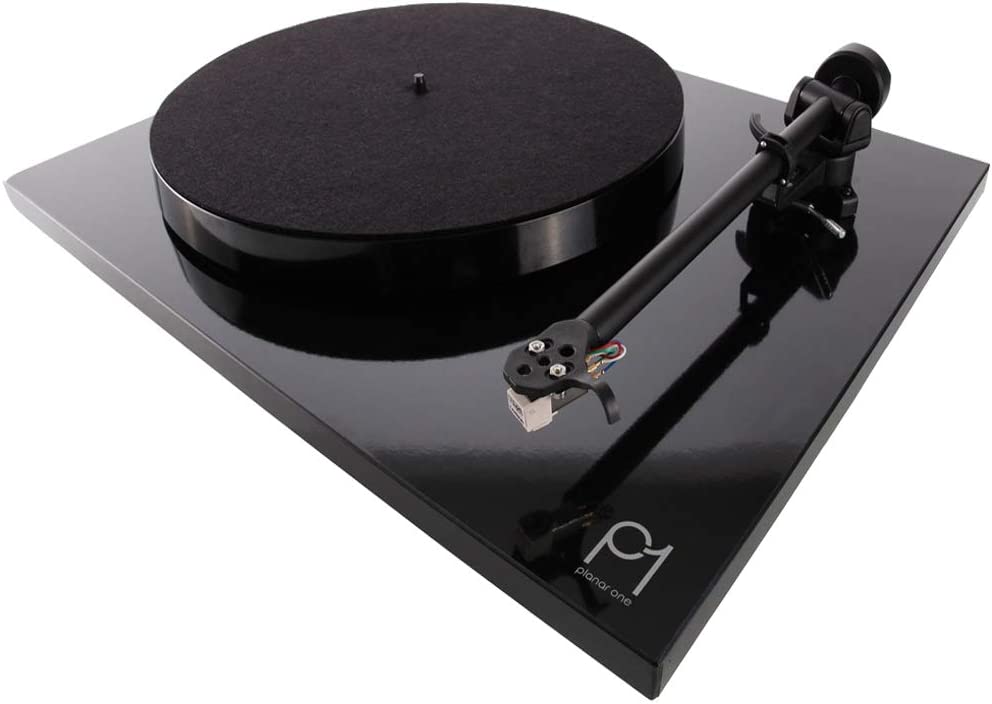 Rega Planar 1
Price: $595/£299 | Speeds: 33, 45 | Motor: Belt | Phono Preamp: No | Bluetooth: No | USB: No | Cartridge: Rega Carbon MM
The Rega Planar 1 and the Pro-Ject Debut Carbon are industry leaders when it comes to affordable turntables capable of sophisticated performance.
Both models have their pros and cons, and while we love Pro-Ject's carbon fiber tonearm, it's difficult to argue with the performance benefit associated with the Planar 1's phenolic resin platter.
The Planar 1 comes with a pre-fitted cartridge, and unlike the Debut Carbon, anti-skating (bias) is pre-set, which may suit newbie record collectors seeking a more plug-and-play experience.

---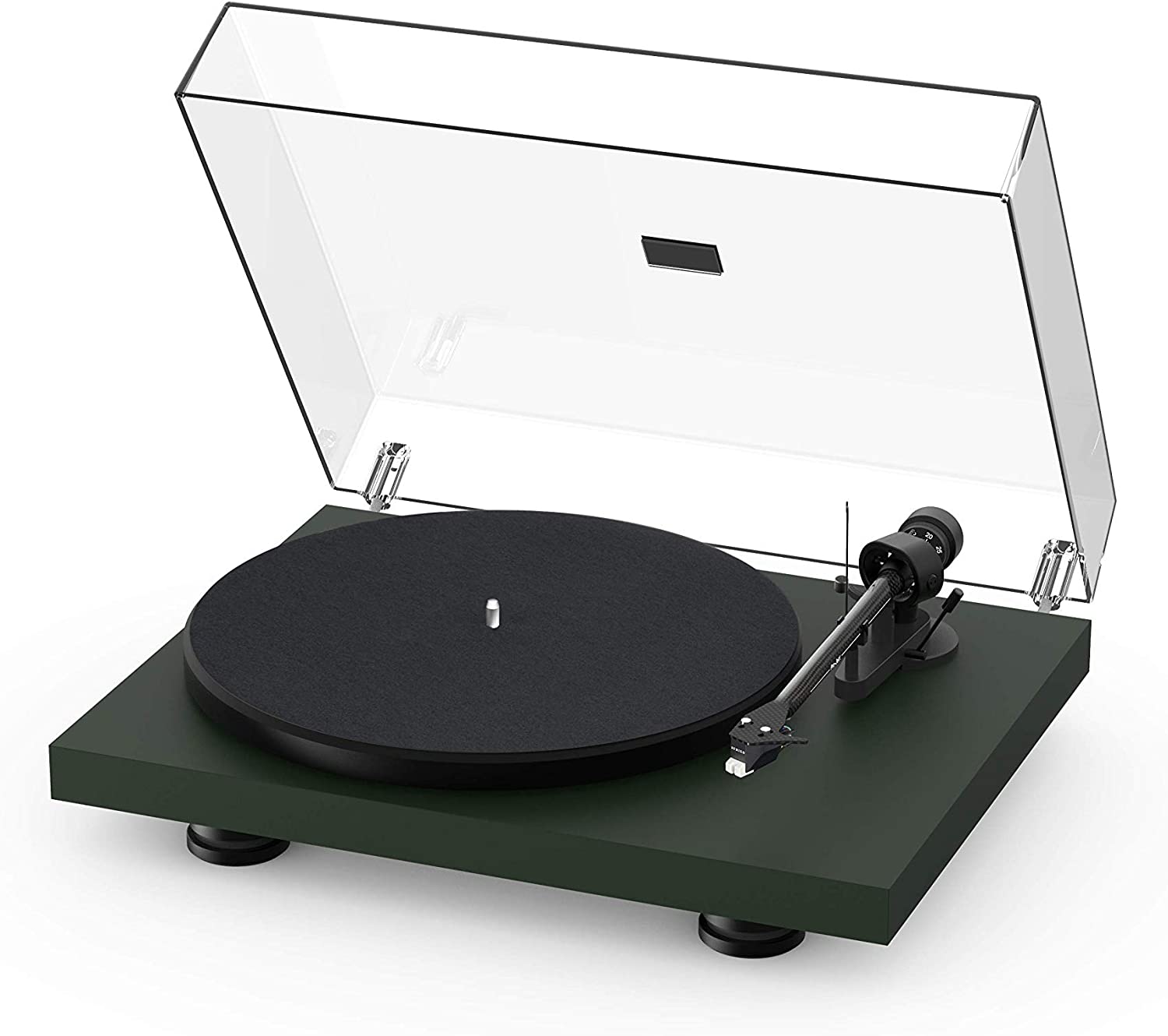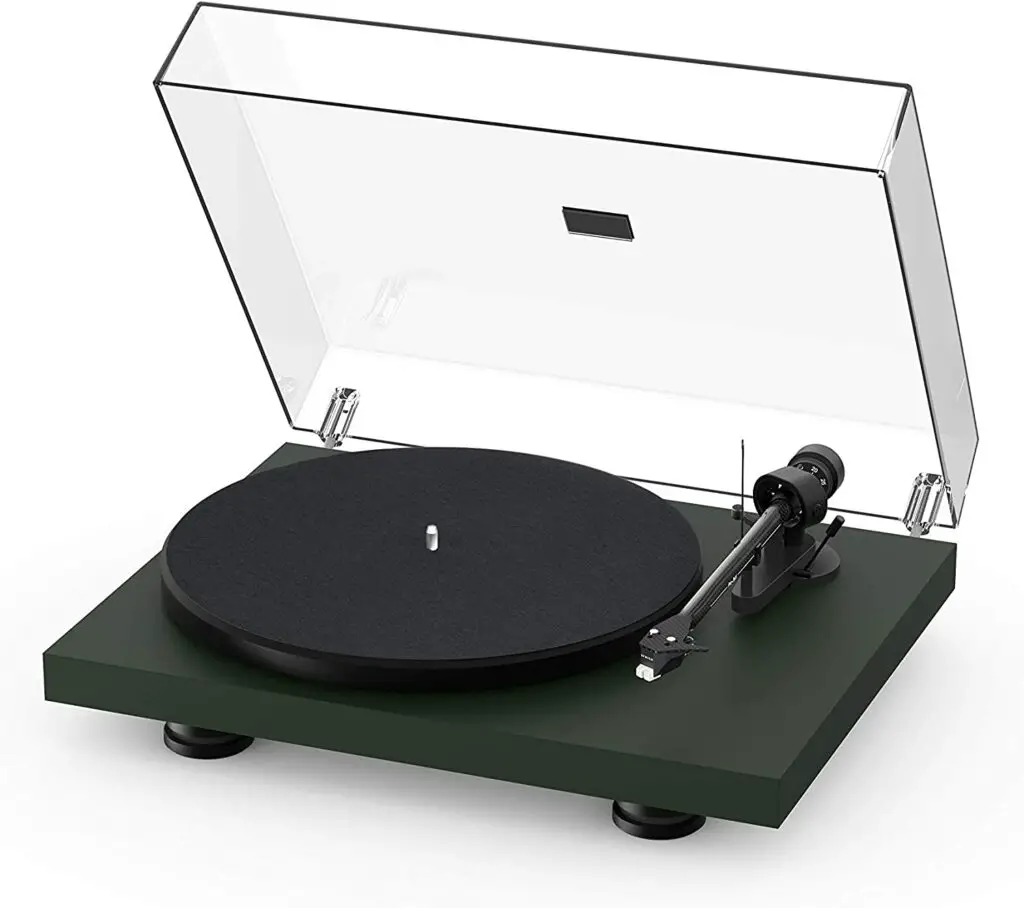 ProJect Debut Carbon Evo
Price: $599/£449 | Speeds: 33, 45, 78 | Motor: Belt | Phono Preamp: No | Bluetooth: No | USB: No
After years of setting the standard for affordable turntables with great performance and sound with the Debut Carbon, ProJect stepped up their game with the new Debut Carbon Evo. 
It's everything we know and love about the original Debut Carbon, with additional features that make it more enjoyable to use. We tested the Debut Carbon Evo and enjoyed the addition of switch-operated motor speed control; no more lifting off the platter to manually to adjust the belt!
The Evo even allows for 78rpm playback, although you need to change the belt from the primary flat drive belt to the second round drive belt. But considering this also requires a cartridge change, it's not such a big deal. All the same, it's nice to have the option at this price point.
---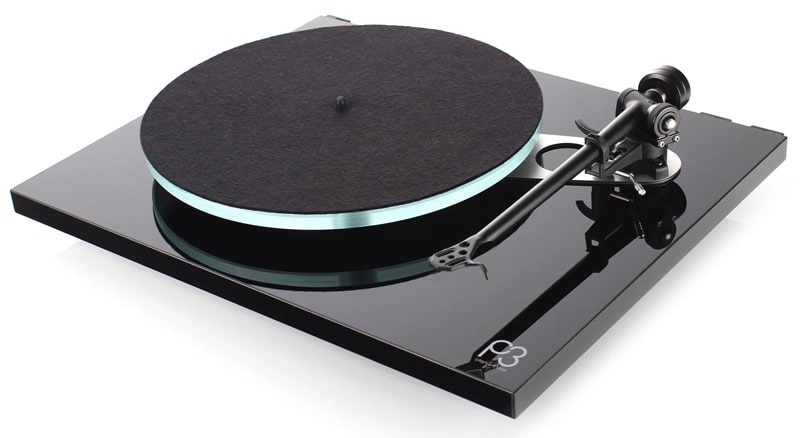 Rega Planar 3
Price: $1,325/£799 | Speeds: 33, 45 | Motor: Belt | Phono Preamp: No | Bluetooth: No | USB: No | Cartridge: Elys 2 MM
Since its launch in the 1970s, the Planar 3 has set the standard for well-engineered, stripped-down decks. Being a frequent multi-award-winning turntable, it would be easy for Rega to rest on its laurels. Far from this, Rega continues to improve on the design.
The latest incarnation features an improved double brace system for increased rigidity between the tonearm mounting and the main brass bearing. 
Aside from this, almost all aspects of the Planar 3 were improved in the last design to control resonance further, reduce friction, and increase rigidity. If you thought the Planar 3 couldn't get any better, think again! 
---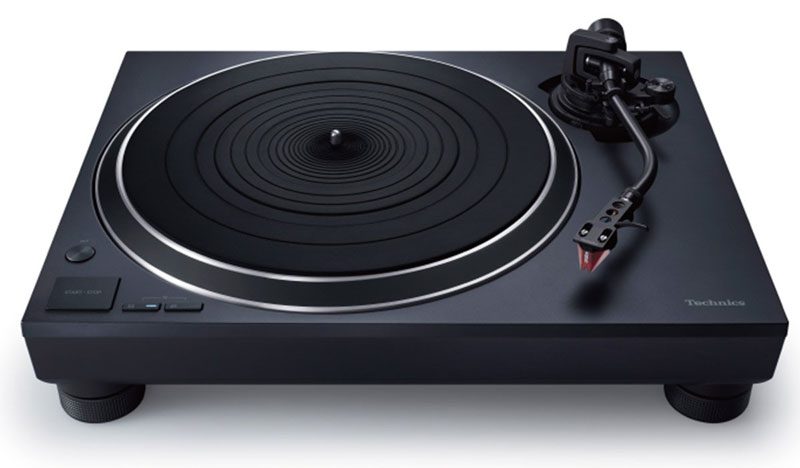 Technics SL-1500C
Price: $1199 / £899 | Speeds: 33 ⅓, 45, and 78 rpm | Motor: Direct drive | Phono preamp: Yes | Bluetooth: No | USB: No | Cartridge: Ortofon 2M Red
My personal direct-drive turntable of choice, the Technics SL-1500C borrows many design elements from its more extensive cousin (the SL-1000R) packaged up in a familiar chassis resembling the SL-1200. 
At a very attractive price, the SL-1500C also has a coreless direct drive motor with impressive speed management circuitry. 
The chassis is also extremely well-dampened. I can personally vouch for this given that mine sits in the living room where it has to contend with the vibrations of running, skipping—and often dancing—children across a suspended wooden floor.  
The Technics SL-1500C is a superb option for those seeking the convenience and performance of a Technics s-shaped tonearm, but without all the DJ bells and whistles, such as pitch control and an LED strobe. 
Read the full Technics SL1500C review, here.
---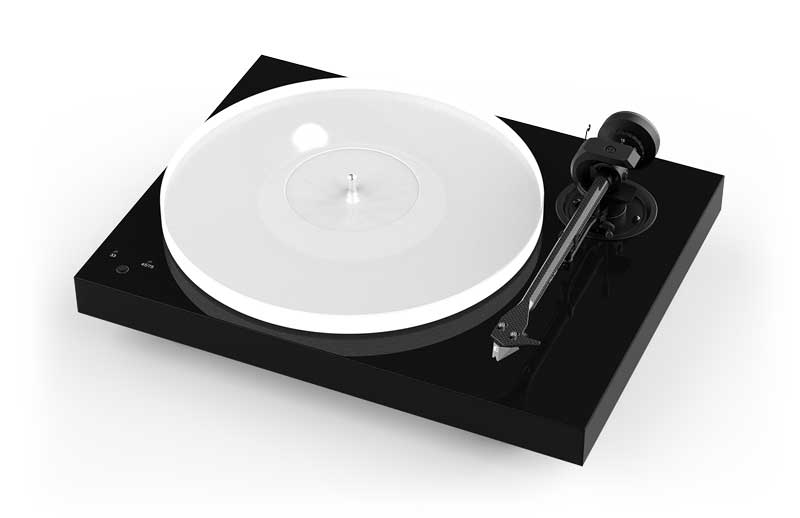 ProJect X1 B
Price: $1299 / £999 | Speeds: 33 ⅓, 45, 78 rpm | Motor: Belt drive | Phono preamp: No | USB: No  Cartridge: Requires Moving Coil Upgrade for Balanced Output
As the proud owner of an original X1, I can vouch for the deck's capable performance in the sub-$1000 category. 
The newly released X1 B adds true-balanced outputs via a mini-XLR output, allowing you to significantly reduce the interference and noise-floor problems associated with traditional RCA cables.
Balanced connections are standard within studio and pro-audio systems, but much less common in consumer HiFi. 
Balanced connections add a second phase inverted wire carrying the signal, which helps to cancel out unwanted electromagnetic interference. You'll need to upgrade the cartridge to a moving coil model to take advantage of the balanced output, and you will need a phono preamp with matching mini-XLR input—such as Pro-Ject's Phono Box DS3 B.
Full review of the Pro-Ject X1, here.
---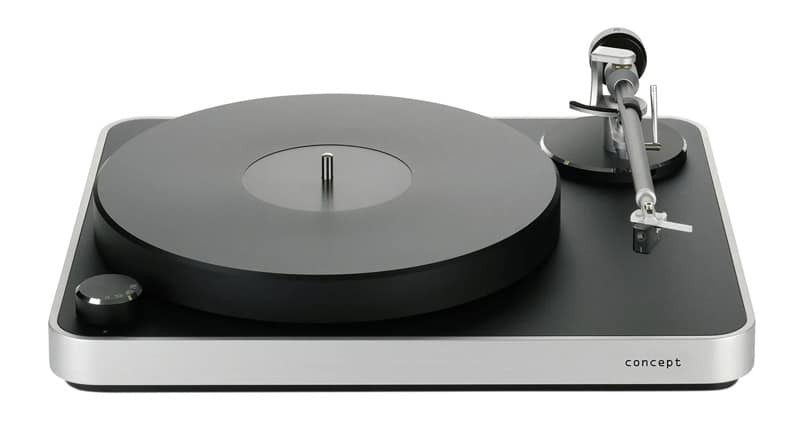 Clearaudio Concept Turntable
Price: $2300 / £1495 | Speeds: 33 ⅓, 45, 78 rpm | Motor: Belt drive | Phono preamp: No | USB: No  Cartridge: Clearaudio Concept MM or MC
Consistently held up by audiophiles as one of the best performers in its class, the German-made Clearaudio Concept continues to pick up awards. 
Clearaudio pride themselves on delivering plug-and-play usability with outstanding performance at this price point. Central to the deck's performance is the concept tonearm with its magnetic bearing that is friction-free for extremely low distortion and superb performance.
Depending on your preference or budget, you can choose to have your turntable fitted with either a Clearaudio CONCEPT MM or Clearaudio CONCEPT MC cartridge.
---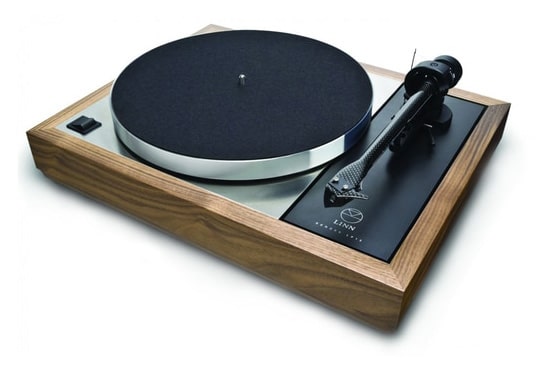 LINN LP12 – Majik
Price: From $5130/ £3700 | Speeds: 33 ⅓, 45 rpm | Motor: Belt drive | Phono preamp: No | USB: No | Cartridge: Adikt MM or Koil MC
First introduced in 1972, the legendary LP12 has undergone constant iteration to improve the original design. 
To this day, vintage models are regarded as some of the best vintage turntables available, but if you can stretch to a new model, the latest incarnations of this classic turntable have undoubtedly improved in design. 
One of the key upgrades is the main bearing, which was criticized in some vintage models. All LP12s, including this entry-level model, now have their signature Karousel bearing. A new precision-engineered single-point bearing, which delivers smoother rotation and greater stability compared with previous designs. 
The LP12 Majik is their entry-level model and a relatively affordable step into the legendary Sondek LP12 ecosystem, which includes many modular upgrade options. 
You can get started with an Adikt moving magnet cartridge or choose to splash out for the Koil moving coil cartridge upgrade. Either way, considering their flagship top-of-the-line turntable starts from an eyewatering $30,000, the Majik will appeal greatly to those seeking a classic Linn LP12 design without breaking the bank. 
---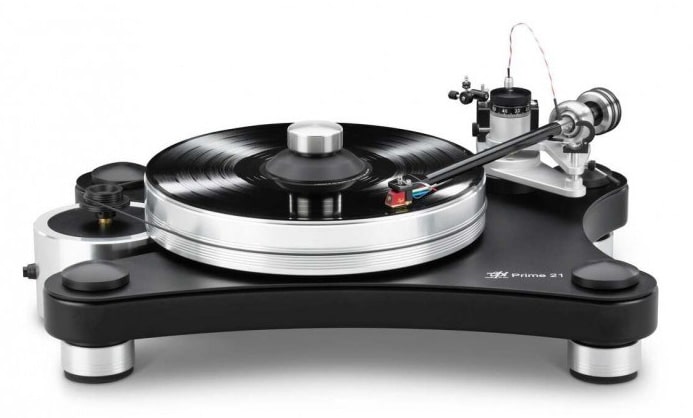 VPI Prime 21+
Price: $6500 /£7700 | Speeds: 33 ⅓, 45, 78 rpm | Motor: Direct drive | Phono preamp: No | USB: No  Cartridge: VPI Shyla
The VPI Prime range of turntables offer true high-end turntable performance without pushing into the eyewatering five-figure price bracket. 
The 21+ edition features the superb VPI Shyla cartridge and a 10″ 3D-printed gimbal tonearm arm for a totally dead-sounding rigid design that really allows the cartridge to sing and perform at its best. 
The clarity and focus of this deck will please even the most decerning of audiophiles, and while it's far from cheap, it still retains a realistic and fair pricepoint given the design and spec compared with many in the higher-end market. 
---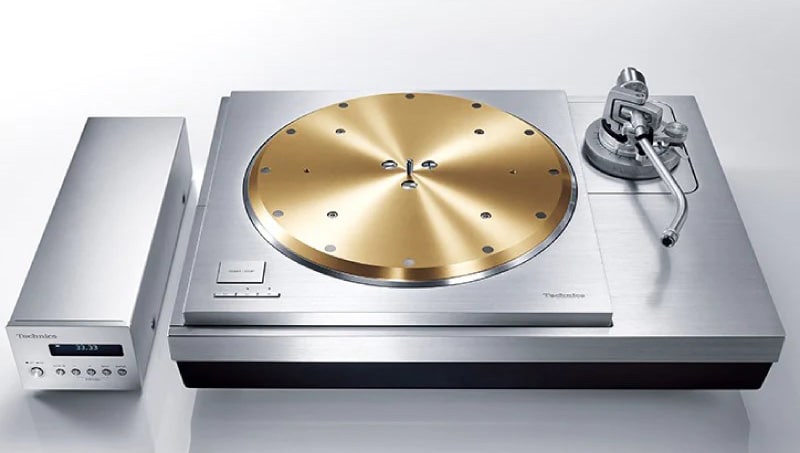 Technics SL-1000R
Price: $20,999 /£18,999 | Speeds: 33 ⅓, 45, 78 rpm | Motor: Direct drive | Phono preamp: No | USB: No  Cartridge: None Included
Sitting up there as king of the hill when it comes to Technics decks, the SL-1000R is a stunning piece of engineering. It's unusual for high-end decks to have a direct-drive motor, as while they do promise superior speed consistency, the trade-off can be increased system noise from this type of design.
In the case of an SL-1000R, you can look forward to all of the benefits of a direct-drive turntable, but without the associated downsides. 
The SL-1000R is a delightfully punchy and musical turntable based on the legendary SP-10 vintage turntable.
Engineered and improved in almost every single way, the SL-1000R can boast a stable rotation of 0.015% wow and flutter or less, which is considered to be the measurement limit. 
---
How to Choose a Record Player or Turntable
Naturally, choosing the right turntable for you is always a delicate balance of budget, performance, and features. 
Arguably, your turntable and the attached cartridge are the most important part of your HiFi system, as they're your first point of contact with the music. Every other component in the signal chain is affected by the quality of your signal at this point. 
That said, there are limitations. There's no point, for example, spending 75% of your budget on the turntable and then cheaping out on your amplifier and speakers.
Once you've established a budget for your entire system, you can strike a balance between each component, spreading the amount you spend, while seeking the best performance (to your ears) within that price bracket. 
It helps further to understand how and why you want to listen to records, as this will dictate the features you need. 
Are you seeking a purist analog experience? Then Bluetooth connectivity probably isn't for you. (See our list of Bluetooth-enabled decks, here).
Similarly, if you're looking for a simple way to digitize or archive your collection, then USB connectivity is highly beneficial.
Other important features are options like built-in phono stages. While an external phono stage will undoubtedly deliver better results in most cases, the plug-and-play convenience of turntables with a built-in phono preamp is undeniable.
Perhaps most importantly of all: what are your listening habits? Do you mostly play records, or are you planning to add digital sources in the mix? 
If vinyl is your primary listening medium, then it makes sense to save up your money and invest in a turntable that will last you for decades. 
Likewise, if you only play a handful of records a year, then investing in an expensive deck might seem a little over the top.
Getting the Basics Right
If your budget is limited, a good rule of thumb is to avoid turntables with too many bells and whistles and instead focus your search on turntables with stripped-down, quality materials.
Manufacturers such as Pro-Ject and Rega have built their businesses on designing minimalist decks that leave out bells and whistles in favor of getting the core vinyl playback mechanics right. 
At the more affordable end of their range, minimalist design often means removing some conveniences, such as convenient switch-operated speed control. But if a deck is very affordable and has every feature under the sun, individual component quality has to come down.
In the most extreme cases, all-in-one record players contain everything from the turntable to the amplifier and speakers, all in one compact unit. While convenient for casual record listeners, these models lack the tracking accuracy and upgradability of the best turntable available. To learn more about the difference between a record player and a turntable, click here.