At a time when music lovers shopping for an entry-level turntable have an abundance of choice, is Rega's Planar 1 still the one to beat?
Since its initial release in 2005, Rega's Planar 1 entry-level option has rightly earned a reputation as the benchmark by which all other affordable audiophile decks are measured.
| | |
| --- | --- |
| Pros | Cons |
| Easy setup | Molded phono cable output |
| Confident & precise timing – a highly engaging listen | |
| Great detail and dynamics at this price | |
Rega is famously dedicated when it comes to research and product development. Such is their dedication, the company does little in the way of marketing, choosing, instead, to focus its resources more precisely on continuous improvement. 
The Rega Planar 1 has undergone several incarnations since its debut, with the latest version promising to be the best Planar 1 yet.
Almost everything on the new Planar 1 has undergone some kind of improvement, starting with the handmade RB110 tonearm, with its pre-set bias, and, what Rega claims are "ultra-low friction bearings". The aim of a good tonearm should be, ultimately, to essentially get out of the way – allowing the stylus to track the grooves with as little inertia as possible. Translation: low friction bearings are exactly what the HiFi doctor ordered!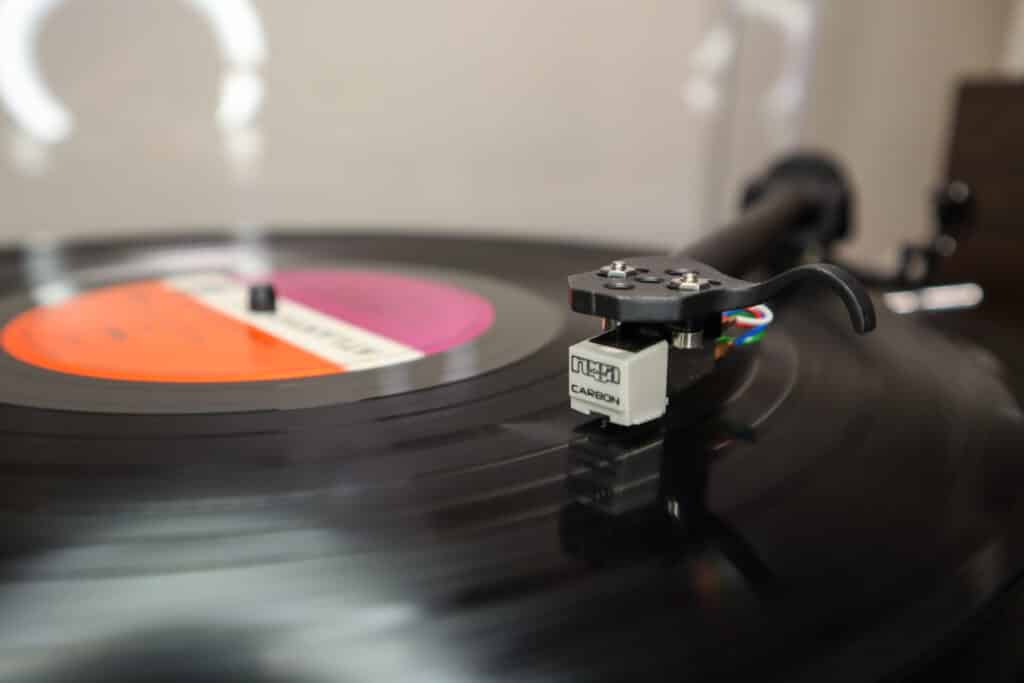 The bearings are designed bespoke by Rega and are currently patent pending.
Thanks to the pre-set bias (anti-skate) and factory-fitted Rega Carbon cartridge, getting set up is about as easy as it gets – even the counterweight's ideal position is marked clearly on the tonearm. 

The improvements don't stop there. The new Planar 1 is the first entry-level Rega turntable to sport a 24 V, synchronous AC motor. Rega claim this upgrade delivers lower noise and improved speed consistency. 
Improving the speed consistency further still is the new higher mass, phenolic platter. The greater weight improves the "flywheel effect" helping to keep speed nice and steady. 
Even the central bearing appears to be subject to Rega's relentless pursuit of better design, with its patent-pending design made of brass and boasting an improved fit and reduced stress. Rega states that their unique bearing design also minimized the transfer of potential unwanted energy.

Rega Planar 1 vs Pro-Ject E1
There are some noticeable similarities in the platter and plinth materials between the Planar 1 and Pro-Ject's E1 entry-level turntable, and while I must stress that the Planar 1 is more expensive, there's a big difference in stability and weight.
My main criticism of the Pro-Ject E1 was just how light the unit was, which, when combined with the E1's felt-bottomed feet, made it all too easy for the deck to move during use.
The Planar 1 is noticeably heavier despite using a very similar composite fiber (or similar material) plinth. The Phenolic resin platter also feels weightier than the E1's ABD polymer platter.
Add to this the rubber feet design of the Planar 1, and there's no doubt that this feels substantially more stable. The feet design is clever, too; see below how the feet are designed to minimize surface contact area in the name of reducing vibration interference.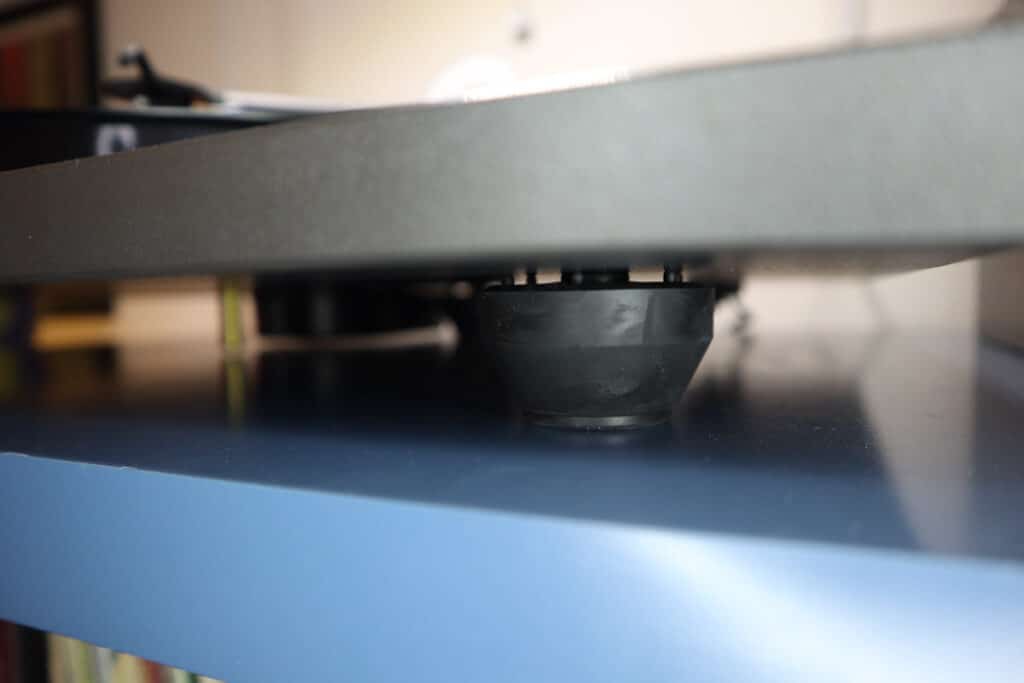 All these design improvements do indeed seem impressive, but the big question remains: has all this dedication to precise engineering paid off sonically?
Rega Planar 1 Listening Test
When I reviewed the Pro-Ject E1, I was impressed with its punchy and dynamic sound. The upper mid-range was energetic, and the low end was deep and solid. There's a sense of energy and sprightliness, like a teenager eager to impress and make its mark on the world.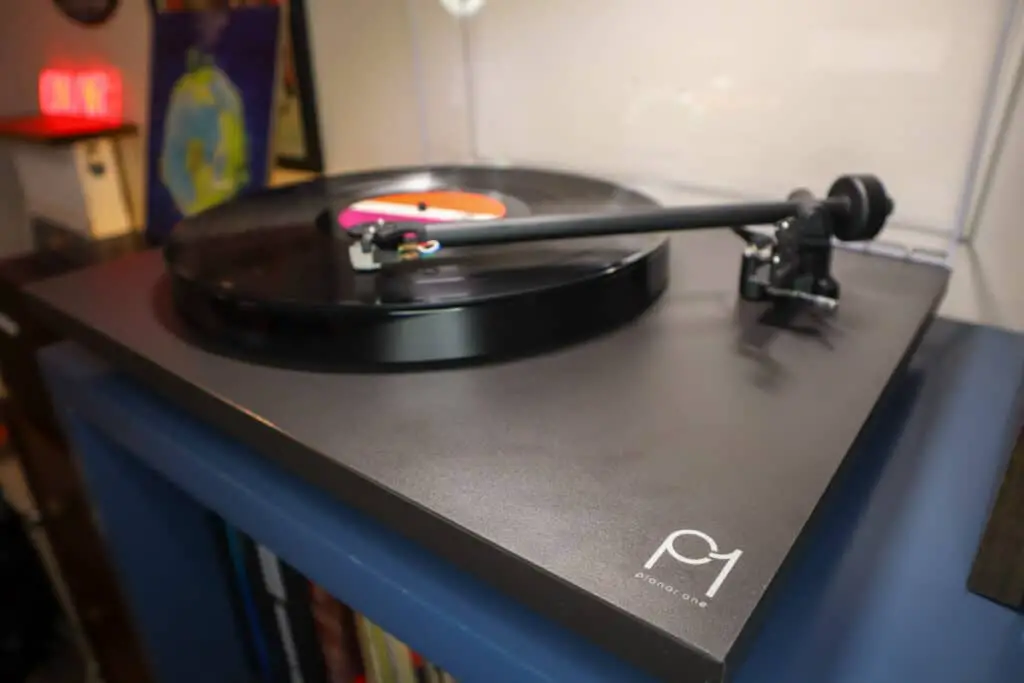 In comparison, the Rega Planar 1 feels much more grown up, balanced, and considered. Laid back isn't the word, as there's plenty of rhythmic energy and dynamic expression, but at the same time, there's a greater sense of control over the timing and each distinct note.
While I had to draw this comparison from memory, which can be difficult, my initial feelings were confirmed when pulling out my copy of Black Nasty – Talking to the People (a VMP release and the same record I heard extensively on the E1). The sonic difference can be described as hearing punk rock vs a really tight jazz band. The E1 has bags of energy and enthusiasm like a punk band, while the Planar 1 is like an experienced jazz quintet: a tightly knit, well-oiled machine.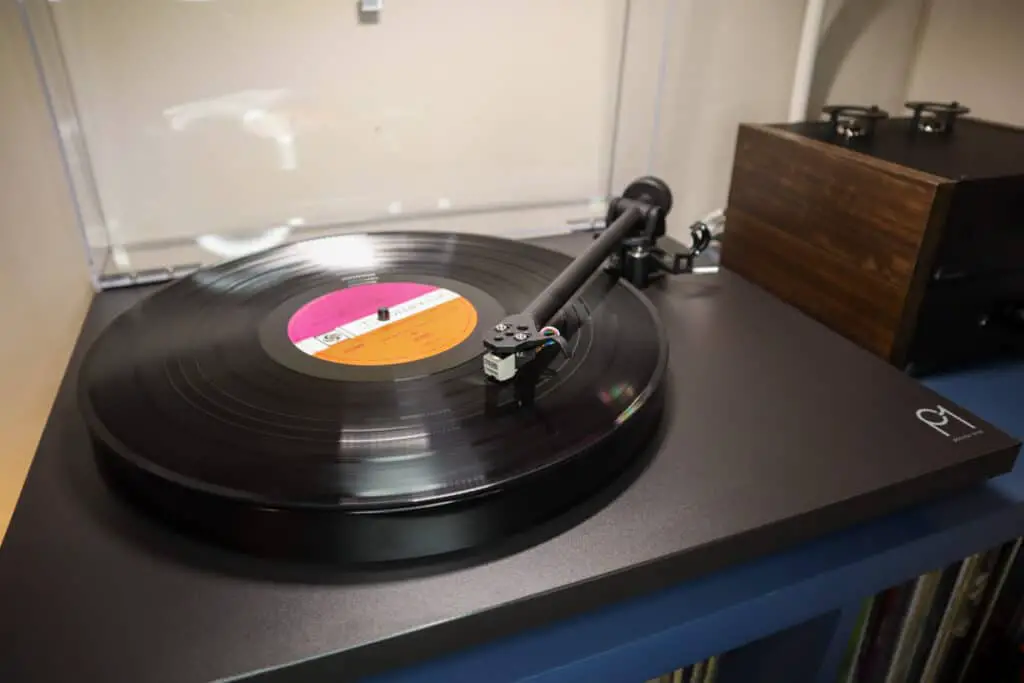 To really show off this character, I pulled out a copy of YES Fragile. When it came to the track "Mood for a Day", I was treated to one of the best renditions of the track's churning, bass-heavy opening section and its multiple time signature changes I've heard on an affordable turntable.
Tonally, overall, the Planar 1 is pretty neutral. It doesn't overly emphasize any particular part of the frequency range, resulting in a sound that's neither too bright nor too warm.
As a listener, I've always preferred a balanced sound, as I feel this gives an overall presentation that's closer to how the artist and producer intended. 
Music fans who prefer a little more punch and zest in their sound may choose to look elsewhere. However, those seeking an agile and assured-sounding presentation with a good amount of detail at an affordable price will not go wanting. 
Rega Planar 1 Review: The Bottom Line
Classically English, the Rega Planar 1 takes a stiff-upper-lip approach to the task of affordable vinyl playback. To say it's a great performer for its price would be classic English understatement. I'd go as far as saying the Planar 1 sets the standard for entry-level turntables. 
Granted, if you're in the UK, the price is much more attractive at £299 vs $595 USD – likely due to the reduced distance these turntables have to travel. There will also be those who prefer the convenience of a detachable headshell on affordable turntables such as the Fluance RT81+.
Rega's engineering prowess, though, is hard to deny, and there's certainly something to be said for keeping it simple and focusing funds on the core components, such as bearings and motor design.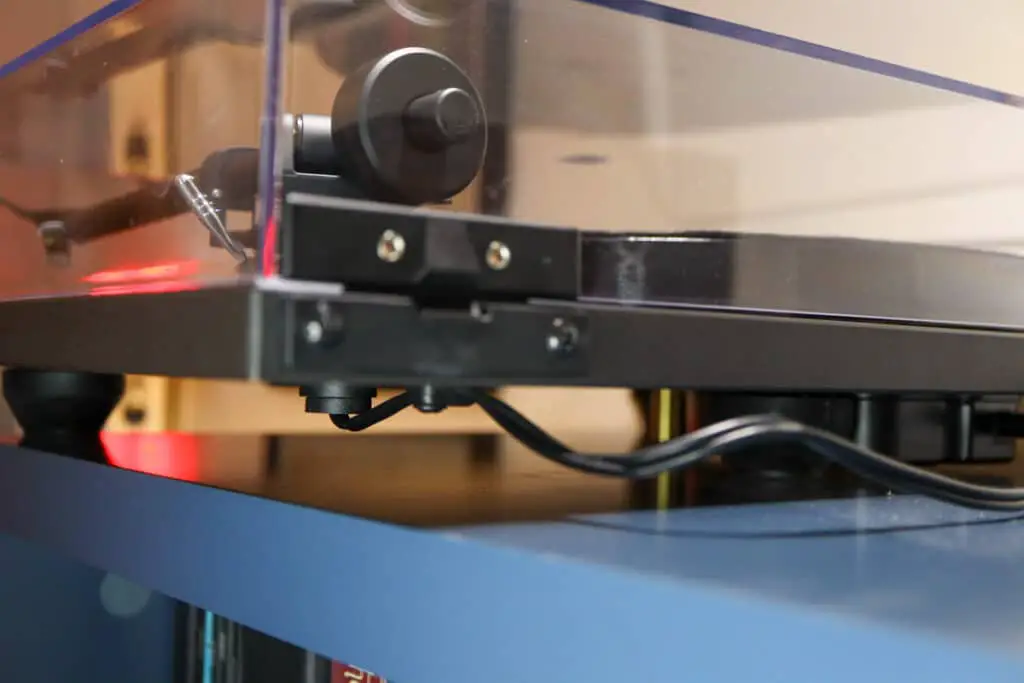 If I had to pick a fault, it would be the molded-in phono cable. I'd always prefer to see a proper RCA phono output and ground terminal, but something has to give somewhere at this price. Speed change is a little fiddly too as you'll have to lift the platter to move the drive belt yourself, which is a common compromise at this price point. 
Focusing on the Planar 1's core strengths, Rega remains at the top of their game. Choosing to hunker down and focus funds on product development is clearly paying off. The new Planar 1 is living proof.

VIEW ON AMAZON

VIEW AT TURNTABLE LAB
---
Further Reading:
Summary
Reviewer
Review Date
Reviewed Item
Author Rating





Product Name