In the age of convenience, setting up a turntable can seem like hard work compared with the convenience of streaming.
The good news is, it's worth it. Vinyl is arguably the best, most engaging way to experience music. Even better, it doesn't have to be complicated.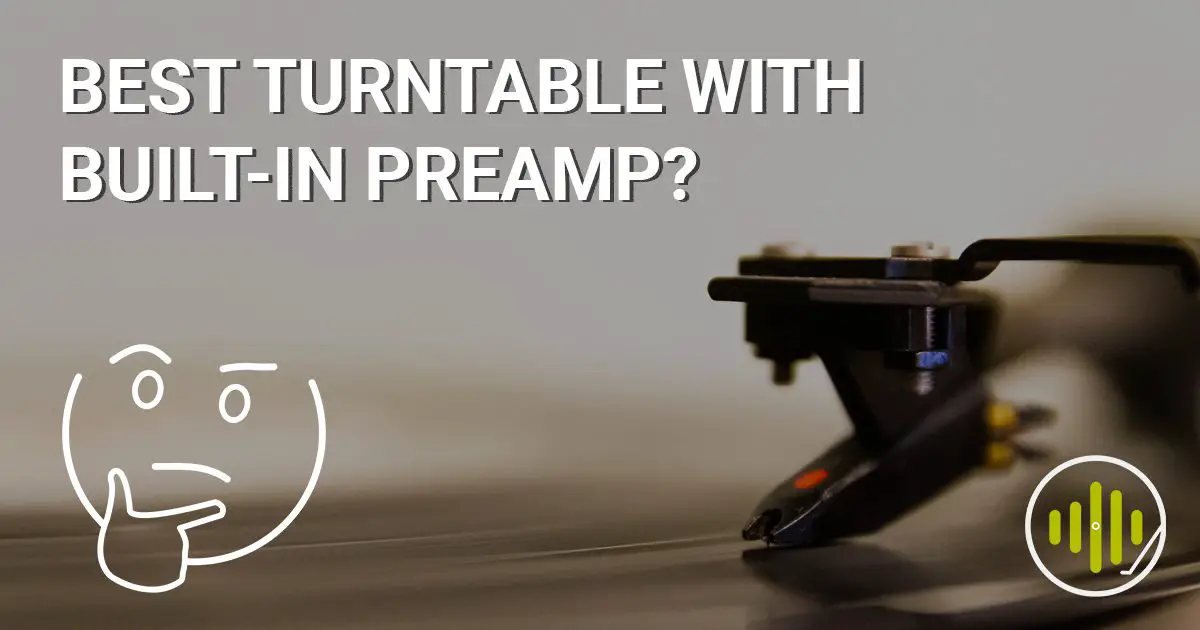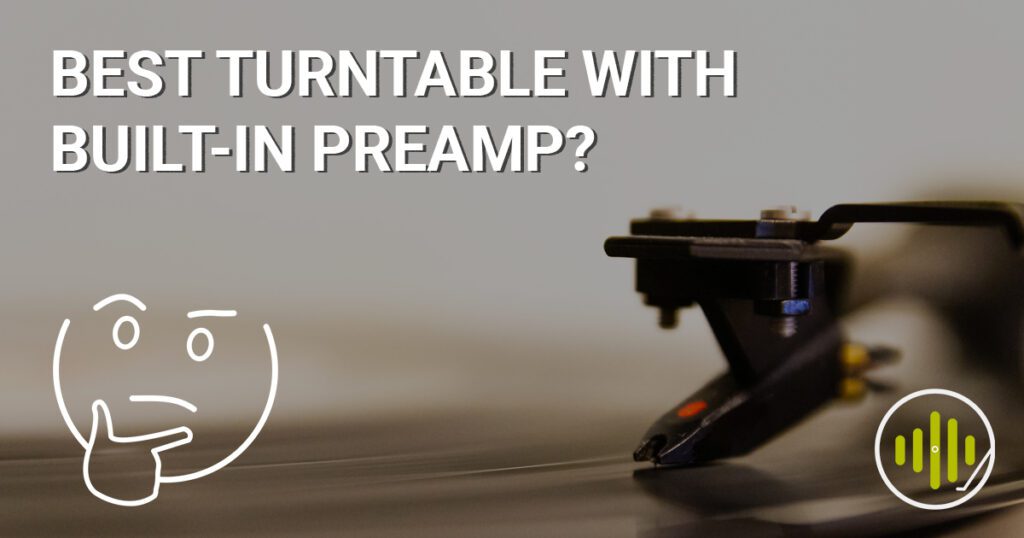 Gone are the days where built-in preamps sound terrible, and while separate audio components invariably give you more control over your setup and better performance, many modern built-in preamps sound surprisingly good. 
In addition, turntables with built-in preamps are huge space savers, making it easier for those of us that don't have large homes to enjoy the vinyl experience. 
All the turntables below will allow you to plug directly into your amplifier, powered speakers, or receiver—no amplifier required! 
---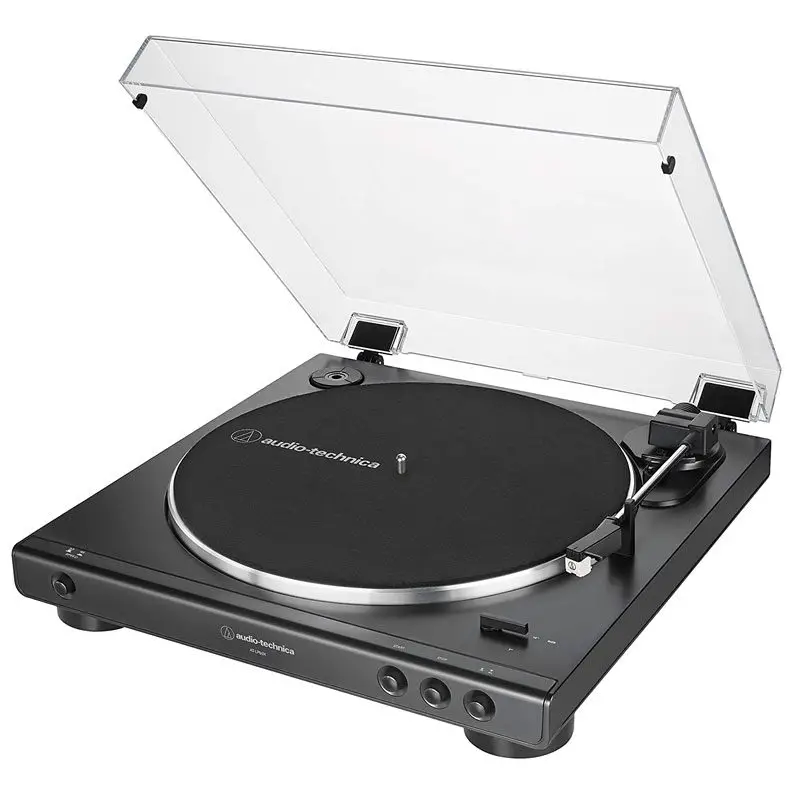 1) Audio-Technica AT-LP60X
If simplicity in all faculties at an affordable price is what you're looking for, then Audio-Technica's flagship affordable deck could be just the ticket.
This fully automatic turntable is about as easy as they come in terms of setup and usability. It features easy switching between 33 and 45 RPM playback and a switchable phono preamp that allows you to choose between the convenience of direct connectivity or the use of an external phono stage.
The inclusion of an AC adapter removes the power conversion from the chassis; this helps reduce noise in the signal chain.
Price: $149/£135 | Type: Automatic | Drive: Belt | Built-in Phono: Yes | Speeds: 33/45 | USB: No | Bluetooth: Optional model available
---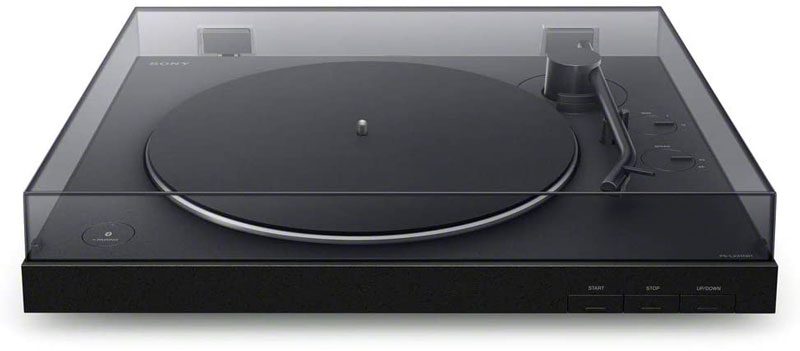 2) Sony PS-LX310BT 
If you want to stay put in the world of automatic turntables, they don't come much better than this sleek offering from Sony. It offers a true "plug and play" experience with modern connectivity, including a built-in preamp and Bluetooth. 
Purists looking for the best possible sound quality will prefer the equivalently priced manual decks on this list, but you can't deny the usability and features at this price. 
One of the stand-out features of this amp is its adjustable gain settings. This makes sliding the player into your audio setup a breeze. Being able to dial in a low, mid, or high gain setting can help assist in boosting your signal if you find the preamp isn't delivering enough (or too much) power to your speakers. 
Price: $249/£249 | Type: Automatic | Drive: Belt | Phono Type: MM | Speeds: 33/45 | USB: Yes | Bluetooth: Yes
---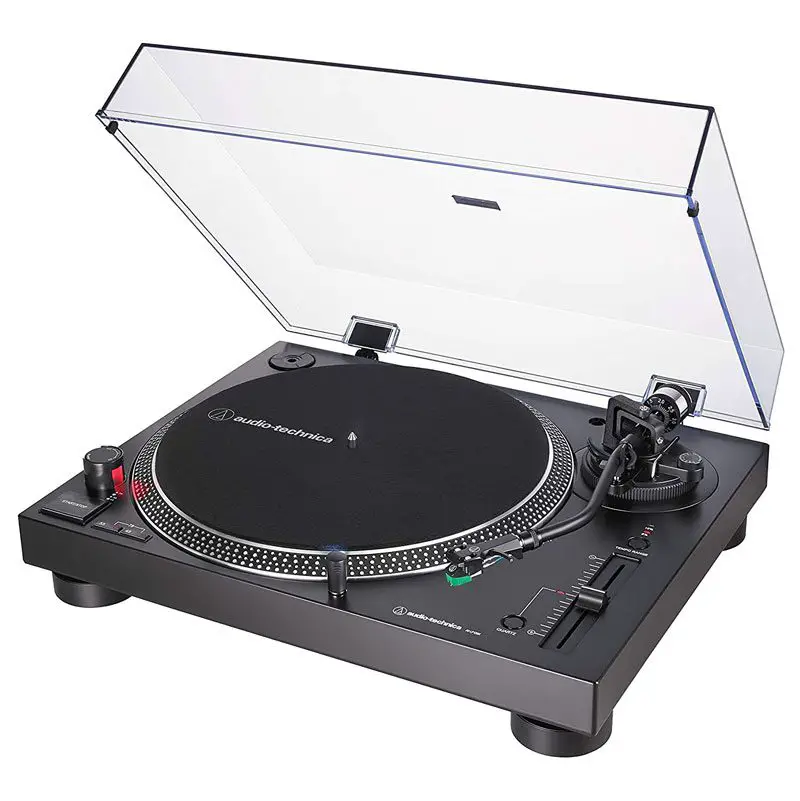 3) Audio-Technica AT-LP120XUSB
Bucking the trend for less is more turntable designs, the AT-LP120XUSB is a feature-reach model based on Technics-style DJ decks. 
The latest incarnation of this well-loved entry-level deck features USB connectivity for easy archiving of your records, plus the convenience of a built-in phono stage. 

It's hard to deny that the latest AT-LP120 model represents superb value for money for vinyl enthusiasts on a budget. Rare at this price is the inclusion of a 78 RPM playback speed. All that's required is a quick swap of the headshell and cartridge for a mono 78 cartridge and stylus, and you can quickly spin classic 78 shellac records if that's your vibe.
Price: $350/£260 | Type: Manual | Drive: Direct | Phono Type: MM | Speeds: 33/45/78| USB: Yes | Bluetooth: No
---
4) Sony PS-HX500 
On top of an integrated preamp, this turntable comes equipped with some of the best vinyl digitalization you'll find in a record player. 
Thanks to the high-quality integrated A/D (analog to digital) converter, you can convert your records to digital files via the built-in USB port. This feature comes into its own if you own records that are difficult to find in the digital domain, or you simply want to capture the unique sound of your vinyl copy as a convenient digital file. Sony's free Hi-Res Audio Recorder software for Mac and Windows allows you to easily manage and split tracks. 
The integrated phono preamp makes for quick connectivity to your existing Hi-Fi, and like most models, you can bypass the preamp and use an external phono stage should you wish.
Price: $599/£309 | Type: Manual | Drive: Belt | Phono Type: MM | Speeds: 33/45| USB: Yes | Bluetooth: No

---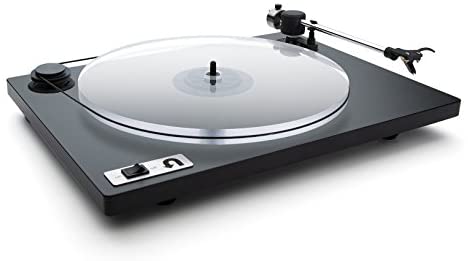 5) U-Turn Audio Orbit Plus
Built and designed in Massachusetts, US Orbit Turntables have rightly earned a reputation for quality at an affordable price. 
By focusing on stripped-down designs rather than bells and whistles, Orbit has designed a series of decks that get the important aspects of vinyl playback just right. 
The Orbit Plus offers an acrylic platter for greater speed consistency and superb resonance control compared with cheaper MDF or metal platters.
Due to the external belt-driven motor, you will have to change speeds manually by lifting the belt. However, the nature of an external motor means less noise interference. The optional built-in phono preamp has a good reputation at this price point.
Price: $399 | Type: Manual | Drive: Belt | Phono Type: MM | Speeds: 33/45 | USB: No | Bluetooth: No
---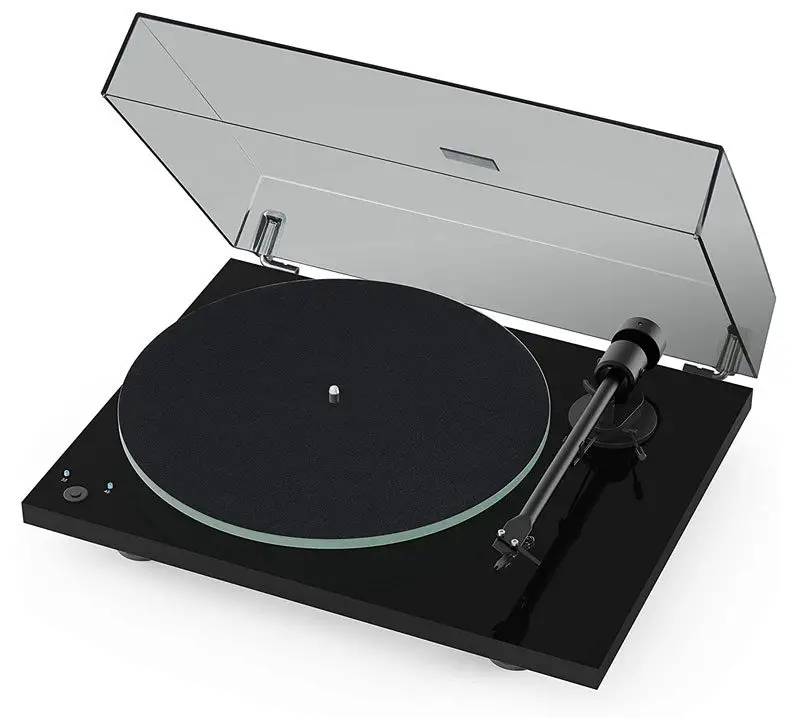 6) Pro-Ject T1 Phono SB
Pro-Ject's ability to design decks that perform well above their price tag just keeps getting better.
The relatively new T1 model sports a glass platter and CNC-machined plinth with no hollow spaces inside; this combination helps the T1 perform well above its class in controlling unwanted resonance that can hinder vinyl playback performance. 
Unlike many stripped-back Pro-Jest models, the T1 Phono SB has a convenient speed switch, negating the need for manual speed change by adjusting the belt position. 
Full Pro-Ject T1 review, here.
Price: $449/£335 | Type: Manual | Drive: Belt | Phono Type: MM | Speeds: 33/45 | USB: No | Bluetooth: No
---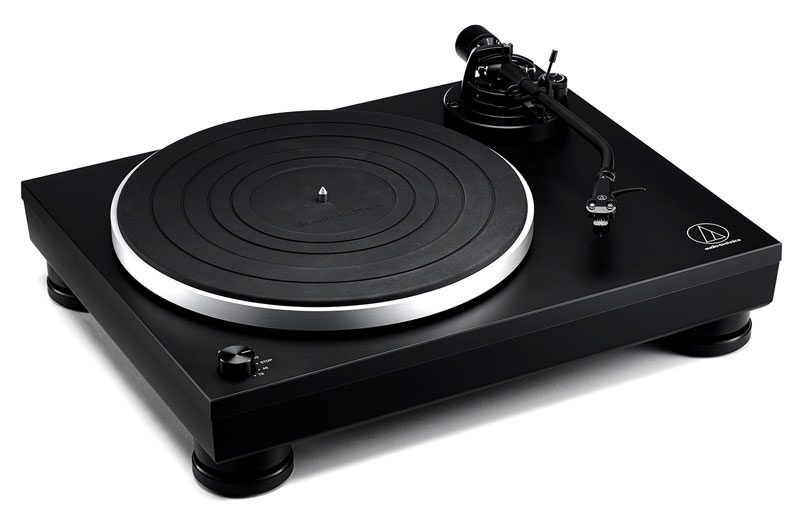 7) Audio-Technica AT-LP5x 
The original AT-LP5 received critical acclaim for its fuss-free design and sound quality at a reasonable price. 
With the release of its successor, the AT-LP5x can now handle both both moving magnet and moving coil cartridges, and the speed selector now also includes 78rpm alongside the usual 33/45rpm speeds.
For sound quality, the built-in phono preamp on the AT-LP5x holds up well against external phono stages costing far more, making it an excellent option for those seeking one of the best turntables with a built-in preamp at a very attractive price.
The eagle-eyed among you may spot the J-shaped tonearm modeled after classic Audio-Technica decks from the 60s and 70s. More than just a retro throwback, Audio-Technica claim this design is engendered to minimize tracking error.
Price: $445/£310 | Type: Manual | Drive: Direct | Built-in Phono: Yes | Speeds: 33/45/78 | USB: No | Bluetooth: No
---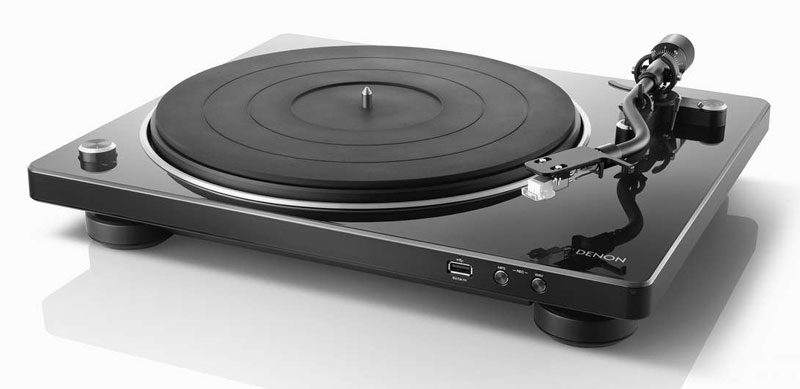 8) Denon DP-450USB
There's a lot to like about this feature-rich offering from Denon. Besides the very respectable sounding built-in phono stage, the DP450USB allows for easy digitization of your records to a USB drive, directly on the turntable—no computer required. 
Also in the mix is a switchable speed selector up to 78 RPM, a universal headshell for quick cartridge swaps, plus the option to run both moving magnet (MM) and moving coil (MC) cartridges. 
Denon has successfully designed a seriously appealing turntable to please a wide variety of record-lovers. The removable dust cover even doubles as a record stand to display albums while you give them a spin. Nice touch.
Price: $699/£509 | Type: Semi-Auto | Drive: Belt | Phono Type: MM/MC | Speeds: 33/45/78 | USB: Yes | Bluetooth: No
---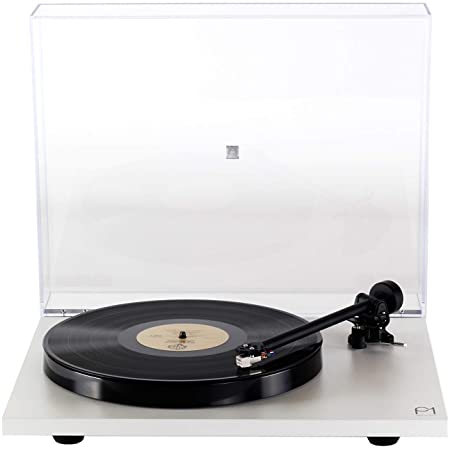 9) Rega Planar 1 PLUS 
The Planar 1 PLUS is essentially Rega's acclaimed Planar 1 turntable with their equally acclaimed entry-level phono stage (the Rega Fono Mini A2D) built-in. 
Both products have picked up numerous awards, making the Planar 1 PLUS a no-brainer combo for vinyl enthusiasts looking for a fuss-free, space-saving setup at a very reasonable price.
Given the Planar 1 and the Fono Mini A2D are regularly featured in lists of the best affordable turntables and affordable preamps, respectively, the combination of both into a single product was a long time coming.
Price: $725/£385 | Type: Manual | Drive: Belt | Phono Type: MM | Speeds: 33/45 | USB: No | Bluetooth: No
---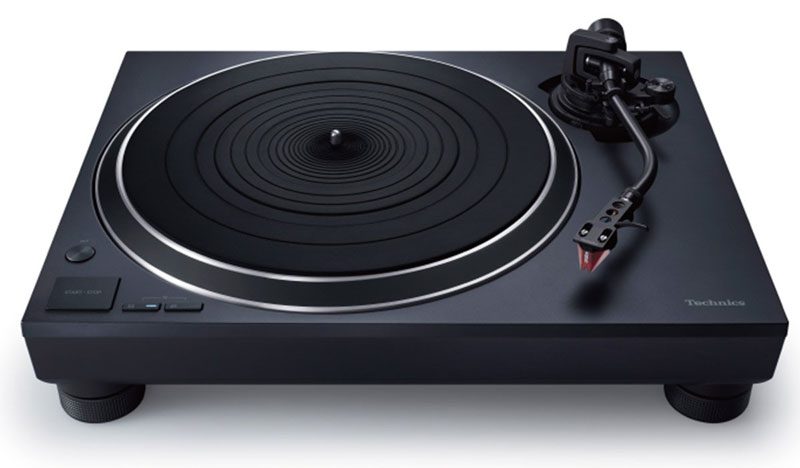 10) Technics SL1500C
The Technics SL-1500C is an audiophile version of the celebrated SL1200 DJ-style deck. It performs well above its price tag, and the built-in phono stage sounds surprisingly good.
It's one of the go-to decks at Sound Matters for audiophiles seeking a relatively affordable direct-drive deck without all the unnecessary bells and whistles that come with most DJ-centric decks.
The SL-1500C is heralded for its sonic performance, and the s-shaped tonearm and swappable headshell setup make changing cartridges quick and easy. Highly recommended.
Price: $1251/£1029 | Type: Semi-Auto | Drive: Direct-Drive | Phono Type: MM | Speeds: 33/45/75| USB: No
Full review of the Technics SL1500C, here.
---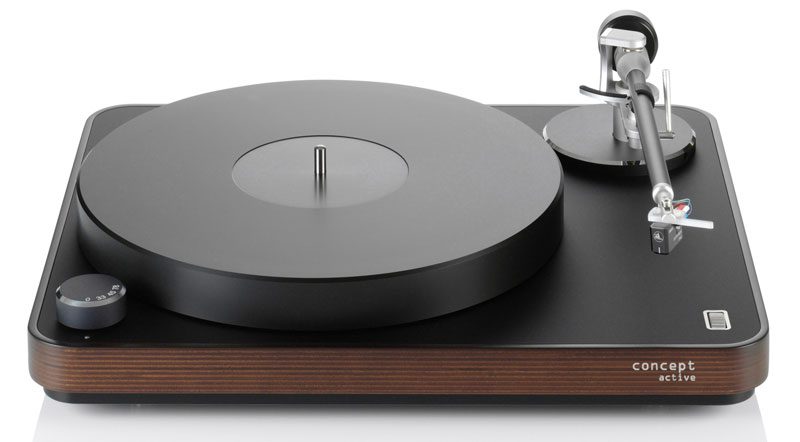 11) Clearaudio Concept Active MM
Traditionally, turntables with built-in phono preamps are considered the reserve of more affordable models. However, as Bod Dylan once sang, the times they are a-changin', as this high-end, plug-and-play turntable from Clearaudio demonstrates. 
Purists will continue to insist on buying separate components as this still delivers the best sound quality and control over your HiFi setup, but for those seeking ease-of-use and a space-saving setup with high-end sound quality, it's a welcome addition to the market.
Buyers can choose to have the Concept Active pre-fitted with either a moving magnet or a moving coil cartridge. There's even the convenience of a built-in headphone amp for easy switching between the RCA output to an amplifier or speakers, or your favorite headphones. 
Price: $2600/£2000 | Type: Manual | Drive: Belt-Drive | Phono Type: MM (MC optional)| Speeds: 33/45/75| USB: No | Bluetooth: No
The Bottom Line: Are Built-in Preamps a Good Idea?
Quite frankly, yes. Turntables with built-in phono preamps are a great way to get started if you're just starting out, and the quality has significantly improved in recent years.
Most models have the ability to bypass the built-in preamp stage. So if you find yourself flush with cash and itching for an audio upgrade, you can always make the leap to a higher quality standalone preamp at your own leisure.
On the other hand, if you're looking for a straightforward way to get into vinyl, these turntables are perfect. They remove an entire piece of gear from your setup – getting you straight into listening to your new collection. Perfect for those living in homes where space is at a premium. 
---
Frequently Asked Questions:
What is a Phono Preamp?
A phono preamp (or phono stage) is an audio component that performs two critical functions:
1) It will amplify the signal level up to a level suitable for the standard AUX input on your stereo.
2) It will apply an equalization curve to inverse the standard frequency adjustment made during the record cutting process. 
Let me explain a little further: Records are cut with the bass frequencies reduced and the high frequencies boosted to keep groove dimensions small. The signal produced by a record cartridge is also very weak—much lower than the standard signal level produced by most other consumer Hi-Fi electronics. Learn more about how phono preamps work, here.
Do I need a Phono Preamp?
It depends… If your turntable does not have a built-in preamp, and your amp or receiver does not have an input labeled "phono", then you will need to purchase a preamp for your turntable (otherwise known as a phono preamp).
What's the difference between moving magnet and moving coil cartridges?
There are two main types of phono cartridge: moving magnet (MM) and moving coil (MC). Both work by converting the mechanical movement (or vibration) created by the stylus riding in a record groove into an electrical signal. Each design has advantages and disadvantages.
A moving magnet (MM) cartridge achieves the energy conversion by connecting the vibrating cantilever to a set of magnets that then vibrate in close proximity to a pair of coiled wires. The tiny magnets (positioned between the two coils) vibrate and, in doing so, produce a small electrical current. 
A moving coil (MC) design works in the opposite way by allowing the cantilever to vibrate coiled wires near fixed magnets. Hence the terms "moving magnetic" and "moving coil".  
The two coils are attached to the cantilever and move within the field of a fixed permanent magnet to form the electrical generator. These coils are much smaller than those used in a moving magnet design. 
In straightforward terms, the mass and inertia of an MC design are much lower, and so they can produce a more detailed signal – particularly in the harder-to-track high frequencies. They are, however, much more costly to produce and, therefore are typically more expensive to purchase and maintain. Learn more about the differences here.
Further reading: best turntables to suit any budget