Could Rega's entry-level phono stage be one of the best budget phono preamps on the market?
If you want to get the very best performance from your turntable's cartridge, a great-sounding phono preamp is essential. 
Rega has a long-standing reputation for delivering exceptional audiophile value with products prioritizing sound quality over bells and whistles. 
The Fono Mini A2D MK2 is certainly no exception, with its unassuming aesthetic and stripped-down feature set. 
The interface is about as simple as it gets. There's the essential RCA inputs and outputs at the rear with the usual earth terminal and power supply input. On the front panel is a subtle LED indicator in the form of an illuminated Rega logo, a handy USB output for digitizing your records, and a volume control for adjusting recording level.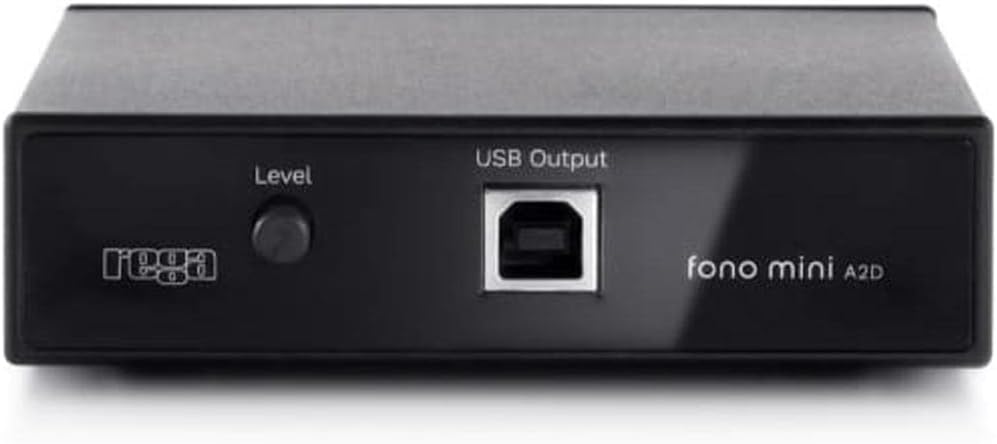 Worthy of note is the position of the earth terminal, which used to be positioned on the front panel on older models, but has now (very sensibly) been moved to the rear. 
In my humble opinion, the MK2 edition also looks more aesthetically pleasing than the original MKI.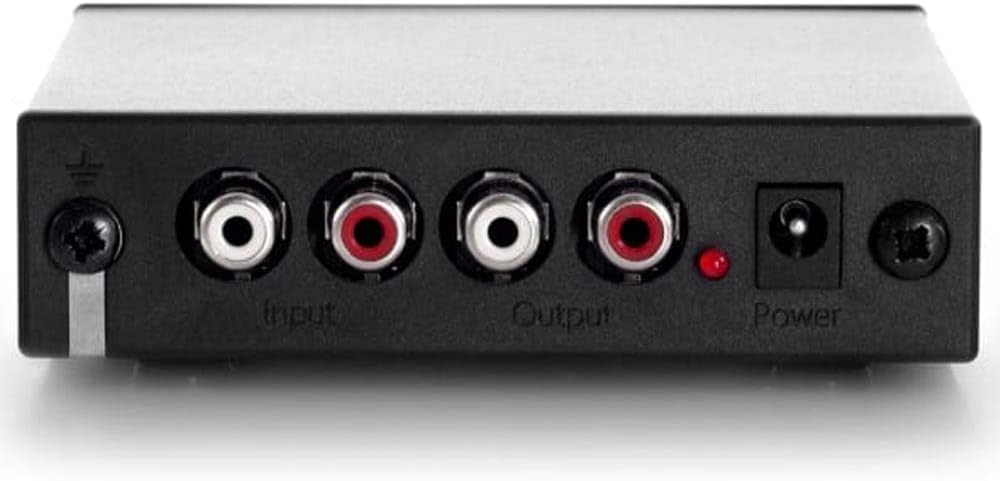 Record Archiving Via USB
The addition of a handy USB output for recording vinyl into your computer is undoubtedly one of the major selling points of this phono stage. 
I've used the Fono Mini A2D successfully with the free software Audacity to create high-quality digital copies of many records. 
This handy extra feature removes the need for a separate USB audio interface, making it much easier to digitize records while saving you space at the same time. 

A slight compromise is the sample rate options, which are limited to a maximum of 16bit 48KHz, which is a touch above CD quality, though I would've liked to see a bit depth of 24, but then for a unit of this size, a compromise has to be made somewhere. 
Another minor compromise is the USB output position. In an ideal world, I would prefer to see the USB output on the rear panel rather than the front (simply for aesthetic reasons).
On the plus side, a front-positioned USB output makes it easy to connect your computer quickly when you want to record a record.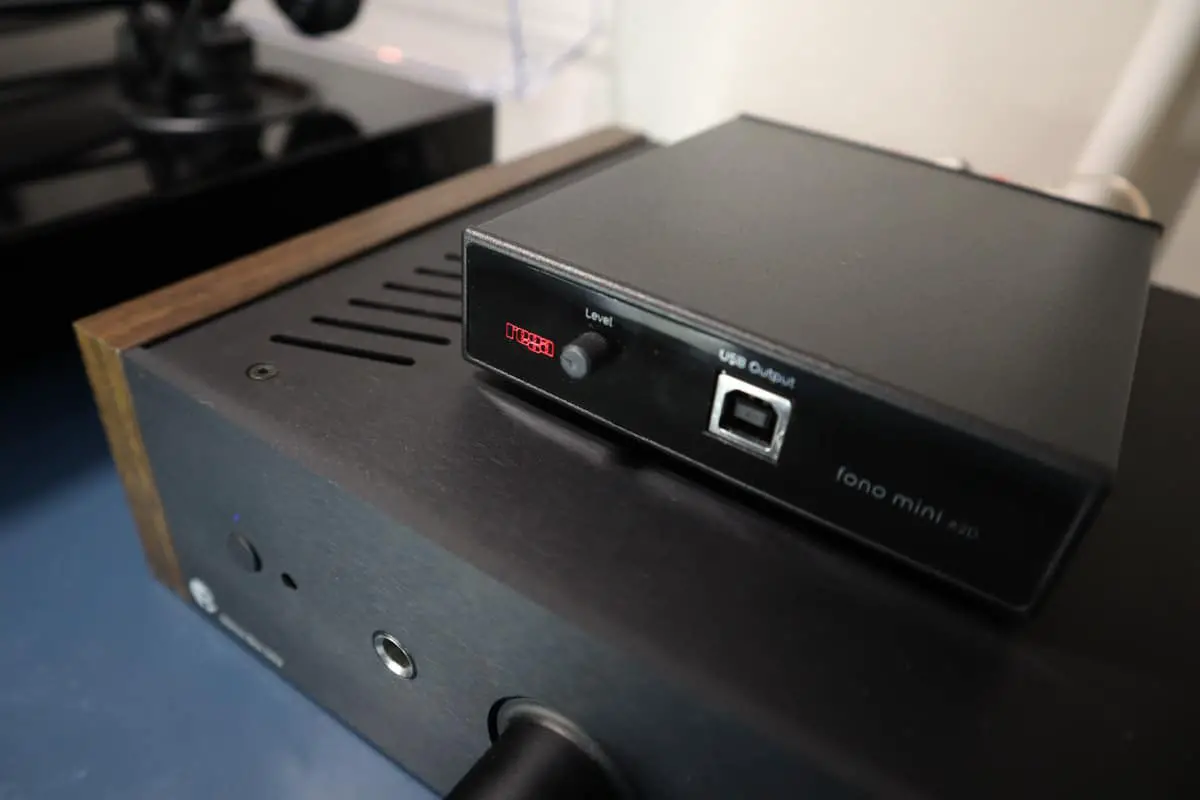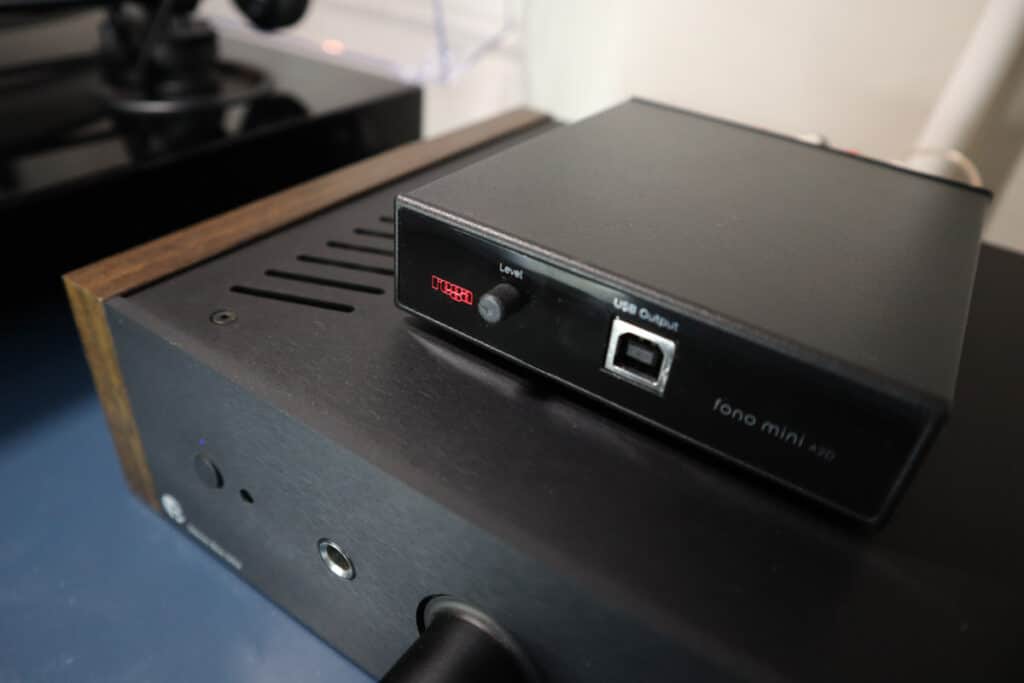 Rega Fono Mini A2D MK2 Review – Sound Quality
While the Fono Mini is a very handy analog-to-digital converter, its core strength is still as a very capable performer sonically. 
The sound quality is very neutral, bringing out the best of your records as the artist/engineer intended without adding too much in the way of "color" to the sound. 
For a phono pre below $200 (priced as low as £110 in the UK), the dynamics and confident sound of the Fono Mini A2D is hard to beat.
Having tested the unit on both of my turntables (A Pro-Ject X1 and a Technics SL1500C), it comfortably holds its own against more expensive phono preamp options.
Instrument separation is crystal clear and there's a confident delivery from a timing perspective. For a budget phono preamp, it's a gripping listening experience. 
Paired with my Ortofon 2M Blue you get a greater sense of the extended high-frequency range that the nude elliptical stylus brings compared with the 2M Red.
Driving a Shure M97XE, which in comparison to the Ortofon cartridges, has a very flat frequency response, the Fono Mini A2D adds a little more life to the sound compared with the built-in phono stage on my Pro-Ject Stereo Box DS2 or the Technics SL1500C.
A more expensive phono preamp may dig a little deeper for detail and add more space to breathe, but in this category, the Fono Mini still goes places many of its competitors can't touch.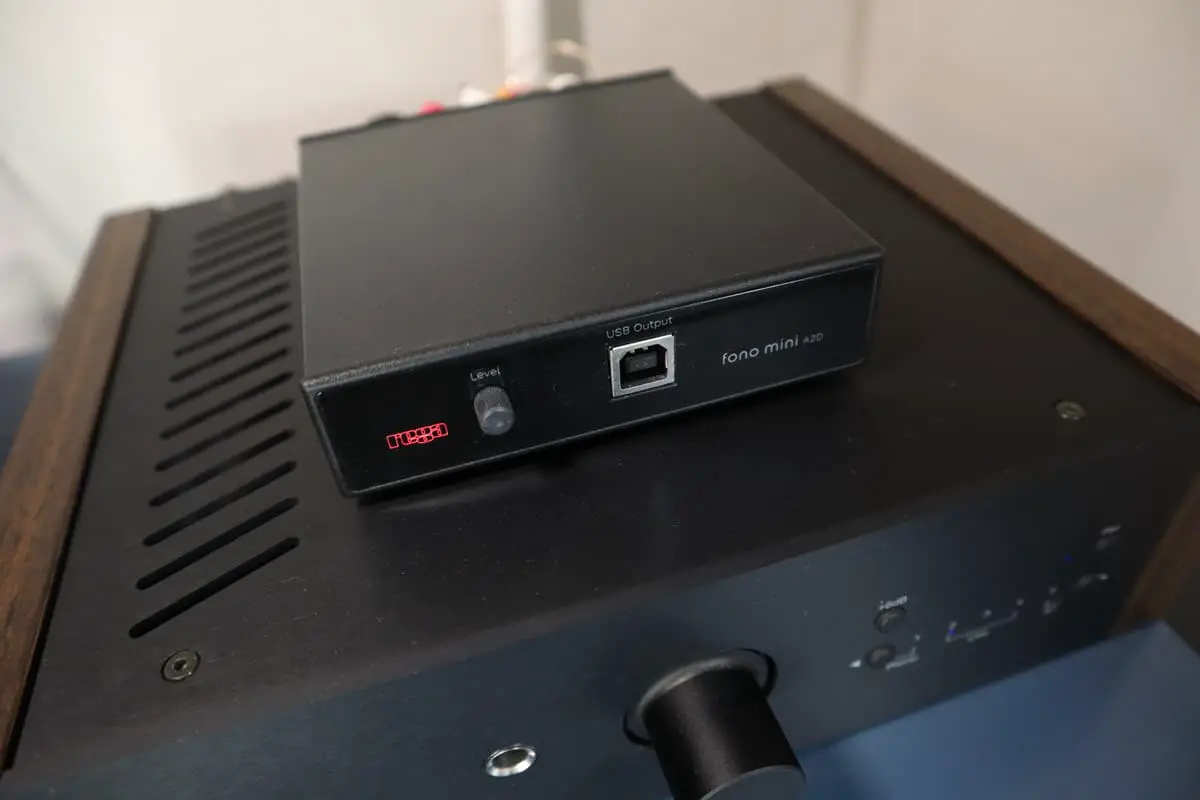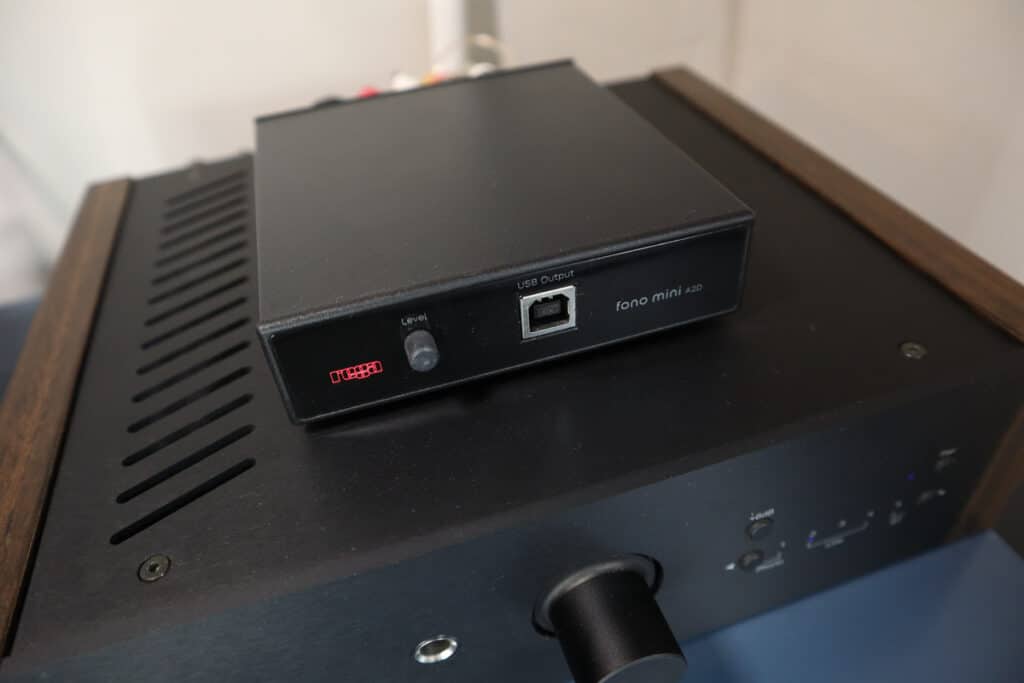 The Bottom Line
For such a small box (measuring just over 4 inches wide) the Fono Mini A2D MK2 punches above its weight and easily makes the grade as one of the best phono preamps on the market at this price.
Compact design is an asset I value very highly as I simply don't have the space in my home for a very large Hi-Fi setup; thankfully, this doesn't have to mean sacrificing sound quality.
If you're looking for an affordable phono preamp that can knock it out of the park, the Fono Mini A2D MKII should absolutely be on your list to hear. 
Those looking to archive records digitally will enjoy the ease of use granted by the plug-and-play USB connectivity. I advise keeping the Fono Mini far away from potential interference sources such as power supplies and other HiFi components for the best performance when recording records.
For my needs, the Rega Fono Mini A2D MK2 sits perfectly in my living room HiFi rig, where I needed a compact, discreet phono stage upgrade over the built-in alternative. 
Sometimes, simple is best, and great things can indeed come in small packages.
Summary
Reviewer
Review Date
Reviewed Item
Rega Fono Mini A2D MK2 Phono Preamp
Author Rating





Product Name