VMP (Vinyl Me, Please) is one of the world's most established record clubs. Their special releases and collaborative approach have earned them a reputation for producing some of the most desirable pressings in the industry. 
To learn more about what makes VMP such a desirable record club, we delve into their latest Essentials Record of the Month release. After which, we were so impressed, we asked VMP to join the Sound Matters fold as a partner.
Continue reading for our full Vinyl Me Please Review. There is also a full video overview at the bottom of this post for those who prefer a visual experience.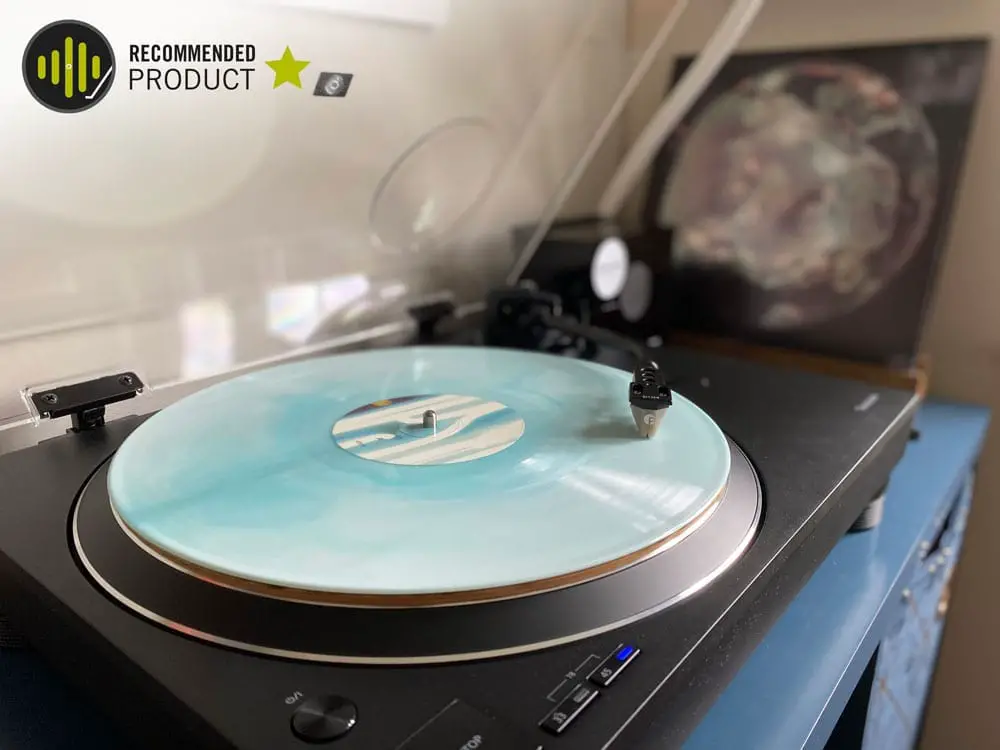 Every great album has a story; that's the mantra touted from the home page of vinylmeplease.com. Never a truer word spoken in my view. Promising start. In their own words, "VMP seeks to experience music more deeply, and we believe in the power of the album as an art form."
I think that's such a powerful message behind a record club, and it's a sentiment very close to my heart as the Editor of Sound Matters. All aspects should be regarded as an art form, from the songwriting and production to the album artwork and manufacturing. And, what better way to experience the whole package than via the medium of music on vinyl.
What Does A Subscription to VMP Get Me?
Quite simply, members receive a specially curated and pressed record based on their genre preference.
The original and most popular is their Essentials Record of the Month subscription, which covers an eclectic mix of 'essential' albums across a wide variety of genres. Safe to say, it's best to have an open mind when joining the Essentials club; however, there will always be times when a record just isn't a good fit. 

Members receive an email before their monthly record is shipped. So if you don't like what's on offer that month, you can always swap it out for a release from their archives or one of the many options available from the VMP store.
Your monthly Essentials release includes: 
Deluxe Edition Vinyl
A Listening Notes Booklet
A Collectible Art Print
Exclusive Member Store Access
Got something more specific in mind?
VMP now offer genre-specific subscriptions in three sub-categories, including 'classics' (which covers blues, jazz, and soul), Hip Hop, and Country. The collectible art prints, however, are reserved for the Essentials range.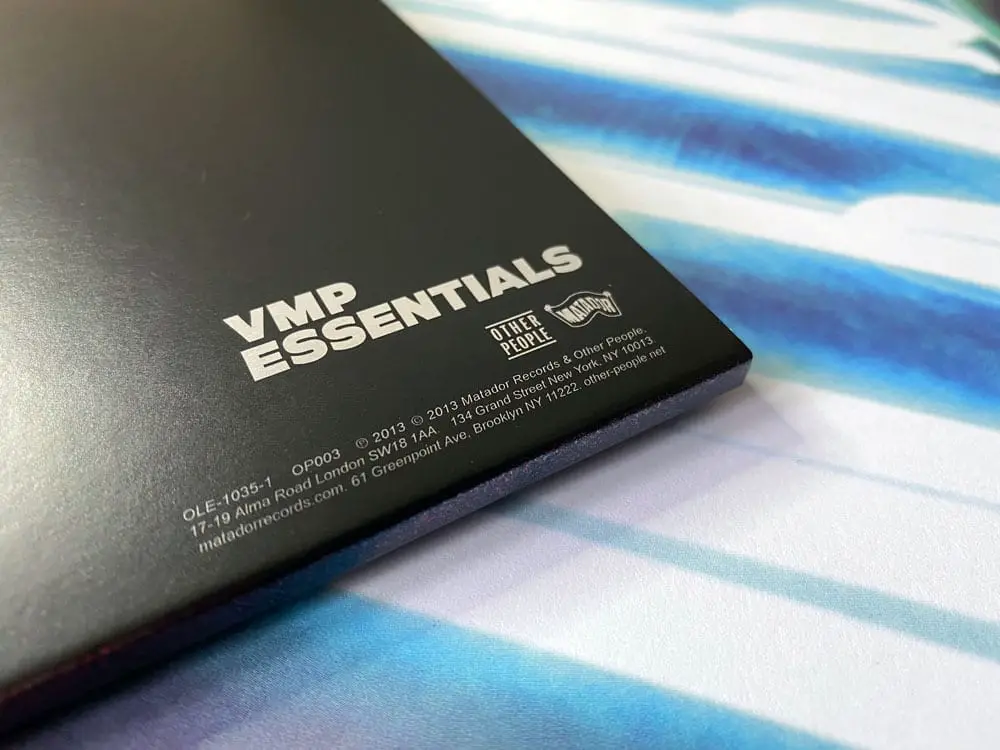 Vinyl Me Please Review
My VMP subscription arrived well-packaged and protected in a VMP branded box. The package reads "Lost Sounds Found", which is a nice sentiment toward the musical curation and discovery at the heart of a VMP subscription. 
The Essentials Record of the Month for May is Darkside's noted 2013 release, 'Psychic'. I've never heard this album before, but it comes highly recommend to fans of genre-pushing psychedelic numbers. 
The attached 'hype sticker' lets me know what is inside and informs me of some important details, such as where the record was mastered and by whom. In this case, the record was mastered by a friend of Sound Matters and terrific mastering engineer Barry Grint. Check out our interview with Barry to learn more.
This level of detail shows the time VMP take to ensure their releases are handled with care by skilled individuals to produce superb pressings.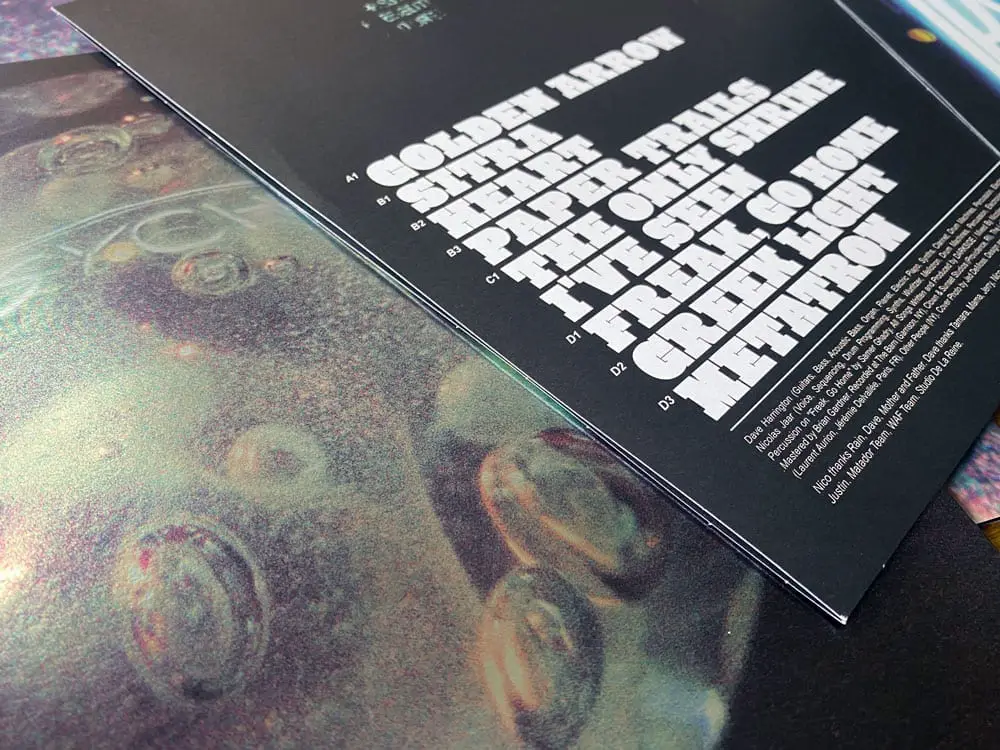 Opening The Record
The album cover is a beautiful crystal ball effect that catches the light. The print quality is high and feels like a premium release. Inside the jacket, we have the liner notes booklet explaining the story behind this record, and of course, both LPs, which are the real showstoppers in this entire package. Pressed on 'crystal ball' vinyl for a stunning marbled effect, I defy anyone to say these don't look super cool next to the album art. 
Colored vinyl divides opinion among the vinyl community, of course, but in my experience, the quality of colored vinyl pressing has come a long way in recent years.
Finally, behind the outer sleeve is our custom art print, which reflects the album artwork. Those with the wall space could frame these (although you may need a custom frame size). Alternatively, you can keep the print as a collector's piece. The album as an art form, yet again, remains the focus here; it'll be interesting to see what other prints arrive with future Essentials releases and how VMP utilizes these canvases as a means of artistic expression.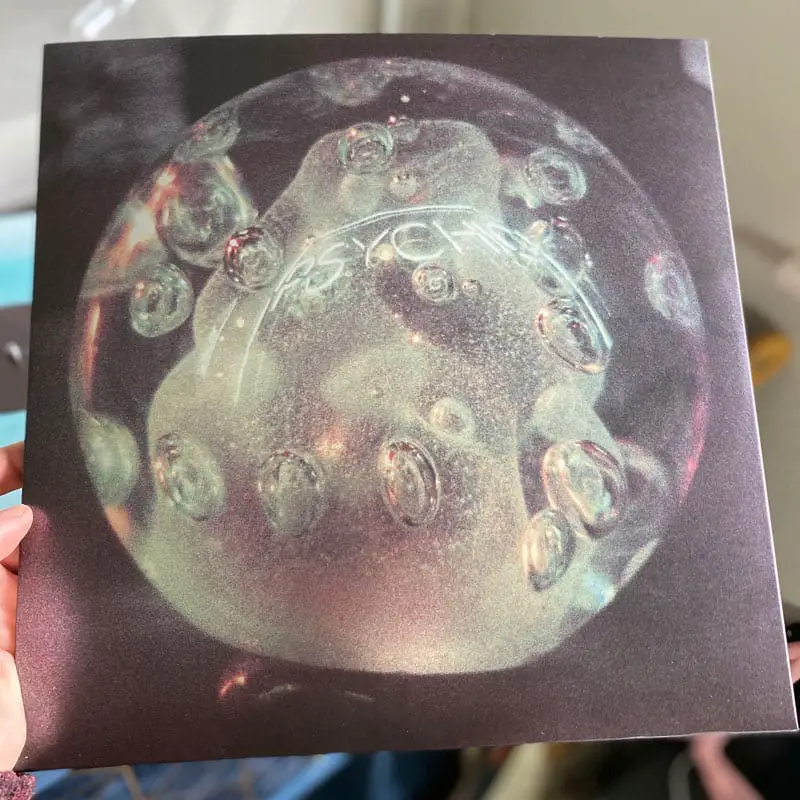 The Listening Test
So what do I make of the music?
Well, here's my 'skinny' review….
Psychic is a genre-defying mind-bender that successfully blends the unlikely bedfellows of ambient, electronica, and psychedelia with traditional blues, jazz, and rock. It's the most exciting album I've heard in years, with distinct Echos of Pink Floyd and Radiohead combined with flavors of Ambient greats, such as Brian Eno and Gigi Masin. 
Blending the hypnotic and glitchy textures of synths, sequencers, and programmed drums with organic instruments is decidedly difficult to achieve. Yet, on Psychic, the organic textures act like a glue that binds and focuses the more chaotic spontaneity of the album's electronic elements.
Listening to Psychic is a journey best enjoyed in an atmospherically lit room. Close your eyes and embrace as this thickly layered, performance-driven album transports you into the stratosphere. 
Right from the opening track, Golden Arrow, you know you're in for a treat; there are definite shades of Brian Eno Apollo meets Pink Floyd's Welcome to the Machine. Yet, there's a hypnotic quality that soon sets in as the track takes on a distinct character only Darkside could deliver with particular focus on Dave Harrington's arpeggiated guitar.
Fans of the blues will love the riff-driven track, Paper Trails, which easily conjures up the smokey atmosphere of a late-night blues club, with just enough hints of space rock to keep us rooted in the ambient psychedelic foundations of this record.
For some serious Radiohead Kid A vibes, try the driving electric piano tones of 'Freak, Go Home'. Analog and digital electronic textures are masterfully crafted here by the group's electro-wizard, Nicolas Jaar. By the track's end, there is a distinct Acid House vibe, which only continues to showcase the album's eclectic blend of genres. 
The moments I've pulled out here only scratch the surface. To truly understand how great this album is, you'll have to take the journey for yourself.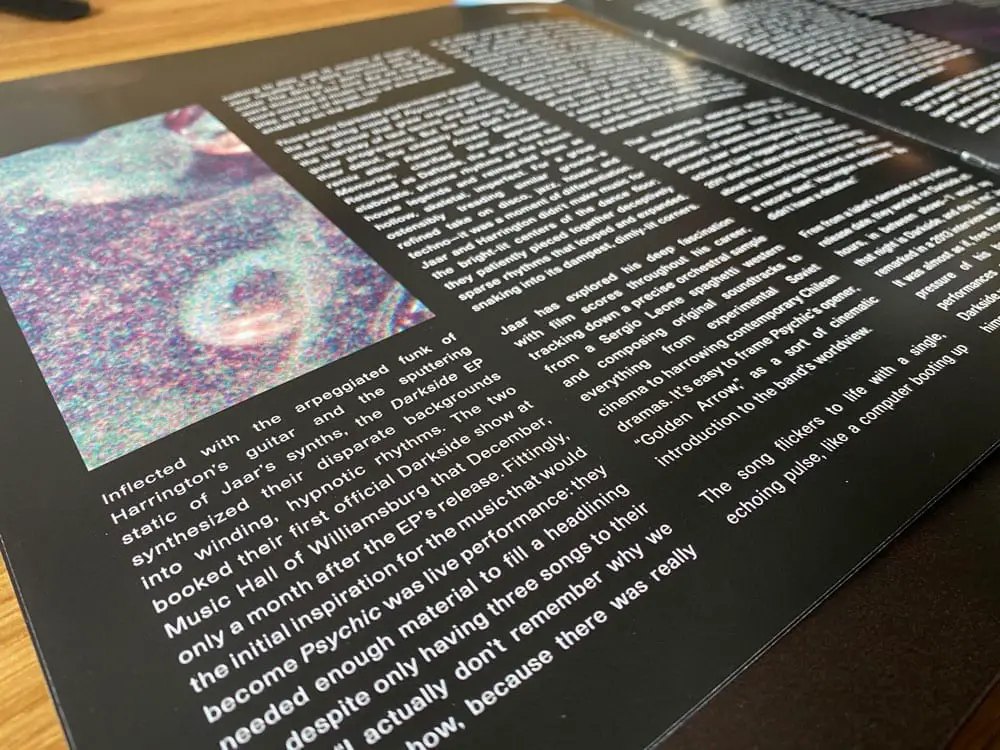 Vinyl Pressing Quality
I've written before about my ongoing concerns about pressing quality control, and so I was holding my breath for a good experience with VMP. Of course, seeing that our good friend Barry Grint at Air Studios was behind the lacquers was a reassuring sign from the get-go, but did this translate to the final listening test?
I'm pleased to say I found this to be a superb piece of vinyl. The music sounds punchy and dynamic, musical and gripping. Both LPs are free of any pressing flaws, such as warping, off-center pressing, or any non-fill issues that can plague some releases.
Vinyl Me Please Review – The Bottom Line
Full disclosure, VMP did send me this package to review. However, as always, all views expressed on Sound Matters are my own. If I don't like a product, I won't feature it – simple as that.
VMP is a cut above the competition. The attention to detail and collaboration with the industry to curate some of the most desirable releases has rightly earned them a reputation for delivering premium experiences. 
A quick glance at some of the VMP100 re-pressings gives you an idea of the stature we're talking about here. Highlights from the last eight years include the likes of Queens of the Stone Age 'Songs For The Deaf', Outkast 'Stankonia', and Queen 'A Night at the Opera'. 
That said, (and in the interest of balance), VMP is not for everyone. Any subscription service requires the listener to keep a relatively open mind in terms of exploring music beyond your usual taste. So if you have very specific genre-driven expectations, then the Essentials subscription might not be for you. 
The cost is also fairly significant, although, for me, the quality of these releases justifies the higher cost relative to other subscription services I've tried. The best way to reduce the cost per pressing is to subscribe for a longer duration; however, this does require an up-from payment.
To conclude: VMP is the best record subscription service I've experienced. I would highly recommend the service to anyone looking for a premium experience where art and music combine to create something befitting the vinyl medium. 

vinylmeplease.com
Summary
Reviewer
Review Date
Reviewed Item
Author Rating





Product Name
VMP Essentials Record Subscription