Record subscription services offer vinyl lovers and music fans the opportunity to discover new music and enjoy premium and exclusive record releases. 
I've trialed many record subscription services in my time running Sound Matters and seen numerous services come and go. 
During this time, I've learned one crucial thing: for a subscription service to endure, it must be unique; in other words, it must bring something to the table beyond what a crate digger might find at record stores. 
Most recently, I've sampled the long-standing record club Vinyl Moon — here's what I found out…
What is Vinyl Moon?
According to the website, "Vinyl Moon is the only vinyl "mixtape" club that combines the best new music with original artwork to create an ultra-deluxe record experience."
Unlike a record club like VMP (Vinyl Me, Please), who focus on exclusive pressings and reissues of classic and essential albums, Vinyl Moon collates a selection of the best up-and-coming artists and presses them to a vinyl record where the focus is on album art. 

With this summary in mind, those looking for all-analog (AAA) reissues of classic albums should probably look elsewhere for the monthly fix of new vinyl. However, if discovering new artists is important to you, and you love the artwork and physically of the vinyl format, Vinyl Moon have a unique offering here. 
You'll need an open mind or a very broad taste in music, as the range of style spans Indie-Rock, Indie-Pop, Alt-Dance, and Electronic, to name but a few. 
Vinyl Moon Review
I received issues 83 and 86 to review, both of which arrived in a sturdy shipping box that did a great job of protecting the record for overseas shipping. 

Issue 83 (titled Lost and Sound) featured a great selection of ambient-style tracks pressed onto blue, white and pink splatter-effect vinyl.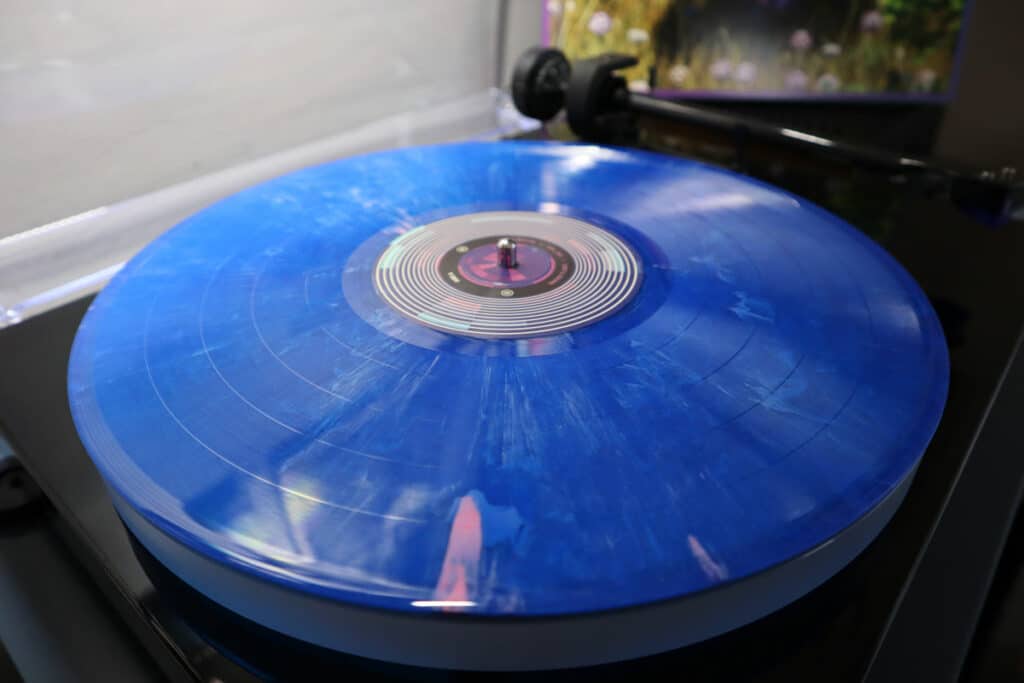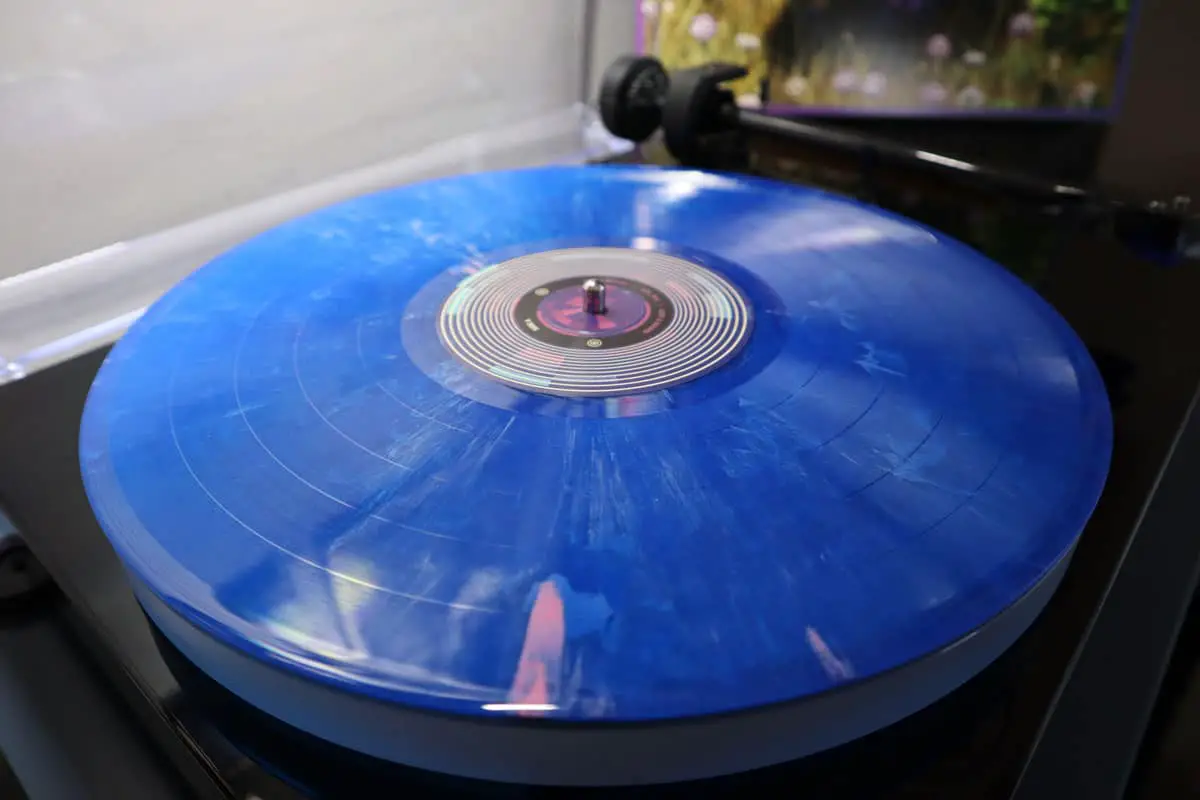 Included is a set of liner notes detailing each track and information about where to follow each artist online.
At this point in the review, I think it's important to highlight just how difficult it can be for new artists to make streaming pay the bills. Buying a record or physical merch is often a much better way to support talented up-and-coming acts.
Also detailed on the liner notes is a link to their "online listening experience", which you can access following a handy QR code to pull up a browser-based music player, which acts as a digital extension of the music and artwork. 
You can check out the online listening experience for issue #83, here.
Curiously, this release also provided a link to an Augmented reality app, which allows you to bring this release to life using your mobile device. For me, this is an impressive way of extending the album art canvas into the digital realm. It really demonstrates how the vinyl format isn't all about nostalgia and how the analog and digital realm can easily complement each other.
Issue 86 (titled The Palm Rose) is a much more pop-centric affair, complete with bright pink spatter effect vinyl and beautiful artwork designed by visual artist Justine Shirin. 
Vinyl Moon work directly with a visual artist each month to create original LP artwork that compliments and tells the story of the music. 
I've always said that vinyl is the best format for providing a true visual canvas where album art can shine. In this sense, no other format can compete, and with additional easter eggs like the augmented reality feature in issue 83, you can really get a sense of the creative possibilities.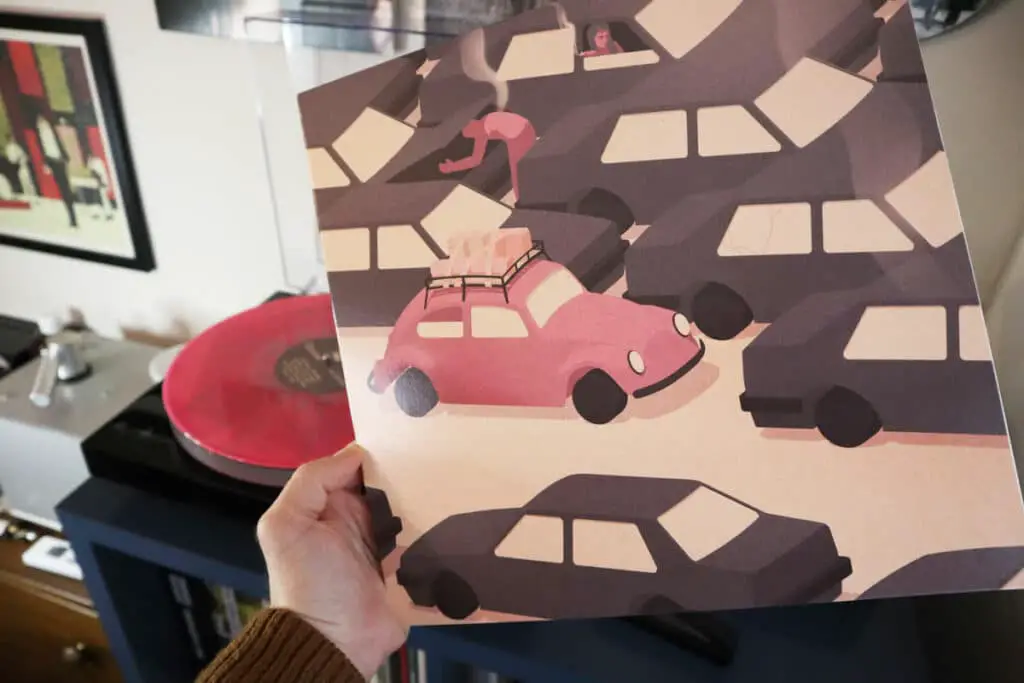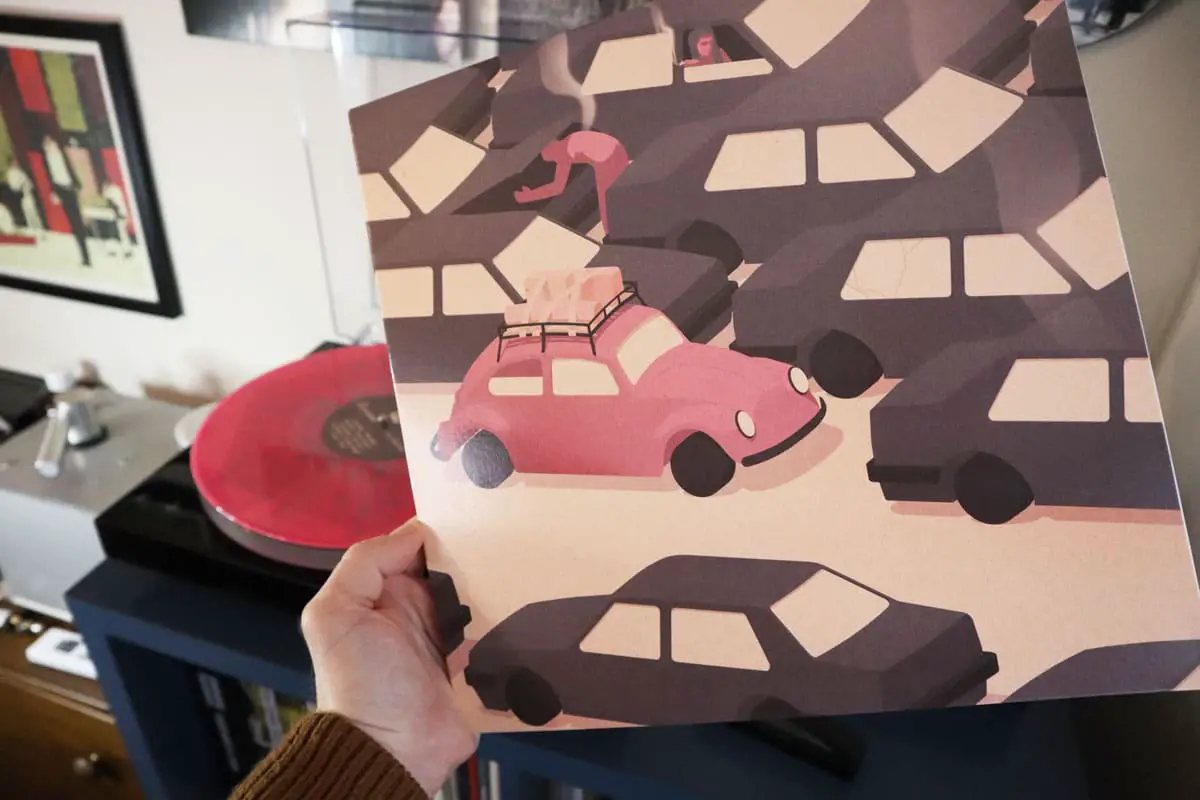 Vinyl Moon Review Summary
If you love the creativity of vinyl records as a visual canvas and want to discover a broad range of talented new artists in the process, Vinyl Moon offers a highly-desirable, fully immersive experience.
With the emphasis being on new music and art, record collectors seeking an audiophile experience will undoubtedly prefer a different service. But then again, Vinyl Moon aren't trying to compete with the likes of VMP. 
I admire Vinyl Moon's modern approach at combining an analog medium like vinyl with the modern possibilities of digital. Their service will undoubtedly appeal to many younger music fans who are combining the fully immersive experience of vinyl with their day-to-day digital listening habits.
Vinyl is here to stay. It's not a fad, and collectors now span many age groups; for this, Vinyl Moon is living proof.
Subscribe to Vinyl Moon for 10% less using the code SOUNDMATTERS10
Month-to-month subscriptions are priced at $34/month – discounts are added for multiple months.
Summary
Reviewer
Review Date
Reviewed Item
Vinyl Moon Record Subscription
Author Rating





Product Name
Vinyl Moon Record Subscription