With a highly attractive price tag of just $70, the Fosi Audio Box X2 tube phono preamplifier has rightly caught the attention of value-seeking vinyl enthusiasts. But at such a low cost, can it really improve the sound of your records?
The Fosi Audio Box X2 is a tube phono preamplifier of sorts. In reality, like most affordable tube phono preamps, the Box X2 is a hybrid solid state/tube design where the tubes act as a "buffer" in an attempt to impart some tube characteristics on the sound.
So unlike a true tube preamp design, the included 6A2 vacuum tubes are not located in the gain stage of this design.
Inputs & Controls
The back panel looks very familiar here, with the usual RCA inputs and outputs alongside the earth terminal.
On the front panel, there is a gain control that switches between off, 39dB, 42dB, and 45dB. 
Also, there is a 3.5mm jack input, which, to be quite frank, I just wish wasn't there.
The idea is you can input a phone, tablet, CD player, or other such device and use the Box X2 as a preamp before powered speakers or an aux input of your amplifier. I don't think I will ever use this feature, and I would've preferred a cleaner, less cluttered front panel.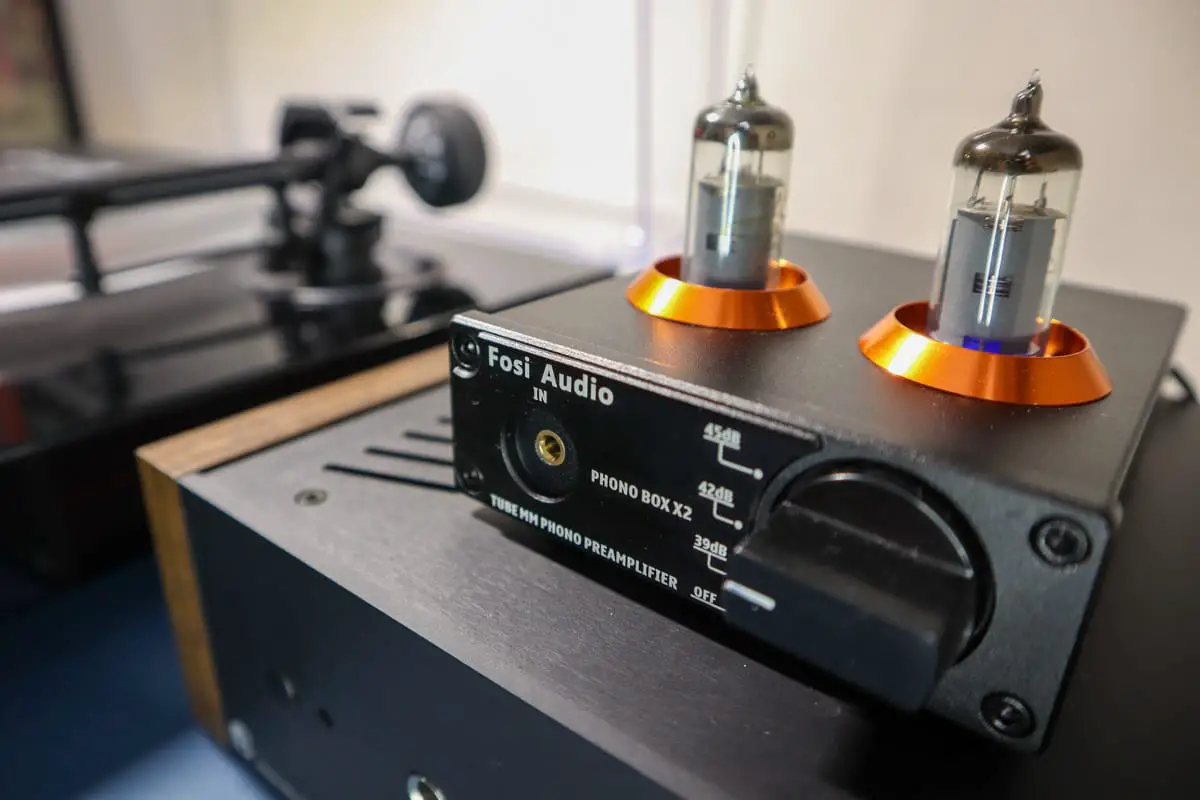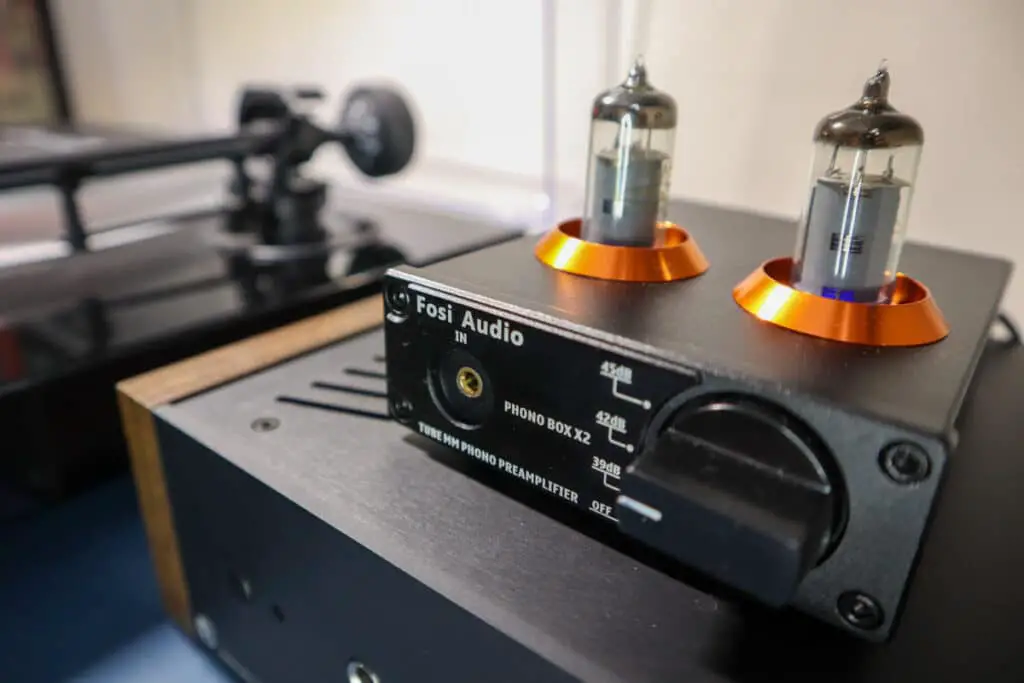 Installing the Tubes & Plugging In
The tubes for your Fosi Audio Box X2 need to be installed before you can plug in and spin records.

If you've never handled tubes before, this can seem intimidating, but there's really nothing that can go wrong so long as you carefully line up the pins and apply gentle pressure to push them in.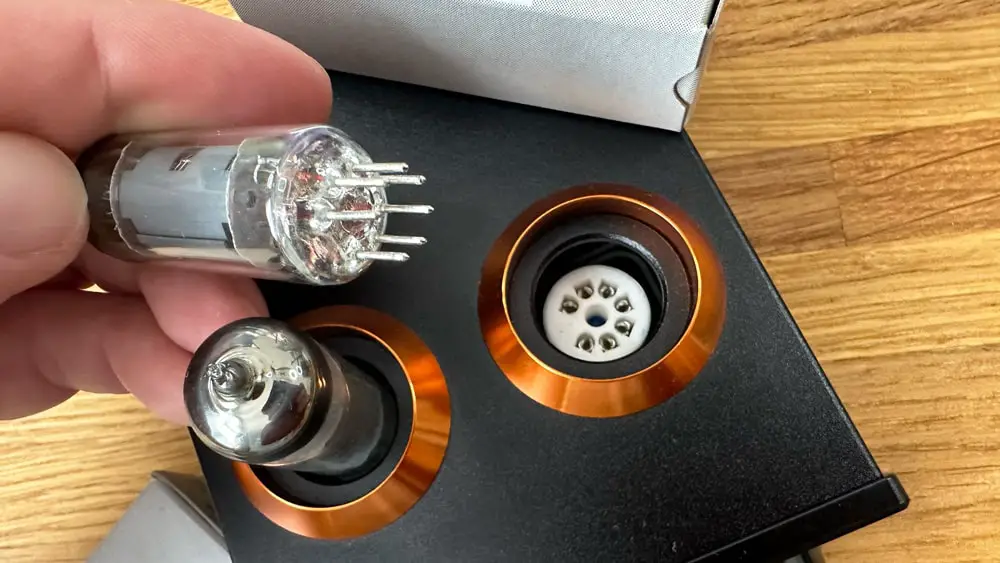 One of the great aspects of tube phono preamps is the ability to swap the tubes for different models. This can change and improve the sound.
One very popular upgrade is the Riverstone Audio JAN 5654W USA-made tubes. More on this later, but for now, we'll stick with the stock tubes.

Hooking up the preamp is very simple, you'll need a second set of RCA cables to hook up the output of the Fosi Audio preamp to your amplifier or powered speakers, but aside from that, simply hook up your turntable RCAs to the MM (moving magnet) input and attach the earth wire.
A small issue I encountered right away was that my earth wire spade terminals were not wide enough to go fully around the circumference of the terminal, meaning I had to simply screw it down harder to avoid it slipping out. Not a huge deal breaker, but a little annoying.
Fosi Audio Box X2 Review – Sound Quality
At such a cheap price, I really didn't know what to expect from the Fosi Audio preamp, and having recently purchased the Pro-Ject Tube Box DS2, this little preamp has some pretty high expectations to meet.
Undoubtedly, it's unfair to compare a $70 preamp with one costing $1000, but I must say I was blown away by how well it stood up.
Compared with the built-in phono stage on my integrated amplifier, I would describe the sound as much more dynamic and "alive" – particularly in the low-end.
Spinning Blood Sugar Sex Magik by the Red Hot Chili Peppers (a record I regard as sounding absolutely superb), the bass sounded noticeably more agile and dynamic compared with the built-in phono preamp, and interestingly, more dynamic than the Rega Fono Mini that I recently tested.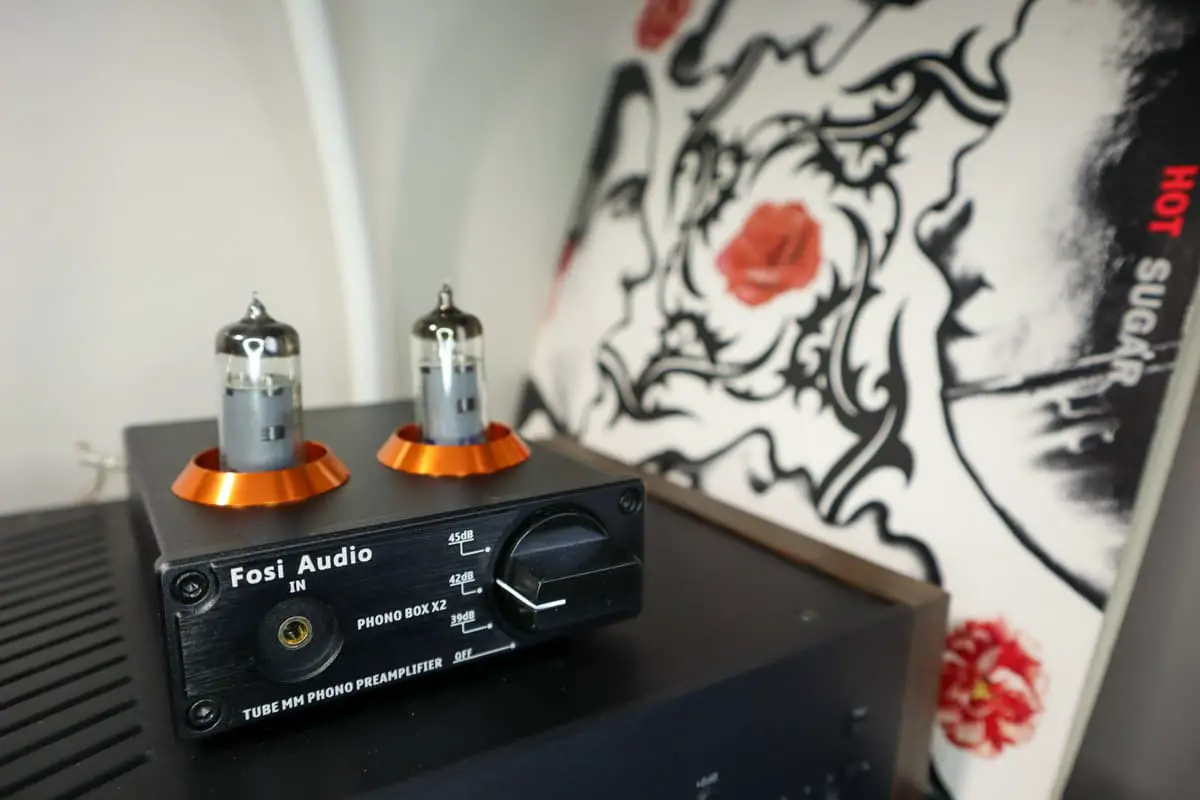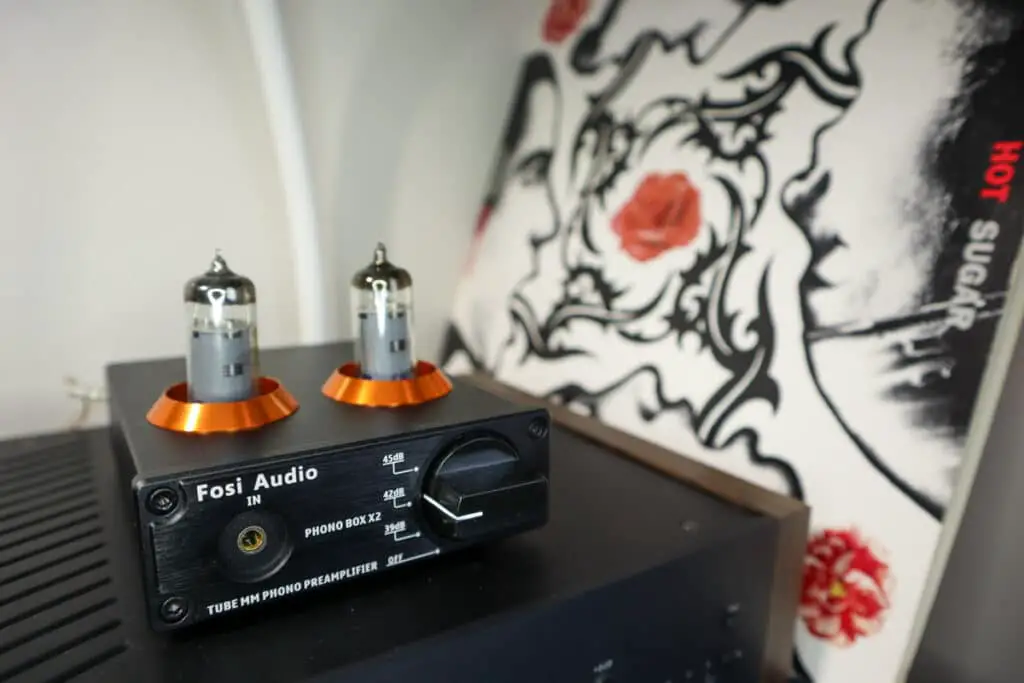 The Rega Fono Mini is more transparent sounding, but those who like a little more "action" in their sound may actually prefer the Fosi Audio Box X2 preamp.
When you consider the price difference, that's quite the statement!
The soundstage of the Fosi Audio pre is impressively wide for a budget device; where it lacks a little is on the top end, which I found perfectly adequate, but could be improved. 
Suspecting the stock tubes as the culprit, I quickly headed to Amazon and purchased the recommended JAN 5654W vacuum tubes.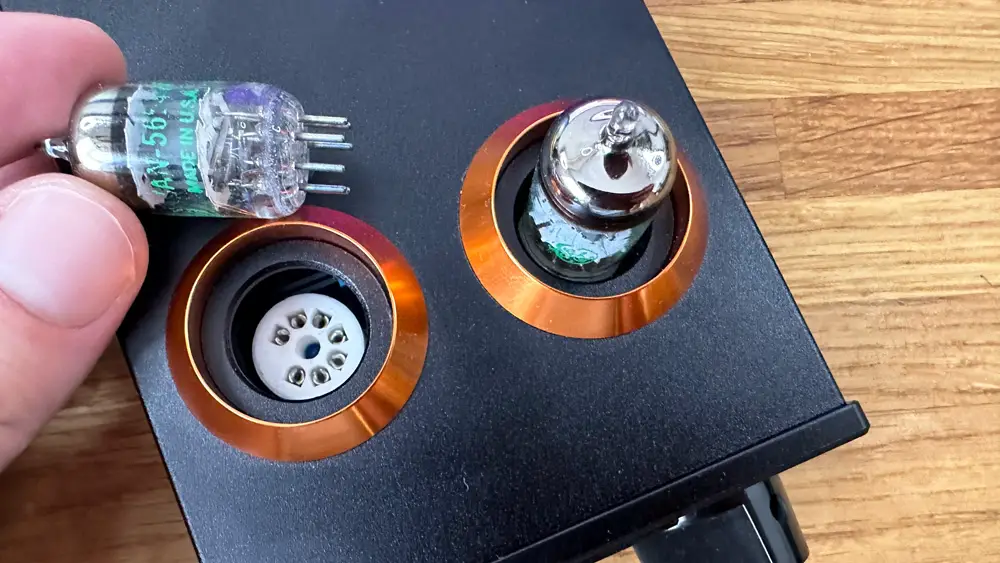 Though these tubes clearly say "Made in USA" on the actual product, the packaging interestingly reads "made in China", so I'm not convinced these are genuine USA tubes, and given the price, this should come as no surprise.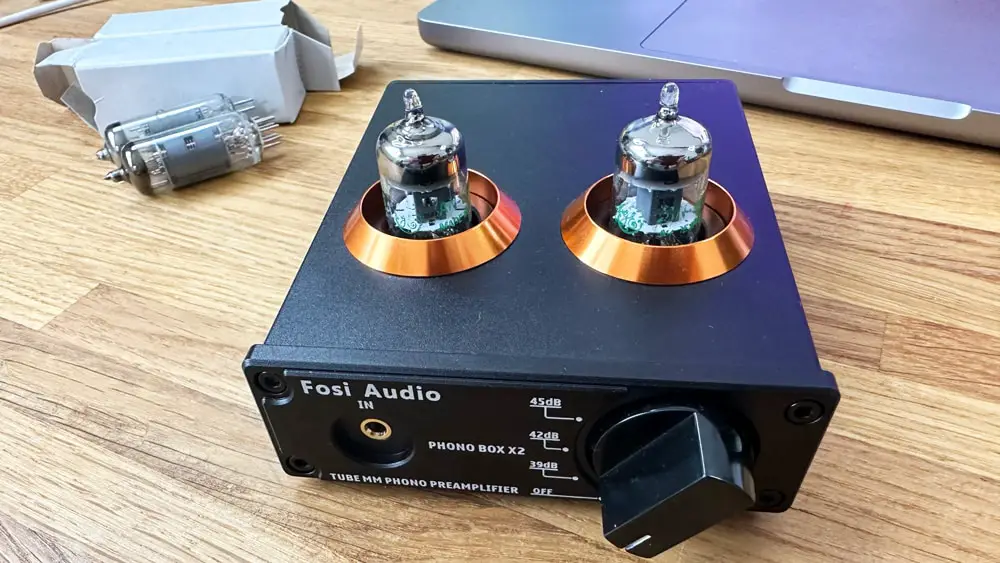 Origin aside, when installed, I felt they did give a subtle uplift on the top end with a slightly tamer bass, so overall – a tad more balanced. 
The difference is relatively subtle, but for the small additional price, it's worth picking them up to see which set of tubes you prefer. 
Fosi Audio Box X2 – Conclusion
If you're still using the built-in phono preamp on your turntable or amplifier, pickup up this preamp is a no-brainer. While some built-in phono preamps are quite capable, most are simply just good enough to get you started.
For less than $100/£100, you can significantly improve the front end of your system.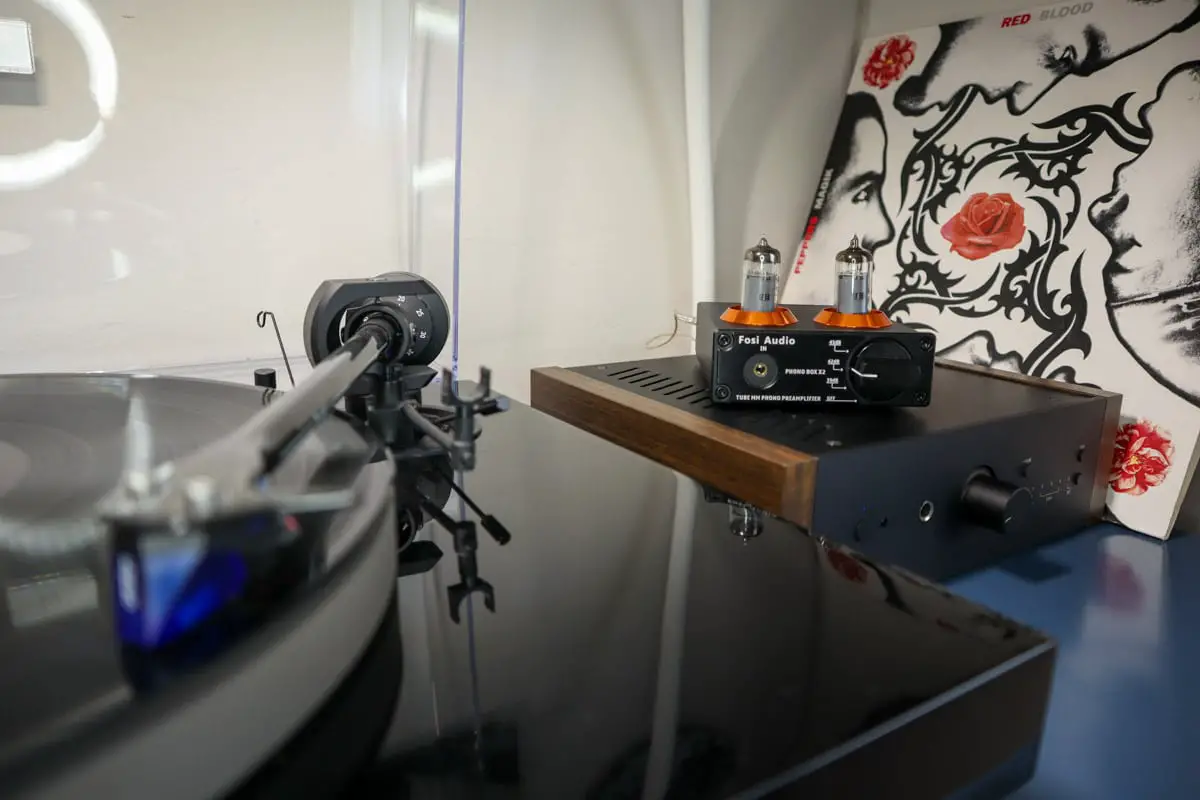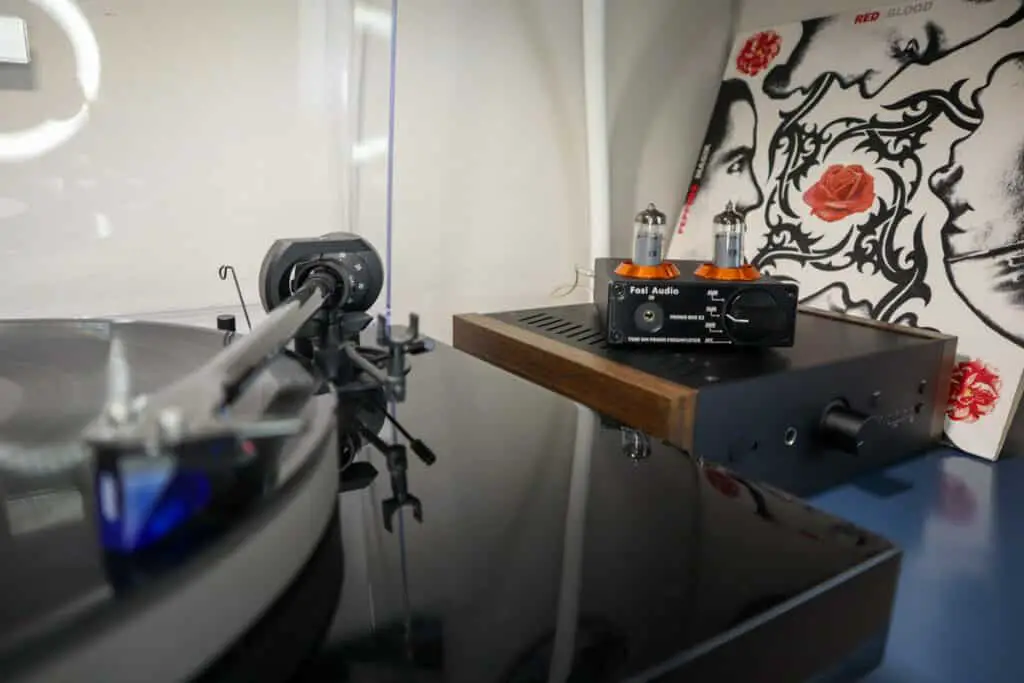 It doesn't have quite the musicality of more expensive tube phono preamps, but it does sound exceptionally good in its price bracket.
There are more transparent-sounding preamps on the market, but the sound of the Fosi Audio had me gripped and wanting to line up old favorites from my collection to see how they would translate. 
There are (in my opinion) better-looking preamps out there, and I think most buyers will simply never use the front panel input, which adds clutter to the design.
Overall, the Fosi Audio Box X2 phono preamp is an exceptional, compact box that's ideal for vinyl lovers on a budget or as a second phono preamp for an additional listening space.
Impressive. One of the best audiophile bargains I've heard in a long time.
Further reading: Best Budget Phono Preamps
Further reading: Best phono preamps at any budget
Summary
Reviewer
Review Date
Reviewed Item
Fosi Audio Box X2 Phono Preamp
Author Rating





Product Name