In most other industries, vacuum tubes have gone the way of the dodo, replaced by more sturdy and durable transistor-based circuits. 
Audio equipment, both for consumer HiFi use and professional studio recording gear, is a different story. In the world of audio, vacuum tubes still hold a place in the hearts of audiophiles for their unique sound characteristics.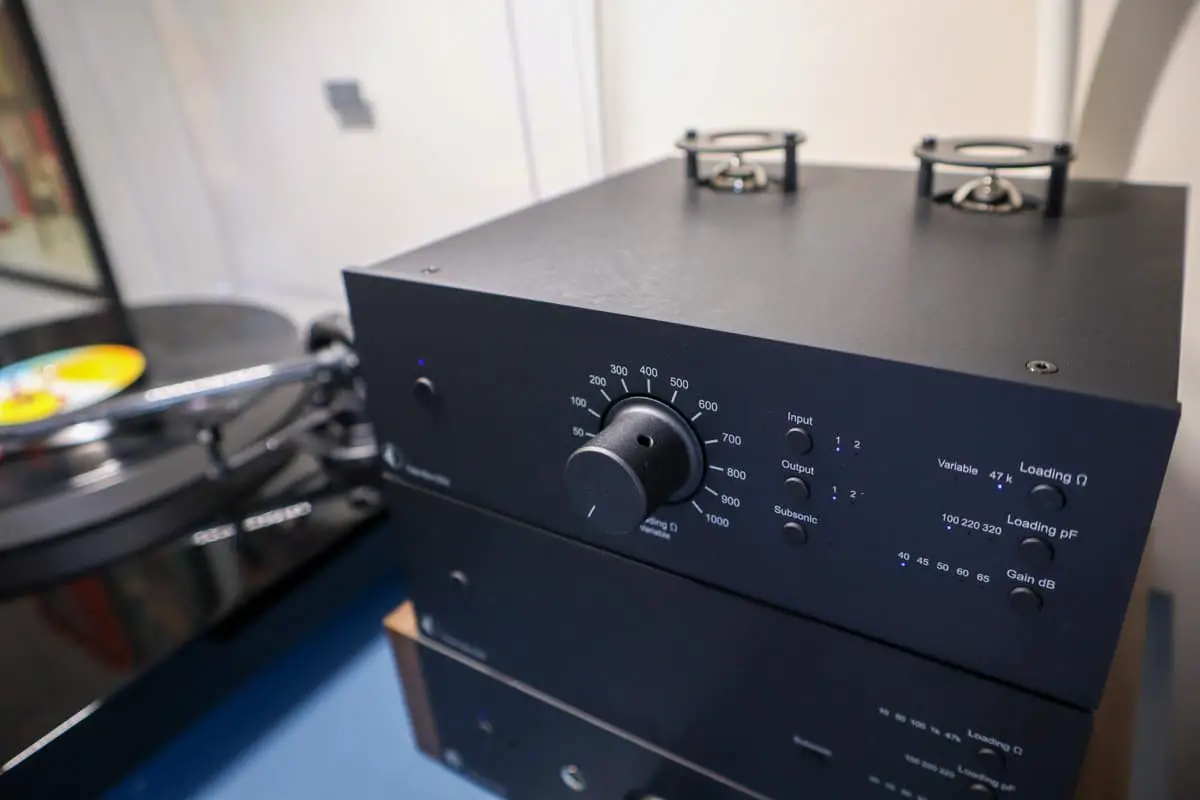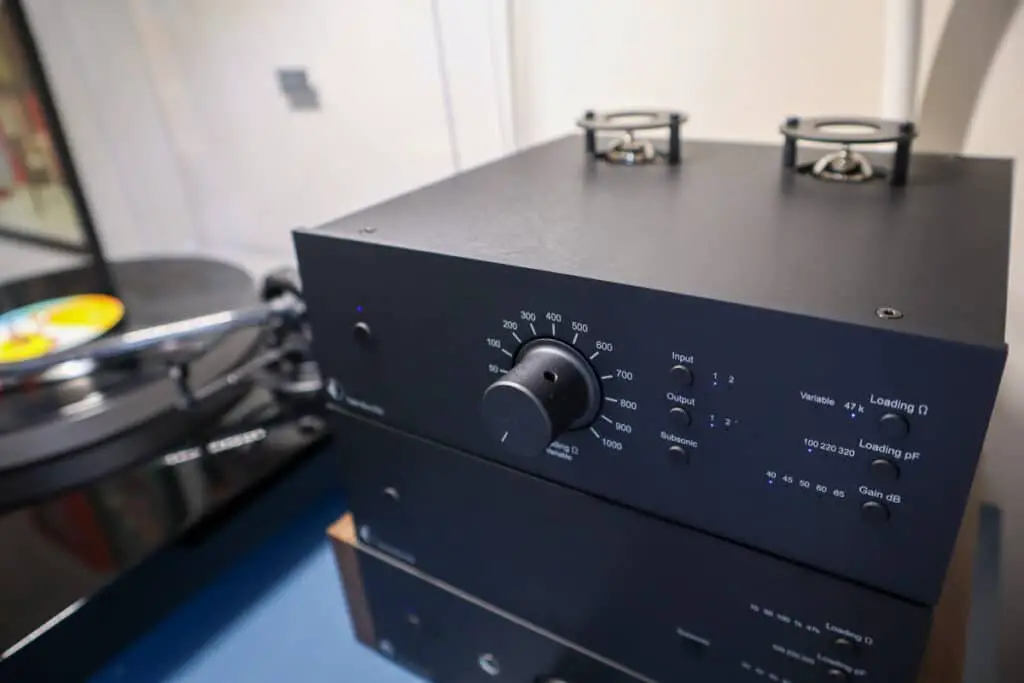 Tube phono preamps are celebrated for their warm and rich sound, which can introduce a level of harmonics or "color" to the sound. The end result is a smooth and natural sound that many listeners find more musical and engaging compared to solid-state designs.
Like all things HiFi, you can spend an almost infinite amount of money in the name of sonic nirvana. The truth is, if you spend wisely, anyone can introduce an element of tube character into their setup. 
To help you get started on your journey, check out my picks of the best tube phono preamps to suit any budget.
---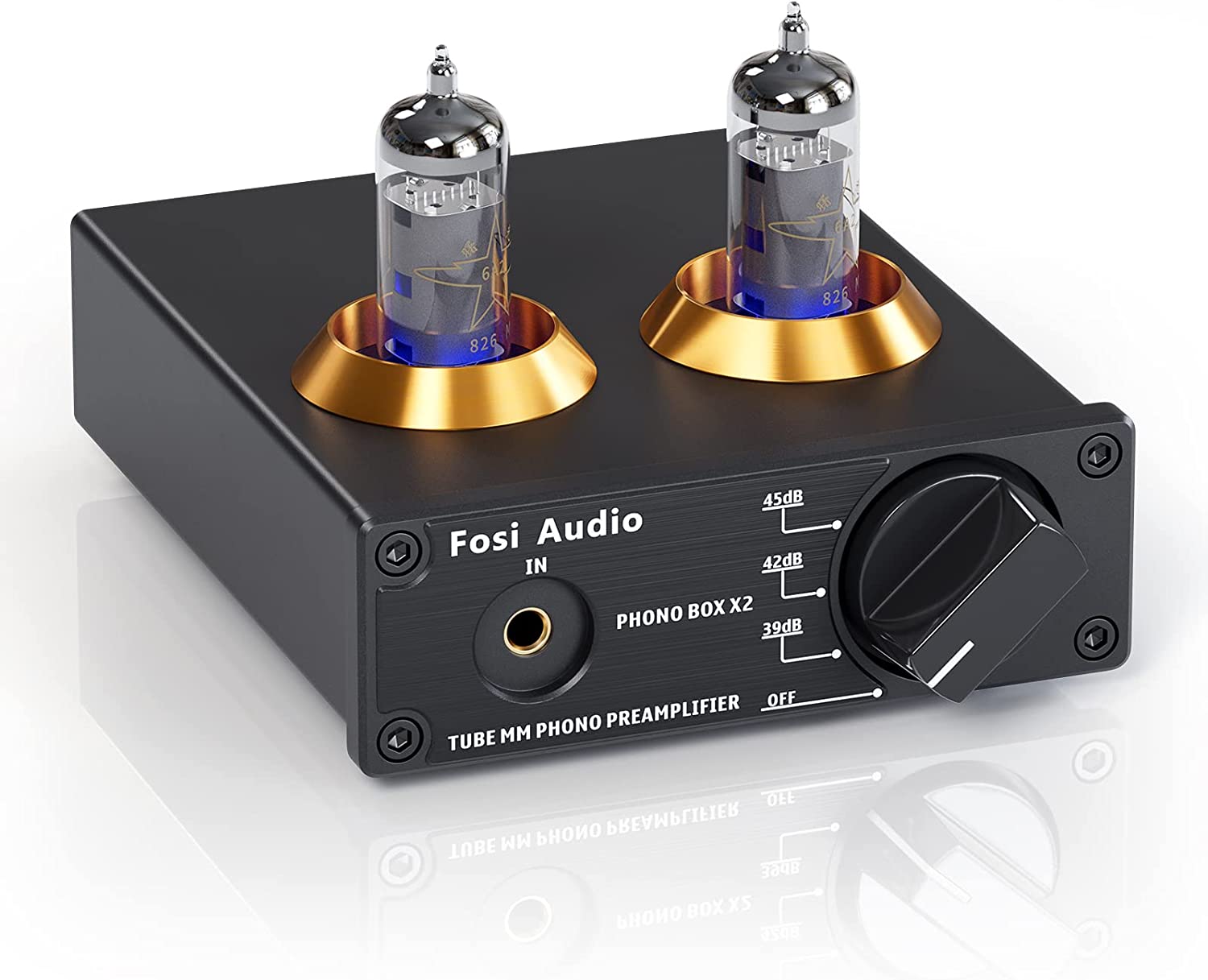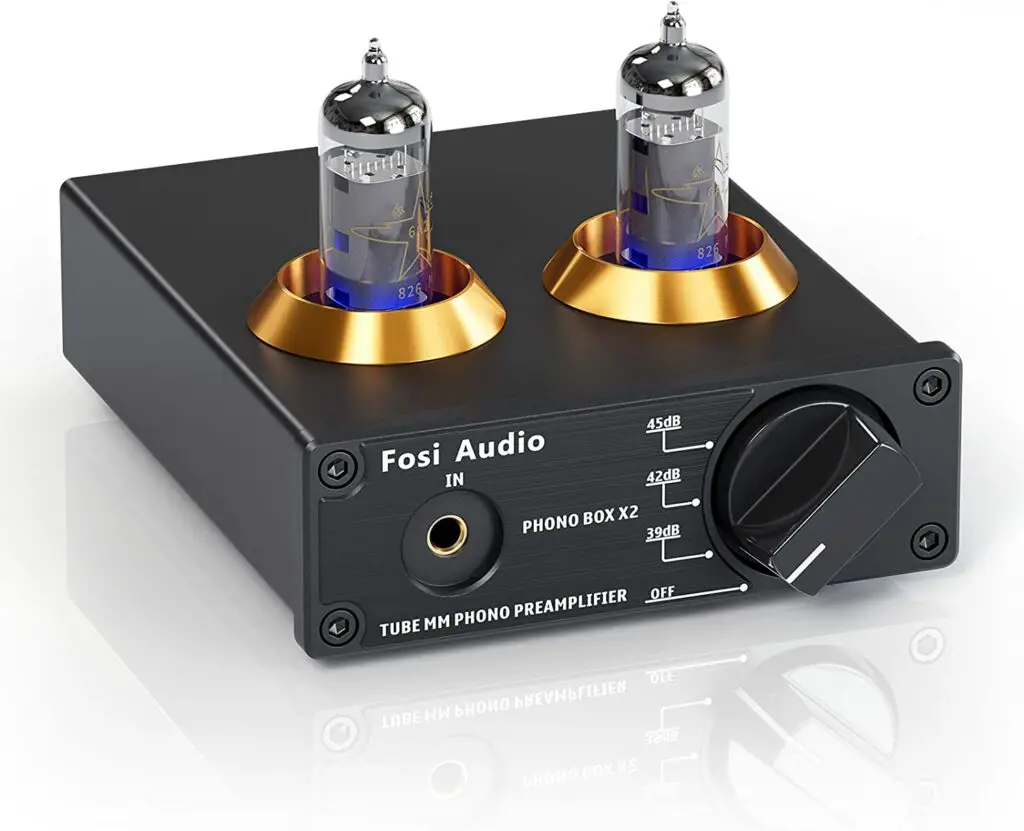 Fosi Audio Box X2 
Price: $70/£60 | MM/MC: MM | Gain: 39, 42, 45 dB | Subsonic filter: No | USB: No
If you're looking for a highly affordable tube phono preamp to get you started or to upgrade from a basic integrated phono stage, the Fosi Audio Box X2 holds up surprisingly well for under $70.
Even with the stock tubes, the Fosi Audio Box X2 sounds very impressive for a budget phono preamp, though some might argue it doesn't have that true "classic tube sound".
That said, part of the fun of owning a tube phono is the potential to "upgrade" the sound quality by experimenting with different tube replacements.
A popular upgrade is the Riverstone Audio GE JAN 5456W match-pair tubes, made in the USA. 
Full Sound Matters review of the Fosi Audio Box X2, here.
Pros: An absolute bargain phono preamp regardless of tubes
Cons: May benefit from replacing the stock tubes. The front panel input seems unnecessary – I certainly would never use it.
---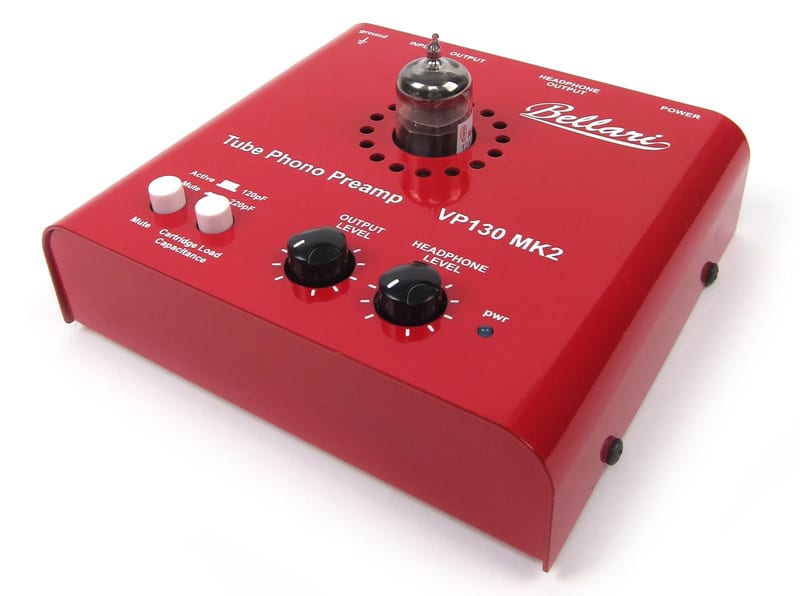 Bellari VP130 MKII  
Price: $275 | MM/MC: MM & High Output MC | Gain: 38.9 dB | Subsonic filter: No

The Bellari VP130 MKII gets the seal of approval from audiophile critic Michael Fremer, who praised the unit stating, "Every type of music I played through the surprising little Bellari sounded full-bodied and rich, yet detailed and crisply rendered." 
This preamp is known for its warm and natural tube sound, achieved by its single 12AX7 tube design. Its simple operation and affordable price make it one of the best tube phono preamps at the entry-level price point.
The VP130 also doubles up as a handy headphone amp and has adjustable cartridge load capacitance between 120pF and 220pF.
Pros: Incredible build quality at an affordable price
Cons: The design would benefit from running two tubes in parallel (one for each channel).

---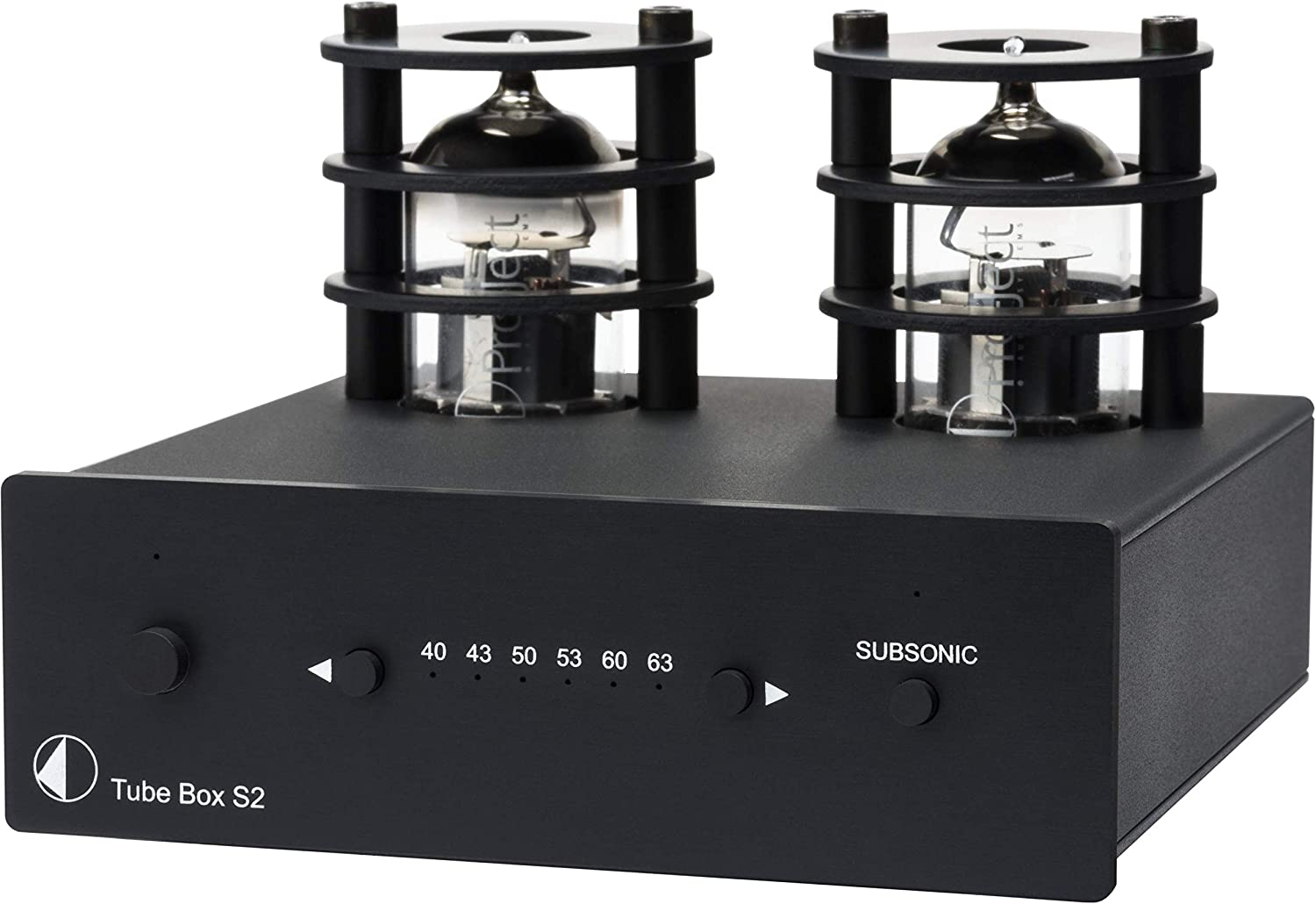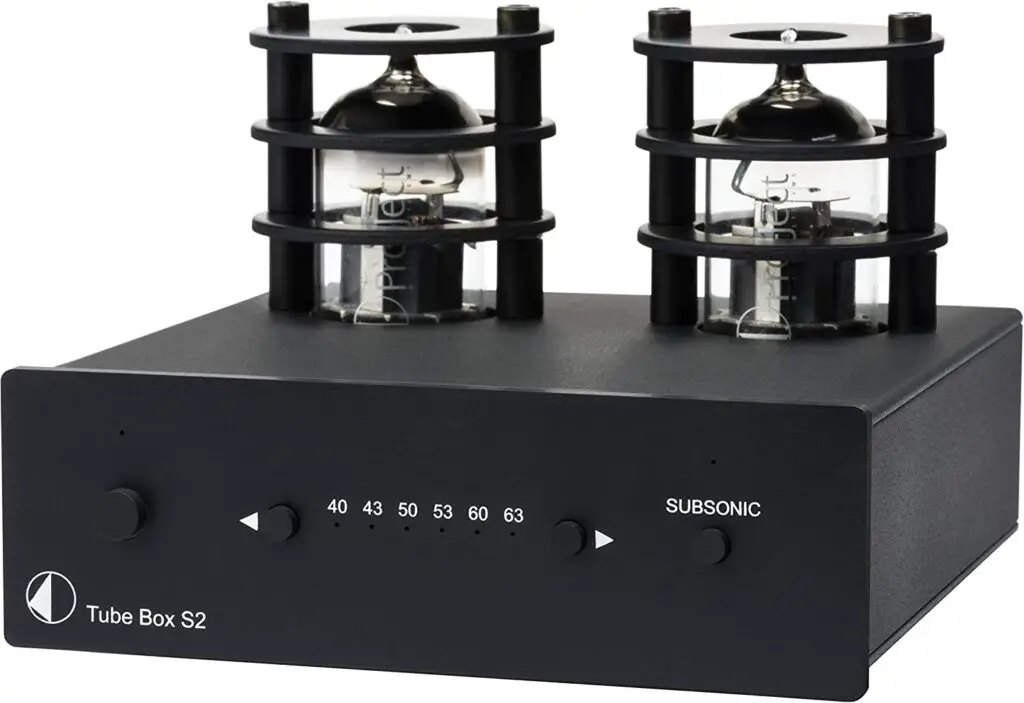 Pro-Ject Tube Box S2 
Price: $449/£365 | MM/MC: Both | Gain: 40, 43, 60, 63 dB | Subsonic filter: Yes
Arguably one of the best tube phono preamps on a budget, The Pro-Ject Tube Box S2 is a versatile, compact tube-based design. 
It offers switchable gain settings to suit the majority of MM (moving magnet) cartridges. The 47k ohm input impedance setting is fixed but easily accommodates high-output MC (moving coil) cartridges. 
This model features two ECC83 tubes, which deliver the lush and warm audio quality tubes are known for, but at a very reasonable price. An added subsonic filter minimizes the impact of low-frequency rumble from your turntable.
Pros: Incredible tube phono preamp sound and flexibility. Looks amazing. Handy subsonic filter.
Cons: Casual vinyl listeners may shy away from this phono preamp based on the maintenance of tubes and the cost.
---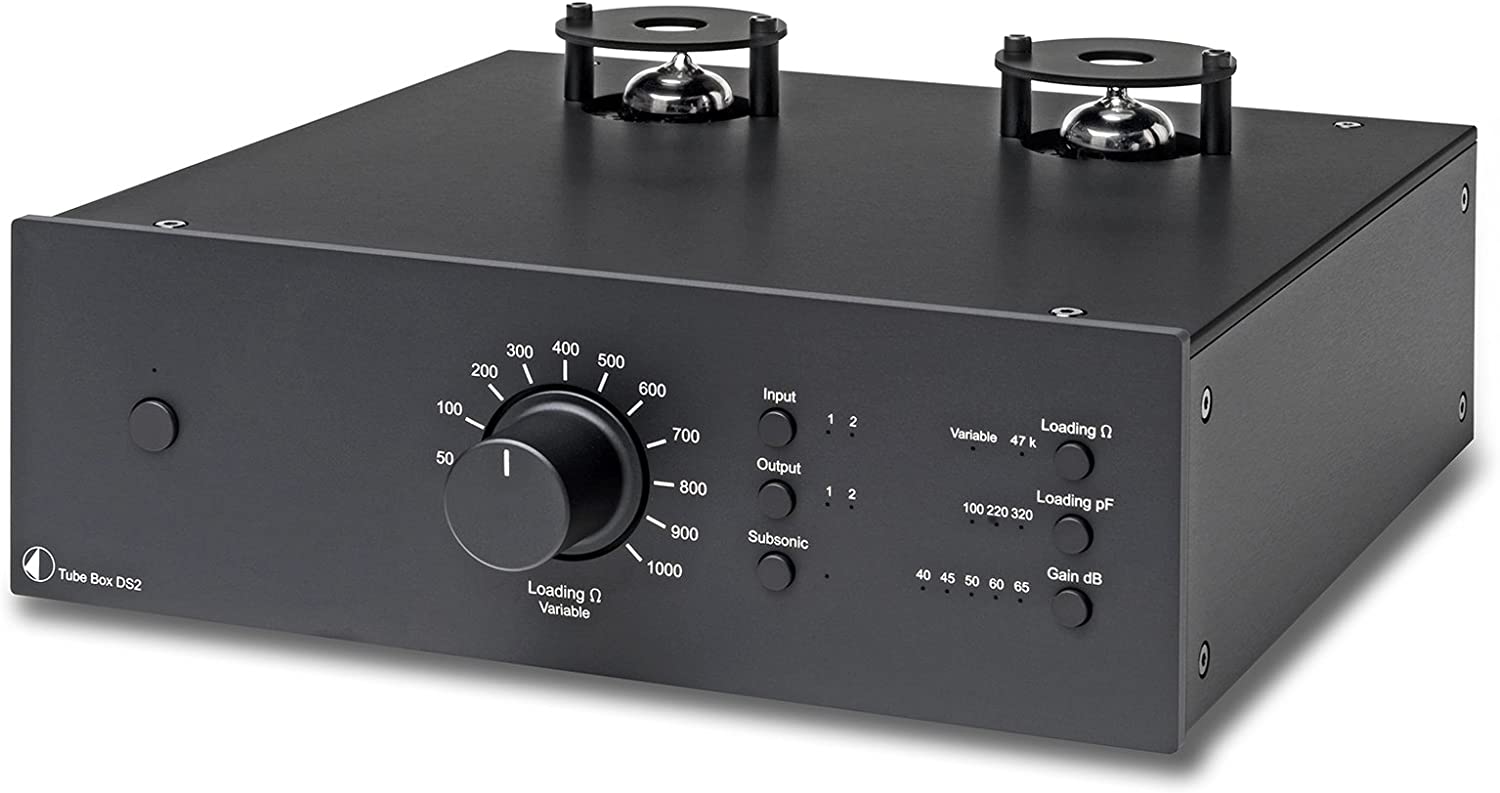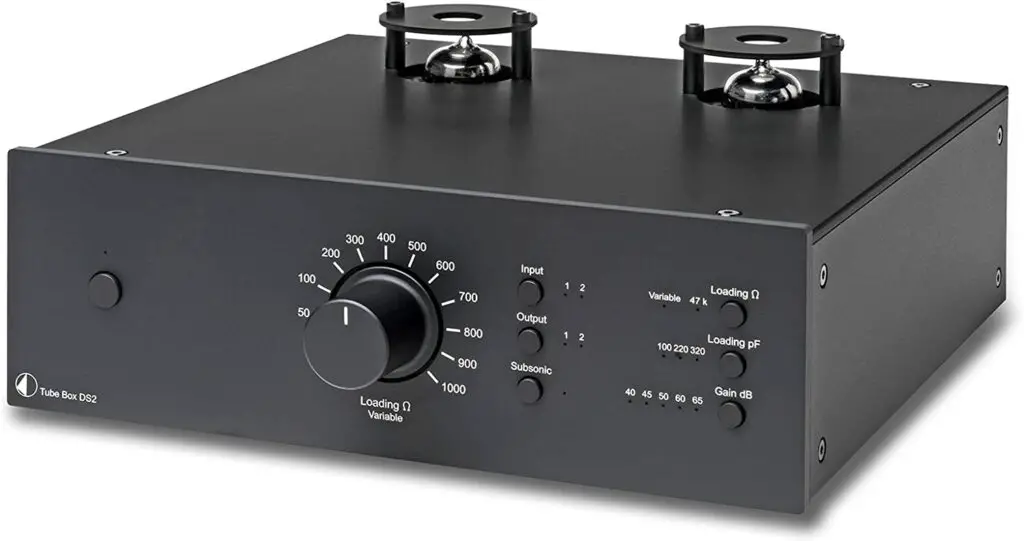 Pro-Ject Tube Box DS2 
Price: $699/£529 | MM/MC: Both | Gain: 40, 45, 50, 60, 65 dB | Input capacitance: 100, 220, 320, 420 pF
My personal tube phono preamp of choice.
If your budget will stretch a little further, The Pro-Ject Tube Box DS2 is a versatile unit that caters more broadly to both MM and MC cartridges. Said to feature audiophile circuitry, DS2 is Pro-Ject's higher-end phono preamplifier with tube output.
The DS2 offers a wide range of settings, ensuring compatibility with a diverse range of cartridges. Unlike many designs, which are adjustable using DIP switches, the Tube Box DS2 is easily adjustable for gain and input capacitance/impedance using front-positioned buttons and dials.
Compared with its little brother (the S2) the DS2 benefits from two inputs and outputs — perfect if you're lucky enough to have two turntables or you want the flexibility to switch between output destinations. (I personally use the second output to wire up to my audio interface for record archiving on my computer).
Check out my full review of the Tube Box DS2 here.
Pros: Musical tube preamp sound with a wide soundstage. Incredible control at this price point. Dual turntable connectivity.
Cons: At this price, I would prefer to see a higher-end power supply connection.
---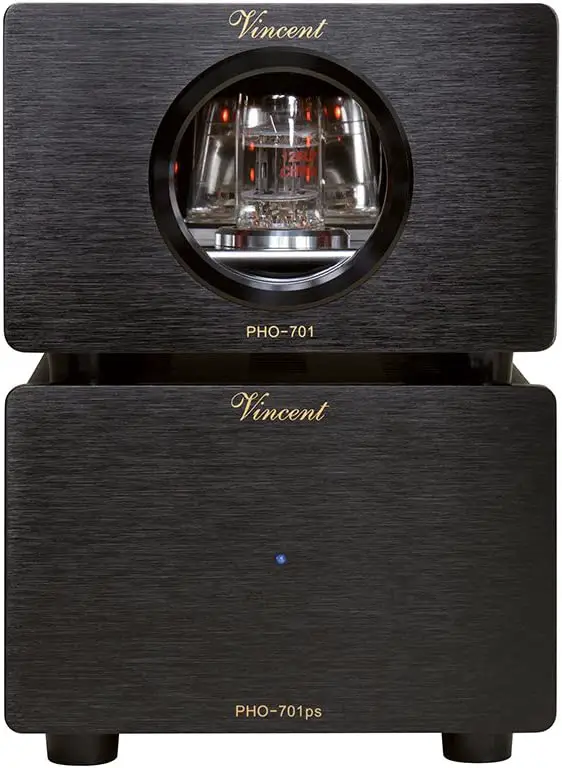 Vincent PHO-701 
Price: $799 | MM/MC: Both | Gain: 40, 60 dB | Input Impedance: MM: 47 kOhm, MC: 99 – 1000 Ohm | Input Capacity: MM: 15 pF – 350 pF (adjustable), MC: 15 pF | Subsonic filter: No | USB: Yes
Unlike other phono preamp designs, the PHO-701 houses its power supply in a completely separate chassis. This is good news for reducing noise in your signal chain, as keeping power supplies separate will help reduce the chance of AC distortion and interference.
The PHO-701 is a hybrid tube/solid-state design. This combination allows it to maintain the tonal qualities of tube sound while delivering the power and precision typically associated with solid-state electronics.
Also beneficial on the PHO-701 is the included USB output, which makes archiving your records digitally super-easy. At 24Bit/192kHz sample rate, it's a high-quality A/D converter, which will undoubtedly please audiophile archivers. 
Unlike the original PHO-700, which had limited support for MC cartridges, you can fine-tune the input capacitance and input impedance of the PHO-701 using DIP switches on the bottom of the unit. 

Pros: Separate power supply. Incredible build quality. One of the best tube phono preamps combining tube and solid state circuitry.
Cons: DIP switches make adjustments more difficult.
---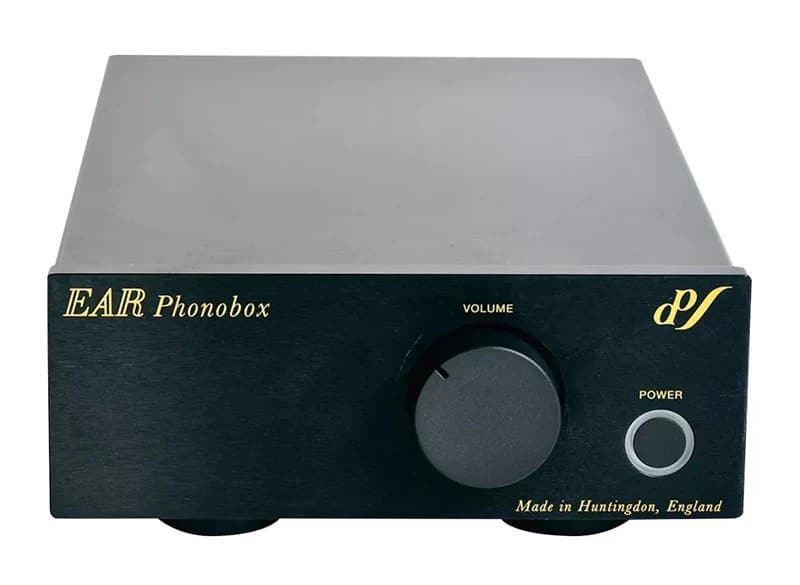 EAR Phono Box 
Price: £1500/£1149 | MM/MC: MM or Both | Gain: 53, 73 dB 
The Phono Box is an updated version of the legendary EAR 834P phono stage. The new model is still tube-powered and is available as an MM-only model or a version with a switchable MM/MC on the rear panel. 
Made in the UK, the Ear PhonoBox features three 13d16 tubes. The tubes/valves were carefully selected to compliment the circuitry of this great tube phono preamp by late and great EAR Yoshino owner Tim de Paravicini. The PhonoBox is likely the last product designed by Tim. 
Undoubtedly one of the best tube phono preamps in the higher-end price bracket.
Pros: Incredible tube preamp sound quality in a compact design.
Cons: Pricey, but then tube phono preamps of this caliber don't come cheap.
---

Manley Chinook 
Price: $2550/£2050 | MM/MC: Both | Gain: 40, 60 dB | Subsonic filter: Yes
Ready to step up into big-boy territory when it comes to your turntable setup?
For years, the Manley Steelhead has been considered one of, if not the best tube phono stage money can buy. 
The trouble is, these can cost north of $10k, which is out of the range of your average vinyl enthusiast.
The Chinook features the same clean and quiet audio circuit design as the revered Steelhead, but comes in at a much more obtainable price-point. 
OK, so compared with the earlier models on this list, the Chinook is still in an entirely different league, but engineering and component quality of this level simply doesn't come cheap. 
Unlike the Steelhead, the Chinook favors simplicity over dials and controls. There are two switches inside the chassis to dial in gain between 45 or 60dB of gain and back panel DIP switches for adjusting the input resistive and capacitance. 
Pros: A tube phono preamp with legendary status. One of the best phono preamps for sound quality by a country mile.
Cons: There's no getting around it; this phono preamp is expensive!
FAQ: Does a Tube Phono Preamp Sound Better?
Like all things in HiFi, this is a very subjective question. Tubes, as part of audio circuitry, are known for imparting particular sonic characteristics to the signal that many audiophiles might describe as "warm" or "musical".
A tube phono preamplifier uses vacuum tubes to increase the volume of the signal, whereas a solid-state phono preamps uses transistors and operational amplifiers. 
That said, most designs in the more affordable bracket are actually hybrid designs consisting of tubes and solid-state transistors.
In these designs, the tubes are not in the gain stage at all, and simply act as a "buffer" which imparts tube sound characteristics on the sound. Some audiophiles would question whether you can really call them a "true" tube phono preamp at all. Others might argue that you get the best of both worlds.
For the tubes to have the most impact on sound, they're best placed in the gain stage of the signal.
To conclude, a good quality phono preamp can add some pleasing sonic qualities to your sound. Solid-state phono preamps tend to sound more transparent or less "colored". 
Many vinyl lovers find that tube phono preamps complement the analog qualities of vinyl records. Like all things HiFi, it's best to use your ears and decide for yourself. 

Further reading: Best budget phono preamps