Your phono cartridge is arguably the most important piece of kit in your entire setup. Why? Because the cartridge and its stylus are responsible for tracking the groove. The accuracy and detail captured at this point are critical, as no amount of upgrading your pre-amp, amplifier, or speakers will make up for poor quality at the sound source.
Replacing or upgrading your cartridge can have a dramatic impact on sound quality. So while every aspect of the signal chain will change the sound in one way or another, the cartridge can have the most noticeable impact of all the upgrade or modification options.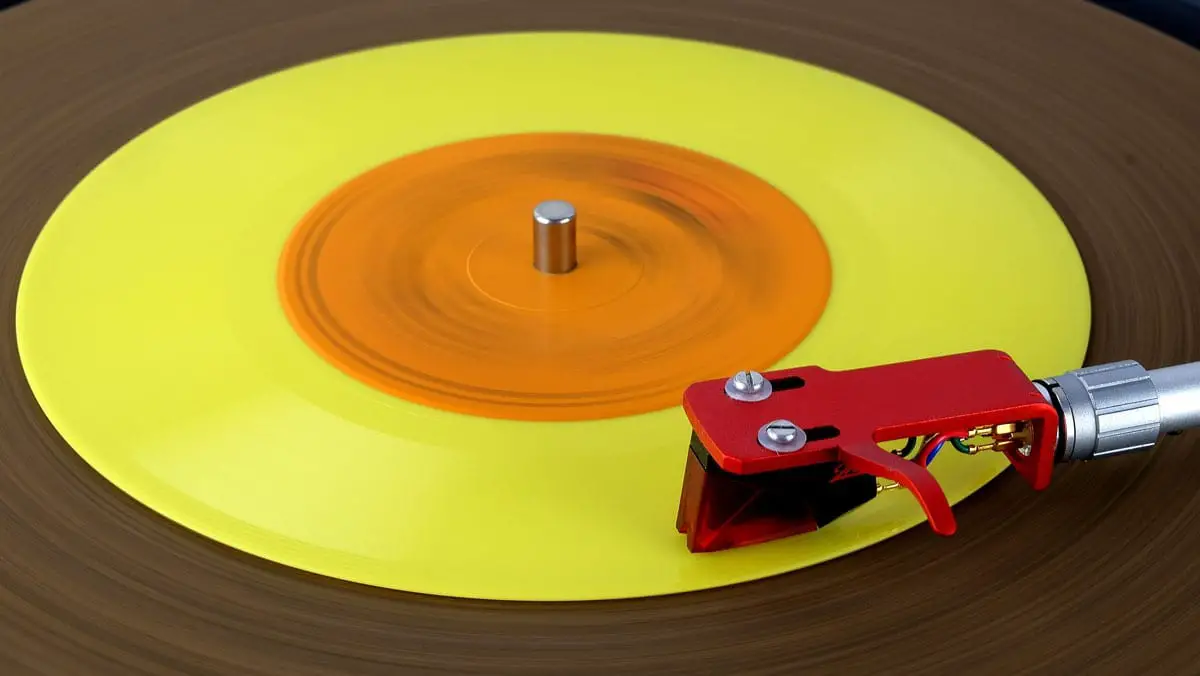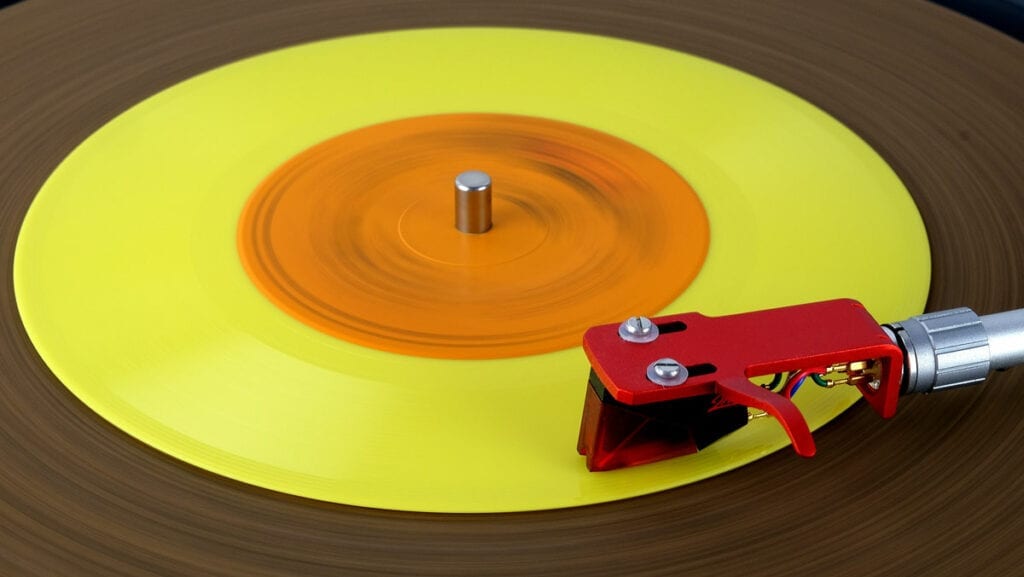 Most affordable new turntables ship with a cartridge pre-installed and aligned, which is great for plug-and-play. However, if you want to upgrade the stylus later on, or you've purchased a model that doesn't include a cartridge, there are plenty of great-sounding affordable options on the market.
If you've purchased a used turntable, you might want to look at a replacement anyway; at the very least, you should replace the stylus to ensure you're not playing records with a worn-out needle.
Let's get started right away and explore some of the best budget phono cartridge options.
Audio Technica AT-VM95E
The original AT95-E has been on the market for a long time and has a solid reputation for producing a great sound at a very low cost. The new AT-VM95E replaces this popular legacy design while making several improvements, including a more rigid low resonance housing and two threaded screw inserts that do away with the need for any bolts.
The stylus is affordable to replace, and its elliptical shape will follow the groove with greater precision than a conical stylus. The AT-VM95E is an excellent affordable upgrade or the perfect place to start for beginner audiophiles.
VIEW PRODUCT HERE | Price: $69/£42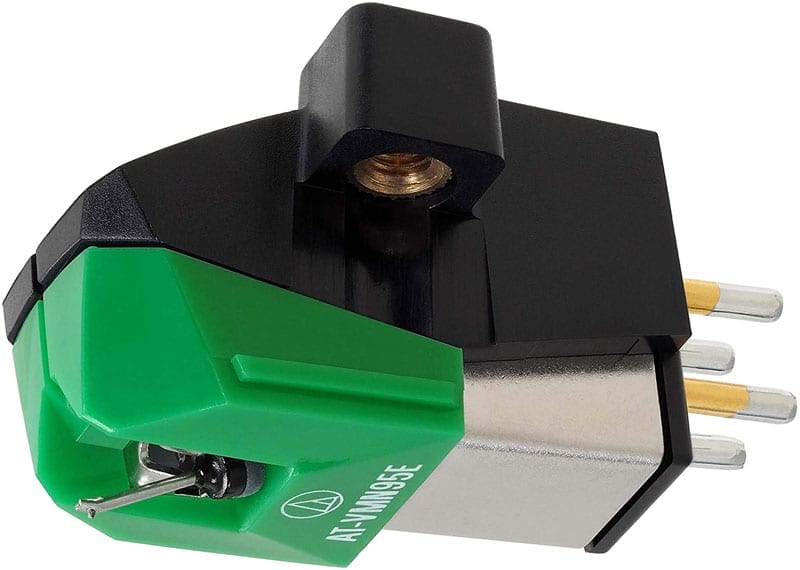 ---
Ortofon 2M Red
The 2M Red range is one of our favorite entry-level cartridges. It's made a name for itself as one of the best-performing cartridges in the sub $100 category.
A great feature of the 2M range is the interchangeable stylus upgrades. You can easily move from the 2M Red to the higher-end 2M blue simply by swapping the stylus. It's a simple process and will improve the overall sonics. The 2M red has a solid, balanced tone, but the 2M Blue stylus delivers superior nuances – particularly in the high frequencies.
VIEW PRODUCT HERE | Price: $99/£95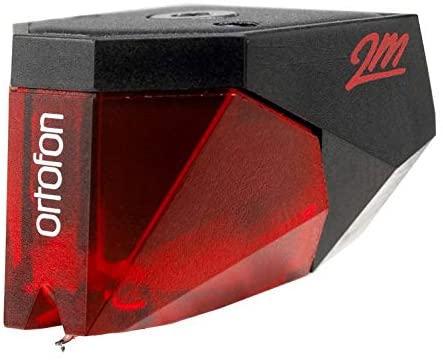 ---
Nagaoka MP-100
Japanese manufacturer, Nagaoka, has been in this game since the 1940s. And while it might not win any beauty contests, it's important to focus on the decades of engineering experience behind the Nagaoka brand. They make all the parts in-house, enabling them to have 100% control over the quality of each individual component. 
The MP100 is their entry-level model and is worth investigating if you're a fan of a flatter, less exaggerated frequency response. For true, honest musical clarity, the MP100 punches above its class. 
VIEW PRODUCT HERE | Price: $125/£95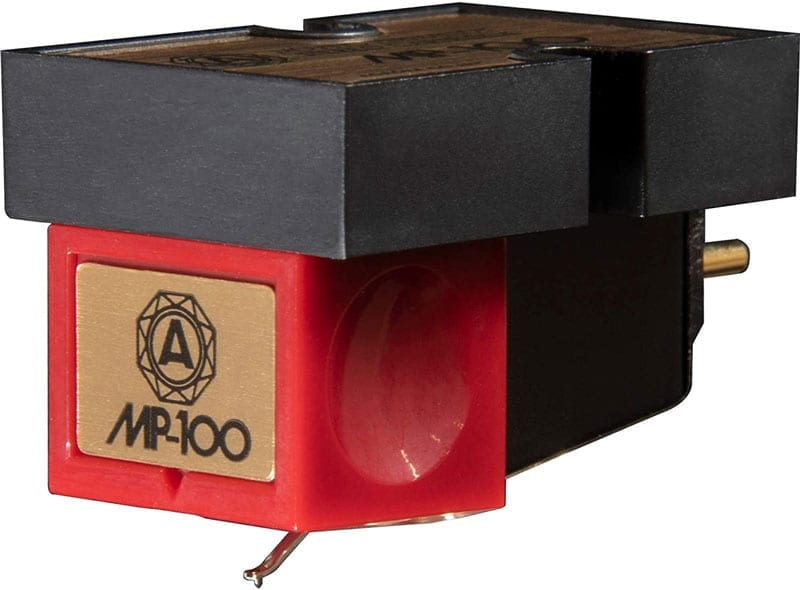 ---
Sumiko Rainier
Sumiko Audio's latest range of affordable cartridges offer superb performance with a clear upgrade path. Similar to the Ortofon approach, Sumiko's Rainier, Olympia & Moonstone replacement styli are interchangeable. Each step improves on the cantilever design to reduce mass. The result is a more nimble performance that will track more detail in the groove.
The rainier sets a solid starting point for any audiophile on a budget, with plenty of room for improvement. It's remarkable how much improvement is obtained simply by swapping the stylus for a more polished design with less inertia.
VIEW PRODUCT HERE | Price: $149/£160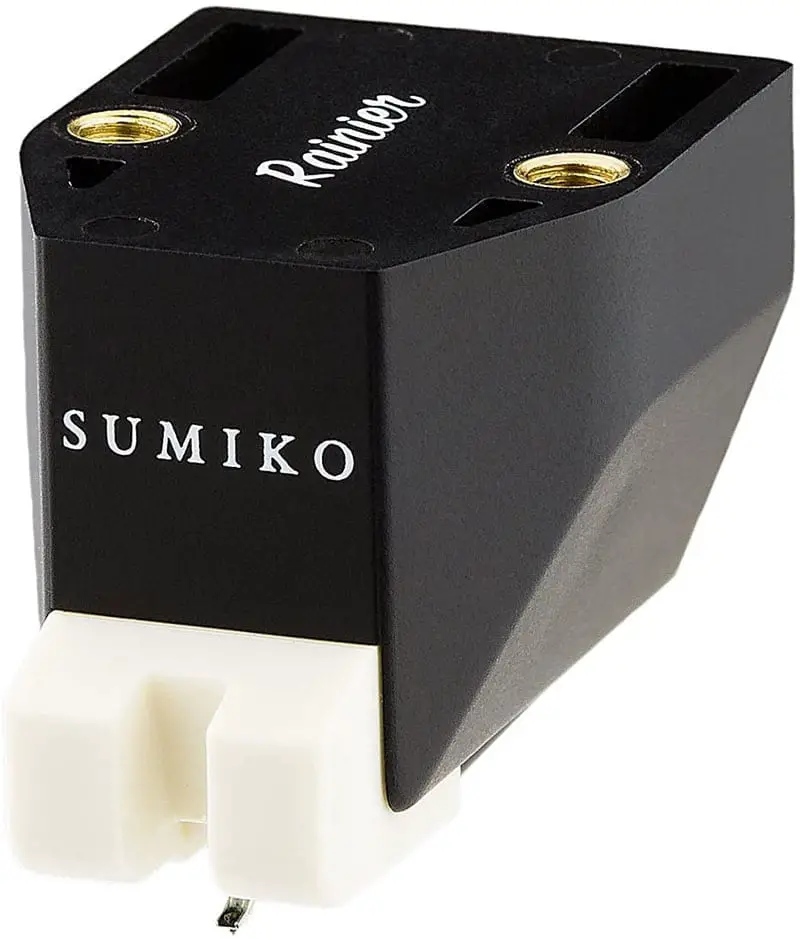 ---
Goldring E3
The Goldring E3 is frequently touted as one of the best-sounding and easy-to-install cartridges at this price point. The sound is clean, precise, and punchy. You'll enjoy the dynamic performance of this very affordable upgrade. 
VIEW PRODUCT HERE | Price: $149/£99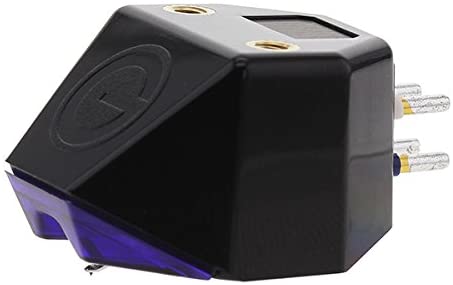 ---
Grado – Prestige Series Blue 3 
At $160, the Blue 3 is a more expensive entry-level cart. However, for the additional investment, you get some serious engineering know-how and a product that is hand-assembled in the United States.
The latest incarnation of the popular prestige range features Grado's OTL (optimized transmission line) technology that Grado claims "provides an ideal transfer of signal from the surface of the LP to the generator of the system." 
In simple terms, this technology rejects unwanted resonances and lowers distortion. The record will sound quieter, and you'll enjoy a greater sense of height, width, depth, and detail in your music compared with previous prestige models.
VIEW PRODUCT HERE | Price: $160/£118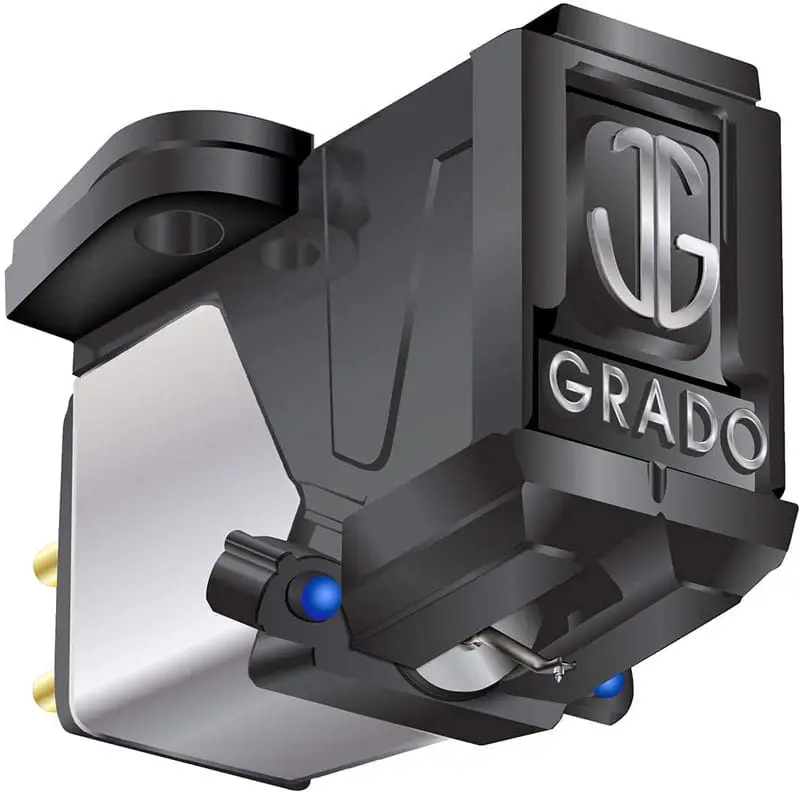 ---
Ortofon – 2M Blue
Switching from an Ortofon 2M Red to the 2M Blue is one of the best budget turntable upgrades you can make to significantly improve sound quality.
Better still, if you already own a 2M Red, you can make the switch without changing the entire cartridge, as the 2M Red and 2M Blue styli are interchangeable.
I tested this upgrade myself and found the high frequency and transient detail improved significantly.
The reason: a 2M Blue stylus features a Nude Elliptical diamond, which compared with the 2M Red's standard tipped elliptical diamond stylus has much less inertia, resulting in wider frequency reproduction, particularly when concerning very fast high-frequency transients. 
VIEW PRODUCT HERE | Price: $239/£189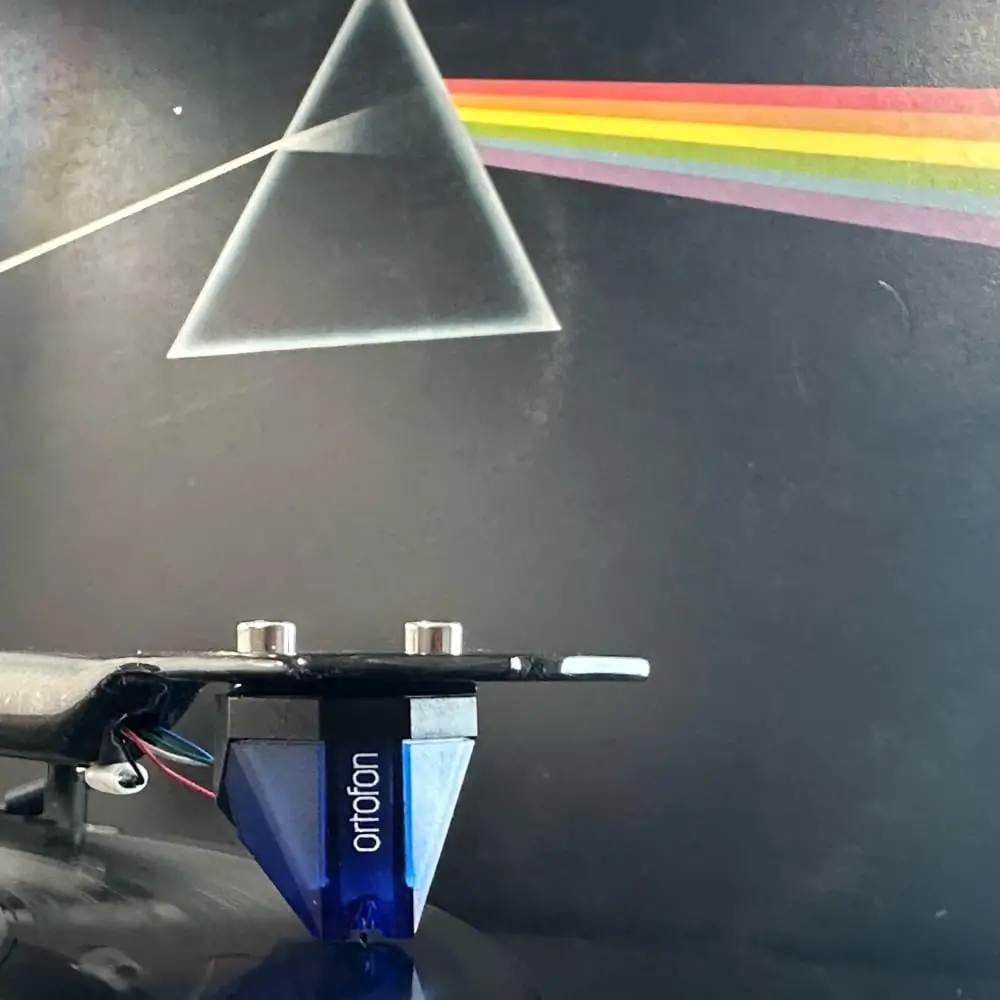 ---
Audio Technica – AT-OC9XEN
Moving Coil phono cartridges have a reputation for costing a small fortune but can have significant audio benefits.
Audio Technica made quite the impact with their highly competent but affordable AT-F7 moving coil cartridge, which is now sadly discontinued.
In the present-day Audio Technica range, the AT-OC9XEN presents a superb example of what moving coil cartridges are capable of, without costing north of what most might spend on a medium-priced turntable.
With a good moving-coil-ready phono cartridge, this nimble little number will track the finest of detail.
Learn more about the difference between moving magnet and moving coil cartridges, here.
VIEW PRODUCT HERE | Price: $379/£268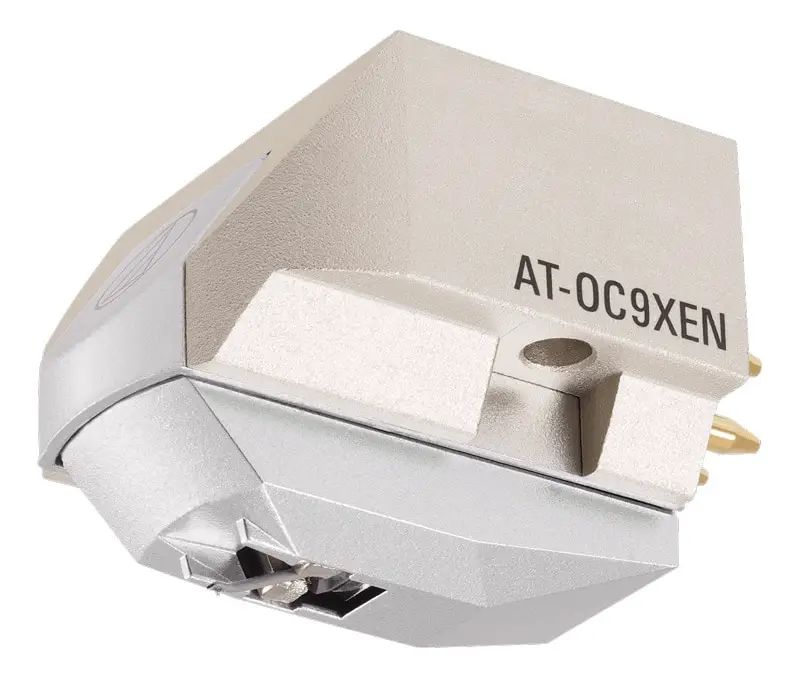 ---
Important Points to Consider When Choosing a Phono Cartridge
Make Sure Your Cartridge is Compatible
When selecting a phono cartridge, it's important to consider compatibility with your turntable and phono-preamp.
Not all cartridges are compatible, and while most entry-level carts are broadly compatible across a wide range of systems, it's always best to check a few specs and refer to your decks manual before parting with your hard-earned cash.
Here are a few fundamentals to consider first:
Cartridge Mounting
Is your turntable P-Mount or Half-Inch Mount?
All the models we've listed are standard half-inch mountable cartridges for installation on half-inch mount tonearms and half-inch mount headshells.
If your turntable features a plug-in p-mount tonearm, you are sadly limited to this form factor. Upgrading your turntable will broaden your options significantly. 
Tracking Force is Important.
Every cartridge operates best in a particular range of tonearm tracking forces.
It's important to ensure your turntable can operate within the specified range to achieve optimum performance.
Check the manufacturer's specs and compare them against your turntable manual.
The cartridge manufacturer will state an optimum tracking force. You must be able to achieve this if you want the cart to perform well and avoid excessive record wear.
Check for VTA Compatibility
Is the cartridge compatible with your tonearm's VTA (vertical tracking angle). The height of a cartridge from the stylus tip to the headshell can greatly affect the tonearm VTA.
In some cases, VTA should be adjusted to ensure the correct SRA (stylus raking angle, or the angle at which the stylus tracks the groove vertically.  
For example, Ortofon recommends using spacers to adjust VTA when installing their 2M range on a REGA turntable. This is because the height of REGA cartridges is lower than standard. Therefore you will need spacers to achieve the correct VTA.
Some tonearms allow for VTA adjustment with a simple dial or screw adjustment. In the case of most REGA models, spacers are required instead. 
Best Budget Phono Cartridges: The Bottom Line
As most affordable turntables are built for ease of use and wide consumer appeal, the models we've included are compatible with a wide range of turntables at this market level.
As a rule of thumb, don't spend more on your cartridge than the cost of your turntable. A better turntable with a high-quality tonearm and a properly configured and aligned affordable cartridge will likely yield a better result than a very expensive model on a budget deck. 
Spend the time to correctly install and align your cartridge to extract maximum performance for whatever model suits your setup and budget. Most important of all, clean your stylus regularly and keep your records clean. Nothing wears down a stylus faster than dirty records.