Understanding the different dimensions of vinyl record covers is important if you want to store your records safely, or display them creatively in your home. 
Knowing the right dimensions can help you choose the right record storage, account for thicker gatefold album covers, or even design your own album cover if you happen to be working with a band or record label as the album art designer. 
Although there is a common agreement on the dimensions of a vinyl album cover, they can and do vary.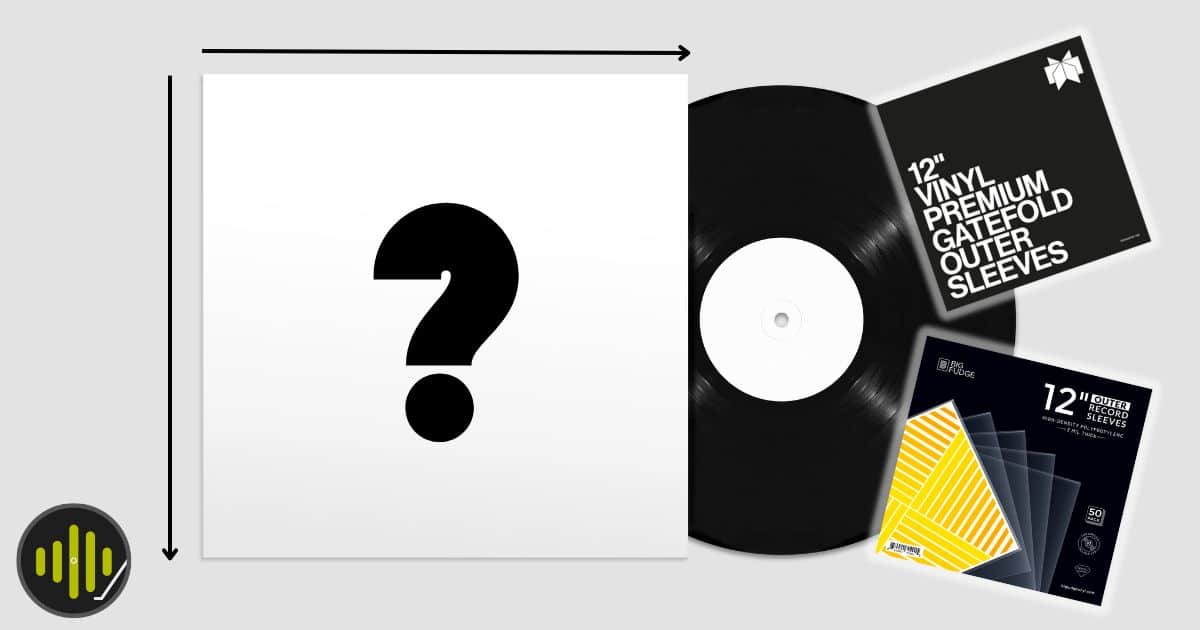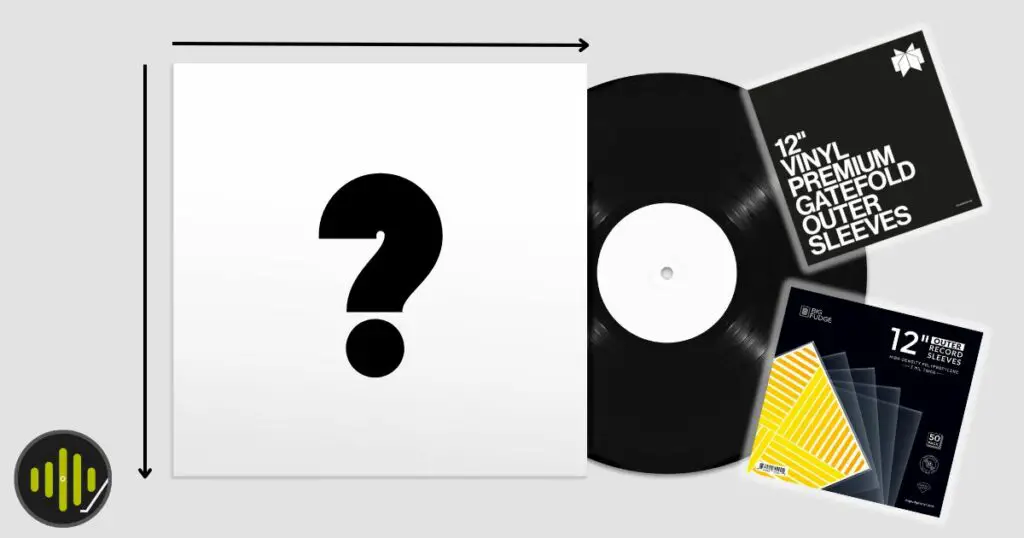 What are the Dimensions of a Vinyl Album Cover?
Firstly, and I know this is vinyl 101, but it's important to have an understanding of the three most common sizes of vinyl record: 12inch, 10inch and 7inch.
(More on the different types of vinyl record release formats, here)…
These sizes refer to the disk size, and not the size of a vinyl record cover.
The dimensions of a vinyl record cover art need to be greater in size, of course, to accommodate the media it houses.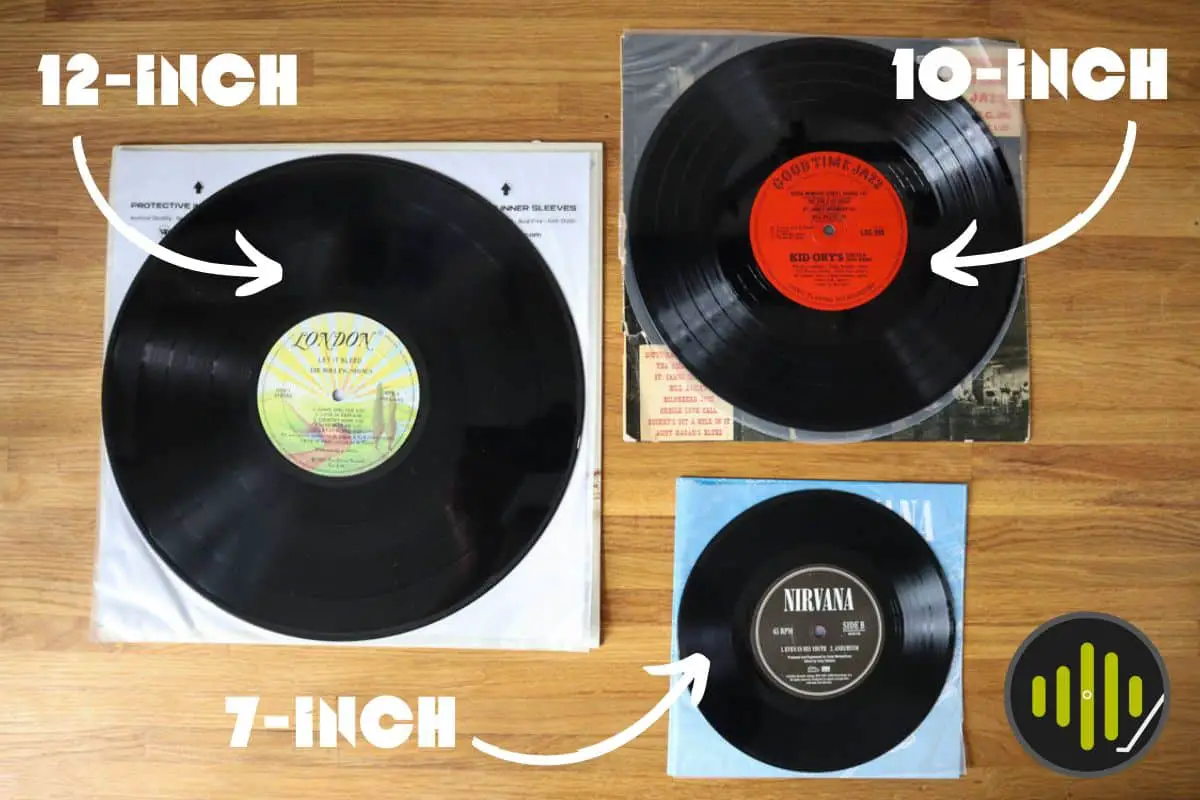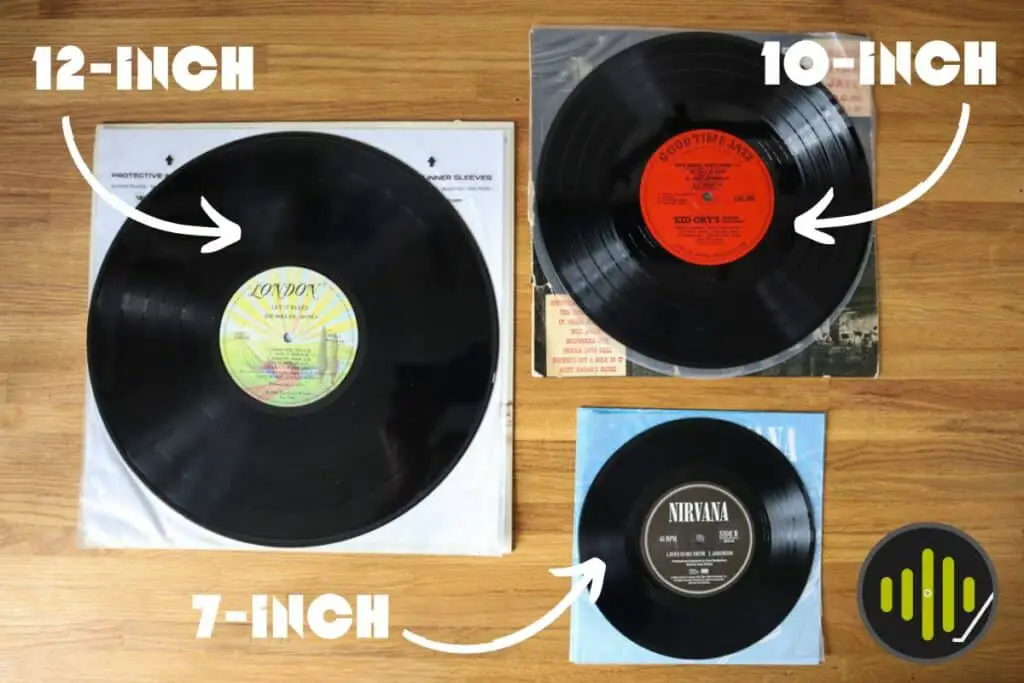 12-Inch Vinyl Record Dimensions
When most of us think of classic album art, we think of the 12-inch LP.
The typical vinyl record cover size of a 12-inch LP is 12.375 in (31.43 cm) square.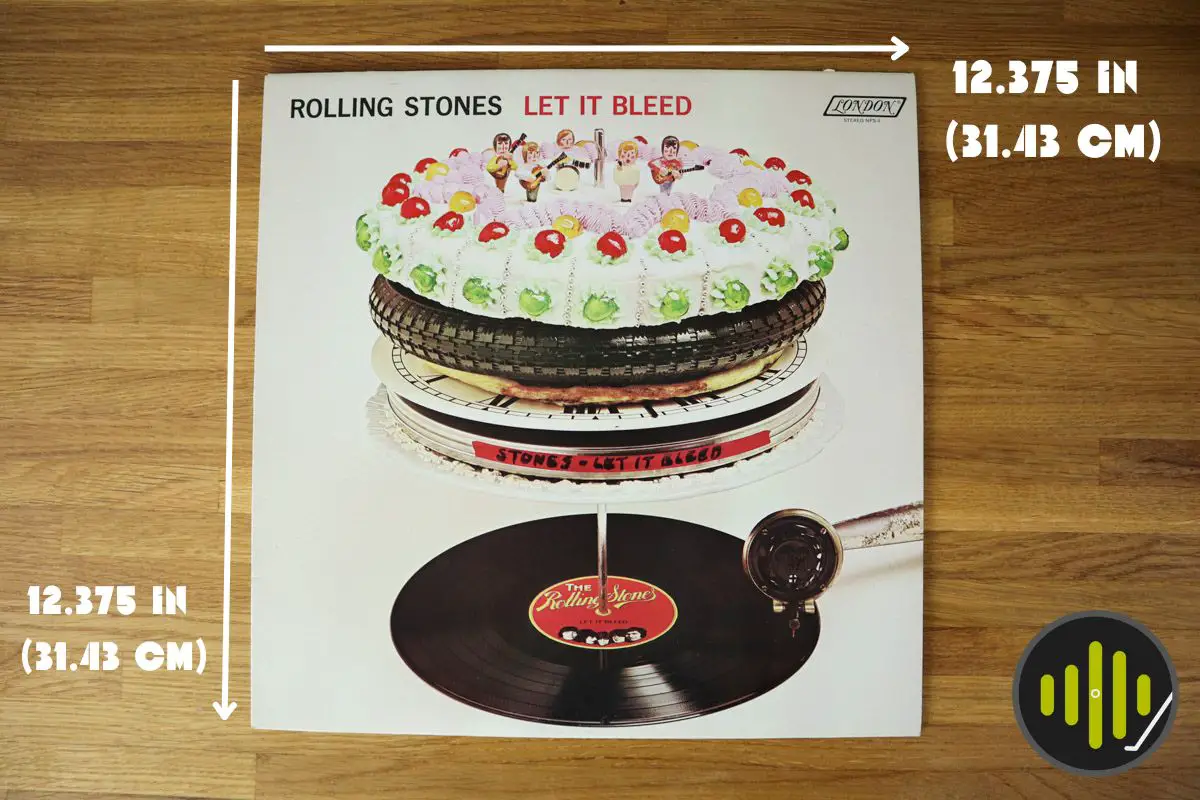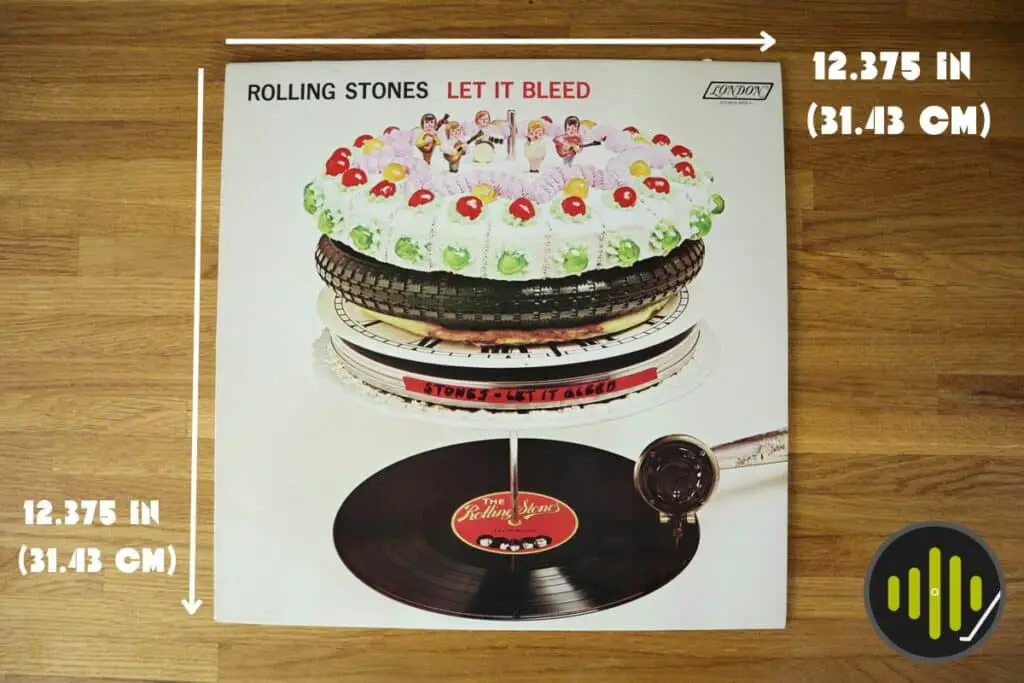 It's important to note, however, that this can vary from manufacturer to manufacturer.
The spine of a vinyl record can vary quite dramatically; anywhere up to .125″ – 0.15748″ (3mm – 4mm) thick is considered average.

Many modern gatefold releases can be much wider than .125″ (3mm), meaning you may have to seek specialist or oversized outer record sleeves for storage (more on this later).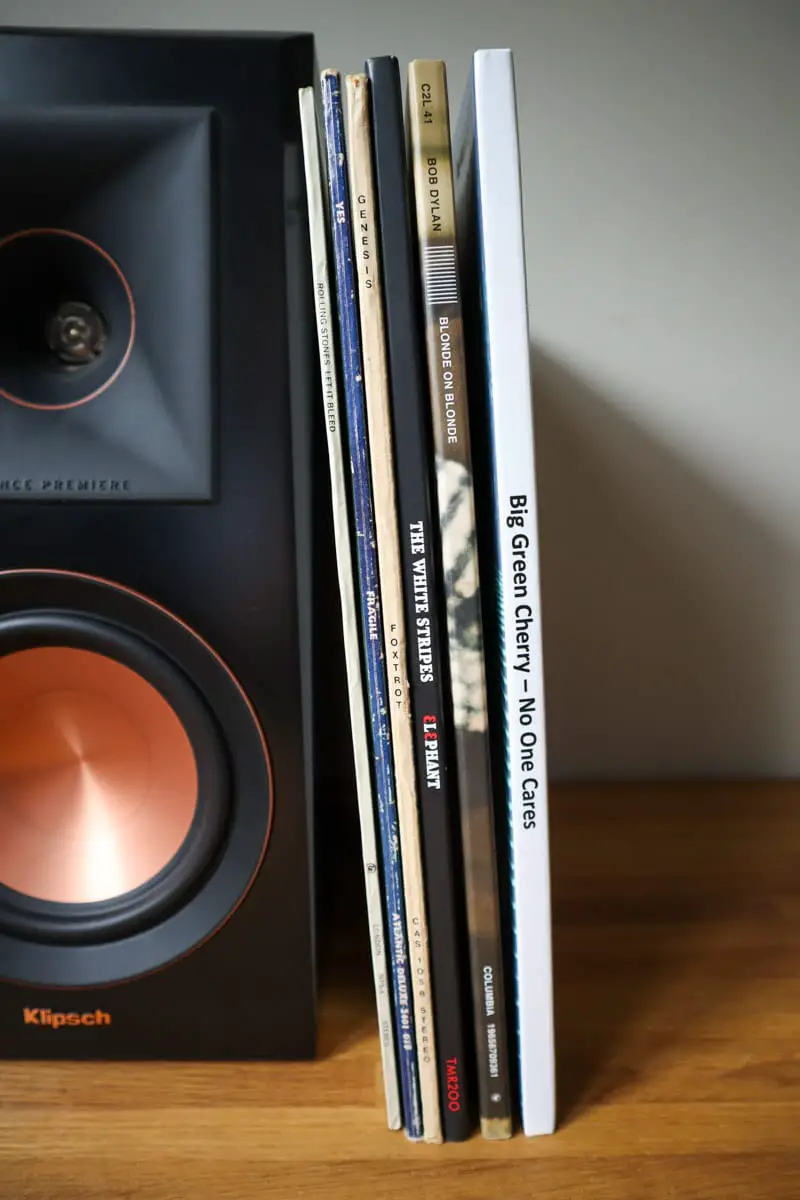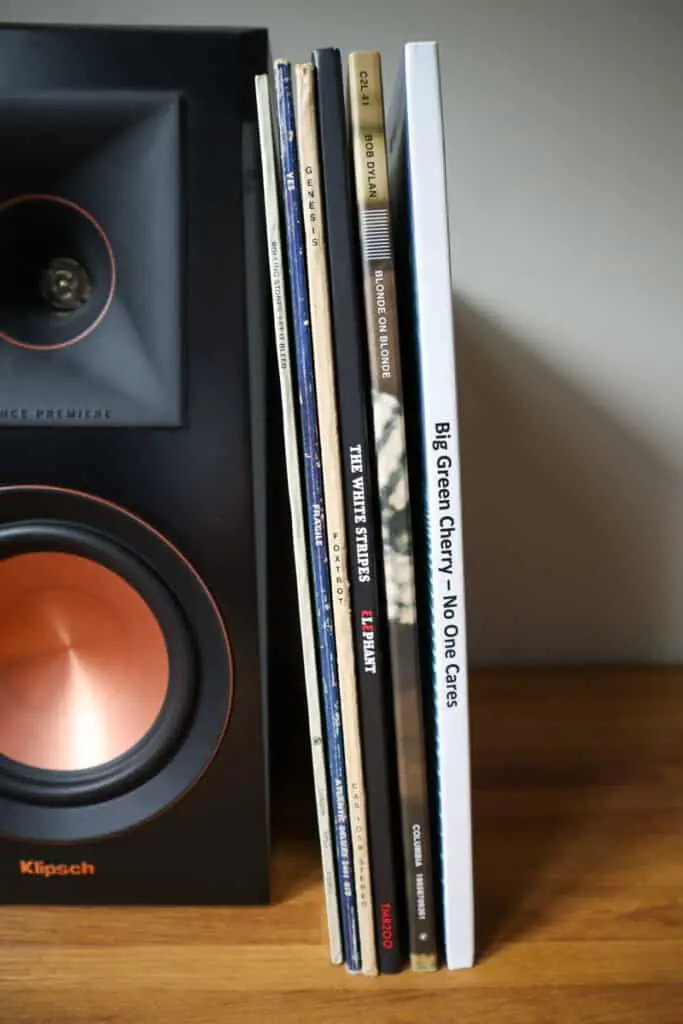 10-Inch & 7-Inch Single Vinyl Record Dimensions
7-Inch and 10-Inch vinyl records remain a popular release format for EPs and promotional singles. 
A typical 10-inch album cover is 10.227 inches (26cm) square, while a 7-inch single or EP measures at just 7.08 inches (18 cm) square.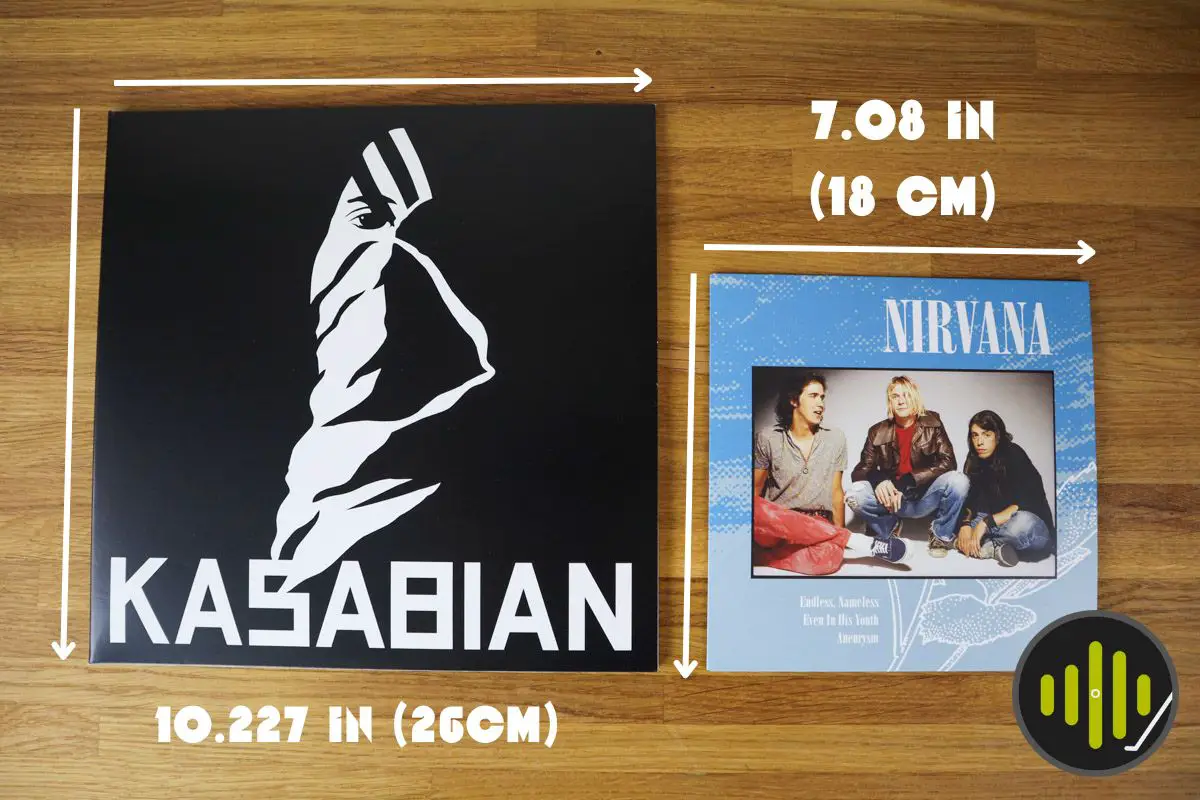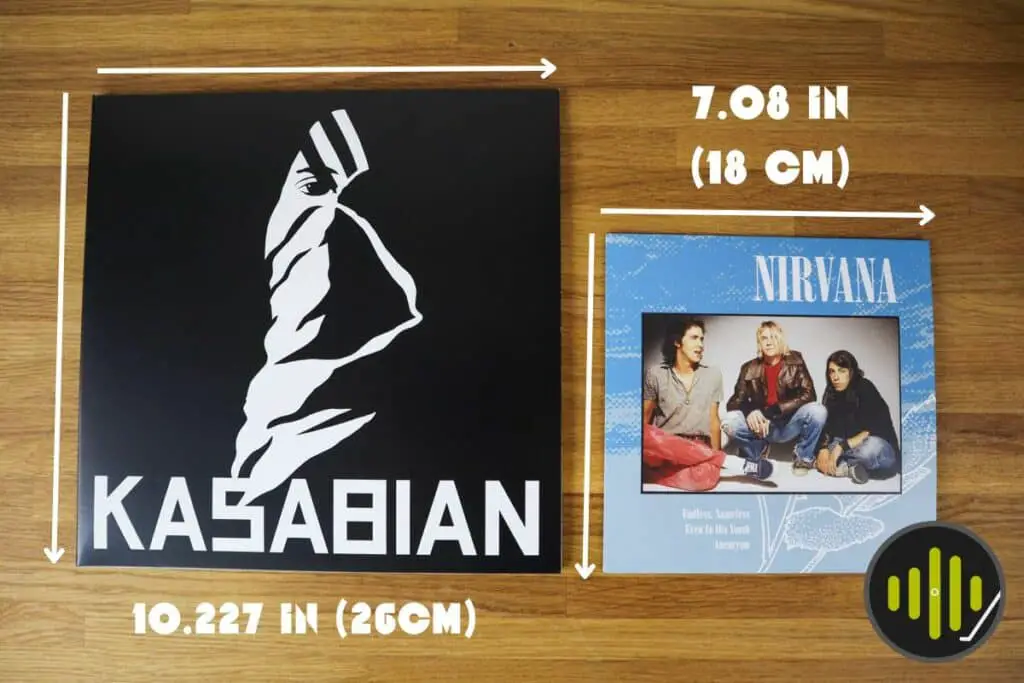 Choosing the Right Sleeves to Suit Your Vinyl Record Dimensions
If you want to protect your vinyl album covers, it's a good idea to house them in outer record sleeves. You can view my pick of the best in this previous article.
In most cases, outer record sleeves of around 12.625″ square (320 mm) or 12.75″ (323.85 mm) will fit the standard record sleeve size. 

In this case, brands such as Big Fudge and Invest in Vinyl make great outer records sleeves that will house most standard single, double and gatefold record sleeves.
The Big Fudge option has the advantage of being made from super-transparent Polypropylene that really shows off the artwork. (These come as a 12.75″ square in size).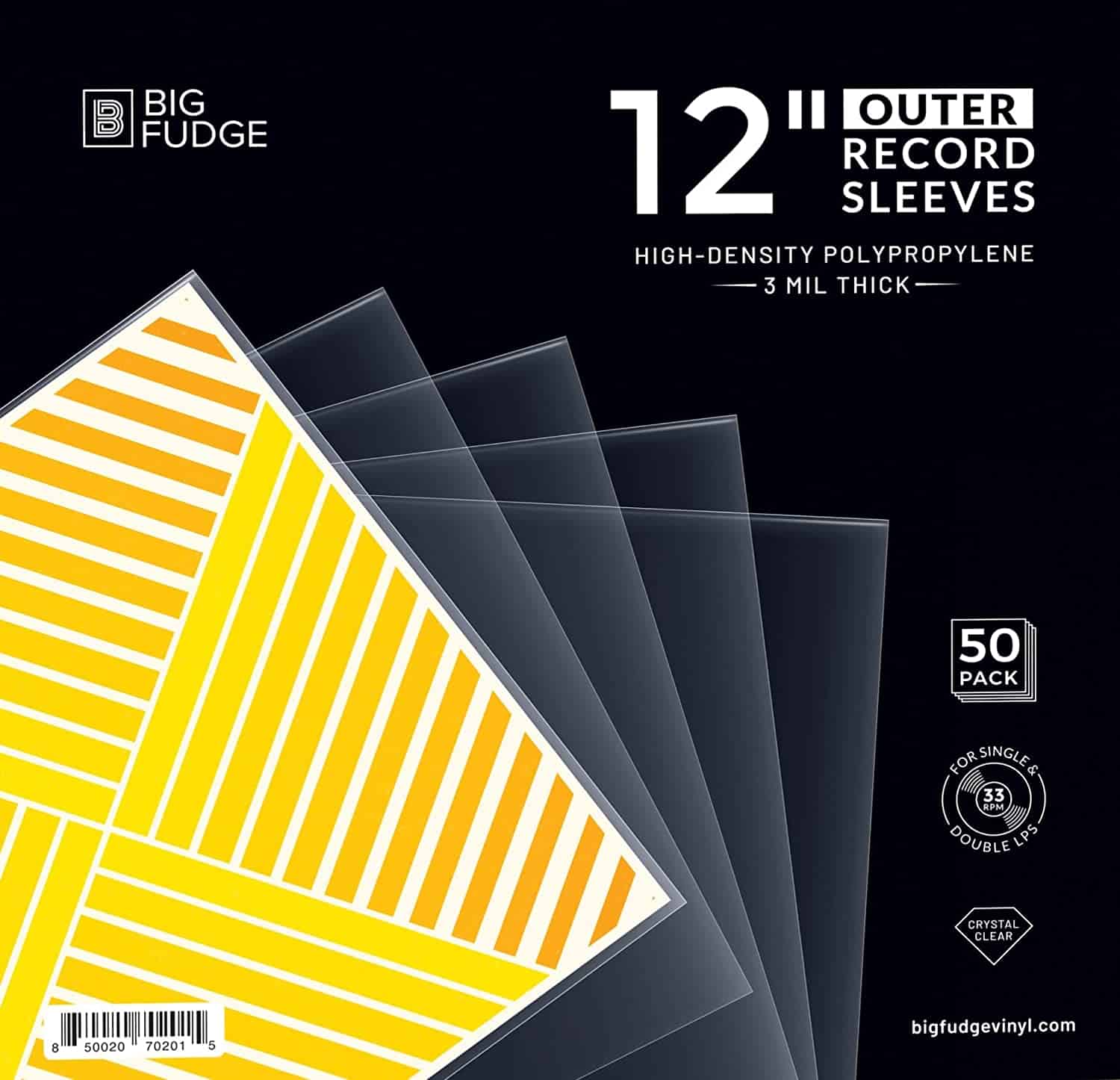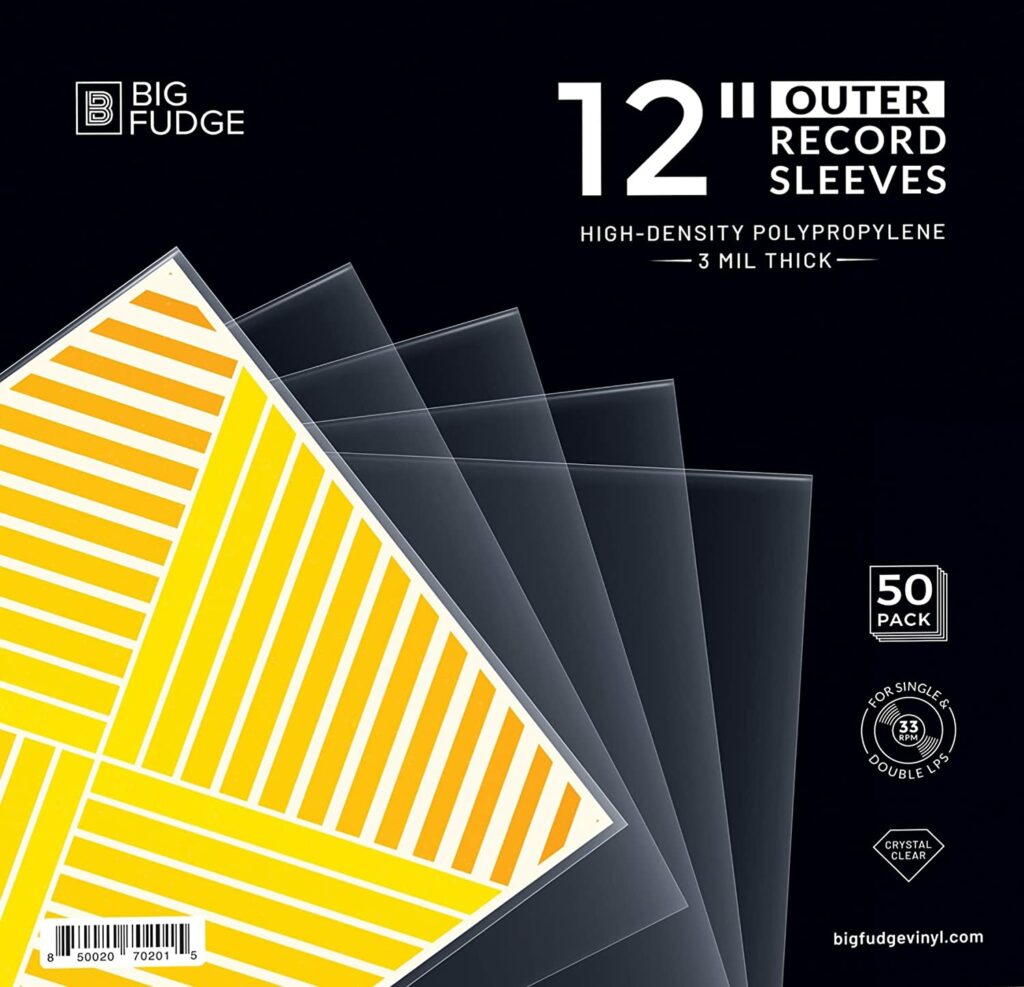 Oversized Album Covers & Gatefolds
There are cases, however, where the size of the spine (in particular) can make it difficult to make the album cover fit. 
As mentioned earlier, a spin thickness of anywhere up to .125″ (3mm) thick is considered average. These album covers will typically house 1 – 2 records of normal weight (140g thickness of vinyl).
Heavier-weight records (usually around 180g) or triple albums may have a spin thickness of 5mm or more. In this case, you might need to look at 13″ outer record sleeves for a comfortable fit. 
Companies such as Vinyl Storage Solutions (VSS) make oversized 13″ outer record sleeves to suit such vinyl record dimensions.
Variations in Album Cover Size:
There are also cases where the album cover art is larger than the standard 2.375 in (31.43 cm) square, and this may also drive a need for larger outer record sleeves.
Take this example below, where the modern re-issue of Bob Dylan's Blonde on Blonde is much larger than the vintage copy of the Rolling Stone's Let it Bleed.
Considering the Bob Dylan album also has a large 9mm spine, a larger outer record sleeve is almost certainly required.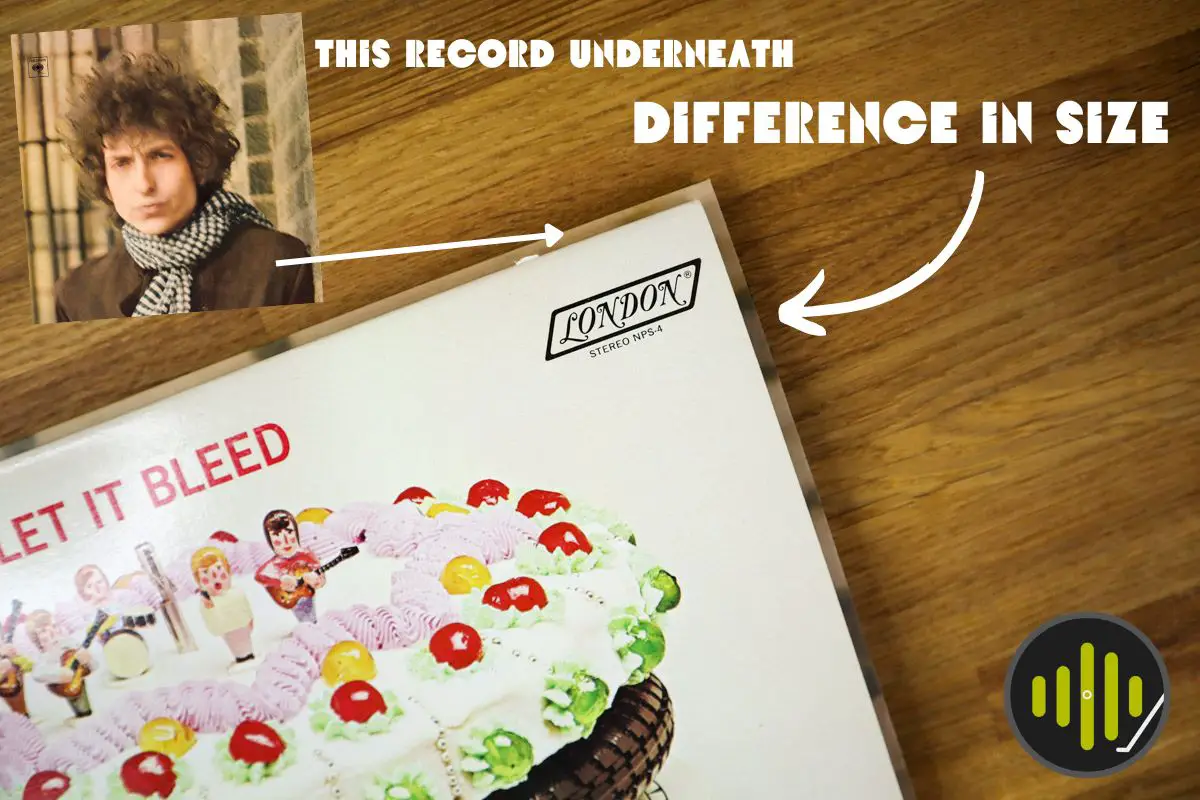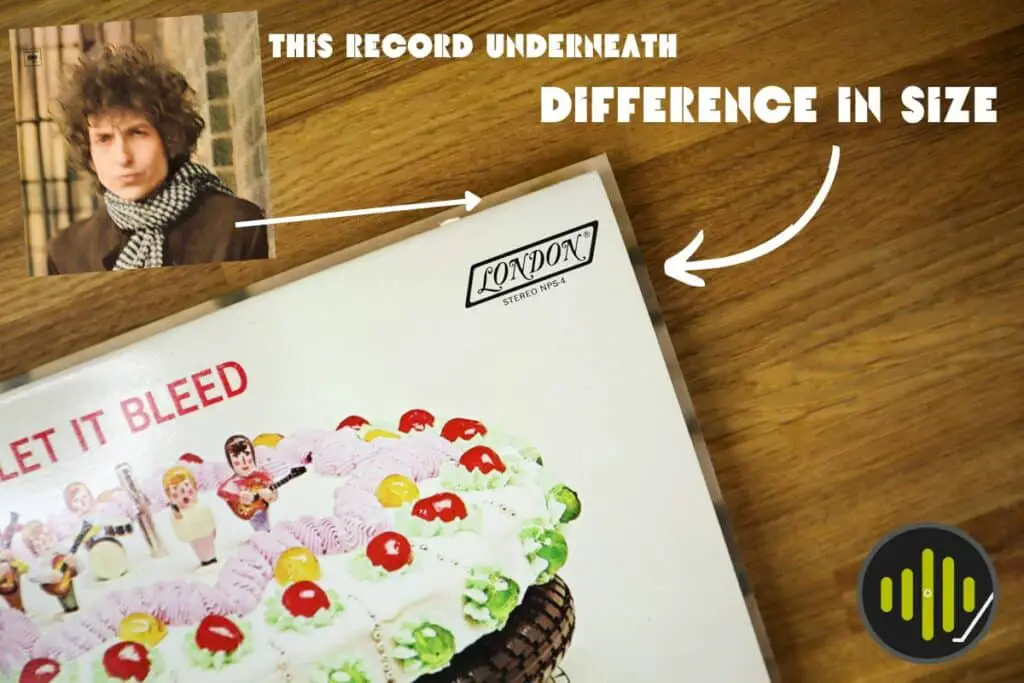 Specialist Vinyl Album Cover Sleeves
While you can often house gatefold album covers in regular single-pocket album sleeves, you will have to remove them from said sleeve every time you want to play them.
To fix this issue and still leave your record protected, Vinyl Storage Solutions also have specialist gatefold album sleeves that allow you to completely encase the artwork, but still allow you to open the gatefold cover.
Check out this copy of John Coltrane's A Love Supreme, which I housed in a VSS sleeve designed for fairly standard-sized modern gatefold album artwork. (For larger spined and sized modern gatefolds, they also make an oversized version of the same sleeves.
The beauty is, the artwork and the record is completely accessible but also completely protected by a high-quality Polypropylene sleeve.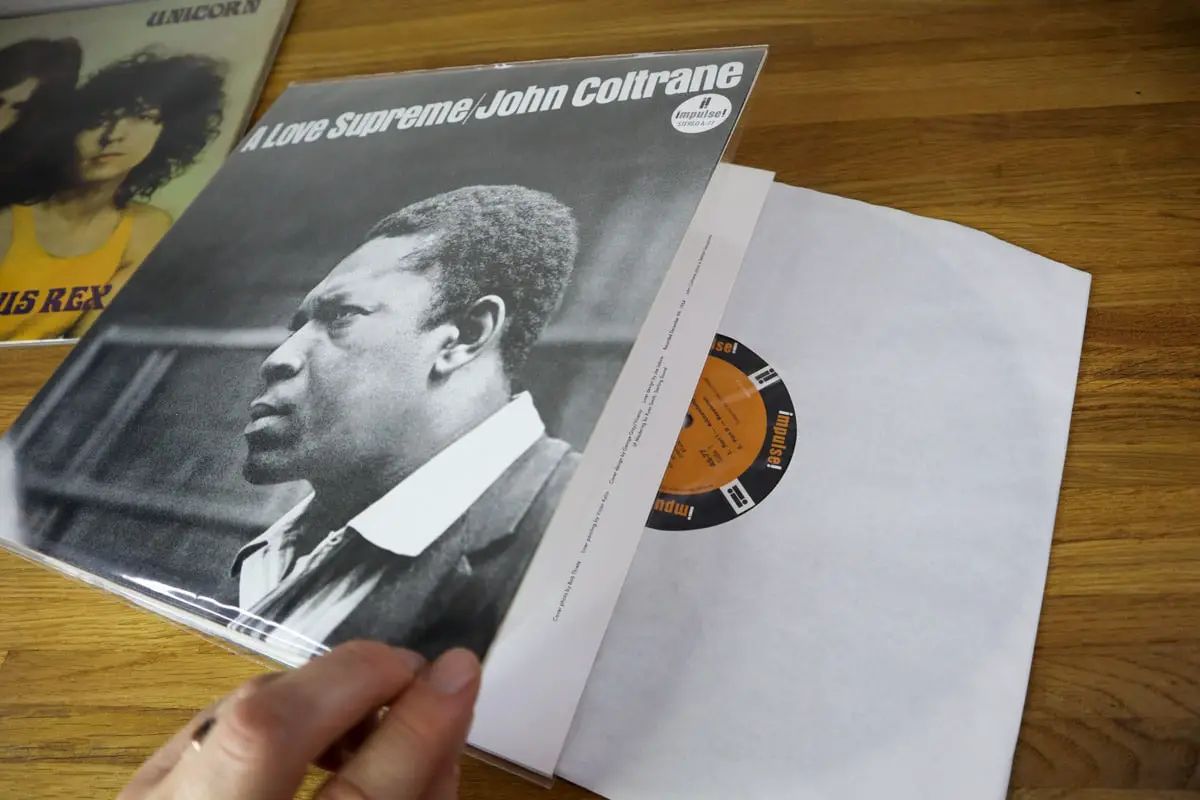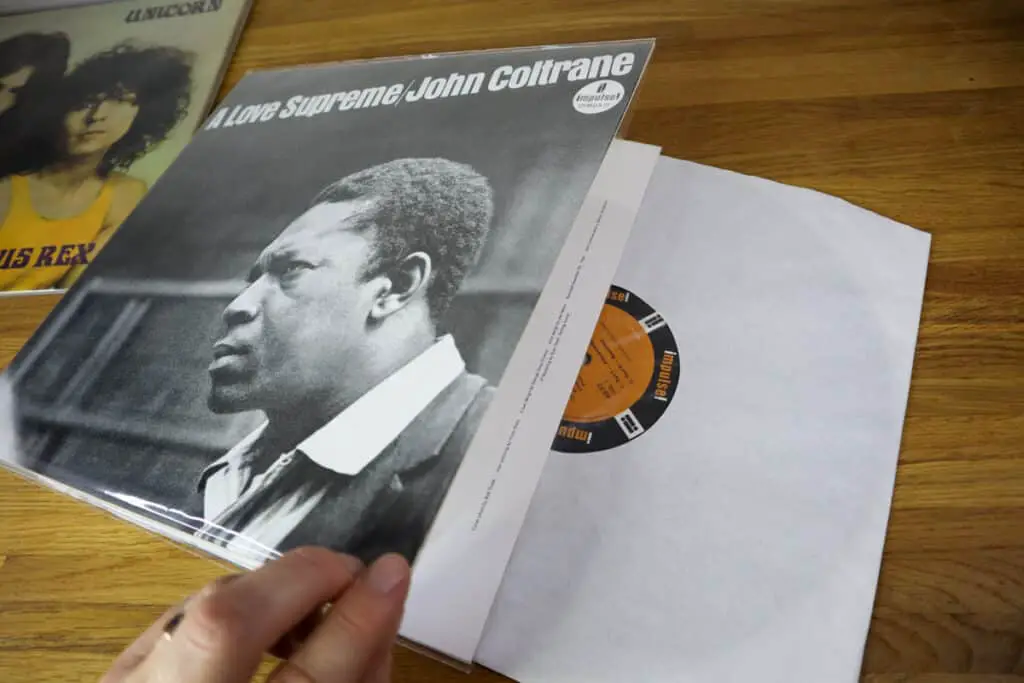 See below for my complete video demonstration of these record sleeves and how they fit modern and vintage gatefold album covers:
Picture Frames for Vinyl Records
If you're looking to create a display in your home of vinyl records, there are two ways you can approach this.
One option is to buy a picture frame for vinyl records. There are easy to find on Amazon and are typically 12.5″ square in size, allowing some wiggle room and easily accommodating standard-sized 12-inch LPs of 12.375 in (31.43 cm) square.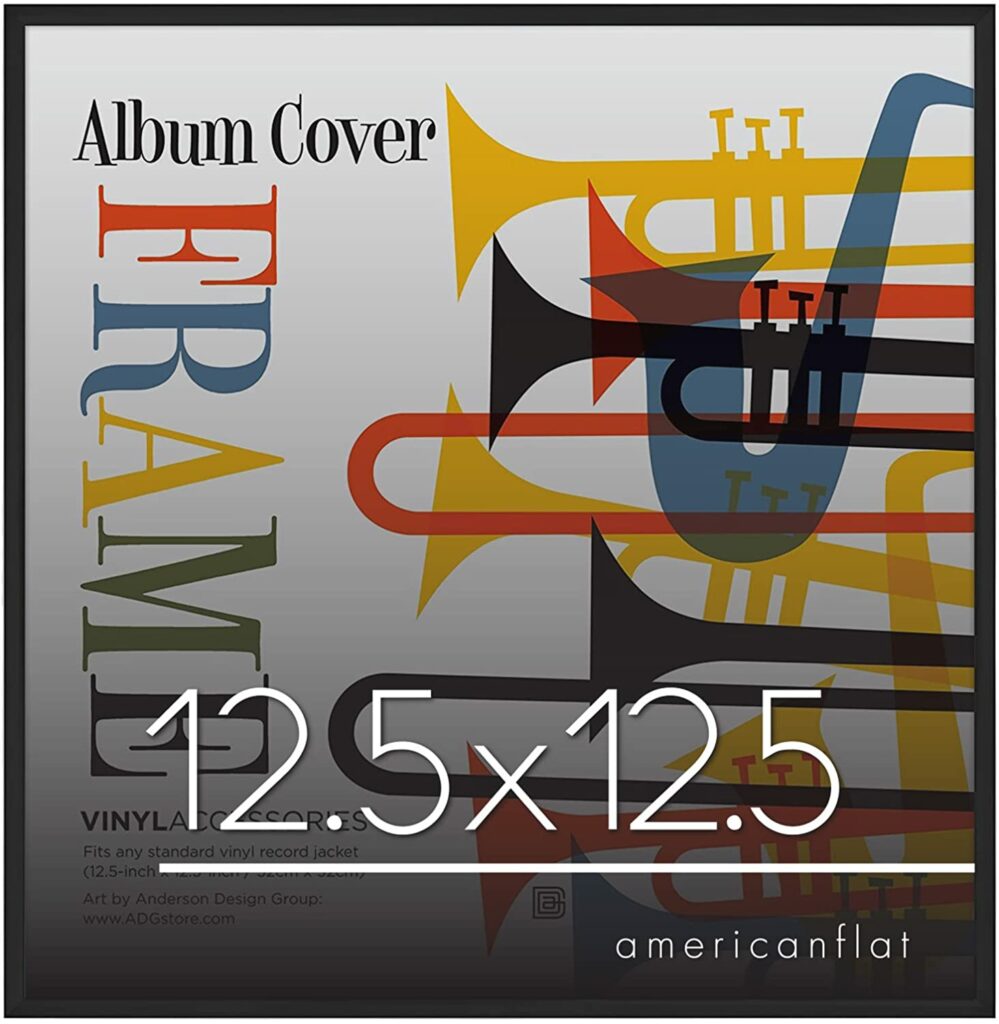 A second option is to choose a frameless record display, such as those made by Twelve Inch.
Because this product uses magnets to hold the record and not a frame, Twelve Inch adaptors have the benefit of allowing you to easily pop records on and off so you still play them with ease.
They also allow you to get creative and continuously change and mix up your display at any time.
See the example below demonstrating how they easily pop on and off your wall.
Try getting creative with your own display for 10% less when you shop directly with Twelve Inch (use code: SOUNDMATTERS10)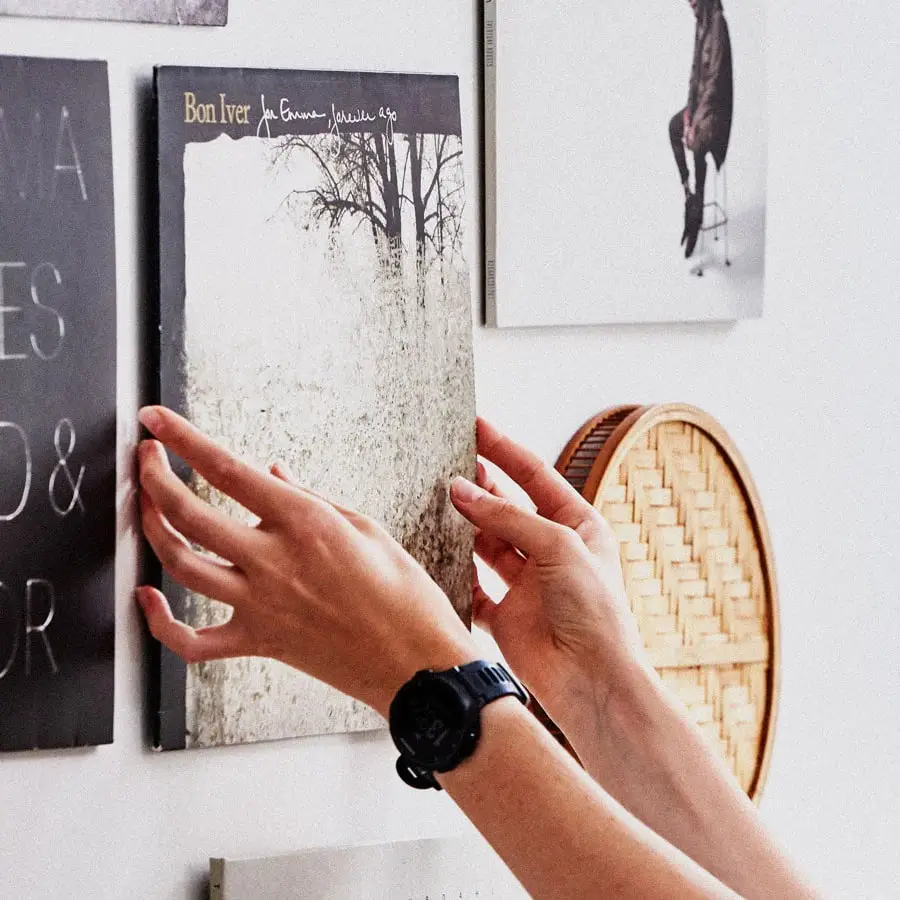 Vinyl Record Storage Dimensions
When choosing a vinyl record storage unit, it's important to choose a cabinet or shelving unit that is strong enough to hold the weight of your albums, but also has enough extra space to accommodate different vinyl record dimensions.
One of the most popular and affordable options is the IKEA KALLAX unit, which comes in many different sizes and has very convenient 13 1/4″ (33.5cm) square compartments that will house all manner of vinyl 12″ LP sizes.
Check out our full guide to storing vinyl records here. And our full list of great vinyl record cabinet options here.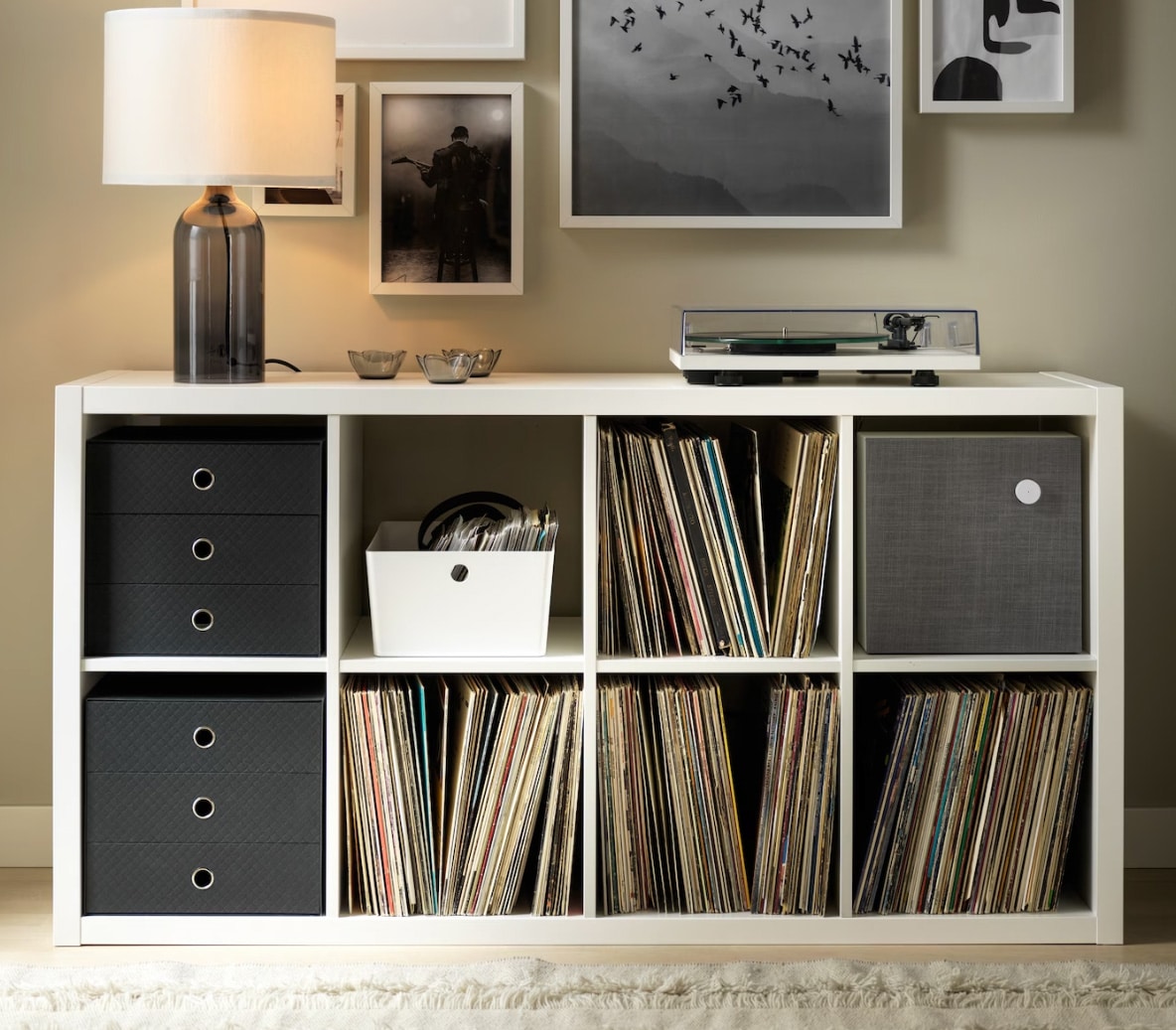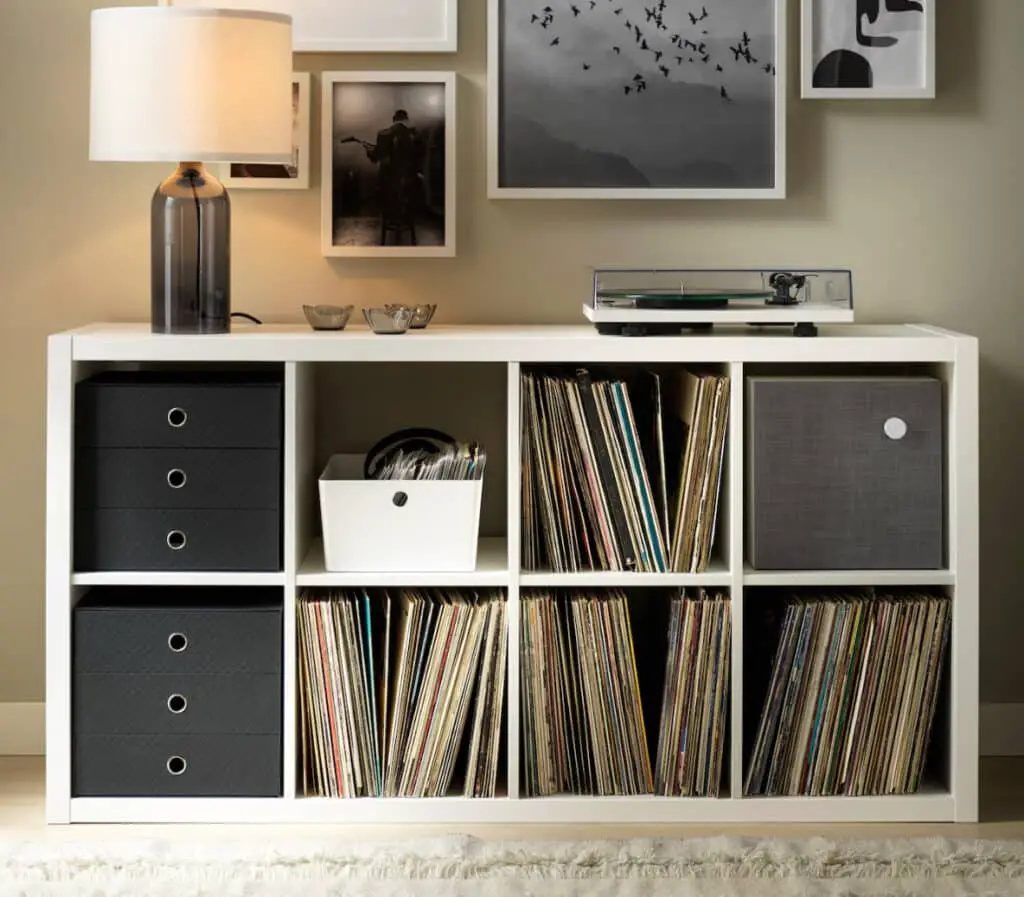 Creating Your Own Cover Art? How Many Pixels Should An Album Cover Be?
When designing an album cover for streaming, digital download, streaming or physical vinyl/CD, it's most common that you'll create artwork that is perfectly square.
Particularly when submitting artwork for vinyl records, quality and size matter. Consult with your record manufacturer as to their preferred file format, but a good guideline is to aim for artwork that is 3000×3000 pixels (PX) in size with a resolution of 300dpi or more.
Releases destined for digital distribution will call for artwork set in RGB Color Mode, whereas physical printing will usually call for CMYK files for full-color printing.
Again, most vinyl manufacturers will have guidelines you can follow when submitting artwork, such as those listed by qrates.com (a company that makes it easy for artists to press their music on vinyl).
Dimensions of Vinyl Record Cover Artwork – The Bottom Line
The vast majority of 12″ vinyl record covers are 12-inch LP is 12.375 in (31.43 cm) square though sizes do vary, and many modern LPs (in particular) are noticeably larger.
Vinyl record spines are often much wider on modern gatefold releases, particularly as an overwhelming number of new vinyl releases are pressed on heavy-weight 180g vinyl, whereas vintage records typically were much lighter and thinner.
Naturally, the artwork of 10″ and 7″ records is much smaller. A typical 10-inch album cover is 10.227 inches (26cm) square, while a 7-inch record measures 7.08 inches (18 cm) square.
When housing your records in sleeves (which is highly recommended if you want them to last a lifetime and more) it's best to check the dimensions of your chosen outer record sleeves to ensure there's enough space for the record to fit comfortably without force. Forcing a record in a tight sleeve will eventually cause the sleeves to tear.