With its minimalistic design but impressive versatility, the Phono Box DS2 promises audiophile quality at a bargain price. Can it deliver on this promise and how does this phono preamp compare to it's more expensive tube counterpart, the Tube Box DS2?
As the owner of Pro-Ject's Stereo Box DS2 integrated amplifier with a built-in phono stage, I was curious to see how the Phono Box DS2 might improve my signal chain.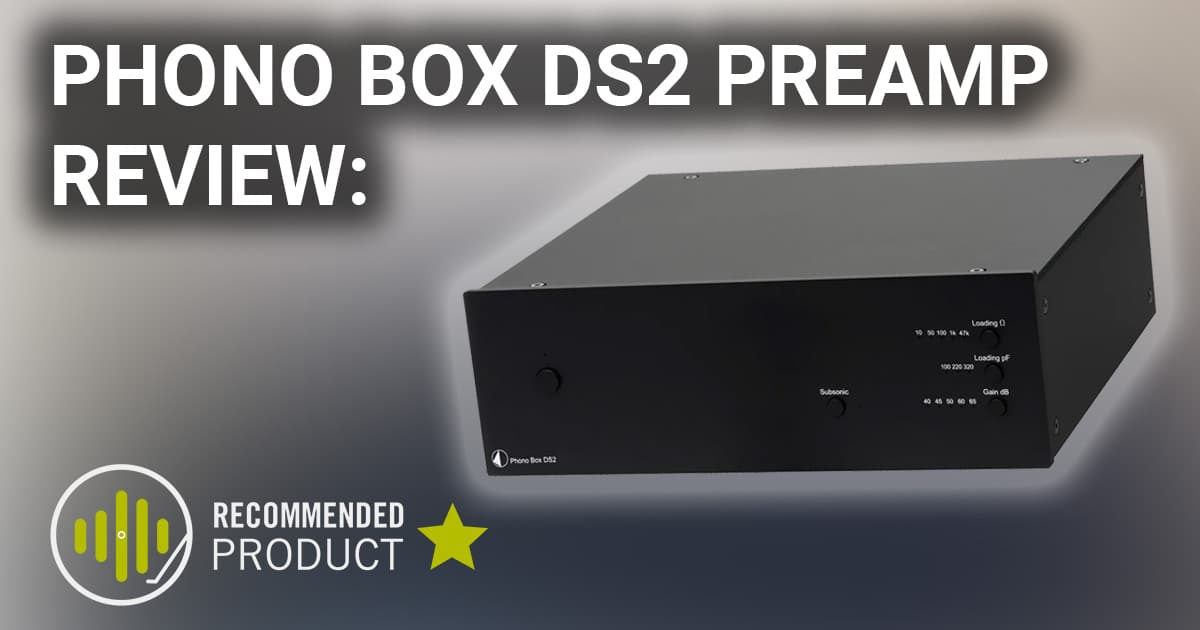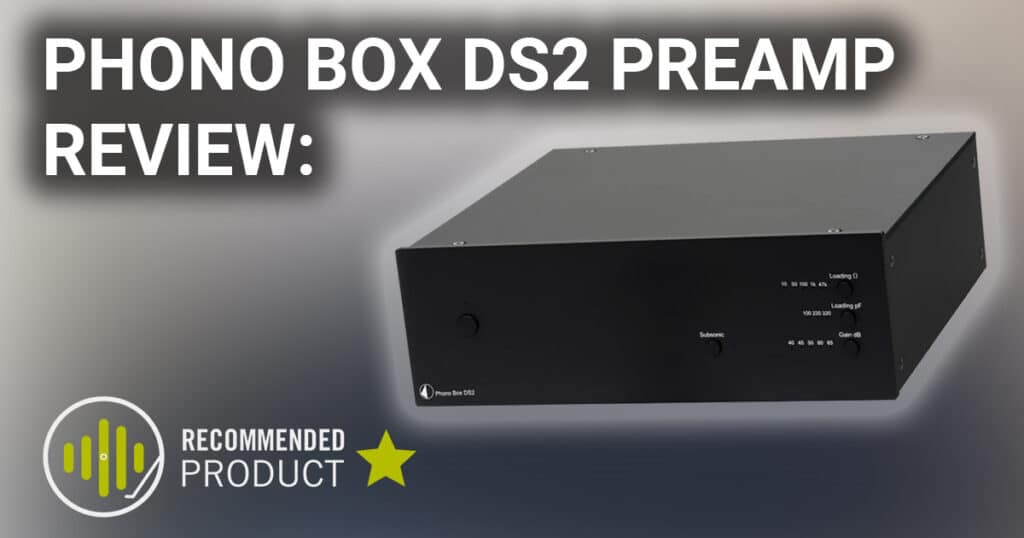 On paper, the Phono Box DS2 (part of the same Hi-Fi ecosystem, of course) offers impressive flexibility, with the ability to handle a wide variety of moving magnet (MM) and high or low-output moving coil (MC) cartridges. In addition, the circuit is dual mono (great for channel separation).
Without the aid of small, fiddly dip switches, you can easily adjust the unit's impedance, capacitance, and gain right from the front panel. At $399 (£329 – currently on sale for as little as £249), it's easy to see why Pro-Ject feel their Phono Box DS2 offers superb value for money.
When you consider that its bigger brother, the Tube Box DS2 sells for $1000 (£625), the Phono Box DS2 looks very appealing indeed.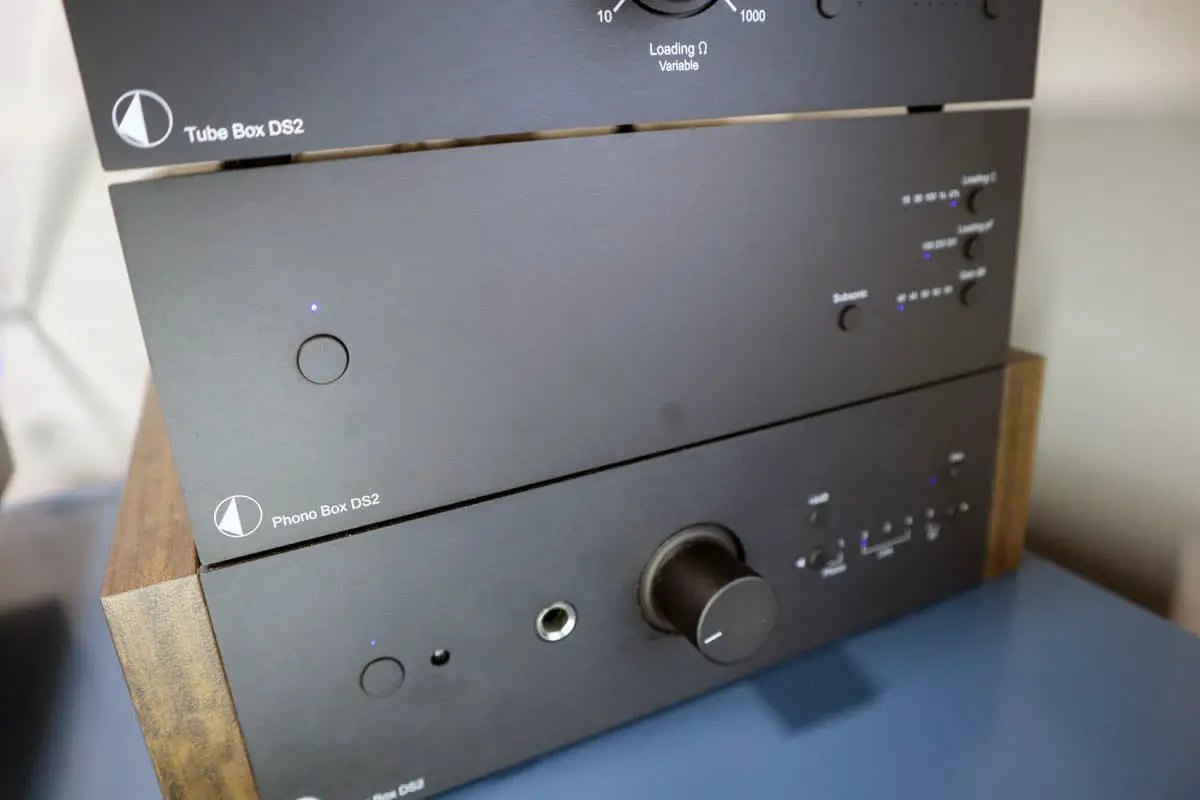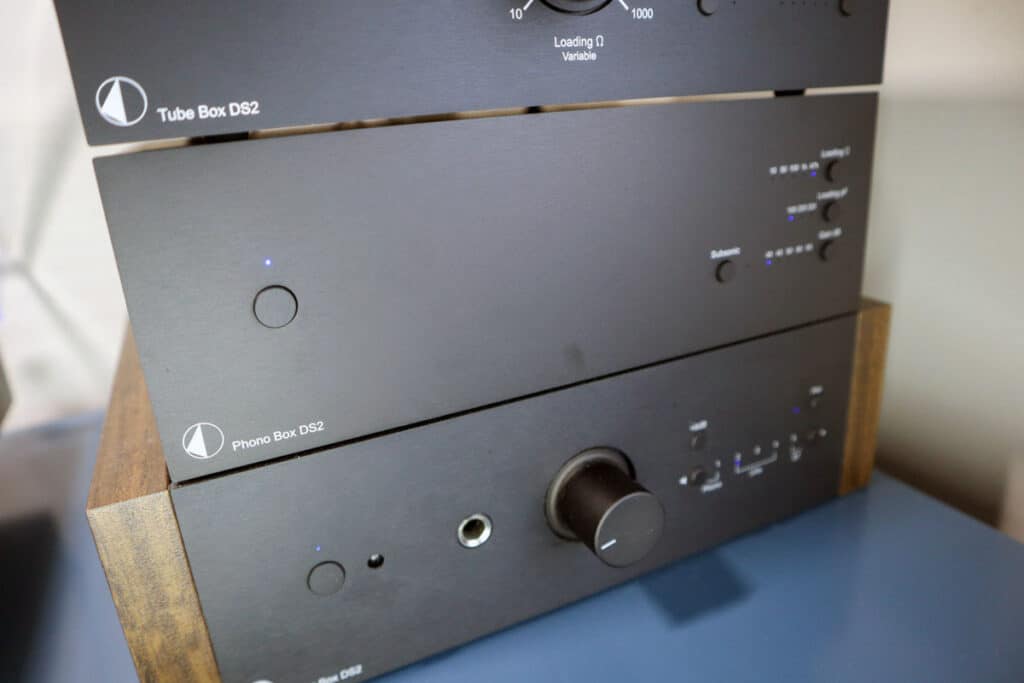 Phono Box DS2 Review – How Does it Compare with the Tube Box DS2
Unlike the Tube Box DS2, the Phono Box DS2 is designed to handle just one input and one output, which for most listeners who only have a single turntable and amplifier/powered speakers, might not be a deal breaker.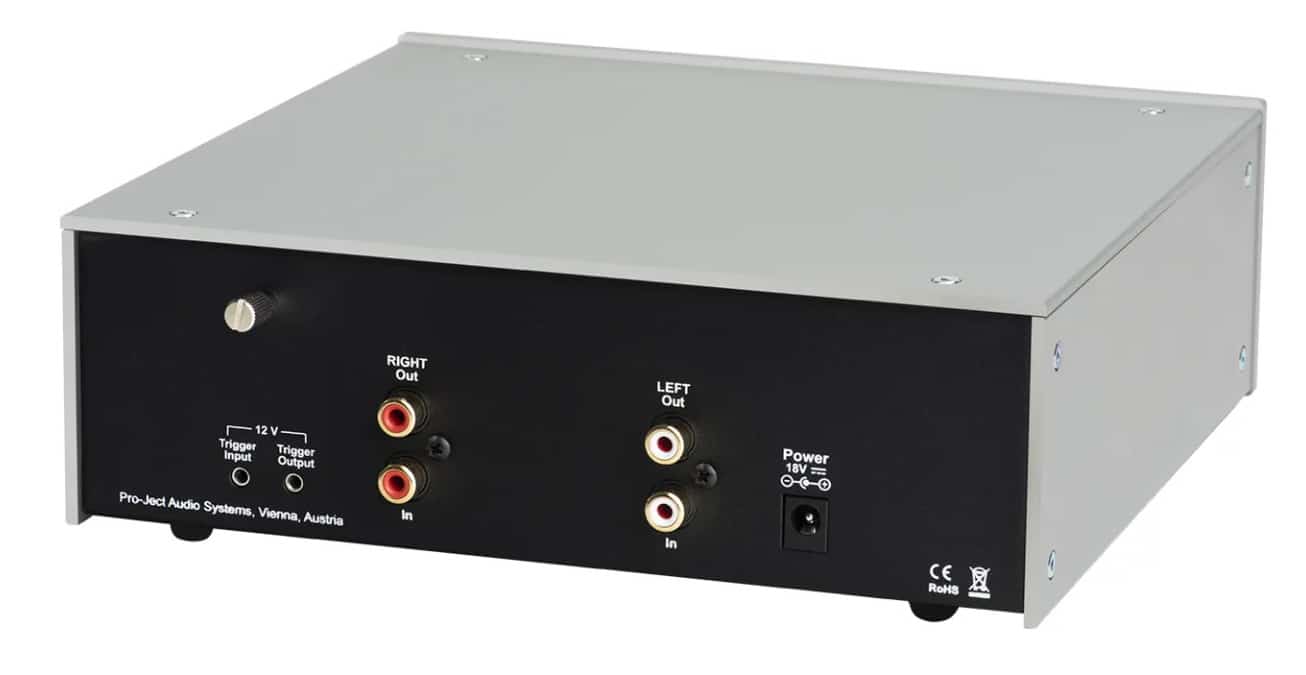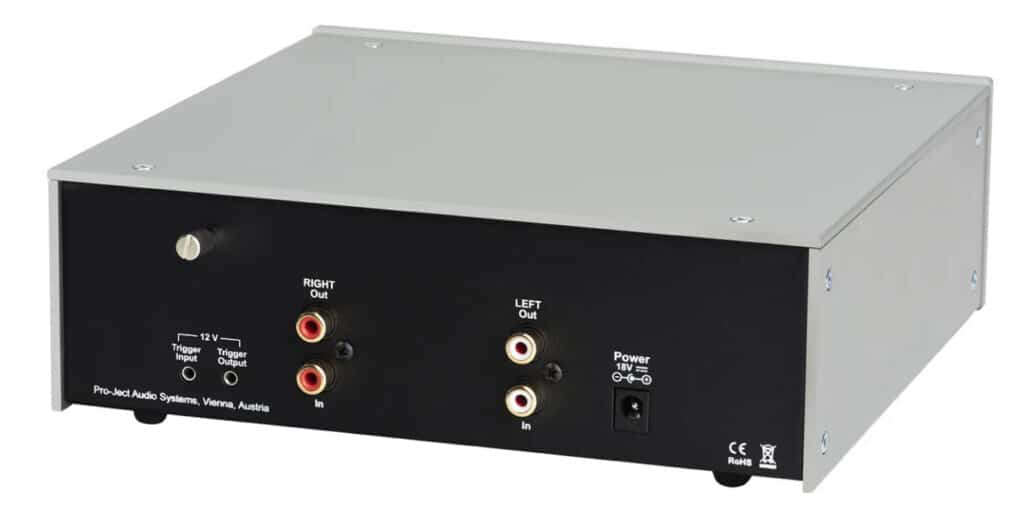 The front panel shares much in common with the Tube Box DS2. For the MM and high-output MC cartridges, the impedance is fixed at 47k and you can adjust capacitance (between 100-320pF) according to your cartridge manufacturer's guidelines.
For most MM cartridges, the gain should be set between 40 – 50dB, reserving the 60dB and 65dB settings as best for moving coil cartridges.

The Phono Box also features a handy subsonic filter for removing frequencies below 20Hz, just like the Tube Box.
Where the controls differ quite significantly is when controlling impedance for low-output moving coil cartridges. The Tube Box DS2 benefits from a highly flexible variable rotary dial, allowing you to dial in the preferred impedance based on guidelines and personal preference.
The Phono Box DS2, on the other hand, is limited to fixed settings (10, 50, 100, or 1k). 
Still, at this price point, that's still an impressive amount of flexibility that will suit most decerning vinyl enthusiasts' needs.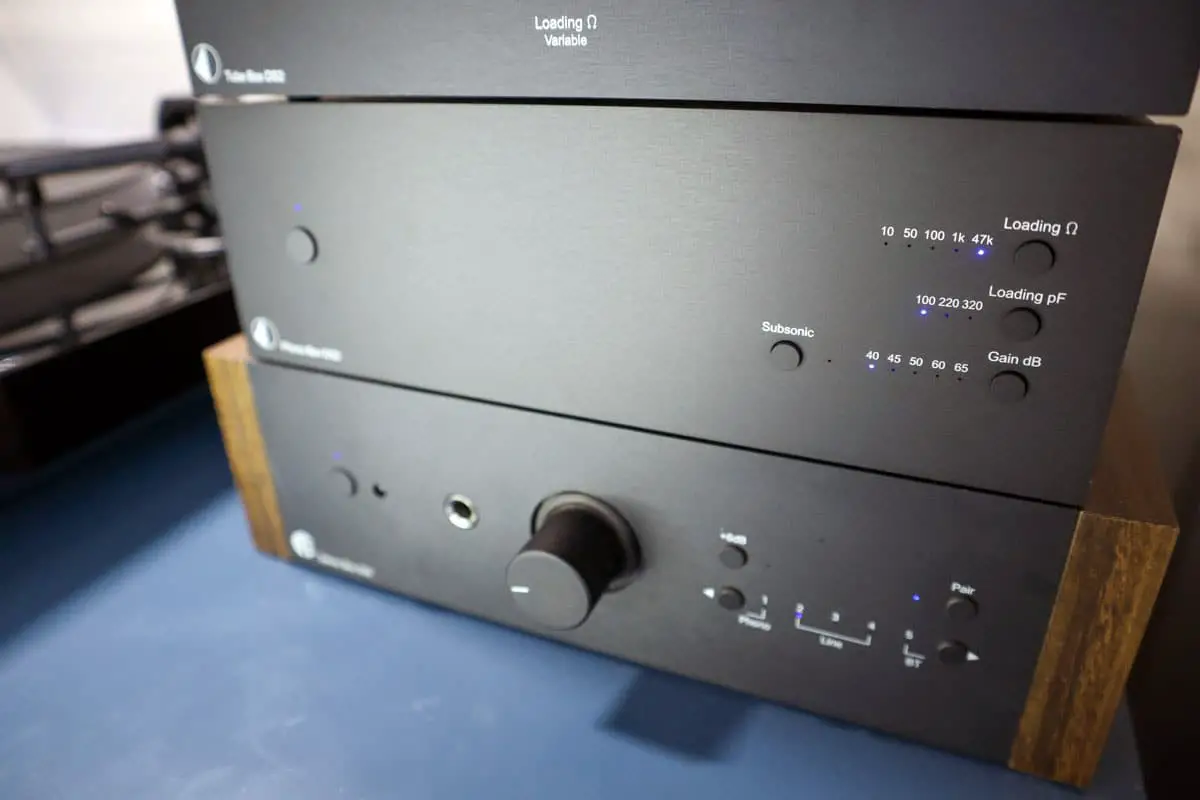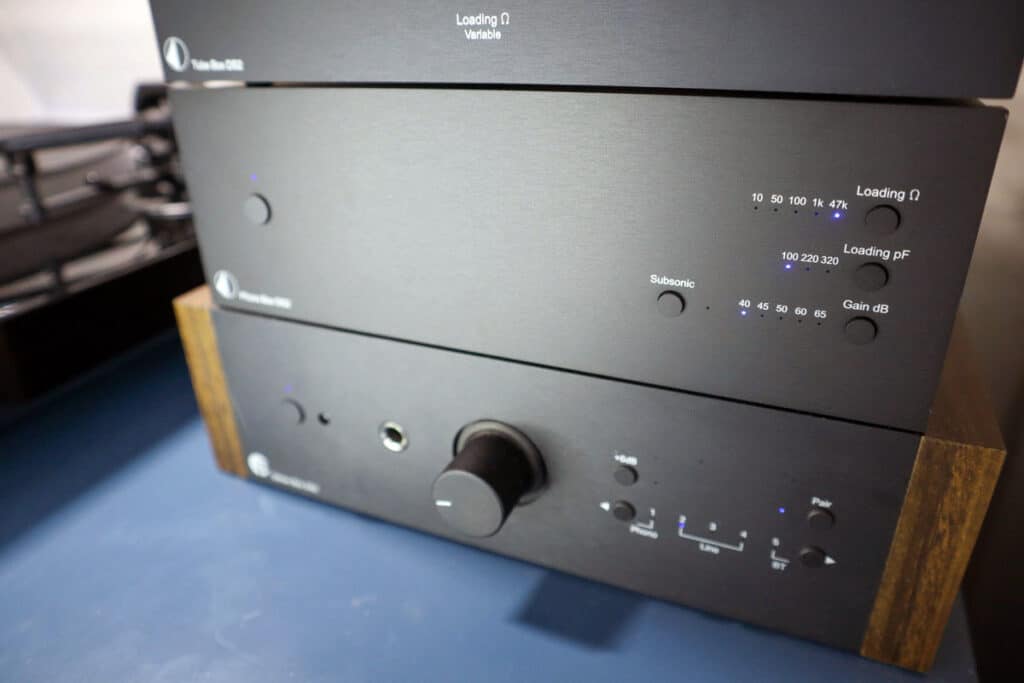 How Does the Sound Compare?
Compared with the internal phono preamp on my integrated amplifier, there is undoubtedly a lift in stereo separation, sound stage, and clarity. There's a transparent quality to the Phono Box DS2 and a general lift in energy and dynamics that is often lacking in an integrated design. 
That said, with most common MM cartridge designs, the Stereo Box DS2 phono stage holds its own rather well. It might not have the control and versatility of a separate phono stage like this, but for a plug-and-play solution, it stands up well. 
Compared with the Tube Box DS2, the Phono Box DS2 is more transparent sounding, which is perhaps not surprising given vacuum tubes are renowned for adding "color" to audio signals. (Recommended tube phono stages listed in my previous article, here).
For most, deciding between the Phono Box DS2 or the Tube Box DS2 will come down to personal preference. Both sound significantly better than a standard built-in phono stage, but if you're looking for a little extra depth and musicality, the Tube Box DS2 excels in these areas.
If you prefer transparency in your music, it's safe to say you can save your money on Phono Box DS2 and not look back. 
Also worth considering is the maintenance of vacuum tubes, as they don't last forever and will need replacing at some point. With a solid-state design, you essentially call it maintenance-free by comparison.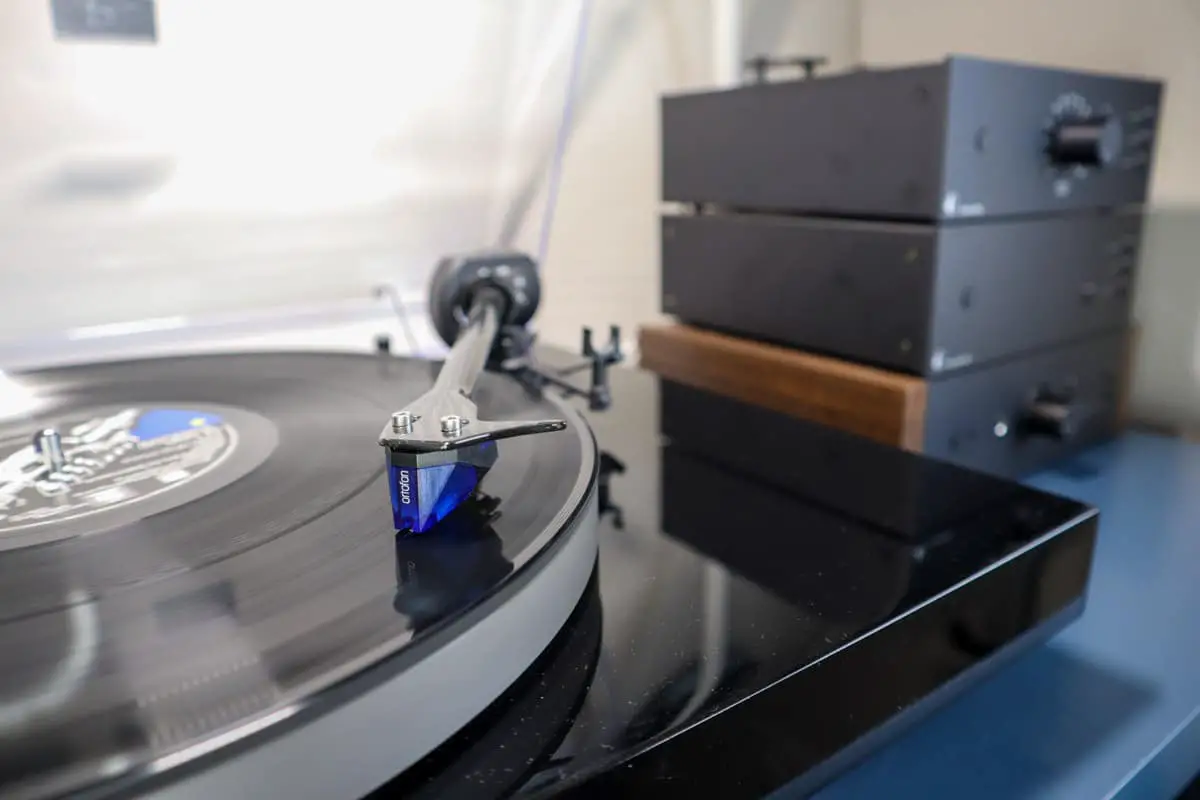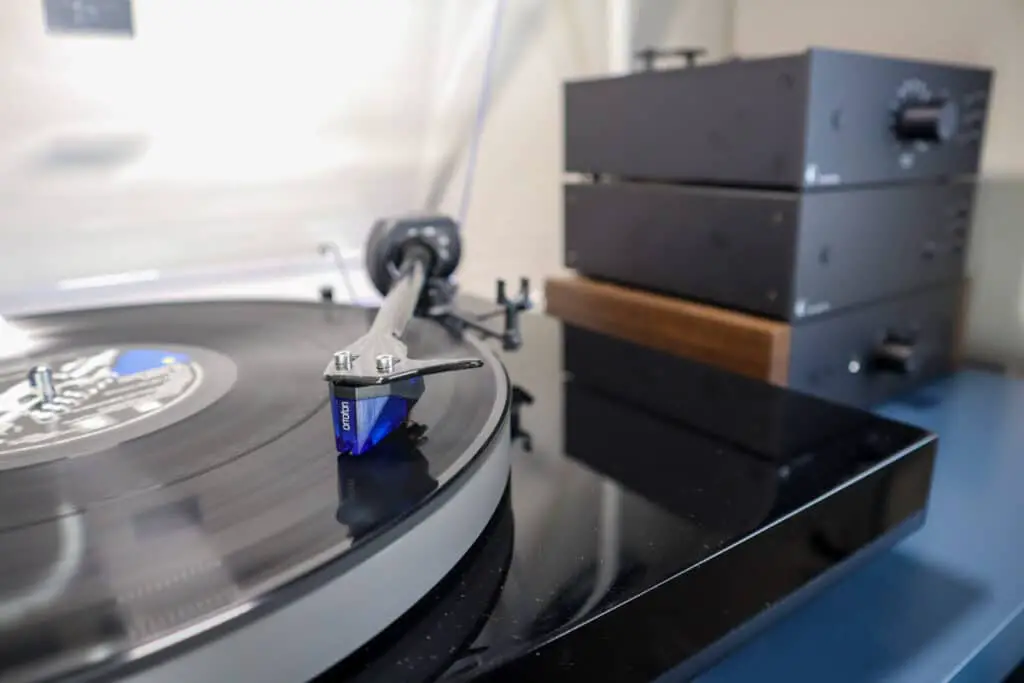 Pro-Ject Phono Box DS2 Review – The Bottom Line
Quite simply, the Pro-Ject Phono Box DS2 is a steal of a deal for any vinyl enthusiast looking to make the leap beyond built-in phono stages. (Particularly at the moment, where there are deals to be had while Pro-Ject slowly introduces new DS3 models to the DS HiFi ecosystem). 
The control and flexibility give plenty of scope for an upgrade should you wish to venture into the world of MC cartridges, while the adjustable capacitance and gain settings ensure you get the very best from any MM source. 
A built-in phono stage will have a fixed capacitance, and if that number just so happens to be outside the optimum level of your cartridge, it can affect the sonic performance.
For example, my Shure m97xe cartridge calls for a slightly higher optimal capacitance level than my Ortofon 2M Blue cartridge, the Phono Box DS2 allows me to quickly and seamlessly account for this rather than leaving it down to a fixed manufacturer-set level. 
The Phono Box DS2 gives some seriously impressive control at its price point, allowing you to squeeze the performance you deserve from your current cartridge while opening up a world of new options to explore when the time comes for an upgrade. An audiophile bargain? Indeed.

VIEW PRODUCT – Amazon
VIEW PRODUCT – Turntable Lab
Summary
Reviewer
Review Date
Reviewed Item
Author Rating





Product Name