This Klipsch Speaker and Pro-Ject Amp Combo is a Winning Combination
When I was in the market for a new, compact Hi-Fi setup for my office and music room, I turned to the Klipsch RP-500M bookshelf speakers hooked up to a Pro-Ject Stereo Box DS2 integrated amplifier.
The world of vinyl can be an expensive game with endless upgrade opportunities and entirely separate Hi-Fi stacks with eye-watering and endlessly ascending price tags. For most people on a modest income, a lot of the market can feel pretty inaccessible, even impossible to achieve. At Sound Matters, we firmly believe that more affordable setups shouldn't have to come at the expense of an excellent sonic experience. Parallel to this, having limited space shouldn't be a barrier to entry either.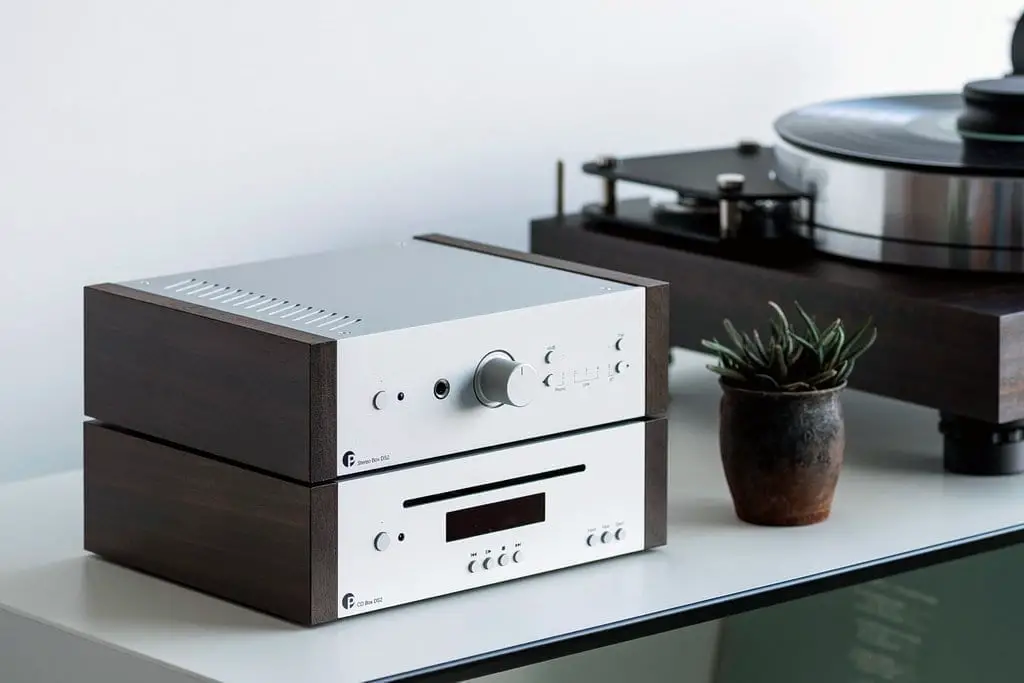 Our goal is to help spread an accessible and excellent vinyl listening experience. After all, this is where the overwhelming portion of listeners sit, myself included. I am neither swimming in cash nor lounging around in a large mansion capable of housing a giant stack of separates. Safe to say I was looking for a compact setup that would deliver a high-end result at a reasonable price.
Pro-Ject Stereo Box DS2
The Stereo Box DS2 is a compact integrated amplifier where (in true Pro-Ject fashion) the emphasis is on a great audio experience without the bells and whistles. The design is part of the DS2 series of Hi-Fi boxes that are easily stackable, allowing you to neatly expand on your setup as and when you can afford the additional units. The same series includes separate preamp/poweramp boxes for those you want more control and the sonic benefits of keeping switching circuitry away from the power amp stage. However, at my budget, I opted for the integrated option.
The amp design is based on the dual mono principle, which is said to improve channel separation, stereo imaging and overall sonics. Fitting a dual mono design into a compact amp design is pretty impressive given that such designs typically take up more space, but I suspect having an external power supply helps make this possible in the actual unit. 

The build quality is superb on first impression, and the connectivity options serve most vinyl enthusiasts needs right out of the box. There is a built-in phono stage, which often means a sonic compromise, but in this case, it actually sounds really good and has the additional benefit of accommodating both MM and MC cartridges.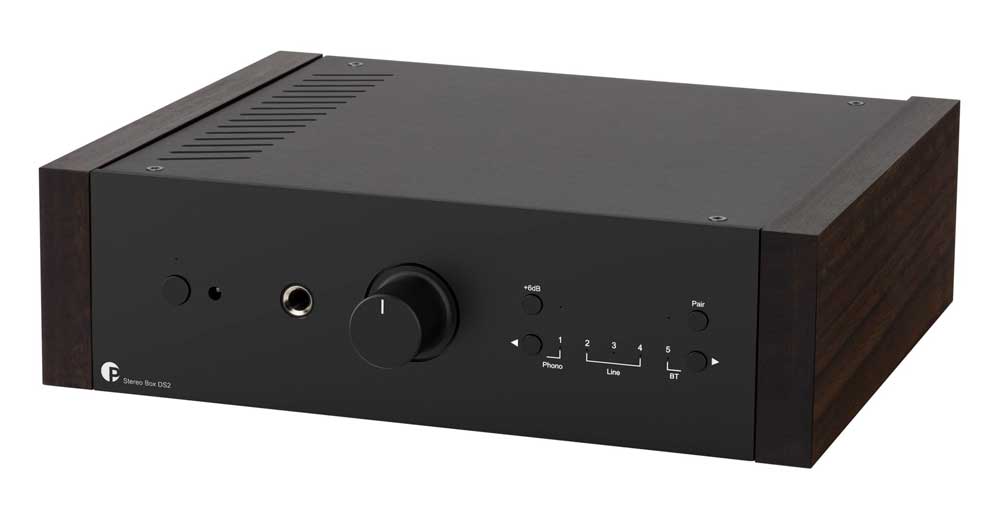 For those of us who like to include high-quality digital sources in our collection, there are three additional RCA-inputs for connecting other units, such as DACs, CD-Players, and Music Streamers. If the convenience of Bluetooth is part of your listening mix, there is also a fifth channel that enables simple connectivity to your computer or smartphone. The Bluetooth setup was relatively simple but did require a quick read of the manual and a press of the "pair" button to confirm a connection. Once established, the link is stable and sounds great despite the data compression; perfect for casual listening while working from home.
Pro-Ject have released other, smaller compact amplifiers to mixed reviews, but I wanted something with a little more punch than their entry-level MaiA model (2×30 into 4Ω or 25W into 8Ω). The criticism of some when considering the MaiA is a perceived lack of enthusiasm in the sound. While I don't have direct experience with the MaiA model, the Stereo Box DS2 needed to be capable of driving a decent range of speakers with plenty of headroom. The top-level figures of the Stereo Box are a little more impressive at 2x 135W at 4Ω or 2x 80W at 8Ω, and while there is more to amplifier specs than watts and ohms, an amplifier with more power and a decent power supply is more likely to deliver a dynamic and engaging listening experience.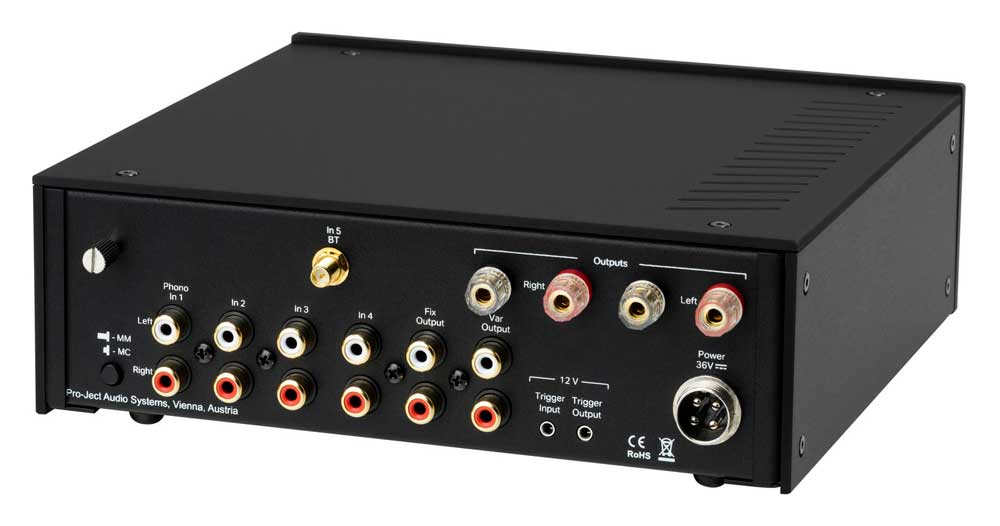 For added flexibility, you can always bypass the amplifier stage altogether by connecting the variable or fixed RCA output to active speakers or a subwoofer.
Lastly, before we move on to the speakers, you can choose to buy the amplifier in brushed silver or black finishes with a choice of beautiful wooden sides for a retro vibe. I chose black with eucalyptus siding.
If I had to pick fault with any of the Stereo Box design aspects, it would be the compact remote. For me, while the remote adds welcome convenience, the build quality doesn't match the actual unit and feels like a bit of an afterthought.
Tested at: $1100 (£599)
Now on to the speakers:
Klipsch RP-500M
The Reference Premiere (RP) range from American speaker manufacturers, Klipsch delivers some of the most outstanding design and engineering features for a speaker in this price range. 
In brief, the silicon horn design is said to maximize efficiency and detail while focusing smooth, clean high frequencies towards the listening area. Behind the horn is a titanium tweeter featuring Klipsch's Linear Travel Suspension system, which they claim minimizes distortion for enhanced, detailed performance. The woofer is a unique spun-copper design that helps make them super-agile and very rigid. Klipsch claims this ensures minimal distortion and maximum efficiency. Lastly, instead of the standard circular rear port, Reference Premiere speakers make full use of Tractrix geometry for more efficient airflow. The claimed benefit here is less air turbulence for reduced port noise and more powerful bass.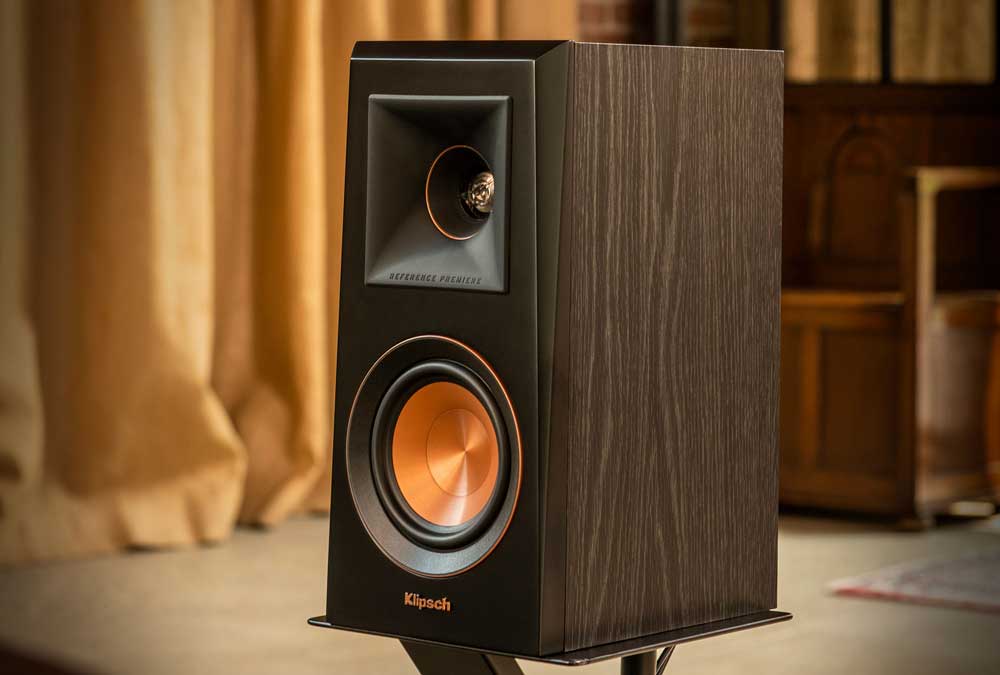 Sound-wise, despite not having completely ideal acoustics and space in my listening room by purist audiophile standards, the RP-500m is a superb sounding speaker across the frequency range. The bass is deep, solid and refined. The mid-range is detailed, dynamic, and engaging. The high-end, crisp and exciting without becoming harsh or sibilant. 
I've never claimed to be an absolute expert in speaker design, but quite frankly, these are the best sounding speakers I've ever owned. The listening experience is dynamic and all-consuming with outstanding stereo image and soundstage. Continuous power handling comes in at 75w with a nominal impedance of 8 Ohms, making them a perfect fit for the Pro-Ject Stereo Box DS2. 
Tested at: $479 (£499)
Moving On Up
Can you buy a cheaper HiFi system? Of course, there are plenty of cheaper options on the market, including more affordable options from Pro-Ject and Klipsch, respectively. This isn't the cheapest integrated amp and speaker combo, but it isn't the most expensive either. 
Having a background in studio record, I have a fairly decent ear for audio quality and consider myself very sensitive to audio defects, such as distortion, poor definition or a lack of dynamics. At this price-point, this Klipsch and Pro-Ject combo is a match made in heaven. There's also plenty of room to grow for anyone with the will and inclination. For example, I intend to explore additional boxes in the DS2 line, such as the phono box and sound source options.
You could spend less and still get a great sounding system, but if you have around $1500 to spend and you're looking to start a great compact separates Hi-Fi rig that punches well about its price tag, look no further.