Compact, beautifully designed, and relatively affordable—could the Moon 110LP v2 take your vinyl playback into the stratosphere and beyond?
The Moon 110LP v2 by SIMAUDIO is the company's take on an affordable phono preamp, aiming to take technologies developed for their higher-end phono preamps and make them more accessible in an affordable, low-profile unit.
Everyone loves an audiophile bargain, and so far, the synopsis looks good!
I'm always on the lookout for compact HiFi equipment capable of punching above its weight. Space in my home is limited, and with the Moon 110LP measuring just five inches wide, 1.65″ high, and 6.5″ deep, it's a neat little box that will easily fit within even the most spatially challenged listening rooms.
It's also one of the most attractive-looking phono preamps I've tested at this price ($599 USD or £560). Its sleek brushed metal front panel and clean interface are difficult to find elsewhere at this price.
Despite the simple facade, the 110LP is well equipped with control features to fine-tune according to your phono cartridge and overall system.
Input capacitance, impedance, and gain setting are all hidden neatly on the underside of the unit, which you can dial in to suit a wide range of cartridges via small dip-switches. SIMAUDIO supplies a convenient "dipstick" pen for adjusting these, which is a nice touch.
There are pros and cons to dip-switches, of course. On the positive side, it helps keep the device compact and clean. On the downside, they can be a little confusing at first and less convenient to adjust than switches and dials. 

That said, the visual graph on the Moon 110LP v2 is extremely intuitive compared with many of its competitors. It was so simple, in fact, that I didn't even need to reach for the manual to see clearly which configuration I needed for both my moving magnet MM and moving coil cartridges. 
The impedance settings include 47kΩ, 475Ω, 100Ω, and 10Ω with the loading capacitance being switchable between 0pF, 100pF, 330pF, and 430pF.
The gain ranges from 40dB to 66dB, giving more than enough "juice" to support all the usual MM cartridges and the vast majority of low-output moving coil models. 

Curiously, there is also a switchable equalization curve between the standard RIAA and less common IEC amended curve, the latter being for sub-sonic problem-solving.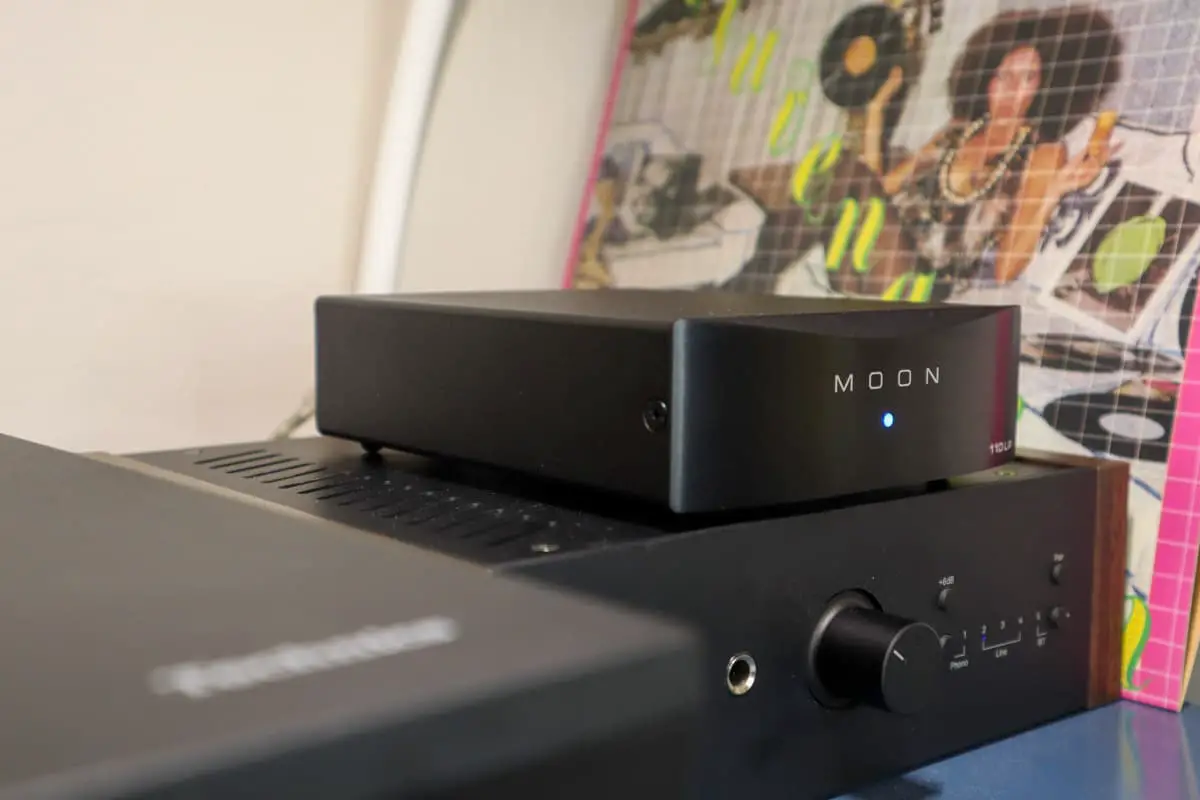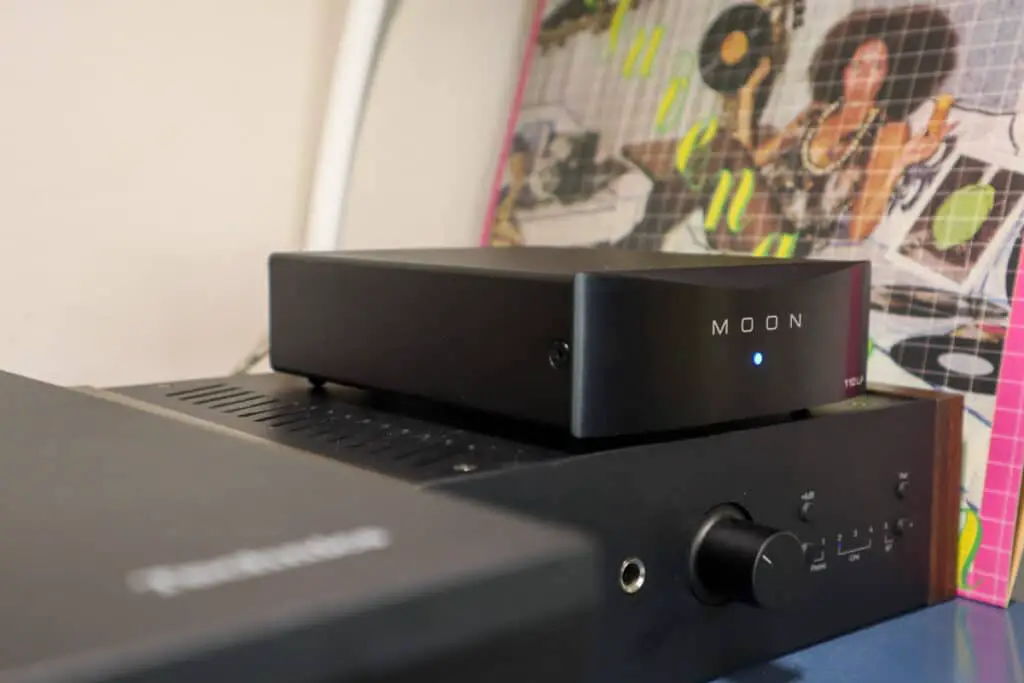 Moon 110LP v2 Review – Sound Tests
Using a Technics SL1500c, I hooked up both an Ortofon Quintet Red moving coil cartridge and a 2M Blue from the same company. 
For good measure, I also took the Sumiko Blue Point No.3 high-output moving coil for a spin.
For the first record, I reached for a copy of Norah Jones Come Away with Me, which was cut at Sterling Sound by Joe Nino-Hernes, which I recently picked up to replace a copy I've had for years with terrible sibilance caused by bad mastering practice.
While this fixes the aggressive sibilance issue of my previous copy, the top end on Jones' vocals can still be quite bright and will quickly expose any phono preamp that is less than balanced.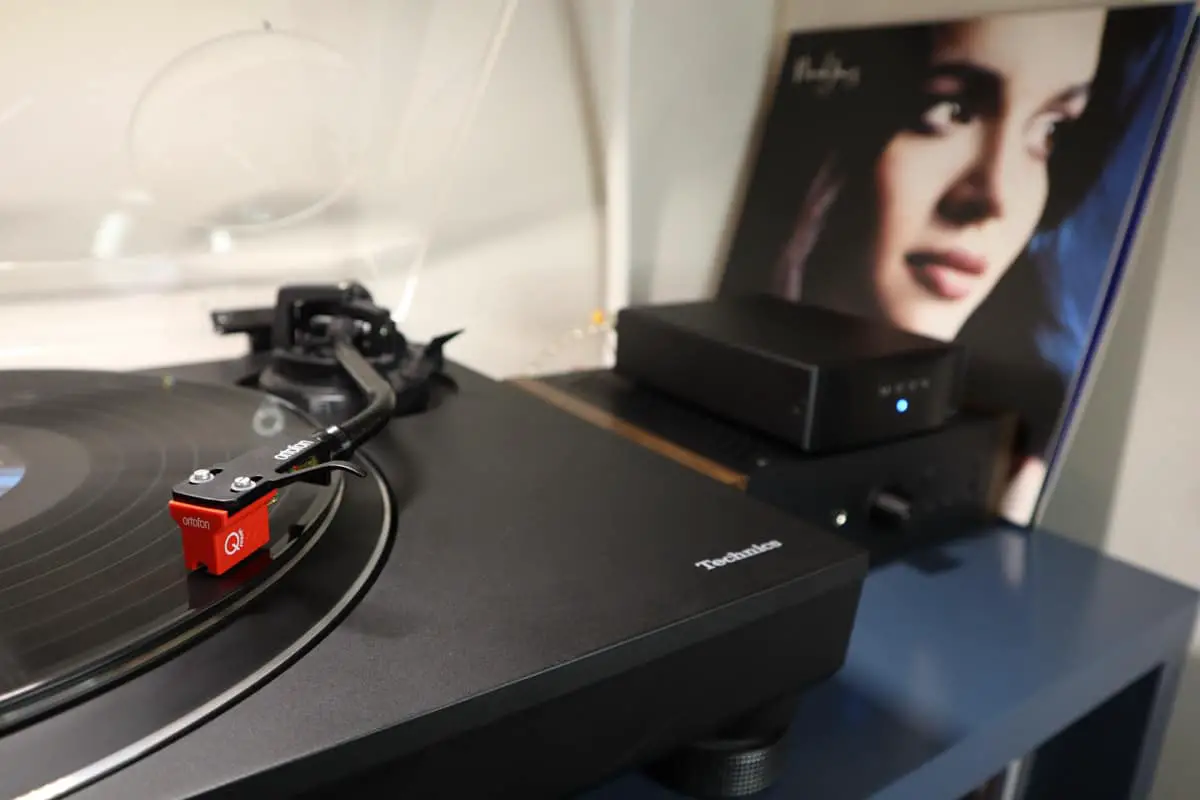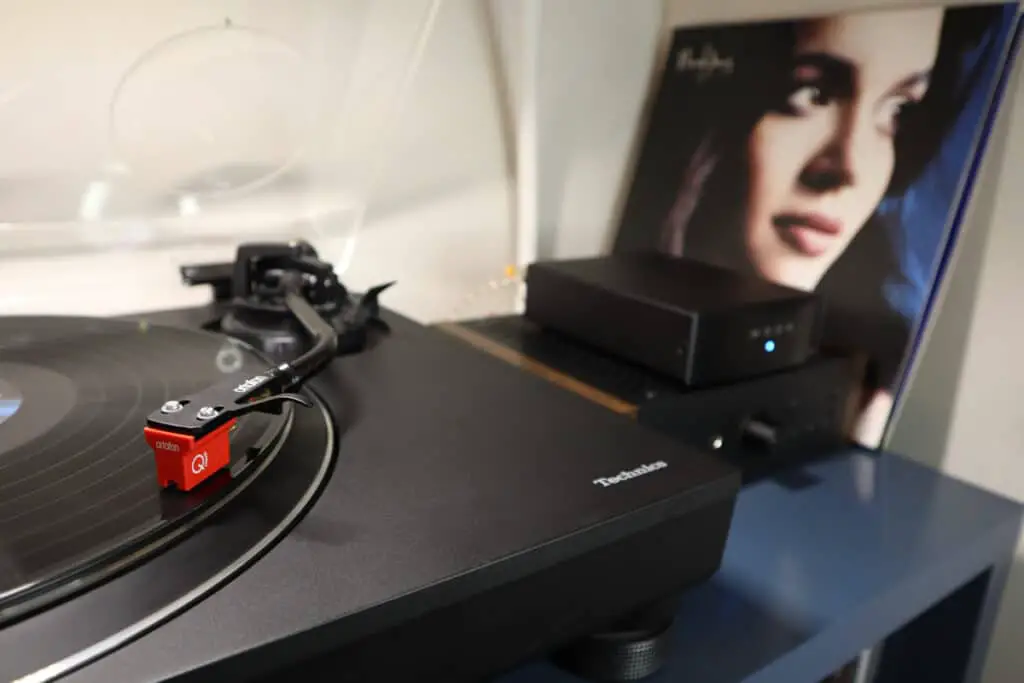 The Moon 110LP v2 does a superb job with this record, digging deep into the delicacy of the instrumentation on offer while also presenting a realistic soundstage that has a live, dynamic feel. Being a record with plenty of subtlety and quieter passages, it's also evident to hear that SIMAUDIO's budget offering is also lovely and quiet!
There was never any hint of the high frequencies sounding forced or pushed forward, giving me a sense of balance that I always look for in a good phono stage—particularly with my Ortofon 2M Blue.
Arguably, the Moon 110LP sounds a little more restricted than my Pro-Ject Tube Box DS2 at first when fed a moving coil cartridge, but then again, a little experimenting with impedance setting was enough to bring some of the top end back to life.
As always with these settings, it's a case of using the manufacturer guidelines as a starting point, and then adjusting according to your taste and what works best with your system.
In its class, I have no complaints here, and it's nice to hear such a well-rounded phono stage with plenty of options for growth should the listener decide to make a leap into the world of moving coil cartridges.
Arguably, though, most listeners in the market for a phono preamp at this price will be operating a MM cartridge, which is where the Moon 110LP v2 really excels.
It has an extremely tight and nimble bass response that I really enjoyed on records where the pace picks up. There's enough "air" in the top end to compliment that dynamic low-end response while never crossing into the realm of feeling harsh or fatiguing. 
I did find the mid-range well-balanced with plenty of musical detail to be had, but overall I must say it's the top and bottom end of this preamp that really shines for me.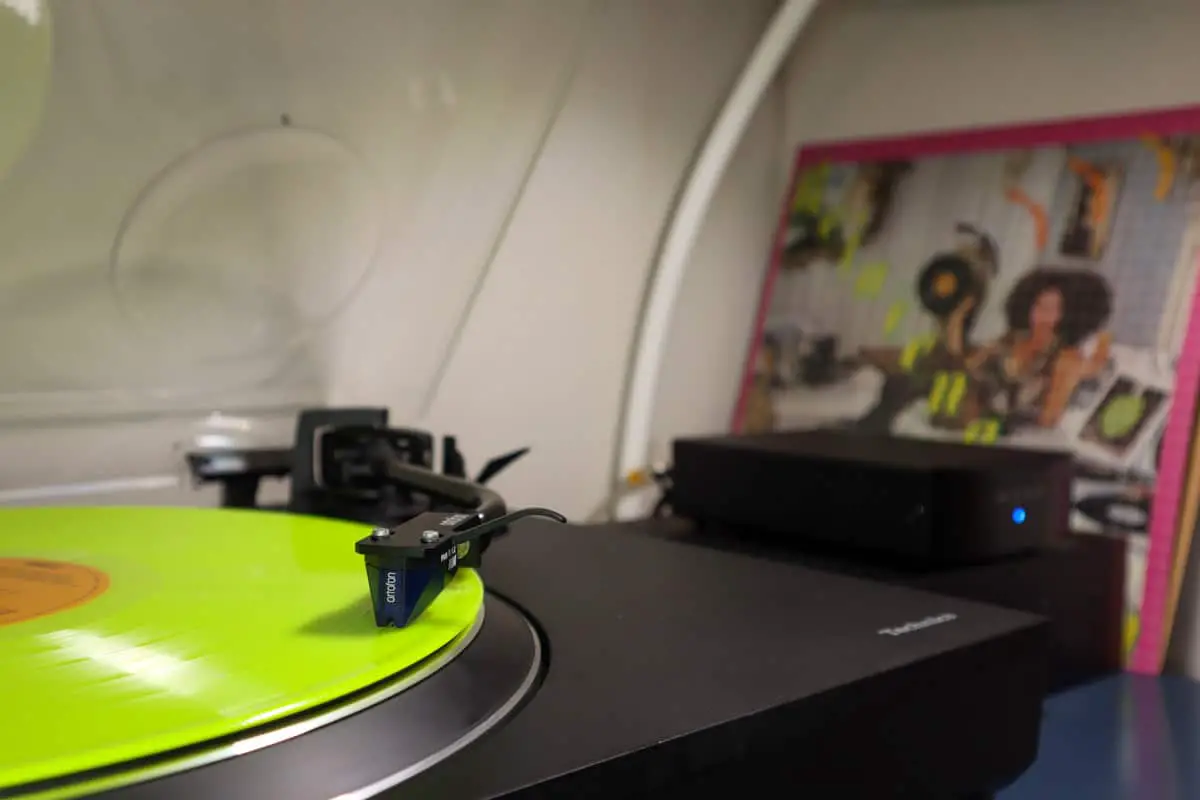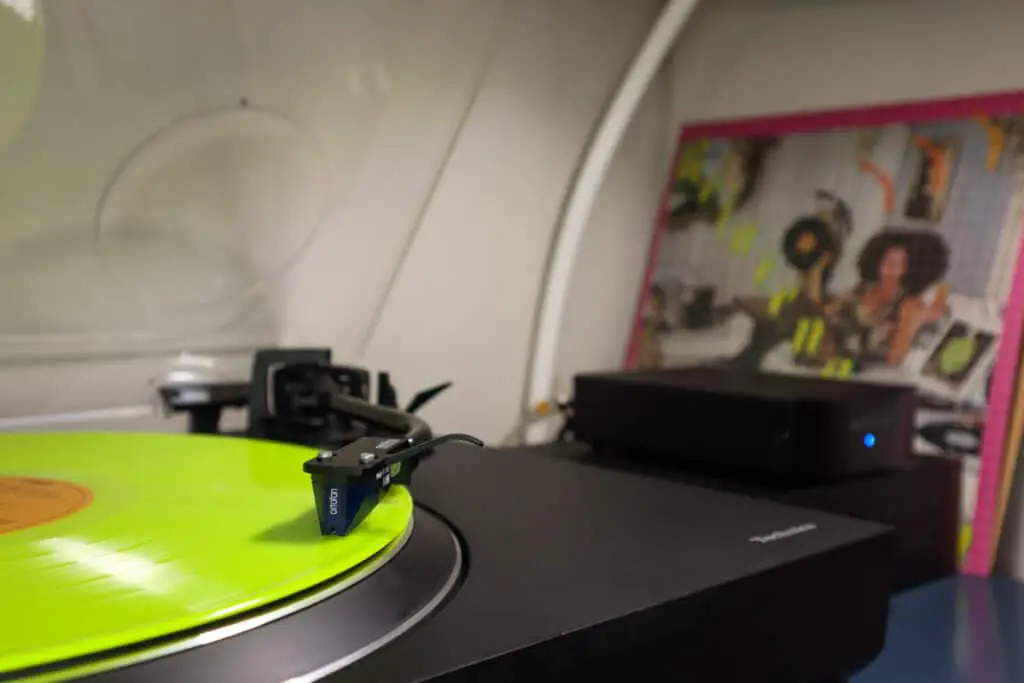 Keen to push this strength to its full capability, I pulled out a copy of Rejuvenation by The Meters, and was not disappointed. This preamp handled the delicious funk grooves of this record with precision and ease.
Incidentally, this record was also cut at Sterling Sound, this time by Ryan Smith. I'm not an affiliate by any means, but they really do cut a good record! (This one is a VMP reissue).
The Bottom Line: Does the Moon 110LP v2 Measure Up?
The Moon 110LP v2 has a detailed, musical mid-range with plenty of balance and a nice wide soundstage. The low end had lots of energy and pace, while the top end can let rip and sing with the right cartridge and system. 
One of the best compliments I can give the 110LP v2 is that I think I've found my new phono preamp to slot in my living room turntable setup. It's a superb leveling-up phono stage in its class for anyone seeking that next step beyond budget phono preamps, such as the recently reviewed Rega Fono Mini, for example.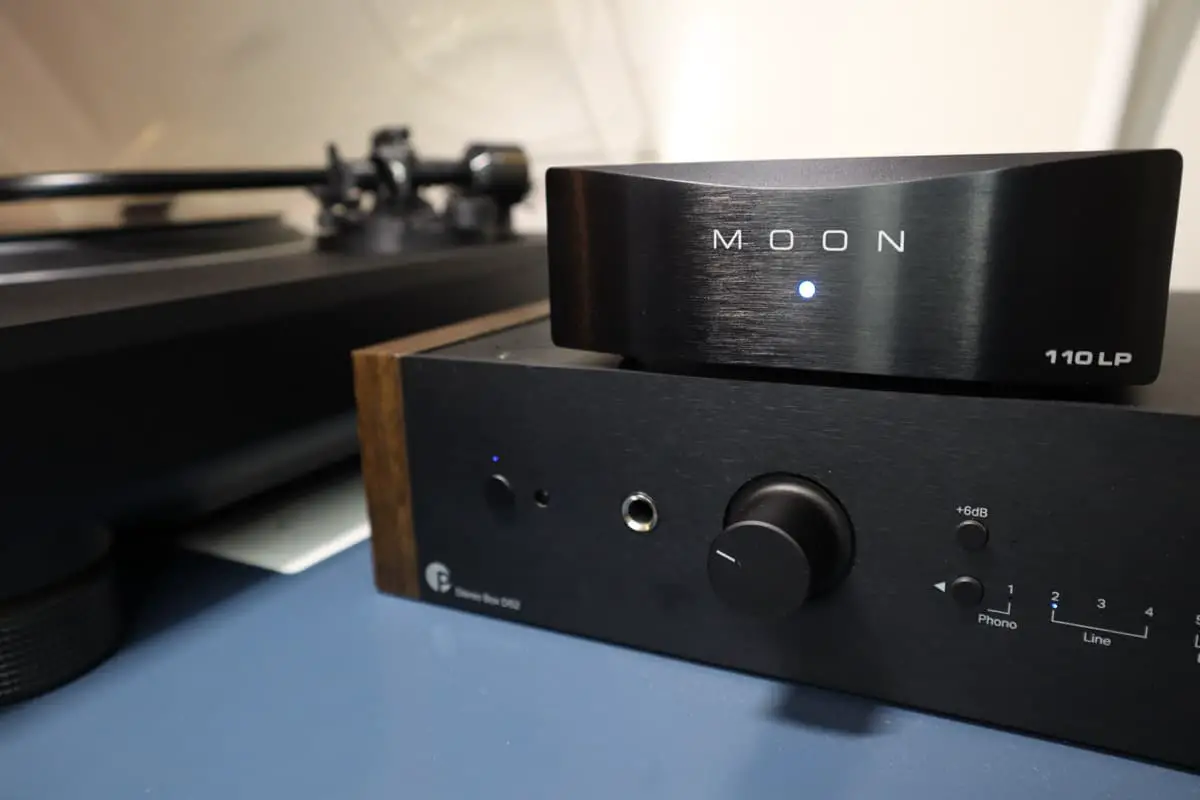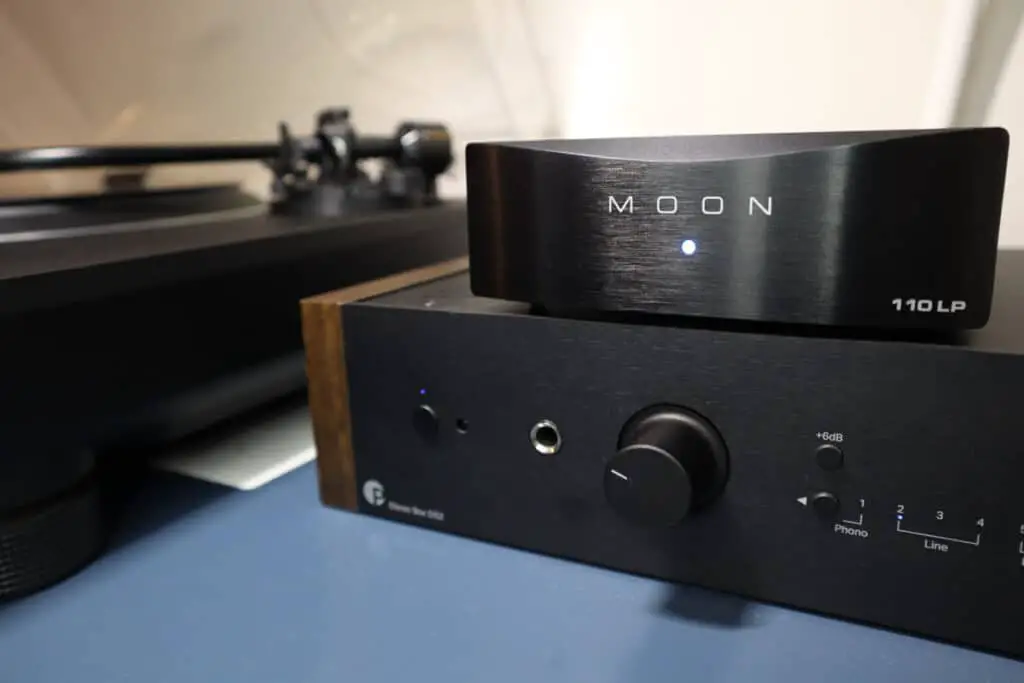 The build quality is impressive, it does a stellar job of presenting MM cartridges at their best, and it also enables a very capable showcase of MC cartridges should the listener choose to take the plunge. What's not to like!? 
Building the ideal system for vinyl playback is a journey, in this case, we're heading for the moon and beyond. SIMAUDIO will undoubtedly roll their eyes at my dad joke there, but it had to be done! 
In all seriousness, I highly recommend this phono stage at its price point—bravo SIMAUDIO.

VIEW PRODUCT
---
Further Reading:
Best phono preamps at any budget
Summary
Reviewer
Review Date
Reviewed Item
Moon 110LP v2 Phono Preamp
Author Rating





Product Name