One of my key motivators for starting Sound Matters was the loss of experience and musical discovery that happens when you surrender all music ownership to the internet.
The abundance of choice online is amazing, and it's never been easier or cheaper to access more music than a person can consume in a lifetime. The trouble is, the experience just isn't the same, and the element of music discovery is almost lost entirely. I mean, come on, how many folks fire up a streaming service like Spotify or Tidal and start browsing for something completely new or unknown?
Back in the old days, of course, we'd get to know the local record store owner who would make recommendations. Friends would swap favourite records to share their musical discoveries. This sense of shared experience—combined with the beauty of vinyl as a physical product—is what many of us miss and is one of the reasons why vinyl refuses to die. Unsurprisingly then, I was very excited to discover a vinyl subscription service like Wax & Stamp, where the emphasis is on the anticipation of music discovery. As they quite aptly put it, "With the internet, we've been blessed with getting all that music but instantaneously, typically for free and without having to leave the house. But what about that serendipity of finding something you'd never heard before?"
Read in for the full review, or check out our summary video below.

Wax & Stamp's Offering:
There's a growing number of vinyl record subscription services to choose from, so it's important each service focuses on a niche. As we've already alluded to, Wax & Stamp are all about music discovery. For £30 each month, you will receive two records (one album and one EP or single), along with a monthly letter about each selection. The beauty of it is, you won't know what those records are until they land on your doorstep, so it's perfect for those who love to discover something new.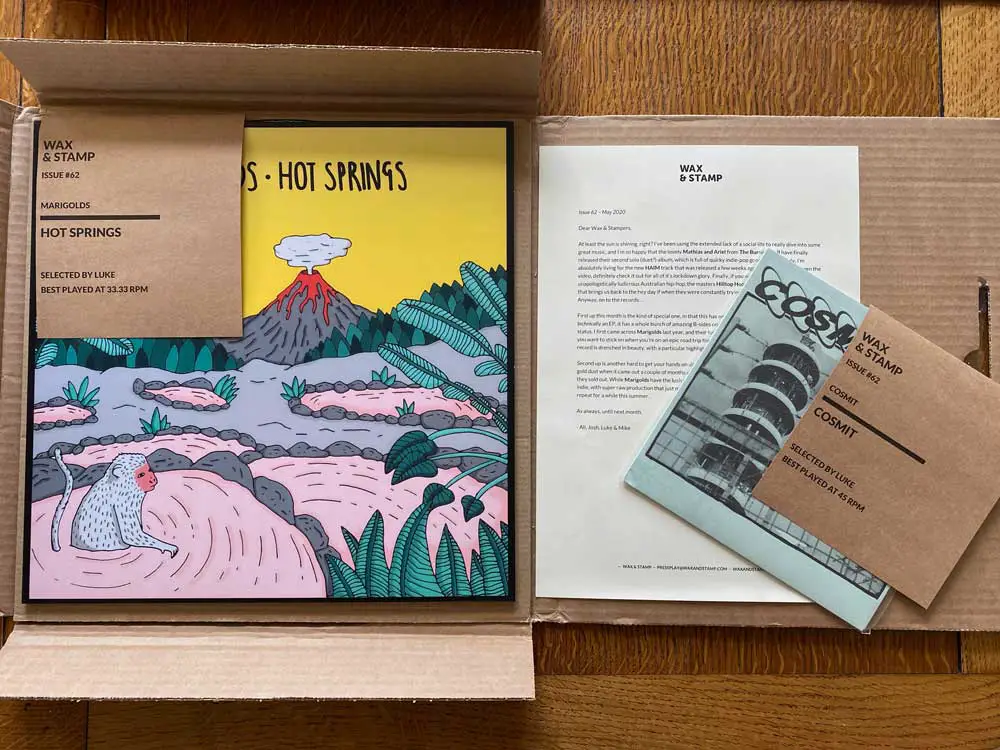 Wax & Stamp is a UK-based subscription service, so it will likely appeal mostly to our UK readers, but they will ship around the world with additional shipping fees.

The team kindly sent me their recent May and June subscription boxes, so I've been able to get a real sense of what they're all about and the variety on offer.
In the May issue, I received a copy of Marigolds 'Hot Springs' as the LP and a wonderful small-run 7-inch single by a Bristol-based act named Cosmit. The first thing that strikes me is just how much goes into the presentation. The monthly letter giving the backstory behind each selection is a great read, and the individual brown paper labels state who selected the record and how it should be played (for example, the speed, or recommended volume!) Beautifully personal, elegant, and simple, each subscription issue is an experience you'll anticipate month after month.
The second thing that struck me was just how exclusive the releases feel. The Marigolds LP (a dreamy sounding modern indie gem) is one of only 150 pressings. Similarly, the Cosmit 7-inch is the second exclusive pressing of a promo single, which is very difficult to obtain. The music on this one was probably my favourite of the two: it had a raw punk-rock energy that is rarely heard these days; the artwork is typical of an up-and-coming band flogging 7-inch singles at gritty venues.
So far, so good. The experience reminded me of how we'd trade music as kids. Either physically or digitally, the feeling of anticipation was the same. I miss this experience dearly.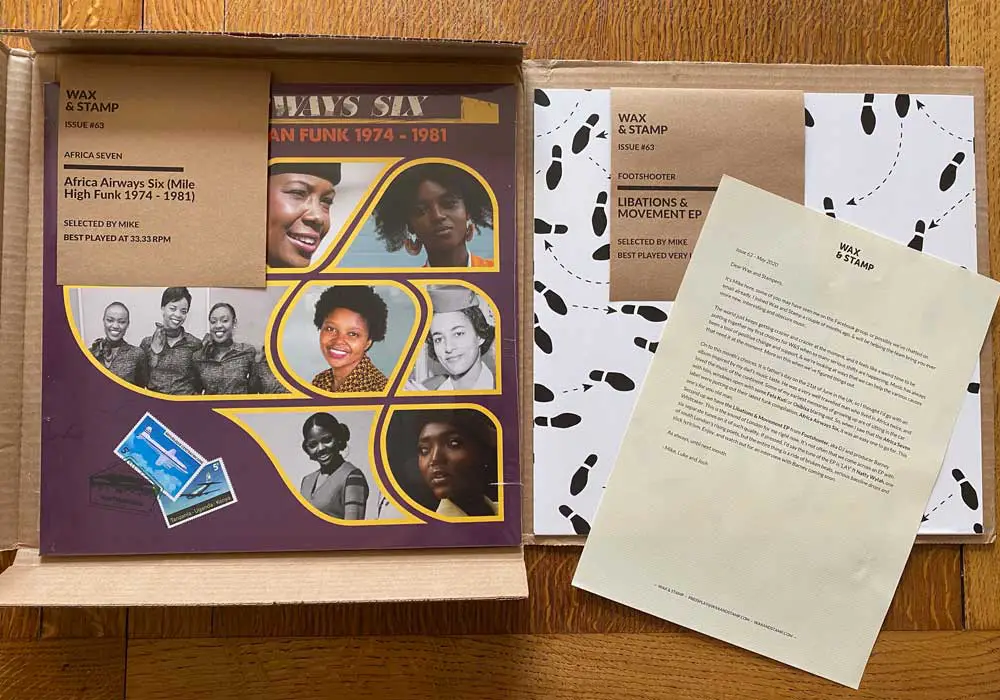 Next comes the June issue. The presentation is consistent with the first issue, and I can see that this month's selection comes courtesy of their latest team member, Matt. I enjoyed the story behind the first selection, and the June issue is no different. It would seem current events often inspire the monthly selections, as Matt proclaims that "The world just keeps getting crazier and crazier…" (I think we can all relate to that!).
The LP is a terrific African funk compilation, inspired by his dad's time in Africa and subsequent love for the continent's music. I just loved the music on this one. I'm a huge fan of funk music, be it from classic acts such as Parliament and Funkadelic, or more recent acts such as The Red Hot Chili Peppers. I also love the 70's offerings of Santana, where Jazz-funk starts to play a centre role, and for me this release from Africa Seven ticks all those same boxes. Clearly, there's a whole of African funk music out there that I've been missing all my life!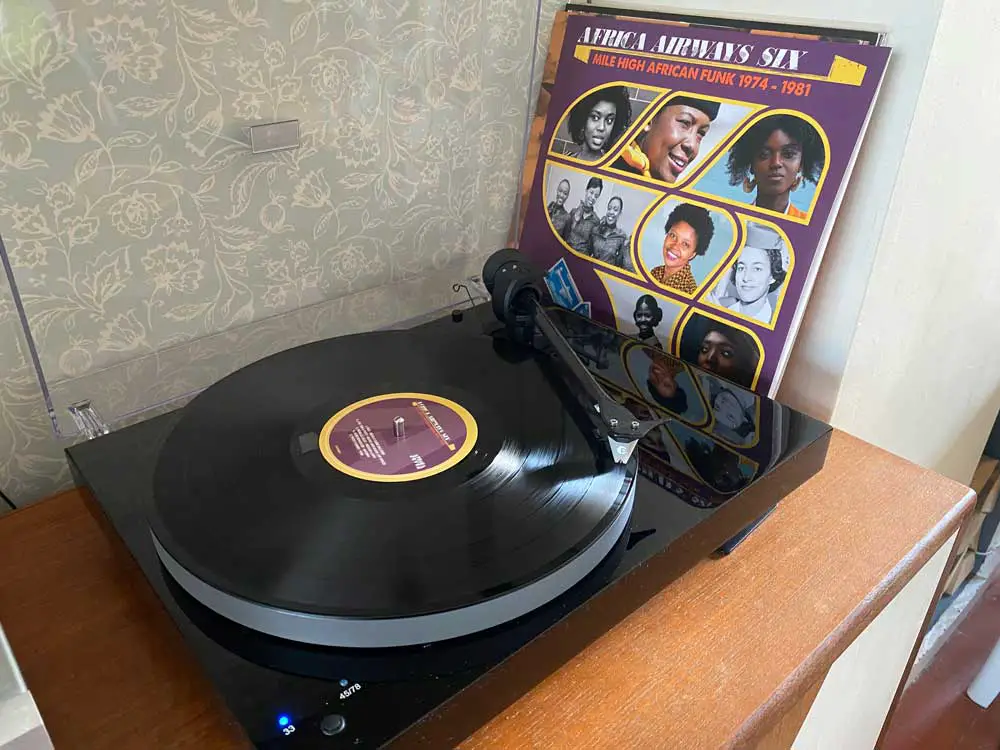 The June single is a 12-inch EP from Footshooter (The Libations & Movement EP). This is a much more contemporary number coming from the DJ and Producer, Barney Whittaker (AKA Footshooter). If you're a fan of South London's music scene, and you like out-of-this-world basslines, you'll love this LP. For many, this is the sound of London right now, and the poetry is raw and powerful. I would never have chosen this record if left to my own devices, but that's the beauty of Wax & Stamp – be ready to explore beyond your boundaries. Get out of your comfort zone and discover a world of music that's all around you—you'll be glad you did.
Summary
Reviewer
Review Date
Reviewed Item
Wax & Stamp Record Subscription
Author Rating





Product Name
Wax & Stamp Record Subscription