Every record tells a story. It could be the personal experience of each musician, a hidden message behind the cover art, or the unique production and build-up that leads to a piece of music on wax. In any case, like a snapshot in time, every record ever made is a moment captured for all future generations to enjoy.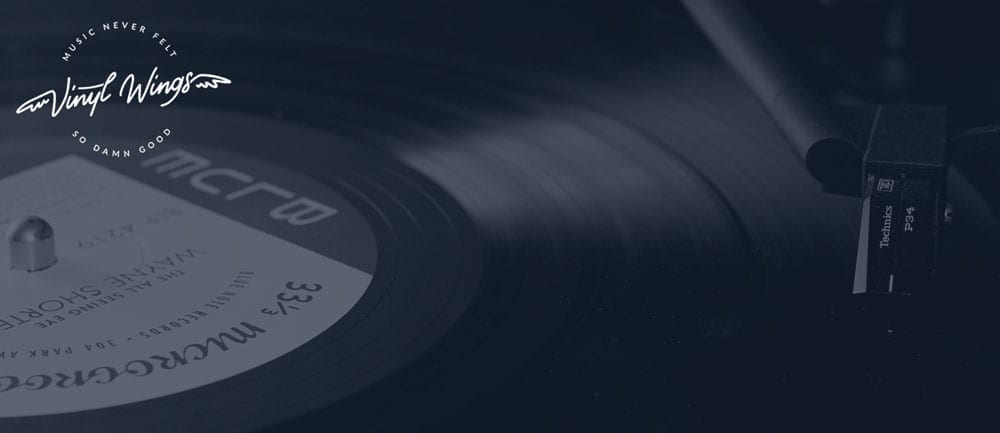 Record subscription services continue to grow in popularity, thanks in part to the unique experience of vinyl in our digital age. Vinyl Wings is the new kid on the block compared to other, well-know veteran services, and like most record clubs, Vinyl Wings has a unique approach and proposition to its would-be subscribers. 
A Vinyl Wing subscription is simple, as stated on their website: 
"Monthly vinyl rediscovery… Every month, we bring a set of two specially-curated vinyl records from your choice of genre, and the back story to each album and artist right to your doorstep." 

– Vinyl Wings
For the purpose of review, I received the Vinyl Wings Jazz & Soul selection, but the company have also announced the imminent arrival of a Rock & Blues subscription, or a classical option. Once you've selected your genre, all you have to do is choose two records out of a selection of three on announcement day. Each monthly box comes with a note from Vinyl Wings about the significance of each artist to the genre.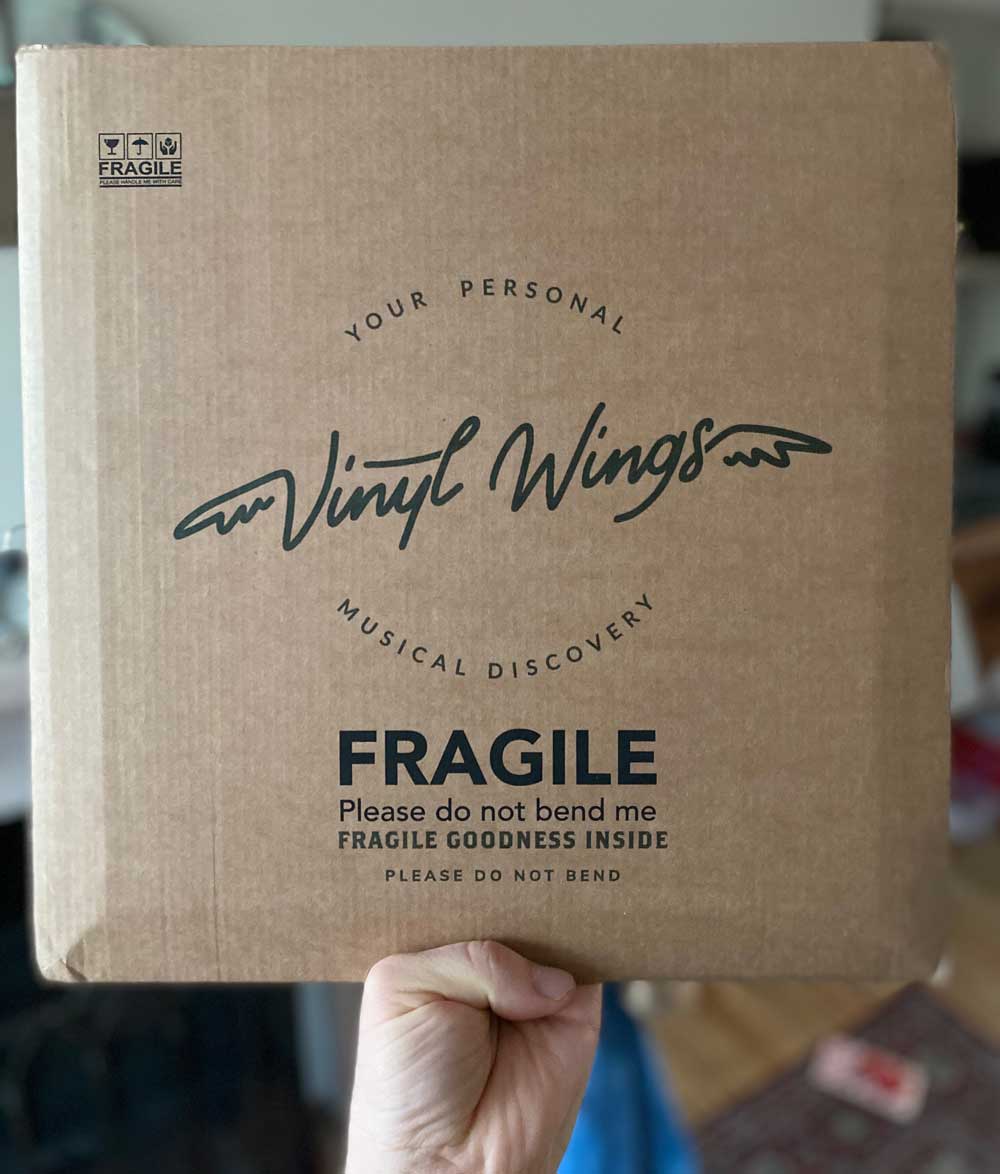 The records were well-packed in a thick cardboard record box, similar to those you'd expect from most online vinyl retailers. For those with an open mind about music discovery, there's something very exciting about receiving two brand new records each month that you've never heard before. I've talked before about the joy of buying random records from your local record store in the name of music discovery. A service like Vinyl Wings makes this kind of discovery easy. 
Jazz is not my natural musical home, as I very much grew up in a rock n' roll household, but I've come to appreciate and love the genre over time. I have a small selection of Jazz records that I've picked up over the years, and I'm very grateful for the introduction to some stunning heavy-weight jazz virtuosos that I might otherwise have overlooked. 

Out of three Jazz and Soul options, I received the following: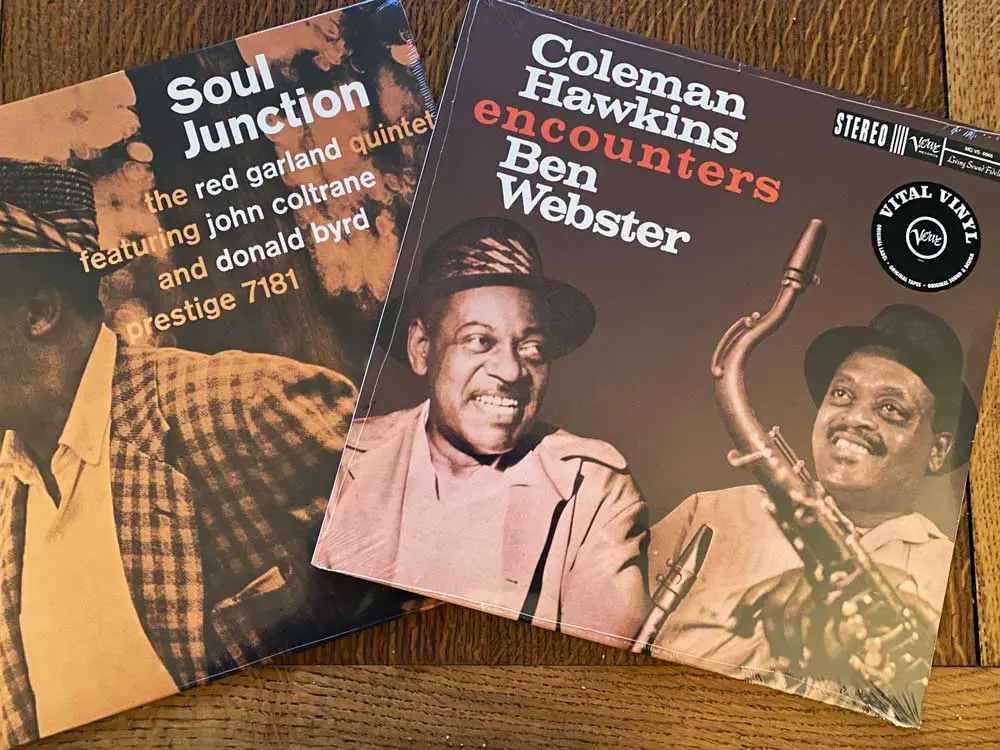 Coleman Hawkins & Ben Webster: Coleman Hawkins Encounters Ben Webster
c1957
Two giants of the tenor saxophone (Hawkins and Webster) unite alongside the Grammy award-winning Canadian pianist, Oscar Peterson. The result is regarded by many as one of the greatest jazz groups ever assembled. Oscar leads a stellar rhythm section that provides the perfect canvas for both tenor sax veterans to flex their musical prowess. From the lazy blues of the opening piece to the lounge-vibes of the closing track, "Shine On Harvest Moon" look no further for music to wash away the stress of modern life.
The Red Garland Quintet: Soul Junction
c1960
Get ready for the piano to take centre stage, as Red Garland leads his quintet of jazz talent with nimble-fingered solos and blissful progressions that leave you in no doubt as to why Garland was the go-to piano player throughout the 1950s. If that wasn't enough, this powerful jazz group is backed by tenor sax legend, John Coltrane, whose name is familiar in even the most anti-jazz of households. Also not to be missed is the lively trumpet skills of Donald Byrd, who is said to be an influence on the early career of Herbie Hancock. Soul Junction is music best accompanied by the finer things in life; pour yourself a glass of something sufficiently fortified and let the music take you.  
The Bottom Line
I've thoroughly enjoyed my new records and further exposure to the rich world of jazz. The records were well-curated and came with insightful descriptions designed to pique your interest and allow you to delve right in. 
For many Sound Matters readers, sadly, this service will not be available just yet, as Vinyl Wings is UK-only for the time being. Still, speaking to the company founder, I'm assured they have aspirations to venture much further as they become more established. (That's excellent news, as the overwhelming majority of our readers are based across the pond in the USA). 
The introduction of another record service in the UK is welcome, however, as the overwhelming majority are US-based. For some readers, I suspect the price might cause a small sticking point. At the time of writing, a Vinyl Wings subscription will set you back £44.99 a month. The price per month comes down a little if you commit to multiple months, of course, but for some, £45 for two records might seem steep. The subscription makes a lot more sense when you sign up for six months, as the price then drops to £39 per month, which is very fair when you consider that most new records are around £20 each anyway.
When investing in a vinyl record subscription service, you have to keep in mind that you're paying for curation and a musical discovery on top of the record value. Vinyl Wings take you on a journey of musical exploration, a voyage for which vinyl records are the perfect vehicle. This month's jazz package is an exquisite start for the new kids of record clubs, and I look forward to seeing how they progress in the months and years ahead.     
Summary
Reviewer
Review Date
Reviewed Item
Vinyl Wings: Record Subscription
Author Rating





Product Name
Vinyl Wings: Record Subscription