Record storage solutions is a popular topic across the vinyl community. We've covered best practice storage in the past, and we've also covered the ubiquitous, and numerous solutions available through IKEA, but what if you're after something a little more bespoke?
The IKEA route is a great affordable way to get started with record storage – I owned their NORNÄS unit for years that worked really well for me. When my wife and I moved house, however, we took the opportunity to refresh our furniture with individual items that spoke more of our own sense of style. My favorite piece is undoubtedly our new record unit, but then again, I suppose I am biased 😉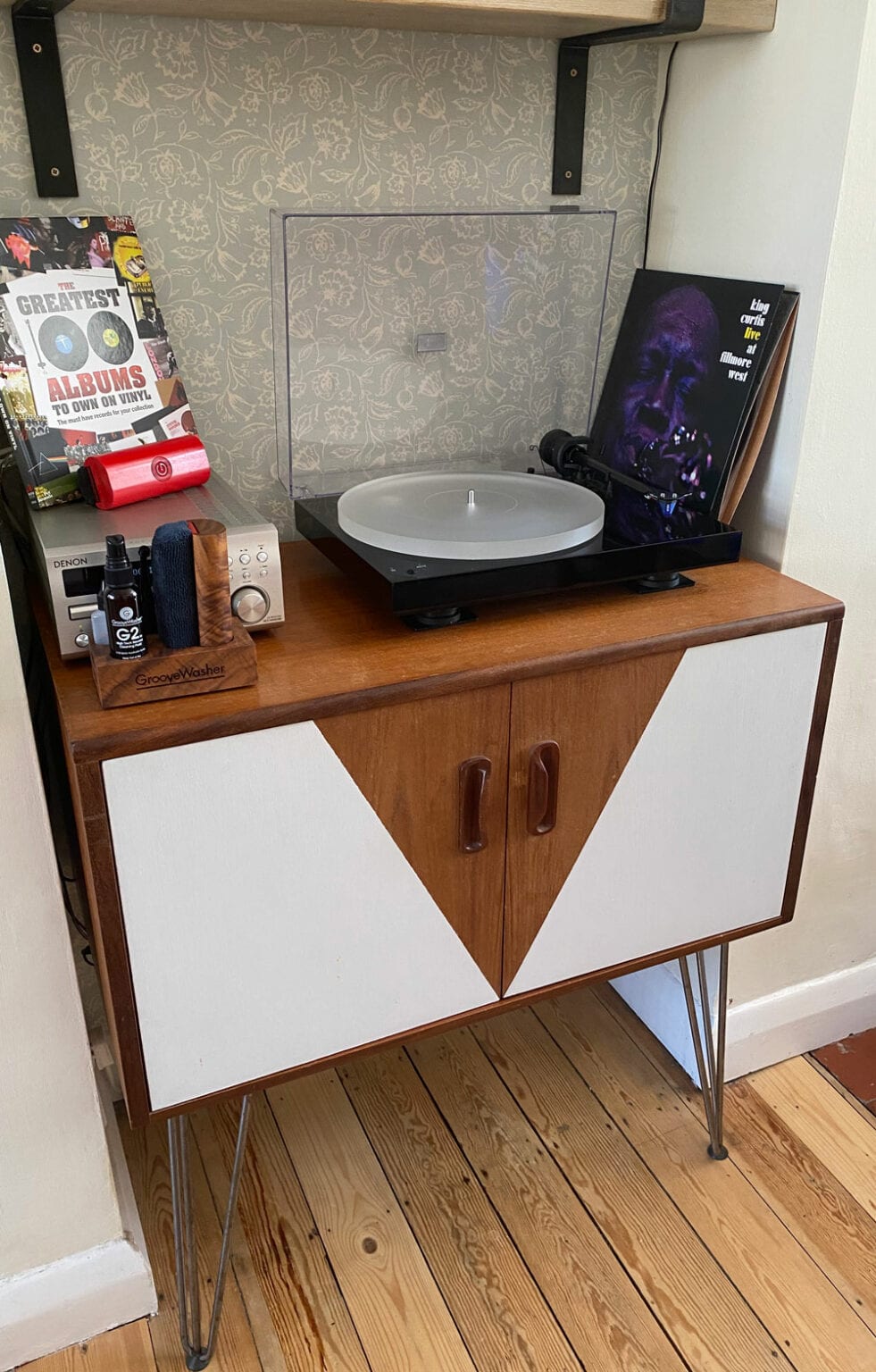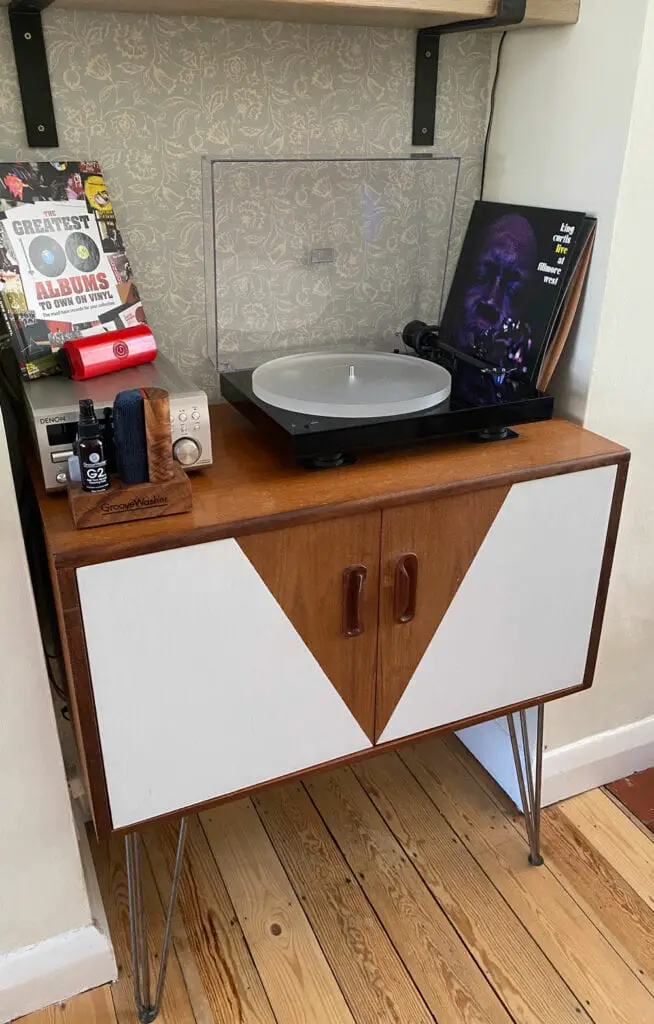 Quite simply, the unit pictured above is a mid-century (most likely 1960's), two-door cabinet that we gave a 21st-century facelift, by painting a simple design on the front and swapping the tired base for stylish hairpin legs.
The best thing about this unit is that it was really simple to create. Anyone can replicate this project; you don't need any specialist skills or DIY prowess, all you need is a good quality vintage unit and and a little creativity.
What you will need:
– A vintage cabinet
– 4x Hairpin legs
– Furniture paint
– Masking tape
– A power drill
– A chisel and or screwdriver
– Sanding paper
– Metal ruler

Where to source a vintage cabinet?
We purchased our cabinet from eBay; plenty of similar items are available – some in better condition than others. This particular cabinet set us back £50, but the price can vary depending on supply and demand. Alternatively, you could try antique stores, second-hand fairs, and vintage shops for similar retro pieces.
Original unit: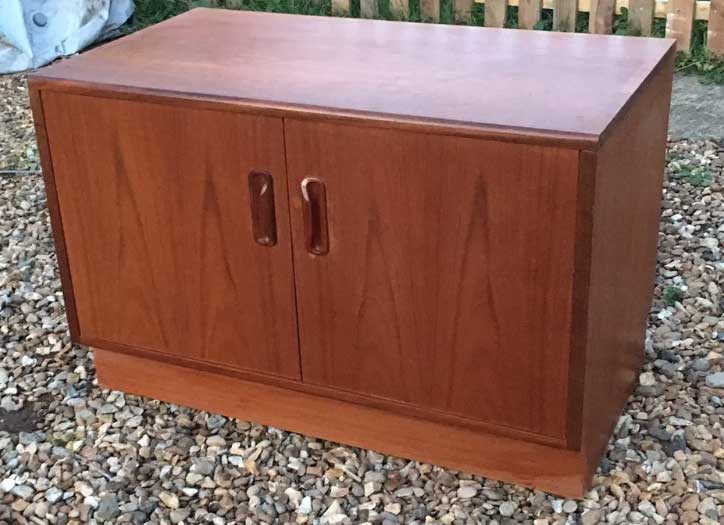 Sourcing the hairpin legs was simple. In the UK, there is an aptly named business called "The Hairpin Leg Co" who stock a wide variety of beautiful industrial-style hairpin legs. For this particular project, we opted for the 16 inch, three-pronged versions in a raw steel finish.
If you're not based in the UK, fear not, a quick Amazon search shows similar hairpin styles available in the US, and other countries no-doubt.
Removing the Base
This part is tricky. The base will likely be screwed on and glued in place. In which case, you'll need to use a chisel and mallet to carefully prise the base from your unit. Some damage to the underside is likely given the glue, but if you're careful, you can keep this to a minimum.
Once you've managed to remove the base, there will be some residue left behind from the glue that you will need to scrape and sand off. Don't sweat too much if the finish isn't perfect. At the end of the day, the underside will not be on show.
Attaching the Hairpin Legs
Using a ruler, measure the distance you want your hairpins to be from both the front, back, and sides of your cabinet. To a certain degree, much of this decision comes down to personal taste, but as a general rule, you don't want the legs too far in as the unit will become unstable, and you won't benefit from the hairpin aesthetic. We set our legs back just slightly from the edge (x cm), for a stable, and stylish finish.
When you've settled on position, use a pencil to gently mark the screw positions and then carefully drill pilot holes before securing the legs.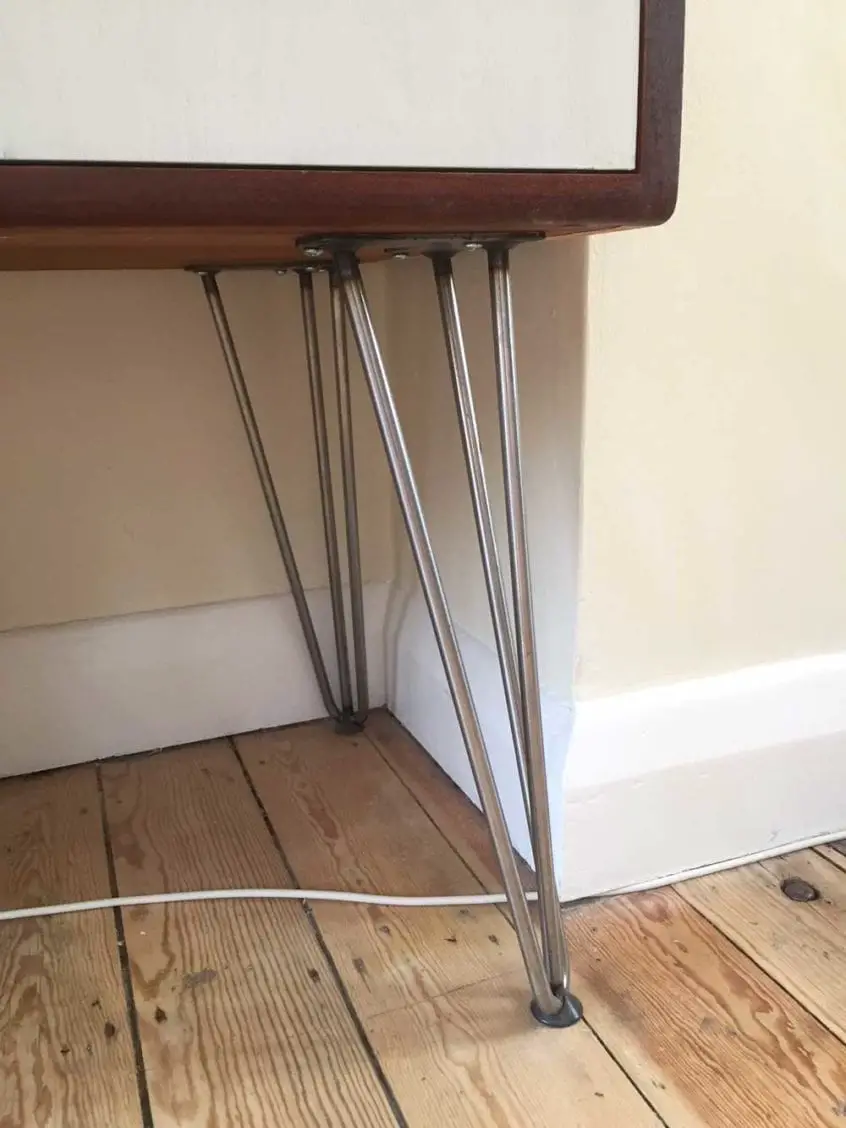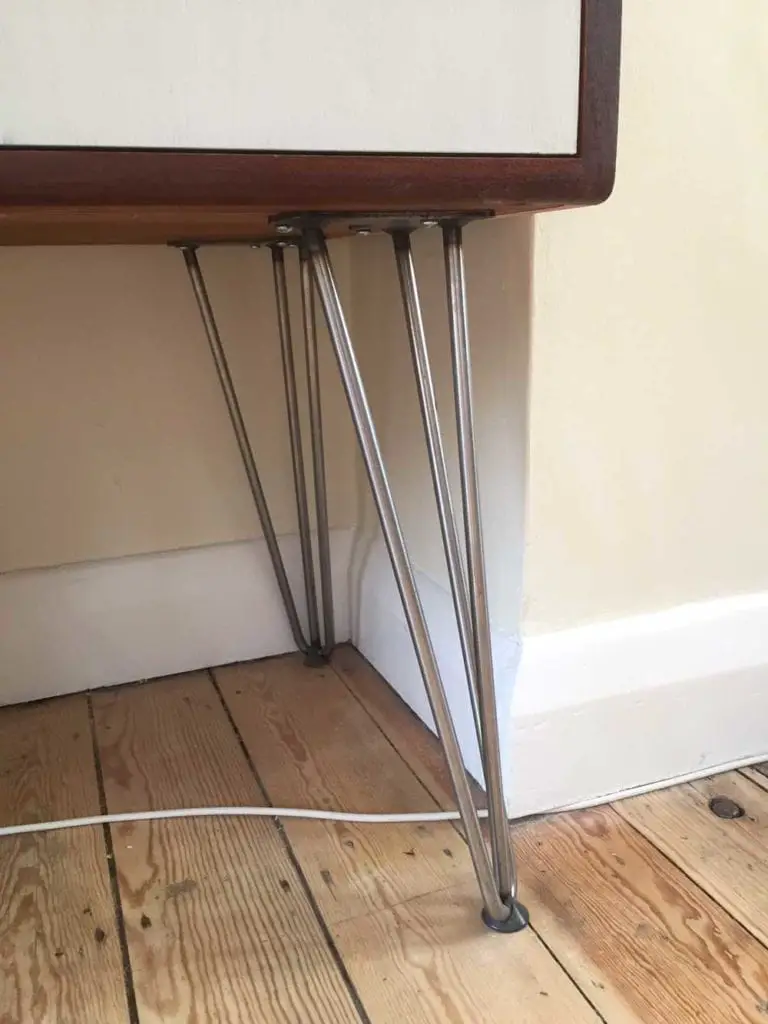 Painting Your New Record Unit
Now comes the fun part, painting. The ball is in your court to finish your record unit with any design you like. You can go for a subtle design, such as the V-shape in our example, or you can paint the entire unit in as much, or as little decoration as you fancy.
Whatever design you choose, ensure you select a paint that is designed for furniture decoration; using the wrong paint can result in a poor finish that won't stand up to daily use. For our design, we used Frenchic chalk-based furniture paint, which is an all-natural, eco-friendly paint designed specifically for up-cycling projects. The specific color was called "wolf whistle."
For readers outside the UK, try searching "furniture paint" to find similar chalk-based paint products.
To create a straight line on the front door (as pictured), we applied masking tape to form a boundary between the painted, and non-painted sides of each door. There is always a small risk the paint will bleed or peel when you remove the tape. However, if you use a good quality, paint blocking masking tape, and make sure you peel back before the paint dries, you should get a clean, professional finish.
Note: with some chalk paint, you will have to wax the paint once dry to seal and protect your finish. The particular paint we used was part of what Frechic call "The Lazy Range", which requires no waxing. (See instructions on your selected paint for clarification).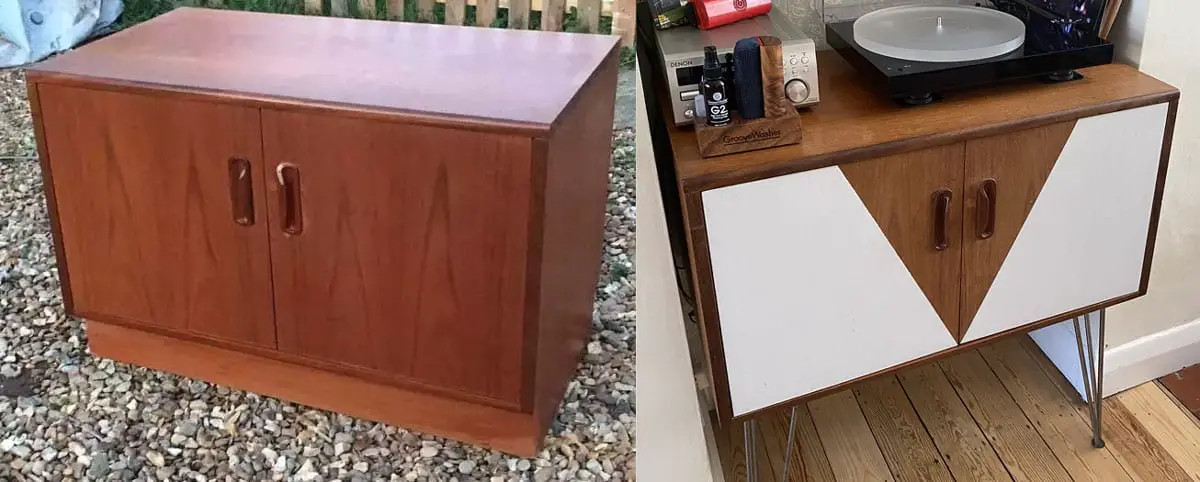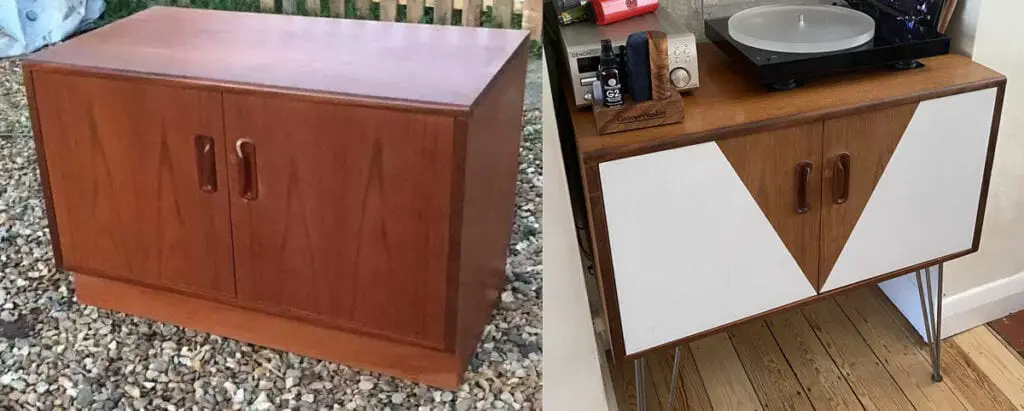 The Finished Item
And that's it! You're now the proud owner of a unique, personalized record unit. The paint design, in particular, is your chance to express a unique sense of style. We opted for a very simple, but elegant design. However, should you wish to go all-out with intricate shapes and bold color schemes, the world is your oyster.
Further reading: View our complete guide on storing vinyl records safely.