If you're anything like me, IKEA isn't usually the first place you think of when it comes to having fun. Unless, of course, your primary reason for visiting is actually a thinly disguised excuse for a cheeky meatball feast – then perhaps, you could be forgiven for enjoying your weekend trips to the land of affordable flatpack.
In all seriousness, though, you'd rather be spinning some records, right!? But what if I told you there was a way to feed your vinyl habit and eat meatballs? That's right, IKEA has plenty of storage and furniture products that just so happen to double as perfect for storing vinyl records. Here are a few highlights that I've stumbled across over the years…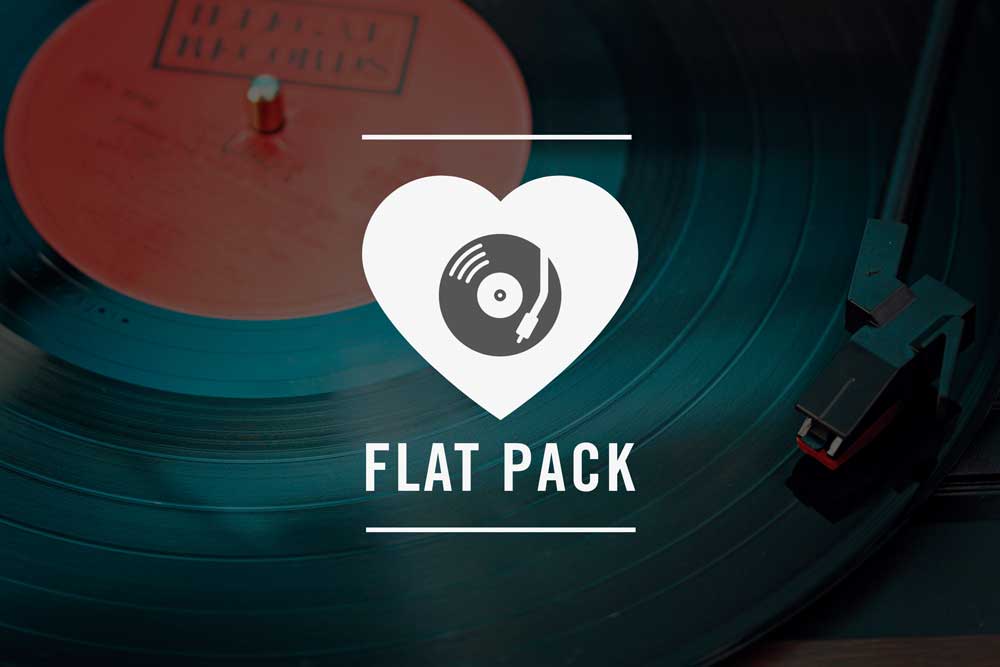 1- KALLAX Shelving unit
At this point, the KALLAX shelving units are a classic and perhaps the most widely known option from IKEA that are suitable for vinyl record storage. They come in a variety of finishes (including the clean and contemporary white pictured) and each unit is perfectly sized for housing records. There are larger versions of the KALLAX available; you'll just have to be a little mindful of weight, as you don't want any record landslides taking place from overloading! IKEA recommends not exceeding 13kg for each shelf.
Still don't fancy the trip to IKEA? These units are also currently available on Amazon.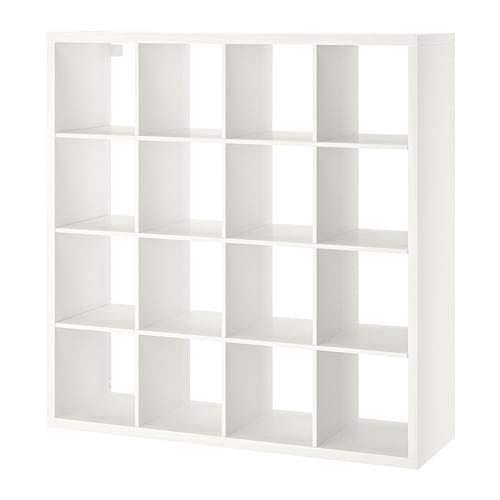 2- FJÄLLBO Shelving unit
If clean-cut and contemporary isn't your thing, you might consider the FJÄLLBO instead. Built from a metal and solid wood frame, the FJÄLLBO has added built-in doors to help prevent little hands from tampering with those delicate vinyl treasures. Also, with a depth of 33cm, the solid wood top makes for a sturdy flat surface that houses most turntables comfortably. Again, perfect for keeping little hands (or even pets) out of harm's way.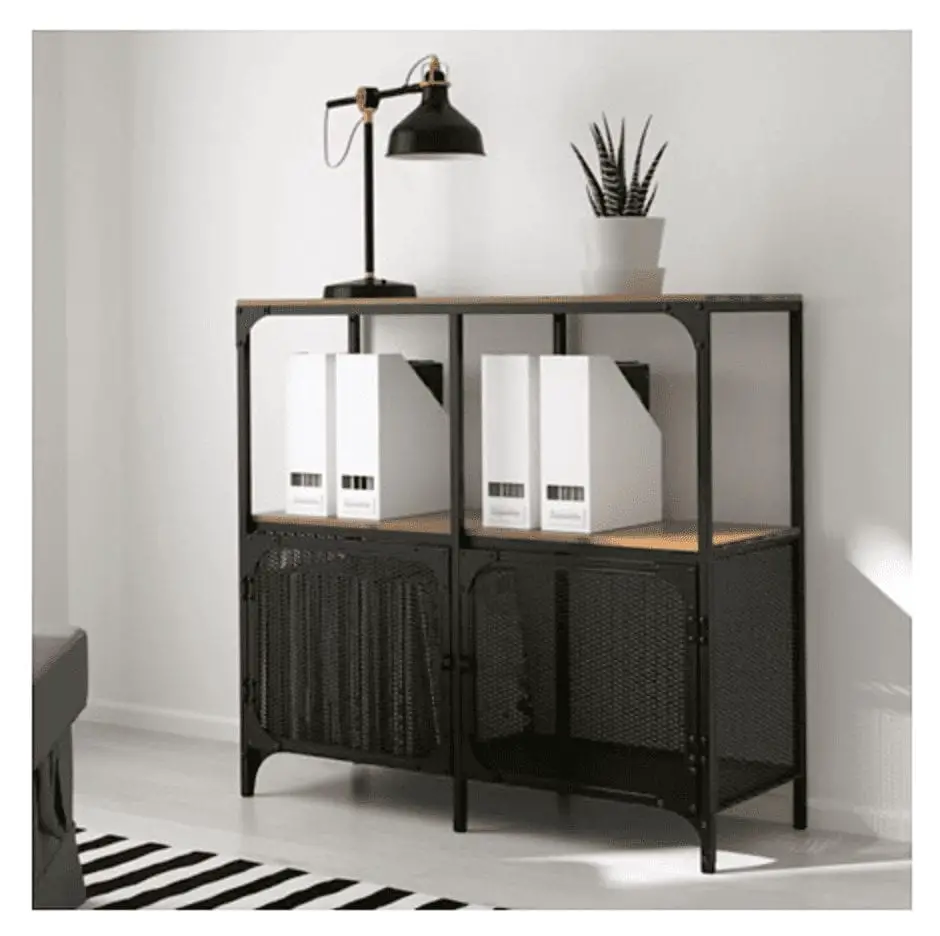 3- Get Modular with EKET Cabinets
The EKET range of cabinets provide an opportunity for endless creativity. You can stack them, mount them on a wall, add mid-century-style legs, and even mix different colors. If you're looking for a storage solution you can expand as your collection grows, then the modular EKET range is ideal. They're also perfect for homes where floor space is at a premium.
If you search "IKEA EKET Record Storage" on Pinterest, there are countless examples of creative "hacks" using these units to build all sorts of great record storage solutions. Time to get your thinking cap on—preferably with a record on for inspiration.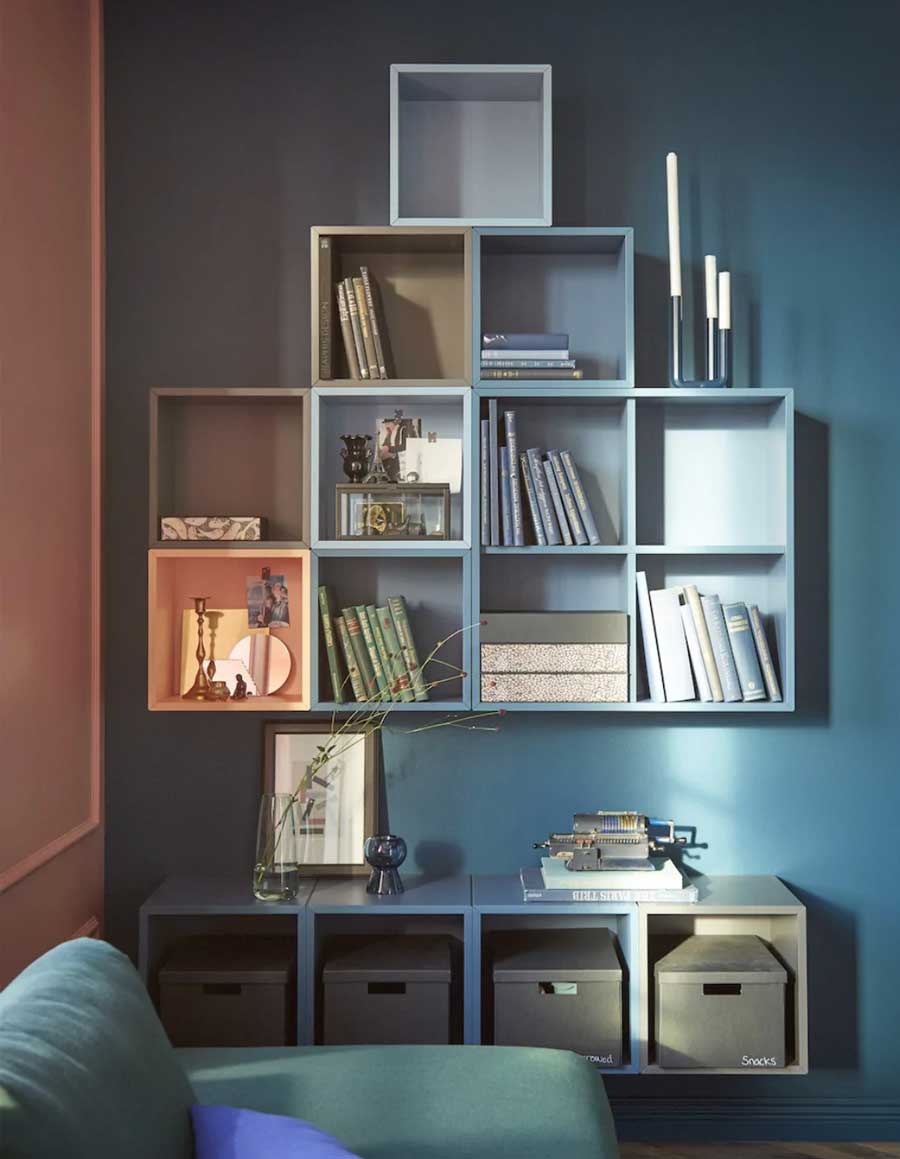 4 – MALMBÄCK – Display Shelf
IKEA's popular GLADSAX vinyl frame might be discontinued, but that doesn't stop you from seeking out alternative (arguably more creative) was of displaying a few choice records around your home. IKEA pitches the MALMBÄCK display shelf as "the perfect way to show paintings or photos.." And since many classic album covers are undoubtedly artistic and beautiful, why not swap the photos for your favorite records? Conveniently, the MALMBÄCK also doubles up as the perfect wall-mounted "Now Spinning" display.
Similarly, the narrower, MOSSLANDA model is another picture ledge you could use in the same way.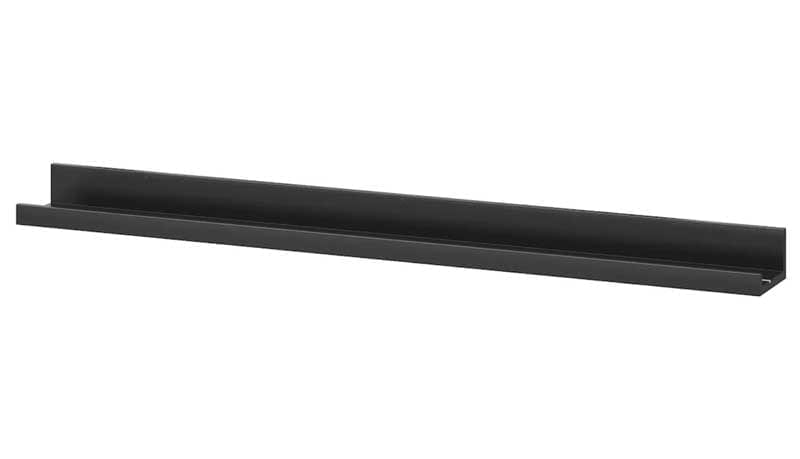 5 Get Creative – Mix & Match
If you feel like taking on a project, there's a whole host of potential record storage options throughout IKEA's portfolio. For example, this mid-century style piece (pictured below) could make the perfect living-room showpiece with just a little modification. Once the internal shelves are removed, vinyl records easily slot inside. If you're feeling creative, you could go one step further and replace the legs with modern hairpin-style versions. (You can purchase these from specialist companies, and this simple modification can transform a piece of furniture).
The beauty is, almost anything large enough to house vinyl records could become a potential storage option, you'll just have to think outside the box a little (see what I did there) about how you finish the piece. Second-hand furniture stores and antique shops are a great source of potential record storage units just waiting for your creative input.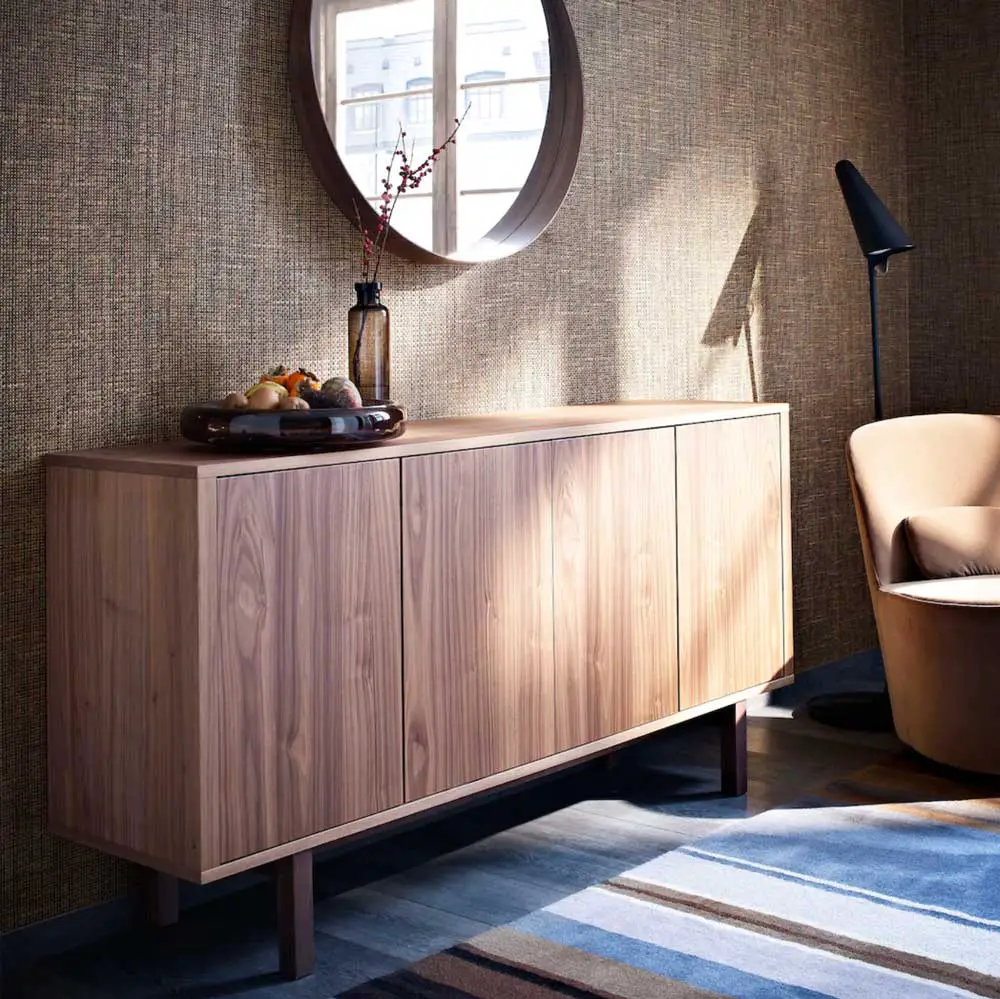 ---
Gone But Not Forgotten
Since this article was originally published (in March 2017), IKEA has sadly discontinued a number of the following products. I've kept them in this article, as they were popular options for record enthusiasts, and who knows, you might be able to score one secondhand if you do a little digging. The record frame was a particularly popular option among our readers; subsequently, I've also included a couple of alternative options as a replacement.
Discontinued: NORNÄS Bench
The NORNÄS range was my personal favorite vinyl record storage solutions from Ikea as they were a solid pine construction which adds immediate character and authenticity. Better still, they are easily waxed, painted, or stained to give them a custom look. I stained mine a dark walnut color to convey a more sophisticated finish that wouldn't look out of place in a contemporary city apartment.
If you're wondering about the added shelf in the central compartment, you'll be pleased to know the shelf is easily removed to allow for more record storage. Equally, if you only need two compartments, simply incorporate the added shelf for handy storage of your vinyl accessories (cleaning equipment, record clamps, replacement styli, and more). For a cleaner storage option, consider adding one of Ikea's many finished storage boxes for a plush finished look.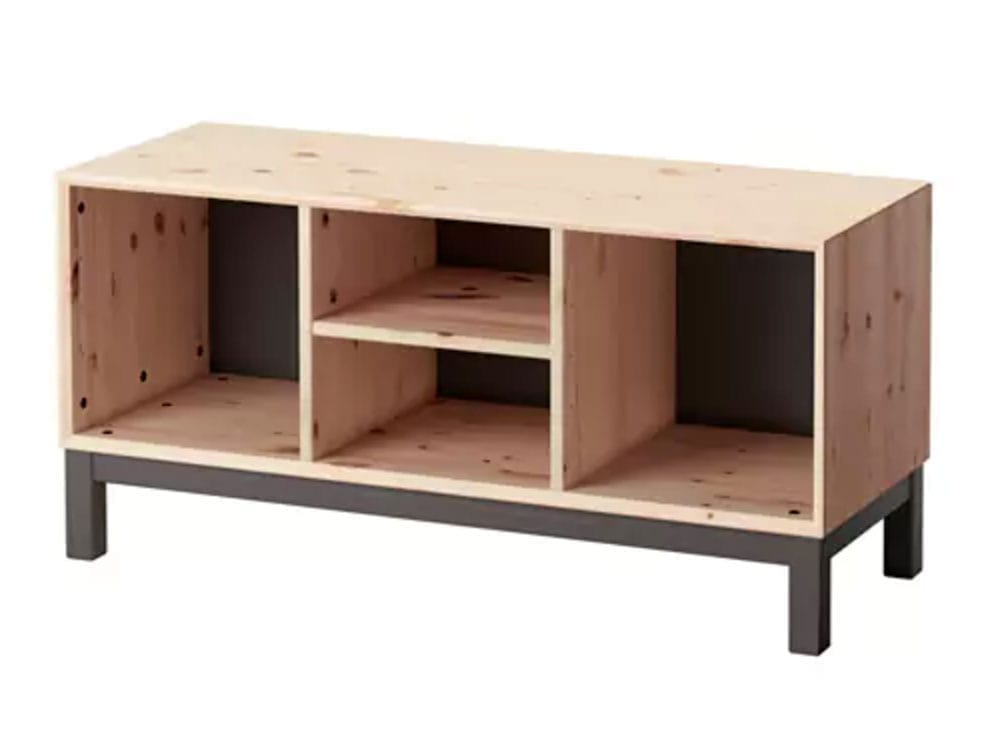 Discontinued: GLADSAX – Vinyl Wall Display
Ikea used to make these really great GLADSAX frames for displaying records on the wall. They were also very cheap: $7.99. Come on IKEA! Bring them back!
As for an alternative for the now discontinued IKEA vinyl record frame, Americanflat sell 2 Packs of a very similar black frame for vinyl.
Another option is the frameless Bamboo record display systems from Twelve Inch, which are made from sustainable Bamboo and give a superb minimalist look that still allows you access to the records for playback. You can try Twelve Inch record displays for 10% less when you enter the code SOUNDMATTERS10 on checkout at their website.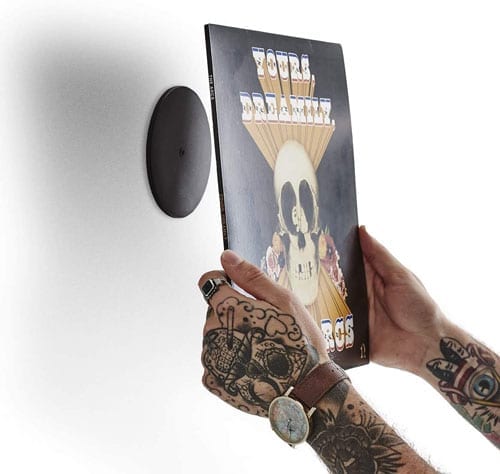 Spotted a great IKEA vinyl record storage option that I haven't mentioned? Drop your ideas and suggestions in the comments below.