If you're anything like me, your vinyl record collection is an ever-expanding beast. Once you're hit with the vinyl bug, there's no satisfying that itch to buy more records as you set out on a lifetime journey of musical discovery. 
The bigger your collection gets, the more creative you have to get with storage. A record crate becomes a record cabinet, which often becomes a bigger cabinet, and then perhaps even multiple cabinets! You catch my drift; record storage is essential, and you can never have too much.
Of course, record cabinets are just one way to store records, and not everyone has the same capacity requirements. There's also the display factor; a huge part of vinyl's lure is the aesthetic. Having some of your vinyl on display is appealing and many products focus on display and storage.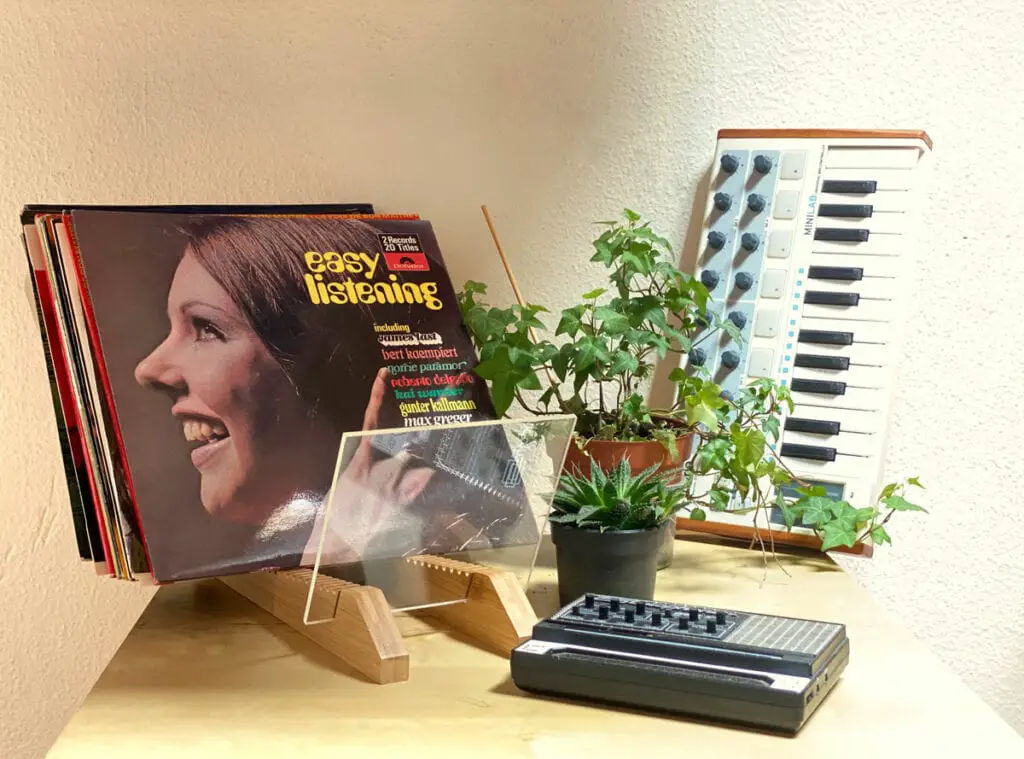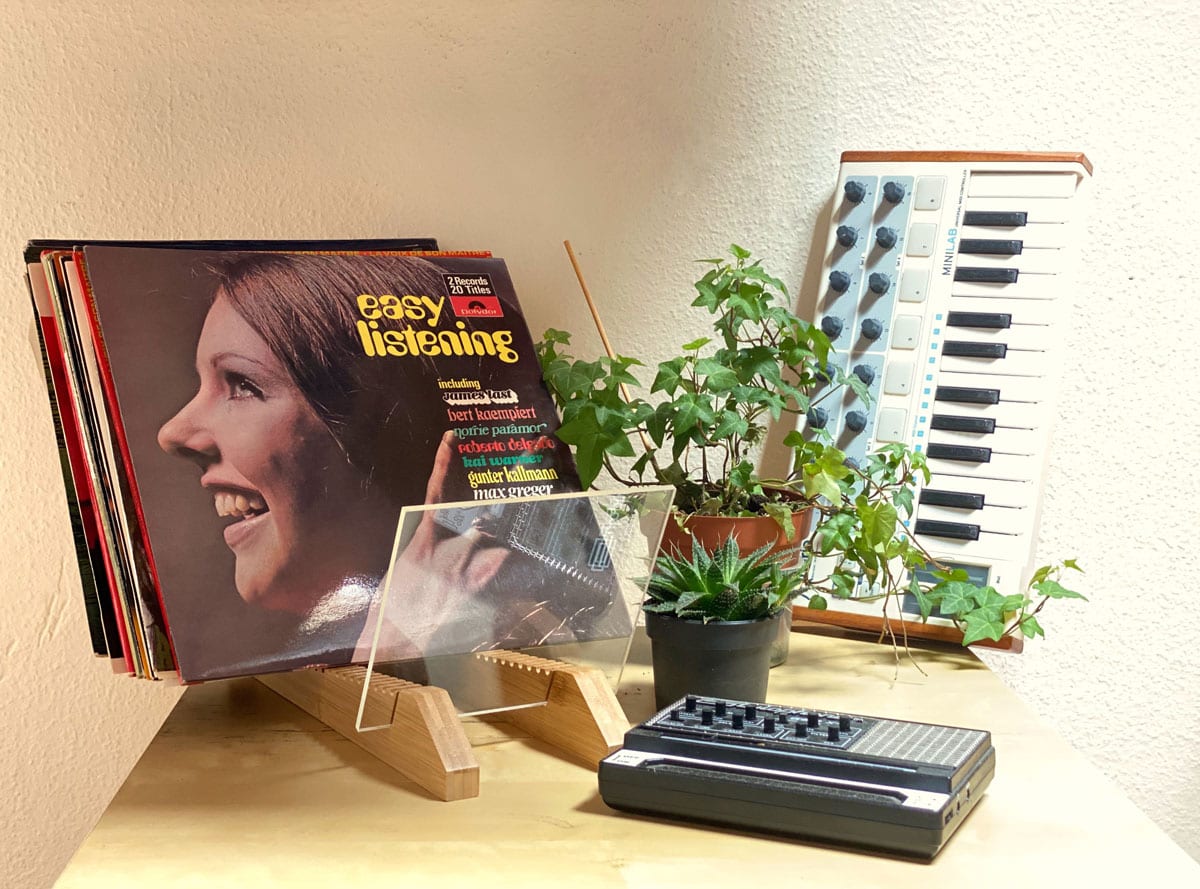 One such design is the bamboo vinyl record holder from Synthizer, which the company has kindly sent a sample of for me to review. The product is a vinyl display unit capable of holding up to 50 records. Of course, for the long-term condition of your records, the safest way to store them is inside a cabinet under quite specific conditions. Check out our how to store vinyl records guide for more information on this topic). For this review, though, I want to focus more on the display qualities of Synthizer's product.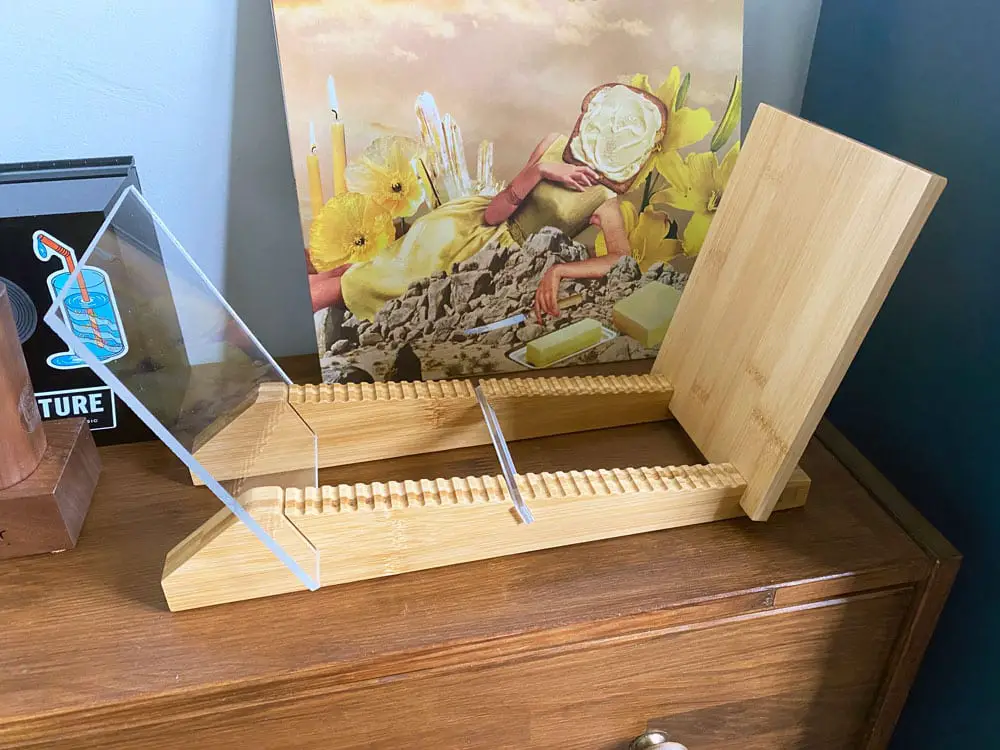 First Impressions
The build quality and design are first class here; all the pieces slot together really quickly and easily. I like how the design is easily adjustable depending on the quantity of records you want to display. The main frame is made from high-quality bamboo, which is an excellent material for avoiding deforestation, thanks to how quickly it grows.

Bamboo Vinyl Record Holder in Use
Next to my turntable, I have a wooden record holder where I display whatever is currently on the deck. These are often affectionately called "Now Spinning" holders by vinyl enthusiasts. They're great for displaying the current record on the deck, but they're limited in that they'll only hold a single record. 
Immediately I could see a place for the bamboo holder in housing a handful of records I might pull out for an evening listening session. Particularly if we have guests, it's a nice touch where you can invite friends and family to pick a record each, and then line them up to play on the bamboo holder.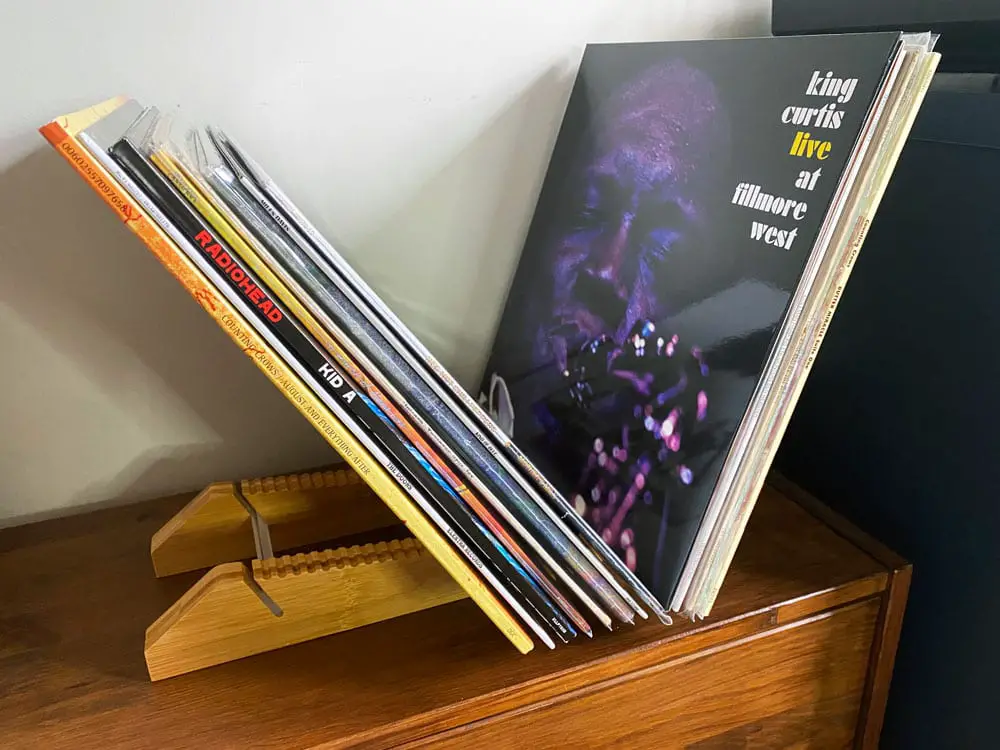 The second way I set up the unit was as a place to house my 45s collection. I love spinning 45s as it's so interactive and a lot of fun playing DJ for the evening. Having the bamboo record holder next to my deck (loaded with a handful of 45s) makes for easy access and a 'flip-through' experience for anyone wanting to browse through and pick the next song. It looks cool sat next to the desk too!
In the end, I think this is how I will use the bamboo record holder. I can't see myself storing records long-term in this way. The exposure to dust and the issue of record weight and pressure means it's best to store them in a container or cabinet for any length of time. Particularly if you fill the display unit with 12inch records, whichever record is in contact with the acrylic will be put under quite a bit of slanting pressure.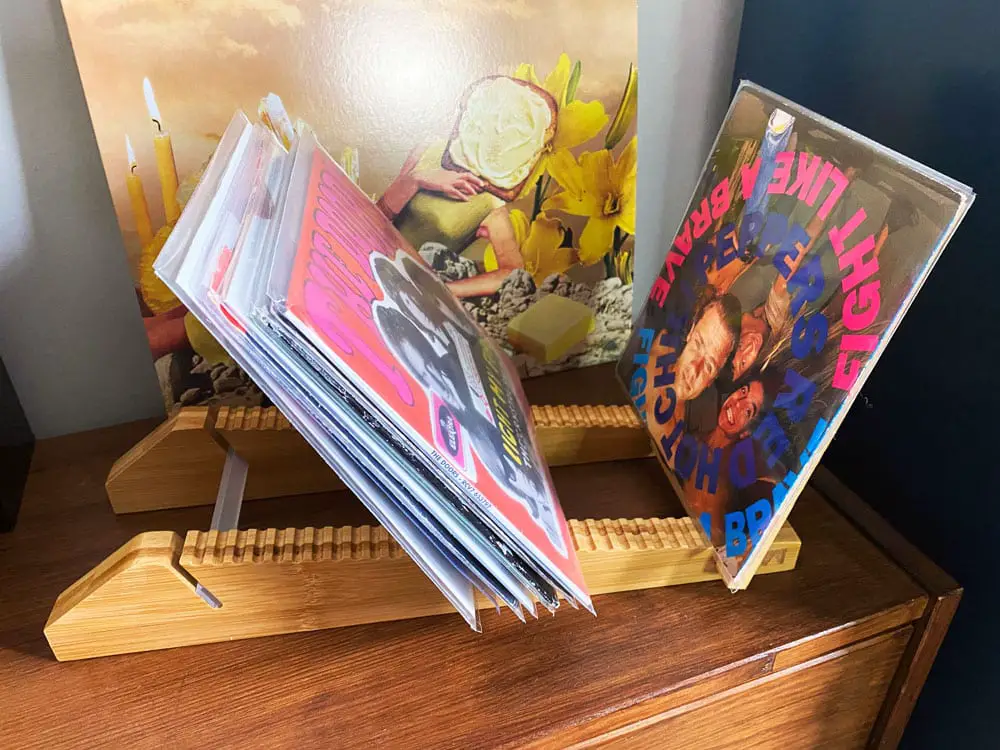 Conclusion
I like the product and the aesthetic of the design. It's a really fun way to display records of an evening and allow guests to flip through and share the experience. I'll be keeping this as a turntable companion to house my evening playlists in smaller qualities and it adds a sense of style to my listening station. The bamboo construction is not only a beautiful look, but is great to know they won't be clearing half of the amazon in the process! 
Purists might steer clear of storing their prized first pressings in this way, but many collectors with find the unit useful as an evening turntable companion. Who needs Spotify anyway!? Let's call this bamboo record holder "the analog playlist".