Welcome to Liner Notes – Volume Two. Each month BCR founder and host, Mitch Anderson brings you an "album of the month" as chosen by the man himself. You can expect an eclectic range of music, along with an honest write-up of each featured record. We hope you'll discover something new as we endeavor to take you on a musical journey of discovery. Up for review this month is Soft Machine – Seven.
(If you missed Vol:1 – Don't forget to check it out, here).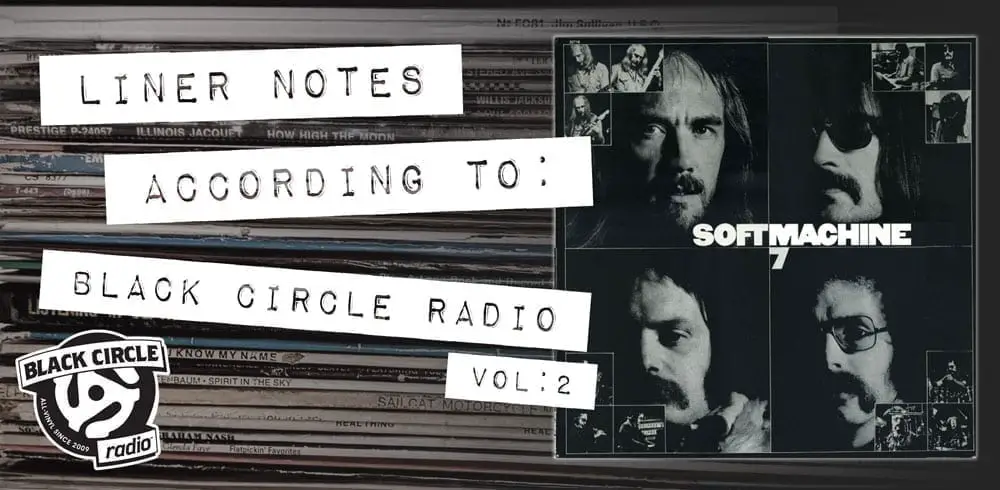 The Opener
As I write this second review, I am listening to this bombastic record while watching Bernard Steward (host of the radio/podcast program "This is the Situation") play the SMOKIN' game 'Path of Exile' from Grinding Gear Games. I had no clue that this album would be the perfect soundtrack for a top-down run 'n' gun game. As I'm watching, however, I start to hear so many different video games that I have played over the years. Especially in the RPG realm. (Final Fantasy XII and Wild Arms 2, to be specific).
This record takes me on a quest. Now when I say quest, I mean everything that goes along with that word; triumphs, exhaustion, celebration, and times of complete apathy for the immediate. Personally, this begins—and is created—by the drums. They are what I often call classic "putt-putt" drums, which is how I like to explain the sound of dry-recorded drum kits with a puffy kick drum and round snare hit. Nothing abrasive, nothing ethereal, warm cymbals with a low pass filter type sound. This quality on the record is so important because it allows for complete experimentation of tones with the other instruments.

That brings me to the INSANE sounds achieved by the organ, electric piano and synths. They are simply huge. The low-end on "7" will give any HiFi system a workout. The other thing I love about the sonic archives created by these instruments is the finger lickin' good distortion choices. There are vacuum tube-driven, mid-range distortion tones that are so warm I believe they are upping my monthly heat bill as this record spins!
The reed instruments—as well as the bass guitar at times—are hard to pick out in the mix. This is one of the aspects of this record that makes it so perfect for me. The band is acting as one sound—one superior voice. These instruments together create the sense of an audible weighted blanket. Keeping me safe and warm, but also making sure that I stay in my place, never letting me forget that it is there…

…Which leads me neatly into a summary of how this record makes me feel: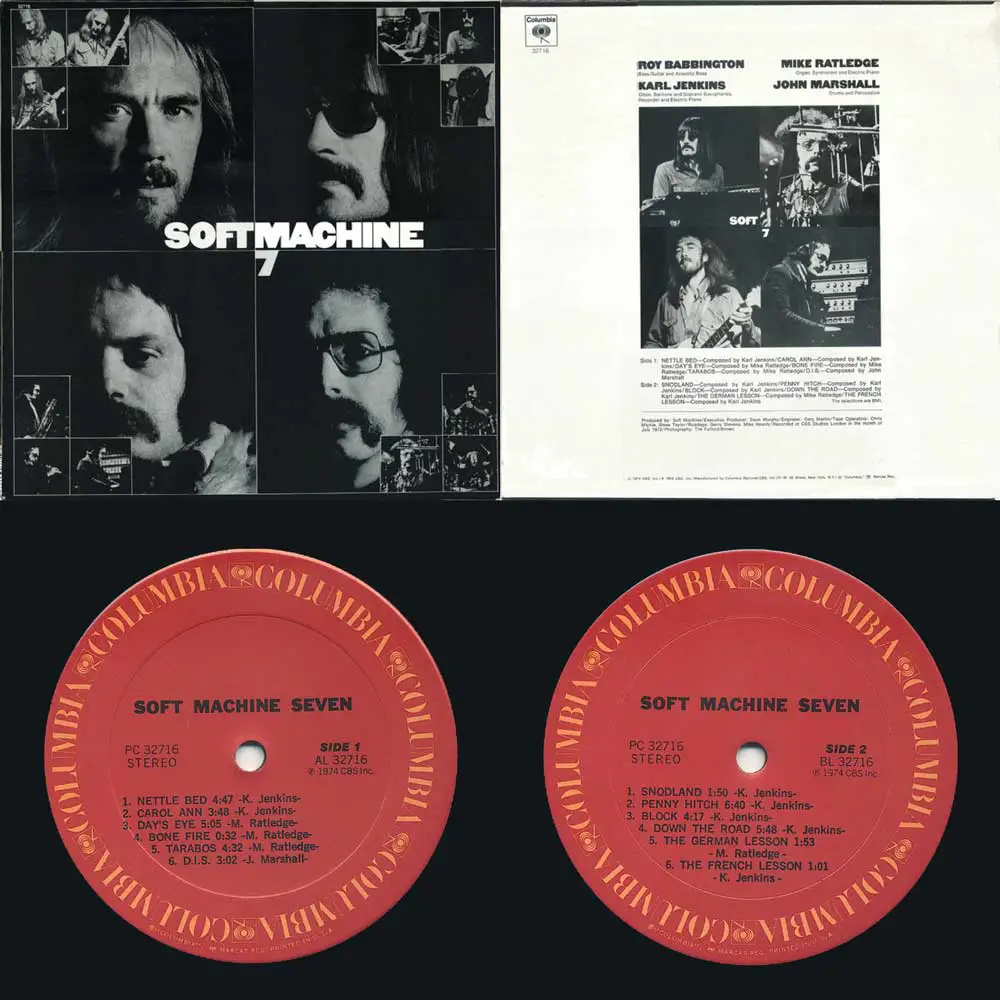 The Headliner
There's a hallucinogenic, dream-like quality to this album; It's as though I'm stuck in a ring-modulated environment. One where I watch my entrances and exits curve past my face just out of reach. (For those who don't know, ring-modulation is an oscillation circuit used in synthesis capable of producing, wobbly and metallic "SiFI-like" tones).
I'm not afraid, I'm curious. When will my journey end? Have I already reached past it, or have I never truly began? "Penny Hitch" is the song for me that sums this record up. I don't even think this song knows what it is, where it is at, or how it got to my ears. I think Archie Shepp (the avant-garde jazz saxophonist) would have loved to have played on this song. When the record ends, I have more questions than answers, more loot than inventory space, and I am at a higher level than when I first began.
Liner Notes:
Title: Seven
Pressing Being Reviewed: 1974 on Columbia (C 32716) – (Click here to view on Discogs)
Written by: Karl Jenkins (tracks: A1, A2, B1, B2, B3, B4, B6) Mike Ratledge (tracks A3, A4, A5, B5), John Marshall (A6)
Featuring:
Drums, Percussion – John Marshall
Bass – Roy Babbington
Organ, Synthesizer Electric Piano – Mike Ratledge
Baritone Saxophone, Soprano Saxophone, Electric Piano, Effects – Karl Jenkins
Producer: Soft Machine
Photography: Tim Fulford-Brown
Recorded: CBS Studios London – July 1973
Track Listing:
A1: Nettle Bed
A2: Carol Ann
A3: Day's Eye
A4: Bone Fire
A5: Tarabos
A6: D.I.S
B1: Snodland
B2: Penny Hitch
B3: Block
B4: Down the Road
B5: The German Lesson
B6: The French Lesson
Who Writes Liner Notes?
Liner Notes is written by Mitch Anderson, Founder and Host over at Black Circle Radio. Now in their tenth year, Michigan-based Black Circle Radio (BCR) are celebrating a full decade of all-vinyl programming. Their eclectic display of music and impeccable dedication to music on wax has earned them a strong reputation across the vinyl community. Learn more about Mitch and BCR by checking out our full interview feature. 
We'd love to hear what you think of this months record, do leave your thoughts in the comments section. Subscribe to Sound Matters at the link below and receive the next installment of Liner Notes, delivered straight to your inbox.