Welcome to Liner Notes – Volume Three. In each installment, BCR founder and host, Mitch Anderson brings you an "album of the month" as chosen by the man himself. You can expect an eclectic range of music, along with an honest write-up of each featured record. We hope you'll discover something new as we endeavor to take you on a musical journey of discovery. 
(If you missed Vol:2 – Don't forget to check it out, here).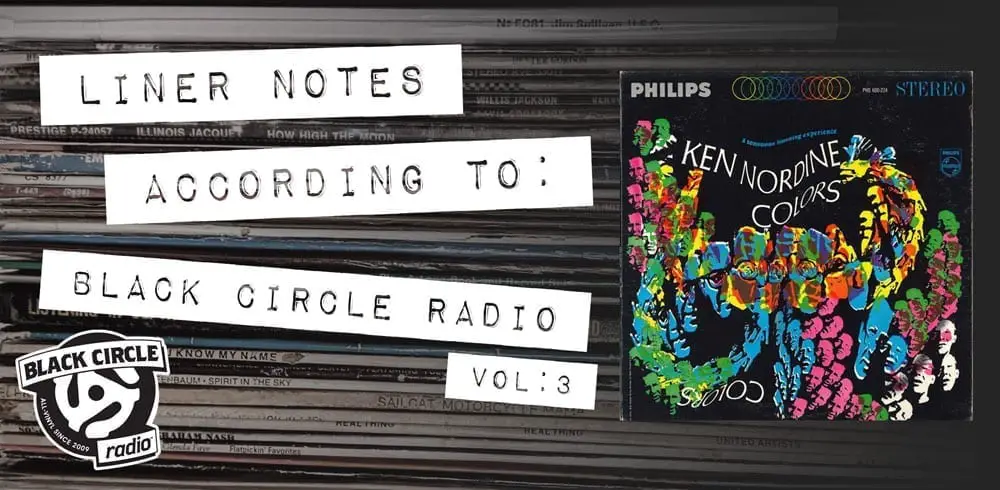 The Opener
To appreciate this quirky, idiosyncratic record, we must first understand how it came to be. Ken Nordine – Colors began as nothing more than a few commissioned radio advertisement spots commissioned by the Fuller Paint Company. However, after the commercials became popular, it evolved to become a full album in its own right. Big time thank you to Fuller Paint for having the foresight to have Ken Nordine sell your paint in such a creative way!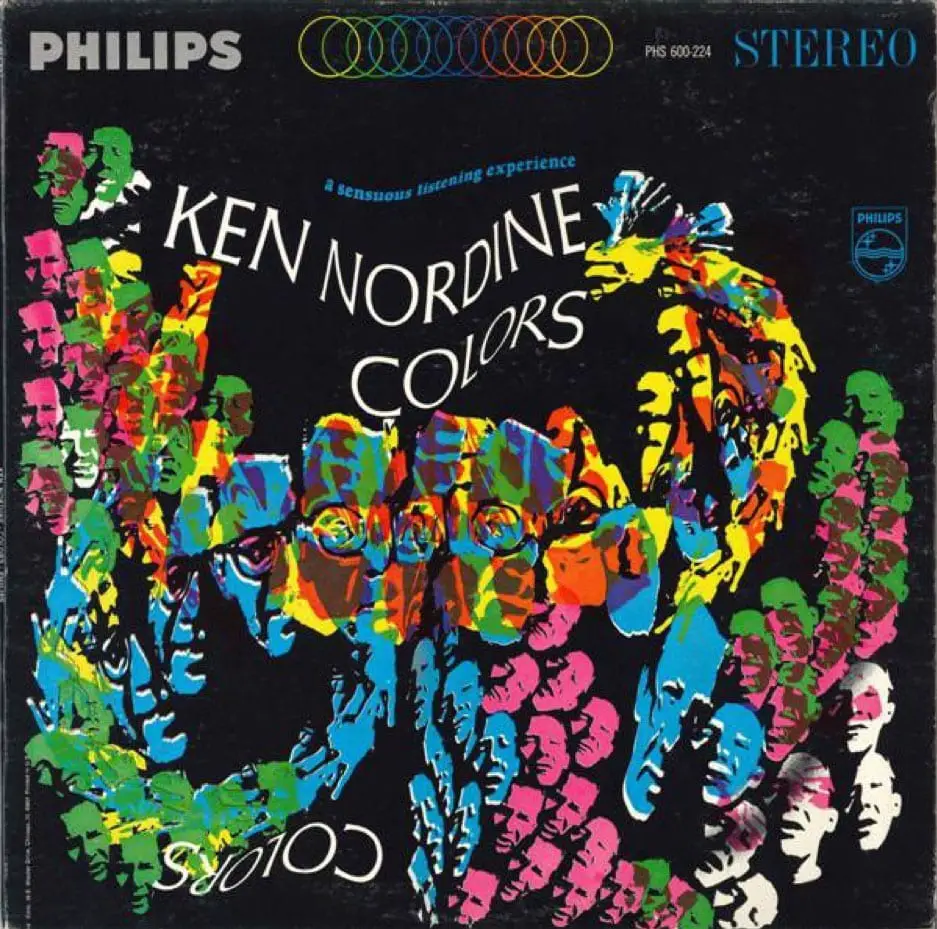 This record is wild. Every track is nearly perfectly 1:30 in length. Being a radio host, this record screams at my internal sonic pulse. The vocal production chosen by recording engineer, James C. Cunningham is timeless. To my ear, it sounds like an RCA 44-BX microphone RAILED through an Altec 438a compressor amplifier.
The track, "Lavender" is my personal favorite. This is not only because of the vocal recording capture, but also the perfection of message delivery from Ken Nordine. When he ends the track with the line, "A Lavendar Why…" I feel compelled to seek out Fuller Paint Company Lavender Hue for the entire outside of my home! Very clever—and ahead of its time—as a marketing approach (as they say, take my money!).
The current trend of ASMR (Autonomous Sensory Meridian Response) recordings could take some major notes from that track—intimacy of messaging in utmost supremacy. (For those who don't know an ASMR record usually consists of sounds like whispering voices, paper tearing, etc in an attempt to trigger a tingling sensation in the scalp and down the back of the neck). 

I highly recommend listening to the track, "Maroon" followed directly by "Beige"; flip the record, and play "Muddy" then "Russet". I don't believe this record is one that is meant to be listened to front to back all the time (even though I often do). I find it much more fun to listen to the tracks based on the colors on any album artwork. For me, it adds a whole other dimension to the physicality of vinyl, and it also helps to prompt an entirely different emotional response in comparison to passively consuming a finished body of work. It's also a great exercise on cuing your needle to the correct place on a record!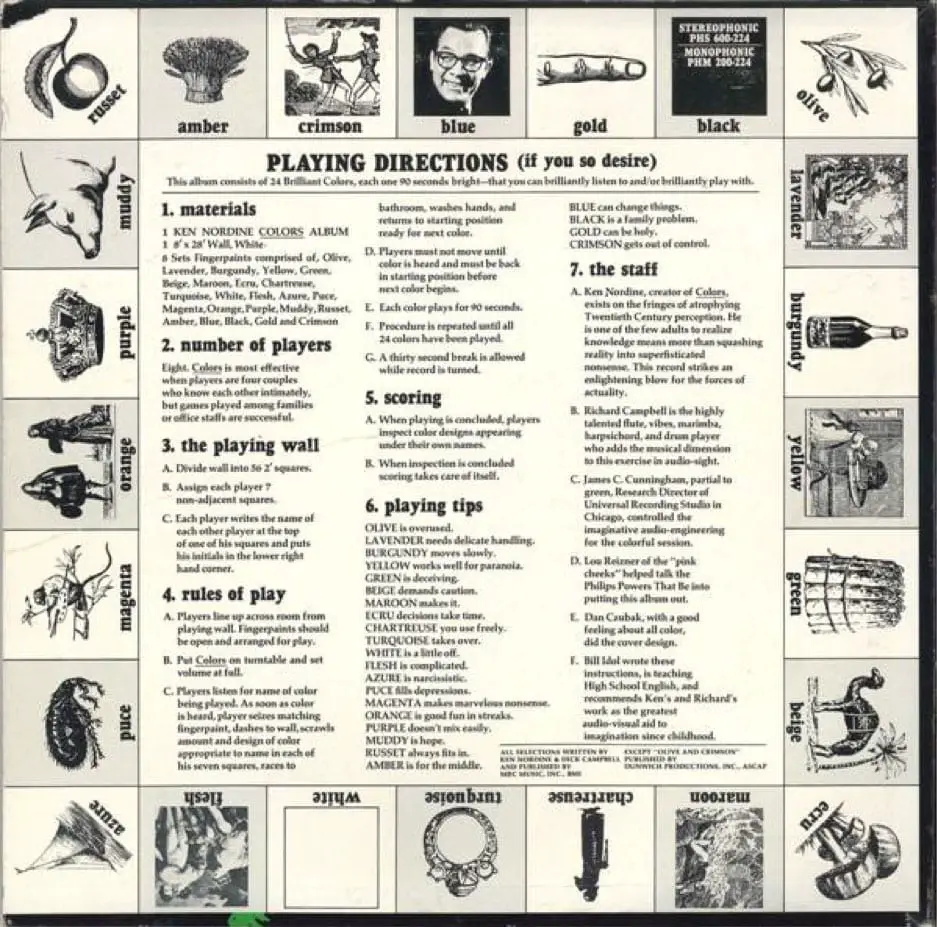 … Which leads me onto the extremely unique back cover of the jacket, which consists of an eccentric set of rules to a game that is meant for eight players to paint an entire wall (or room) of a home based on the colors personified on this record using finger paints. Seriously. Here's a snippet:  
"Divide wall into 56, 2' Squares". 
"Assign each player 7 non-adjacent squares". 
"Each player writes the name of each other player at the top of his squares and puts his initials in the lower right hand corner." 
I love the way that the final scoring rules are written:

When playing is concluded, players inspect color designs appearing under their own names. 
When inspection is concluded, scoring takes care of itself. 
…Crazy, but brilliant.
The Headliner
As I conclude this rather odd review of "Colors", I want to make it clear that the music scoring, playing, and production is out of this world. The albums instrumentalist, Richard Campbell channeled some real deal Rene Magritte surrealism in musical form to create the corresponding audio representation of each color. Not only is it amazing music by itself, but it's also extremely gripping during each short performance. The music immediately takes me to a place that makes me listen to Ken Nordine's gritty voice with uninterrupted intent.
To end, here is a sample of Nordine's narration, from the opening track, "Olive":
 "Olive, poor thing. Sits and thinks, that it's drab. Sure does. Sits and sits and sits and sits and thinks about it's olive drab drab. Doesn't know that it is about to be named color of the year by those with the nose for the new. By the passionate few. Yeah. Olive, is definitely in. Everything that can possibly mean anything anywhere. At least for a year, has got to be olive. Do you hear that olive, did ya? Know what it means? Ohhh olive, there will be olive cars, and olive trucks, and olive chickens, and olive ducks, and olive socks, and olive garters, and olive breaks, and olive starters, olive sorry and olive please, olive whatnots, and olive trees. Olive trees? What a quaint notion. Haha. Olive trees." 
If you like your music arty, and avant-garde, "colors" is a must-spin for some creative inspiration to kick-start 2020.
Liner Notes
Pressing Being Reviewed: 1966 on Philips (PHM 200-224), Monoraul (View on Discogs).
Written by: Ken Nordine & Dick Campbell
Featuring:
Flute, Vibes, Marimba, Harpsichord, Drums – Richard Campbell
Vocals – Ken Nordine
Producer: James C. Cunningham
Album Artwork: Dan Czubak
Board Game Design: Bill Idol
Recorded: Universal Recording Studio in Chicago, 1966
Who Writes Liner Notes?
Liner Notes is written by Mitch Anderson, Founder and Host over at Black Circle Radio. Now in their tenth year, Michigan-based Black Circle Radio (BCR) are celebrating a full decade of all-vinyl programming. Their eclectic display of music and impeccable dedication to music on wax has earned them a strong reputation across the vinyl community. Learn more about Mitch and BCR by checking out our full interview feature. 
We'd love to hear what you think of this months record, do leave your thoughts in the comments section. Subscribe to Sound Matters at the link below and receive the next installment of Liner Notes, delivered straight to your inbox.