Now in its tenth year, Michigan-based Black Circle Radio (BCR) is celebrating a full decade of all-vinyl programming. Their eclectic display of music and impeccable dedication to music on wax has earned them a strong reputation across the vinyl community. To mark this significant milestone, and to see what the future holds, we caught up with BCR founder and host, Mitch Anderson.
Mitch (AKA Palooza at BCR) will shortly be heading up a brand new monthly column at Sound Matters by the name of "Liner Notes According to Black Circle Radio". Each month, we'll bring you an "album of the month" as chosen by Mitch at BCR. You can expect an eclectic range of music, along with a candid write-up of each feature record. We hope you'll discover something new as we endeavor to take our readers on a musical journey of discovery. 
…Now on to the interview:
"Vinyl evokes and facilitates a memorable, physical relationship within its plastic reality that, to me, feels human."

SM: Firstly, a huge congratulations are in order. Ten years is a huge achievement and a testament to what you do. For those who don't know, can you give us an overview of Black Circle Radio, how you got started, and what you're all about?
MA: Thanks so much for the congrats! Also, thank you, this groovy platform for all of us music freaks to enjoy!
Black Circle Radio has been a dynamic endeavor for me. BCR is an all-vinyl radio program featuring a variety of music, DJs, and stories. Although the formatting stays the same, this allows for a different type of show each week. We only spin vinyl because, in my opinion, vinyl is the only true "multi-sensory" music medium. Vinyl evokes and facilitates a memorable, physical relationship within its plastic reality that, to me, feels human.
Black Circle Radio started in 2009 while I attended college at Central Michigan University (CMU). That's where I received my degree in Broadcast and Cinematic Arts. When I began, the university radio station only had one turntable (and no phono preamp…) because they had gotten rid of all that "archaic garbage" 1-2 years before I arrived. At the time Jordan Pries (BCR Co-Host) and I were both working at the same music shop and were talking about starting our own radio program. Next thing we know, in walks a guy from Detroit who used to be a club DJ looking to sell his mixer and turntables. I personally purchased everything he sold. In that moment, Black Circle Radio was created and Jordan was the co-host.
Next, I had to pitch my RADICAL, COUNTER CULTURE, HIPSTER, all-vinyl radio program idea to a group of my peers for approval. I nearly wasn't allowed on the air because not everyone agreed that the college station airwaves were meant for Black Circle Radio. The vote passed and BCR was given the 11:00pm-1:00am time slot on Monday Nights.
When I graduated from CMU in 2012, BCR became ineligible to remain on the college station. I was asked by a group of my professors if I wanted to keep BCR on the air via their brand new, online radio station SoR Radio. This group of amazing educators had recently been kicked off of the college radio station airwaves during a homecoming alumni takeover event for offending some high dollar donors during one of their broadcasts. We were a match made by the spirits that be!
During this time of transformation in 2012, the show moved physical locations and experienced a co-host change. Jordan had just opened up his brick and mortar record store The Electric Kitsch in Bay City, Michigan and instead of co-hosting BCR, took over the role as my spiritual advisor and musical sensei. Debra Warren, my girlfriend at the time, became the co-host (AKA DJ Crinkle). Debra and I would broadcast from wherever there was a stable internet connection on Sunday evenings. I kept my turntables, microphones, stands, mixer, headphones, etc. in the trunk of my car pretty much all the time. BCR was able to capture some very honest, and important episodes during that time. You can read more about Crinkle's thoughts on Black Circle Radio in this interview for the awesome platform, "Women in Vinyl".
In 2015, there was an influx of local, low-power FM radio stations starting up all over the country. This was because it was the first time in 15-20 years that the FCC (Federal Communications Commission) had allowed for the application and construction of brand new FM towers. I could rant about this for days. We were living in West Michigan and I contacted the new-at-the-time Muskegon 100.9 WFFR-LP station owner congratulating him for opening up and also letting him know that I really wanted BCR to be back on the FM airwaves. 100.9 got the turntables, I brought the vinyl, and we are still working together nearly 5 years later.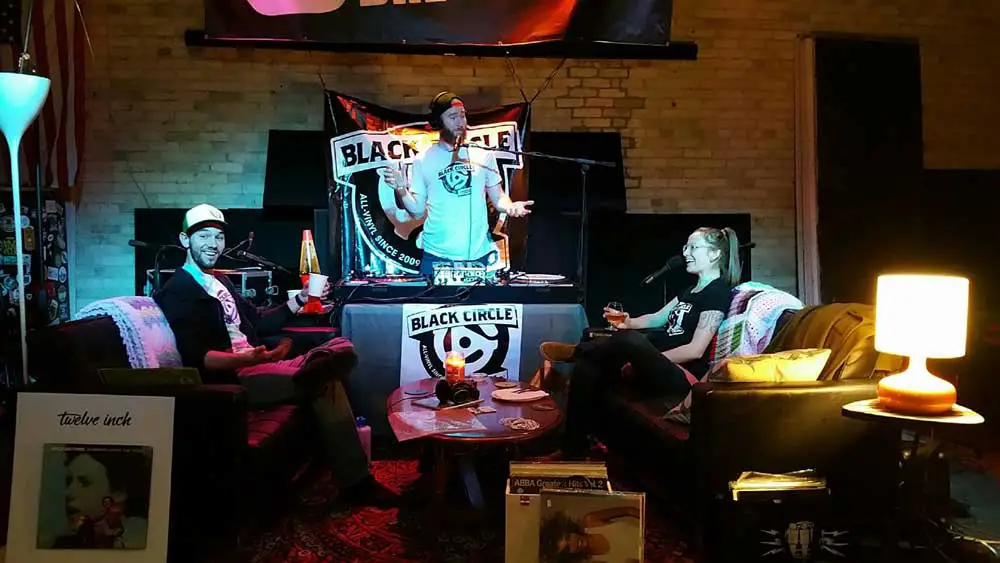 SM: BCR clearly takes the all-vinyl stance pretty seriously. Can you tell us what that means to you?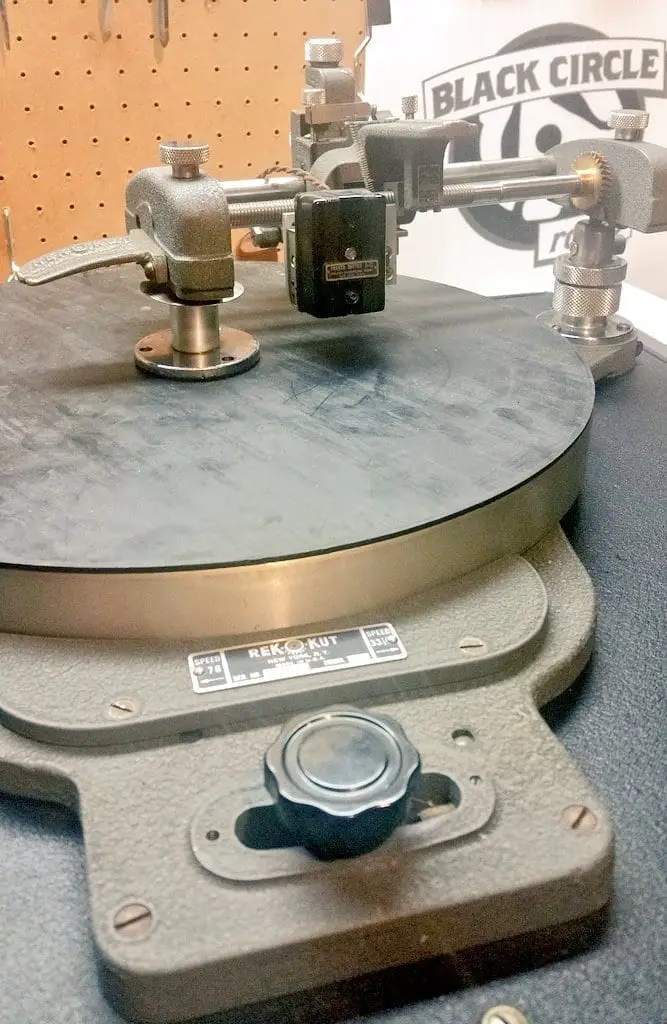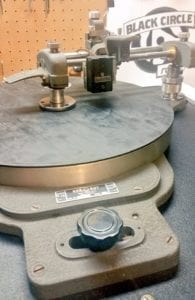 MA: We sure do! What this means is that pretty much every week for the last 10 years there has always been 2 hours of broadcasting that is fueled by the snap, crackle and pop. Not a single .mp3, .WAV, DAT Tape, Mini Disk, CD, Reel-to-Reel (even though we thought about this one), wax cylinder, FLAC, .ogg, Cassette, 8-Track, or Phonautogram has ever been transmitted via our broadcast.

All of the music beds used on the program are instrumental vinyl records. This really does help to set the mood for a given broadcast. Each week I choose the bed that we will be facilitating conversation over. This format change started a few years ago and jeez it's made a huge difference in expressing how I am personally feeling during that current, analog transmission.
It was about 4 years ago that Debra and I purchased a 1950s Rek-O-Kut, Mono, All-Tube, Record Lathe. I had just quit my full-time job to pursue becoming an entrepreneur with BCR and thought this would be a good investment for the future. With this machine I hand cut all the donor spots that feature during the show to vinyl. The first vinyl donor spot was actually created at Third Man Records in the Detroit Cass Corridor in their direct-to-vinyl booth by our good friends at Rebel Pies Pizza in Muskegon, Michigan!
SM: Learning to cut records on your lathe must've been a great experience?
MA: It's been a huge learning curve. It's also been a smokin' experience. Literally. I forgot to shut the heat lamp off while a freshly cut record was still sitting on the table and it started smoking and smelled terrible. As I write this, the lathe is currently out of commission as it needs new capacitors and some NOS tubes put in to make sure it is ready for a very busy 2020. With this machine, I'm able to cut direct to lacquer master disks with a sapphire cutting needle, or direct-to-vinyl with a diamond-tipped cutting needle. The machine works and sounds amazing. Myself, along with a small group of friends, have some really neat projects lined up for this lathe very soon.
SM: The music you broadcast is pretty diverse. Has it always been this way, or has this evolved over the years?
MA: Yea, I think the music has grown with me. DJ Crinkle and I got married, I've been diagnosed with bi-polar disorder and we had our first child, Levon (AKA DJ Wiggles). Not to mention the unpredictable experiences each day brings. I use the music to bring my celebrations, trauma, grief, and more to the airwaves. Seriously, to me, it's only fair that the program reflects what my current experience is or I wouldn't be able to handle being a disc jockey.
BCR only has a couple of rules:
Anything played or spoken must abide by FCC rules and regulations. Like it or not.
All music must be played from the vinyl medium.
"My goal is that no artist is turned away from being able to be spun on Black Circle Radio because they simply don't have any vinyl of their own material. Want to be part of the program? No problem! I'll cut it so we can broadcast it!"
There are no time or genre limits when it comes to programming. For the most part I try to abide by a rule of 4 songs per set. The sets are where the magic happens, really. On any given week you'll be hearing a minimum of 3 different DJs spinning a set of music that resonates with them at the time. This is powerful and this is why our music is diverse and eclectic. Believe it or not, this approach has not helped with syndicating BCR to established radio conglomerates, ha!
For example, my co-host Rory Closz (AKA Roclo) has been with the program for going on 4 years and is a middle school choir director. He brings his background, but also picks out sets that may remind you of the teenage angst we've all felt (this guy loves Weezer).
This show means something different to each person. I've had families on the show as guests that reach out to me because they want to play tribute sets. One particular family comes to mind: They reached out to me because their uncle had just passed away and his record collection was a part of his nieces and nephews upbringing with him. They came in to spin an entire show in honor of his life. Other guests include: current recording artists, industry legends, local enthusiasts, call-ins from all over the world. Black Circle Radio is rooted in non-commercial, community radio format. Our community just happens to be large and doesn't all live in the same zip code.
I'm proud that BCR is supported and appreciated by many. I think the record lathe is going to help the program become accessible to even more people. My goal is that no artist is turned away from being able to be spun on Black Circle Radio because they simply don't have any vinyl of their own material. Want to be part of the program? No problem! I'll cut it so we can broadcast it!
SM: You've recently re-organized your entire record collection by "Feeling Wheel" rather than "Genre" – what's driven this change for you?
MA: This is a deep question. Unfortunately, I have not re-organized the entire collection yet, I wish that was the case! This is a huge work in progress. The drive to change this was on multiple levels. Initially, I had my records alphabetized and that didn't work for me. Then I went to alphabetical by my own definition of genre. That didn't work. Then I had the idea of organization by "Feeling Wheel".
The Feeling Wheel is simply a visual breakdown of our core, human emotions. Pretty much the things we all feel or have felt on a day-to-day basis broken down into very specific adjectives. I'm very grateful to my counselor for showing me the importance of this tool.
The reason I wanted to do this and what I mean by "didn't work" was that very quickly the records in my studio started to seem bland or out of place. When I would look at Steve Eaton next to The Eagles it would make me upset. Those two artists don't hold the same place in my heart, so why do I want to ride that roller coaster of emotion every time I'm flipping through my stacks?! I don't! So I'm working on a better way.
It's also pretty cool to be asked by others who know that I've been working on this, "Where does this fit in your wheel?" I think it opens up very positive and enlightening conversation. There have been times when someone comes to the studio and I ask, "What do you want to listen to?" Their response, "I don't know." I'll ask, "Alright, what are you feeling right now? Where are you emotionally?" I'll choose something based off that. These conversations are important. It's made me realize how disconnected many of us are from the adjective that best conveys how we are feeling at a given point in time. It's hard to communicate directly if I don't have the language to explain how I'm feeling, ya know?
SM: You're also a producer and engineer in your own right. How does this affect your understanding and experience of music?
MA: This question rules. I think the biggest impact this has on me is the understanding that creatives must be compensated for their work. The "Starving Artist" mentality, I personally feel, is only romanticized by those who believe music and art is only worth something if they deem it entertaining. I'm trying within my programming to hold myself to an extremely high sonic quality standard, as well as being prepared to be held accountable at anytime for music or messages that I broadcast.
We all have opinions about music. Black Circle Radio strives to welcome these differing opinions, reactions, and experiences. I believe the airwaves should be used for relaying emotional connections. My past work as an audiobook director helped me immensely in understanding how to evoke meaningful conversation from others while supporting them in the process.
All this being said, I'm a total studio junkie. Vintage hi-fi, tubes, microphones, preamps, compression, hot damn. I do love the process of capturing and transmitting audio. I feel when I am in my home studio producing an episode – it's a high. The cartridges, turntables, phono preamps, all of these choices are made because I'm trying to capture in a digital environment what I hear in my analog existence. That for me combines being a producer, engineer, and musician which is a personally rewarding journey.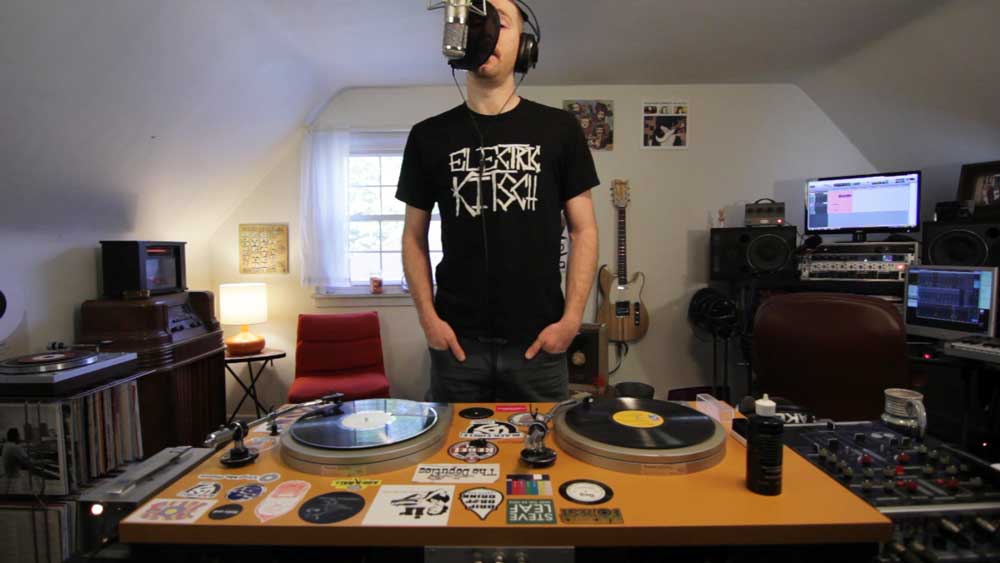 SM: I love the "How was that not a hit" video series you run. What are the key ingredients that make a hit in your opinion?
MA: Thanks! In the current state of the music industry, the main key ingredient in making a hit is those in charge at Universal, Warner, Sony, E.M.I, finding a way to suck every dime they can out of something that shouldn't exist in the first place. *badap chaaaa* Okay, rant over.
A "hit" I think is a combination of so many variables! Even down to the correct humidity in the studio so the drum heads are in harmonic existence during the entire performance. I am really humbled by the fact that so many people have expressed to me that they enjoyed that series. What is personally gratifying about it is the songs that were showcased were simply considered "hits" to me. Something about these songs evoked a very strong pull from me where I found myself taking the tonearm from the inside to the outside of the groove to hear it again and again.
In a physical sense, the word "hit" is something that is felt. Like when someone literally punches you in the mouth. I think a musical "hit" is something that is felt too. Having a radio conglomerate tell an individual what a "hit" is, I think is incorrect and misleading. That's the best way I can describe it. In my opinion, everyone knows a "hit" in some capacity when they hear it. I think it just gets described more often as "My favorite song is…". I think of the concept "hits" as these tracks that deeply resonate with people, which of course brings a lot of subjectivity to the table. It would be interesting to do a season two of my series, "How was that not a hit" where I only choose a song for one episode and all the others are hosted by friends, family, neighbors, etc!
SM: What does the future hold for BCR?
MA: My top priority for Black Circle Radio is to continue broadcasting and promoting artistic expression. I plan to continue counteracting the evil that the mainstream music industry is. I ask myself regularly, "How am I actively practicing the changes that have needed to occur in the music industry for the past 100 years?" That question is heavy on my mind as BCR progresses towards the next decade of programming.
I will continue to work towards my format involving more people and being a platform for sharing musical experiences. I've been attending nation-wide conferences and BCR partners with international, national, and local sponsors in an effort to connect with people. I plan to continue fostering these relationships and welcoming new ones. I want to capture more stories and feature more guests on the broadcast. The record lathe will help make this possible and the list goes on.
In addition to my own programming, I love producing other programs and sponsoring those messages via BCR. I hope this grows more too. The Next Level Podcast and This is the Situation are two programs here in Muskegon, Michigan that I'm proud to work with. To summarize, BCR will continue working towards the growth of intentional and transparent broadcasting.
Thanks for providing me and Black Circle Radio this platform to share our message! Very much looking forward to being an album reviewer here on Sound Matters.
New Regular Column Starting Next Month! 
Keep your eyes peeled for our new column "Liner Notes According to Black Circle Radio". The first issue starts next month. Each month, we'll bring you an "album of the month" as chosen by Mitch at BCR. You can expect an eclectic range of music, along with a candid write-up of each feature record. To ensure you don't miss the first issue, subscribe at the link below, and we'll also throw in a copy of our e-Book "Top Record Cleaning Tools Every Vinyl Enthusiast Should Own". See you on the other side!