Our favorite manual record cleaner gets an update with the release of their top-of-the-line record cleaning bundle. 
Regular readers will know why we've recommended GrooveWasher as our go-to manual record cleaning solution for over four years now. Quite frankly, in our opinion, it's the best product on the market in this category. GrooveWasher G2 cleaning fluid is safe, highly effective, and affordable.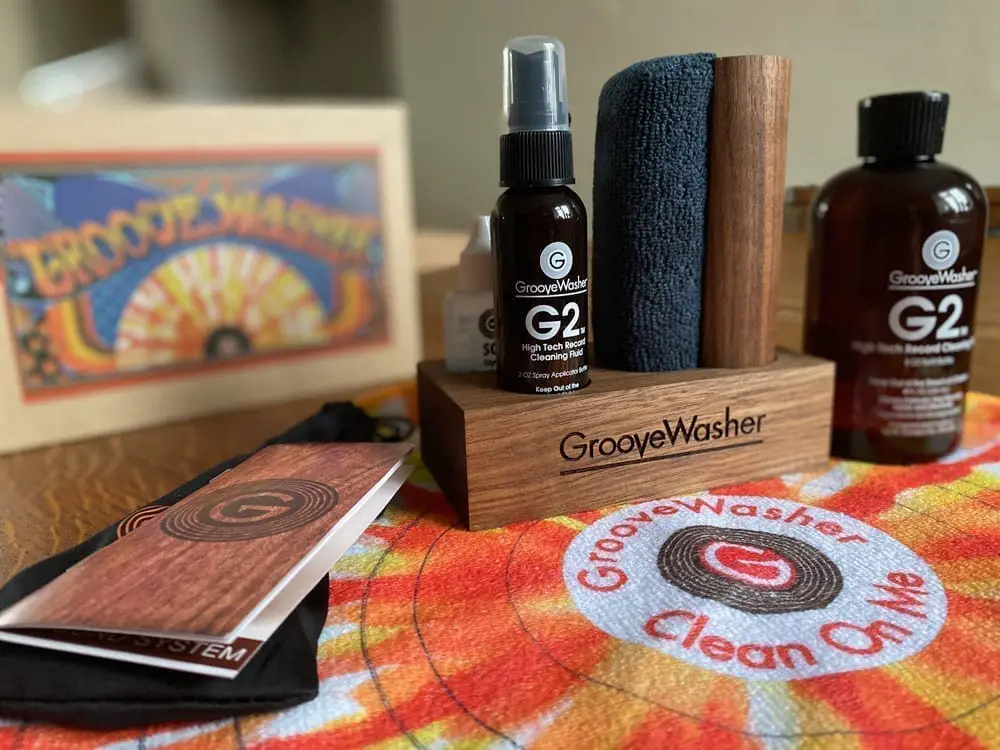 Ultrasonic record cleaners and vacuum-based record cleaning machines are terrific investments, but not everyone has deep enough pockets for such devices. A GrooveWasher cleaning kit, on the other hand, starts at $9.95 for a starter pack and scales up from there until you reach the flagship Mondo kit ($79.75), which is the topic of today's review. Put simply; there's a GrooveWasher kit to suit all record collections great and small.
Discwasher Roots
For those of you who are new to the brand, there's a pretty epic backstory to GrooveWasher and it's connection with the original 1970s Discwasher. The original Discwasher system is revered for its carefully researched formula and the distinctive walnut cleaning pad. However, the original Discwasher owners sold the company in 1982, which led to a watering down of the original owner's principles, and ultimately, a decline in product quality over the years. (You can learn more about this in our original GrooveWasher product review).
First Impressions
Being the top-of-the-line kit from GrooveWasher, the Mondo kit has some of the nicest packaging in the range with a simple but effective magnetic, hinged box made from what looks like recycled card. It feels more ecologically mindful than the plastic alternatives while still managing to feel like a premium experience. 

What's in the box?
The Mondo kit comes with everything you'll need to keep your records and stylus clean, including: 

Their revered Walnut record cleaning kit. 
A matching Walnut display block. 
The SC1 stylus cleaning kit. 
A GrooveWasher branded splash landing towel. 
And G2 record cleaning fluid with an 8oz refill bottle.
It's a comprehensive set and will save you money compared to buying each of these products separately.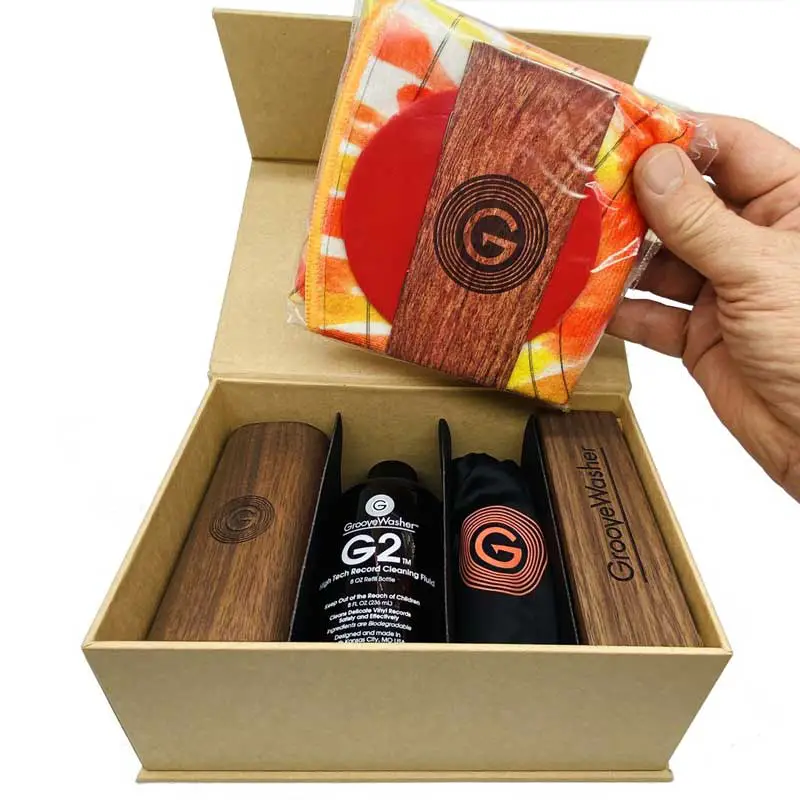 How does it work?
In terms of results, I've reviewed both the G2 record fluid and the SC1 stylus cleaning kit extensively in the previous articles linked, respectively. For this review's purpose, I will keep it brief and refer to the earlier articles.   
The G2 cleaning fluid review includes before and after audio samples of a very dirty used record I was able to restore using GrooveWasher's formula and a little patience. In general, most records will clean up nicely with little effort, but very dirty records may benefit from repeating the cleaning steps as outlined in the included instruction pamphlet. (Again, for an overview on how to use GrooveWasher G2 effectively, check out our full-feature review). 
Keeping your stylus clean is equally as important as maintaining a clean record collection, as the inevitable build-up of dust and grime on the diamond stylus tip will shorten its life, reduce fidelity, and potentially spread dirt to your clean records. GrooveWasher's SC1 stylus kit is just as effective as their G2 fluid. (Check out the before and after USB microscope images in our full review to see the full effect).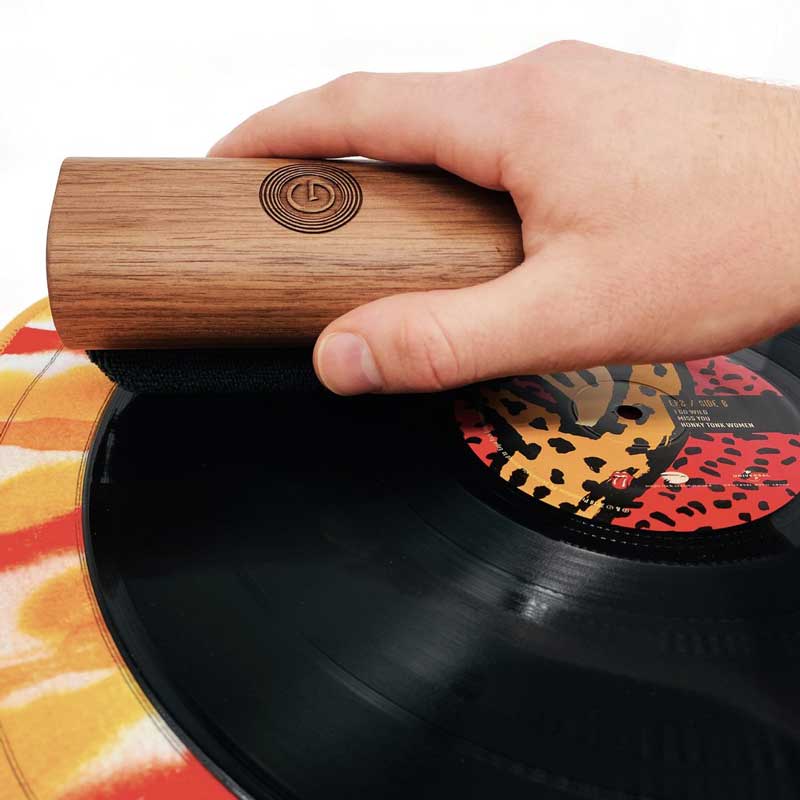 Mondo Product Summary
The research and care taken over GrooveWasher's cleaning fluids is a known entity for me. I've been using G2 and SC1 as my main cleaning fluids for many years now, so I need no further convincing on their formula's safety and effectiveness. Instead, I will focus on the package deal.
The Mondo kit unites GrooveWasher's core products into an essential record care system with elegance and precision. It's the ultimate turntable companion and your ticket to vinyl nirvana without breaking the bank. 
I'm a huge fan of high-quality natural materials, and the solid walnut cleaning handle and display block is a beautifully designed product that adds a touch of class to any turntable setup. When the materials are this good, it makes the sub-$100 price tag look like an absolute steal.
Airborne dust is a problem, of course, as any cleaning pads left next to your turntable are going to pick up dust over time. To avoid this, I highly recommend investing in a GrooveWashers acrylic display case to help contain your full display block and avoid airborne dust. At the time of writing, I'm not sure if these are currently in stock or still in production. (If no longer available, they should be! I find they're an invaluable investment).
A Note on Pad Cleaning
The microfiber cleaning pads should be cleaned regularly and occasionally replaced for best results. The downside of cloths for cleaning vinyl records is, of course, that a dirty cloth or pad could spread dirt and dust to the next record you clean. To ensure this isn't the case, regularly remove the pad and clean it by applying dish soap and distilled water. Massage the pad and thoroughly rinse it, followed by a squeeze to remove moisture. Allow it to air-dry overnight before using. It's worth investing in a few copies of the removable velcro pads so that you can rotate and clean them regularly.
The Bottom Line
If you haven't already tried GrooveWasher for yourself, I highly recommend you do. I have one rule regarding product reviews at Sound Matters, and that is never to recommend a product I wouldn't use myself. GrooveWasher remains my number one choice for hand-cleaning vinyl records, and I don't see that changing any time soon. If you're unsure or want to test the water first, try one of their starter kits and see how you get on. When you're ready for the Mondo Kit, you won't regret it.
(Sound Matters readers receive 10% off direct orders from GrooveWasher when using the discount code: SOUNDMATTERS10)

Summary
Reviewer
Review Date
Reviewed Item
GrooveWasher Mondo Record & Stylus Cleaning Kit
Author Rating





Product Name
Mondo Record & Stylus Cleaning Kit