Choosing the right record cleaning system is important but often confounding. After all, the internet is brimming with countless suggestions and methods — many of which are dubious at best. In many cases, there's almost a pseudoscience to cleaning vinyl records, with some approaches verging on the bizarre (wood glue springs to mind).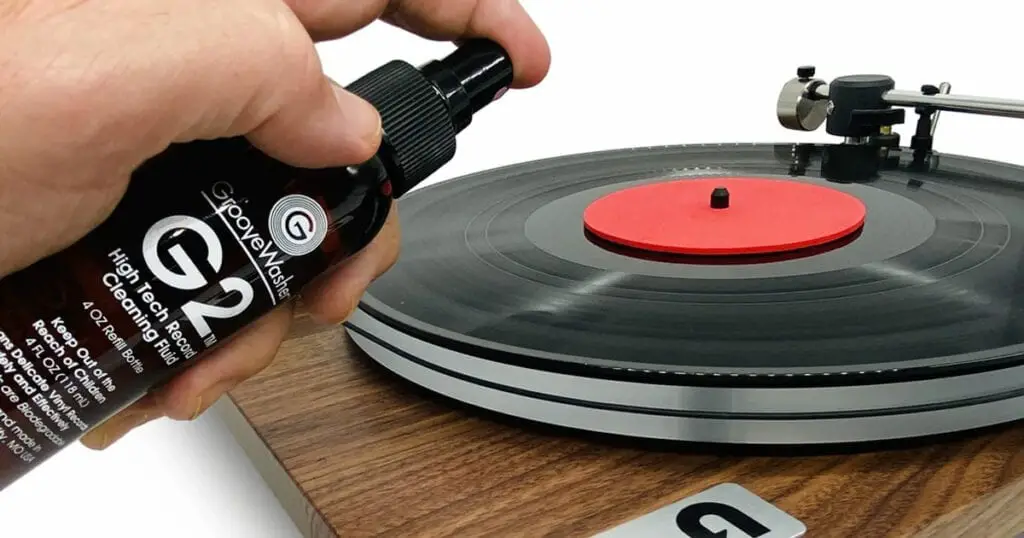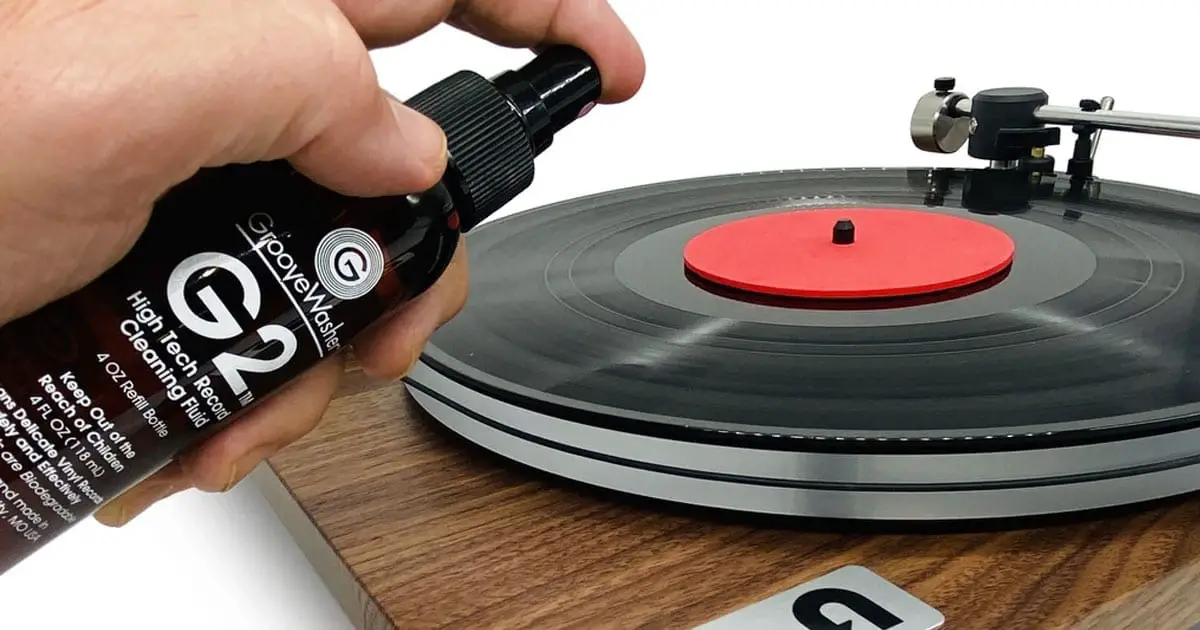 At Sound Matters, we've covered plenty of vinyl cleaning methods before — particularly manual hand-cleaning methods, as many purpose-built record cleaning machines are cost-prohibitive for the average record collector.
Being UK-based, I've tried plenty of the manual cleaning options available this side of the pond (namely, Clear Groove and Vinyl Revival), but until now, I've been unable to test any US equivalents directly. I would like to thank the folks at GrooveWasher for changing all that by kindly sending me their starter kit in the mail.
The story behind GrooveWasher is fascinating, and although they're a relatively new kid on the block having formed in 2015, their roots are grounded firmly in one of the most popular record cleaning products from the 1970's – the Discwasher.
The famous Discwasher system will no doubt be familiar to many of our readers; its carefully researched formula and the distinctive walnut cleaning pad were well-respected for many years. However, the original Discwasher owners sold the company in 1982, which led to a watering down of the original owner's principles, and ultimately, a decline in product quality over recent decades.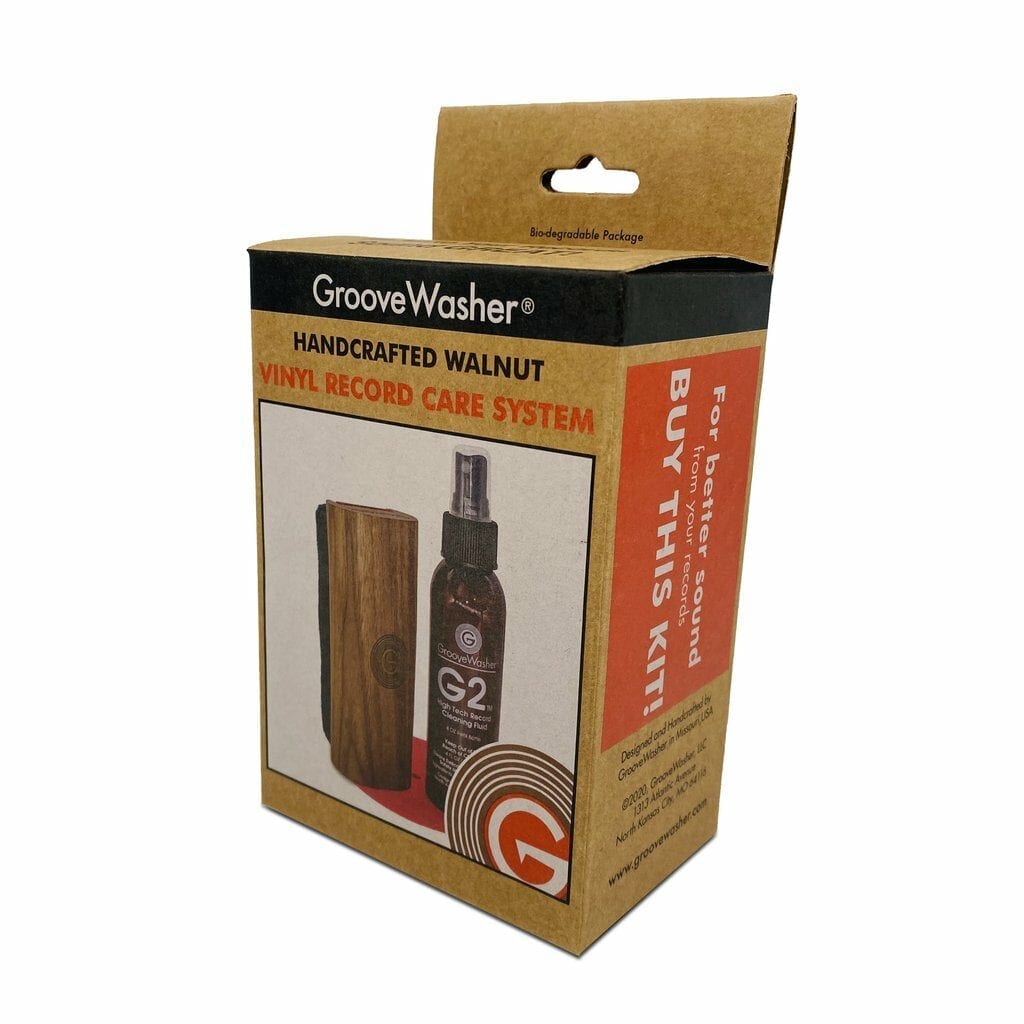 GrooveWashers' founder, Steve Chase and his family were immersed in the original Discwasher business from 1972 to 1982. Fast forward to the present day, and the GrooveWasher team are putting those years of experience to great use by developing an updated and enhanced version of the 1970s most popular record cleaner.

So, does the GrooveWasher live up to its older cousins legacy? I'm certainly hoping so…
What's in the box?
The first thing that struck me about GrooveWasher's starter kit was the presentation and attention to detail. In the UK at least, I am yet to see a manual cleaning solution packaged to this standard.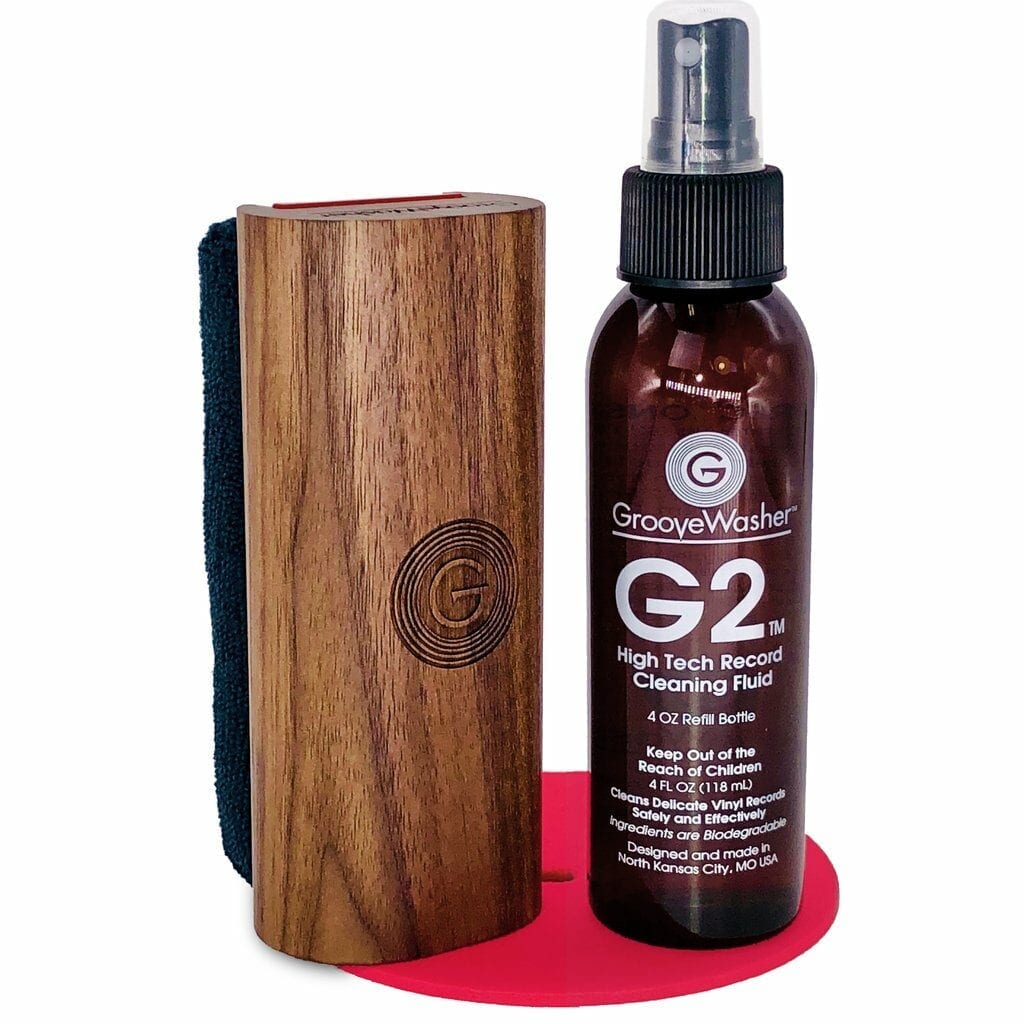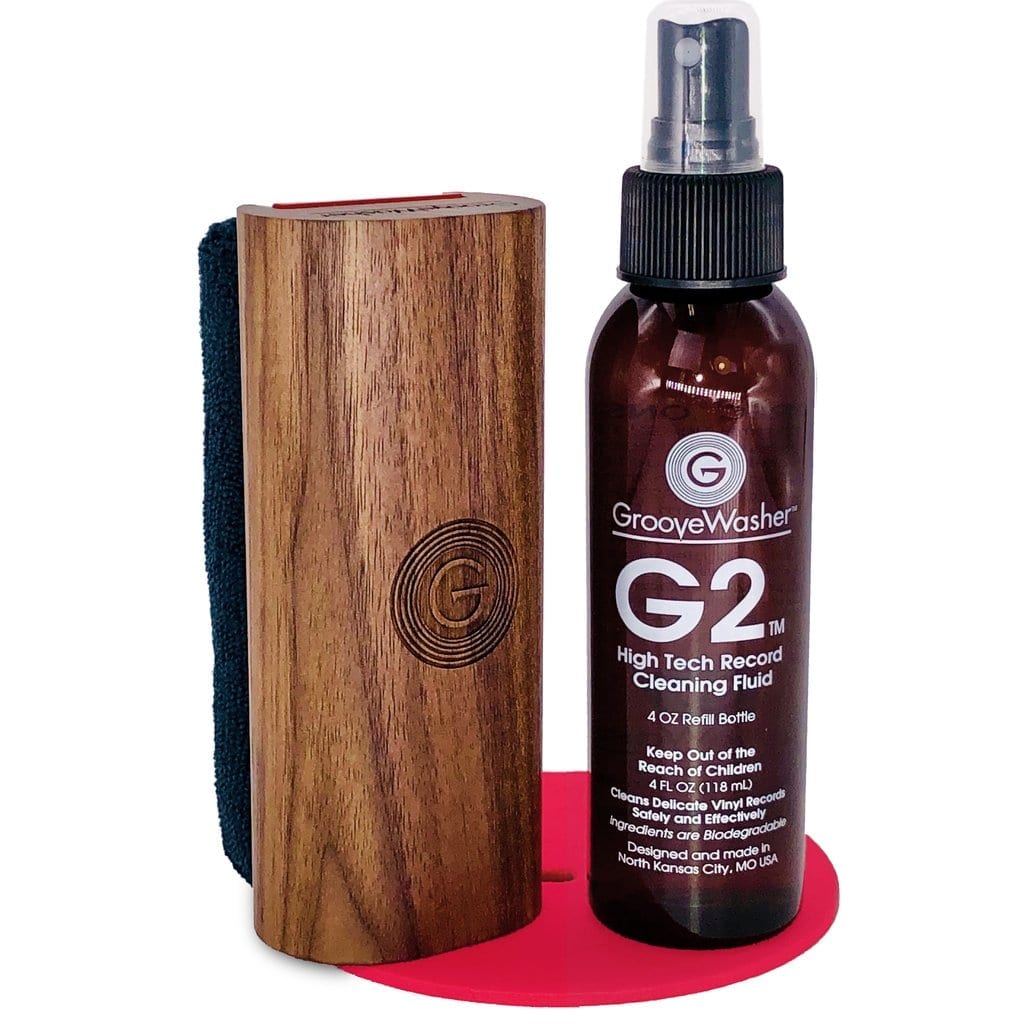 As pictured above, the starter kit features the following items:
A beautiful milled American Walnut handle. GrooveWasher claims these are hand sanded and rubbed by their own wood artisans. The pad itself is an all-purpose microfiber cleaning pad attached by velcro to allow for easy replacement or cleaning.
One 2 oz bottle of G2 Fluid with mist spray applicator.
Record label protector mask. (Another nice little attention to detail).
GrooveWasher Record Cleaning Booklet. Featured in this book are some clear instructions on how best to use the cleaning kit – a basic (but essential) detail that is surprisingly absent from competitor products I've sampled.
GrooveWasher branded stickers. Again, nice touch.
Testing GrooveWasher
On sending the starter kit, GrooveWasher founder, Steve invited me to test his product for residue by spraying on a clear piece of glass. Leftover residue from vinyl cleaning products is a common problem, the result of which causes significant noise for the first few playbacks while also risking stylus damage. You can avoid most residue problems by adding a secondary rinse stage to your cleaning process using distilled water (like that of Vinyl Revivals kit). This method works well, but the trouble is, most vinyl collectors want a single-step cleaning process.
The GrooveWasher team developed their G2 cleaning fluid to evaporate quickly and avoid the secondary rinsing step, and I'm happy to report their claim holds up very well. I took Steve up on his "clear glass challenge" and also tested the G2 spray on a brand new record to see if I could detect any signs of residue. The results very impressive; I've cleaned brand new records with other cleaners before and actually made the record worst. With GrooveWasher, the sound remained clean as a whistle.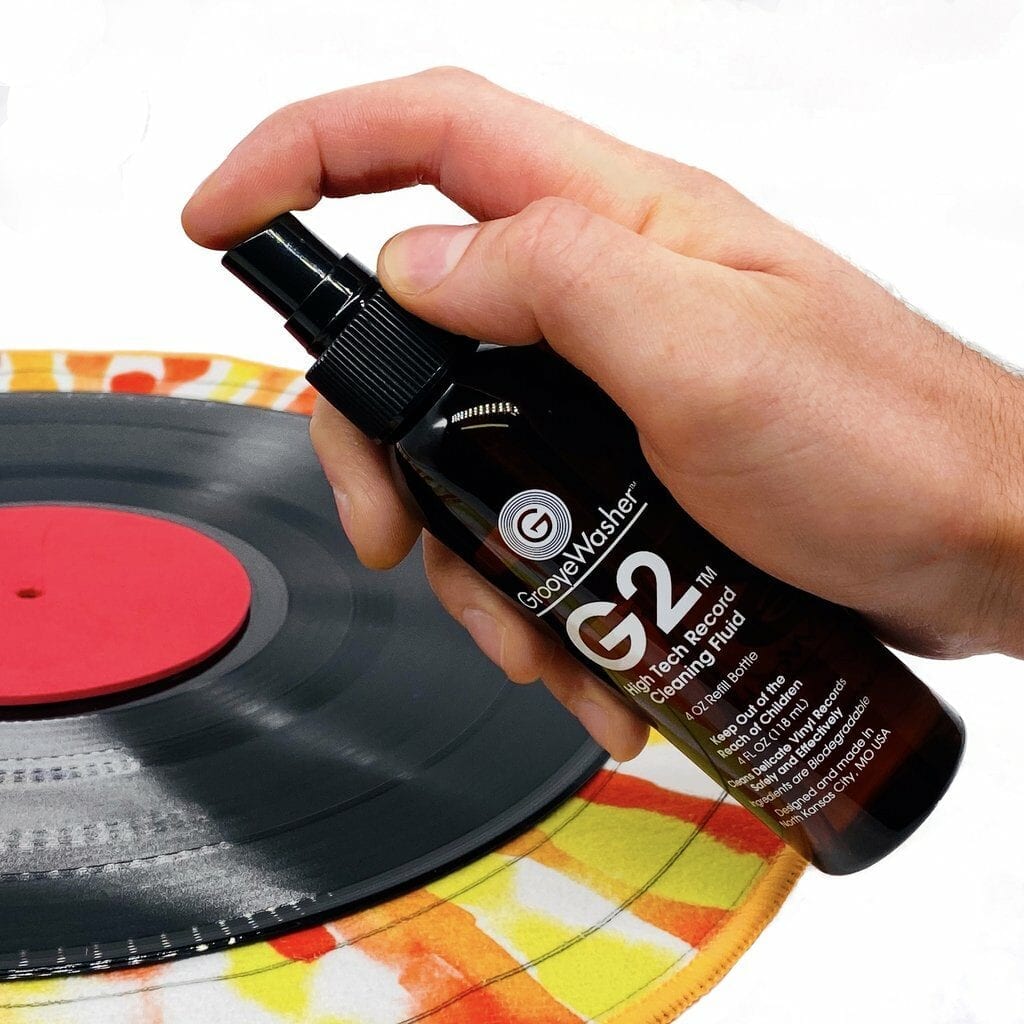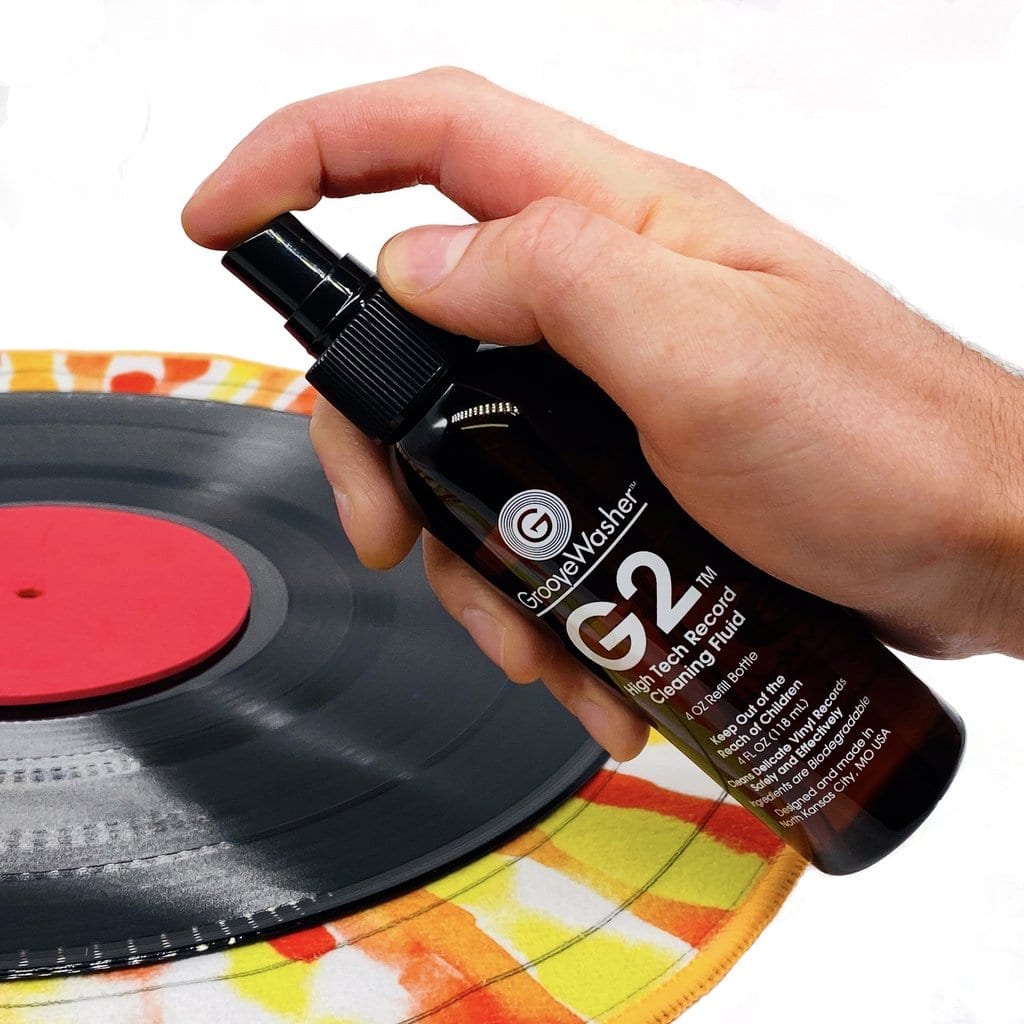 Cleaning Used Records
So far so good; a light cleaning of new records produced no discernible residue. But how does GrooveWasher perform when faced with the challenge of used records? To find out, I headed to my local record store in search of some pre-loved classics.
Old records often come dirty, with years of old, oily fingerprints, dust, and other foreign debris (free of charge, naturally). Removing this dirt from the record grooves can take multiple cleanings, and GrooveWasher are careful to make this clear in their instructions:
"NOTE: G2 Fluid is a light cleaner, by design. Multiple cleanings may be necessary. If you hear pops or the stylus plows out the gunk, clean again. Take your time; patience will be rewarded."
In my experience, the above, pragmatic approach is the best advice you can follow when cleaning used records. You have to remember, some of these records are decades old, who knows what might be lurking in the grooves after years of potential use and abuse.
Below are the step-by-step instructions that follow the initial caveat. I followed these instructions to clean the record samples below three times, which resulted in a significant reduction of pops and clicks, with no discernible residue. (The lack of residue is impressive given that I applied a generous amount of G2 cleaner).
Carefully place the record on the yellow microfiber towel included in your GrooveWasher kit. (If your kit does not include this towel, use a soft clean cloth or towel). Place the record label protector disk on the record label. Spray 5 or 6 mist sprays to completely cover the record surface. Wait 10 seconds or more.
Set the cleaning pad base into the wood handle.
Lightly apply the leading edge of the pad to the record and wipe the record in concentric arcs – with the grooves, not across. Wipe the entire record at least 3 times with moderate pressure.
Rotate the pad to gently dry and groom the surface. If visual inspection shows a problem area, spray it again with the G2 fluid, wait a few seconds, and use the pad to gently scrub the area, but only in the direction of the grooves. Seriously dirty records may require 2 or 3 cleanings.
Allow the record to air dry before playing.
And here are the results:
As you can hear from the sample of Neil Young's Tell Me Why (used for demonstration purposes only), this fairly dirty record starts to clear up really well by the second and third cleaning.
Summing up
As the samples demonstrate, GrooveWashers' claim to producing a highly effective, residue-free, single-step cleaning process is well-founded. There's clearly a lot of passion, research, and expertise that's gone into the GrooveWasher project. Misinformation and poorly thought out products are all too common in the vinyl world — especially as more companies seek to profit from the vinyl revival. It's encouraging to see a start-up like GrooveWasher commit to picking up where the classic Discwasher left of to help the next generation realize the full potential and joy of the vinyl listening experience.
GrooveWasher gets a big thumbs up from me; I would highly recommend trying it out on your own collection if you're able to pick up their kits where you live. Here's hoping GrooveWasher makes it over this side of the pond shortly so I can refresh my rapidly depleting supply.
Sound Matters readers receive 10% off direct orders from GrooveWasher when using the discount code: SOUNDMATTERS10. (UK and EU customers can receive the same discount at twelve-inch.com).

Alternatively, you can purchase the GrooveWasher starter kit from Amazon.com. For further information about the GrooveWasher project, visit groovewasher.com