GrooveWasher have a solid reputation for producing extremely effective record cleaning products, but do their new record sleeves live up to expectations? 
I've been using GrooveWasher recording cleaning fluid (both G2 and G3 formulas) as my go-to formula for many years now. 
Not only do I find their products to be among the most effective we've tested, but they're also an extremely ethical company.
The owner, Steve Chase, is heavily involved in the business and is quick to put things right if a customer experiences any dissatisfaction.
Just recently, the company announced its arrival into the record sleeve market with their new "Grooveguard" series. They were kind enough to send us a few samples to check out and review. 
Record sleeves are a natural progression for the GrooveWasher brand, as a huge part of keeping your records clean is ensuring you're storing your vinyl records safely and away from airborne dust. 

So without further delay, let's see what they've got to offer. Check our video overview and the full written summary below.
GrooveGuard Record Sleeves Review
GrooveWasher has released three record sleeves into the market, including two poly-lined inner sleeve options and one archival quality outer sleeve design.
GrooveGuard Archival Inner Sleeves (A MoFi Killer)?
The first and most recognisable design is their MoFi style "rice paper" inner sleeve. It's the same type of archival-quality inner sleeve we know and love from the likes of MoFi, but the price is incredibly reasonable! ($22.95 for 50 directly from the GrooveWasher website).

Just like a MoFi sleeve, it's made of a three-ply, anti-static polyethylene, which is acid-free and perfect for protecting your records. When you consider that a pack of 50 MoFi sleeves is almost double the price, the GrooveGuard alternative looks like a very good deal.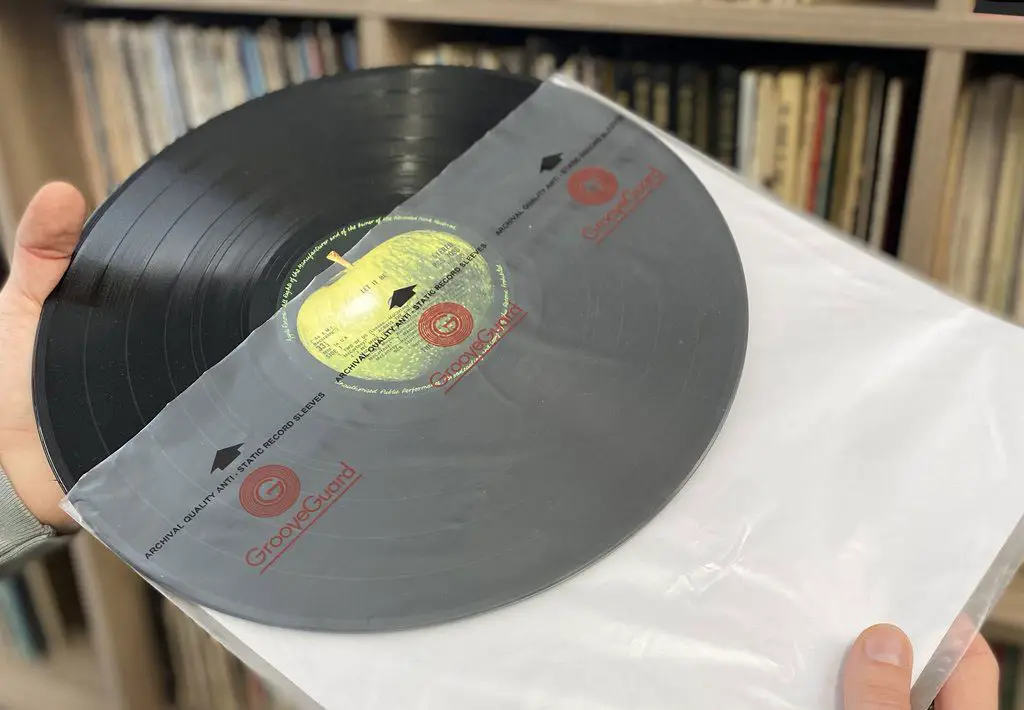 GrooveGuard Hybrid Inner Sleeves
One criticism of the MoFi style sleeves is the thin feel of the polyethylene material, which some collectors feel isn't substantial enough to protect the record. 
If you fall into this camp, then hybrid inner sleeves could be the way to go. They combine the scratch protection and anti-static qualities of a MoFi-style sleeve but with a paper outside.
Paper sleeves with no poly lining are best avoided, as the paper can leave micro scratches on the record surface and deposit paper flakes. However, with a poly lining, as is the case here, they're a great option for storing your vinyl records safely long-term.
Another benefit I find to hybrid sleeves is they don't have the same tendency to bunch up and crumple like a three-ply poly sleeve as you place the record in the outer jacket. 
It's also worth noting that the paper (and poly lining) are acid-free, just like the three-ply sleeves from GrooveWasher.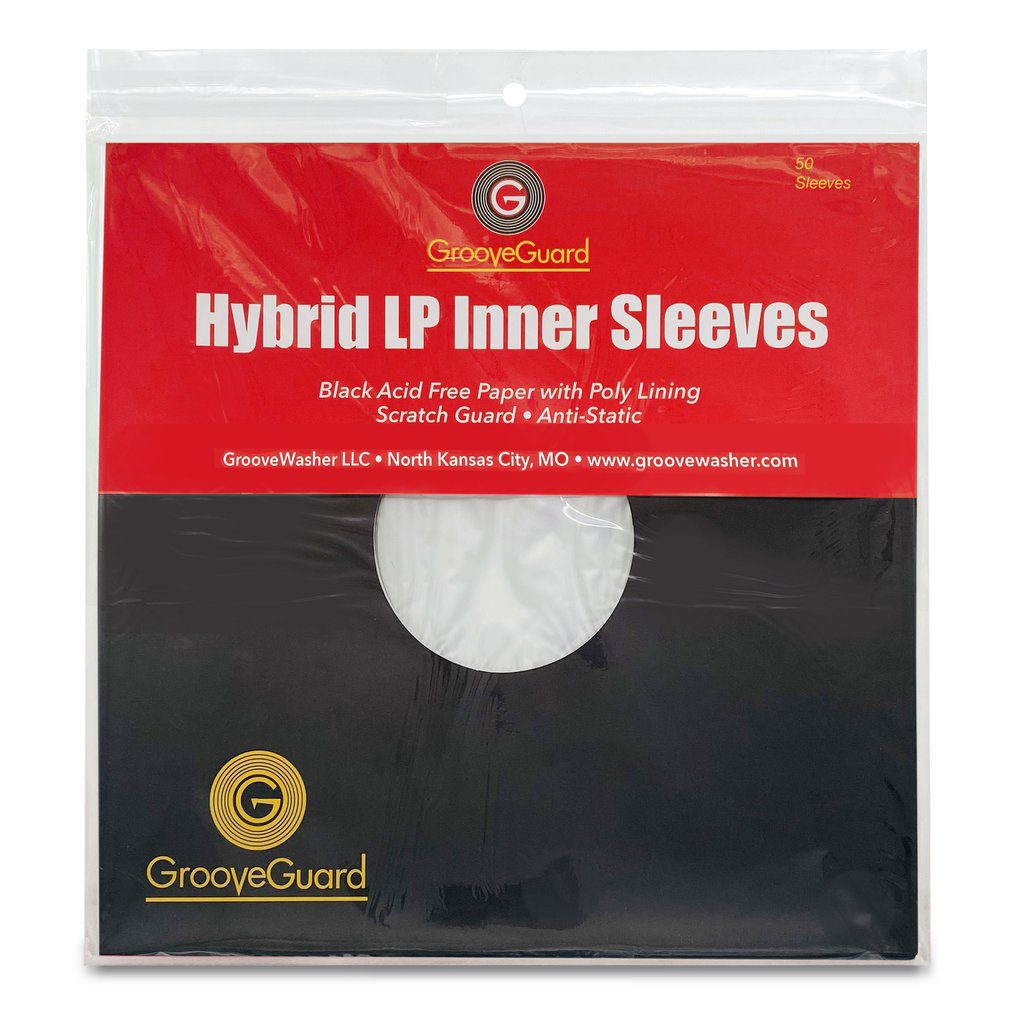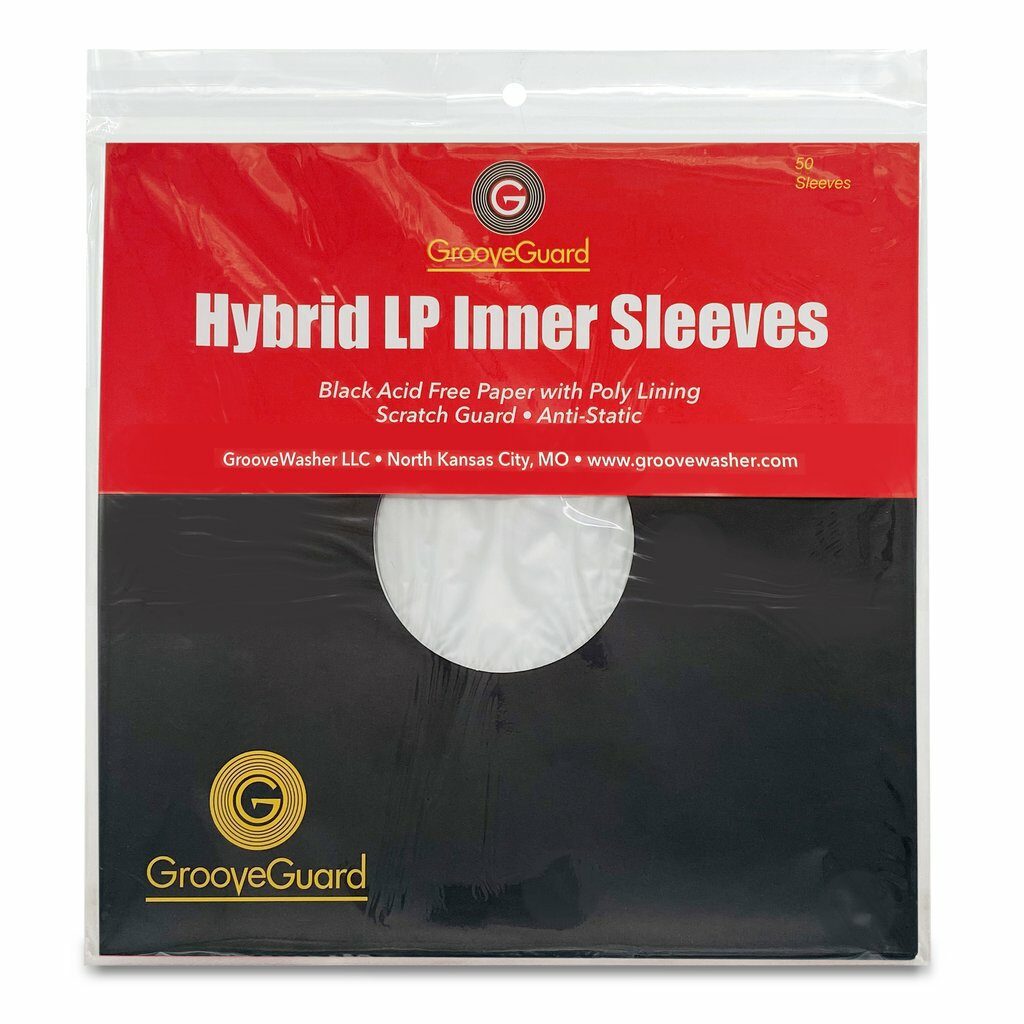 GrooveGuard Outer Record Sleeves
There's nothing fancy or particularly pretty about GrooveWashers outer record sleeve offering, but what they do offer is a staple, safe record sleeve at a very competitive price.
Being polyethylene and not polypropylene, they don't have the crystal clear quality of some of the other sleeves we've reviewed, but that's not what they're aiming for here. 
Crystal clear outer sleeves are perfect for showcasing the artwork of your records, but they typically cost a lot more (almost double for a pack of 100). 
In this case, you can grab yourself a pack of industry-standard outer sleeves and house 100 records in your collection (either single or double LP for $19.95. At that price, we can't really complain.
Some collectors will be aware of the traditional, very thick PVC outer jackets. If you're not already avoiding these, consider this your warning now, as under certain conditions, these sleeves can react with the record surface, leaving a misty appearance on your vinyl and increased surface noise. Once this happens, the record is permanently damaged. 
Always choose polyethene or polypropylene outer sleeves to store your records!   
GrooveWasher Record Sleeves – Summing Up
GrooveWasher haven't attempted to revolutionise the market here with their entry to the sleeves market, but what they have done is introduce a series of industry work-horse designs that are known to be safe for an extremely competitive price.
So when you're shopping for your record cleaning fluids and tools, you can now tack on a few record sleeves to accompany your freshly cleaned records. 
(Sound Matters readers receive 10% off direct orders from GrooveWasher when using the discount code: SOUNDMATTERS10). (EU/UK Customers can use the same discount code at twelve-inch.com).