The Estonian brand Degritter took the vinyl community by storm when it released its original Degritter record cleaning machine just a few short years ago. 
The Degritter record cleaner quickly built a reputation for being one of the best ultrasonic record cleaning machines for home use. Not wanting to rest on their laurels, the Degritter MARK II promises even better performance.
Can it deliver? Join me as I delve into this full-feature review, including a complete video overview with audio samples. 
Degritter MARK II – What's New?
Degritter have centered the improvements for this model around two core aspects:
Ultrasonic Power Drive 2.0: which they claim is stronger but still safe for your records. Essentially this equates to a new and improved ultrasonic amplifier. 
Pulse Mode Cleaning: Promising to deliver "a better cleaning effect while keeping power consumption low. 
According to Degritter, "During pulsing, ultrasonic transducers rapidly switch on and off at high power. This gives enhanced cavitation in water, but keeps the average power consumption low.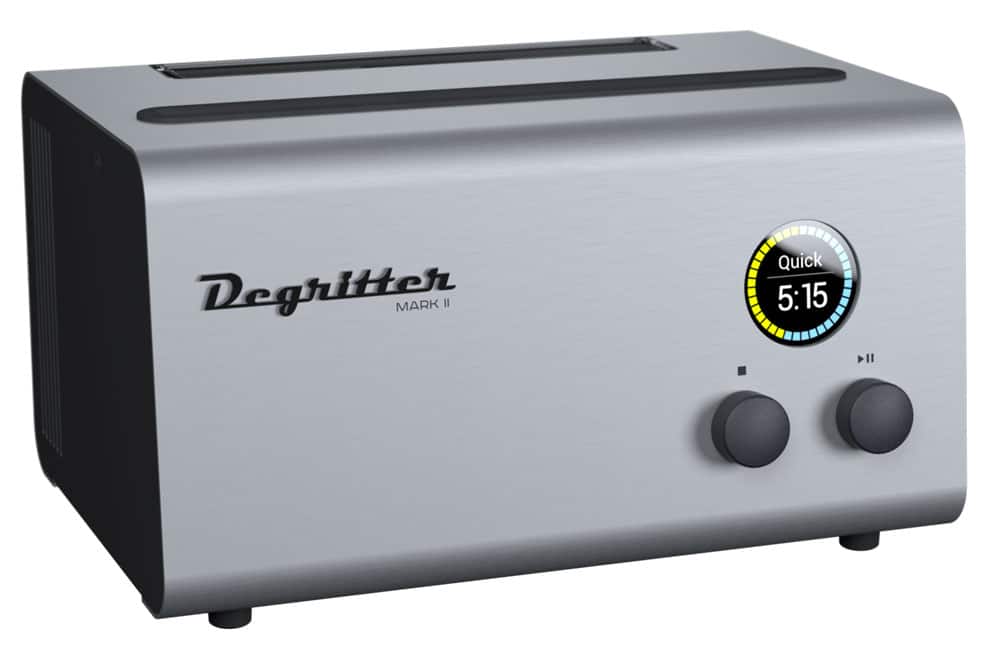 Lastly, Degirtter have updated the look and feel. Most significantly, the control buttons are said to have a more "defined click". And I must say, they feel very reassuring to press; there's a real feeling of quality about this machine's whole aesthetic and build.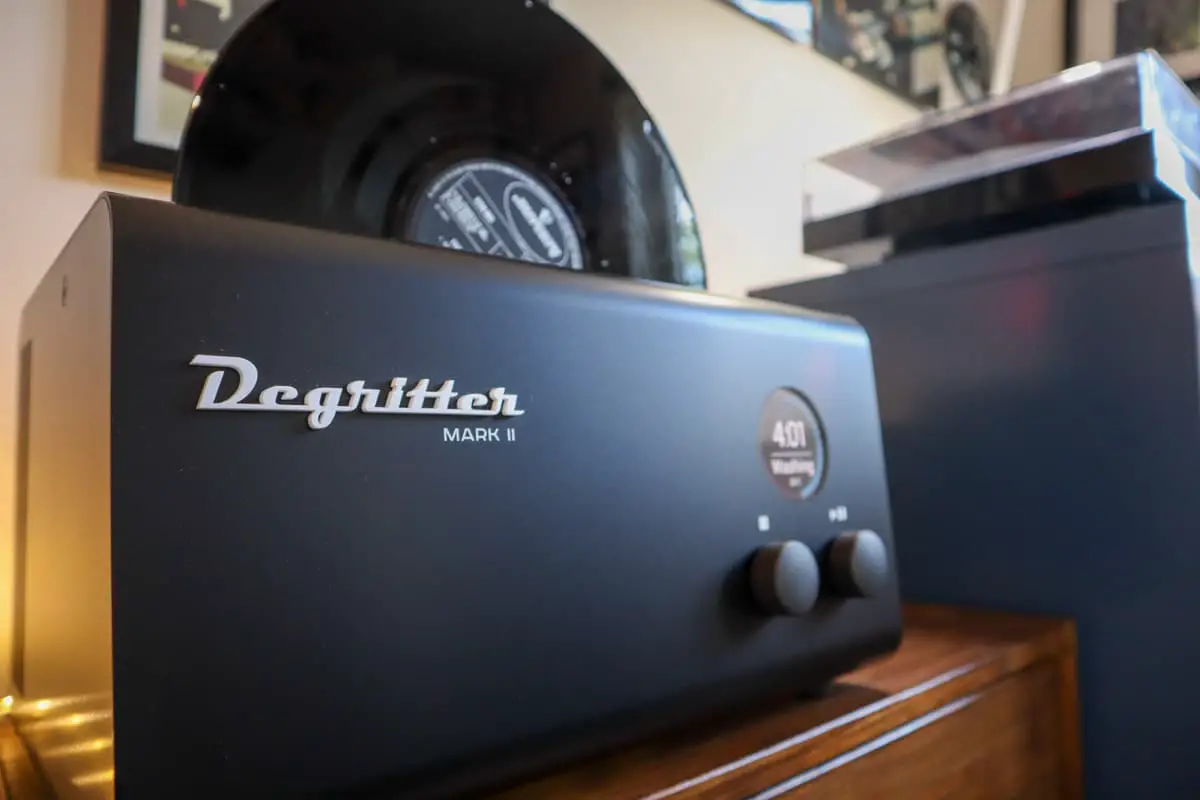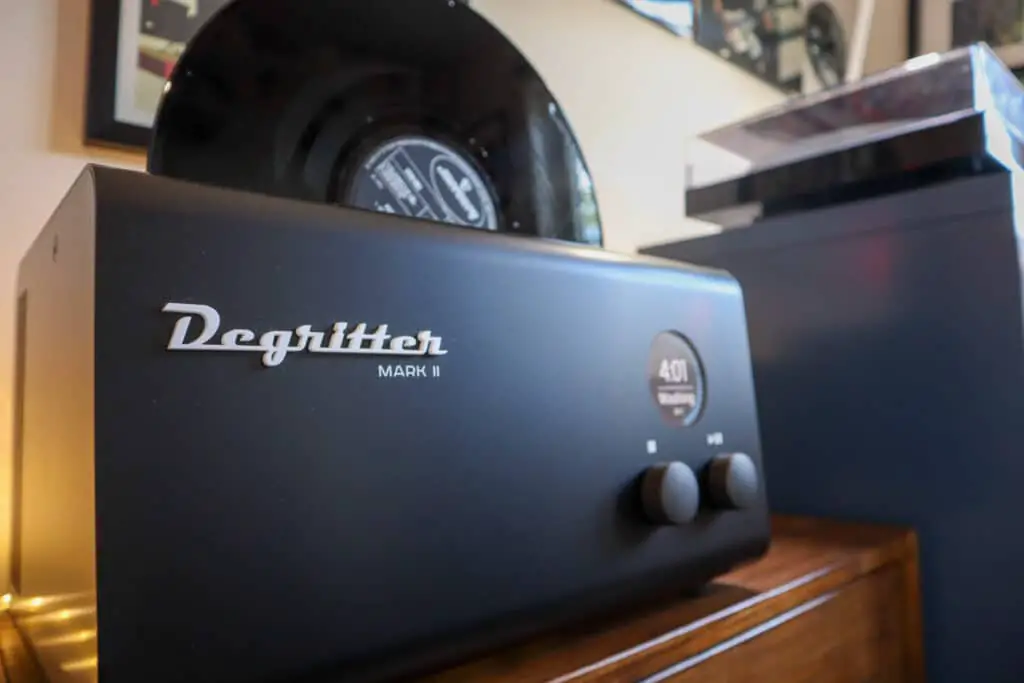 Degritter Record Cleaner: Machine In Use
Just like the MARK I edition, the MARK II has three main running cycles:
Quick: suitable for records with a light amount of dust that just need a quick spruce up. For records that I've cleaned previously, this is usually enough, in my experience.
Medium: This should be your default program for most records, including second-hand finds. Unlike the "quick" cycle medium includes a pre-soak stage before ultrasonic cavitation starts. This helps loosen up any dust and grime to make the cleaning process more effective. 
Just like cleaning records with a vacuum record cleaning machine, or even by hand, soaking a record will improve results.
Heavy: Degritter recommends saving this program for when medium simply doesn't get the job done. In other words, very stubborn dirty records. 

As always when cleaning vinyl records, it's best to take as light an approach as you can to get the job done, so defaulting to medium is good advice. 
Filling the Water Tank:
Unlike with previous releases of the Degritter Ultrasonic, the manual of the MARK II recommends filling the water tank as high as you comfortably can.
Previously, the tank clearly indicated minimum and maximum markers. In this case, there is a min marker, which we need to adhere to, but beside that, the more water the better.
Once the tank is inserted into the machine, it's best to run the Degritter's "Degas" program, which removes any excess gas from the machine to improve cleaning results. This step isn't mandatory, but I'd say it was advisable with a new tank of distilled water.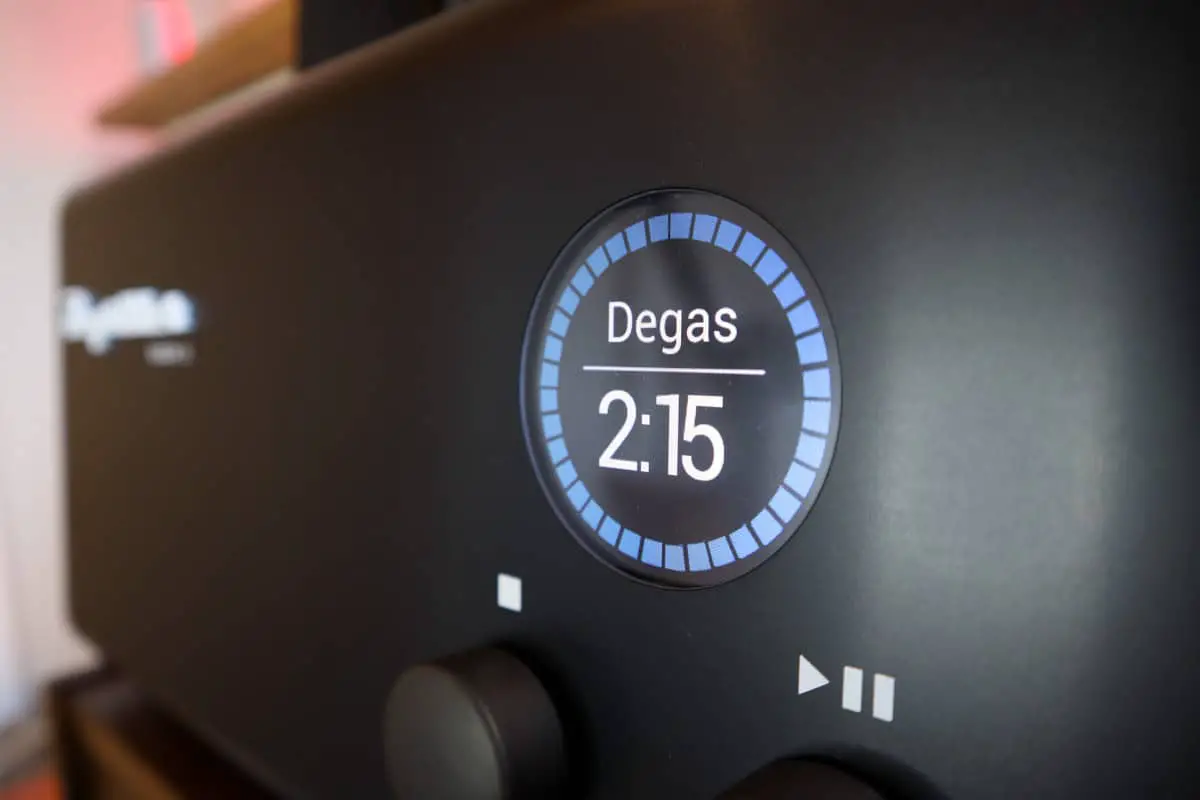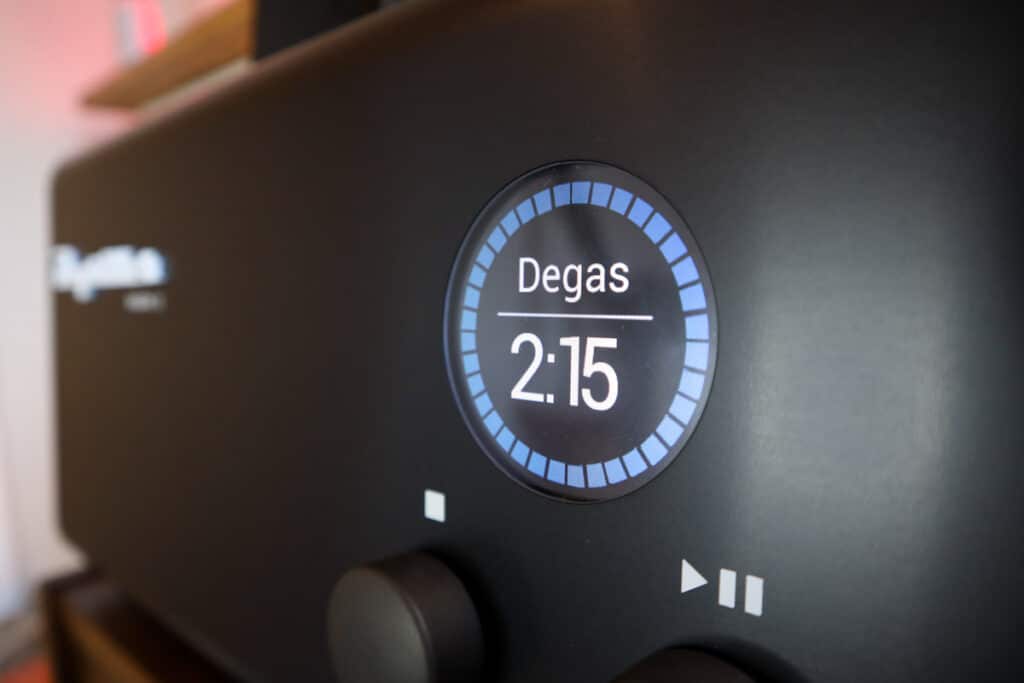 Once the Degas cycle is complete, you can use the supplied pipette to add up to 2ml of Degritter's record cleaning fluid. 
Though there is some debate about the use of surfactants and cleaning agents in ultrasonic record cleaning machines, in my experience, the water simply can't effectively soak into the grooves without it. Instead, it has a tendency to sit on the record surface, reducing its effectiveness.

If exposure to surfactants and emulsifiers typically found in record cleaning fluids concerns you, then Degritter have the perfect answer to this: a secondary "rinse" cycle.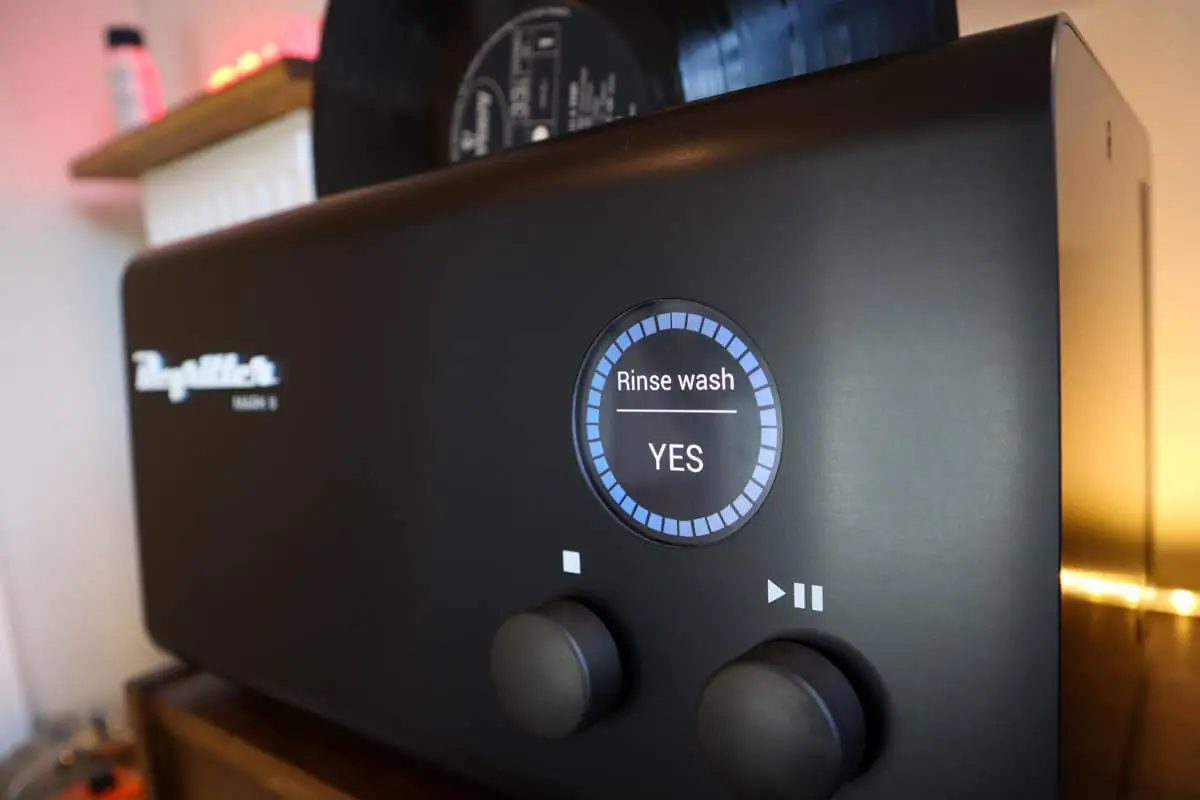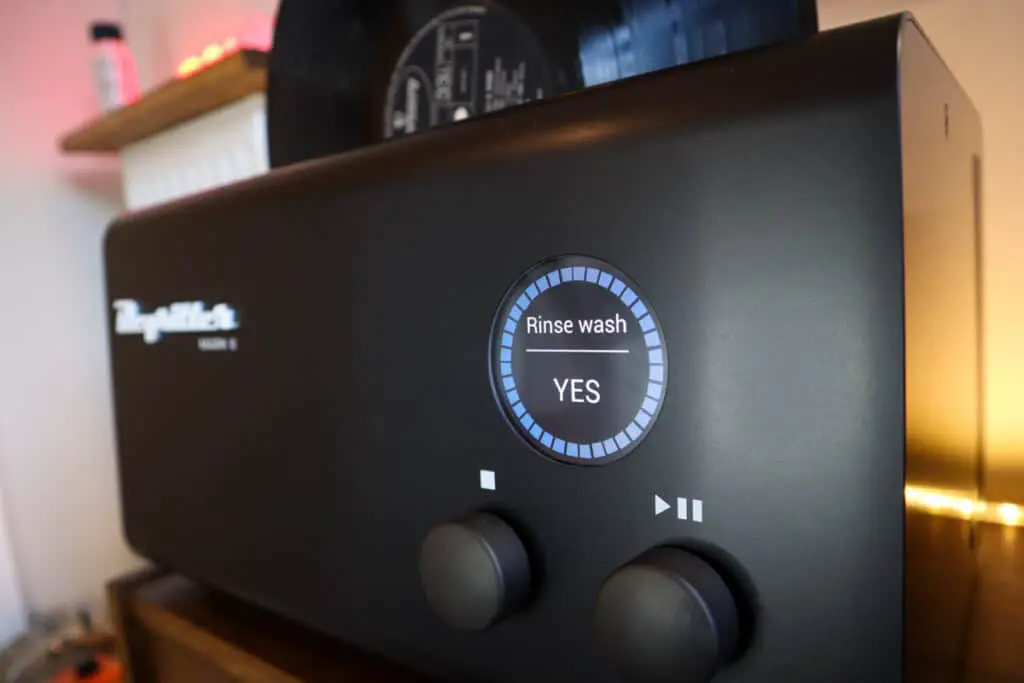 Degritter Record Cleaning Rinse Cycle
Adding a secondary rinse stage to remove any record cleaning fluid contamination is super-simple, but it will require you to purchase a second water tank that you can fill only with distilled water. 
To enable the rinse wash cycle, all you need do is navigate to the rinse menu and toggle the step "on" and or "off".
Once enabled, your chosen cleaning program is clearly labeled under the stated cycle time with "Rinse Wash". This does add a couple of minutes to the entire cycle, but it's an advisable step if you want the purist, cleanest records possible.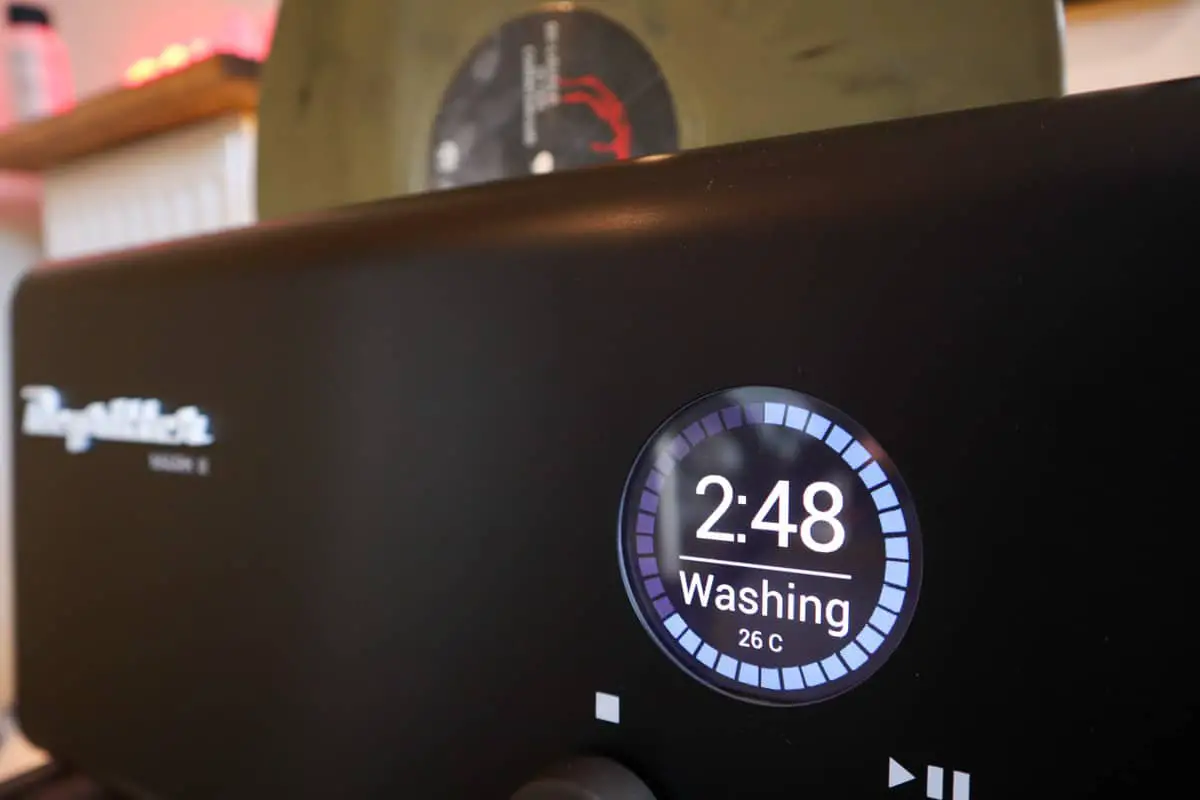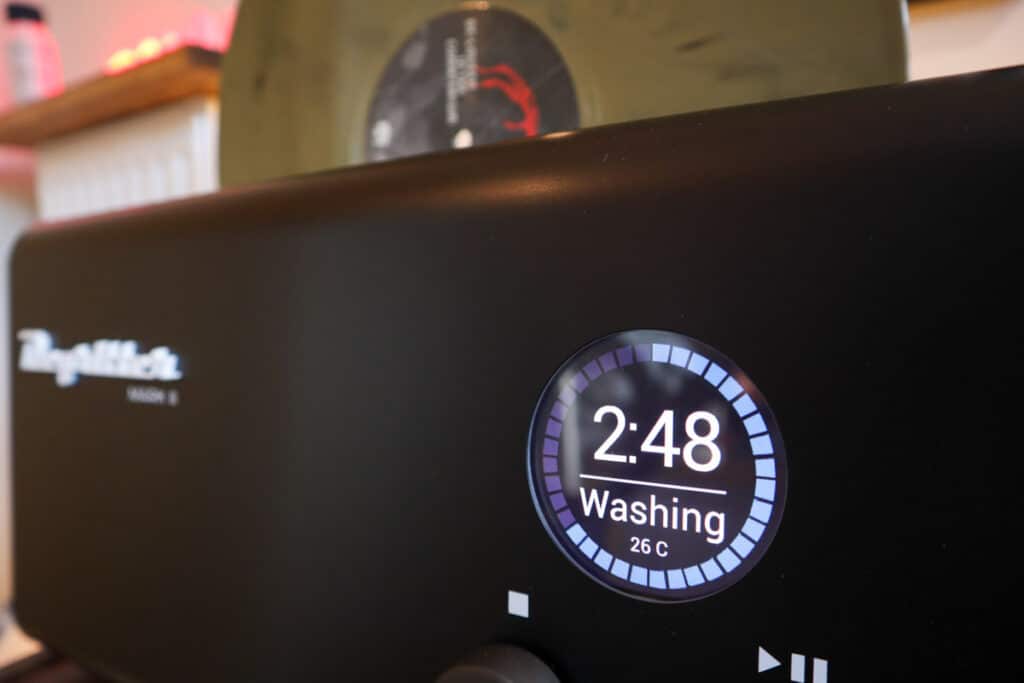 Degritter Record Cleaner Review: Cleaning Results
I spent a solid three months cleaning records with the Degritter MARK II to ensure I could give an informed review. Over 100 records were cleaned, and I must say, I am seriously impressed. 
To hear my test samples, check out the YouTube video embedded at the top of this review.
There you will hear the run-in groove of two clear examples where the Degritter took a record straight from a thrift store/charity shop (no assistance given with a pre-clean using a carbon fiber record brush) and managed to transform the sound from a snap, crackle, and pop fest to a squeaky clean noise-floor. 
I was particularly impressed with the cleaning results of my quadraphonic copy of Pink Floyd Wish You Were Here, which was cleaned by the record store, but still sounded pretty disappointing. 
Out of frustration, I went hell for leather with this record running a "heavy" cycle and was blown away by the improvement.
Unlike my experience with the HumminGuru Ultrasonic record cleaning machine, which often benefited from multiple cycle runs on the same record (or perhaps a quick pre-clean using a VCM first, the Degritter (in most cases) gets the job done in a single cycle.
Degritter vs HumminGuru
O.K – so at this point, let's address the elephant in the room….price.
The Degritter doesn't come cheap at over $3000/£2000.
Naturally, this raises the question, what do I get when buying a Degritter over, say, the much more affordable HumminGuru at just $499.
This is a BIG question, and again, you can hear some audio samples in the embedded YouTube video. 
Aside from the general build quality (the HumminGuru is clearly built to a price and feels much more plasticity and flimsy compared with the Degritter), there is the glaring issue of power.
Ultrasonic record cleaning machines require a good amount of power to generate the cavitation bubbles for record cleaning; there is a big difference when it comes to each of these machines.
The Degritter uses 300W to generate its 120KHz frequency across four transducers.
The HumminGuru uses only 60W to produce a 40KHz frequency with just two transducers.
This glaring difference does raise some concerns as to whether or not the HumminGuru has enough "juice" to get the job done. 
The Vinyl Attack YouTube channel produced a great feature on this, which I recommend you check out. 
The low power by comparison goes a long way to explain why, in my experience, why the HumminGuru often benefits from multiple runs on the same record.
This comparison is a little unfair given the vast price difference, but it's important to state. 
Besides cleaning power, the HumminGuru also isn't as smartly engineered as the Degritter.
Take these smart Degritter features, for example, which are not present on the HumminGuru:
Automatic cleaning tank filling and draining: The Degritter is truly automatic, automatically filling and draining the cleaning basin with each cycle. With the HumminGuru, you will have to fill the basin manually.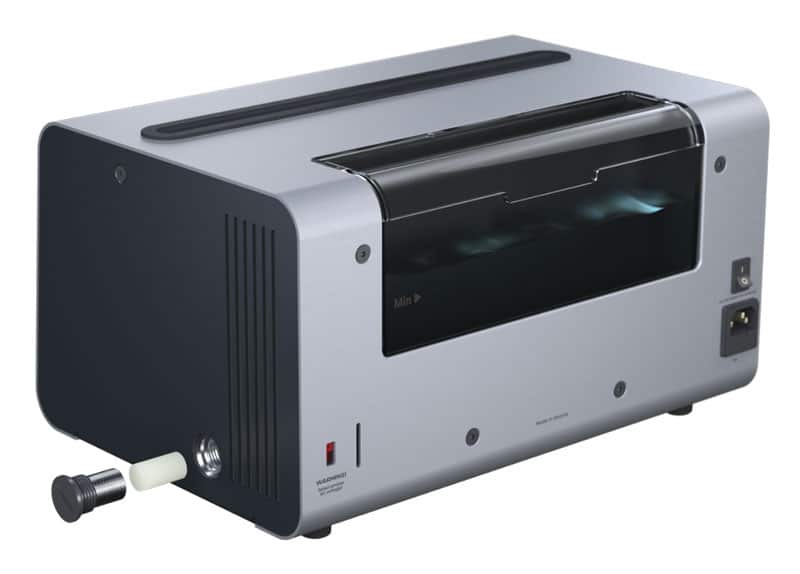 Active Filtering: The Degritter continuously pumps the water through its replaceable filter ensuring dirt doesn't make its way back onto the record surface. 
(Every 50 records, the Degritter will automatically prompt you that it's time to clean or replace the filter).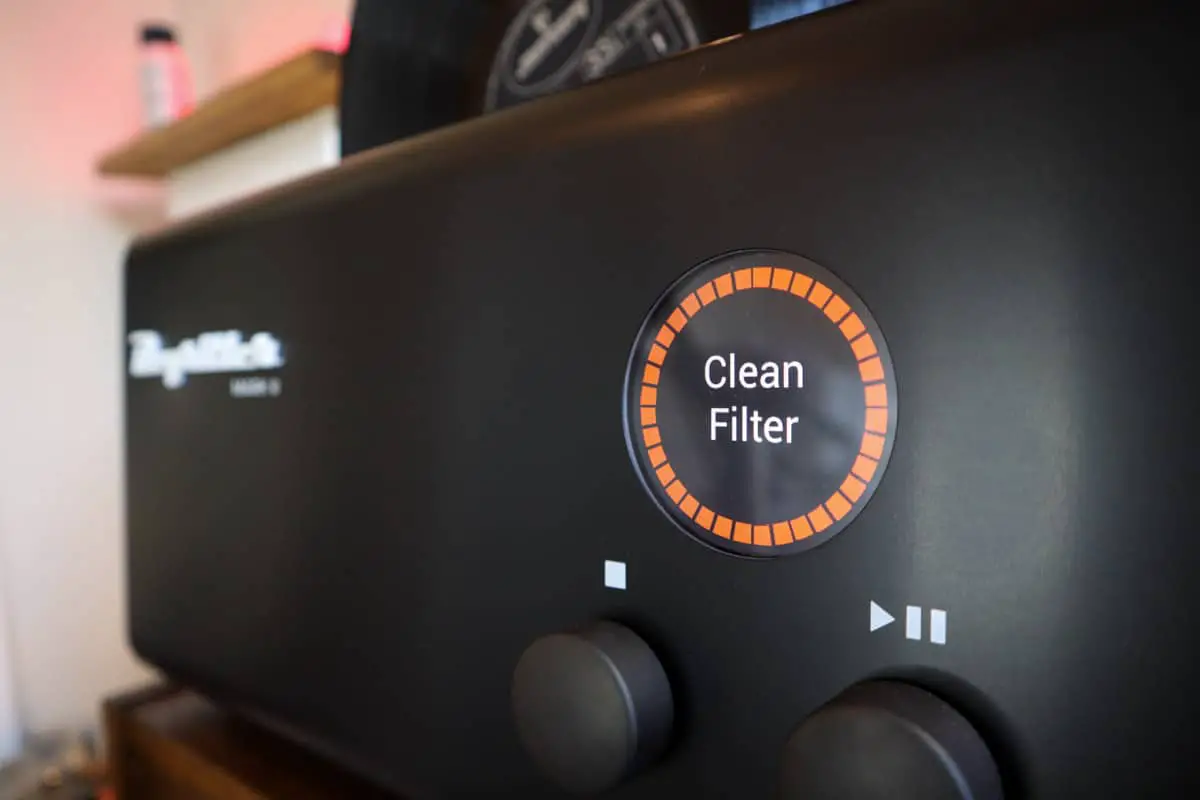 Water Temperature Control:
Any ultrasonic record cleaner will cause the water temperature to rise. The last thing we want is this to cause record warping.
To keep your records safe, the Degritter continuously monitors water temperature, and should it exceed 35°C (95°F), the Degritter will automatically trigger a cooling cycle.
As summer temperatures come in, I have found this to be invaluable, as it happens quicker than you think! If you own a HumminGuru, it's advisable to manually check the water temperature when cleaning a lot of records in one day.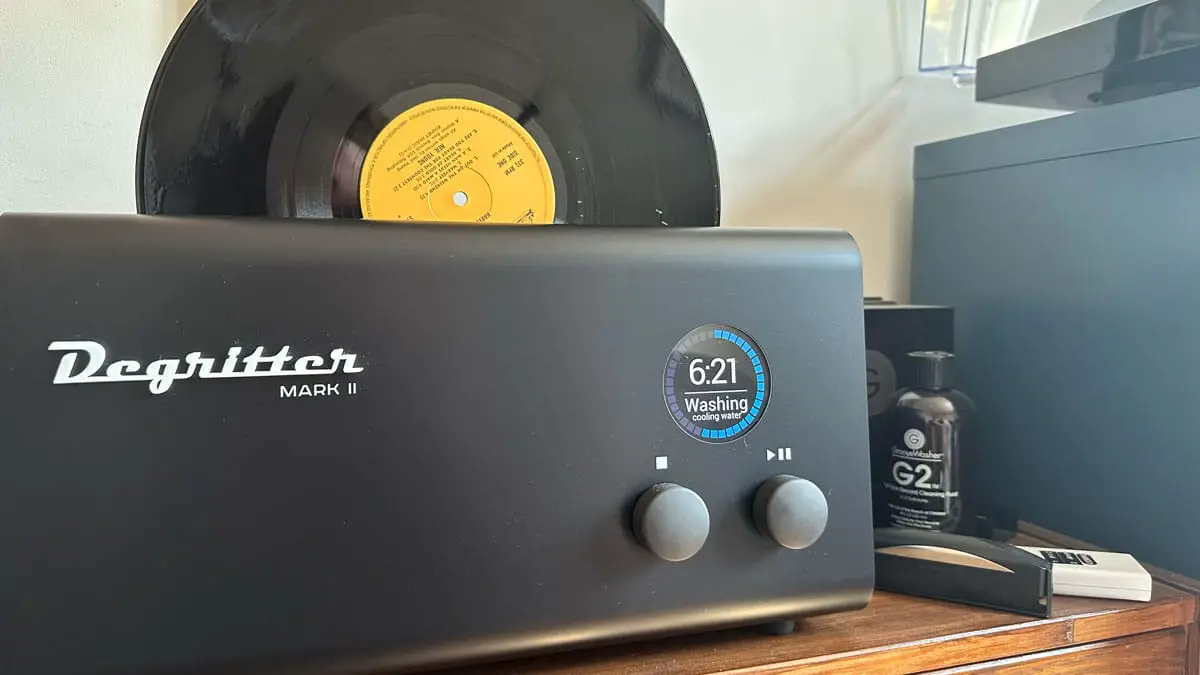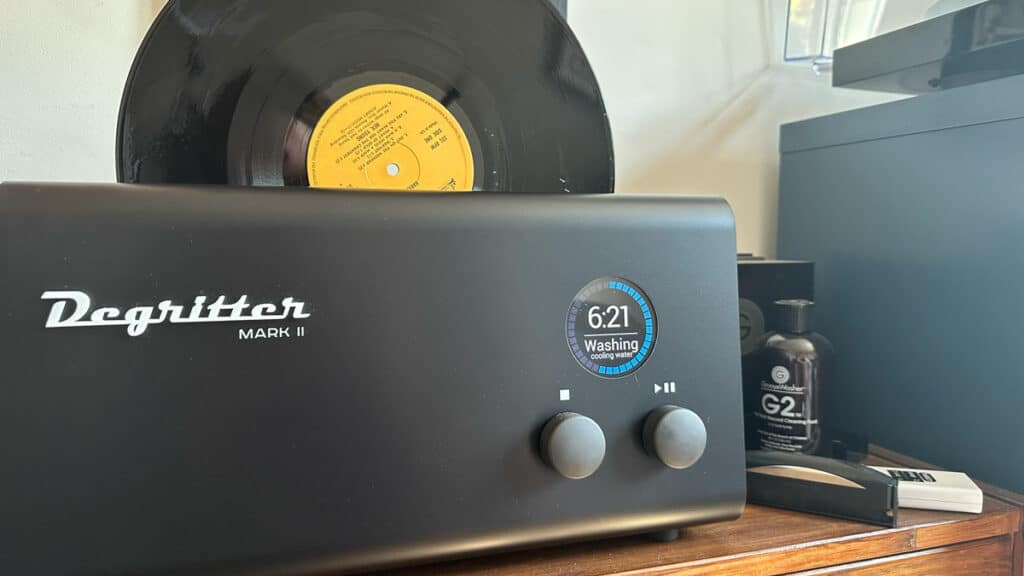 Degritter Review: The Bottom Line
Although it doesn't come cheap, the Degritter is the best Ultrasonic record cleaning machine for home use, bar-none.
Not only are the cleaning results outstanding and the engineering super-smart, but it also feels luxurious to use day-to-day. 
It's the little touches that make it feel this way, like the high-end feel of the interface and the super-soft push buttons that have a "re-assuring" feel to them.
Having cleaned over 100 records with the Degritter, I simply can't afford NOT to have this machine in my record cleaning arsenal. 
I've gotten far too used to the convenience of being able to simply rinse records (both new and used), all while getting on with something more productive, or even better – enjoying more music!
More importantly, I've gotten used to all my records being as clean as possible. Sure, it's not a miracle worker, the Degritter won't restore damaged records, but it's as close to a miracle worker I've seen when it comes to cleaning records at home. 
Granted, $3000+ is a huge outlay. And my recommendations for the Pro-Ject VCMs and the HumminGuru still stand if you're on a tighter budget. You can, and will, get great results with these machines, you'll just have to work a little harder to achieve the same outcome.
If you've been sitting on the fence about the Degritter for some time, I can wholeheartly say that it's worth the investment if you buy a lot of used record or want to restore your old collection. 
At the time of writing, the original Degritter MARK I represents a comparable bargain as dealers sell off old stock, and while it's always nice to have the latest incarnation of any product, it's worth keeping in mind that the MARK I set the standard and remains an impressive product.
Development of the MARK II represents Degritter's continuous commitment to developing the best at-home record cleaning experience, and I look forward to seeing their next innovation. 

degritter.com
Summary
Reviewer
Review Date
Reviewed Item
Degritter MARKII Ultrasonic Record Cleaning Machine
Author Rating





Product Name