If you're the proud owner of a large vinyl record collection, or you want to step up your record cleaning game, a record cleaning machine is one of the best investments you can make.
Yes, they require some investment up-front, but in the name of priceless record preservation and the pursuit of audio nirvana, they are worth every penny. 
There are numerous ways to clean vinyl records, but a record cleaning machine has the distinct advantage of boosting cleaning results and saving you time in the process. You can achieve great results cleaning records by hand, but this may not appeal if you're the custodian of an extensive collection.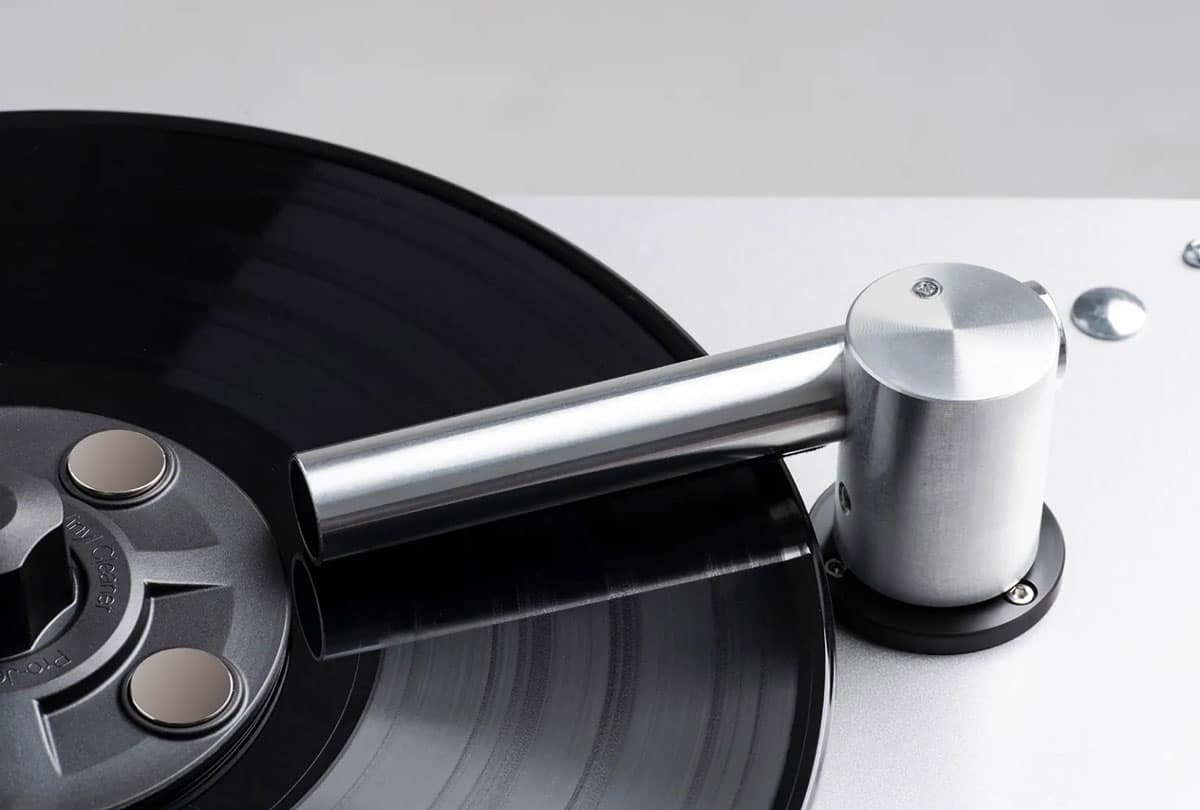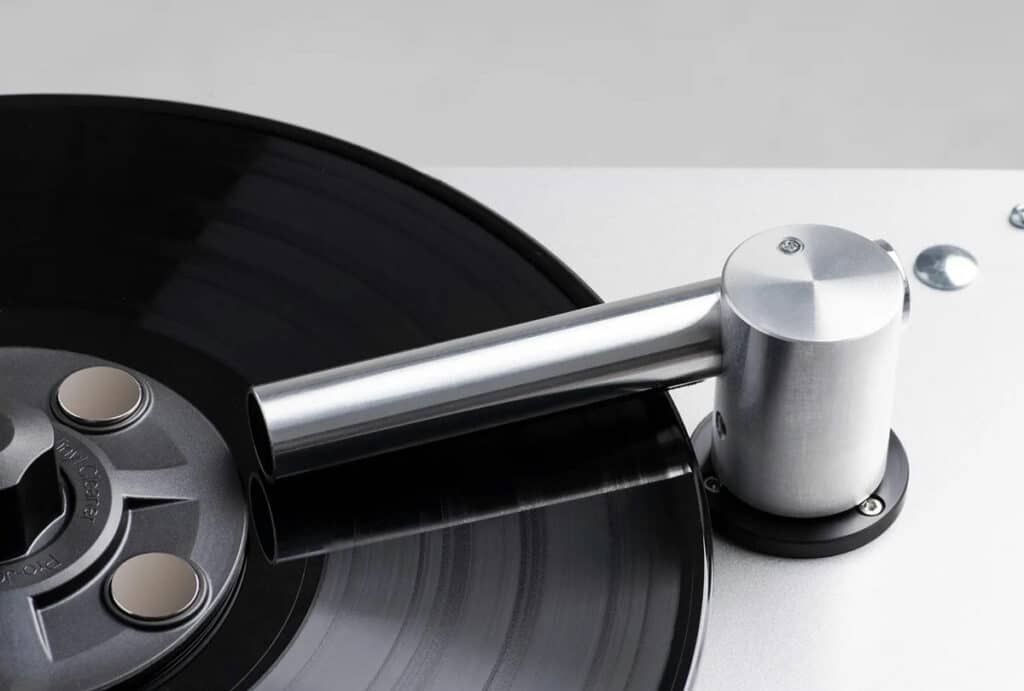 The Best Record Cleaning Machine Options Available
To set you off on the path to crystal clear, squeaky clean vinyl, we've compiled our pick of the best:
Pro-Ject VC-E2
The Pro-Ject VC-E is a mainstay of my day-to-day record cleaning here at Sound Matters. It's the baby cousin of their flagship model, the VC-S3. It works, essentially, as a vacuum cleaner for your records. 
Here's how it works:
Secure the record using the clamp provided.
Apply a generous amount of record cleaning fluid. 
Pro-Ject supplies their own, but you can also use your preferred solution (I use GrooveWasher).
Allow the fluid to work on the record surface for a minute or two before lowering the vacuum arm to the record surface.
Turn the machine on and rotate the record at least once in both directions.
One rotation clockwise and anti-clockwise is usually enough to remove all the fluid—taking the dirt, dust, and grime away in the process.
The latest incarnation (the VC-E2) introduces an improved design, with a new vent cover to prevent cleaning fluid splash-back, and an improved magnetic record clamp design.
The VC-E2 is based on exactly the same vacuum technology as the larger VC-S2 but is around half the size. Having reviewed both units, I can vouch for the VC-E2 in retaining the same cleaning power as the larger model while offering a space-saving form factor for those living in accommodation where storage comes at a premium. 
VC-E2 Price: $499 (£349) VC-S3 Price: $799 (£499)
VIEW PRODUCT ON AMAZON

VIEW AT TURNTABLE LAB

---
Okki Nokki One
Okki Nokki makes superb record cleaning machines. The new 'One' is the latest incarnation of their popular MKII model and comes completely re-designed with many improvements. 
For those that prefer a full-sized platter, the Okki Nokki may be a more attractive option. The new 'One' also sports a single operation button and a really clever adjustable arm for cleaning 12″, 10″, or 7″ records. This feature negates the need to purchase a separate 7-Inch arm kit as required by the Pro-Ject model.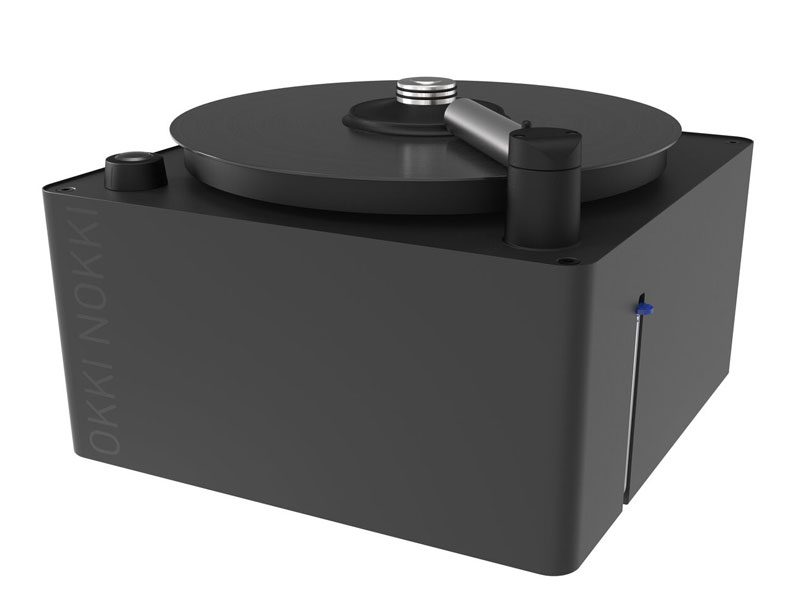 Price: $599 (£499)

---
Record Doctor VI
If you'd like to step into the world of vacuum record cleaning machines without breaking the bank, then a Record Doctor VI could be just what the doctor ordered (see what I did there). 
Record Doctor models work similarly to other machines on the market, but without the expensive rotation motor. So if you don't mind turning the record by hand, you can achieve very similar cleaning results at a much lower cost.
The new VI model offers quite a few improvements on the hugely popular Record Doctor V, including an improved chassis that comes in gloss black or carbon fiber. The top is now brushed aluminum, which is much stronger than the previous design and helps to reduce noise and improve heat dissipation. The manual handle now completely protects the record label and is much easier to turn than the previous design.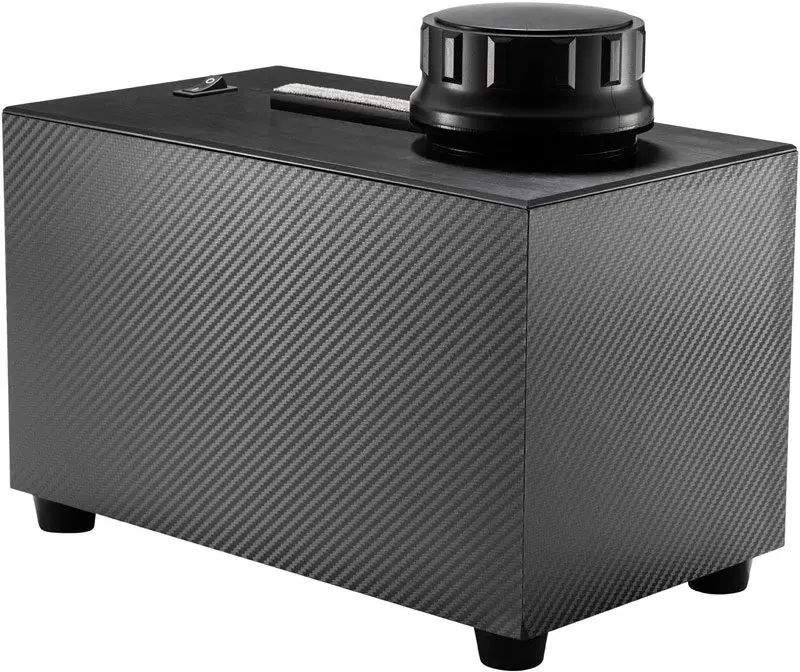 Price: $299 (£265)
VIEW PRODUCT ON AMAZON

VIET AT TURNTABLE LAB
---
VPI HW-16.5 RCM
VPI arguably set the standard for vacuum record cleaning machines with the original HW 16 over 30 years ago. It's safe to say they know a thing or two about building a great machine. A VPI will set you back more than many of its modern contemporaries, but the build quality here is sensational.
My favorite signature feature of the VPI design is the integrated dust cover and the fully enclosed design, which helps to ensure no spilling of fluid onto table surfaces.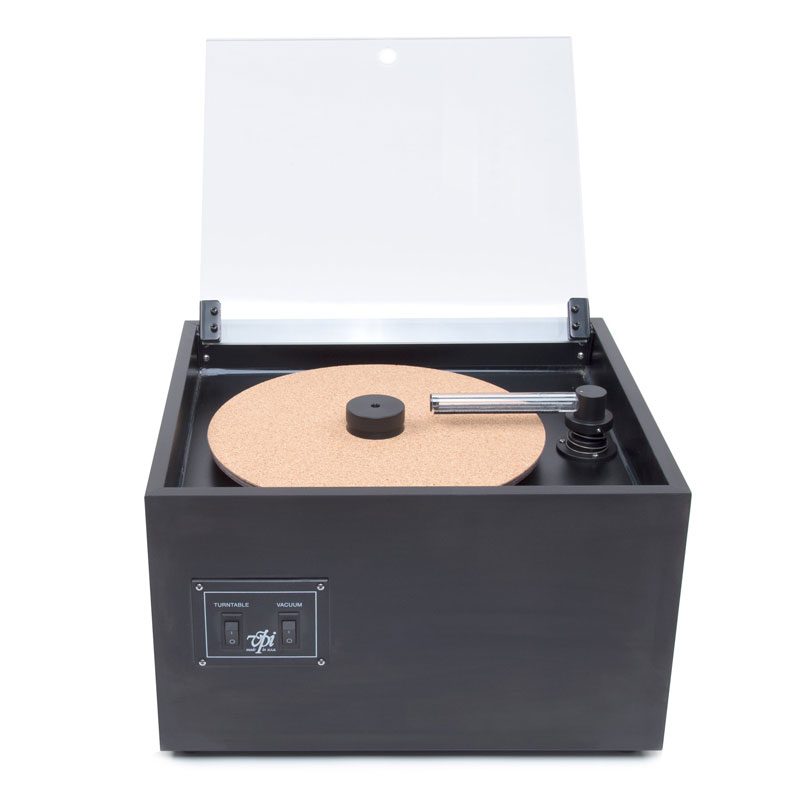 Price: $950
---
Clearaudio Smart Matrix Silent
As the name suggests, the flagship record cleaning machine from Clearaudio aims to keep noise to the absolute minimum, and while it's not strictly 100% silent, it's about as close as you'll get considering the very powerful 500-Watt vacuum motor. 
The Smart Matrix is also one of the most luxurious feeling models available, with its automatic fluid distribution and sleek brushed aluminum push-button operation. If you can stomach the cost, this very stylish option feels more high-end HiFi than record cleaning utility.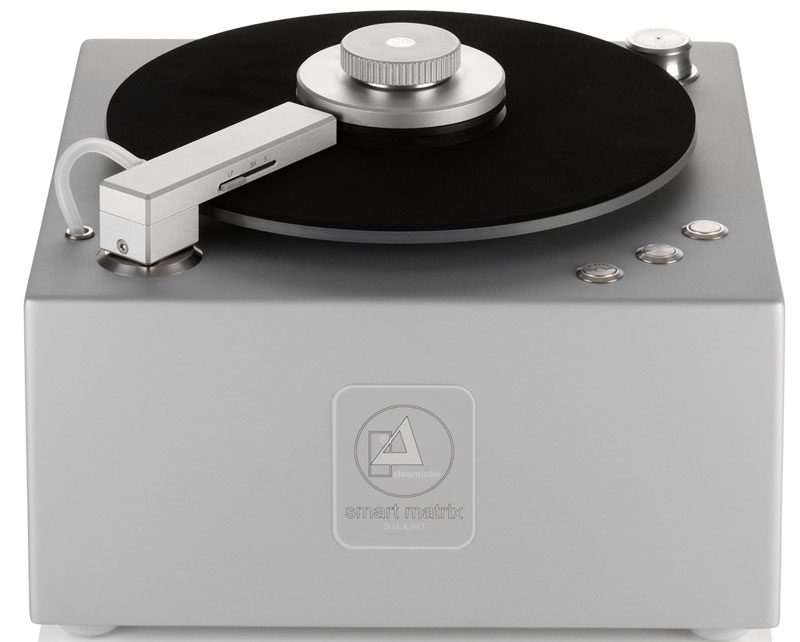 Price: $2500 (£1500)
---
Degritter MARK II Ultrasonic Record Cleaner
Ultrasonic cleaning (or cavitation) as a method for cleaning records has grown in popularity over recent years. The process works by creating lots of tiny cavitation bubbles in a cleaning bath. These bubbles form and collapse, releasing energy as heat and a small amount of pressure, which is great for microscopic cleaning.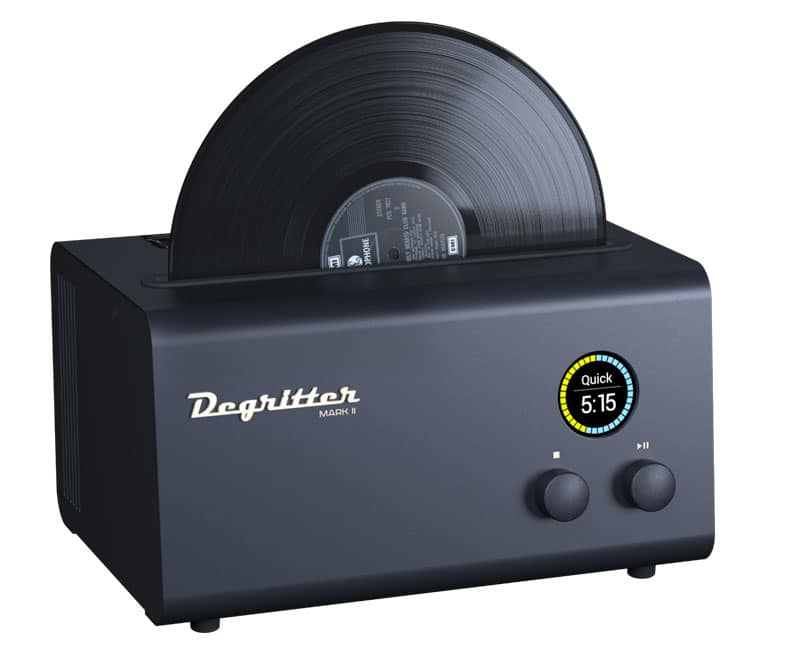 Machines such as the Degritter are purpose-built ultrasonic cleaners designed to deep clean your records. The catch is, they're a little on the expensive side! ($2990 or £2450).
That, said, the Degritter is undoubtedly the most sought-after record cleaning machine on the market right now, and for a good reason. It works.
Not only is the machine incredibly well built, but unlike many industrial record cleaning machines, the Degritter is designed specifically with records in mind.
Check out my full review of the Degritter here.
Record Adaptors for Ultrasonic Cleaning Tanks:
A few companies have popped up offering adaptors designed to sit on affordable Chinese-made ultrasonic tanks to reduce the cost of entry to ultrasonic cleaning. Check out this example from WEWU (pictured below), who make an adaptor product that will clean up to five records in a single ultrasonic tank. For $500, there you have it; you're into cavitation cleaning. 
These adaptors do a pretty good job, but they often don't perform as well as a purpose-made ultrasonic machine. Much of the performance uplift in a machine like the Degritter is down to the frequency of the machine. Most affordable ultrasonic tanks produce bubbles at a frequency of 40KHz, whereas the Degritter produces much smaller cavitation bubbles at a higher frequency of 120KHz. The smaller bubbles are more effective at deeply penetrating the record grooves.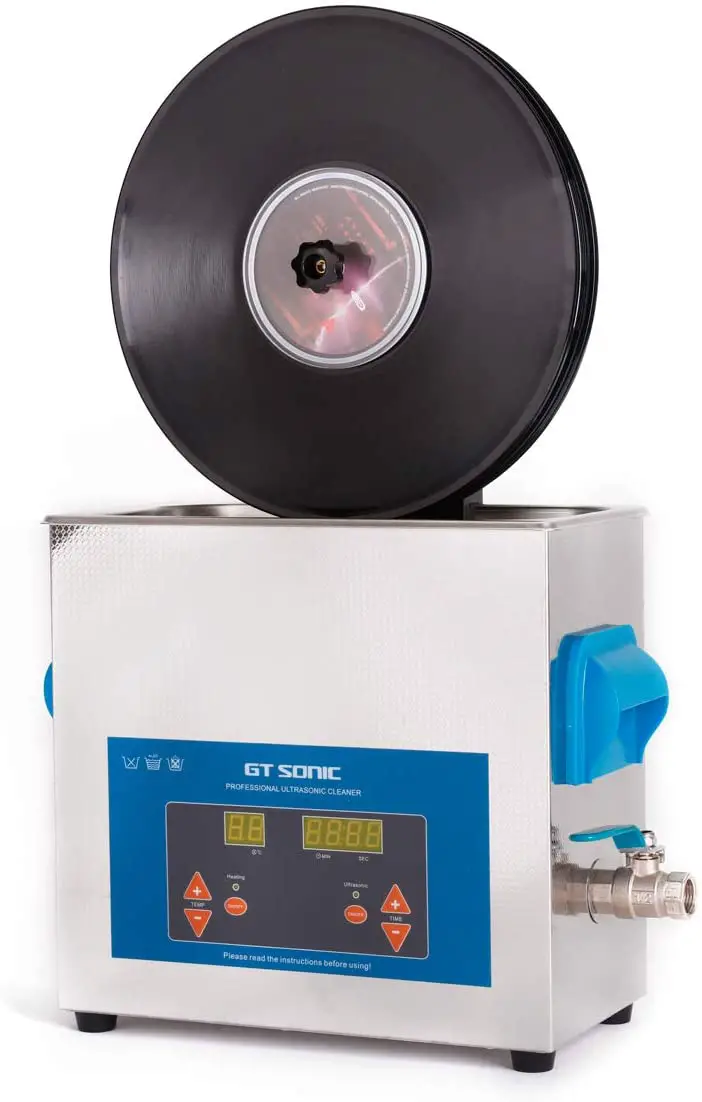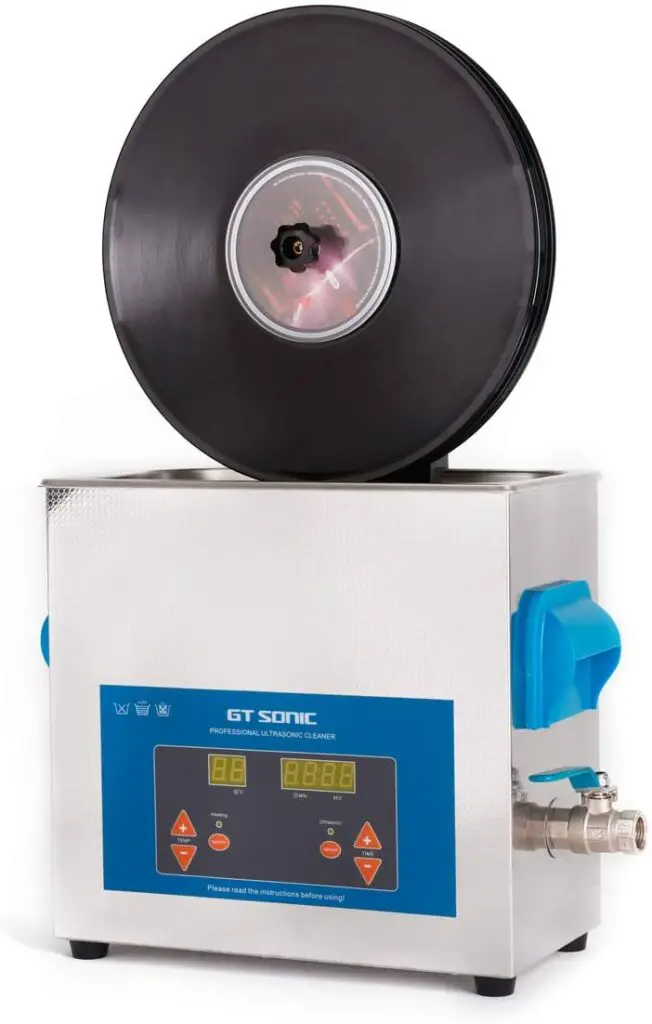 ---
HumminGuru All-In-One Ultrasonic Record Cleaner
If you're on a budget, a better option (in my experience) than the piecemeal industrial tank with adaptor options is the affordable all-in-one ultrasonic record cleaning machine from HumminGuru.
The HumminGuru began as a Kickstarter campaign (similarly to how the Degritter began), only in this cases, their mission was to design and bring to market an affordable ultrasonic record cleaning machine capable of cleaning and drying the record in one compact unit.
Did they success? Yes: the unit is currently the most affordable all-in-one machine currently available at $377 (or $427 with adaptors). Does it perform as well as the Degritter?
In my experience, no, but for the price, you can't argue with it as an affordable entry-level into Ultrasonic that won't break the bank.
Check our full review of the Humminguru to learn more.
Or, pick up yours today at the links below:
Have we missed off your favorite ultrasonic record cleaning machine? Let us know what you recommend and why in the comments below.