Due to the continued growth in vinyl record sales, the demand for entry-level turntables and records players is greater than ever. Increasing numbers of consumers are rediscovering physical music formats, with vinyl now outselling CD for the first time since 1986.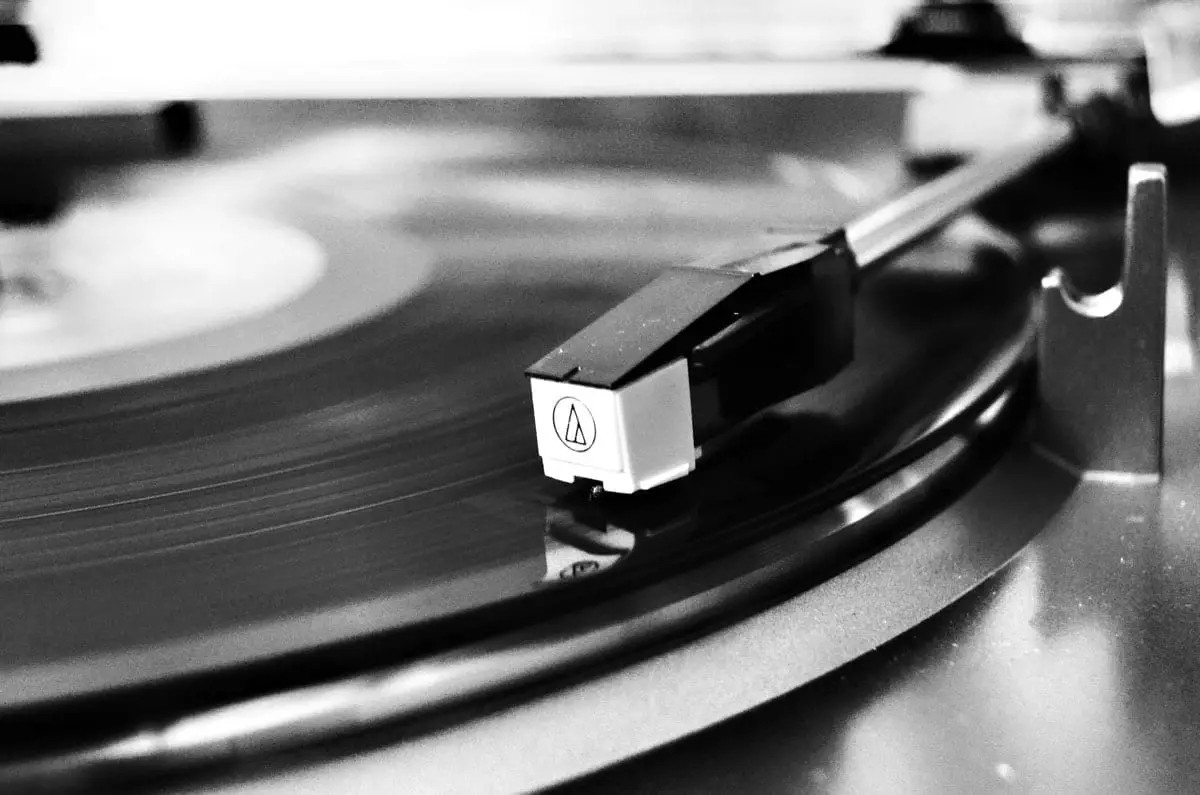 Naturally, as demand grows, more manufacturers are offering entry-level turntables designing to appeal to new collectors. So which turntable should you buy when first getting started? Much of your decision will depend on budget, but there are several factors you should consider that might influence your decision and how many pennies you save before parting with your hard-earned cash.
Record Players VS Turntables
For many beginners, choosing your first setup can be a minefield. If you're starting from scratch, there is a whole new world of terminology and technical jargon to sift through. 
For example, I recently helped a friend choose their first turntable as a gift for her husband. The first thing that struck me was that she expected that most systems would come complete with speakers and was surprised to learn that most components are separate as you climb the Hi-Fi ladder.
This is where the question of record players vs turntables come in. All in one, affordable record players—such as those made by Crosley and Steepletone—are extremely temping for newcomers. They offer an out-of-box solution, big-box retailers often stock them, and they appeal to the nostalgic aesthetic of vinyl.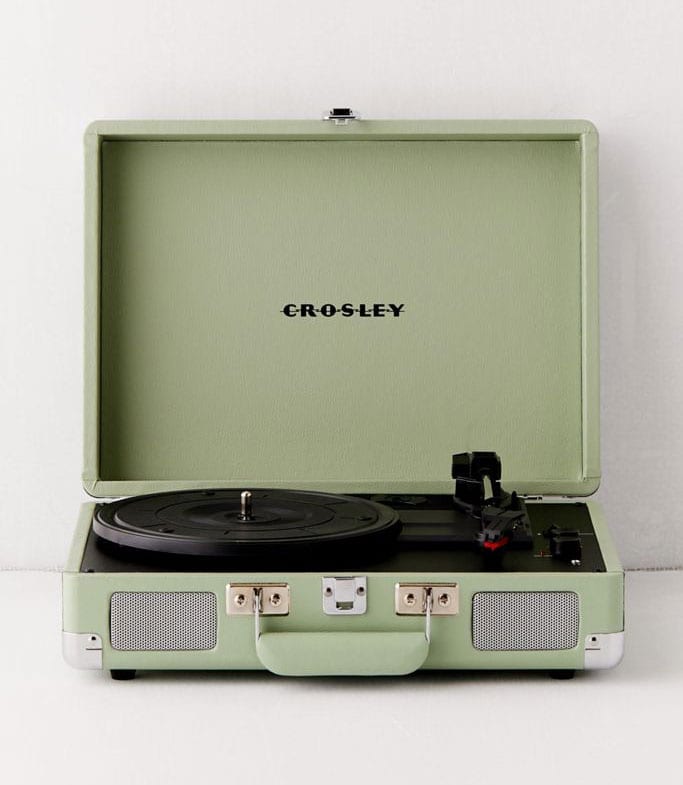 Crosley Record players get a bad rap among serious collectors, and for a good reason. But the fact remains, for some consumers, they serve a purpose. If all you want is the ability to play back a record for nostalgic vibes and you can't see yourself progressing beyond this point, then fine—but if you're looking for the great sound of vinyl you've heard so much about, prepare to be disappointed. 
In our experience, a dedicated, separate turntable will invariably deliver better performance and sound quality than an all-in-one record player.
How to choose your first turntable
So let's assume you're in this for the long-haul; you want to make an investment that will deliver great sound and performance, but at a price you can afford.
Now you could go down the route of a basic automatic turntable, something like the Audio Technica AT-LP60X, and to be fair, this turntable works perfectly well for just $129 – $149 (£99). It's a significant upgrade on the cheap, all-in-one record players, it'll allow you to use a separate phono stage for improved performance, or you can connect using the built-in phono stage for ease of use. 

Note: To learn more about why turntables require a phono pre-amp—either integrated or external—consider reading our separate article on this topic.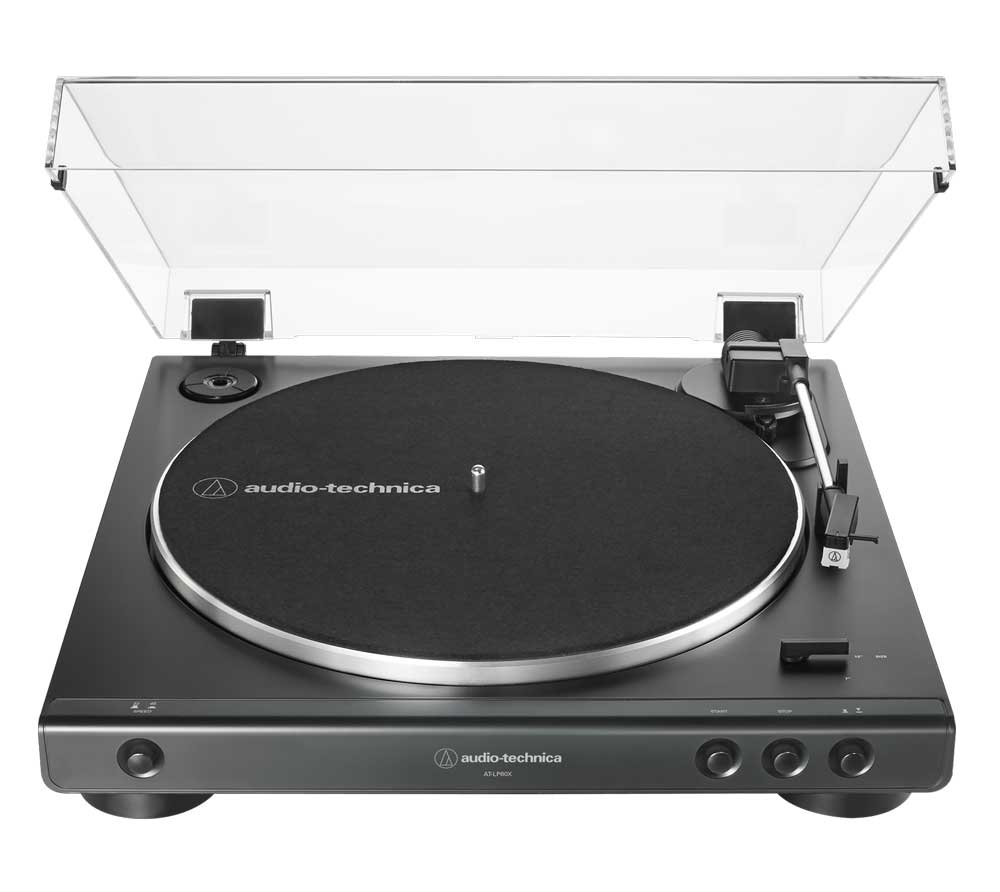 Of all the affordable automatic turntables on the market, it's one of the better performers. However, in my experience, the tracking and performance of such models simply isn't as good as a manual turntable with a proper tonearm and counterweight. You will have to stretch the budget a little further, but the benefits are huge if you're able. Not only will the turntable track records better, but you'll also experience less resonance that can cause degradation in sound, and you'll be able to upgrade your cartridge as a further performance boost later down the line. 
With the previously mentioned LP60 turntable (and other similar models), you are limited to the integrated cartridge and a push-fit replacement stylus—both of which are attached to a spring-loaded, pre-set tonearm. There are plenty of similar models out there; Sony makes a very similar design, as do Marantz. If you look closely, these models use very similar, mass-produced components that are manufactured in China. Some designs are even OEM products, each with a different brand slapped on the front.

Step up to a fully manual turntable.
The key to achieving great turntable performance at an affordable price is simplicity. Typically speaking, the more bells and whistles there are, the cheaper the overall quality. That said, I would highly recommend buying a turntable that focuses on getting the basic playback mechanism right.
It can seem counter-intuitive if you're just getting started, but at the end of the day, component quality, engineering, and design are what deliver high-fidelity results. To keep the cost down, this usually means sacrificing many conveniences, including automatic speed change, a built-in phono stage, or an auto cue/auto stop function. However, the sonic benefits are clear to hear and a little extra effort ultimately makes the playback experience more engaging and rewarding. After all, that, in part, is what vinyl is all about. 
Recommended Starter/Beginner Turntables
With all the above in mind, here is our current list of recommended beginner turntables with details of what else you'll need to get up and running. (All models feature in our best budget to mid-range turntables guide).
Pro-Ject Primary E
Price: $225.00 / £159
Phono preamp required? Yes | Speeds: 33 ⅓, 45 rpm | Cartridge: Ortofon OM 5E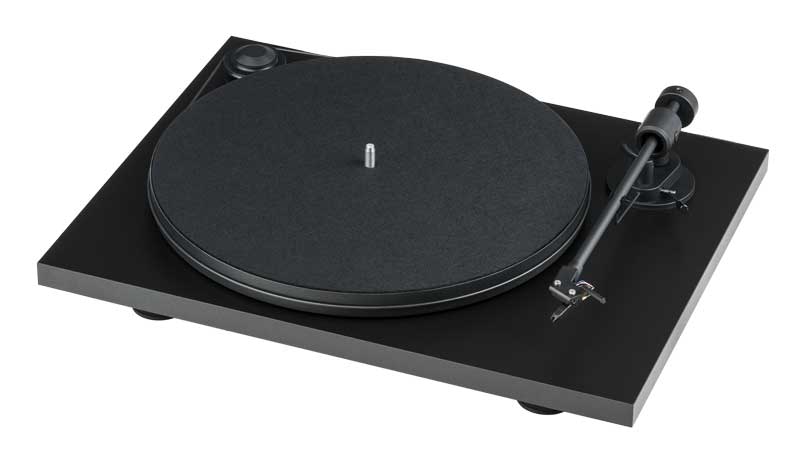 The Pro-Ject Primary E is beautifully simple. You won't find any bells and whistles on the Primary E, it's all about the music and you're in full control. At this price, though, you can't fault the core components. There is no built-in phono stage (unless you buy the phono version), but the aluminum tonearm is pre-mounted with an Ortofon OM 5E cartridge (a great sounding cartridge at this price). What's more, the anti-skate and counterweight are pre-set right out of the box, so all you have to do is attach the drive belt, plug into a phono stage, and away you go!
Fluance RT81
Price: $249 / £249
Phono preamp required? No | Speeds: 33 ⅓, 45 rpm | Cartridge: ATN95E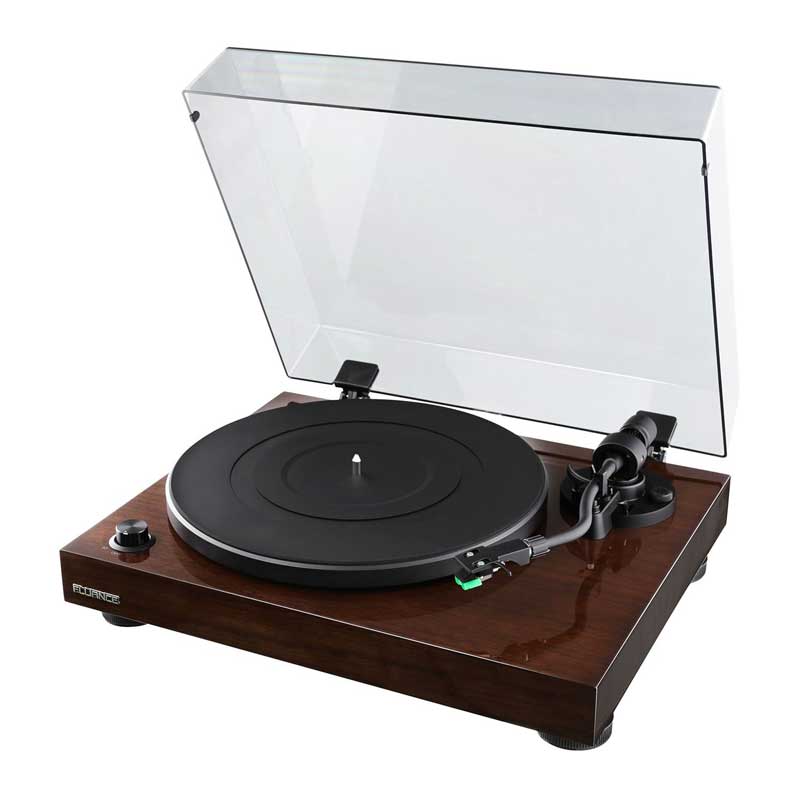 The RT81 offers impressive performance at a budget price-point. The design takes some of the minimalist principles of a Pro-Ject deck and adds an s-shaped tonearm with a replaceable headshell for easy cartridge swapping. So let's say you want to play back mono records with a dedicated mono cartridge, with a removable headshell, you can easily swap from one cartridge to another without the need to re-align the cartridge each time.
If none of that makes sense at the moment, fear not, as the included ATN95E cartridge comes pre-set and ready to go right out of the box.
Other key features include: a built-in phono stage that you can switch off, an auto-stop function that helps prevent stylus wear (again you can switch this off), and a solid wood plinth.
U-Turn Audio – Orbit 
Price: $179 – $459
Phono preamp required? With some models | Speeds: 33 ⅓, 45 rpm | Cartridge: Various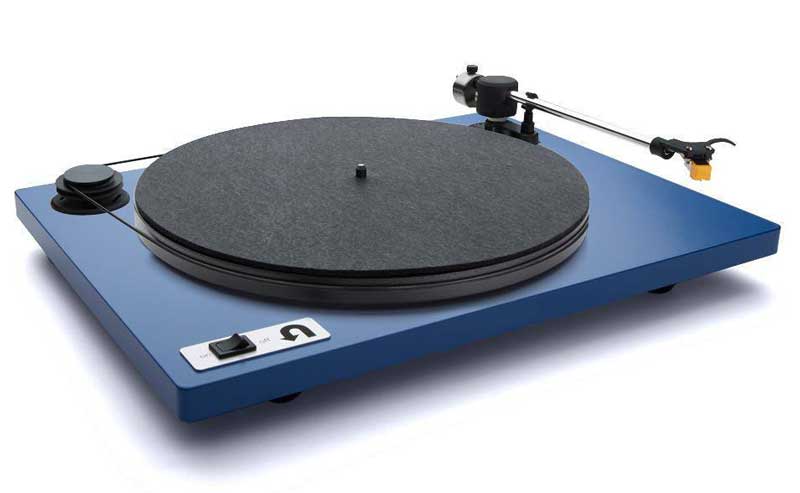 U-Turn are a US-based turntable manufacturer that makes minimalist, high-performing decks designed to make a great vinyl experience more accessible.
One of the things I like about U-Turn's offering is the modular approach to their range. If you're on a budget, you can get started with their basic model for as little as $179. Once you've saved a few extra pennies, you can easily add a few upgrades, like the cue lever for an extra $40, or the acrylic platter for an additional $90. If you're feeling flush, you could choose the Orbit Special, which comes with a beautiful hardwood plinth and an Ortofon 2M Red cartridge at just $459.
Pro-Ject Debut Carbon
Price: $399 / £299
Phono preamp required? Yes | Speeds: 33 ⅓, 45 rpm | Cartridge: Ortofon 2M Red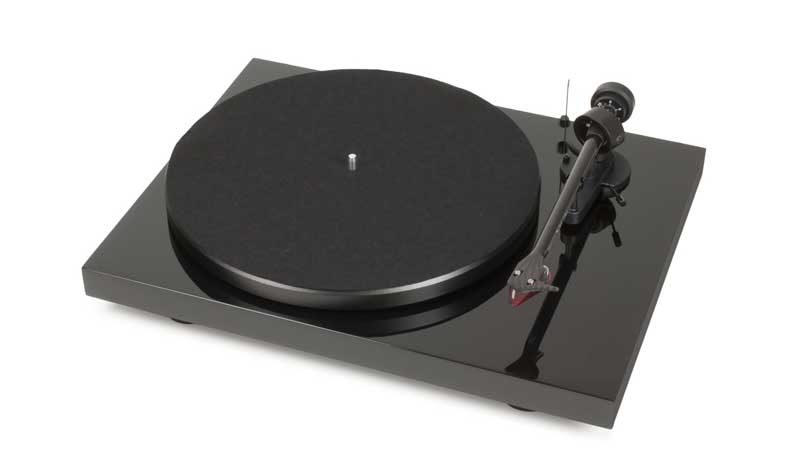 Lastly, and probably our current favorite, is the classic Pro-Ject Debut Carbon. Quite rightly, the Debut range of turntables have gained a reputation as one of the best entry-level decks on the market. It's not the cheapest, given its stripped-down feature-set, but the build quality is outstanding, and the sound quality is superb. 
Newcomers might find the manual speed change a little offputting, but if it's a detailed and dynamic sound you're after, you'll be pleased you made the jump from some of the more convenient automatic turntables on the market. For many, it still represents the best point of entry for newbies who want to get off on the right foot. 

VIEW PRODUCT
The Bottom Line
Your final decision is always going to be based on a balance of features, price, and quality. So long as you understand the pros and cons of each product, then much of it also comes down to personal taste and priorities.
One aspect we haven't covered in the recommended models above are modern additions, such as Bluetooth and USB outputs. If the ability to stream your vinyl to a Bluetooth enables speaker or receiver is important, then many of the manufacturers I've mentioned also offer Bluetooth enabled or USB equipment models. With the growth of Bluetooth connectivity, manufacturers are unable to ignore this convenience, despite the compromise in sound quality due to Bluetooth signal compression. Try the Pro-Ject Essential III Bluetooth as one example of a great entry-level deck with said connectivity. 
As with all audio gear, there are no right or wrong answers. Use your ears, make a balanced decision based on the pros and cons of each model, and remember to enjoy the experience along the way. Starting a vinyl collection is a lifelong journey; you can always change paths or upgrade your ticket as you traverse the long and winding road to audio nirvana.