Make your records sing with the best speakers for vinyl records that won't break the bank.
The speakers are your turntable's voice to the world.
If you're lucky enough to have a nice turntable or record player, you want to do it justice with a nice set of speakers.
And while I always say the first part of the audio signal chain (in the case of vinyl records, your cartridge) is the most important, we don't want our setup falling at the final hurdle.
A great pair of speakers can add the icing on the cake for a great vinyl setup, or they can strangle the signal, sucking the life from your music.
To help you get the best sound from your investment, we've compiled our list of the best speakers for vinyl records.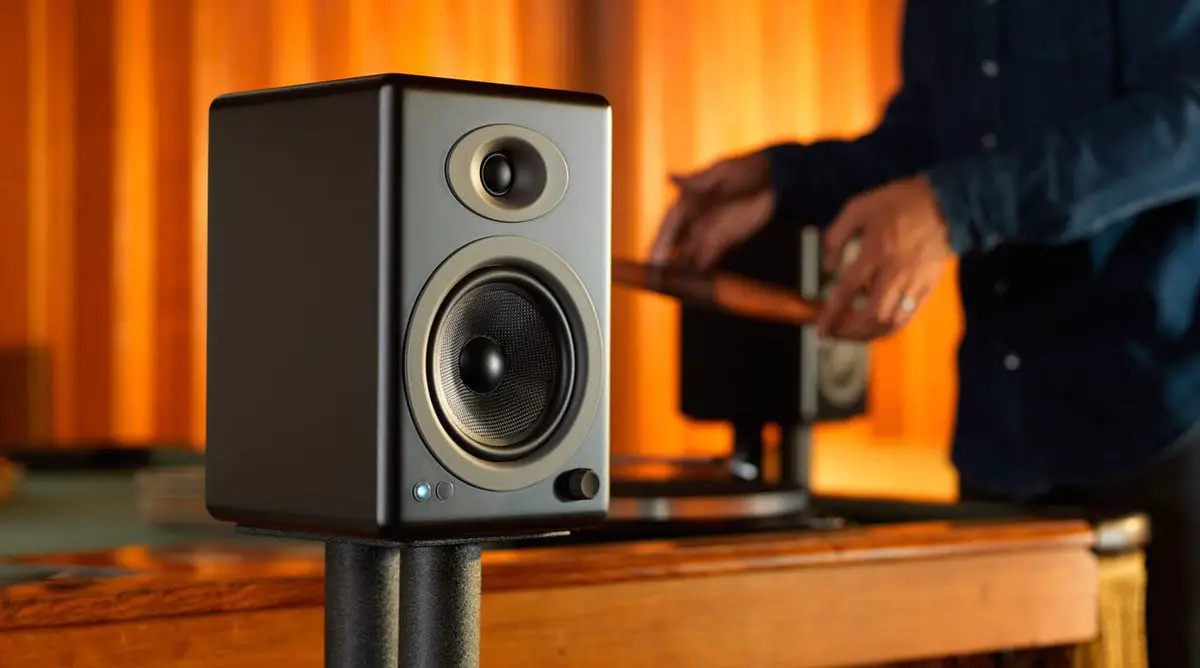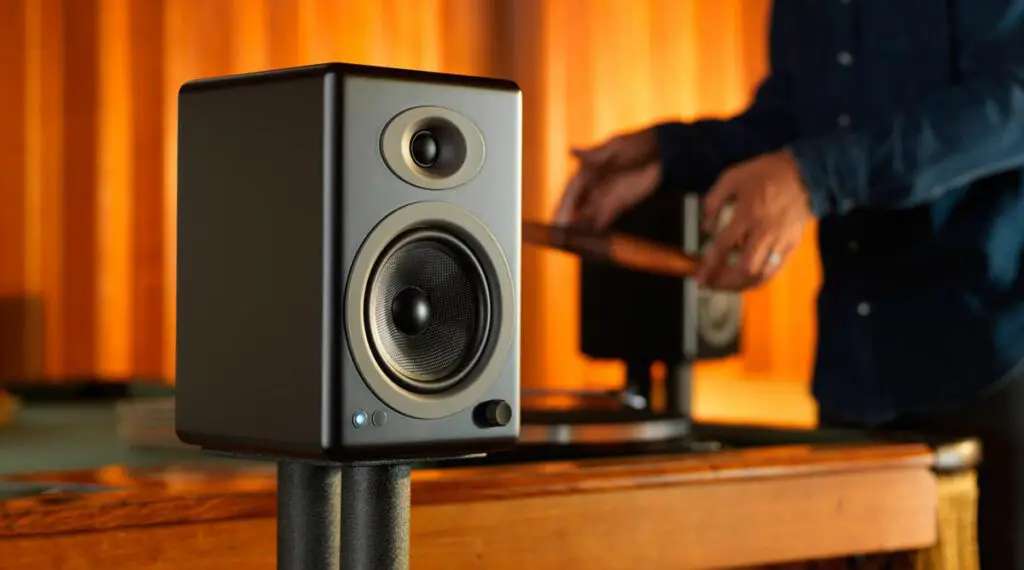 ---
ELAC Debut 2.0 B5.2 Bookshelf Speakers
Excellent sound quality doesn't have to break the bank, and these impressive budget bookshelf speakers certainly demonstrate that.
They deliver an impressive, balanced low-end performance for a speaker of its size, and the soundstage is some of the best you'll experience at this price point. 
The off-axis performance is impressive, giving the speaker the ability to fill the room and sing, even if the ideal speaker placement and listening position aren't possible.
On that note, the front-ported design makes the speakers more forgiving if you need to position them closer to a wall than would otherwise be ideal. (Click here to view our full guide to speaker placement)
For such an affordable speaker, these budget speakers will make your records sing in any living room or vinyl cave. 
Price: $199/£299 | Type: Passive | Sensitivity: 85dB at 2.83v/1m | Impedance: 8ohms | Max power handling: 100W 
---

Wharfedale Diamond 12.1 Bookshelf Speakers
The Diamond range of speakers from Wharfedale goes way back to the 1980s, delivering excellent sound quality at affordable prices. 

The Diamond 12.1 is one of the newer incarnations of this established range, and they sound ridiculously good.
They're fairly flat in frequency response, but the high-end is smooth and detailed while the low-end is solid. The mid-range is detailed, and the vocals cut through nicely. 
Overall, you're left with a sense that you're listening to a very pleasant and musical-sounding speaker with no sense of harshness to be found. 
Price: $449/£250 | Type: Passive | Sensitivity: 88dB at 2.83v/1m | Impedance: 8ohms | Max power handling: 100W
---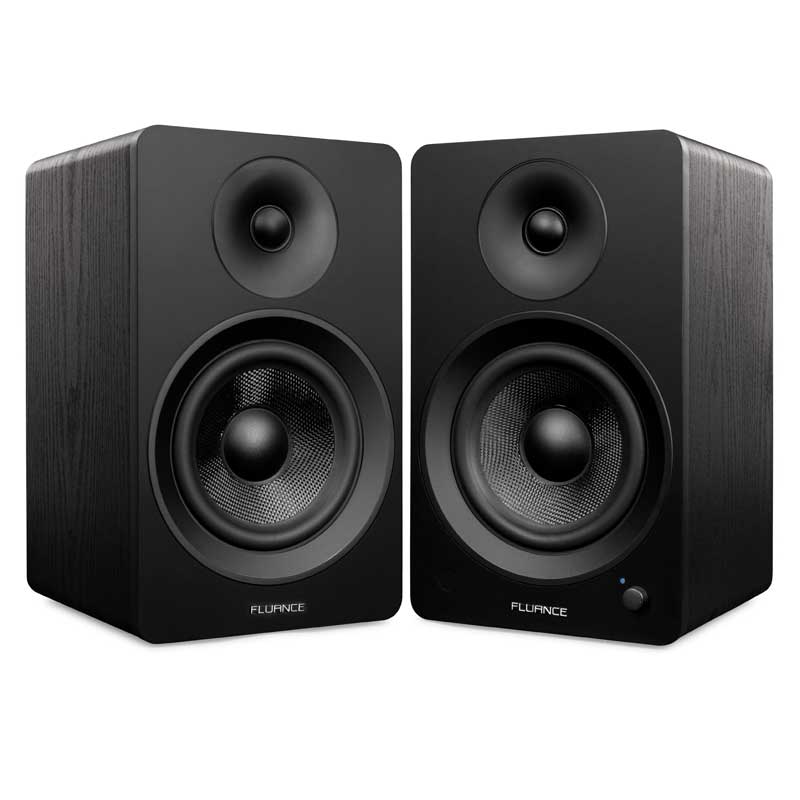 Fluance – Ai61 Powered 6.5″ Stereo Bookshelf Speakers
Fluance products across the board, from their turntables to their speakers, offer extraordinary value for money. 
The Ai61 powered speakers are nicely kitted out with everything you could want from an all-in-one solution. 

Are there better-sounding speakers on the market? Of course, but for someone who wants to avoid separate components (receivers, preamps, amplifiers etc), the Ai61 is a solid-sounding, fuss-free speaker. 
You'll need an external or built-in phono preamp to connect your turntable, but otherwise, it's a great-sounding setup for anyone looking to get started without the pain of matching speakers with amps. 
(View our full guide to the best budget phono preamps)
Price: $299/£299 | Type: Powered | Bluetooth: Yes | Power: Class D 120 Watts
---
Audioengine A5+
There's a lot to love about these compact powered speakers. 
They're pretty simple and don't have quite the same amount of features as our other powered speaker recommendations. There's no Bluetooth (unless you buy the aptX-HD version) or any souped-up bass controls, but that's part of their appeal. 
What you can expect is an honest-sounding speaker with plenty of natural, solid, and deep bass for their size. They fit neatly into a smaller listening space but are capable of impressive volume levels without distortion for their relatively compact size.
Price: $399/£449 | Type: Powered | Bluetooth: Included with aptX-H version | Power: Class AB 150W peak power total
---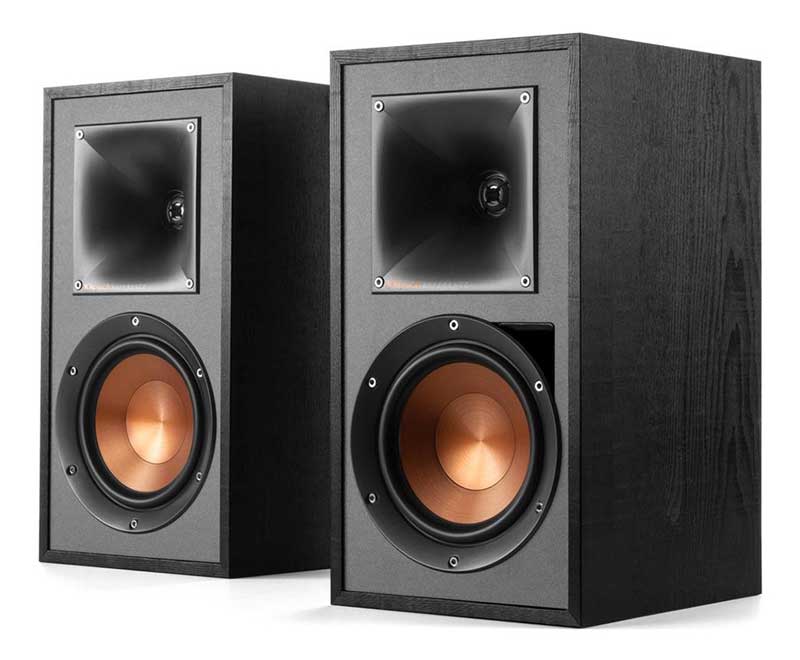 Klipsch R-51PM
The powered range of Klipsch speakers offers superb features and excellent sound quality. 
Not only are they one of the best speakers for vinyl records, but they also offer the convenience of modern Bluetooth connectivity. So if you're the proud owner of a Bluetooth turntable, or you simply want to connect a device to playback Spotify or Tidal, you can do so with ease.
As a powered speaker, the right speaker contains the power-amp and all your connectivity points, including an integrated phono preamp for directly hooking up a turntable, USB for connecting a computer, Optical for your TV, and a sub out if you decide to add a subwoofer. 
The R-51PM leans toward the warmer side tonaly, and in my experience, it doesn't quite have the same high-frequency performance of the Klipsch Reference range (mentioned below), but for an affordable powered speaker, the R-51PM is pretty hard to beat. 
Price: $299/£545 | Type: Powered | Bluetooth: Yes | Power: 120W Total System Power
---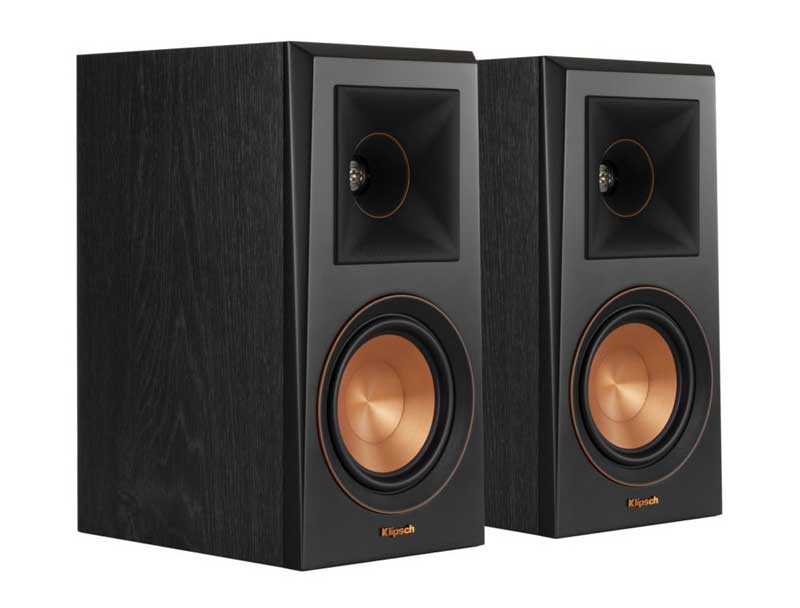 Klipsch RP-500M
I own a set of these myself, and they are superb performers at this price point. 
The silicon horn design maximizes efficiency and detail while the titanium tweeter (featuring Klipsch's Linear Travel Suspension) delivers an impressive amount of detail.
For the woofer design, Klipsch offers a unique spun-copper design that makes them super-agile but also very rigid.
Also unique is the use of Tractrix geometry for more port design, which Klipsch claim helps produce efficient airflow.
The result is a speaker that performs well above its class thanks to the quality of materials and engineered design. Speaking from experience, they pair very well with Pro-Ject's Stereo Box DS2 integrated amplifier, providing hours of vinyl listening pleasure in my record cave. 
Price: $529/£540 | Type: Passive | Sensitivity: 93dB at 2.83V / 1m | Impedance: 8ohms | Max power handling: 75W continuous/300W peak
---

KEF LS-50 Meta
Compact and beautiful, those with the budget to spare can't go wrong with the award-winning LS-50 Meta.
Where cheaper speakers can fall down on soundstage and depth, the LS-50s deliver in spades. They pack a punch for their size, and are small enough to disappear into any living space, making them perfect for those who listen to vinyl records in their living room.
The original LS-50 range was released almost ten years ago, and the new Meta models build on their initial success. They look very similar, but the Uni-Q driver array is very much upgraded and now includes Metamaterial Absorption Technology (MAT) to absorb sound and prevent distortion.
The result is a delightful musical bookshelf speaker that delivers a beautifully clean sound and handles even the most demanding material with laser-like precision. 
Price: $1600/£999 | Type: Passive | Sensitivity: 85dB at 2.83V/1m | Impedance: 8ohms | Max power handling: 100W
---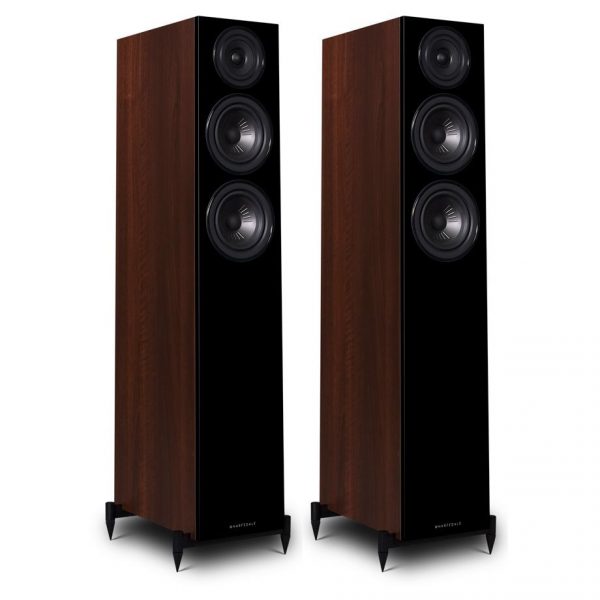 Wharfedale – Diamond 12.3 – Floorstanding Speaker
If you're looking for a floor-standing speaker that won't break the bank, you'll love the Diamond 12.3 speakers. 
The mid-range and bass on the Diamond 12.3 is more refined than its bookshelf/stand-mounted cousin, the 12.1, thanks to the additional 5″ woofer. 
They are packed with the kind of design and quality you'd expect from speakers costing far more. When listening to your favorite vinyl records, you'll undoubtedly be impressed by the dynamic and detailed mid-range and the overall sense of balance.  
Price: $998/£495 | Type: Passive | Sensitivity: 89dB (2.83V @ 1m) | Impedance: 8ohms
---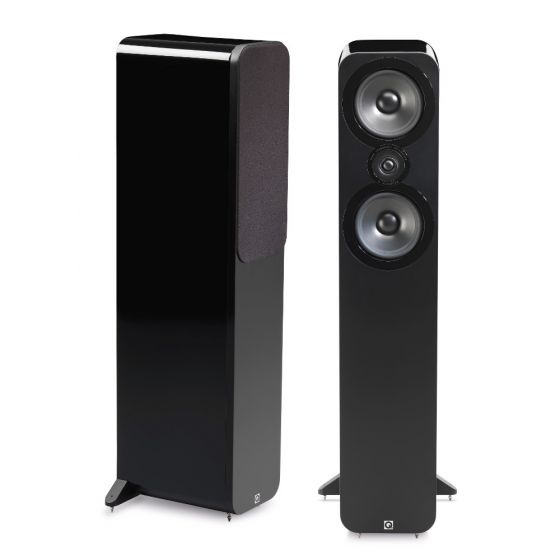 Q Acoustics 3050 Floorstanding Speaker
For the next level up in clarity and accuracy, consider the Q Acoustics 3050 floor-standing speakers. The vocal reproduction, in particular, really shines through on these sturdily built impressive performers that are still very reasonably priced. 
On more intimate recordings, the 3050s give a sense of realism that is always a sign of great speaker design. In other words, it feels like the performers are in the same room. 
The 3050s are perfect for larger vinyl record listening rooms. You can crank up the volume to impressive levels without ever detecting any degree of distortion. For under $1000, they're some of the most remarkable floor-standers on the market.
Price: $685/£549 Type: Passive | Sensitivity: 92 dB (2.83V @ 1m) | Impedance: 6 ohms
---
The Bottom Line – What Are The Best Speakers for Vinyl Records
We've compiled a list of some of the best speakers for vinyl records that are accessible to most budgets. 
A degree of personal taste always comes into any buying decision, and while you can spend a small fortune on speakers far more sophisticated than anything on this list, the vast majority of our readers are seeking a Hi-Fi experience on a modest budget.
I highly recommend listening to a pair of speakers with very familiar music before committing to a purchase. Local Hi-Fi stores are great for listening tests.
Powered speakers offer convenience and great value for money, but a well-match passive speaker and amplifier combination will deliver the best sound quality in most circumstances.