When it comes to choosing the best amplifiers for turntables, there's a lot to consider.
Your stereo amplifier is the driving force behind your Hi-Fi, and so we want to choose a system capable of complimenting the rich, warm sound of vinyl regardless of your budget.
The right amplifier for you will depend greatly on your input requirements, but also what speakers you're looking to drive. We need enough power and headroom to drive our speakers. When it comes to matching an appropriate amp to a set of speakers, this is a whole topic in its own right.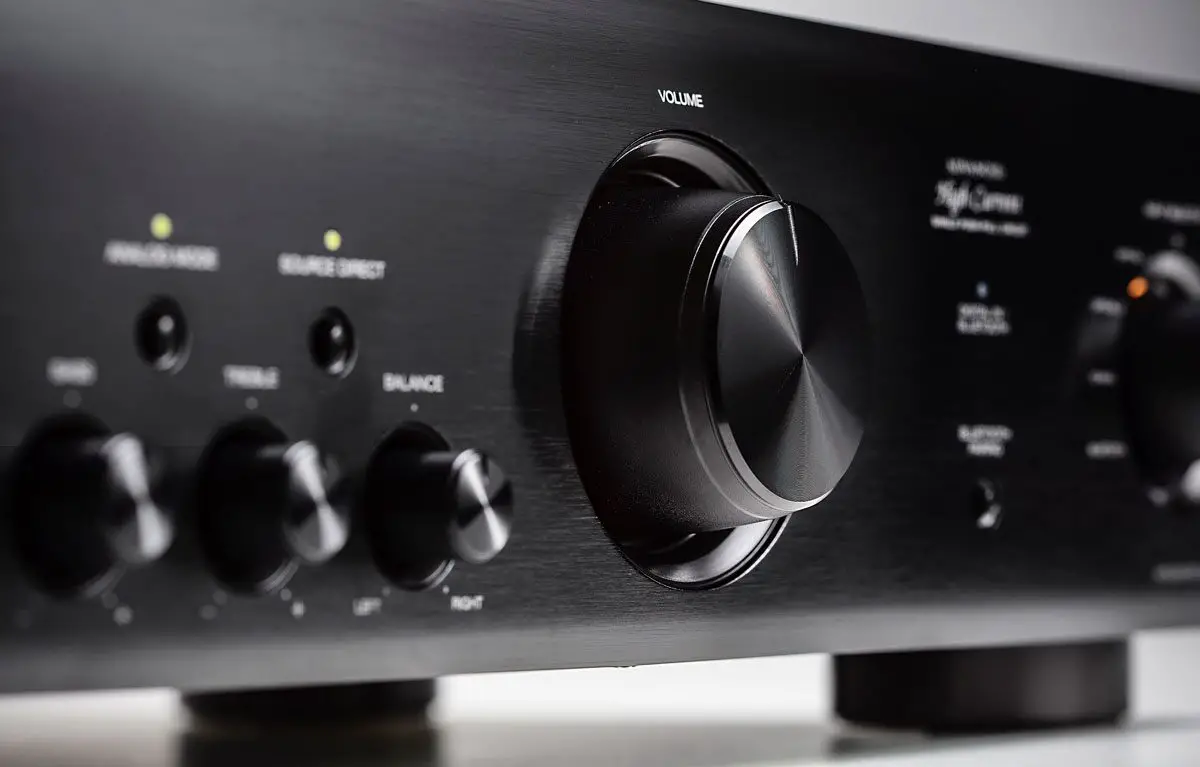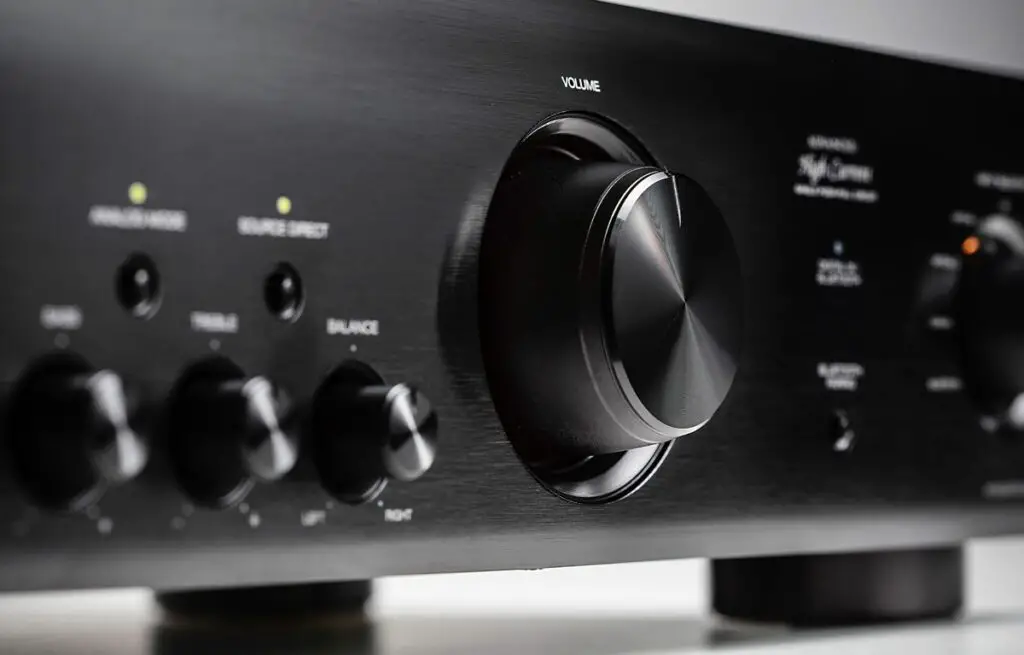 It pays to have some understanding of power (watts), impedance (ohms Ω), but also (and more importantly, speaker efficiency — AKA: how loud is the speaker at 1 meter for every watt of power).
Today though, we focus on the best amplifiers for turntables based on sound quality. For simplicity, all the featured amps are integrated amplifiers instead of stand-alone power amplifiers. (Meaning they combine the input preamplifier stage for all your input sources with the power amplifier that drives your speakers, all in one box).
---

Sony STR-DH190
Price: $168/£274 | Power: 100 watts per channel | Phono: Yes | USB: No | Bluetooth: Yes
The STR-DH190 from Sony was designed with the vinyl revival in mind. With greater numbers of younger listeners buying more and more records, Sony designed this impressive budget amplifier to deliver great sonic performance right out of the box. 
Unlike some cheaper units, where the built-in phono stage can suffer from noise due to its proximity to the power transformer, Sony ensured a reasonable distance in their design.
When you're not spinning records, there's a convenient Bluetooth connection. The STR-DH190 is the perfect entry to vinyl HiFi separates, and it sounds remarkably good for less than $200!
---

Marantz PM6007
Price: | $899/£369 | Power: 45W per channel | Phono: Yes | USB: No | Bluetooth: No

When it comes to getting a great-sounding amplifier at a reasonable price, there's a lot to be said for keeping things simple. Marantz has a long-held reputation for designing great quality stereo amplifiers that don't cost the earth, and the 6000 series is a frequent award winner for that very reason.
You won't find anything in the way of Bluetooth or USB connectivity here, but since many vinyl enthusiasts like to focus solely on a high-quality analog source (and perhaps the odd digital input), Marantz has forgone the Bluetooth trend in favor of producing a traditional integrated amplifier that punches above its class. 
There are several improvements on the previous PM6006 model, including the built-in phono stage, which has been upgraded to improve the signal-to-noise ratio. This improvement should please vinyl enthusiasts who want the convenience of a built-in phono preamp that retains excellent sound.
---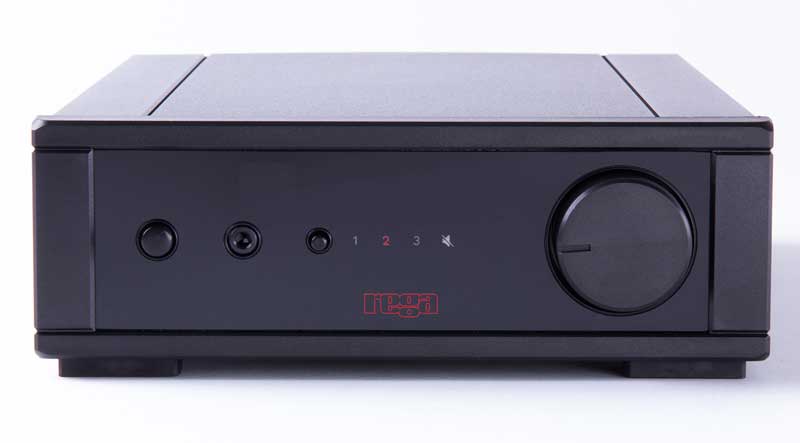 Rega io
Price: | $725/£420 | Power: 30W at 8 Ohms | Phono: Yes | USB: No | Bluetooth: No

The British-made REGA range of amplifiers are perhaps, given Rega's core business of turntable manufacturing, perfectly geared to analog vinyl purists. 
Neither the affordable io model—nor its bigger brother (the Brio)—features a single digital input. However, what the Rega io lacks in connectivity, it more than makes up for in sonic performance. It has superb dynamics and detail at this price, helped, undoubtedly, by focusing on core analog and amplifier components rather than ticking feature boxes. 
---

Denon – PMA-600NE
Price: | $499/£399 | Power: 70W Per-channel | Phono: Yes | USB: No | Bluetooth: Yes
I've always been pleasantly impressed by the performance of Denon gear for the price, even their all-in-one micro Hi-Fi systems, such as the DM41 DAB, deliver exciting and engaging listening experiences.
The PMA-600NE can comfortably drive a wide range of speakers and easily competes with far more expensive units. 
While the amplifier enjoys a wide range of digital connectivity options and a high-quality 192 KHz/24 Bit built-in DAC, Denon also allows you to switch all of the digital elements off using 'analog mode'.
When running in analog mode, the digital input and Bluetooth circuitry are disabled, preventing any high-frequency interference. Great for analog purists who still want to retain the option of modern digital input sources. 
---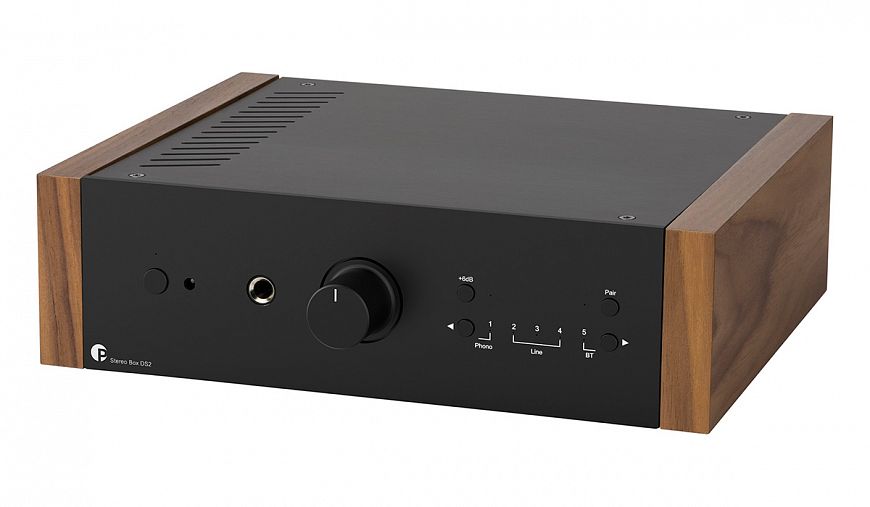 Pro-Ject Stereo Box DS3
Price: $1099/£799 | Power: 2x 80 W at 8 ohms | Phono: Yes | USB: No | Bluetooth: Yes
Those looking for a compact Hi-Fi option should consider the Pro-Ject Stereo Box DS3. Its smaller size is achieved by using an external power supply, which easily tucks behind or underneath your furniture. 
In true Pro-Ject fashion, the emphasis here is on a great audio experience without the bells and whistles at an affordable price.
For the new DS3 edition, the Bluetooth connectivity is now full Bluetooth 5.0 AptX HD ready. Handy to have alongside the integrated phono preamp, which is switchable to accept MM (moving magnet) and MC (moving coil) cartridges.
I paired this amplifier with a set of Klipsch RP-500M speakers that complement very well. For a compact, relatively affordable integrated amplifier, the results are stunning. The bass is deep and solid, and the mid-range is detailed and dynamic—the high-end, crisp, and exciting without sounding harsh.
---

Cambridge Audio CXA81
Price: $1299/£999 | Power: 80W per channel | Phono: No | USB: Yes | Bluetooth: aptX HD
The CXA81 combines a wide feature list with stellar sonic performance, and while it's one of the more expensive units on our list, it's by no means the priciest amplifier on the market. At just over the $1000 price mark, this is one of the best-sounding amplifiers you can buy. 
If you're a vinyl record enthusiast that also likes to combine the analog experience with Bluetooth convenience, you'll be pleased by the inclusion of aptX HD Bluetooth connectivity. The relatively new aptX HD codec enables you to stream music to the device at higher than CD quality.
There's no built-in phono stage, but at this price bracket and beyond, there's a good chance you already own a separate phono stage, or at least aspire to a higher quality than most built-in options. 
There's also enough digital connectivity (including S/PDIF coaxial, and Toslink) to make this amplifier the hub of your wider home Hi-Fi or entertainment system.
The CXA81 is perfect for analog and digital audiophiles alike and still retains a sensible price tag despite the very impressive features and sonic performance. 
---
The Bottom Line: Best Amplifiers for Vinyl
When it comes to amps for turntables, the "best" model for you depends greatly on your budget, power requirements, and personal taste (both sonically and in terms of connectivity).
For many analog purists, sonic performance and high-quality analog inputs will always triumph over the convenience of additional digital inputs. 
In this sense, Rega has really understood the market here with their io and Brio model amplifiers. However, a growing number of listeners want to combine the vinyl experience and retain the choice and convenience of digital (particularly Bluetooth connectivity). 
A stand-out option on our list for pleasing both crowds is the Cambridge Audio CXA81, which, thanks to the new aptX HD codec, manages to avoid many of the downsides of older, compressed Bluetooth formats. Combine this amplifier with a high-quality phono preamp, and it's one of the best amps for turntables we've come across.
---
FAQ: Best Amplifiers for Turntables:
What's the difference between an amplifier and an integrated amplifier?
An integrated amplifier contains both the preamplifier input stages for all your devices, such as a turntable, CD-Player, digital inputs, and the DAC (digital to analog converter), plus the power amp stage all in one unit.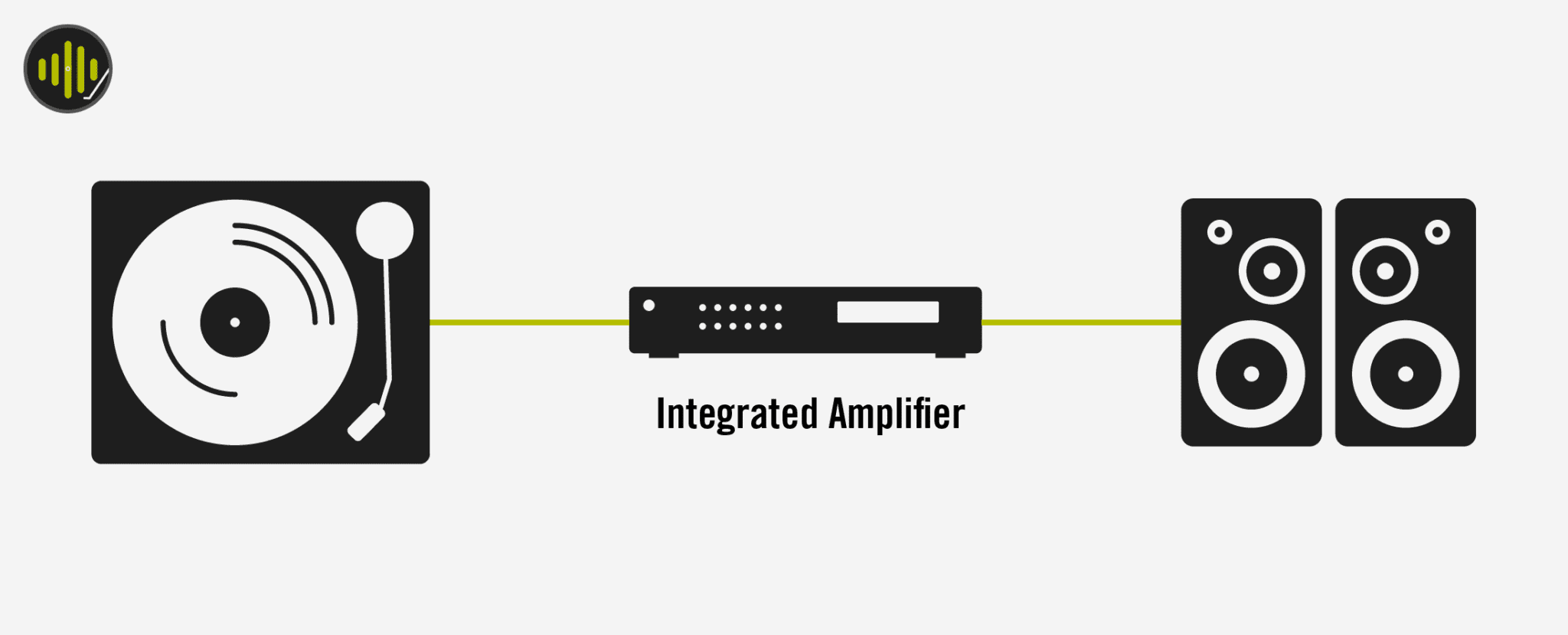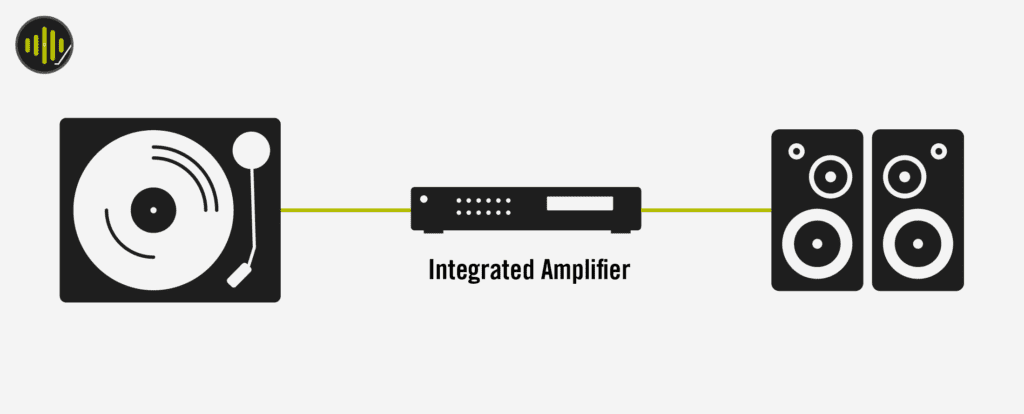 A separate amplifier or power amplifier is a dedicated unit that only contains the power amp stage. You'll need to feed a signal from a separate preamp unit if you go down this route.
All the options on our list are integrated amplifiers. Having a separate preamp and power amp stage gives you greater control over your system when you want to upgrade. 
For example, you may have the right input switching but not enough power, and vice versa. 
In some cases, having separate units can result in better sound. For instance, having two separate power supplies can reduce the potential for internal interference in your signal.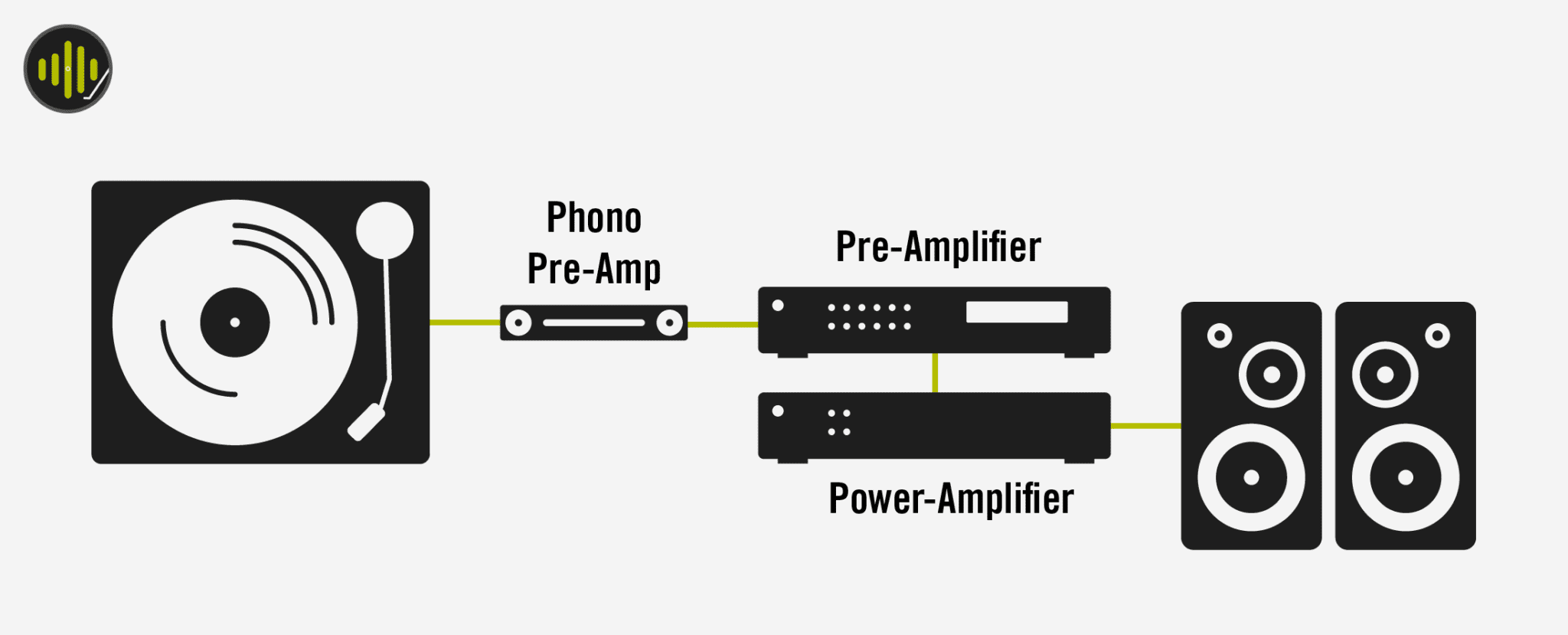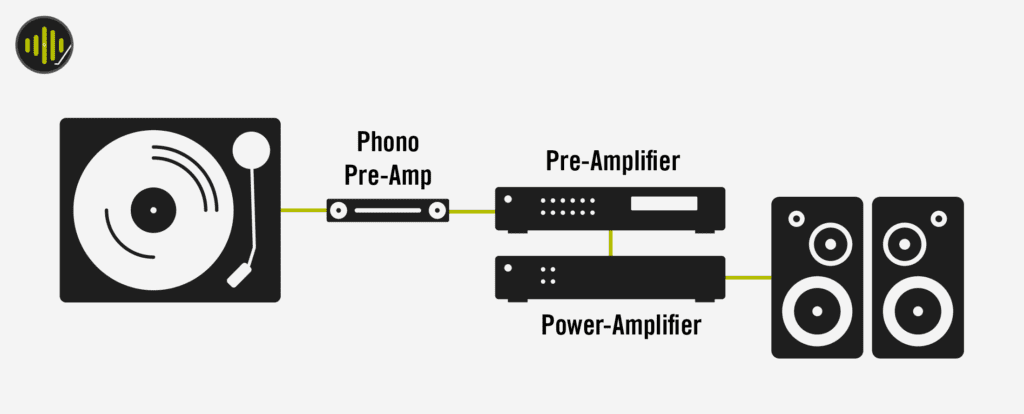 What's the difference between an amplifier and a receiver? Aren't they the same?
In home Hi-Fi, the terms 'receiver' and 'amplifier' are often used interchangeably. 
Historically, the term 'receiver' referred to a two-channel stereo amplifier device that also had a built-in radio tuner, but these days we associate the term more with multi-input and output audio/visual (AV) receivers that sit at the heart of home video and audio entertainment systems. 
These days, the term is used to differentiate the devices from simpler two-channel home stereo amplifiers, such as the ones featured in this list.