Designing an album cover has been a well-respected job throughout music history, often considered just as important as the music itself. 
Many of the best examples are as familiar to the eye as the music is to our ears. 
In the days when vinyl was the primary music medium, getting the album cover just right was essential to commercial success. Over the years, however, its prominence has arguably declined, first with the introduction of CDs, followed by downloads and streaming services.
All of this begs the question: does album art still matter? To answer this question, let's consider some of the reasons why album covers were so important in the first place.
Watch the video summary below and scroll through this article for more detail.
1: Album Art Becomes Synonymous with an Album Release
Many album covers are synonymous with the record itself, becoming iconic in their own right. 
There are so many examples from music history where this is the case. 
Below are just a few immediate examples. (Let us know your favorite iconic album covers in the comments section).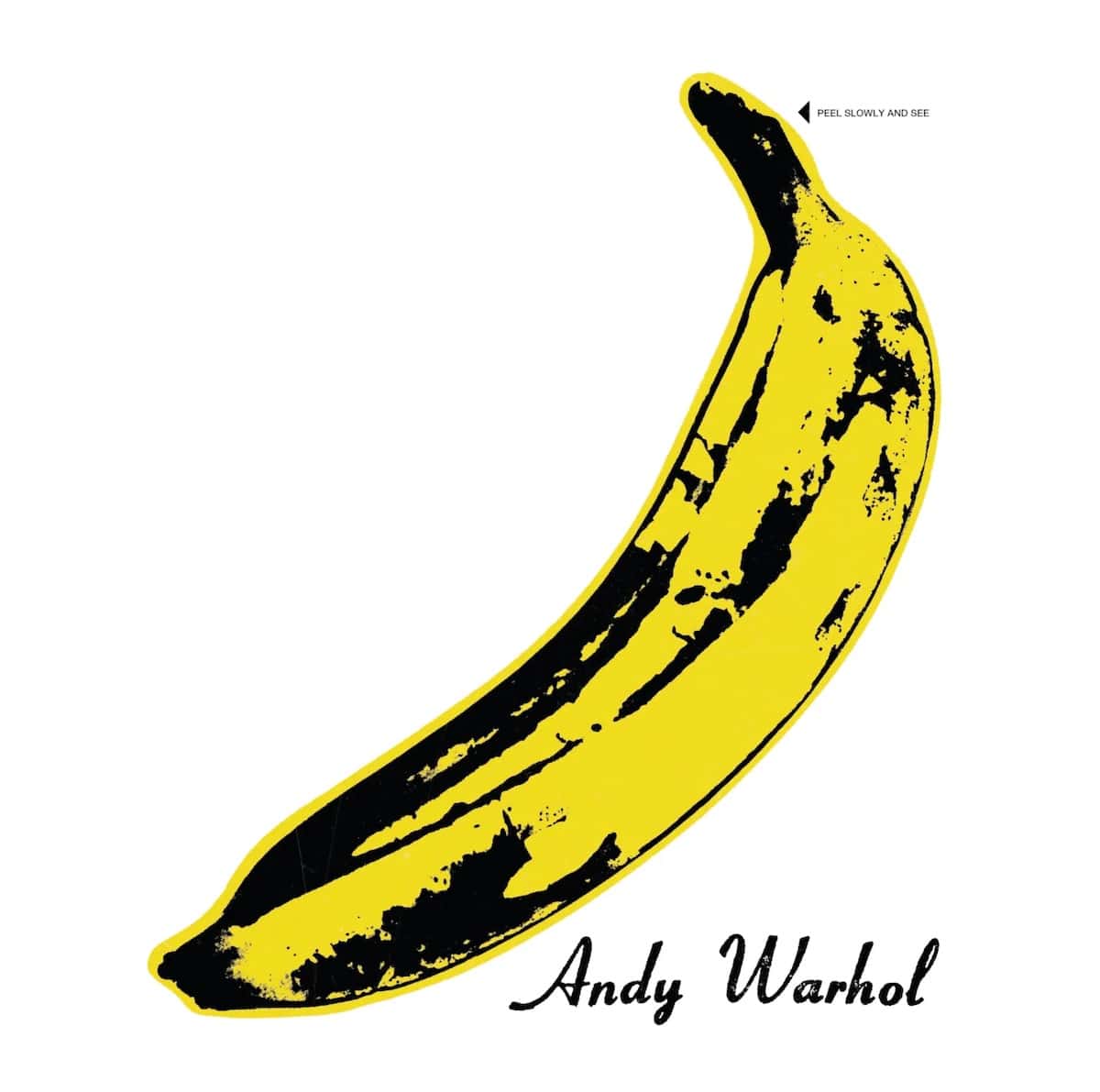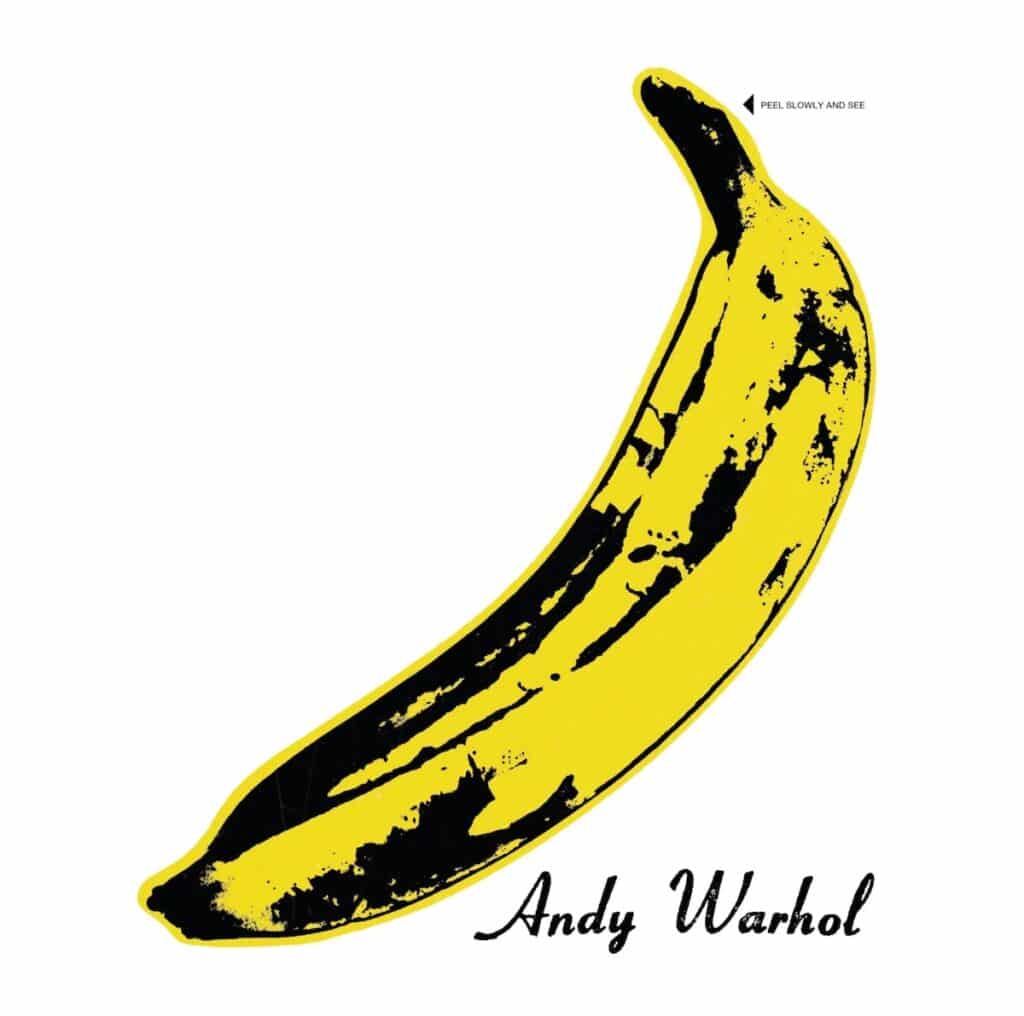 The Velvet Underground & Nico: A perfect combination of art, music and humor.
The famous Andy Warhol-designed banana print cover is such a pop icon we still talk about it to this day. Early copies of the album invited the owner to "Peel slowly and see". Peeling back the banana skin revealed a flesh-colored banana underneath.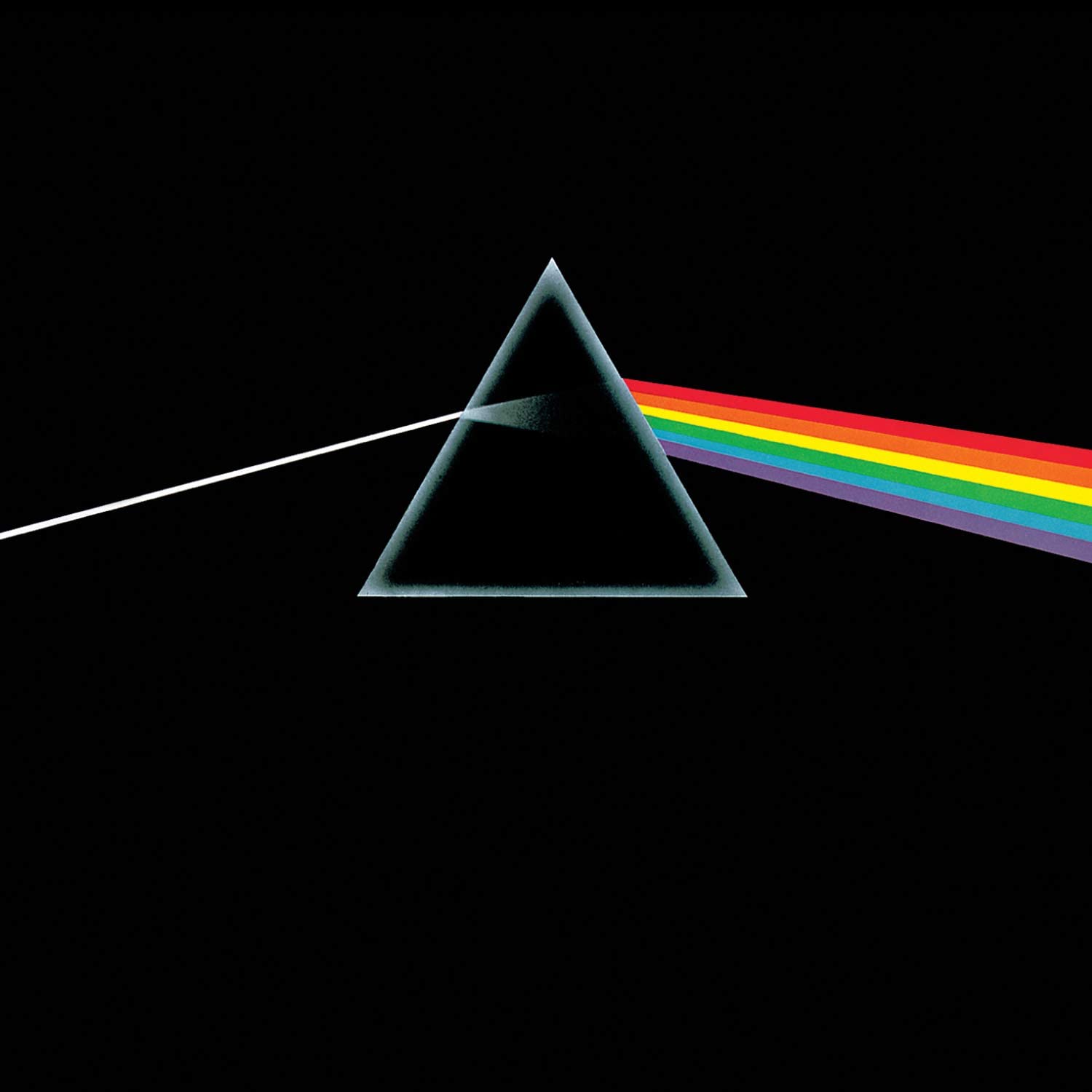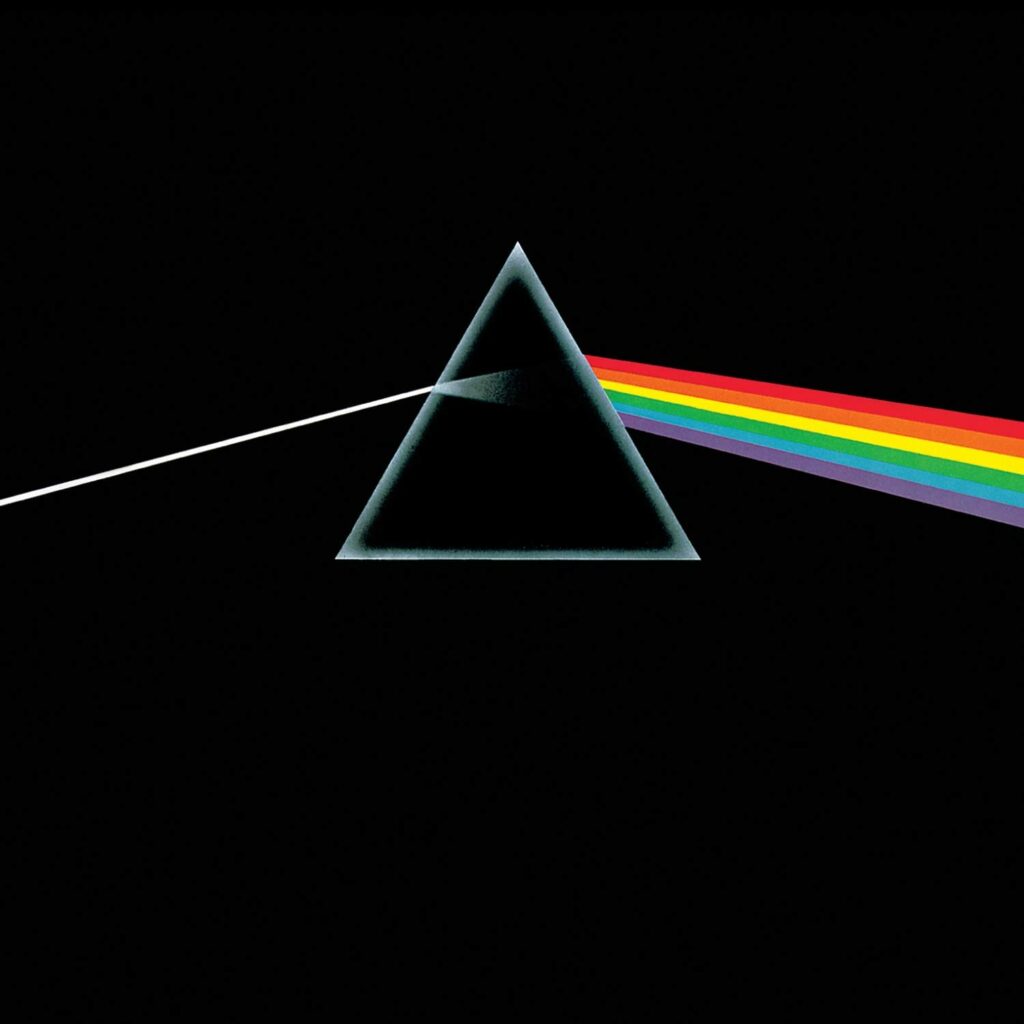 Pink Floyd – Dark Side of the Moon
Who doesn't recognize this classic album cover? 

The band asked for something "simple and bold," with iconic album art designer Storm Thorgerson returning with a bold celebration of the band's famous light shows while cleverly tying it in with the heartbeat that bookends the album.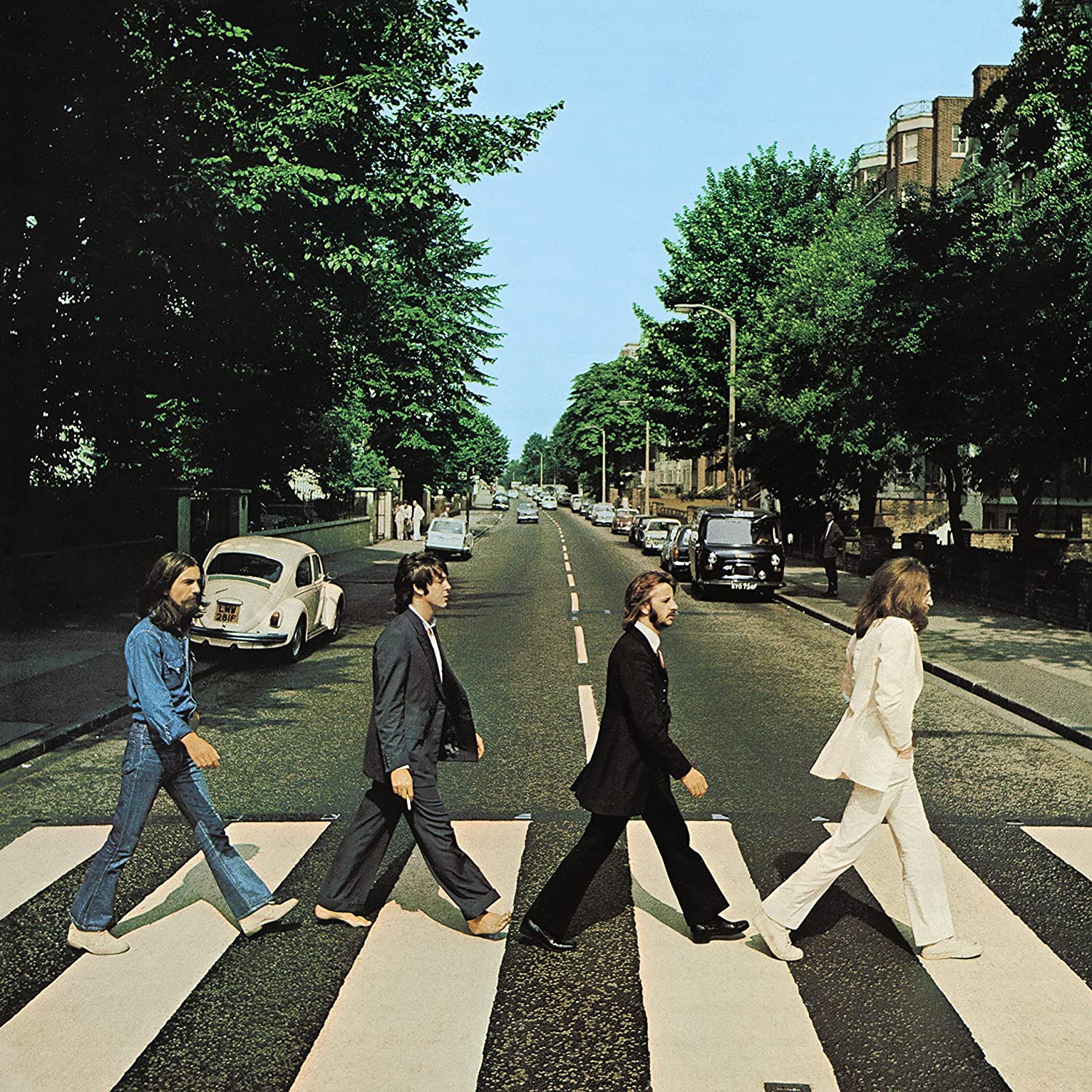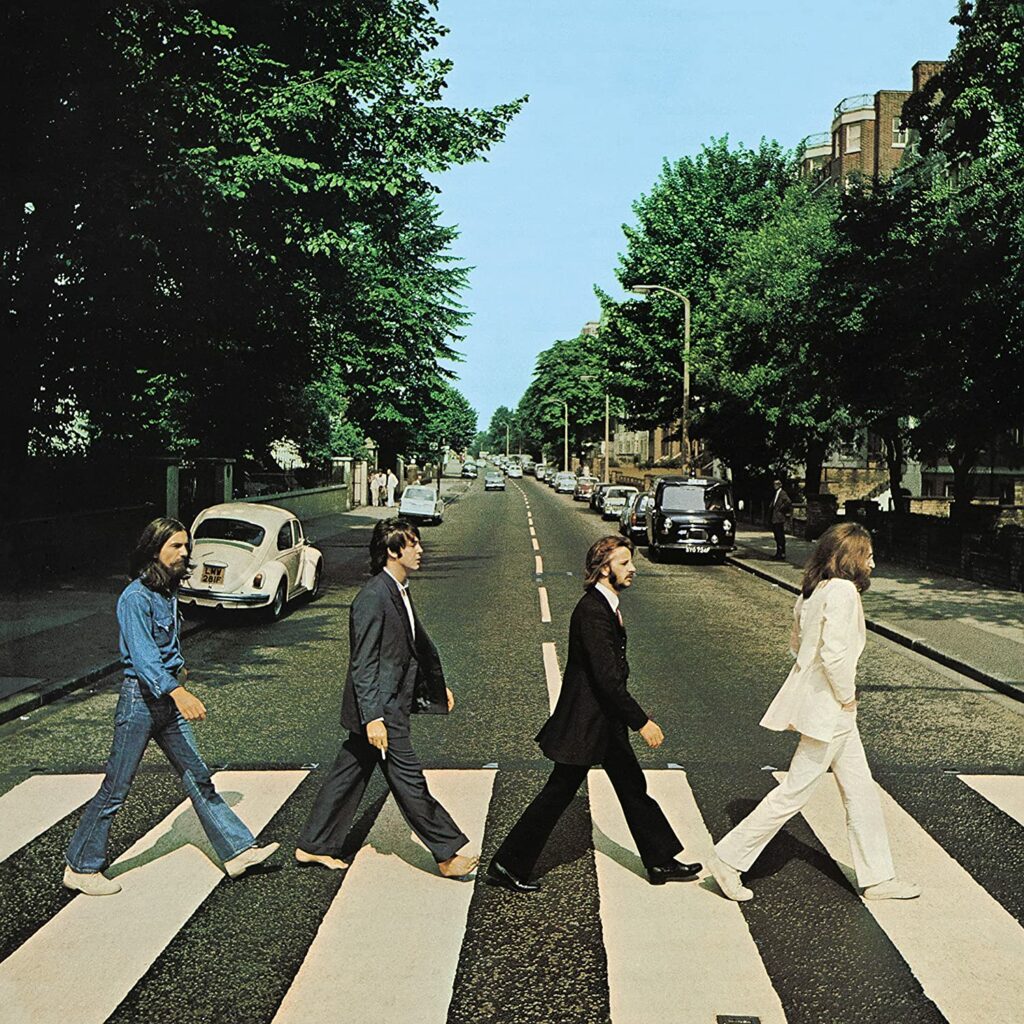 The Beatles – Abbey Road
An album cover so famous tourists flock to the zebra crossing outside Abbey Road studios to this day for their chance to recreate the iconic scene. (Humorously, many end up taking their photo on the wrong zebra crossing)…
---
2: Album Art is an Extension of the Artistic Process. 
It's all part of the art of making records. Often it's an extension of the artist's message, or simply an artistic statement and canvas for further expression. 
Great album art should capture the identity of the music. If it succeeds in this, the music and artwork become one and the same, a single "iconic" entity. 

---
3: Album Art Enables the Modern Vinyl Niche
While the classic album covers remain "the classics," modern album art is arguably more important than ever. 
It helps to keep physical music (especially vinyl) relevant in the digital age.
There's so much more to physical album art than just a visual – the creative possibilities are endless. 
One company flying the flag for the importance of vinyl art is our friends at Vinyl Moon, who work with a different visual artist each month to create beautiful art-focused releases showcasing up-and-coming artists. 
Check out this 3D lenticular effect album cover from Vinyl Moon below which creates the illusion of depth by positioning visual elements on different spatial planes. The result is a really cool animation effect that I recommend seeing in the flesh for the best result. 
Regular Sound Matters subscribers may also remember the augmented reality album cover from Vinyl Moon featured in our full review. This is a really cool example of how modern album art has evolved to complement our digital age. 
Subscribe to Vinyl Moon for 10% less using the code SOUNDMATTERS10
---
4: Album Art Draws You In
The album cover is your first impression before you hear a single note, and in most cases, it gives you a glimpse into how the record might sound. 
In other words, the album art should "sell" a record. 
Even in today's streaming environment, the first thing you see is the album artwork—albeit less prominently. It creates expectations, which, in my experience, can affect how you perceive or respond to an album. 
---
5: Album Covers Are True Works of Art
Many album covers are beautiful true works of art, as much so as a painting or a picture on your wall. 
I use Twelve Inch frameless record adaptors (behind me in all my videos) to rotate a gallery of album art. 
I leave the records in their internal sleeve (plus the addition of an outer sleeve for extra protection), and then display the outer jacket.
In the words of William Morris: have nothing in your home that you don't know to be useful, or believe to be beautiful. Just like art, the records you display are a statement about you and your unique personal taste. 
Create your own record gallery with Twelve Inch today for 10% less using the code SOUNDMATTERS10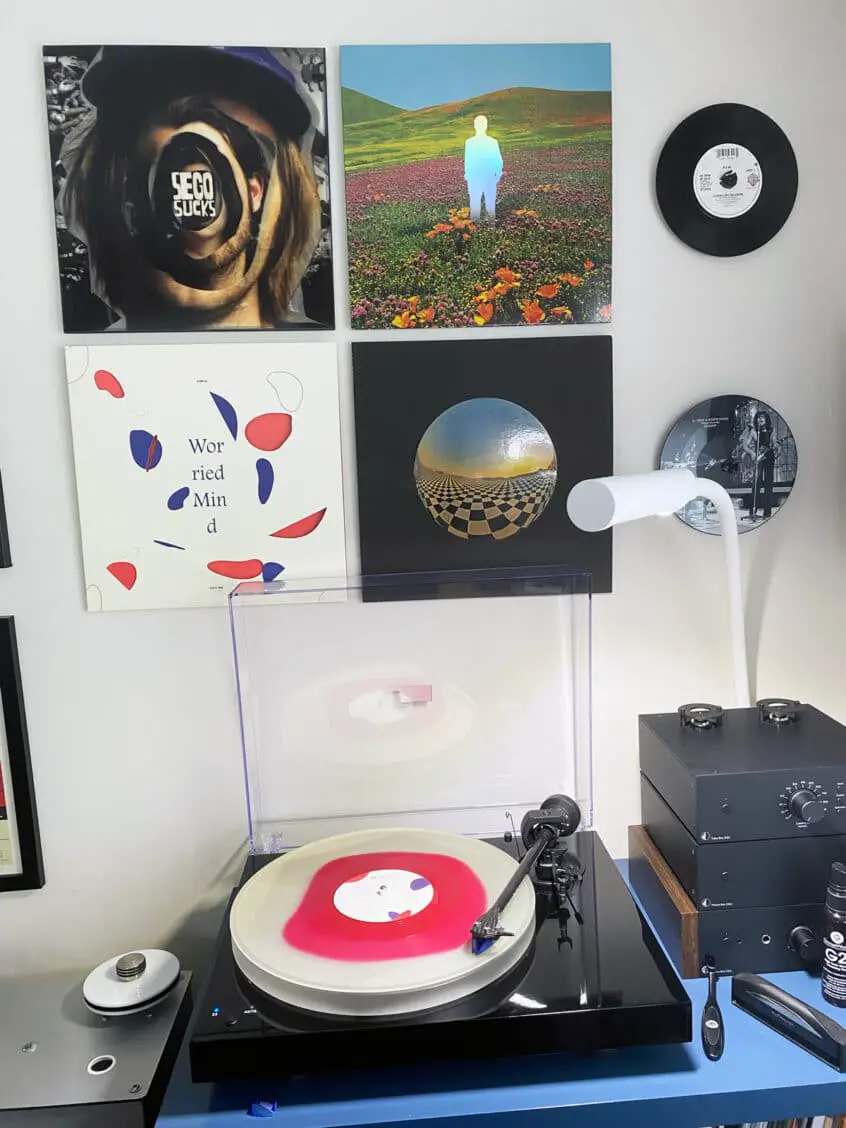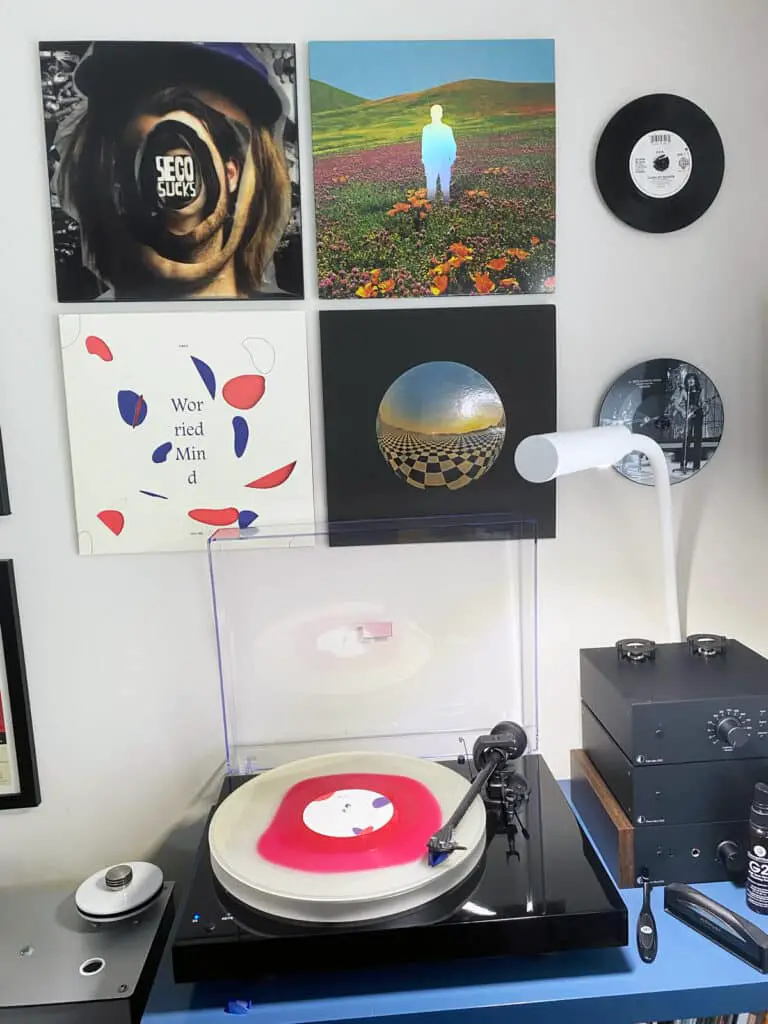 ---
6: Album Covers can Reveal Influences and Meaning
Sometimes, album art can reveal influences and sometimes, meaning behind the music. Here are some examples to get us started. (Do share your examples in the comments).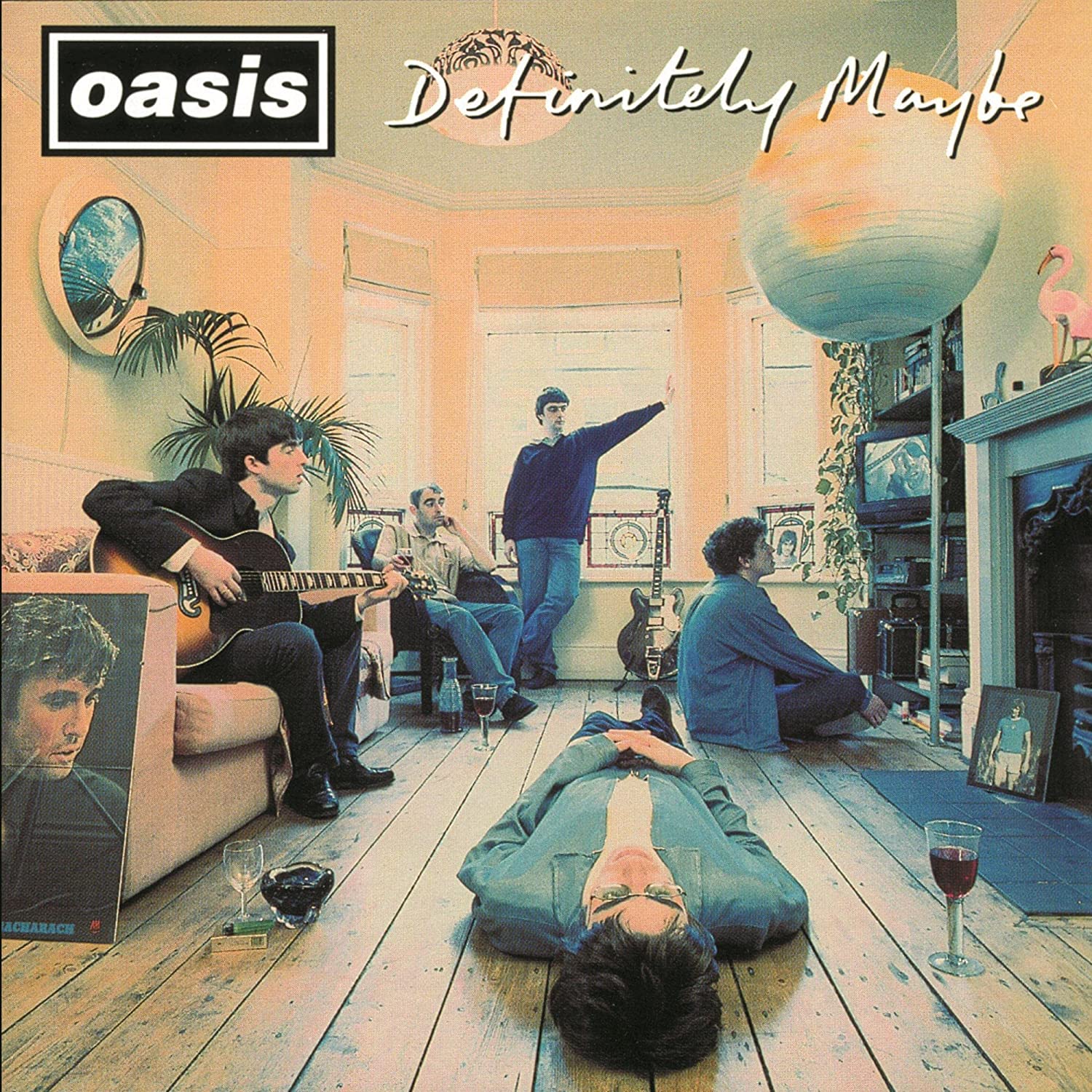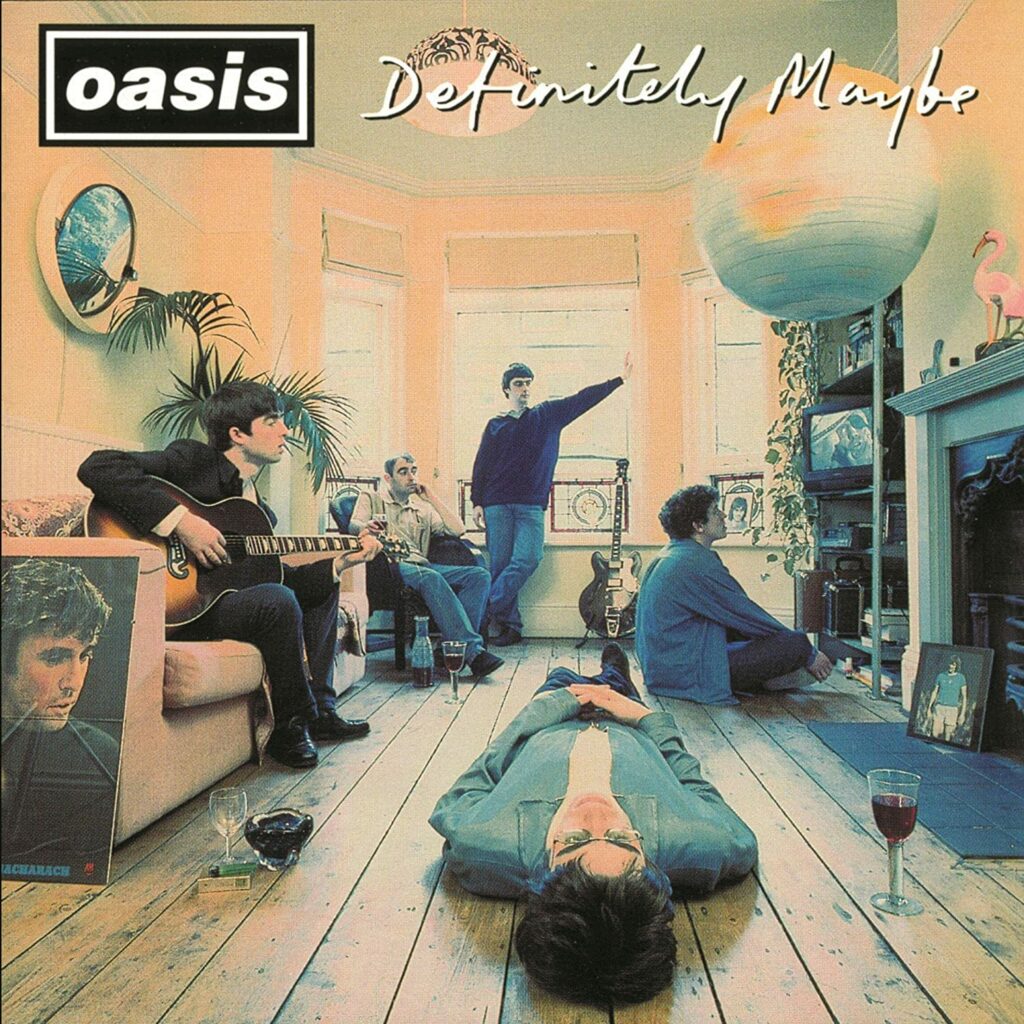 Oasis – Definitely Maybe
One of the most iconic sleeves of the 90s. This album cover means so much to so many people that an exact replica of the room was recently mocked up for a special exhibition, allowing fans to recreate the scene for a cool photo opportunity. 
The Definitely Maybe artwork was shot in rhythm guitar player Bonehead's living room with plenty of scattered cultural reference points, including: a scene from The Good, the Bad and the Ugly on the TV, a poster of Burt Bacharach, a photo of Manchester City football player Rodney Marsh and rival team Manchester United's George Best.
Definitely Maybe is the band's debut album, and although not officially stated, the spinning globe may represent the band's ambition for global musical recognition.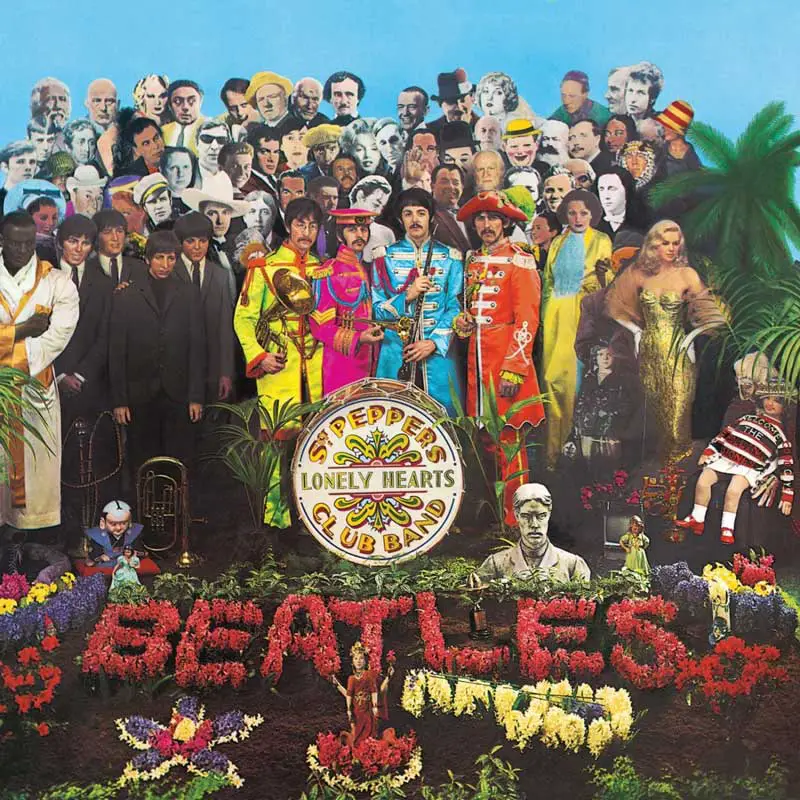 The Beatles – Sgt. Peppers
Sgt. Peppers is an album cover that always reveals new depth. Each time you look at the cover, you'll likely notice something new that you'd never seen before.
Contrived by Paul McCartney, and realized by pop artist Peter Blake and his then-wife, Jann Haworth, the cover is now an iconic piece of modern art.
The Beatles appear in full costume alongside an impressive backdrop of famous and iconic figures. John Lennon, Paul McCarney, and George Harrison all contributed to a shortlist of figures, but it's said that Blake, Haworth, and London art dealer Robert Fraser also contributed to the final list.
The eclectic and fascinating mix of cultural and political figures may represent a number of The Beatle's unique influences.
---
The Bottom Line: Why Album Art Matters
While album artwork might not have the same presence it used to, it remains an important part of the art of making records to this day.
For the vinyl format to remain relevant, it must play to its strengths, and, arguably, one of its greatest strengths is the packaging and artwork. 
Digital streaming offers superb freedom and convenience for music fans, but it can never deliver the all-encompassing experience of holding a physical record in your hand as you gently pull the record from its sleeve and carefully cue up the stylus. 
That said, if artists and labels decided (for the sake of argument) not to bother with an album cover due to its tiny size on most phone screens on streaming platforms, the likes of Spotify and Tidal would look dull indeed!
Regardless of the listening format, we still expect albums, singles, and EPs to have a cover. And hey, if you're on a laptop, you can always zoom in on the image and enjoy the artwork in greater detail as you listen digitally. Interestingly, animated album covers are another example of how artists have attempted to keep the traditional album cover fresh in the digital realm. 
Will we see another art icon on the scale of Abbey Road or Dark Side of the Moon make its way into the collective pop-culture consciousness of a global population? I hope so, though it is much harder to cut through the noise these days…