It's common knowledge that vinyl records need the occasional clean from time-to-time. Used record purchases, in particular, should always be cleaned before they go anywhere near your turntable and stylus.
Dirty records not only sound bad, but they also exacerbate stylus wear and contaminate your turntable – spreading the muck across your precious vinyl collection.
What most people don't realise, is that brand new records actually benefit from a quick clean before you take them for a spin.
The reason for this is two-fold: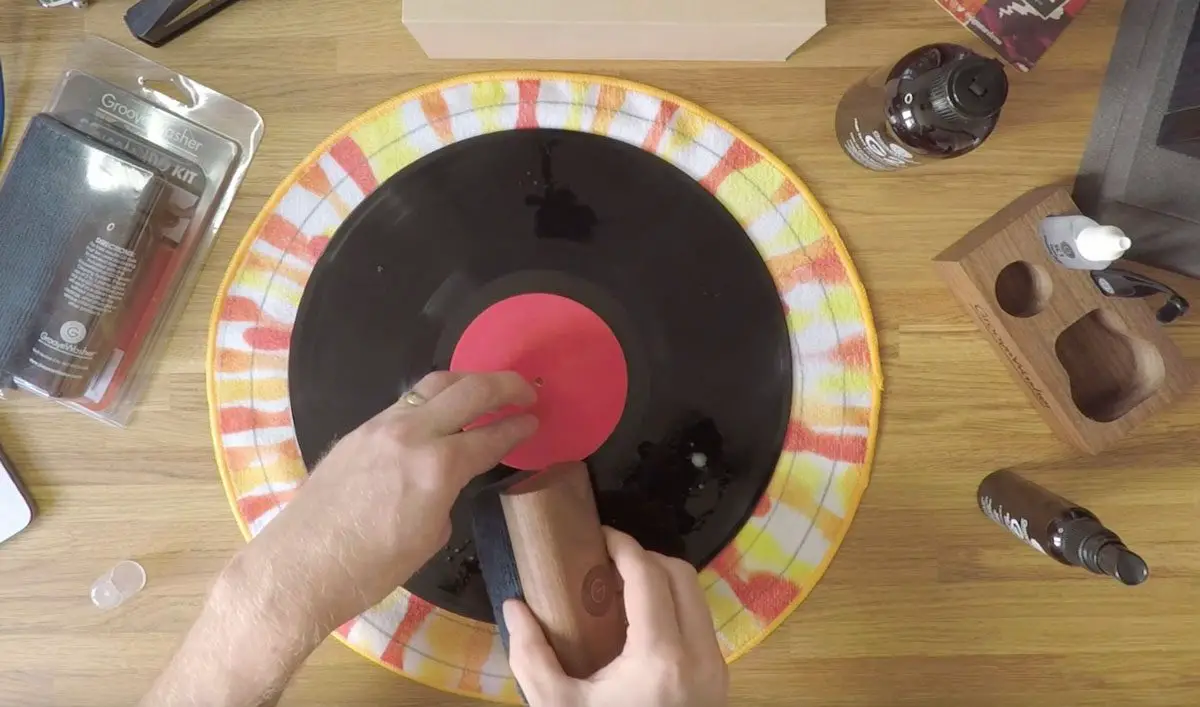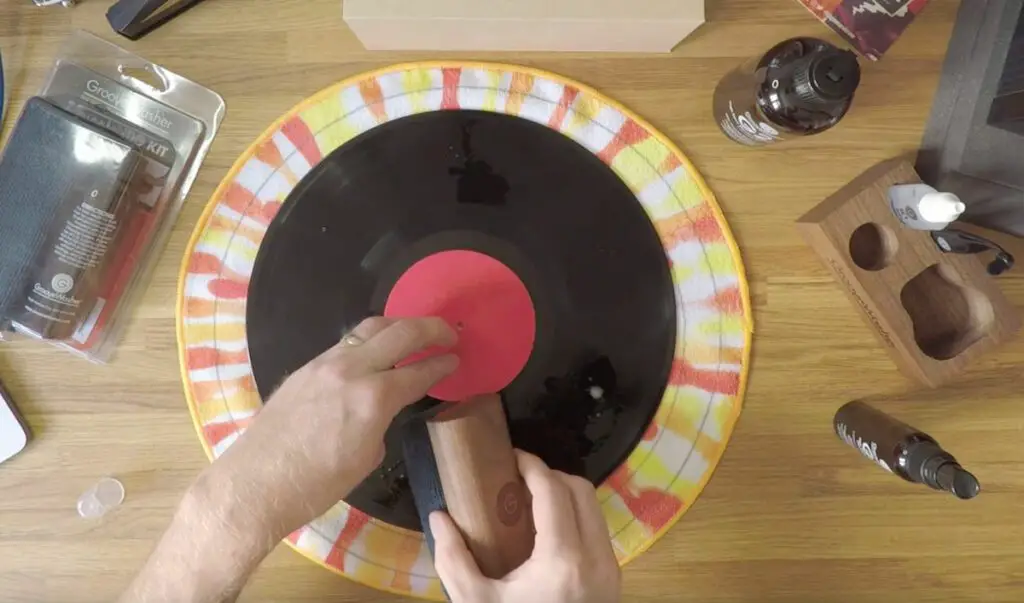 1.  New Records Come Statically Charged
Nearly every single new vinyl record I've ever purchased has come positively charged with static electricity right out of the sleeve.
Statically charged records are a nuisance, not only because they stick to the turntable mat every time you swap sides or remove the record, but also because the static charge attracts all dust and particles in the immediate proximity.

Obviously, this is not good, as we want our shiny new record to stay clean – and ultimately sound its best – for many years to come.
There are a couple of options for easily removing static charges from vinyl records:
Firstly, you could purchase and use an anti-static gun, such as the Milty Zero Stat. At first glance, they look like a childs toy, but they really do work (check out our full review of the Milty Zero Stat, here).

In short, the 'gun' fires out a stream of positive ions as you squeeze the trigger, and negative ions as you slowly release. This process neutralises static on the record surface.
Your second option for removing static is simply to wet clean the record using a professional vinyl cleaning solution. Wet cleaning a record will quickly and effectively neutralise static from the surface, and depending on the climate where you live, the result is fairly long-lasting – particularly if you always return the record carefully to a good quality anti-static sleeve.
What Record Cleaning Fluid Do We Recommended?
Regular Sound Matters readers will know we strongly recommend GrooveWasher's record cleaning fluids. Their flagship G2 record cleaning fluid is the best choice for light cleaning new vinyl records.
Sound Matters readers receive 10% off direct orders from GrooveWasher when using the discount code: SOUNDMATTERS10). (EU/UK Customers can use the same discount code at twelve-inch.com.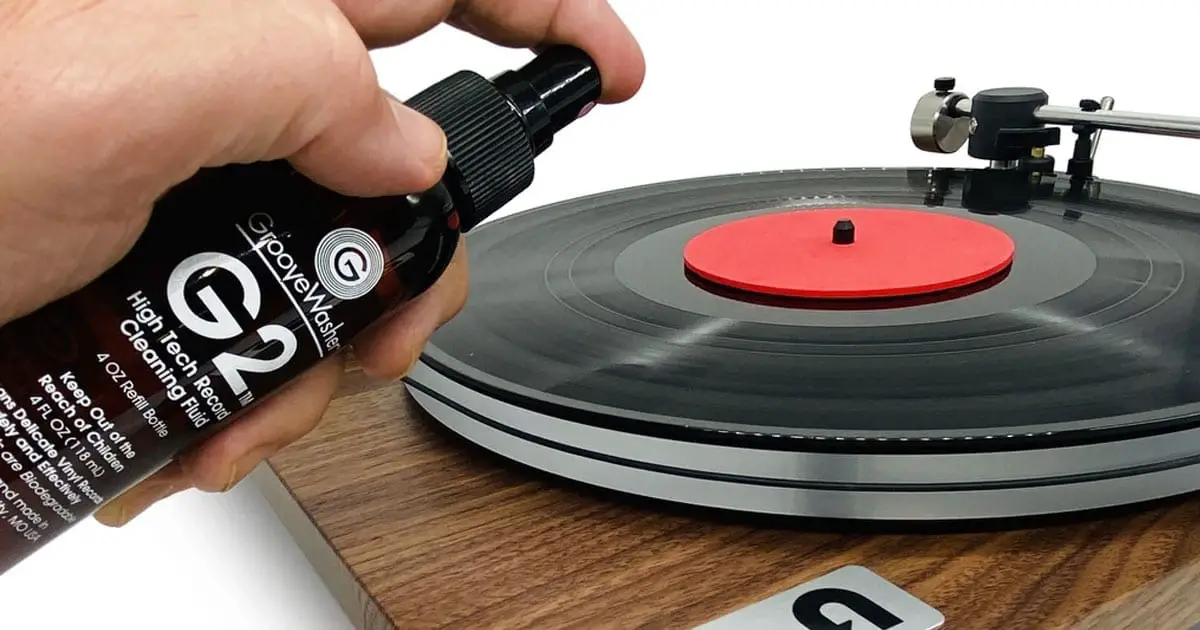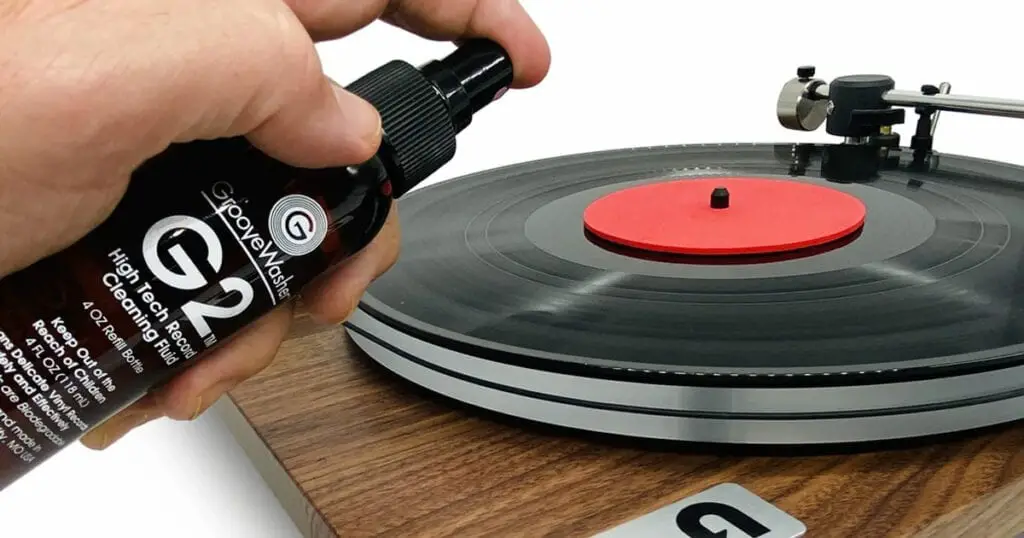 2. New records are often contaminated with release-agent from the manufacturing process and other contaminants
This point gets largely overlooked. I mean, after all, why would you need to clean something you've literally just purchased?
For a start, factories are typically pretty grubby places; as we've already established in point no.1, new records are almost always statically charged, and this encourages dust and dirt onto the record surface.
Also, the record production process can leave gummy release agent residue on the record surface, which can, in turn, contaminate your stylus and ultimately diminish the sound quality.
I give all my new records a quick clean on the turntable before their first spin.
Firstly, I use a carbon fiber record brush to remove any loose paper sleeve flakes or dust. I then use three to four sprays of GrooveWasher to take off any manufacturing residue. In the process, of course, as explained above, this also neutralizes any static and removes the need for using my Milty Zero Stat.
Whatever record cleaning solution you do choose, I recommend avoiding any fluid containing a high amount of isopropyl alcohol. Many collectors agree there is a high-risk of causing irreparable damage the records when using high-alcohol cleaning fluids.
The Bottom Line: Do new vinyl records need to be cleaned?
While your new records should sound great if pressed correctly and mastered to a high quality, it's important to remember we're dealing with an analog medium here.
The typical vinyl record has around half a mile of grooves; any dirt or debris picked up as your stylus makes its long journey through your record will have an impact on sound quality.
Also, just like a dirty or bumpy road will wear your car tyres quicker, dirty grooves will inevitably make life harder for your stylus.
Some new records will come cleaner than others, but for the time it takes just to give your record a quick pre-play clean, I'd argue it's a ritual worth sticking too, as much you might not feel like it when there's new music waiting to be discovered!
Who said being a record collector was ever going to be easy, huh!?
Further reading: Check out our full guide on how to clean vinyl records for the ultimate guide, including hand cleaning and record cleaning machine methods and tips.