Buying used vinyl records online is fraught with potential problems; from inaccurate condition grading to the hassle of cleaning each record when it arrives, there's a lot that can go wrong.
Vinyl Pursuit, a new service based in Canada, is on a mission to change that with its new premium online used record store. Unlike most used vinyl purchased online, most of their records are passed through an ultrasonic record cleaning machine before making its way to the customer. 
If you like what you see in this review, you can try vinylpursuit.com out for yourself with 15% off your first purchase. Simply use the code SOUNDMATTERS15 on checkout.
Used records invariably need cleaning before playing, as they're usually contaminated with years of exposure to dust and fingerprint oils to varying degrees, depending on how well the previous owner looked after their collection. There are many ways to clean vinyl records, but ultrasonic cleaning is certainly one of the most effective at deep cleaning the record groove. 
At Vinyl Pursuit, all records priced over $14.99 are run through an Audio Desk Systeme Pro (a superb purpose-built ultrasonic record cleaner).
Having followed Sound Matters for some time, Vinyl Pursuit recently contacted me asking if I would like to review their service. They know how much we place importance on record cleaning for the best listening experience and kindly put a package together as a sample. 

Previous Experiences Buying Used Records Online
Like many other record collectors, I've experienced all-too-often the pain of buying a used record online (either through Discogs or Ebay, for example) only to find the described record condition didn't live up in the flesh. 
…It's a real pain.
On top of that, cleaning each record when it arrives is quite time-consuming.

That said, a service that better curates records, removes the duds, and better describes the condition of those they choose to list is a breath of fresh air. Add record cleaning into the mix, and immediately you've got a service that will appeal to audiophile record collectors.
Vinyl Pursuit Review
Vinyl Pursuit sent me two hand-picked records inside what they call their "Super Shipper Cartons". 
Tammy Brown (the company owner) expressed an emphasis on the importance of packaging when shipping records, so it was good to see them arrive in a strong container able to withstand the abuse of international travel.
Both records were also packaged up in their own Vinyl Pursuit branded inner and outer sleeves, adding further protection. Good to see!
I was sent a copy of The Doors 'Waiting for the Sun' and Talking Heads 'Remain In Light' – both very good albums that I'm pleased to add to my collection.
The Doors record is a later Canadian pressing from around 1980, and the Talking Heads album is (from what I can see) an original 1980s Canadian pressing. Being based in Canada, I would expect a lot of the records they supply to be Canadian or US pressings, depending on their sources for each record. 
On visual inspection, I would comfortably call the records VG+ in terms of their condition. Though I will say the Talking Heads record had some minor wear in the way of hairline scuffs and sleeve wear. 
The key, however, is how the record sounds, and from a visual perspective, I couldn't see anything that would deter me from picking up either of these records in a store and considering them VG+.
Vinyl Pursuit aim to be as accurate as possible with their record descriptions online, and this is all part of the service. As record collectors themselves, they know more accurately than many online sellers what audiophiles look for when buying records, and from what I can see on their website, this is reflected in their detailed product listings.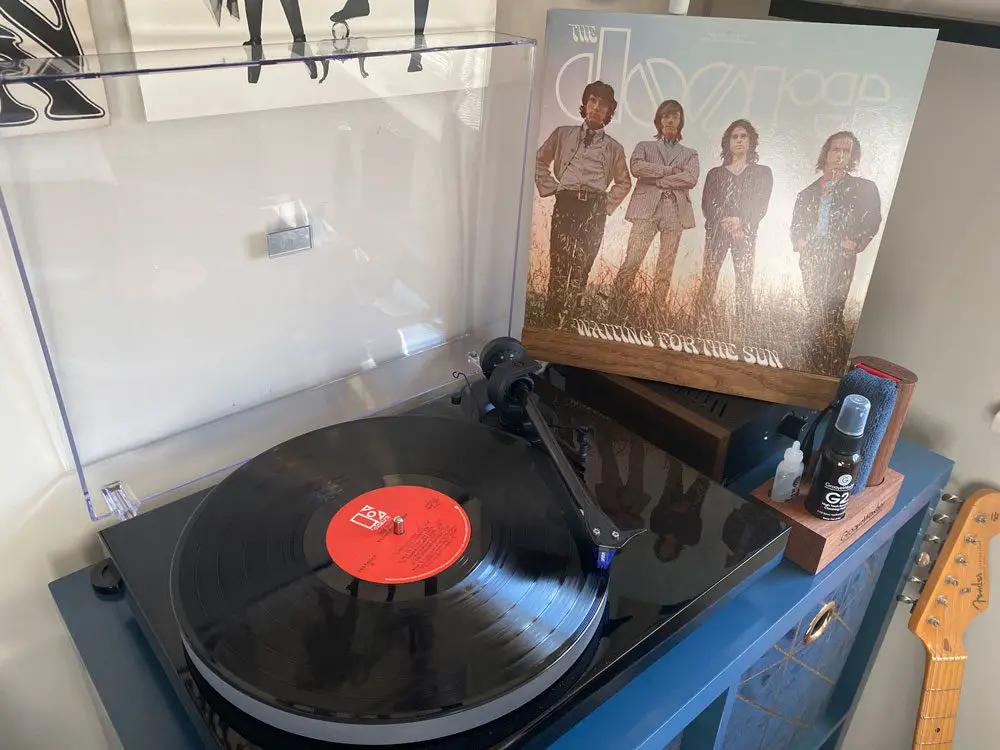 The Listening Test
You could tell both records were passed through an ultrasonic cleaner, as you rarely get used records as clean as this on the first play. The Talking Heads record had a small amount of surface noise at the very beginning that seemed to clear up the second time I played the record, but I really am splitting hairs here. This could've been some cleaning fluid residue left behind from spinning inside the ultrasonic machine, perhaps. The Doors record played as though it'd hardly seen a stylus.
All-in-all, for 40+-year-old records, this is about as pristine as it gets. No deep scratches, excessive pops and clicks, or warped discs here.
The Vinyl Pursuit – Summing Up
I'm hugely impressed with the quality and customer service at Vinyl Pursuit. This is how you wish records were shipped from Discogs, but rarely are. 
If you're looking for audiophile-grade used vinyl without the usual hassle of subjective condition grades and poor descriptions, this could be the online record store for you. 
Shipping is possible around the world and the cost is calculated at checkout. Therefore, customs clearance permitted, there shouldn't be any nasty surprises in terms of the shipping cost. Naturally, shipping outside of North America will cost more and takes a little longer (roughly 4-5 business days.
In essence, I can highly recommend Vinyl Pursuit as a go-to destination for quality, curated used records. Check out their website linked below for the current stock and to learn more.
If you like what you see in this review, you can try vinylpursuit.com out for yourself with 15% off your first purchase. Simply use the code SOUNDMATTERS15 on checkout.