A big part of what draws music fans into the world of vinyl records is the joy of owning the physical product. Music on vinyl is both practical and beautiful, enticing many collectors to display records in their home as art in its own right. Just like a painting, the pieces you choose to display make a statement about you and your view of the world. But more importantly, they make a house your home. As the pioneering artist behind the Victorian Arts and Crafts movement, William Morris once said: "Have nothing in your houses that you do not know to be useful or believe to be beautiful." For many of us, vinyl records tick both of these boxes.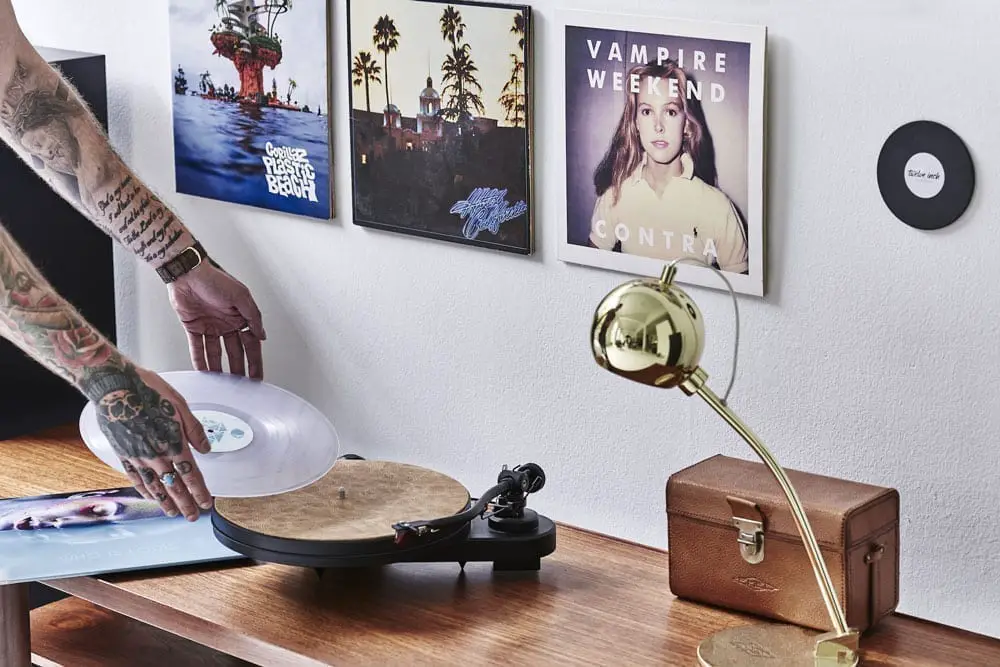 Wall displays are perhaps the most common way to display vinyl as art, and record frames are widely available on the market. But frames aren't for everyone. Some designs make the records difficult to access should you wish to play one, and on the aesthetic front, some collectors simply want a cleaner, more contemporary look.
The Danish-based company, Twelve Inch manufacture record display systems that require no frames, or any visible support for that matter. The result is a clean, minimalist look indicative of Scandinavian interior design.

Their first product (dubbed "The Original") consists of two simple, but elegant parts: A wall-mounted magnetic disc and a separate white cardboard disc. The wall-mounted disc simply attaches to a wall using the single screw provided, and the white disc insert slots neatly into your record cover. When the two parts meet, the record will mount securely to the wall.

The device can hold both regular and gatefold LPs, allowing for simple snap on, snap off making it easy to display records and take them down for a spin whenever you choose. Collectors can get creative, displaying as little or as many records as they like, or even displaying an open gatefold using two Twelve Inch display units.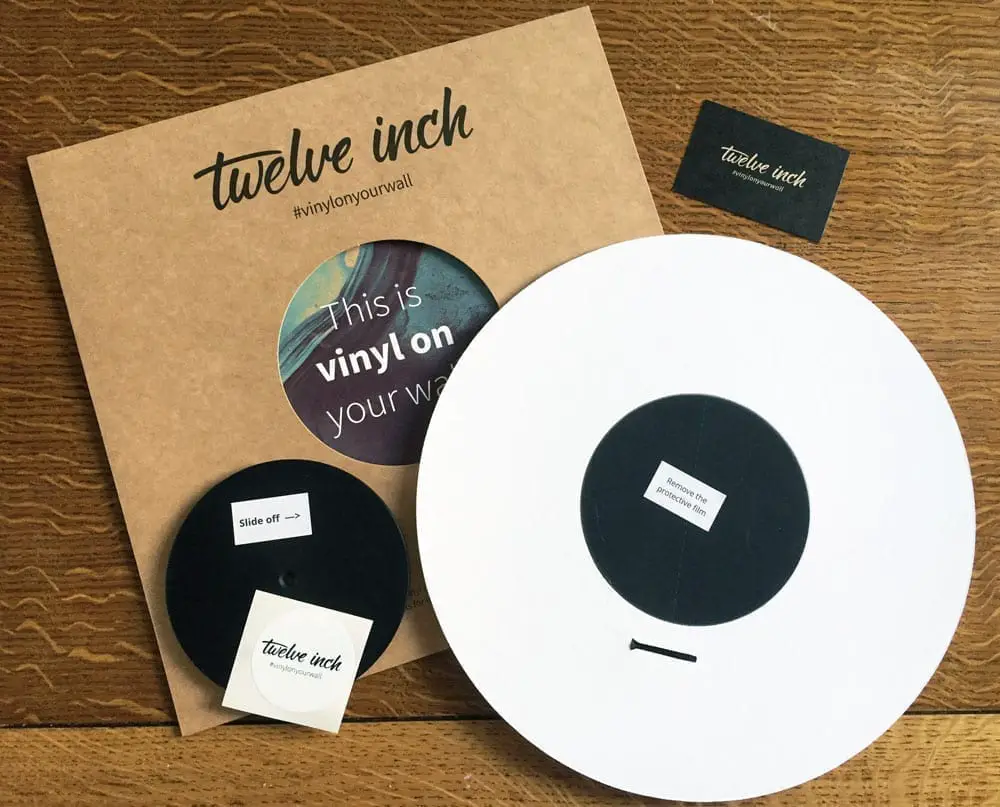 Display the Actual Record
Where things really get fun is when you mix the original display unit with the Twelve Inch adaptor, which essentially enables you to display the vinyl record disc itself. These look great when arranged as a mixture of record covers and vinyl record discs — particularly with colored vinyl.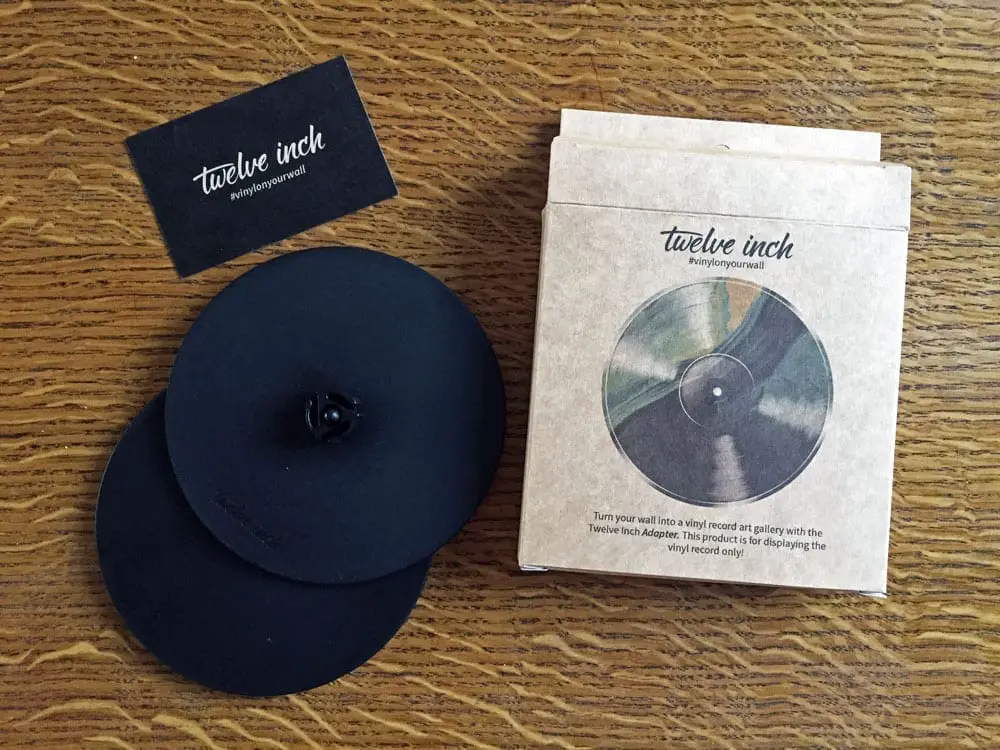 Environmental Packaging
Collectors wishing to keep their environmental impact to a minimum will be glad to hear about Twelve Inch's eco-pack, which allows customers to buy a 4-pack bundle with greatly simplified packaging. On receiving my copies of both the "Original" and "The Adaptor" I was very impressed with the company's elegant packaging and branding, which help to make the product feel like a premium experience. However, if you're kitting out a large vinyl wall display, then a simplified bundle pack makes perfect sense, both financially and environmentally.
The Contentious Topic of "Correct" Record Storage
With any record display or storage system, opinions on the right or wrong way to safely store vinyl is always a contentious topic. There are certain general best-practices, but it's important to remember that we're talking about vinyl display here, rather than traditional storage. If kept away from direct sunlight, the Twelve Inch display system is safe to use on your vinyl record. However, purists may wish to reserve this system for displaying second copies, or even the cover alone. Secondly, with "The Adaptor" product raises the obvious issue of dust accumulation. Again, when considering record display as art, it's safe to say many audiophile collectors would reserve this system for second copies purchased for display as art.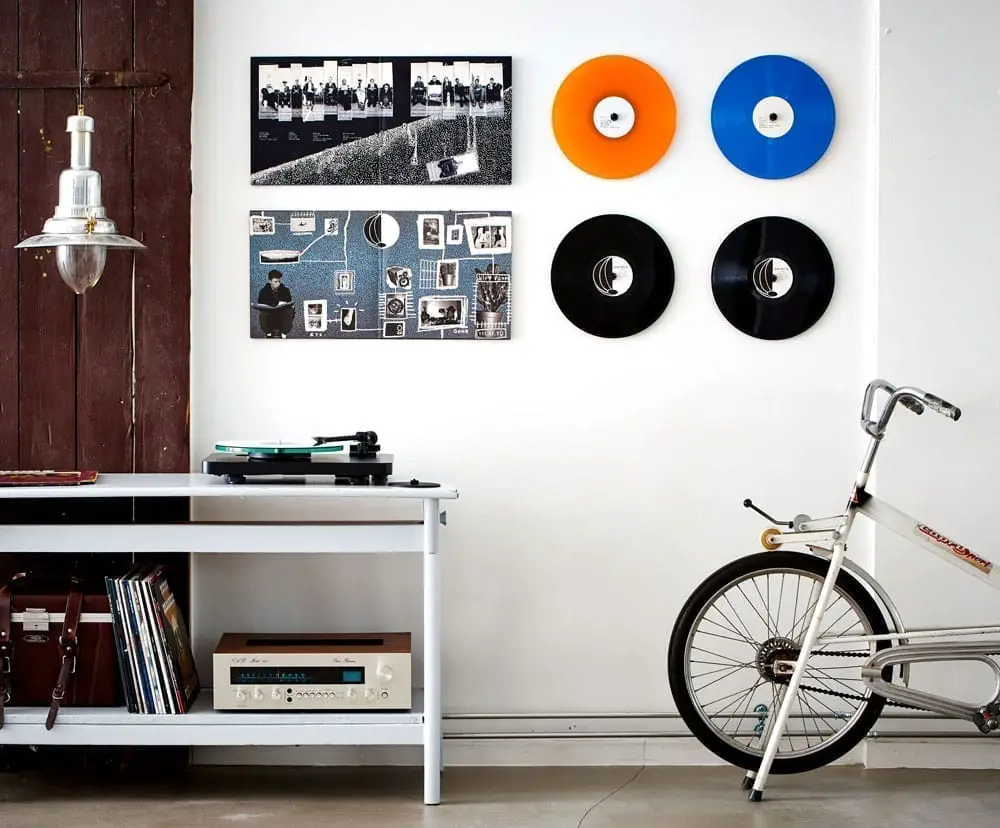 Summing Up
The Twelve Inch products are elegantly designed, simple to use and allow the individual to get creative in making stunning vinyl displays that make your listening space pop. Would I choose to display a rare first pressing using this method? Perhaps not, but there's no doubting the design potential with this product as an elegant, contemporary alternative to traditional frames. We love the art of vinyl, and the products from Twelve Inch are some of the smartest solutions we've seen for laying bare the full beauty of music on wax. It's a thumbs up from us and we can't wait to pick up some duplicate colored vinyl of our favorite records and get creative with some new displays.

Exclusive Discount for Sound Matters readers: Simply use the code SOUNDMATTERS10 on checkout when shopping directly with Twelve Inch. EU/UK based readers can also use this discount towards GrooveWasher record cleaning products (of which Twelve Inch are the European distributor). Great news for our European readers, who until now have been unable to take advantage of the Sound Matters discount code.