All too often, USB LED lights for the turntable market are small, flimsy, and ultimately disappointing. Could this product from Reliable Corporation change all that?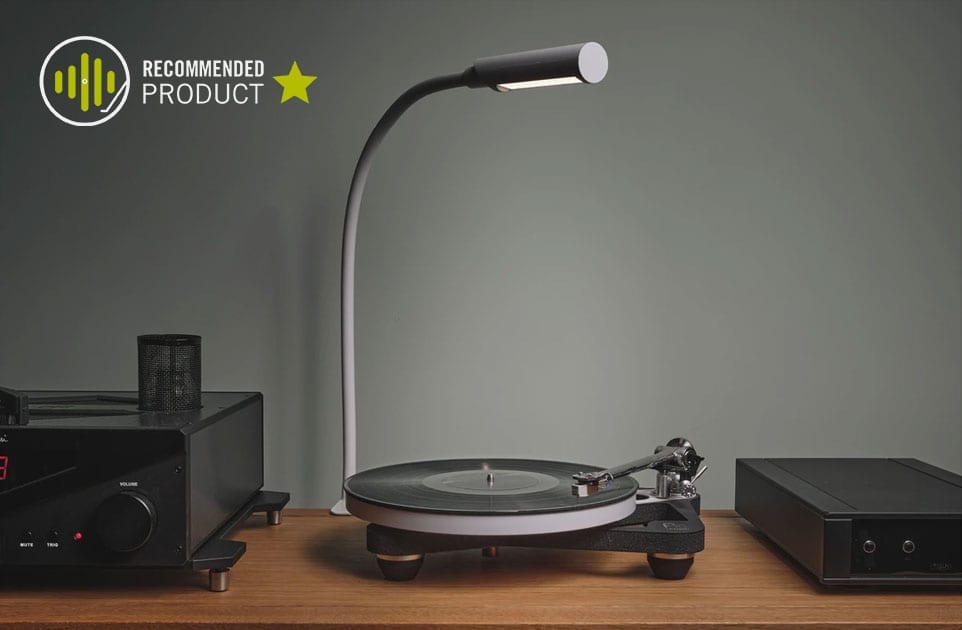 Up until now, my overall experience of USB gooseneck lights has been a fairly lackluster affair; most are pretty poorly made and represent more of a gimmick than a serious desk light.
So naturally, I was initially skeptical. After all, the product isn't explicitly developed for vinyl enthusiasts—instead, Reliable positions the product as an all-purpose task light. So what place does the UBERLIGHT have in the audiophile market?
As it turns out, the company President, Robert Kahn is a vinyl enthusiast in his own right and believes this LED light solves several problems for the audiophile market. In short, the UBERLIGHT FLEX makes a great turntable companion and is particularly useful for assessing small details such as dead wax markings and the overall record condition.
UBERLIGHT FLEX Overview
There are three models available, and the two we're most interested in are the c-clamp version (which is the version I have) and the solid base version. The c-clamp is perhaps the most flexible, as you can mount the light across a wide range of surfaces while retaining maximum desk space. However, some will undoubtedly prefer the base version as not all furniture will accommodate the clamp.

The light itself features a 270º rotational head and 26.5″ flexible gooseneck, which Reliable claim can "hold virtually any shape, allowing you to focus your light on where you need it most."
There are nine different light settings, which you can easily control using the two switches located at the LED head. These include three color and three brightness settings. Lastly, the unit has USB connectivity and an optional wall plug adaptor.

Please note: the unit ships with a North American plug adaptor; so if, like me, you're based elsewhere in the world, you'll need to use a travel adaptor for mains power connectivity. This wasn't a deal-breaker for me, as I plan on using the USB connectivity anyway, and in any case, travel adaptors are cheap and easy to order online.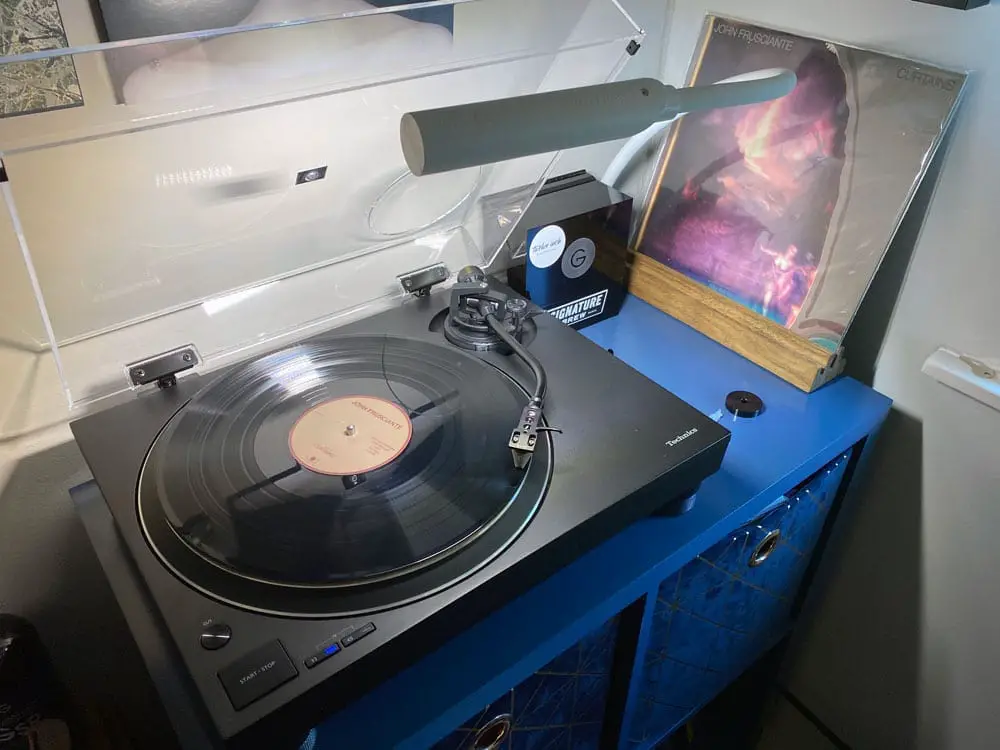 Product Demo
I took the LED light over to my turntable rig and fixed to the far corner using the clamp. The light feels very secure, and I was pleased to see the rubber clamp pads which help to protect your table surface.
What struck me right away was just how robust the gooseneck feels. All too often, with other goosenecks, they spring back a little after you adjust the position. The UBERLIGHT moves and stays exactly where you position it. This is crucial for turntable users, as any spring-back or movement in the gooseneck arm could result in disaster if the arm were to knock the turntable, or worse, land on the record surface.
I was able to confidently bring the light right near the record surface without fear of damage. Such was my confidence in the light's build quality and rigidity, I was confident enough to press the light controls when hovering just over the tonearm during playback. Impressive. 
Record Cleaning and Inspection
After my initial test, I unclamped the light and took it over to my desk for a little record inspection. Here I was able to more clearly see how much dust was collecting on the record surface and inspect for other marks such as fingerprints. You'll be surprised how much the light will reveal on what you thought was an otherwise spotless record. 
For the inspectors and collectors among us, the dead wax was easier to read than ever. These markings are often very small or difficult to read, so this is a huge boon for those who like to inspect their records for hidden messages, pressing identifiers, and mastering engineer signatures.
Hidden messages in the dead wax is a fascinating topic; there's a whole world out there of hidden phrases and interesting markings. Check out our previous post on this topic, here. 
The Bottom Line
The UBERLIGHT FLEX is superb. It's the ultimate turntable companion I never knew I needed, and it's now difficult to imagine my setup without it. It's both practical and atmospheric. I know many collectors have listening rooms in basements where there is little to no natural light, and in this case, some sort of lighting is imperative.
The gooseneck arm is one of the most versatile I've used, with just the right amount of height to clear my deck while retaining the flexibility to delve right down to the record surface if need be.
The only trouble I have now, is that I could do with a second version with the base for my desk, as the detail on display makes record cleaning so much easier. (Not to mention the many other fiddly tasks associated with record collecting, such as cartridge alignment and turntable setup)! I can highly recommend the UBERLIGHT to any record collector looking to shed some light on their much-loved wax or simply add a little atmosphere to any listening space. 

VIEW PRODUCT
Summary
Reviewer
Review Date
Reviewed Item
Reliable - Uberlight FLEX
Author Rating





Product Name