Traditionally, the dead wax between the final grooves and the record label is a relatively benign, uninteresting space. You might find a matrix number, or perhaps a few extra digits referring to the cut or take of a particular record—or maybe, if you're lucky, the mastering engineer or pressing plant will add their own signature. Look a little closer, though, and you'll occasionally find some exceptions.
Over the years, mastering engineers or artists have, on occasion, also used this space to insert mysterious, hidden messages and inside jokes. I've even heard of some examples where random initials are etched into the wax alongside the expected mastering engineer's mark; who knows what mysteries are hidden in the dead wax of countless records and what they might mean?!
Run-Out Message Origins
The original prankster is said to be legendary mastering engineer, George Peckham who signed off many of the records he cut with his nickname "Porky", or "A Porky Prime Cut". Eventually, he took it one step further and began regularly inscribing witty remarks (often based on the album's lyrics). Perhaps the most eccentric example can be found on side A of Elvis Costello's second album, This Year's Model, which read "SPECIAL PRESSING NO. 003. RING MOIRA ON 434 3232 FOR YOUR SPECIAL PRIZE". Allegedly, the number—and the contact—was real. The joke wore thin with Costello's press office pretty quickly!
I've been lucky enough to pick up a couple of original pressings with George Peckham's signature marks over the years. Namely, T-Rex Electric Warrior, which reads PORKY on side A (see first image in this article) and PECKO-DUCK on side B (see below). I love discovering original pressings with unique markings like these; they're a unique little piece of vinyl record history.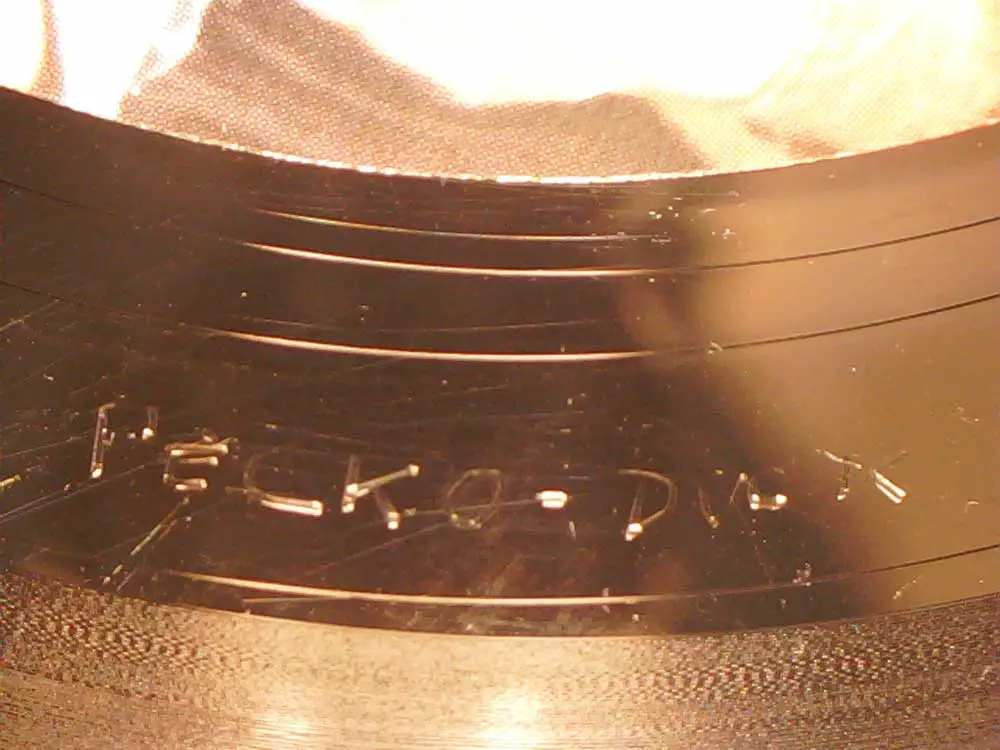 Although George Peckham is credited with starting the trend of writing nicknames in run-out grooves, there are lots of other examples from around the same time. Two other common examples include 'Bobil' and 'Bilbo' (often mixed up for understandable reasons, but they are, in fact, two different people).  'Bobil' was Bob Hill, a Trident Studios cutting engineer and 'Bilbo' was Denis Blackham, an engineer at IBC Studios. According to Blackham he was reading The Hobbit at the time and decided on 'Bilbo' for his nickname. (Interestingly, 'Bilbo' cut the T-Rex single 'Hot Love' and Marc Bolan of T-Rex was also a huge J.R.Tolkien fanatic).
…Now Over to the Artists
For your further amusement—or perhaps bemusement—here are some examples of artists waxing lyrical on the dead wax of vinyl records.

One of the most prolific examples comes from The Smiths, which is probably no surprise as Morrissey has always taken inspiration from literature, and is arguably one of pop's most literate songwriters.
"FEAR OF MANCHESTER/THEM WAS ROTTEN DAYS"

The Smiths – The Queen is Dead (1986)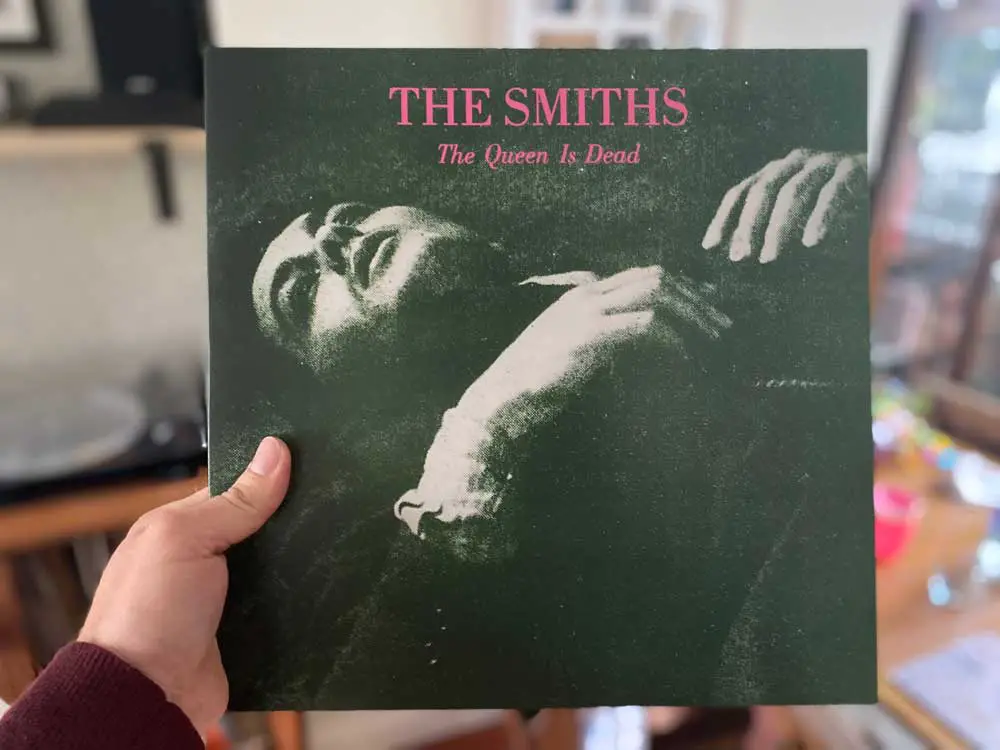 Other examples from The Smiths include the 'Ask' single (1986), which read "ARE YOU LOATHESOME TONIGHT?" on side A, and "TOMB IT MAY CONCERN" on side B. Plus there's the 1984 hit 'William it Was Really Nothing' which featured what I can only assume is a reference to Oscar Wilde's play, The Importance of Being Ernest. Side A and B read respectively as follows: "THE IMPORTANCE OF ERNEST/ROMANTIC AND SQUARE IS HIP AND AWARE".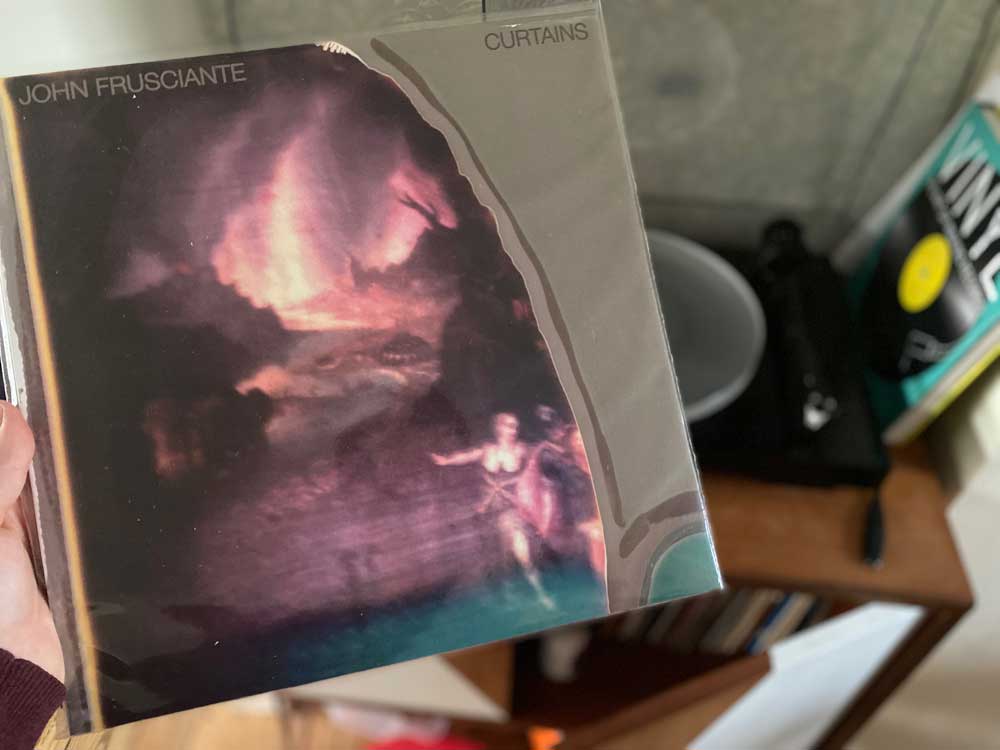 "STAMP WHERE YOU STAND/A MILLION WAYS THINGS COULD BE"

John Frusciante – Curtains (2019 Reissue)
Regular readers of Sound Matters will know my fondness for John Frusciante's work. I spent years searching for an original copy of 'Curtains', but with no joy. So when the 2019 re-press (cut by Bernie Grundman) was announced, I pounced! To my delight, it featured a beautifully positive run-out groove message.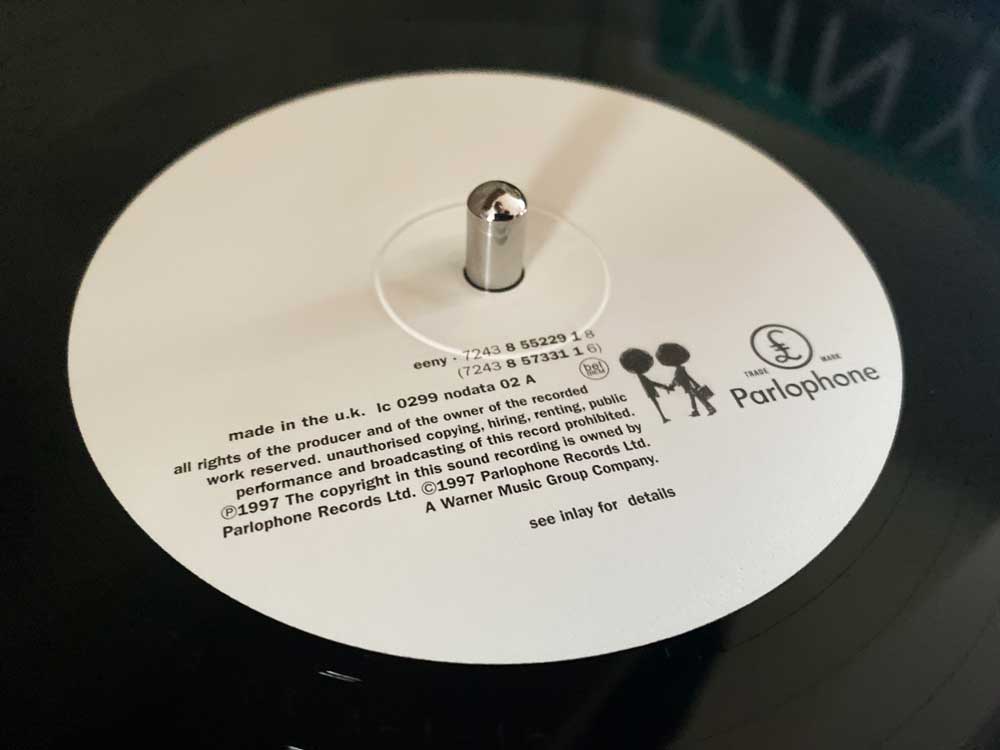 "I LIKE YOU, YOU ARE A WONDERFUL PERSON/I'M FULL OF ENTHUSIASM I'M GOING PLACES/I'LL BE HAPPY TO HELP YOU/I'M AN IMPORTANT PERSON, WOULD YOU LIKE TO COME HOME WITH ME?"

Radiohead – OK Computer (1997)
The following Radiohead example is not only packed with very Thom Yorke style anecdotes, but the record label also features one of the best examples of abstract side-labeling. Sides 1,2,3, & 4 are replaced with Eeny, Meeny, Miney, Mo.
"WHY DON'T YOU TRADE THOSE GUITARS FOR SHOVELS?"

Nirvana – Love Buzz Single (1988)
If you're lucky enough to own an original copy of Nirvana's first single, 'Love Buzz', you'll find the above inside joke. Allegedly, Kurt Cobain's father would regularly yell this line at the band during their practice sessions at his home in Aberdeen, Washington.
"FOR SLY WITH LOVE"

Red Hot Chili Peppers – Freaky Styley (1985)
The Red Hot Chili Peppers have made no secret of their funk, soul and punk influences. So when they covered Sly & The Family Stone's 'If You Want Me to Stay' on the George Clinton produced album, Freaky Styley, they paid tribute by etching 'FOR SLY WITH LOVE' into the run-out of side A.
SO MOTE BE IT/DO WHAT THOU WILT

Led Zeppelin – Led Zeppelin III (1970)
For Led Zep's third offering, Jimmy Page and engineer Terry Manning inscribed the above quotes from Occultist & Black Magician, Aleister Crowley during the final mastering process. I don't pretend to know the full meaning, but it's certainly no secret that Page and Robert Plant were heavily influenced by methodology and the occult during their prolific years.
There are countless further examples; too many to list in one article. Secret messages are just one of the many elements that make the vinyl format so appealing and collectible. Quirky inscriptions bring us closer to the people behind the records, from the mastering engineer to the pressing plant, and, of course, the artists themselves.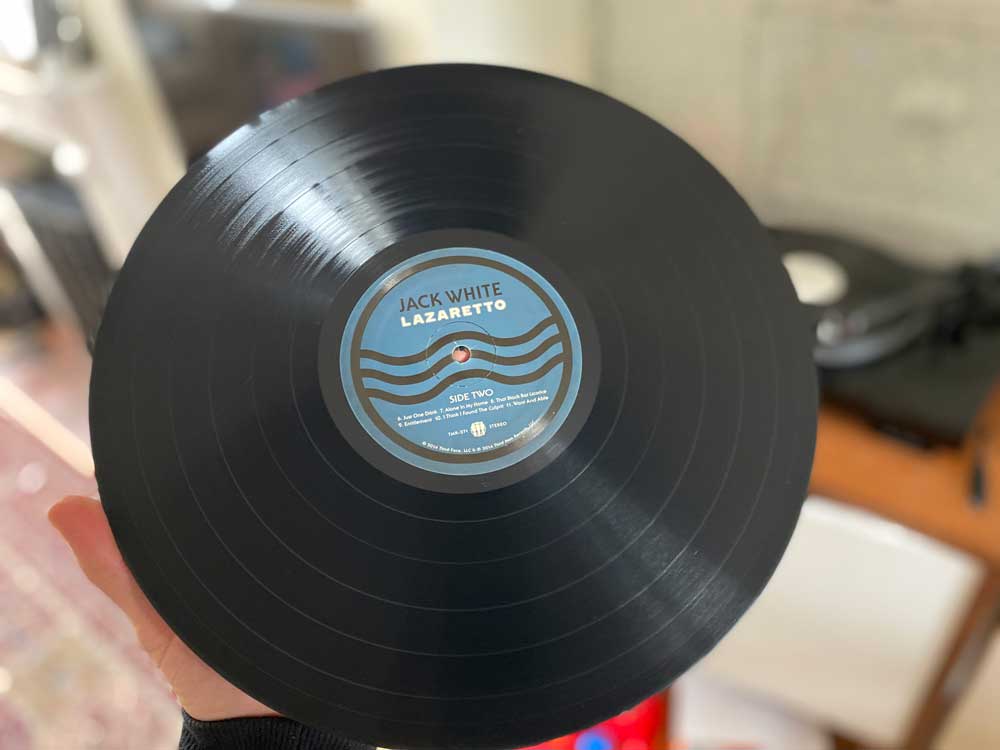 You cannot replicate such levels of personalization in the digital realm, which is likely one of the reasons vinyl refuses to disappear. Some artists, such as Jack White, for example, continue to push the envelope of what is possible with the vinyl format—the principal example being the revered Lazaretto 'Ultra LP'. This highly experimental release was rammed full of features, including a hand-etched hologram etched into the dead wax of side A. Other features included secret tracks hidden inside the labels, locked grooves, dual-grooves, reverse playback on side A, and a matte finish on Side B, giving the appearance of an un-played 78 RPM record. As a nod to the experiment, Side B also has "KITCHEN SINK" etched into the runout on Side B.
Know of a compelling secret message we've missed? Let us know in the comments below.