Pro-Ject recently announced the launch of their upgraded MaiA integrated amplifier. The new MaiA S3 is said to boast several upgrades on the original design to deliver flexibility and audiophile-quality sound in a compact design. The fundamental question is: can the S3 punch above its weight?
Pro-Ject first released the MaiA amplifier in 2014. The name stands for "My Audiophile Integrated Amplifier" and the unit is impossibly small, measuring just 206mm (8.11″) wide and 153mm (6.02″) deep. 
For such a small device, it's relatively feature-rich, sporting an integrated phono-stage (based on Pro-Ject's Phono Box), plus aptX™ HD Bluetooth connectivity and additional RCA and Toslink digital inputs.
The impressive connectivity options in such a small housing should satisfy the majority of listeners looking for a central HiFi hub in compact living spaces.
Under the Hood – What's New?
The new S3 model is slightly larger than its predecessor. It remains impressively small, but according to Pro-Ject, this enabled them to improve the circuit board layout in terms of electromagnetic interference as part of a completely new circuit design.
Bluetooth connectivity has moved on greatly since the original MaiA unit, and the S3 has accordingly moved with the times. Newer aptX™-based Bluetooth devices deliver superior streaming quality to the standard SBC codec, which will please listeners enjoying the convenience of streaming from your phone. For Bluetooth turntable fans, this naturally means there's less of a compromise when opting to hook your deck up wirelessly.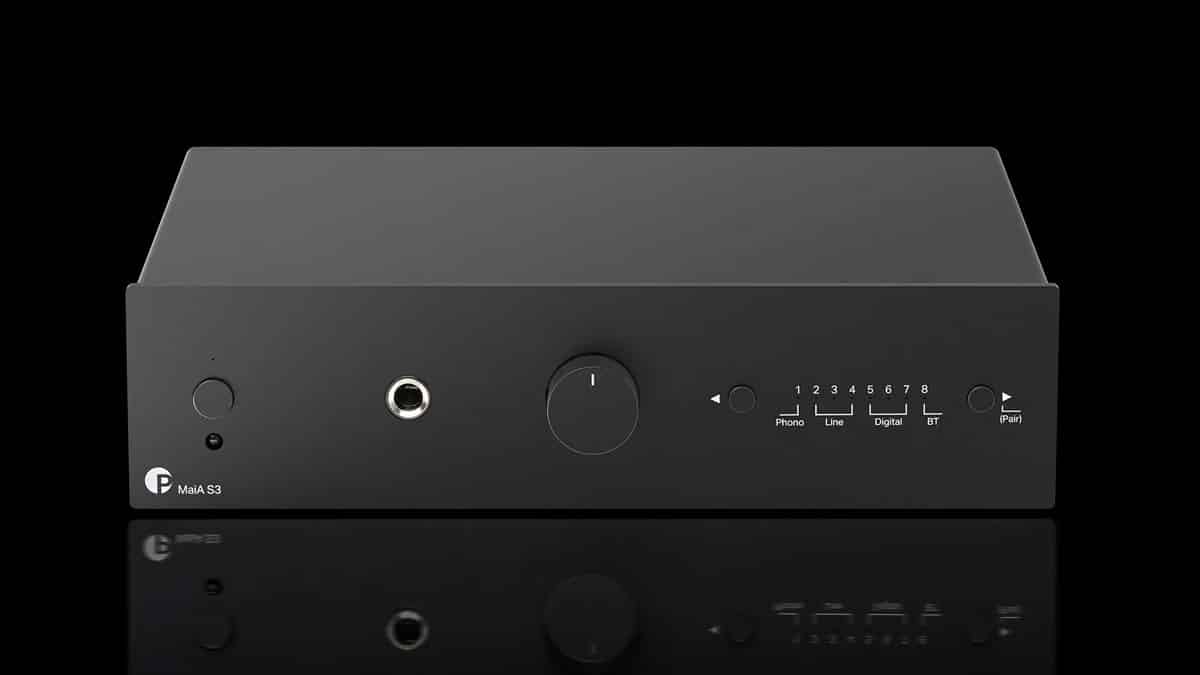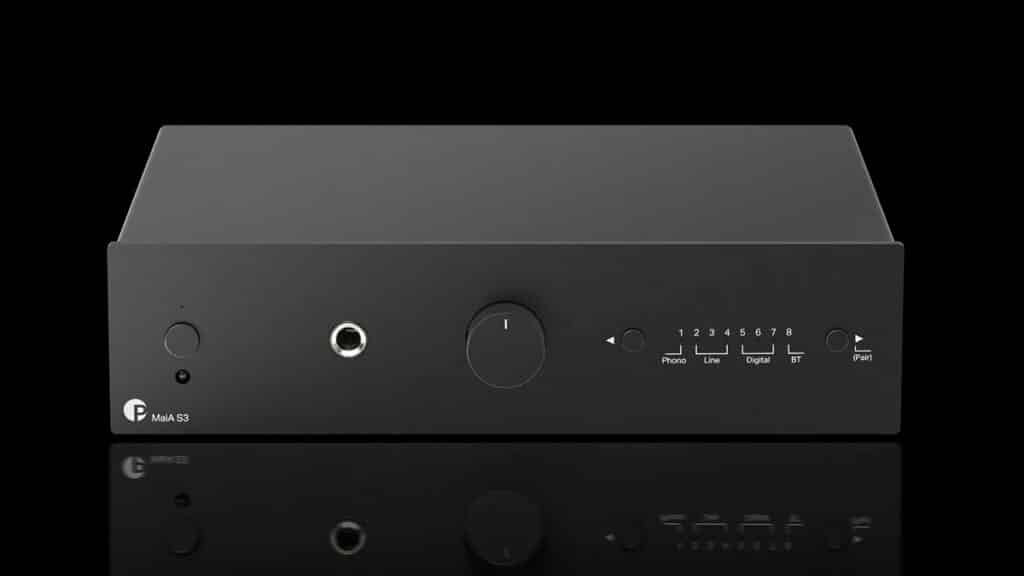 Front-End Controls
I like the front-facing interface a lot; it's naturally very similar to my Pro-Ject Stereo Box DS2 (a unit I own and use on a daily basis). The S3 offers easy-to-operate, minimalist controls. Just like its bigger brother, the MiaA offers simple buttons for source selection, a motor-driven volume control, and headphone amp output for private listening. 
Pairing a phone for Bluetooth couldn't be easier; simply hold the "pair" button until the blue light flashes. The device will show as "MaiA S3" under Bluetooth devices on your phone. Select it, and you're connected. While Sound Matters is a vinyl-focused site and community, I keep a HiFi Tidal subscription handy for casual listening.

Getting Into Separates
The S3 range in general is a great way to branch out from an all-in-one HiFi system or the world of powered speakers. Each module is stackable, so it makes it ultra simple to add, say, a CD player to your rig or upgrade the phono stage.
Going down the separates route gives you much greater control over each part of the signal chain, enabling each element to focus on what it does best while also enabling you to upgrade one piece at a time.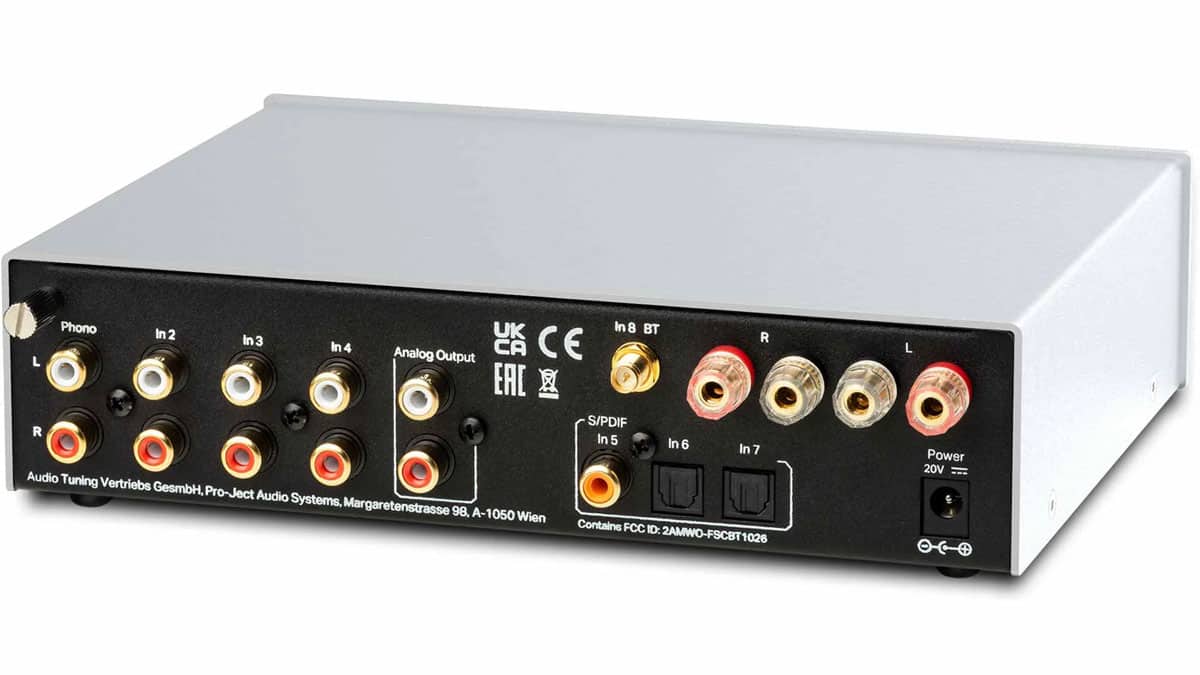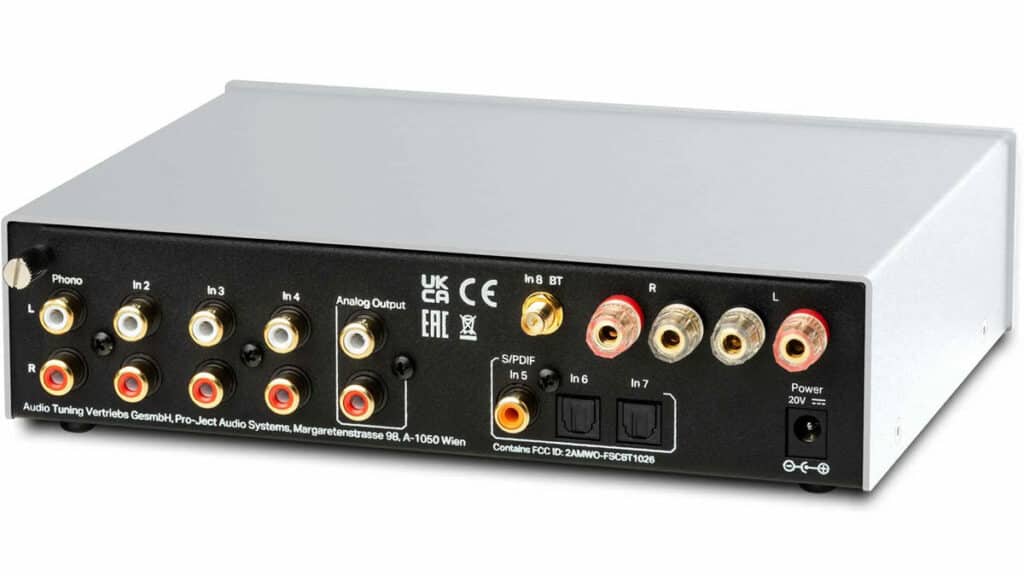 MaiA S3 On-Test
I tested the MaiA S3 using a Pro-Ject X1 turntable and a set of their Speaker Box 5S2s. Compared with my current Pro-Ject Stereo Box DS2 integrated amplifier, the MaiA S3 is a much more affordable proposition at $799 (£539). Factor in the addition of digital inputs and its superior aptX HD Bluetooth codec, though, and the S3 looks attractive further still.
For an amp with such a small power supply and a power output of 2x 23W at 8ohms (or 40W a 4Ω), I was suitably impressed with the performance.
There wasn't quite the same low-end performance as the DS2, but it seemed to handle the 5S2 speakers—which have a recommended amplifier power of 10 to 150 Watts—with relative ease.
The 5S2s are a solid-sounding bookshelf speaker with a generous amount of top-end shimmer and solid low-end. The mid-range is a little boxy compared with the Klipsch RP-500M (my usual speakers), and the soundstage is less open.
Curious to hear if this was the amp or the speaker difference I was hearing, I briefly hooked the MaiA S3 amp up to my Klipsch speakers. Overall, I consider the Stereo Box DS2 a better match here, but this was a useful test to indicate where the most substantial change in sonic performance might lay.
To my amazement, the S3 actually sounded very reasonable with the Klipsch speakers despite the much lower power; thanks, in part, I'm sure due to the RP-500Ms 93dB @ 2.83V / 1m sensitivity rating. 
This simple A/B test confirmed my preference for the Klipsch speakers over the Pro-Ject 5S2s. Like all things in HiFi, there is always a large degree of subjectivity and personal taste.
While the built-in phono stage is more than adequate as a plug-and-play option right out of the box, the performance of the S3 improves further with the introduction of an external phono stage. I tried switching mine for a Radial J33 (more of a DJ phono stage, but certainly an upgrade on most built-in options). I found the instrument separation improved further, and the low frequencies developed more "focus". 
Every step in the signal chain affects the eventual sound output, and this is the beauty of separates. You can tailor each stage to perform exactly as you wish and make incremental upgrades when your budget permits. 
MaiA S3 Review – The Bottom Line
The Pro-Ject MaiA S3 is a superb entry-level integrated amplifier for vinyl enthusiasts and wider music fans seeking a compact design with plenty of inputs. The relatively humble power output is ideally suited to smaller listening spaces. However, it can still put out a surprising volume providing you pair it with a very efficient set of loudspeakers.
I wouldn't hesitate to replace my current living-room all-in-one Denon system with the S3 and a set of Speaker Box 5S2s, though I would be interested to hear how the S3 performs when hooked up to the Klipsch RP-400s, which are a similar size of speaker (at least in terms of the housing).
As a vinyl enthusiast with limited space, I'm always seeking high-performing kit for less-than-ideal listening environments. If you're seeking a non-pretentious entry to audiophile vinyl playback in a home where space comes at a premium, the MaiA S3 is a solid base from which to nurture your obsession for music on wax. 

VIEW PRODUCT
Summary
Reviewer
Review Date
Reviewed Item
Pro-Ject MaiA S3 Integrated Amplifier
Author Rating





Product Name