Whether you're moving your entire collection or simply prefer crate-digging to flicking through shelves, crates and boxes are an important part of vinyl record storage. 
Crates are arguably one of the most flexible ways to store records. They're compact, easy to tuck away, and highly portable. Even if you already own a large cabinet or shelf for storing the bulk of your collection, a crate or two is perfect for storing overflow records or separating different record types or genres.
We've collated our pick of the best crates for vinyl records to help fit the needs of all record collections, great or small. 
---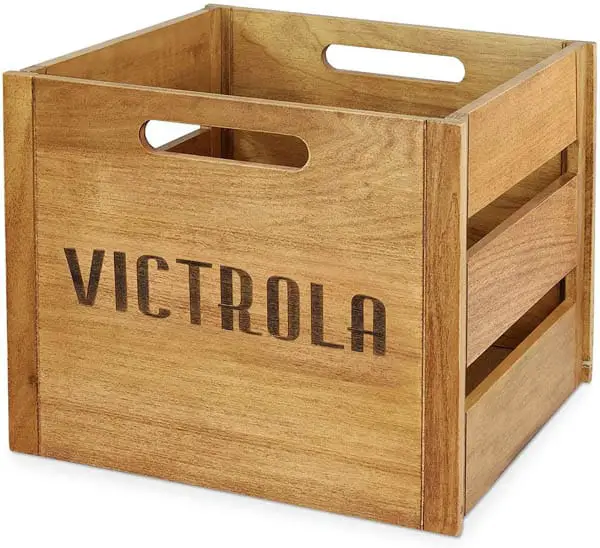 Victrola Wooden Record Crate
This classic Victrola branded record crate holds up to 50 records and sports a real wood construction for a classy finish.
It's a highly affordable solution for small record collections or handy overflow storage if you've exceeded your record shelf or cabinet limit. I like to tuck crates under larger units and use them to separate my 12″ singles from the rest of my collection. 
---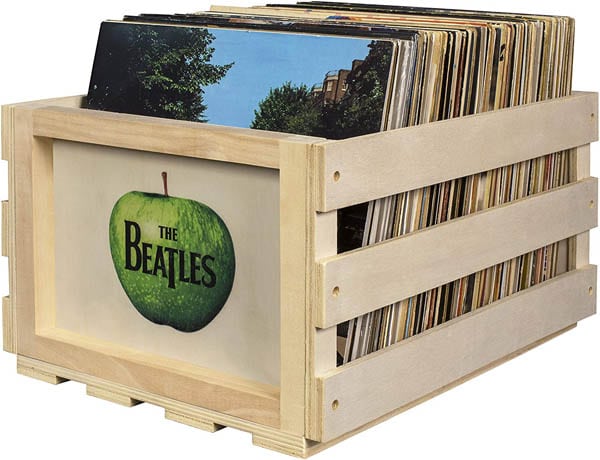 Crosley AC1004A-AP Record Storage Crate
While I don't advise picking up a Crosley turntable, it has to be said, some of their accessory products hold far greater appeal.

This nifty record crate will hold up to 75 LPs and comes in a number of different color finishes. Even better, you can also choose from three Beatles designs if you're a big Fab Four fan.
---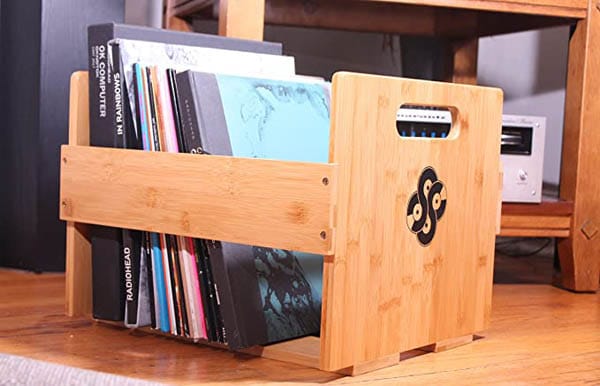 Sound Stash – Bamboo Record Crate
Bamboo is a superb material from both an aesthetic and a strength perspective. The Sound Stash record crate is made from solid renewable bamboo, making it far stronger than the above alternatives.

It's one of the best crates for vinyl records we know, and it's easy to transport thanks to the handles located front and back. For heavy box-set storage you can trust, look no further.
---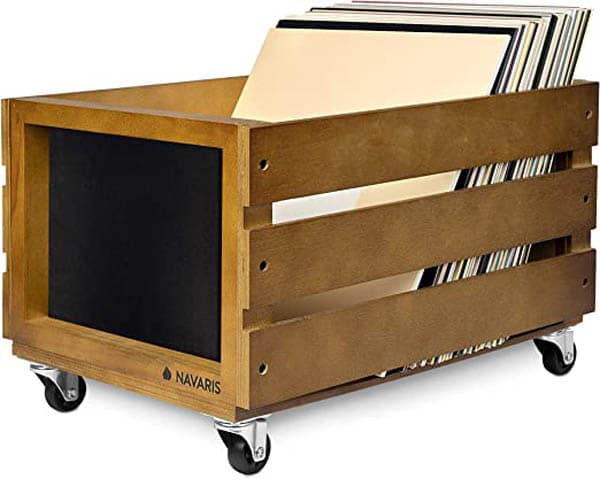 Navaris Wood Record Crate with Wheels
These wooden record crates are perfect for tucking away under larger units or other handy nooks. Thanks to the included wheels, you can pull them out for easy access and save space in the process.
The chalkboard front is a nice touch, which is handy for labeling the contents. 
---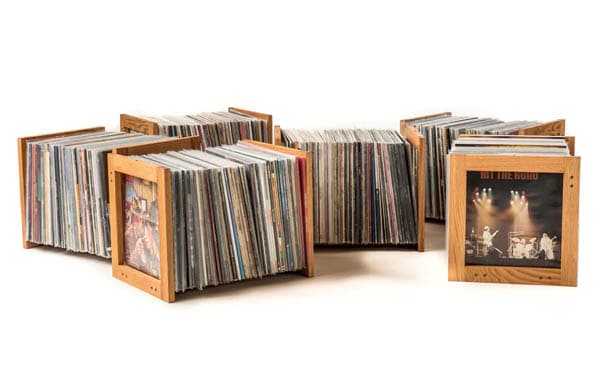 33Rackit Storage Bins
If your budget will stretch to boutique-quality storage options, these solid red oak storage bins from 33Rackit are undeniably beautiful and well-made.
They're super-strong, portable, and modular. Stack them to suit your listening space and store up to 100 single LPs.
At $275 for two record storage bins, they're not a budget option, but true woodworking craftsmanship doesn't come cheap.
---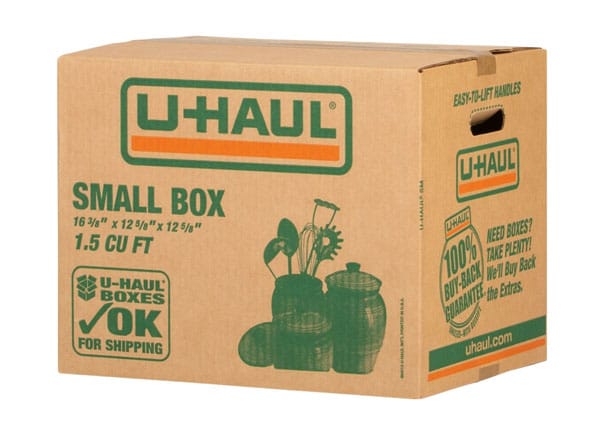 UHAUL Moving Boxes for Vinyl Records
If you need to move your collection, UHAUL's small moving boxes are perfectly sized to house 12inch LPs. They're a popular option for record collectors moving house, as they're very inexpensive and relatively strong for a cardboard container.
---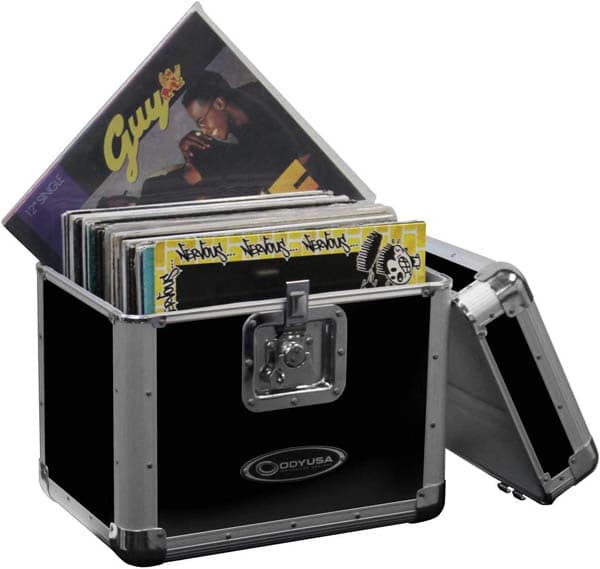 Flight Case for Vinyl Records
A sturdy flight case is advisable over standard cardboard shipping boxes if you're moving records internationally or over long distances. This can get expensive if you have a very large collection, but it will give you peace of mind. Removal companies are unlikely to tread as carefully as you when moving those precious records, so while it might seem expensive up-front, it's invaluable when considering how expensive it could be to replace your entire collection. 
---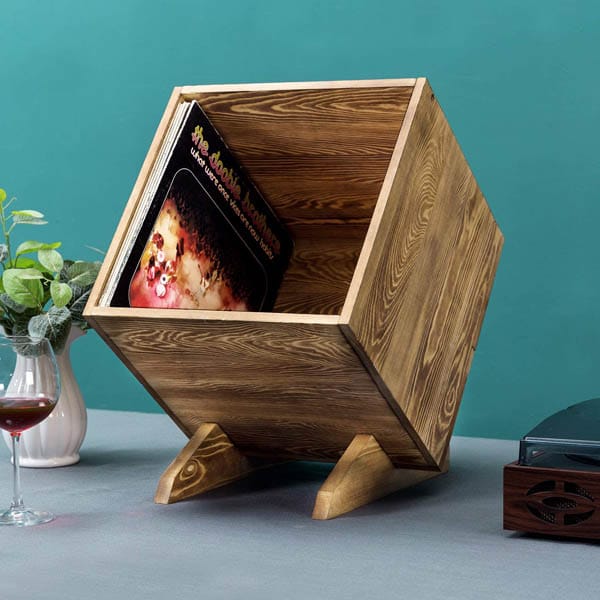 My Gift Album Storage Crate
Try this angled record storage crate with a rustic aesthetic for a strong interior design statement. It's well-built and sturdy, keeping your records safe while also making a feature of 50 or more albums from your collection.
This crate is a solid-wood construction and the angled design makes browsing easy and pleasurable.
---
Crates for Vinyl Records – the Bottom Line
When storing vinyl records, it's important to consider the safety of your collection. You don't want your precious and expensive records to suffer damage caused by unsuitable storage.
Many products on the market claim to be suitable for records but lack the strength to house your collection safely. Choose solid wood crates or metal flight cases for the best stability.
Another aspect to consider is the base surface of the container. For example, if it's not flat and has, for example, a metal grate as the base surface, this could damage your record sleeves.
For a complete guide on correct record storage, check out our full 'how to store vinyl records' guide.