Just a couple of months ago, as the leaves turned a fiery golden red, we began a series exploring the effect seasons have on our musical palette. We listed our top cozy albums for fall/autumn, and then asked you, the readers, to share your personal favorites.
With winter now upon us, and Christmas just a few days away, it's time to put those autumnal albums back in their sleeves, light the fire, and pour yourself something suitably fortified to drink.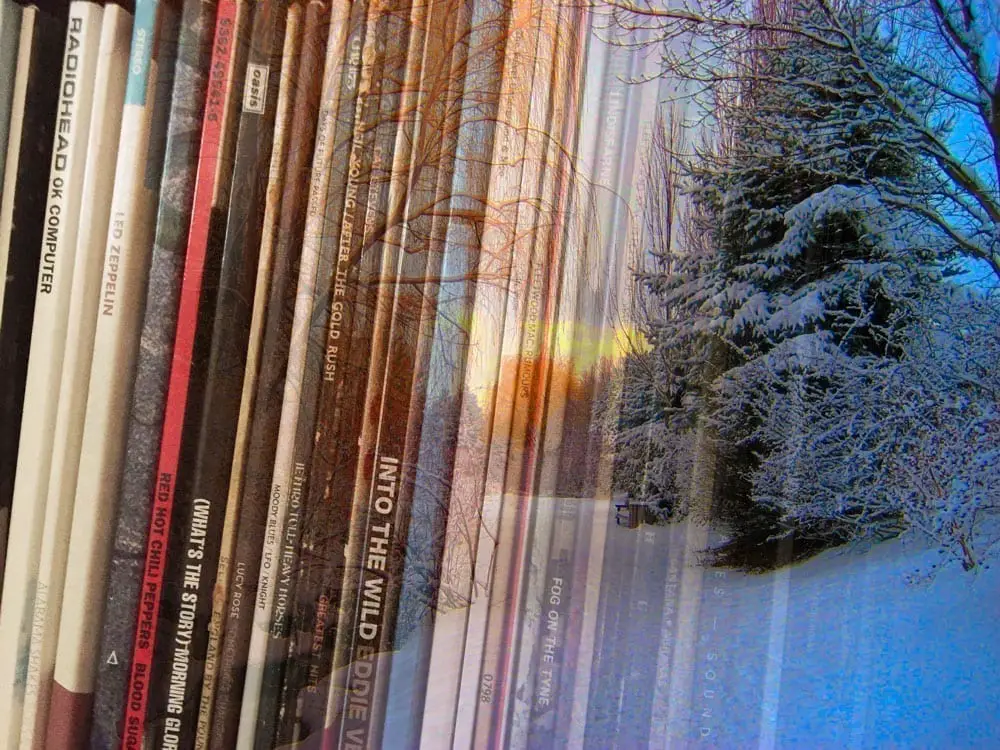 Here are Five Classic Albums we think should grace your turntable over the festive and winter season. Let us know your top picks in the comments section of this article.
Kate Bush – 50 Words for Snow
Bush's 2011 studio album "50 Words for Snow" is a natural winter album. The opening track, in particular, encapsulates the perfect tranquility of a landscape freshly covered in snow. The lyrics are captivating as they cleverly depict a snowflake falling from the sky to help silence an otherwise hectic and loud world.

Here's a taster:
"My fleeting song.
My twist and shout.
I am ice and dust and light. I am sky and here.
I can hear people.
"I think you are near me now.
The world is so loud. Keep falling. I'll find you.
We're over a forest.
It's midnight at Christmas."

This enchanted scene is partnered perfectly with long, sustained piano chords and subtle electronic reinforcement that provide the ideal texture for a song about snow.
The vocals are experimental across the entire album, with bags of intellectual prowess, but perhaps best of all is the album's namesake, which features actor, Stephen Fry reciting 50 individual words for snow.
Cozy up, this record is winter pressed to wax.
Brian Eno – Apollo
There's something otherworldly about a crisp, winter scene. The still dry air, crystallized ice spread across the branches of trees, and the descent of a deep, dense fog. Eno is, of course, well-known for his ambient albums, and this piece, for me, captures the harshness of winter flawlessly with its textural mix of long ambient and glassy synth tones.
And while winter can be cruel, there are moments of sheer light and beauty, a moment depicted perfectly, perhaps by the more uplifting tracks, such as "An Ending" and "Silver Morning." As mid-album tracks, these moments provide contrast to the other, darker tracks that make up the bulk of this reflective masterpiece.
John Frusciante & Josh Klinghoffer – A Sphere in the Heart of Silence
Continuing the electronic theme, I'm similarly drawn to this album in winter, enhanced partly by the fact I first heard it during its release in late 2004. I pretty much played it on repeat for the weeks around Christmas. It has more energy and pop-structure than Brian Eno's work, but there are almost certainly influences and sound-bites of similar ambient works here. There's the hypnotic opening track "Sphere", that provides the perfect backdrop to losing yourself while staring out the window in winter. And, of course, the reflective and glassy toned, "At Your Enemies", which undoubtedly channels some Eno inspiration into a track that embodies cold, crisp winter landscapes. Best paired with a single malt whiskey, for those that are that way inclined.
Fleetwood Mac – Rumours
Alright, so this one is a bit of a curveball. As one of the greatest selling pop-rock records of all time, I'm sure this album will be familiar to most readers. However, I just had to include it, as it's another of those records I'm always drawn to at this time of year. (I'm sure you readers out there will have similar records in mind).
Saying that, there is some method behind my choice. I love warm, dry 1970s drums, and the production on this record is about as stereotypical 70s as it gets. With very little reverb (room ambiance) and relatively low resonance, the drums, in particular, give this record an intimate and cozy vibe. For some pop vibes this winter, turn it up loud.
Jethro Tull – Christmas Album
Sadly, this is the one album in this selection that has yet to be released on vinyl. Hopefully, one day it will…
Christmas music per se divides opinion. Some can't get enough of it; others can't wait for new years day. And while my wife's choice of Michael Buble's Christmas album has me reaching for the mute button, Jethro Tull's festive offering is a Christmas album I can get on board with. And while there are plenty of Christmas themed tracks on offer here, the music is not overtly Christmasy, and still retains the classic Tull sound, driven by Ian Anderson's mastery of the flute.
Naturally, the album also revisits the classic festive track from Jethro Tull's Songs from the Wood album, "Ring out Solstice Bells". Crack open the mulled wine for this one.
Now it's over to you. What record(s) would you pick? – Let us know in the comments section below.