Your turntable phono cartridge is an incredibly sensitive bit of kit capable of turning even very small vibrations into an electrical signal that inevitably ends up processed as sound. Any resonance, vibrations, or mechanical noise that is processed by the cartridge will muddy the sound of your records, and in louder, more extreme circumstance, feedback can occur.
Needless to say, sound damping is imperative if you want to obtain the best possible performance from your turntable. Even modest, affordable decks can achieve a noticeable performance uplift from just a little attention in this area.
Soundeck takes an innovative approach to damping with a number of products constructed from Sound Damped Steel (SDS), a specially developed stainless steel that converts vibrations into negligible heat energy. Eager to see how this worked, we put Soundeck's core range to the test.
First up is the platter mat, Soundeck PM.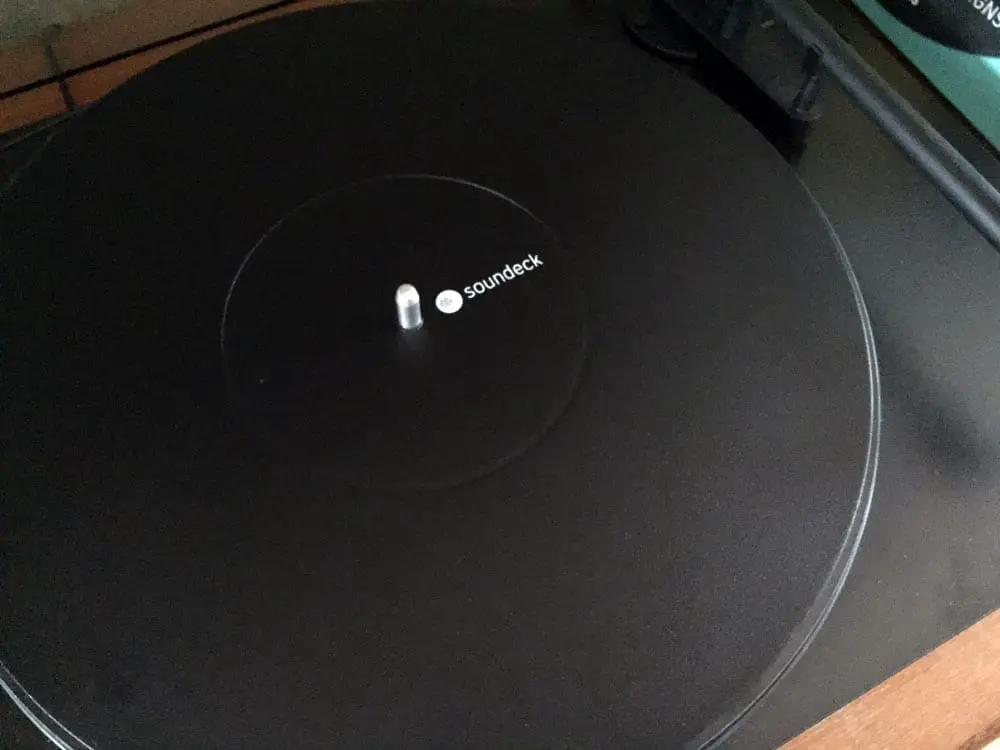 A turntable mat made from steel might sound counterproductive; after all, most metal platters are known for their problematic resonance. SDS, on the other hand, is different. In this case, two plates of metal (1.5mm of steel and 1.00mm of aluminium) are bonded together with a polymer. When the metal plates receive vibrations, they work to stretch and contract the polymer which transfers the energy into heat.

I have to admit, I was somewhat skeptical at first, but on listening through both a set of high-quality studio headphones (Shure SRH 940s), and my humble bookshelf speakers, I can confirm that Soundeck PM works well, adding subtle improvements to the bass clarity and overall instrument separation. A quick listen to the record without speakers confirmed that needle talk was also reduced.
By absorbing platter resonance, and stylus playback vibrations, your stylus is able to track the groove without interference, resulting in cleaner playback. The improvement is most noticeable, of course, when swapping from a basic felt mat to the SDS.

The following demonstration of SDS in action showcases just how effective the material is at absorbing vibration.
The platter comes in three different sizes: Choose from 295mm (standard size), 292mm (designed to fit Linn Sondeck, Axis, Basic), and 285mm (designed for most Technics).
View product on Soundeck website
DPS Damping Puck
The damping puck and PM mat are a winning combination. Previously subtle improvements in bass clarity and instrument separation quickly became glaringly obvious, and the overall sound was simply tighter, punchier and more energetic. I used a very familiar record as testing material (Red Hot Chili Peppers Blood Sugar Sex Magik), which is a record that already has very good dynamics and clear instrument separation; with SDS, quieter, more subtle overdubs were clearer and easier to hear, adding extra depth to the listening experience.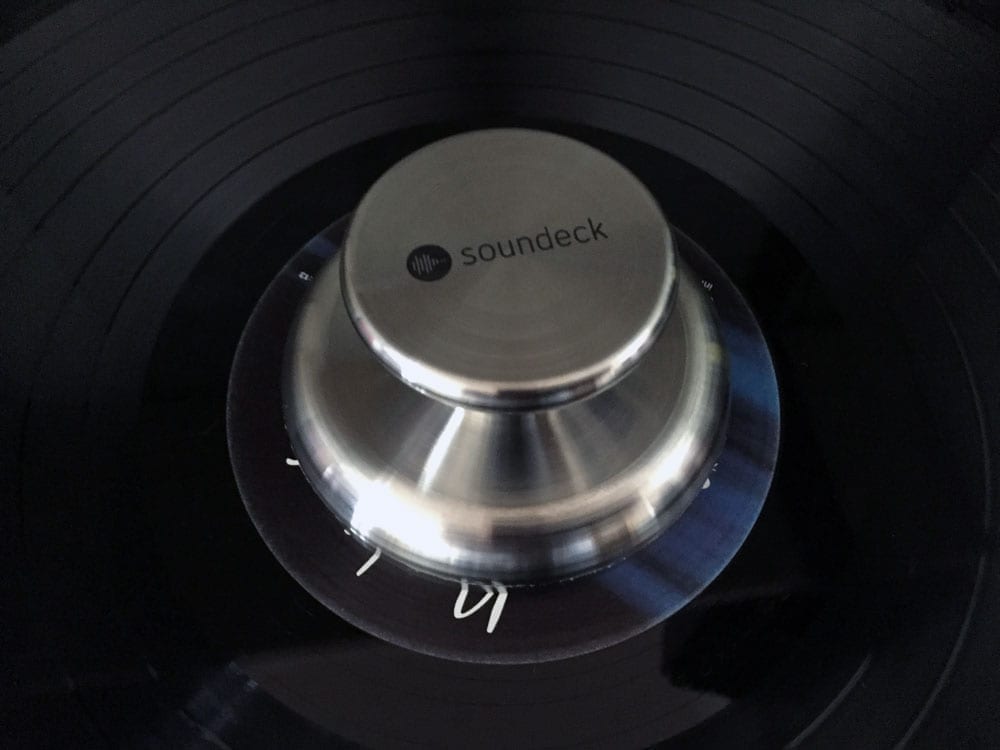 Record pucks work by adding mass to the record, and this reduces wow and flutter, while also preventing slippage. Being made from stainless steel with a layer of the vibration absorbing polymer built in, the Soundeck puck is also more effective at collecting and removing vibrations in the record. There is still some debate around record pucks within the vinyl community, but this one certainly gets our vote.
View product on Soundeck website
Damping Feet
Isolating your speakers to prevent them from driving the floor and to help them operate in a vibration-free environment is one of the most effective ways to improve the sound of your Hi-Fi. Where possible, even bookshelf style speakers should be placed on stands and isolated, but in many small British living rooms (such as mine), this is all too often impractical. Instead of applying the Soundeck DF Damping Feet in the conventional and intended manner, I placed them underneath my bookshelf speakers to prevent them from driving the surface. Even under these less than ideal conditions, there was a noticeable clean up of the sound and a much wider soundstage.
View product on Soundeck website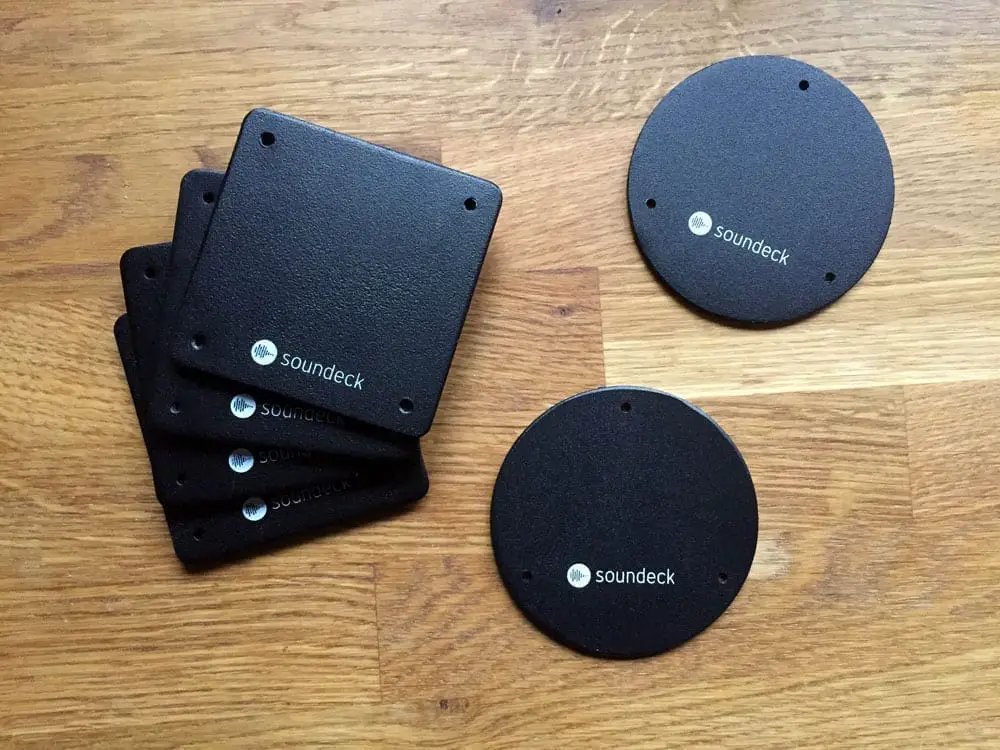 The Bottom Line
There are many Hi-Fi isolation and sonic tuning products on the market, and the Soundeck range brings something different to the table with sound damped steel. What was perhaps most impressive, is just how much of an improvement was noticeable on my fairly modest setup. With the platter in particular, whether or not the Soundeck is for you will come down to personal taste and the unique character of your deck; some listeners may prefer the warm character of cork, while others may find that the more open sound of SDS works best. Subjective? Perhaps. Impressive performance? Unquestionable.