Considering vinyl records are pitched as a premium or luxury product, the quality control of some new vinyl releases leaves much to be desired…
Pressing faults and the quality of new vinyl is a topic we've covered before. Sadly, there are several common faults to watch out for, which can be a cause for headache for many record enthusiasts.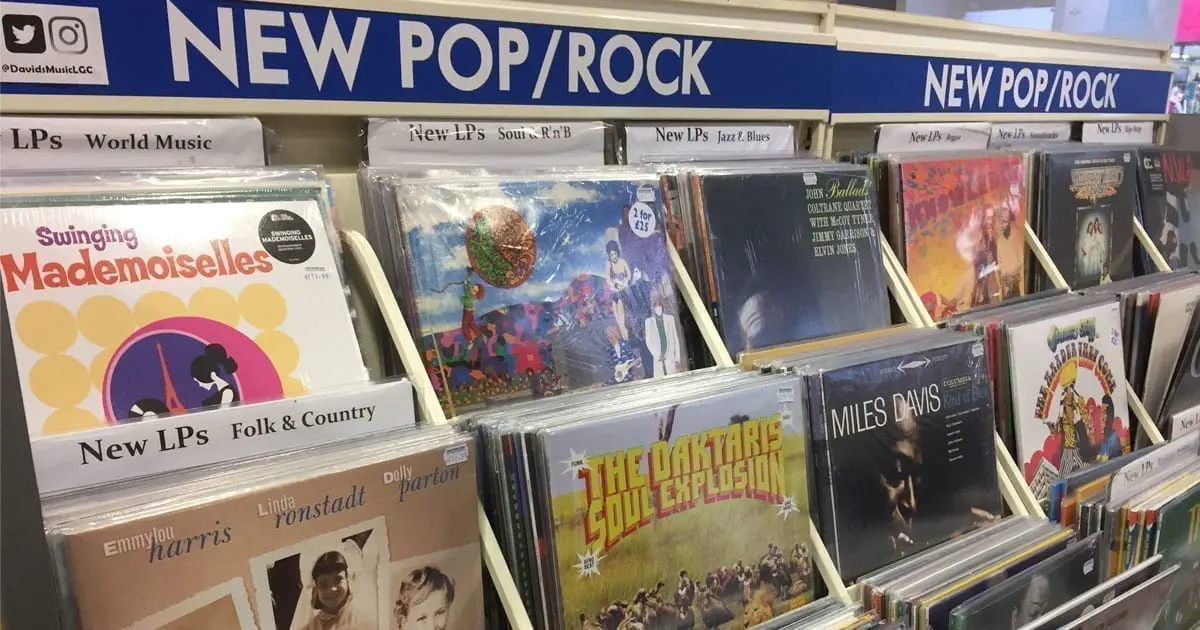 To a certain degree, it's the nature of the beast (within reason). But in my experience, the rate of faulty or poor quality pressings is far higher than it should be. I've lost count of the number of times I've encountered problems and had to return or replace a new record. 
Here are some recent examples:
Tenth-anniversary re-issue of John Frusciante's The Empyrean. It took me three attempts to get a copy that didn't either have huge distortion on track four or have a deep scratch on the surface due to a rouge piece of vinyl making it into the record sleeve after trimming. 
Alt-J – Relaxer. Little bubbles on the record surface that cause a clip or pop as the stylus runs through them.

Record Store Day 2020 release of Tyrannosaurus Rex Unicorn – the yellow vinyl has color contamination, meaning the surface isn't entirely solid yellow. See close up pictures below. This is my most recent disappointment and is ultimately the straw that broke the camels back, leading to this article (or rant, depending on how you look at it).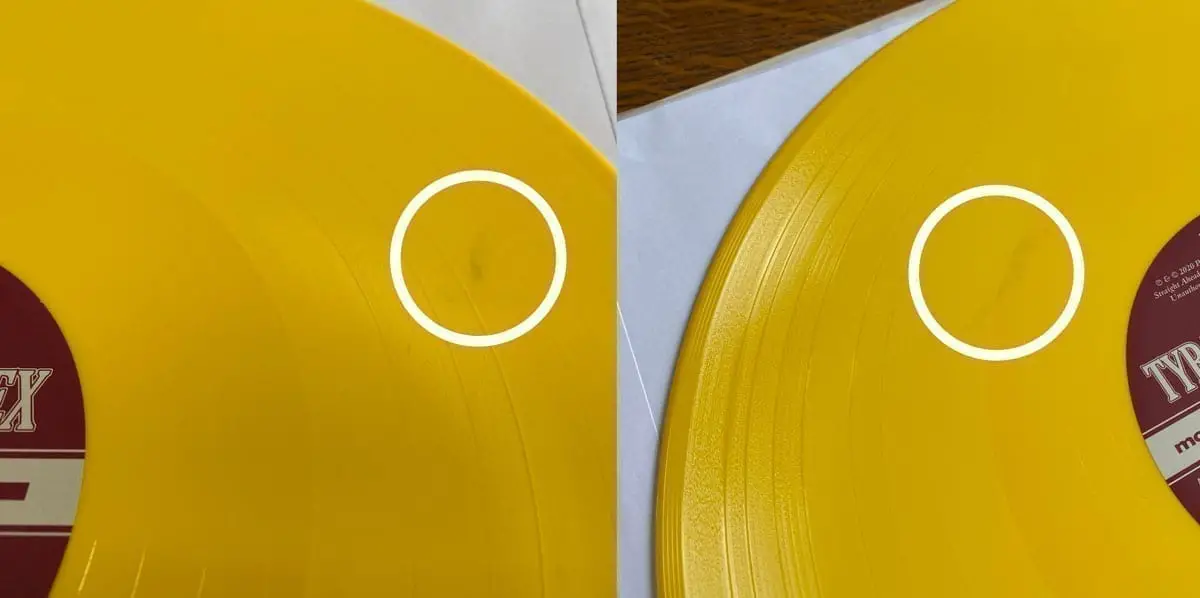 Back to Black copy of Nirvana Nevermind. Pressed off-center…
Counting Crows – August and Everything After. Again, there is a tiny bubble on the record surface that causes a pop as the stylus runs through. After buying a few copies, I ended up settling for one of them where the bubble was located between two tracks. Better to have the bubble in the silence rather than disturbing the music. 
Norah Jones – Come Away with Me. There is significant sibilance on this record, particularly on Norah's vocal. My suspicion here is the mastering wasn't explicitly handled for vinyl, and the original digital master doesn't translate well to wax. 
Threatening the Vinyl Revival
I appreciate there will always be the odd problem that slips through the net, and I also understand the huge strain placed on record plants to keep up with demand. Sales figures for new vinyl continue to rise, putting the limited amount of pressing plants under increased pressure. My fear is, if the subject of quality control isn't addressed, it could threaten the resurgence in vinyl. Consumers will quickly lose patience if they feel they're paying a premium for subpar quality. For example, I paid upwards of $40 for my recent copy of Unicorn (described above). And while there was nothing wrong with the actual pressing, color defects on a limited edition pressing simply isn't good enough. 
Thankfully, most retailers are understanding and will always accept a return or replacement for faulty records, but the process and time involved certainly takes the edge off the whole experience of buying a desirable product.
I'm not the only person to raise concerns over quality control, of course. For example, many YouTubers have expressed concerns and frustrations, including Frank Landry from Channel 33RMP, who claims there are "Still MAJOR quality control issues with new vinyl records" after receiving a heavily scratched copy of Ozzy Osbourne's Ordinary Man.
Additionally, Brian from For the Record expressed in one video why he doesn't buy that much new vinyl any more after battling with ongoing quality issues. "I have found that quality control for new vinyl pressings has been put on the backburner in lieu of getting them out as fast as humanly possible." 
He goes on claim that "one in maybe five or six new records I buy have nothing wrong with them, the other records have something wrong with them!" The most common issues he cites are bubbles on the record surface and off-center pressings – both of which I can vouch for as being a huge headache when buying new vinyl. Four out of five records is a bold claim, and it's important to note that the video is almost two years old now. However, the fact remains, there are clearly some consistency and quality control issues at play. 
Signs of Promise
It's not all bad news. There is a strong determination across the industry to improve and uphold standards to secure a bright future for vinyl records as demand continues to grow. In a recent interview with mastering engineer Barry Grint, he revealed a promising development supporting quality control. "The RIAA have a working group looking to put together a standards document covering all aspects of record manufacture in terms of quality of pressing, printing, and becoming more environmentally friendly," he explains. "However, the manufacture of records is a very organic process, and all factories cycle through peaks and troughs of quality. That doesn't mean that suddenly the quality is disastrous, but that they work within a tolerance."
Additionally, the recent formation of the Vinyl Alliance—a members-based organization working to "strengthen the position of vinyl records in a digital world"—is a positive development. The more the industry groups together under a shared mission, the greater our ability to address quality control problems. 
Supporting the growth of record plant numbers and addressing broader supply chain issues will go a long way towards improving quality, as competition always raises quality standards. Here's hoping the trend for new record plants continues, as consumers will soon vote with their feet if the quality continues to miss the mark.