Guest contributor, Brandon Stoner tells the story of Thin Lizzy's 1976 breakthrough album, Jailbreak.
By the time Thin Lizzy stepped into London's Ramport Studios to begin production on their sixth studio record Jailbreak they were confident, flashy, and ready to take on anything. With a stiff upper lip and proverbial stiff middle fingers in the air they knew they had a solid batch of songs that were battle tested and ready for the world to hear.
At this point, they had a number of tours under their belt – some with some fairly popular artists. They were no strangers to the recording studio and were known to be total "road dogs" when it came to the stage.
The biggest problem? 
They were still relative unknowns. Perhaps the album title is a veiled reference to them breaking out of the "jail" of moderate obscurity.
The album proved to be their commercial breakthrough in the United States and would produce their two most well-known singles and staples of classic rock radio to this day – "The Boys are Back in Town" and "Jailbreak".
Jailbreak
Jailbreak began life as a last-chance effort to prove to their label that they could produce a hit album. Ever familiar with the studio they had chosen for the production, they selected John Alcock as producer.
He took a unique approach…he hired session musicians on some of the tracks to give the record a more commercial vibe in order to snag a "hit" single. Keyboardist Tim Hinkley played keyboard on "Running Back", resulting in a significantly more pop-oriented sound.

This didn't sit well with guitarist Brian Robertson who preferred the more bluesy original arrangement where he added his own piano and slide guitar parts. It offended him to the degree that he didn't even play on the released track.
Fighting
Thin Lizzy had a few minor hits in the early 70s like the rock reimagining of the traditional Irish drinking song "Whiskey in the Jar" (famously and fantastically covered by Metallica), but they had yet to really break through into the mainstream. They had completed tours with the likes of Slade and appeared in the UK's Top of the Pops chart show, so their star was slowly rising in Europe. But in the United States, nobody really knew who they were.
Thin Lizzy's sound and lineup was constantly in flux, which presented some setbacks as they continued to push their career and sound forward.

In 1974 Lynott expanded the lineup to feature two guitarists after a revolving door that even included Gary Moore for a short stint. A funny anecdote is the reason that Lynott decided to have two guitar players is, in his words "The next time one of those c**** walk out, there will be another one there!" 
After California guitarist, Scott Gorham and Scotsman Brian Robertson joined the group the band embarked on their first US tour in 1975 as support for Bob Seger and Bachman Turner Overdrive.
The new guitarists had pretty drastically different styles and personalities, but this is part of what made their twin guitar assault so powerful. The band's now famous twin guitar sound had evolved by the time they recorded 1975's Fighting. 
The Boys are Back in Town
Released on March 26, 1976, Jailbreak was the culmination of everything Thin Lizzy had been working toward for half a decade. They embarked on bigger tours and their songs started creeping up the charts.
But they experienced yet another setback when Lynott came down with hepatitis.
Thin Lizzy's most recognizable song almost didn't even become a single. The album's third track "Running Back" was originally selected, as some of the decision makers felt that "The Boys are Back in Town" would be too aggressive for mid-70s FM radio.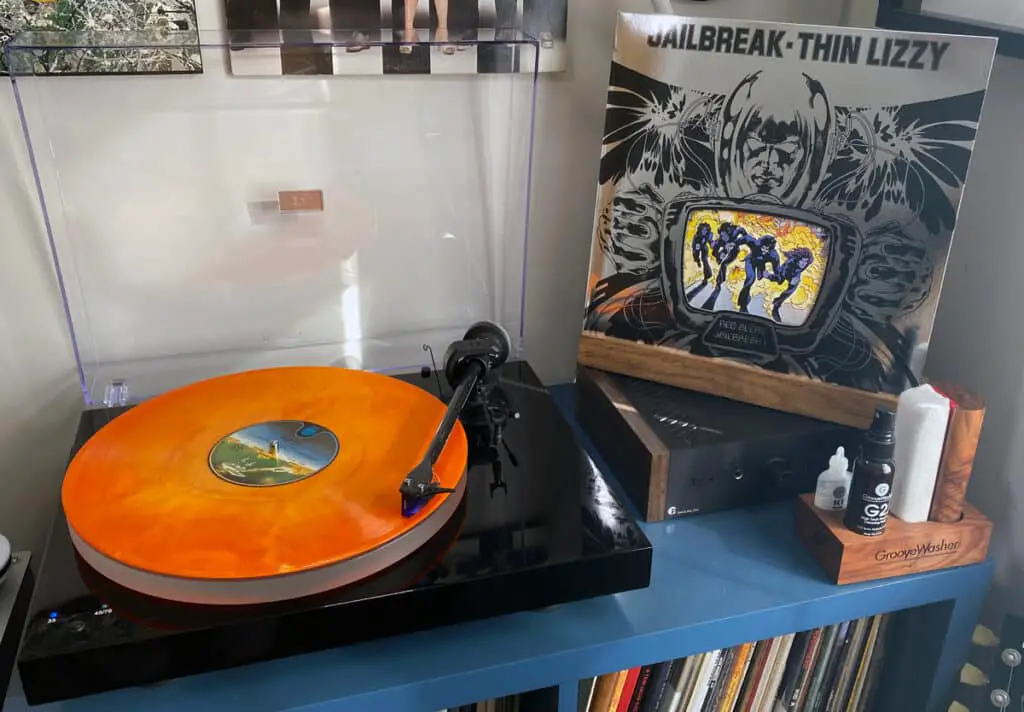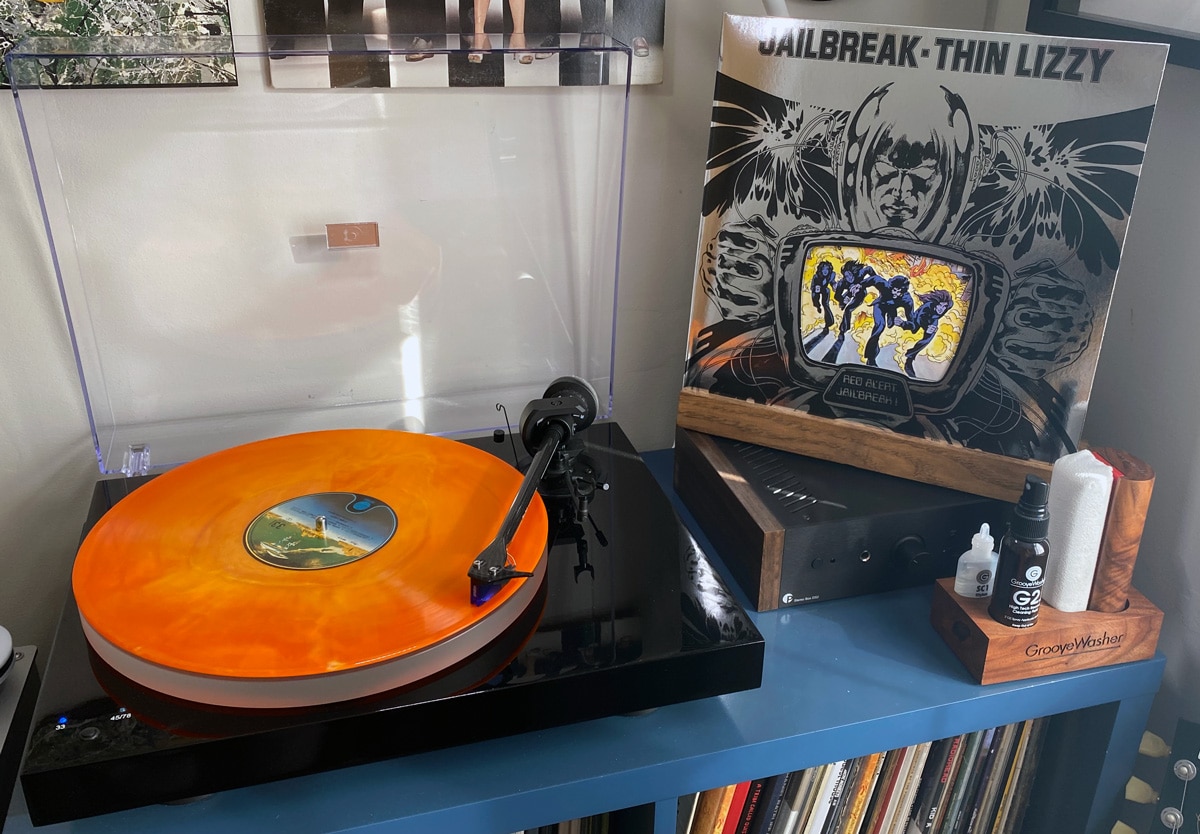 Reception
Considering how popular some of the singles from Jailbreak have become it's hard to believe the album only achieved Gold status in the UK, US, and Canada. But in the modern digital streaming world, their albums and singles have hundreds of millions of streams.
But the album was not an immediate hit.
It originally garnered mixed reviews, which is hard to believe considering it's now pretty much unanimously regarded as a supremely solid listen from front to back.
Some publications labelled it derivative of acts like Bruce Springsteen and Van Morrison (who the band was a huge fan of). But certain critics praised the group for continuing to develop themselves.
Like a fine Irish whiskey, Jailbreak's appeal has only gotten stronger with age. It's an eclectic album with a spectrum of song styles – especially for hard rock. 
While Thin Lizzy's heavier contemporaries were crafting arena-sized, fist-pumping anthems they were focusing the groovy, bluesy, swagger that brought them to where they were.
Their twin guitar harmonies influenced many hard rock and metal acts that would gain popularity into the 80s like Iron Maiden, Judas Priest, and Metallica.
Cowboy Song
Thin Lizzy called it quits in 1983 and frontman Phil Lynott would pass away just three years later. He always saw himself as a star long before it would come to be true.
He epitomized rock n' roll on stage and off. And his legacy has only grown since his passing. In 2005 a statue of him was unveiled in the city of Dublin. He wasn't even born there. That's how much his influence mattered.
And although he could never truly shake the demons that made him who he was and inspired so many of his songs, there is a tragic beauty in his life story. As he wrote in "Cowboy Song" – "I am just a cowboy, lonesome on the trail." 
This perfectly sums up his life and the band's unstoppable effort to play the music they loved. 
It's a shame he never got to truly see how influential he and the band would go on to become. But they have the respect of fans the world over and are still a prime inspiration for other artists.
And that will never change.
---
About the Author:
Brandon Stoner is a lifelong musician who owns more guitars than anyone needs. As a lover of all things writing and music technology, he crafts every piece with his dog Max on his lap.